It's time for Elf on the Shelf, 2020 style. I'm sharing Elf on the Shelf Quarantine ideas that you can do this year based on our country's current status.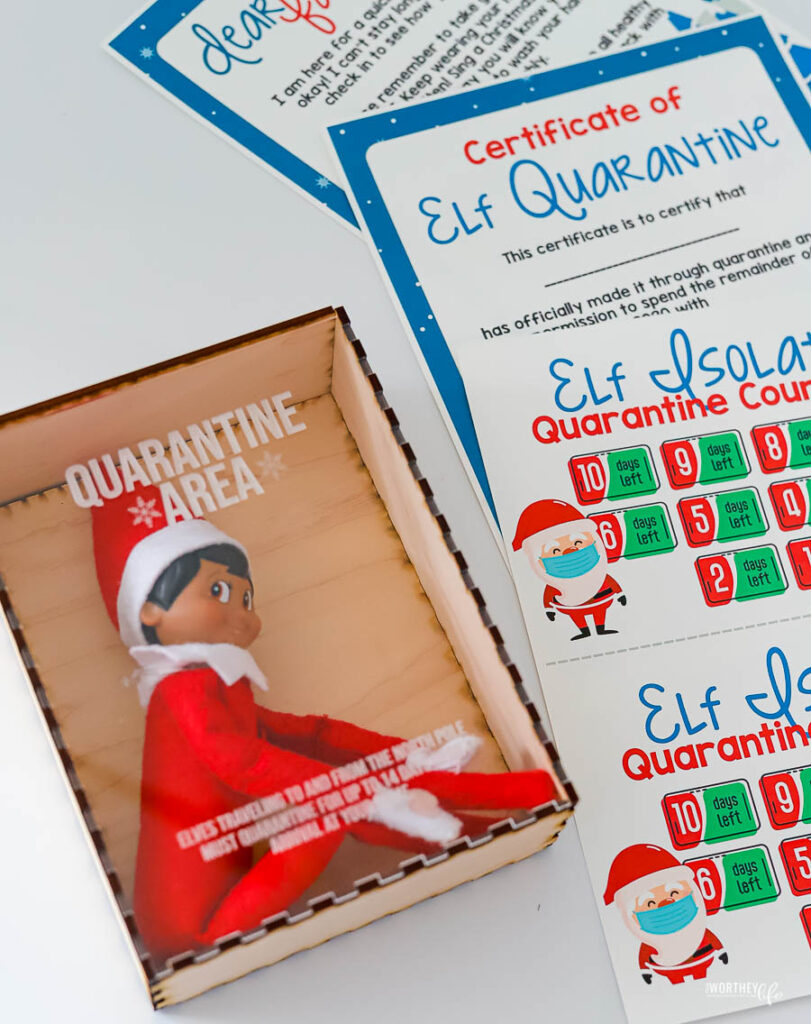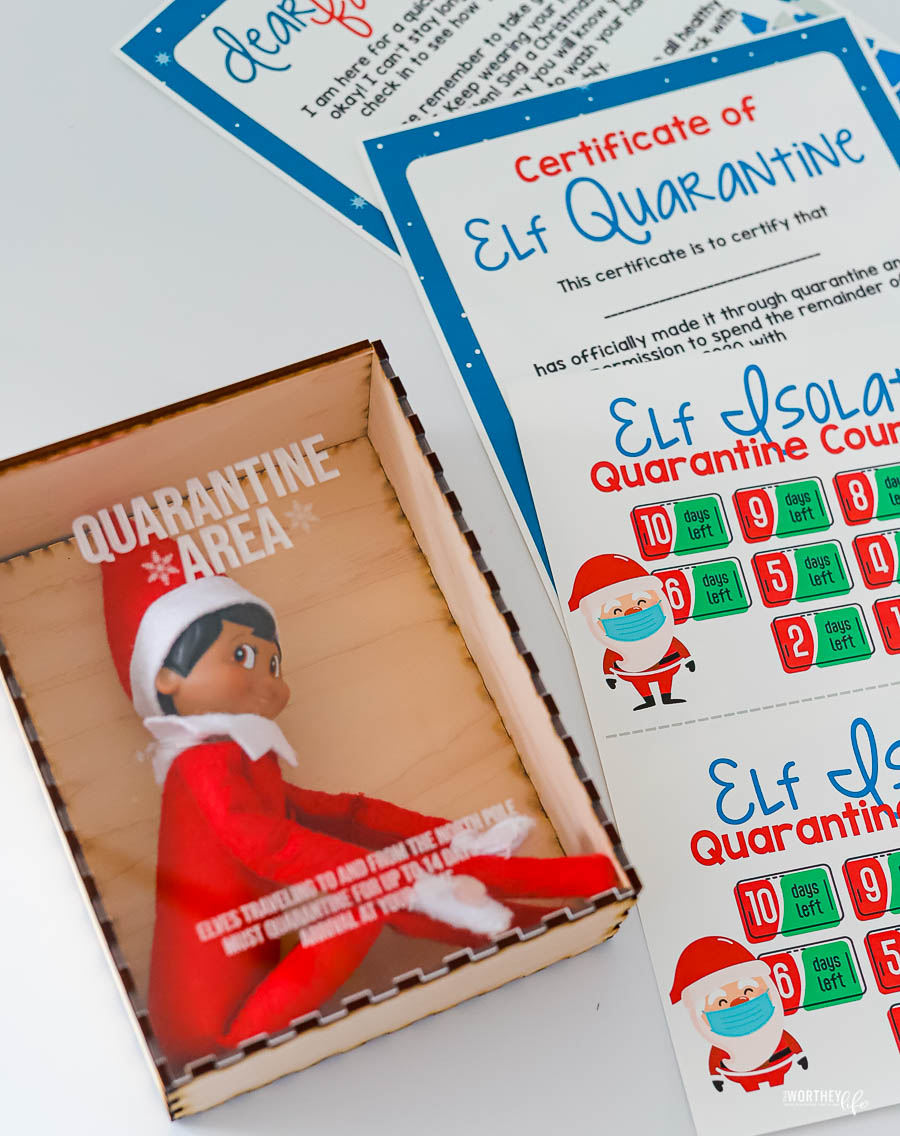 Elf on the Shelf Quarantine Ideas | Free Printables
Well, we're back to that time of the year! Elf Season! If you're already groaning about moving that Elf every night, you got it easy this year. Because it's the year 2020, nothing is the same or predictable. Parents, this is your chance for your elf to have the laziest year EVER!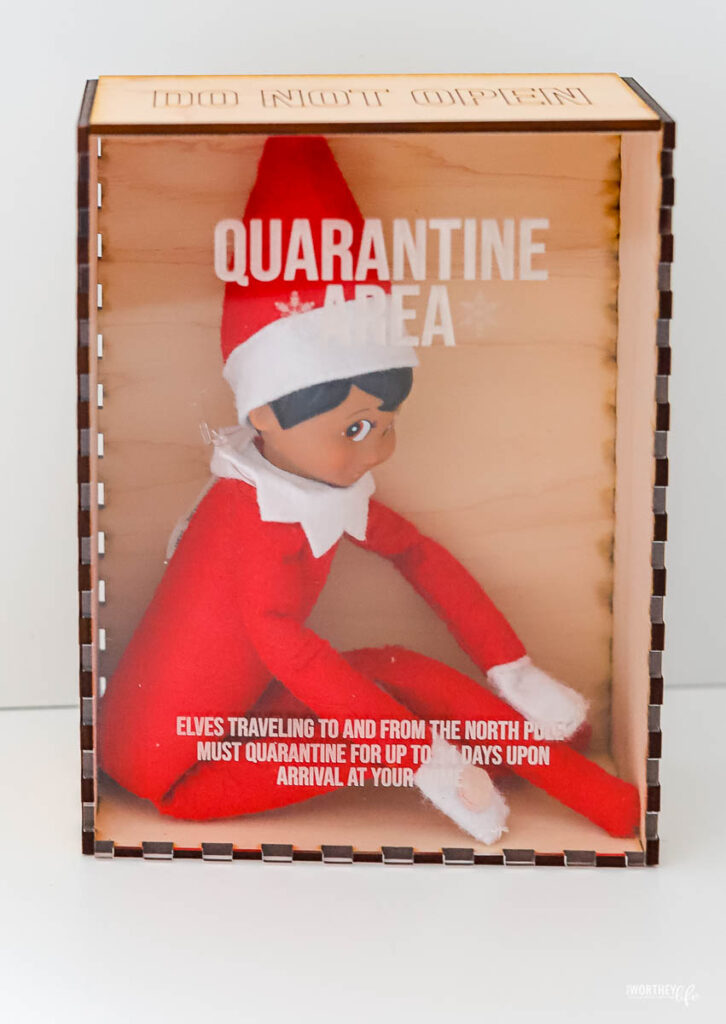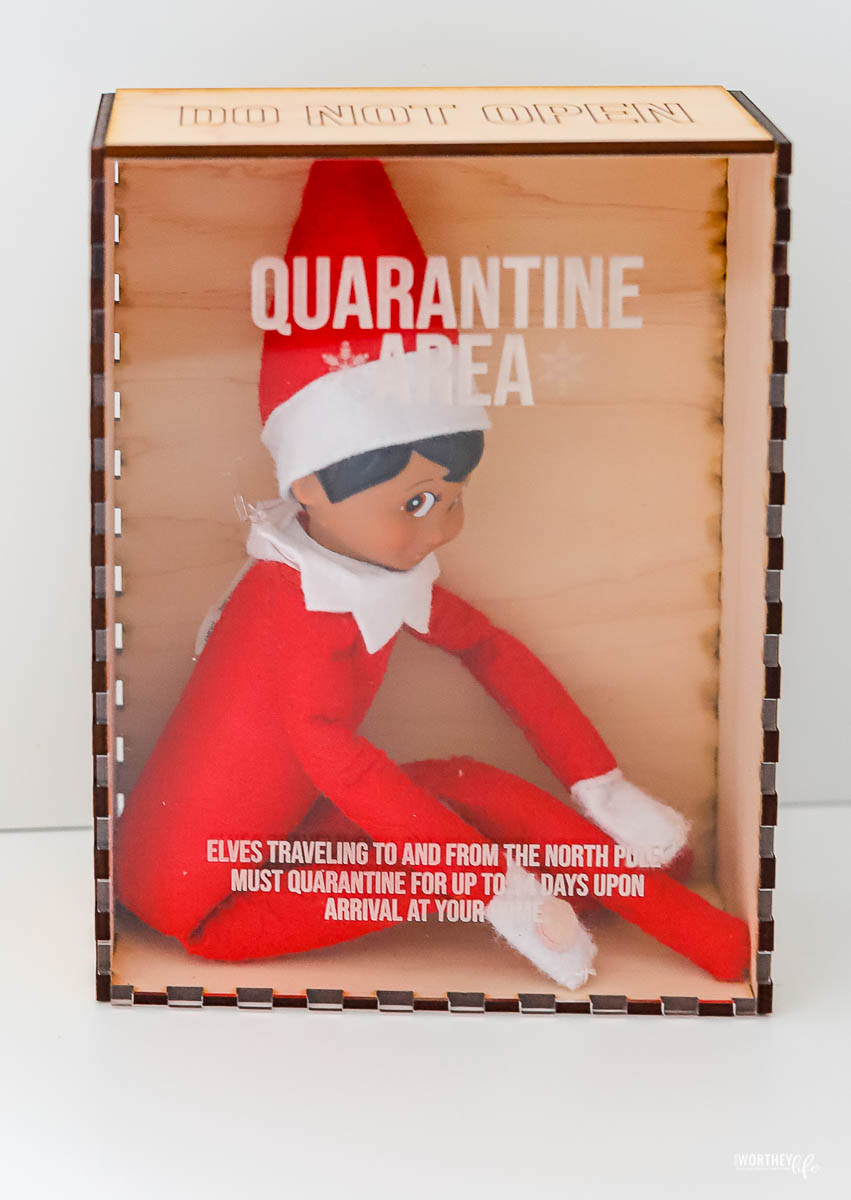 Why? Because when the elf first gets to your home, have him or her quarantine for 14 days. That cuts your time in half. Haha!
Okay, maybe you don't want to have the elf quarantine the whole time, but to save you a few days, have your child's Elf on the Shelf quarantine for 4-5 days. Find more easy Ideas for the busy mom in this post.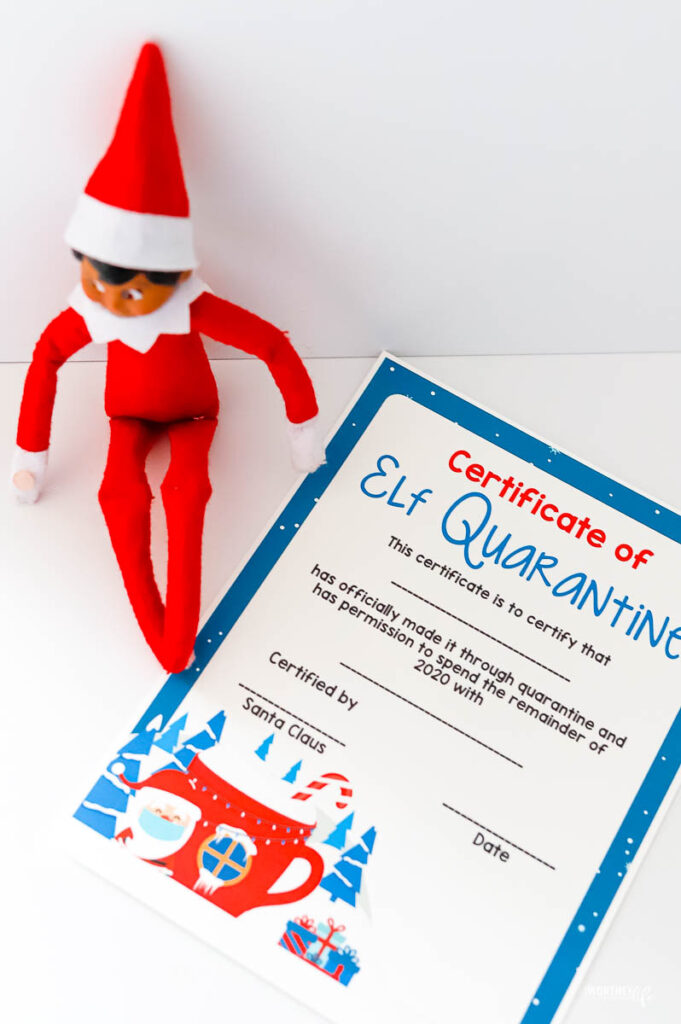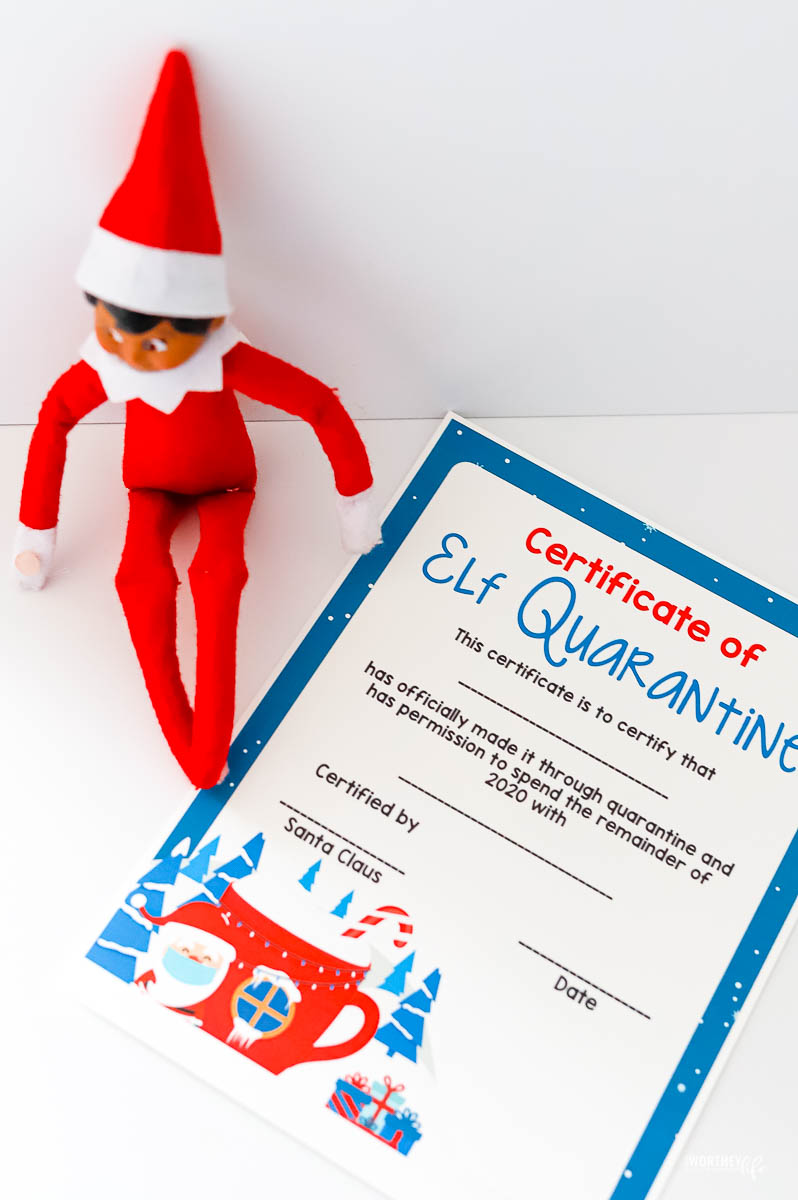 You can even print out this certificate saying their elf is good to go after a few days. I listed all the resources for our quarantine supplies below.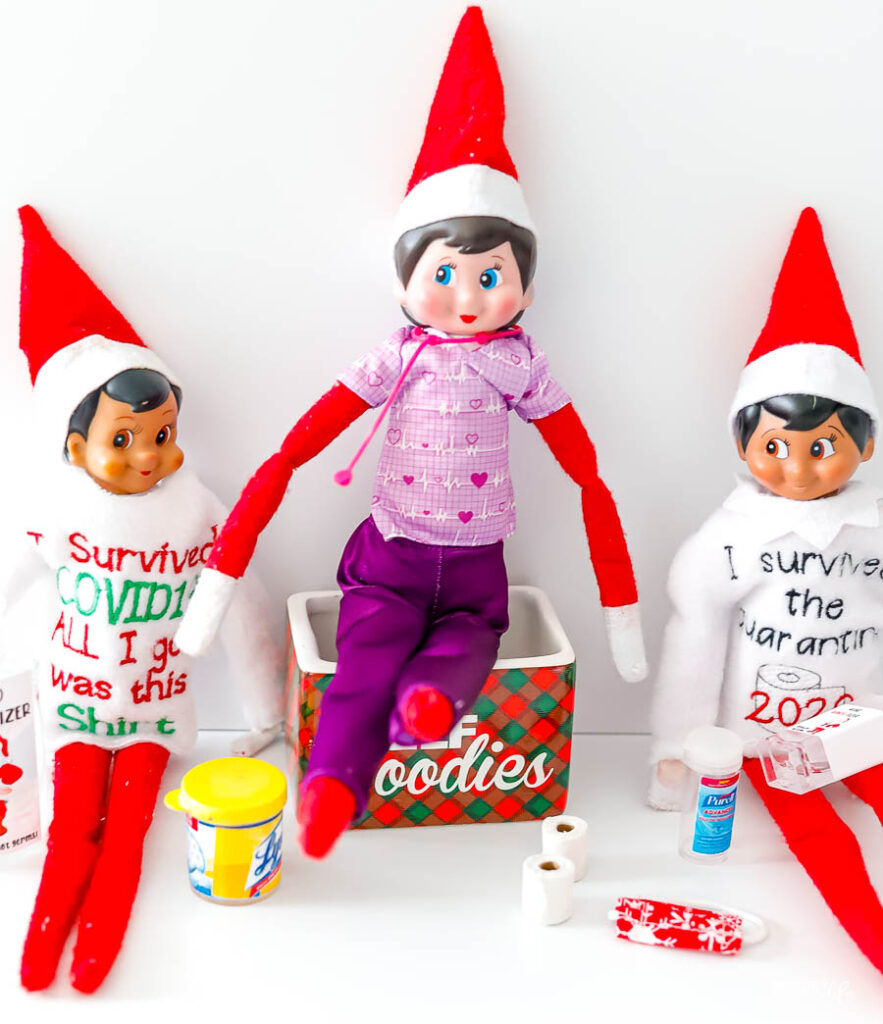 Elf on the Shelf Quarantine Ideas to do this year
Stuck in a rubber glove
Using hand sanitizer
Making a zoom call
On a roll of toilet paper
Using a face mask as a hammock
Baking bread
Washing hands
Using measuring tape- measure social distancing
Doing homeschooling
Stuck at home, looking out the window
Watching movies/Netflix
More ideas to try this year: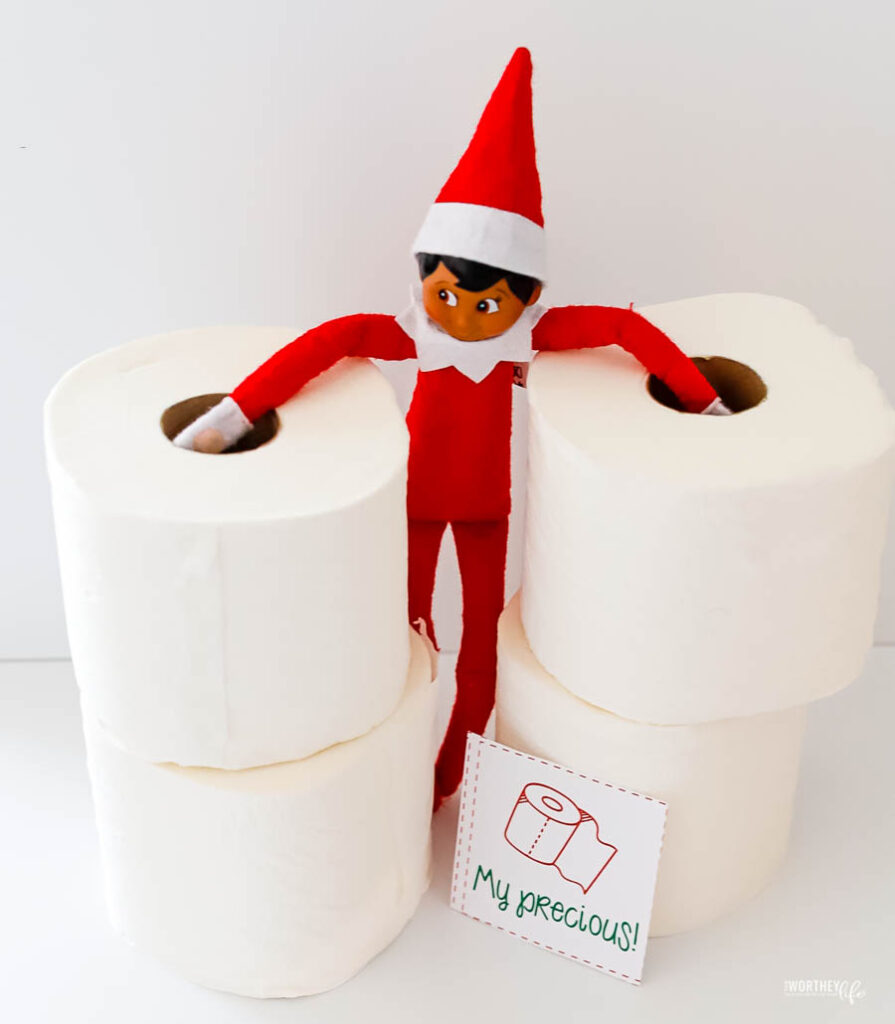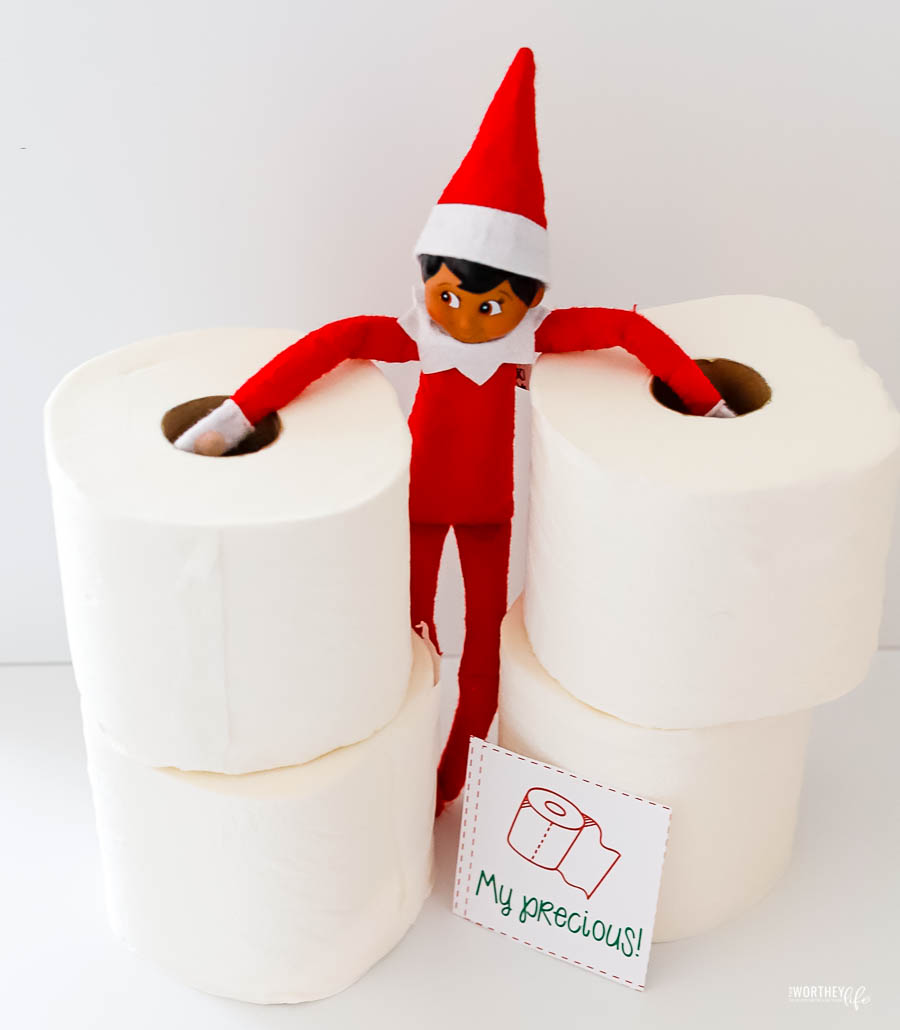 Elfie hoarding tissue
I guess we know who's hoarding tissue. LOL, This idea is super easy to do. You can use the printable notes I shared below to print out this sign. Now grab a few rolls of toilet paper, and you're good to go.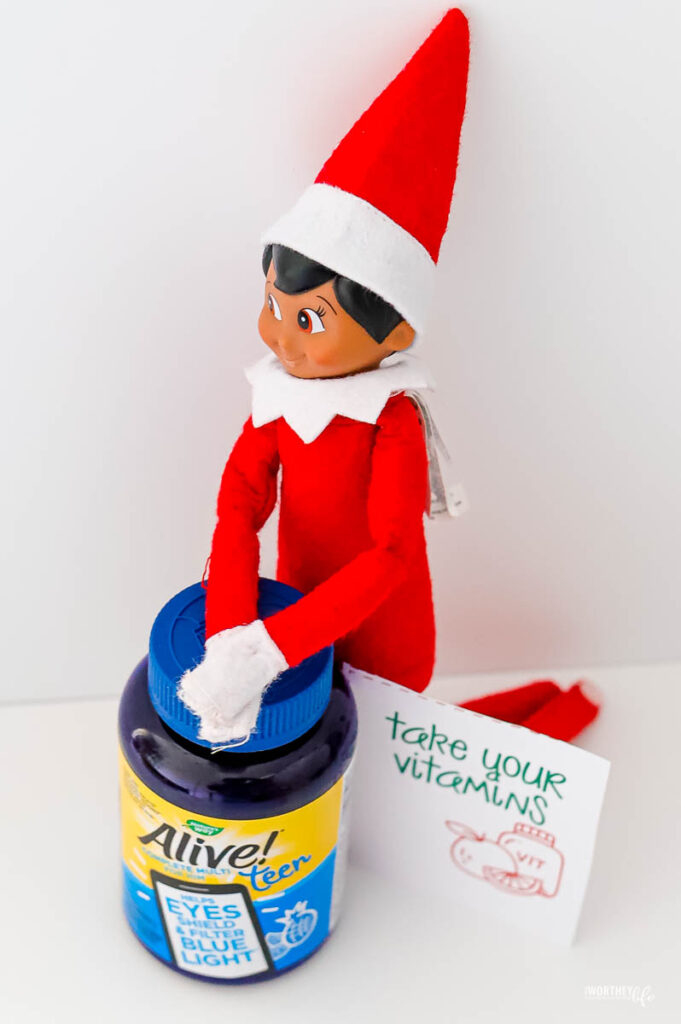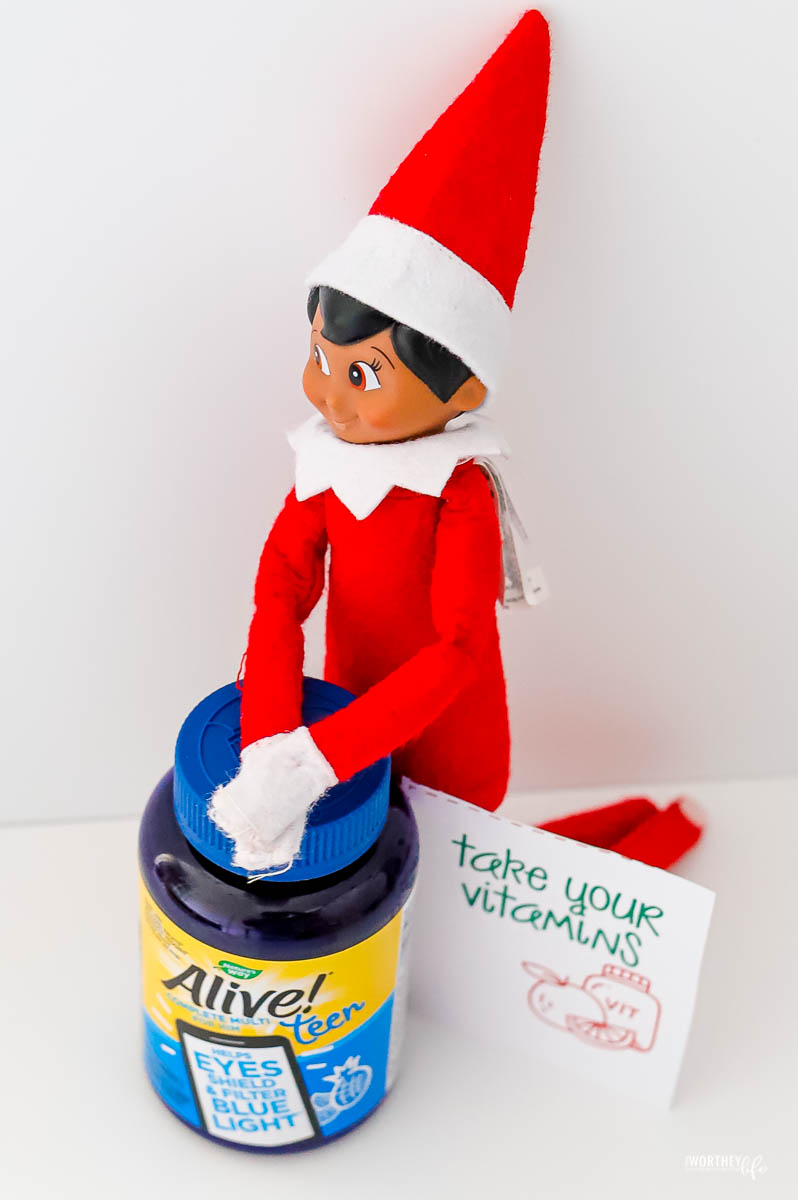 Elfie taking his vitamins
This is a fun way to serve as a reminder for your child to take their vitamins.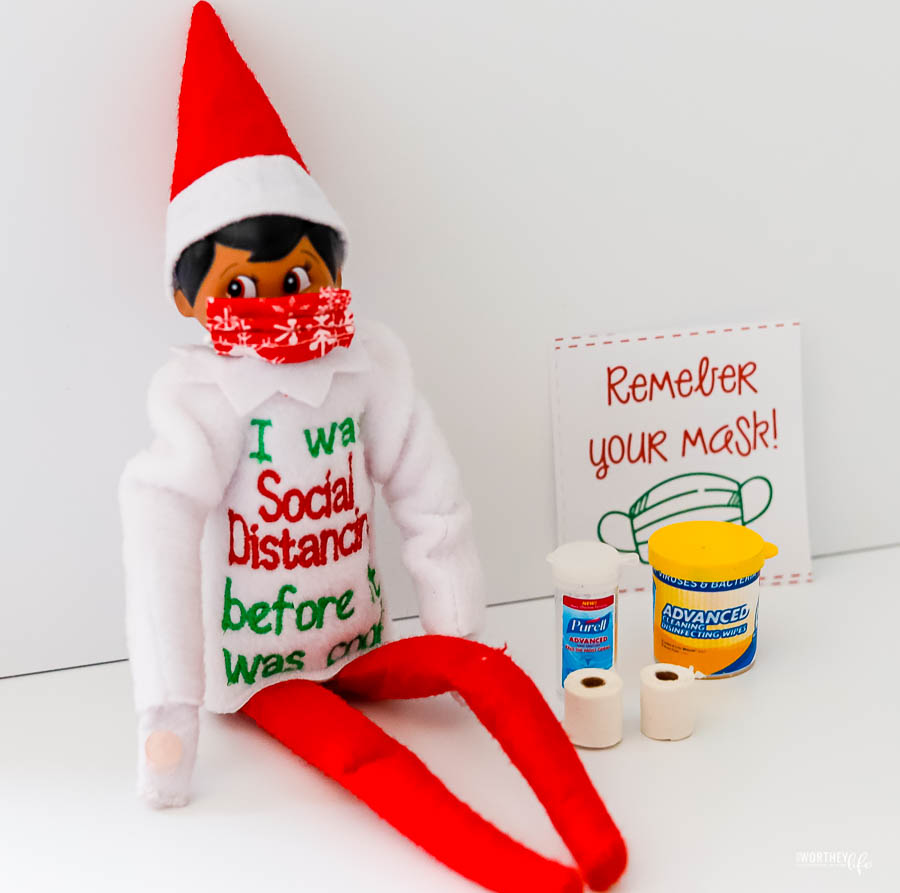 Elf on the Shelf mask
Whether you're for or against wearing a mask, it's the safe and right thing to do. Help drive this message home by having your child's doll wear a mask as well. You can purchase a mask on Etsy or make one yourself. It's pretty easy to do.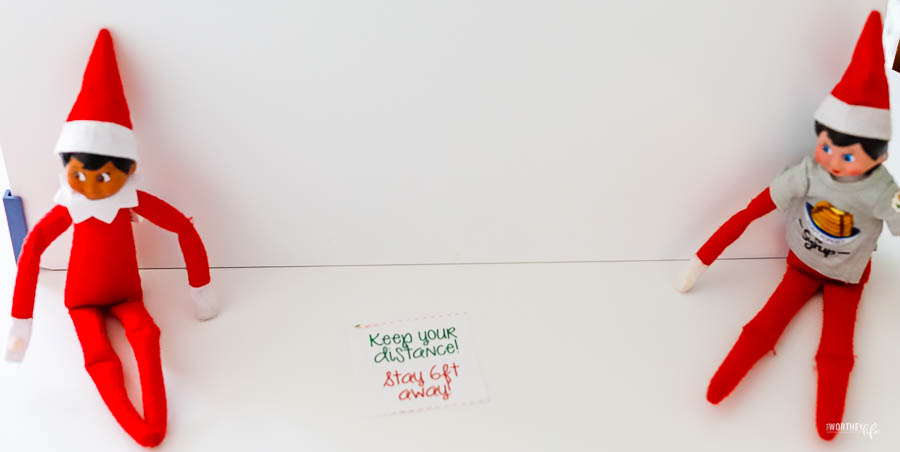 Social distancing is important among elves too!
Our Elves all live in the same house, but this is a 2020 way of driving the message home about staying 6 feet apart from people not in the same household. And honestly, some of us are at the point where we want to be 6 feet from the people in our home. LOL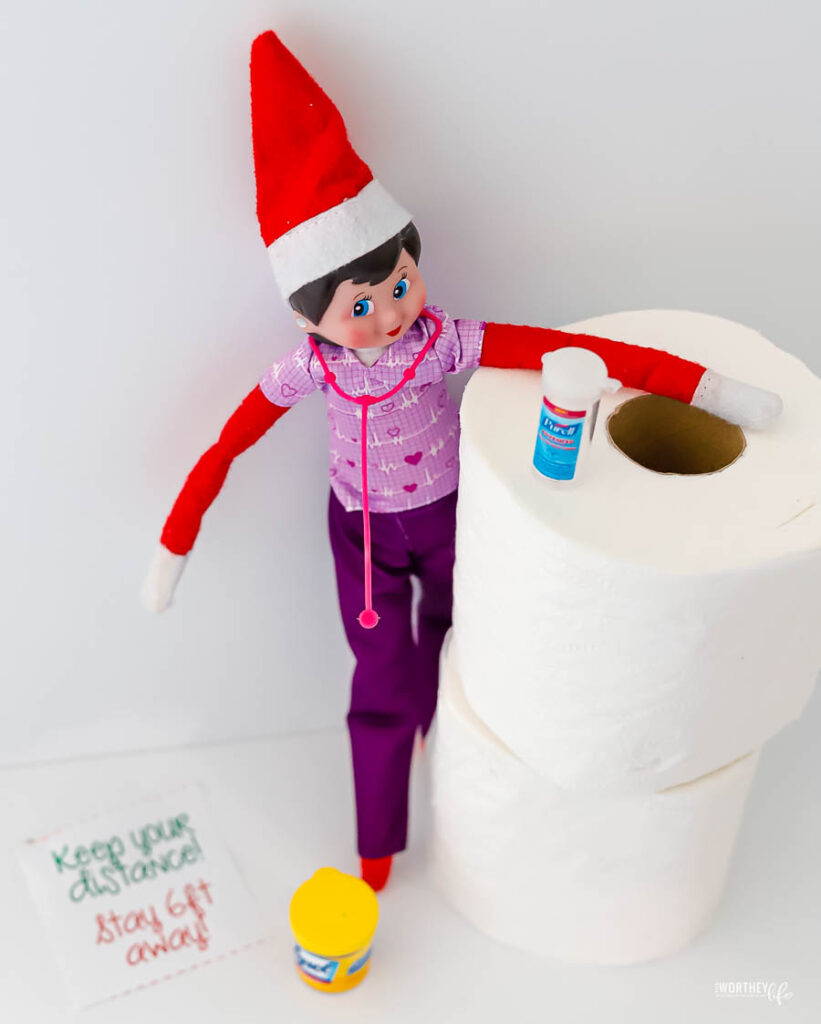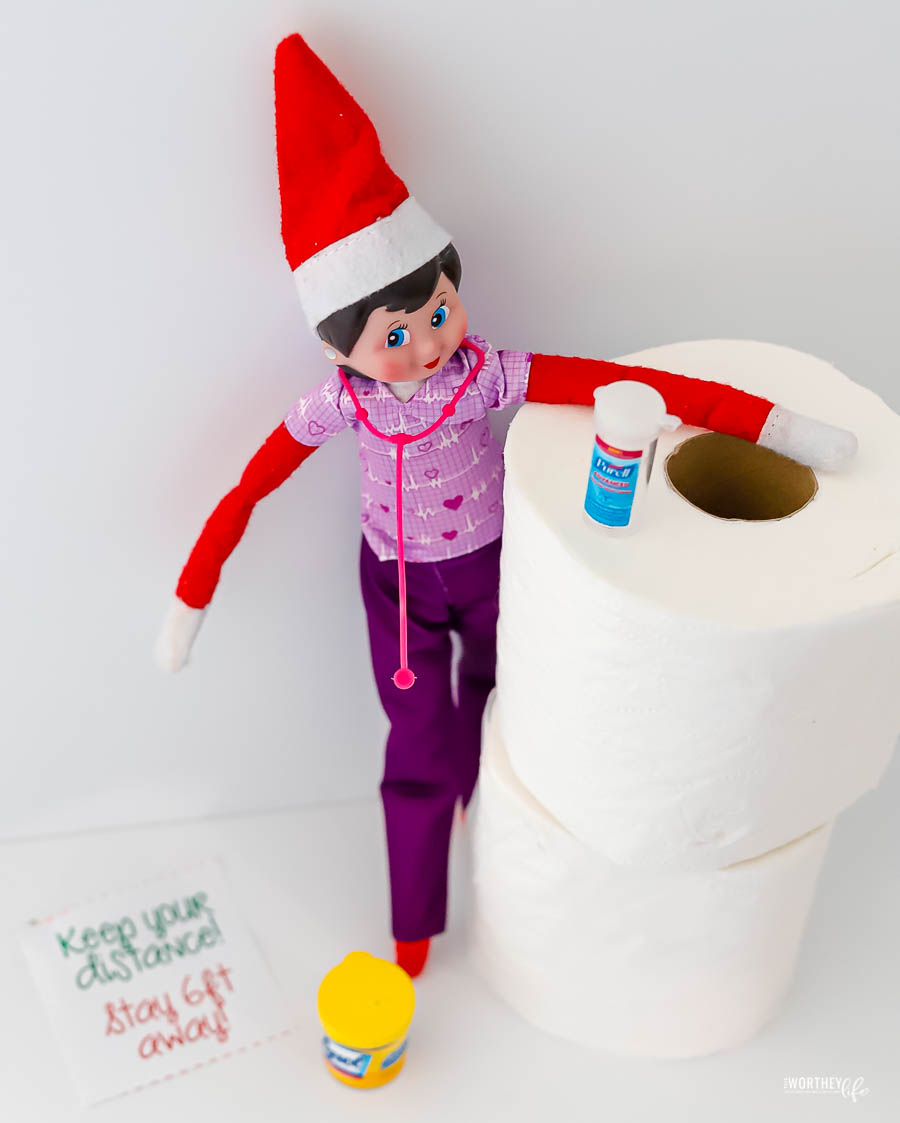 Nurse Elf!
Shout-out to all healthcare professionals working day and night tirelessly to help keep us safe- and even save our lives. I purchased a Barbie's med clothing for my Elf.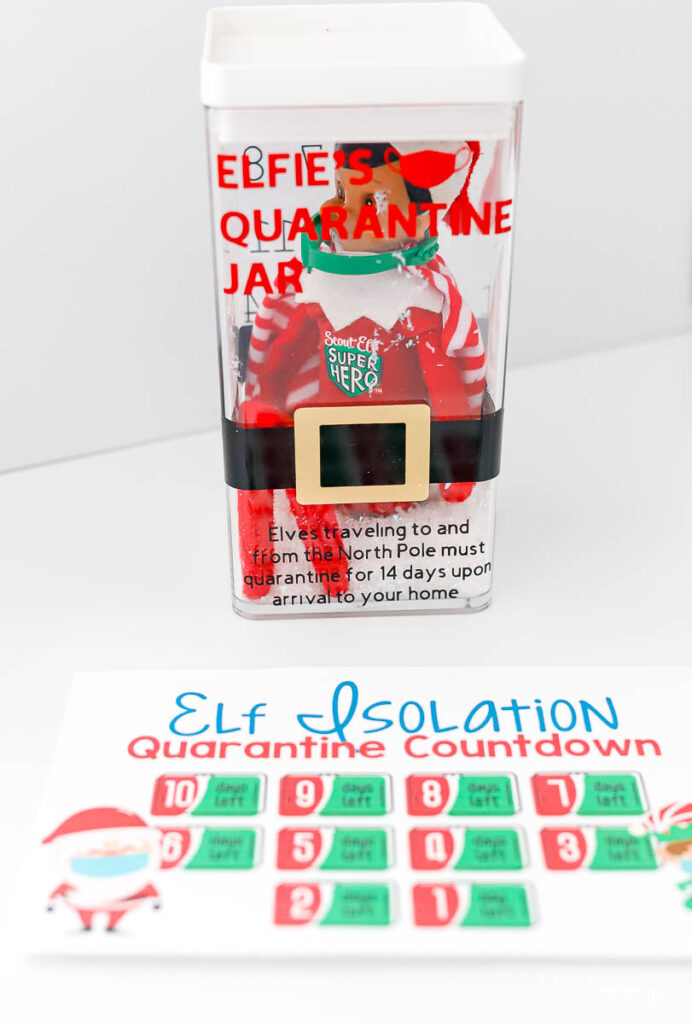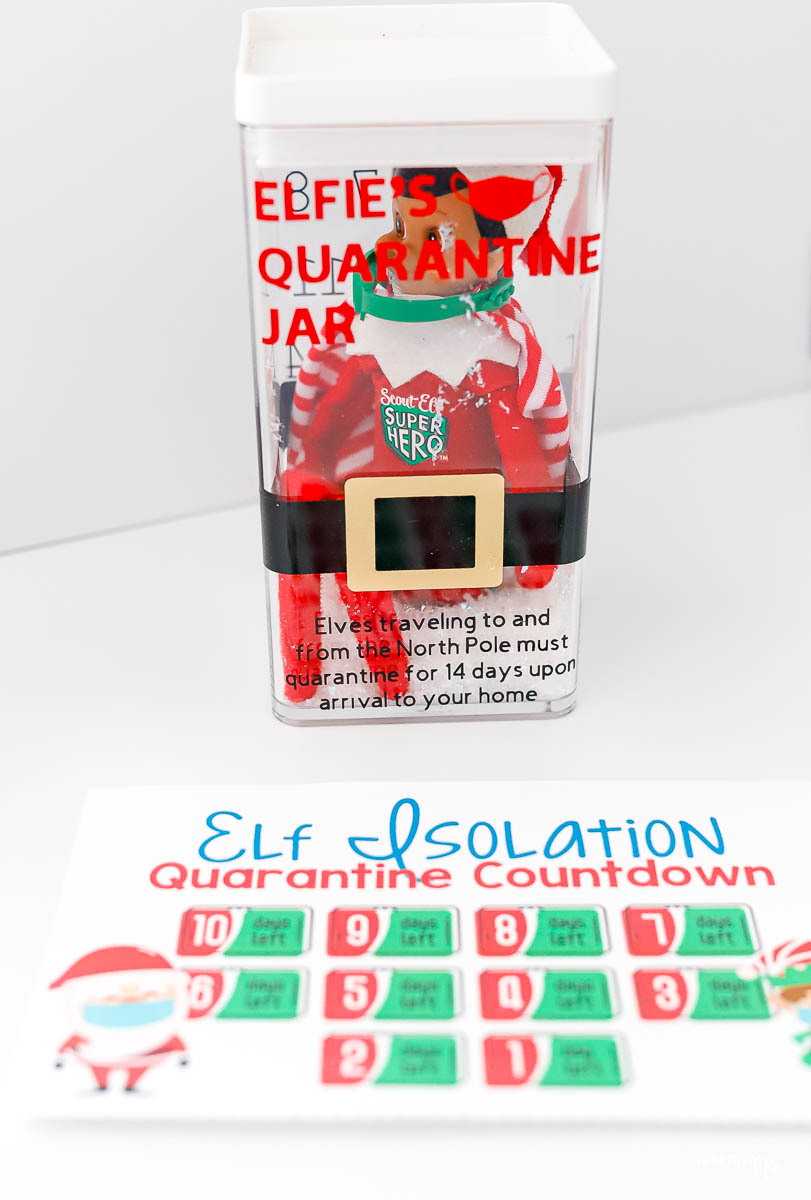 Elf Quarantine in a Jar
You don't have to spend a ton of money to make a quarantine jar for your child's doll. You can use a tall, clear storage container. Take a marker or use your Cricut to make the letters that will go on the jar's sides.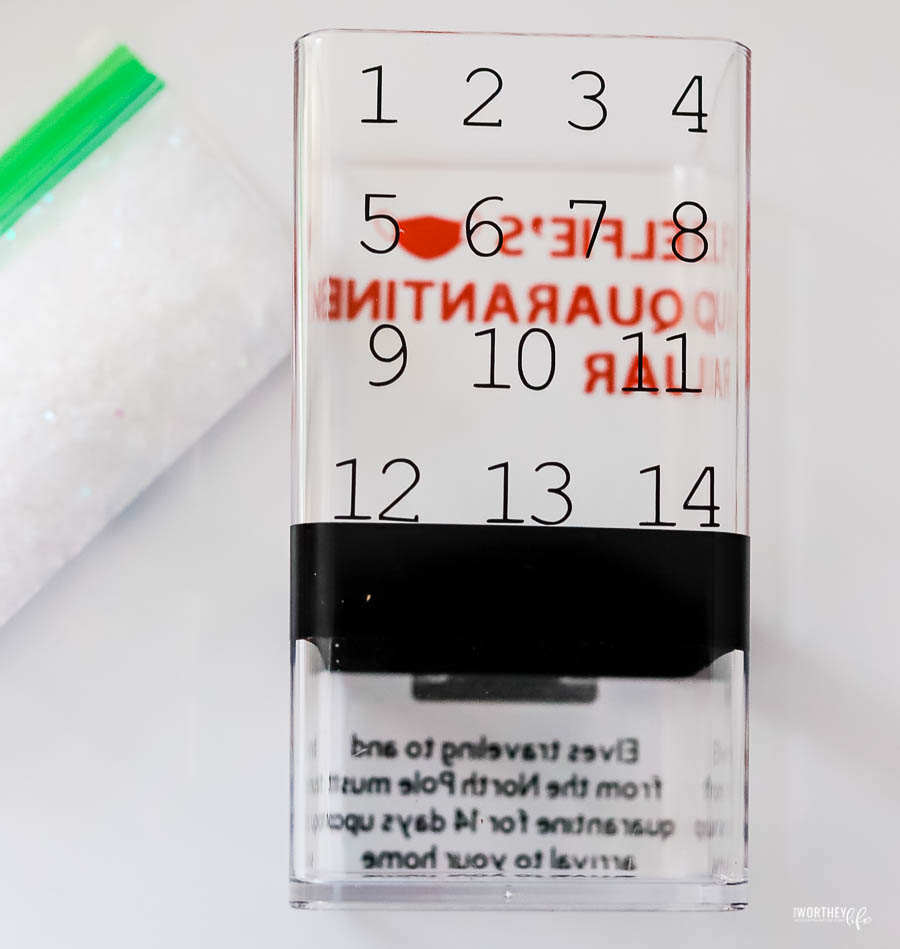 On one side, you can put up a countdown (or use our printable countdown as a better option). On the other side of the jar, you'll write the name of the Elf and the words Quarantine Jar.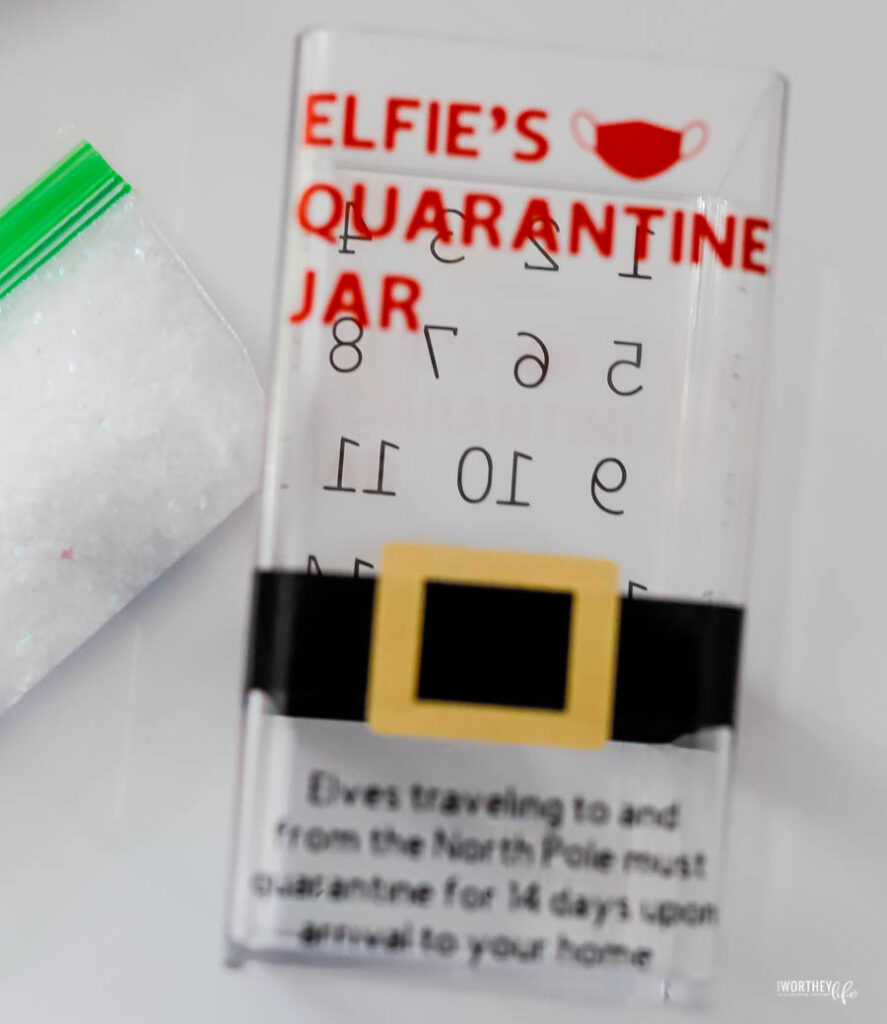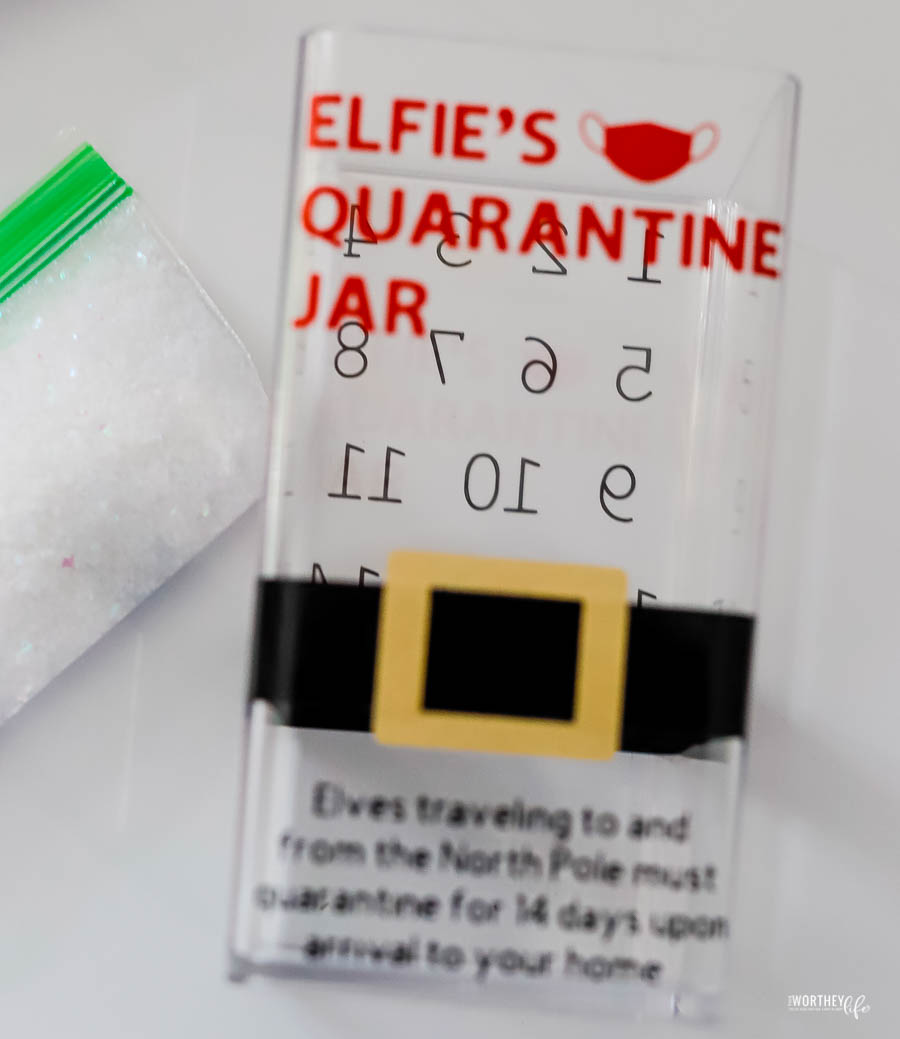 Or you can feel free to make it up and come up with a witty saying.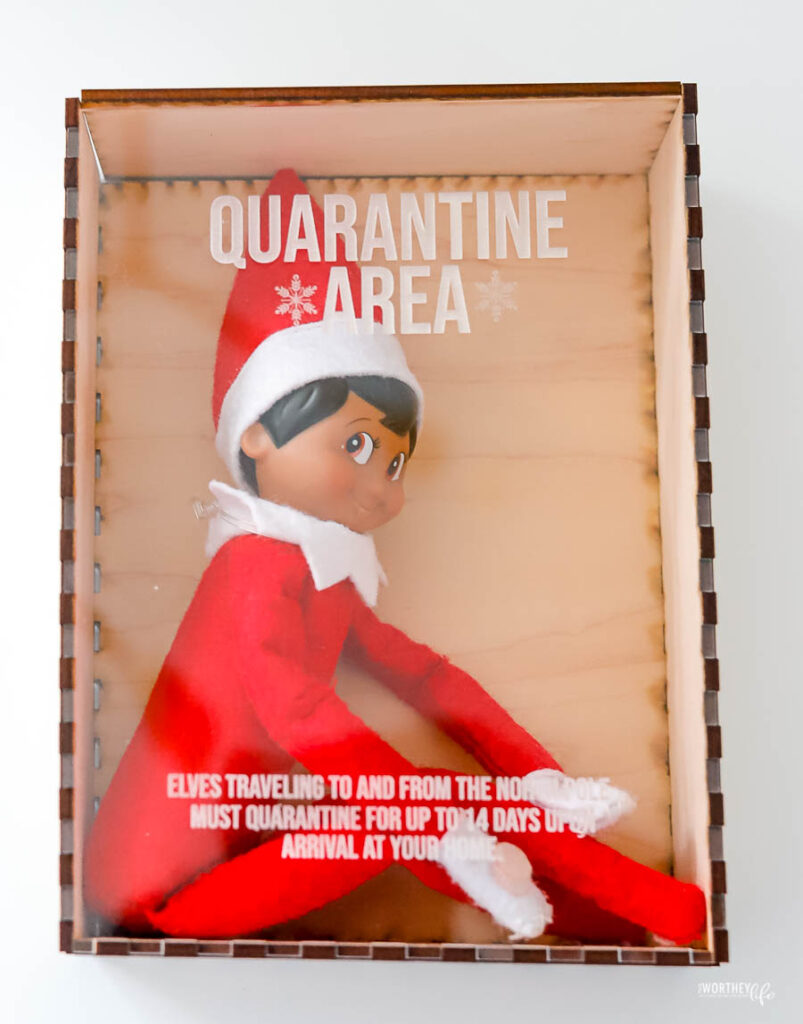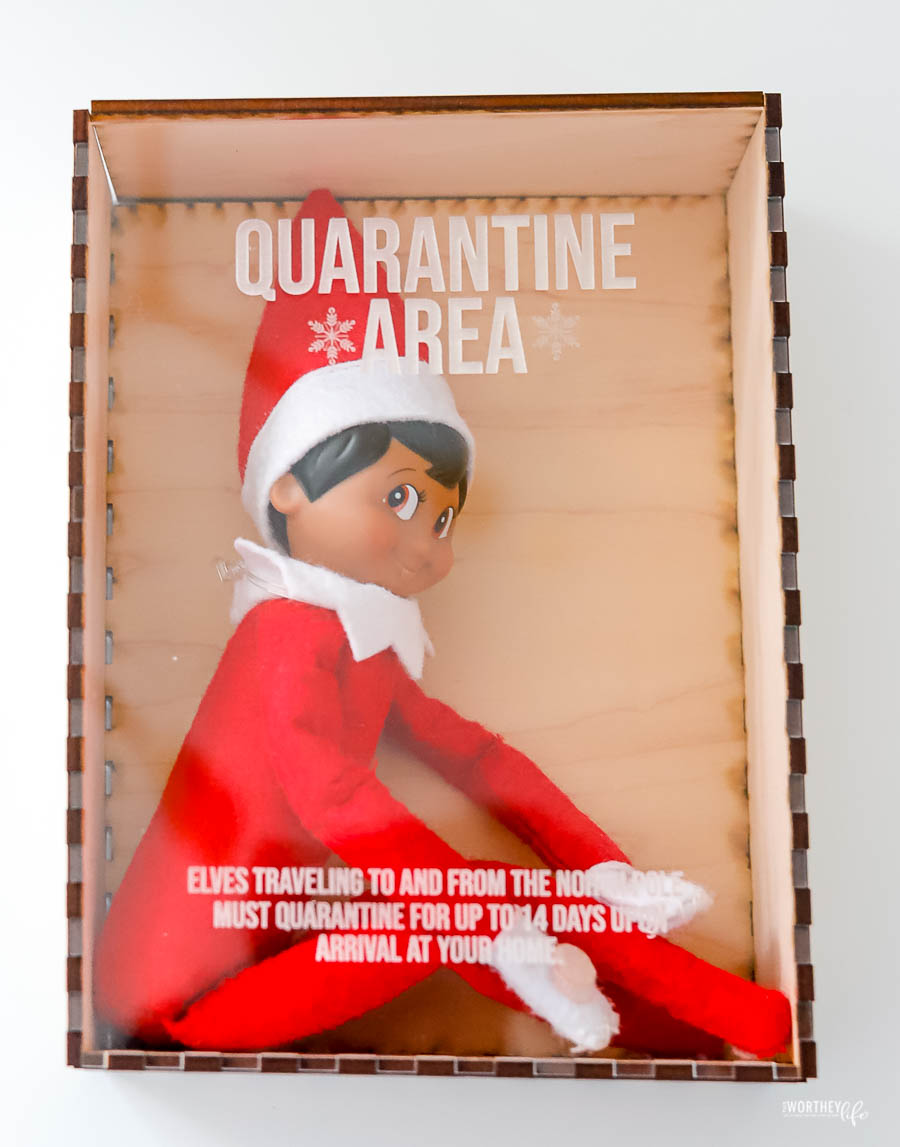 Quarantine in a box
Another idea you can do to create an isolation box for your Elf is purchase on Esty (see link below) or make one. Here is a tutorial on YouTube on how to make a Quarantine box.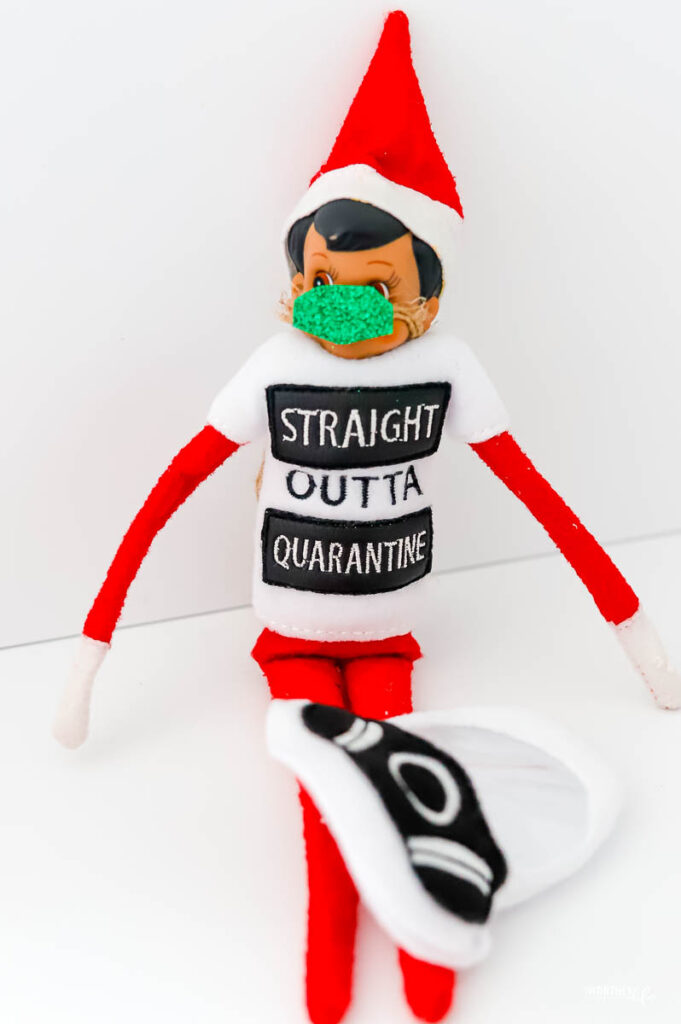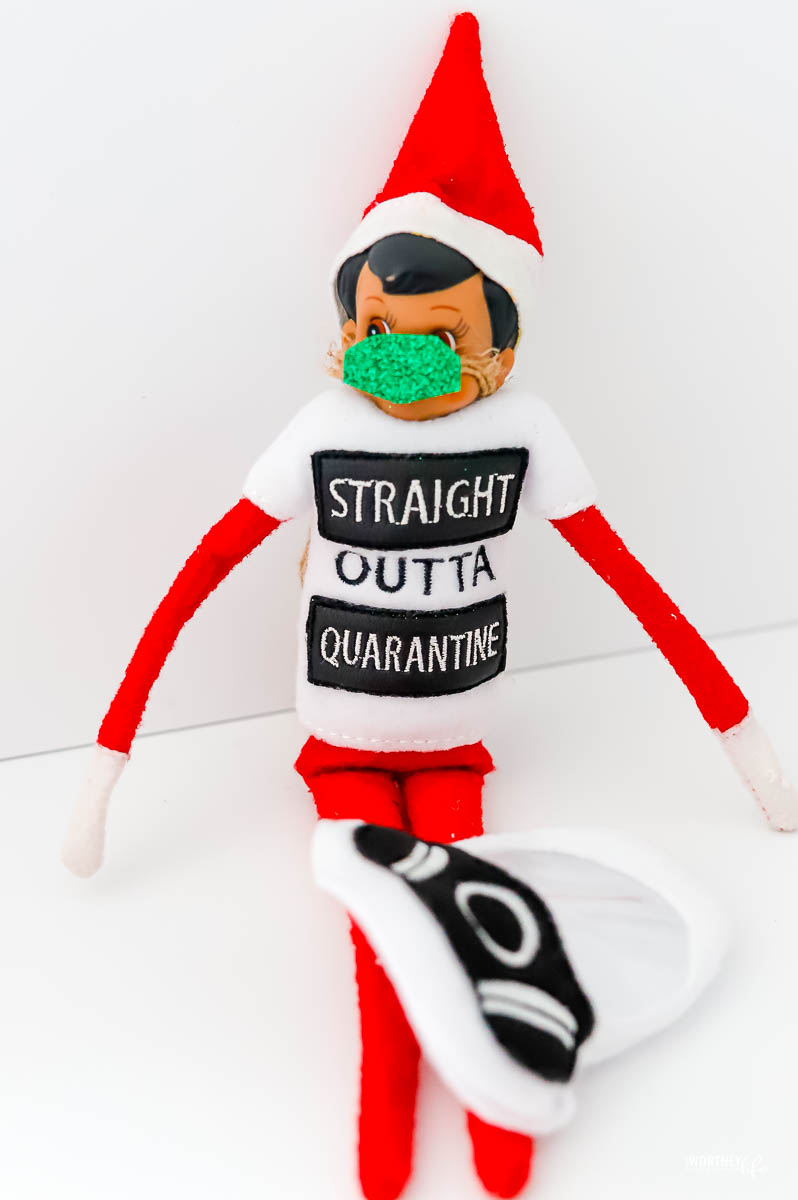 You can also have fun by making or purchasing quarantine-style clothing for your child's doll. Like this little shirt and matching mask is so cute. It says, "straight outta quarantine!" (see links below)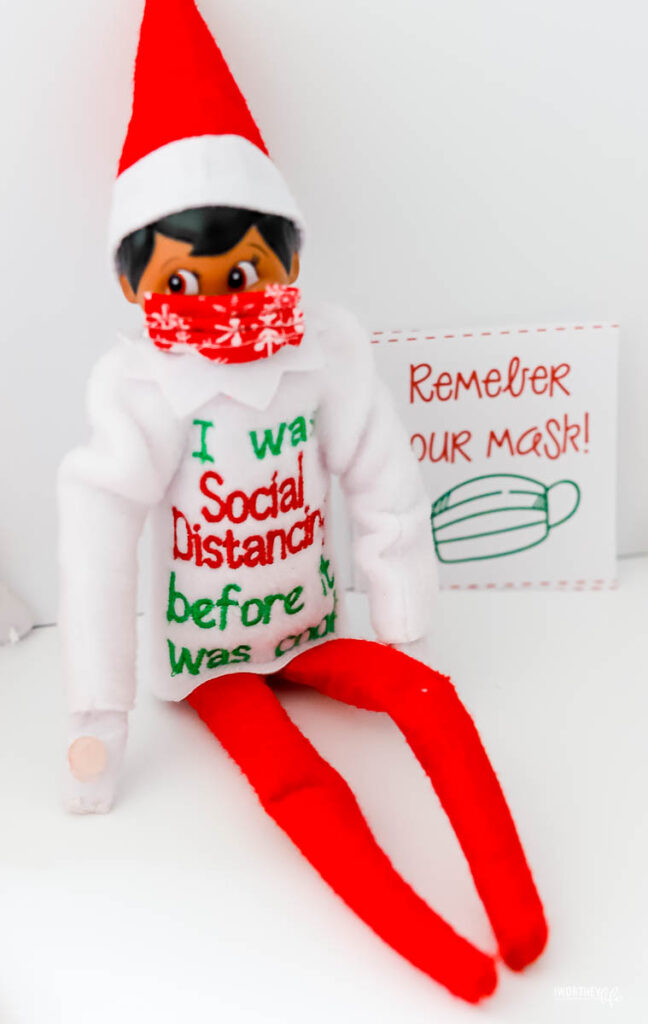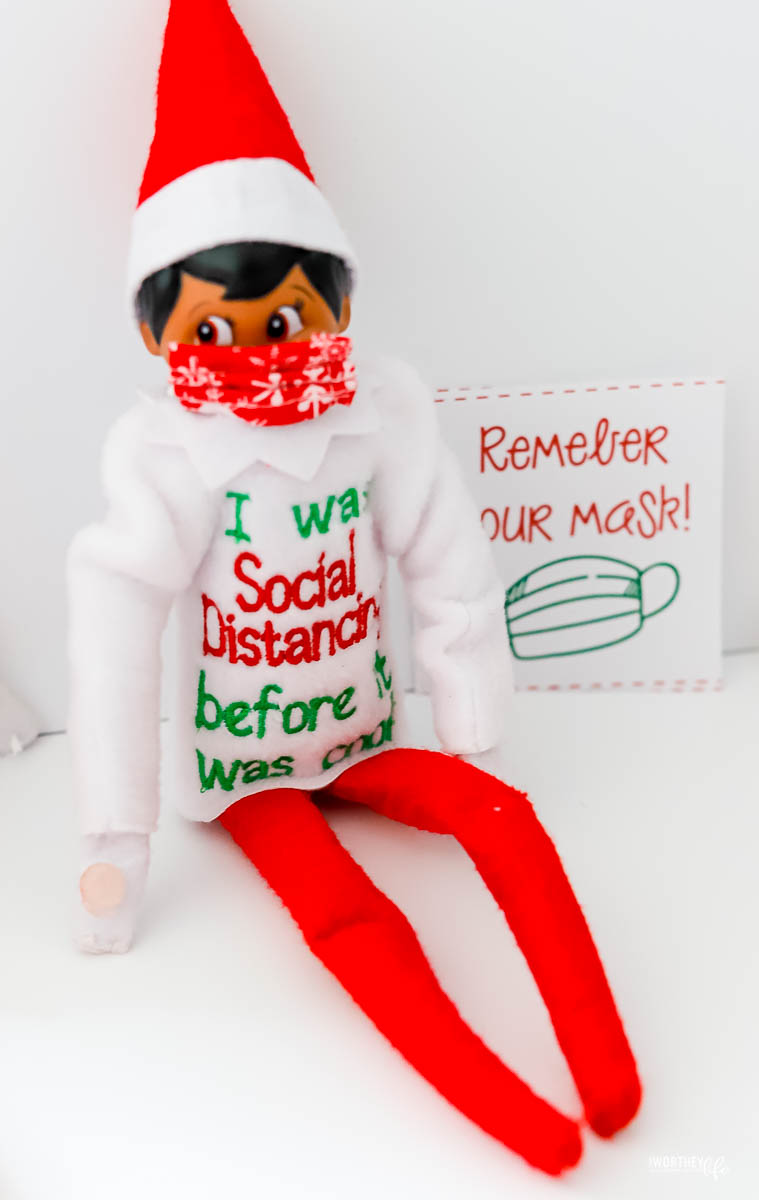 Another fun one is this shirt that says, "I was social distancing before it was cool."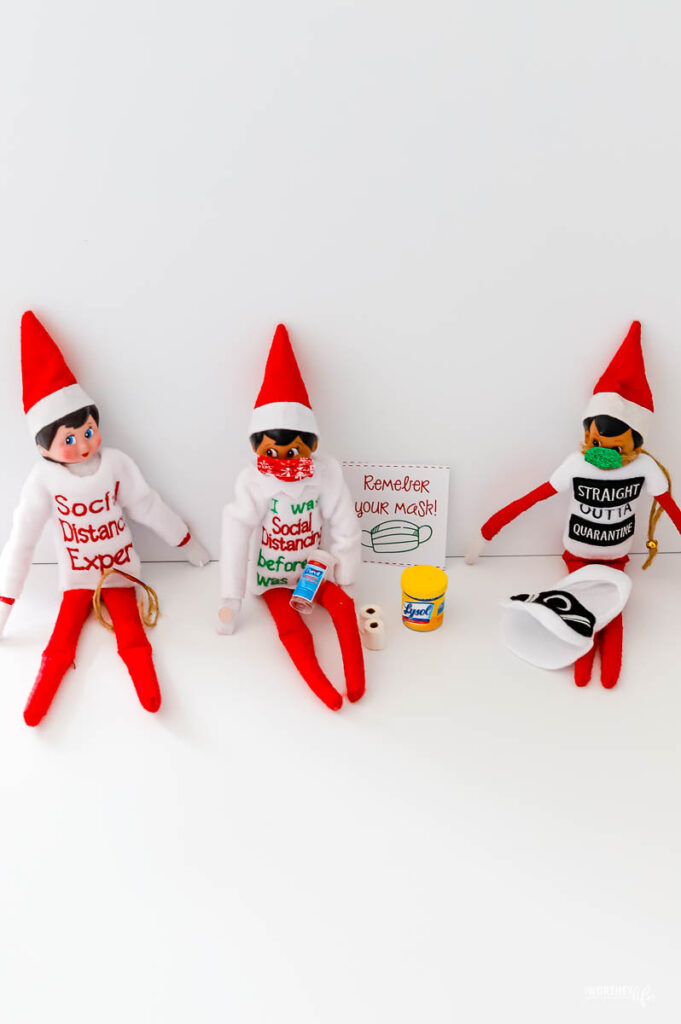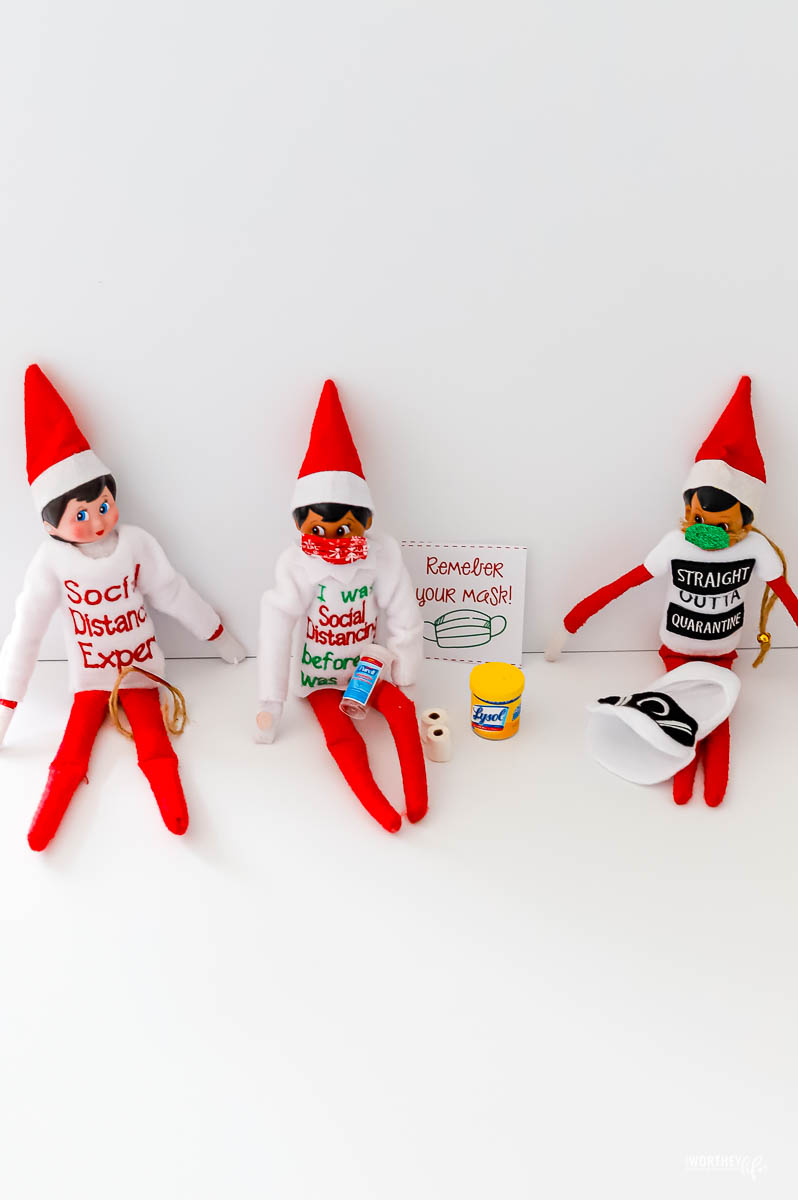 And here are all three of our elves together, hanging out, wearing their cute shirts, and sharing supplies.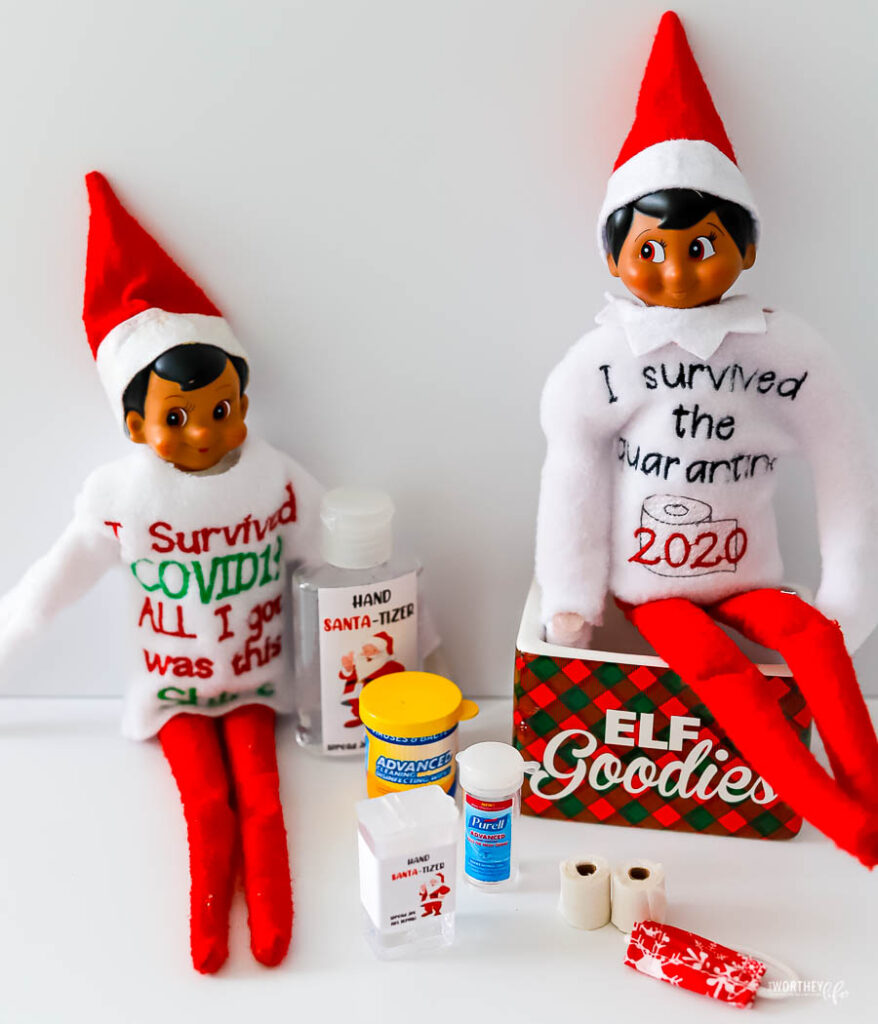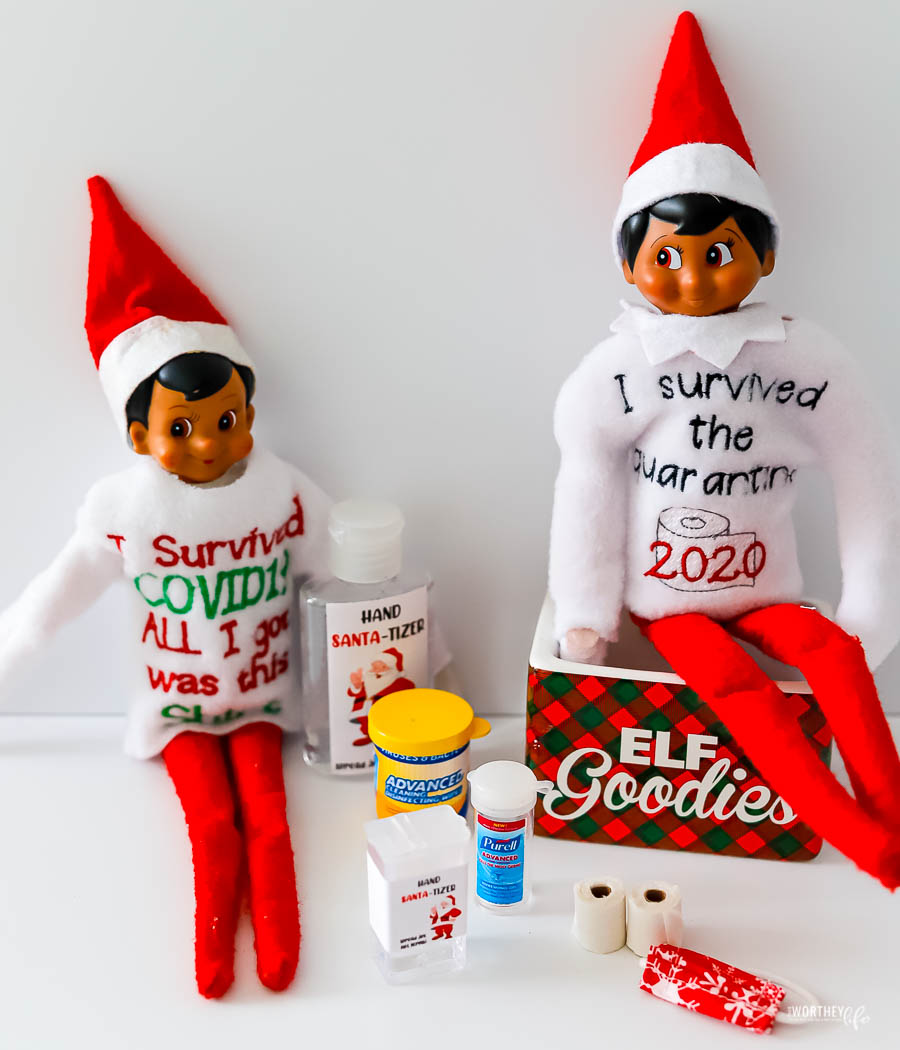 Elf on the Shelf COVID shirts
Get your Elf a COVID survival shirt that says, "I survived COVID, all I got was this shirt." Or "I survived the quarantine 2020."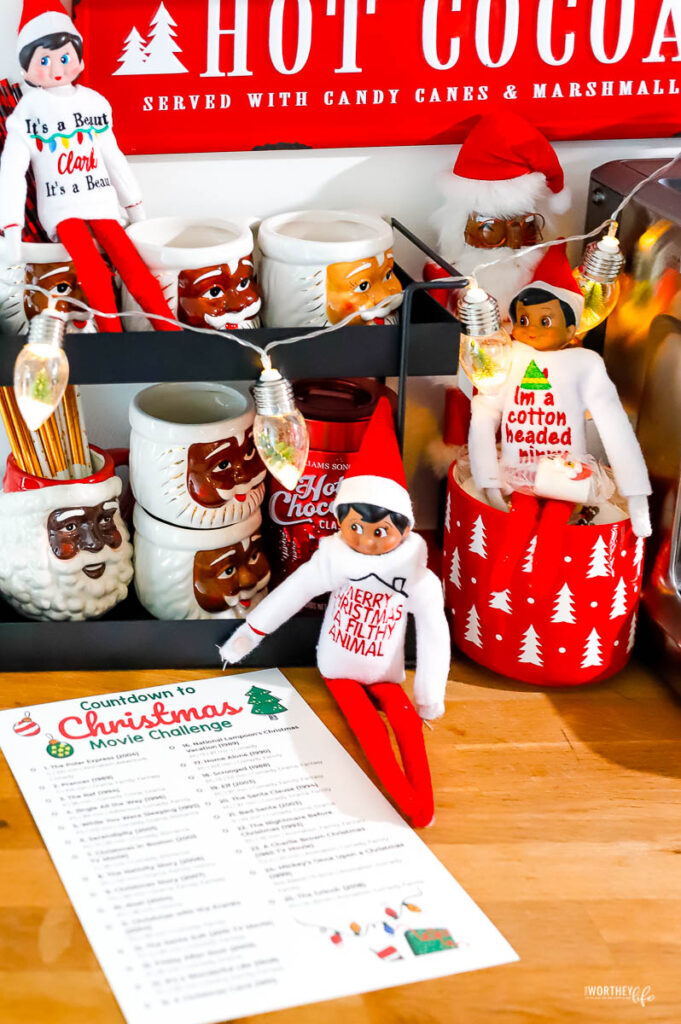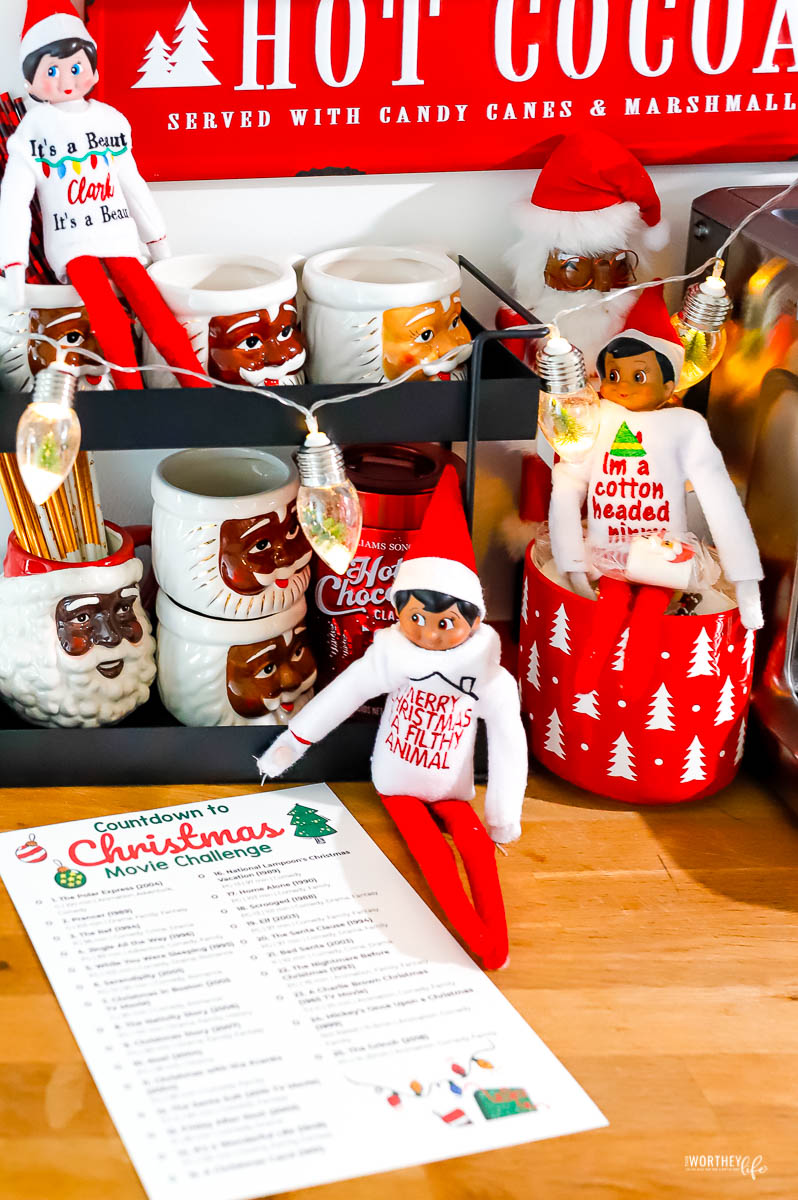 Christmas movies to watch with your Elf
Since we're spending more time at home, have your Elf participate in a Christmas movie challenge. You can grab this free printable to use and check off the movies as you go along.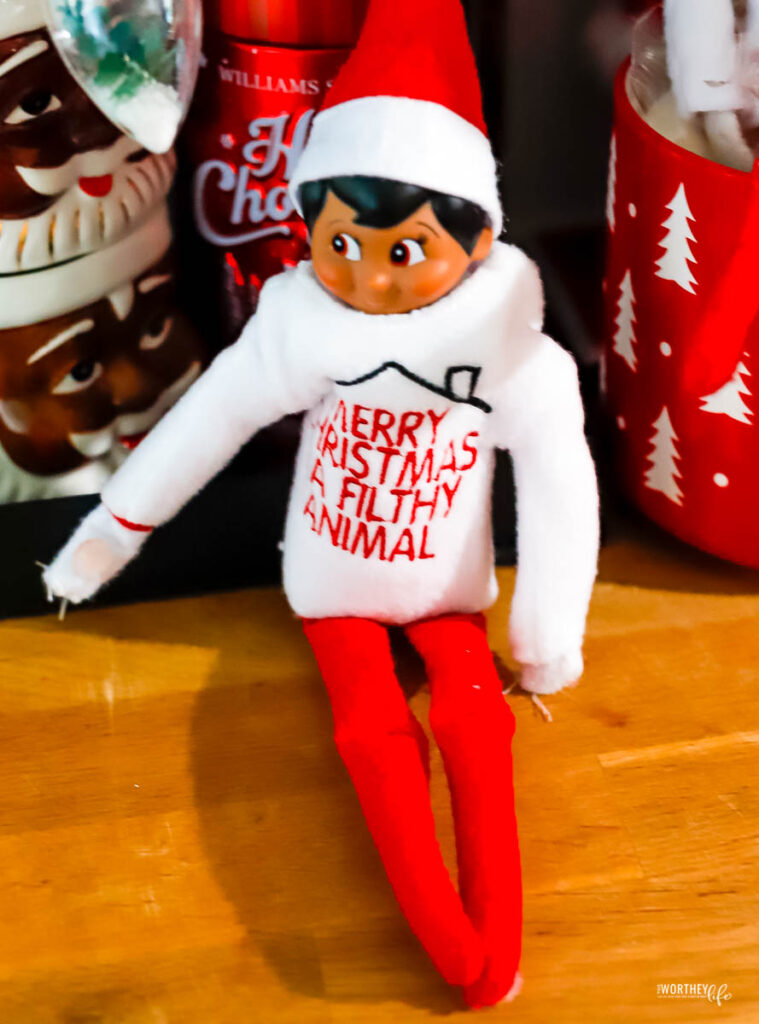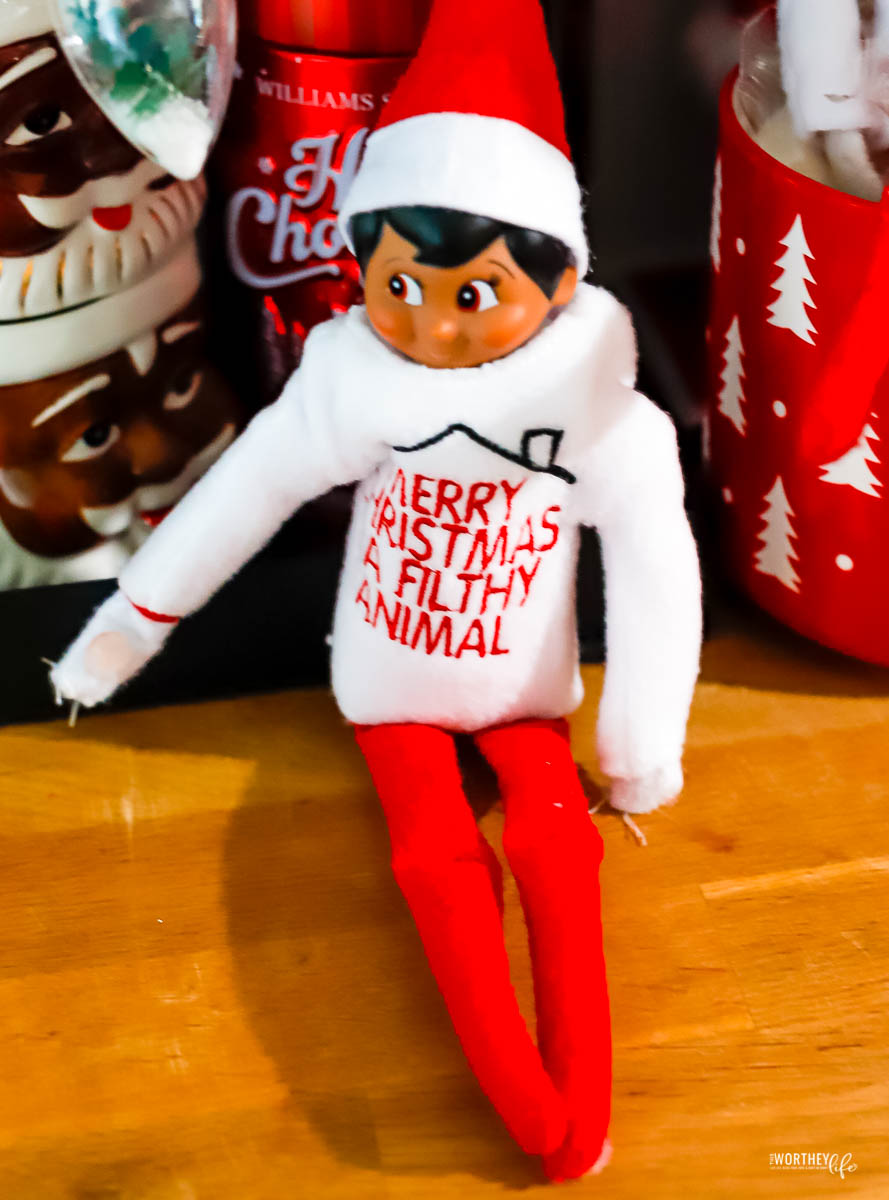 You can even have your doll wear your child's favorite movie on their shirt. As you can see, our elves are wearing three of our favorite movies, Elf, Christmas Vacation, and Home Alone. Don't forget the hot cocoa.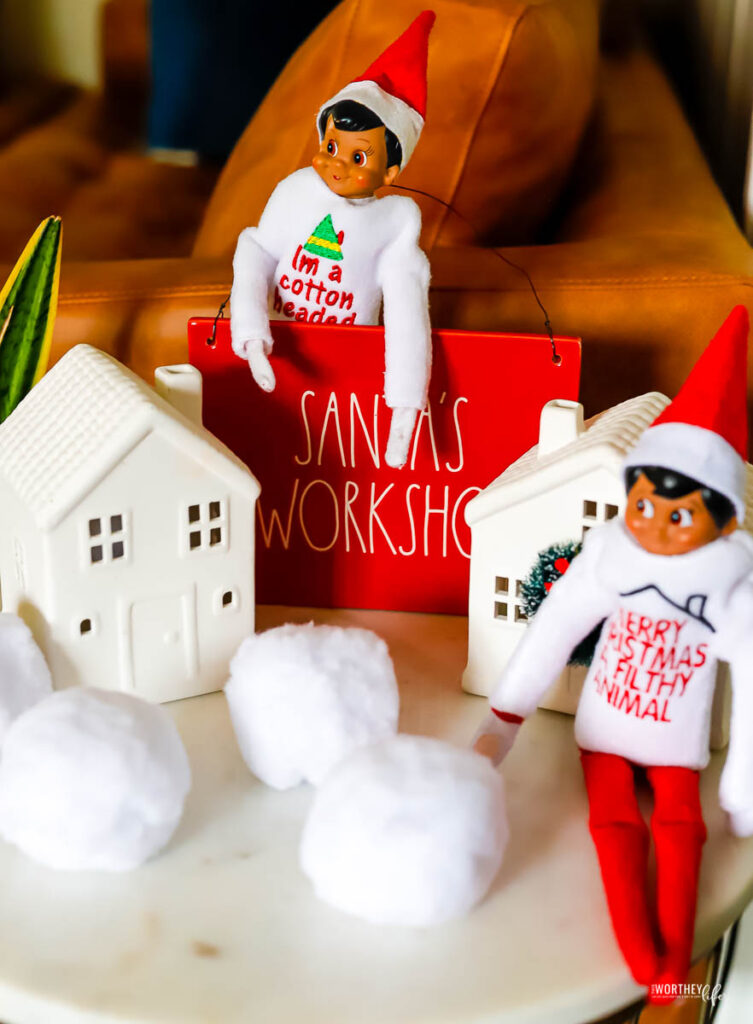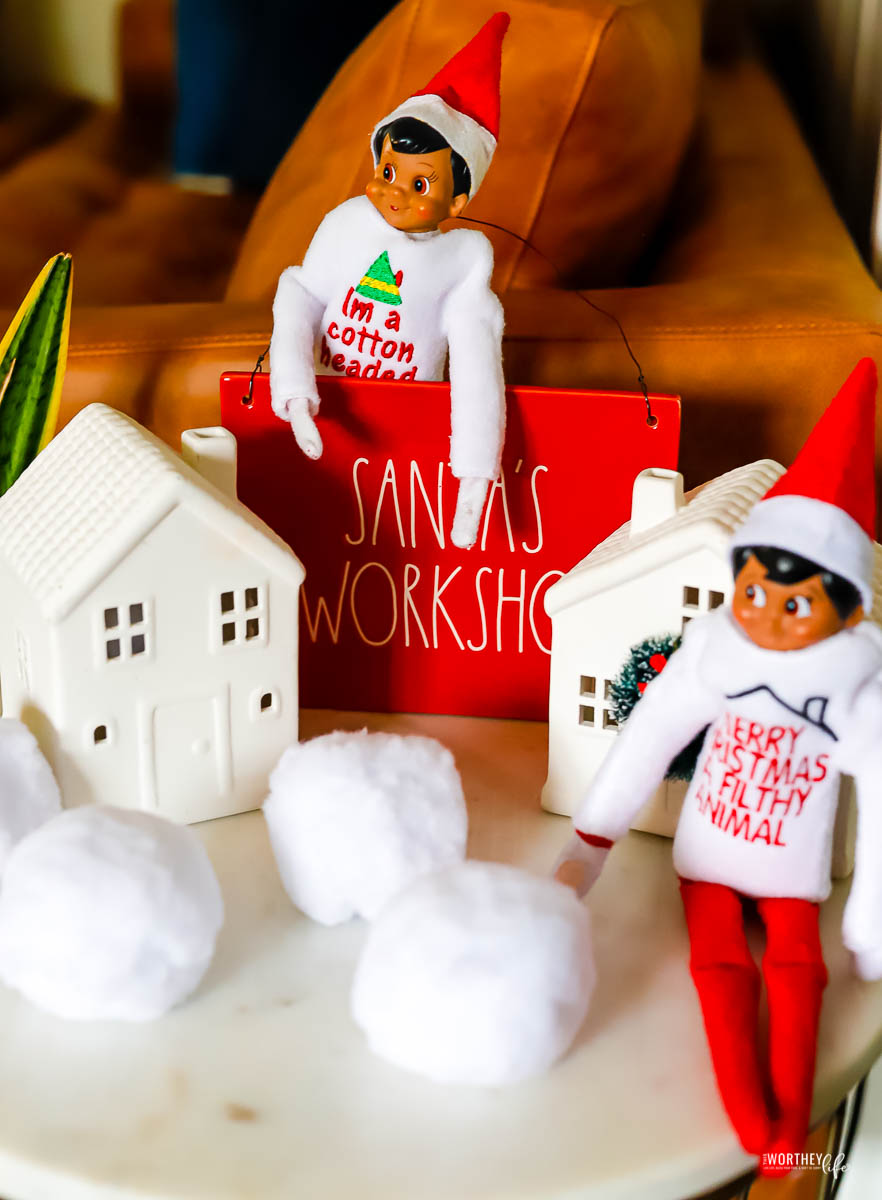 I'm bored in the house, and I'm in the house bored.
The elves are bored and decided to have a snowball fight in the house!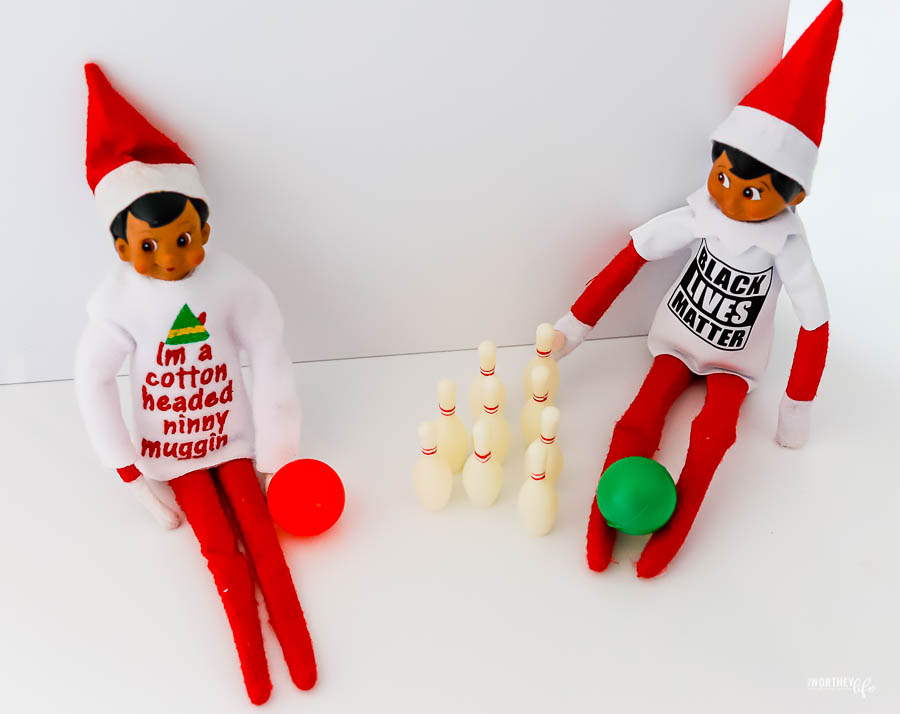 Playing games
Let's bowl! Have your elves (or Elf) play games. If you don't have two elves, you can have the elf play with another one of your child's toys. You can head to Etsy to find all sorts of accessories, clothes, and everything you need for your elf. (see my resources below)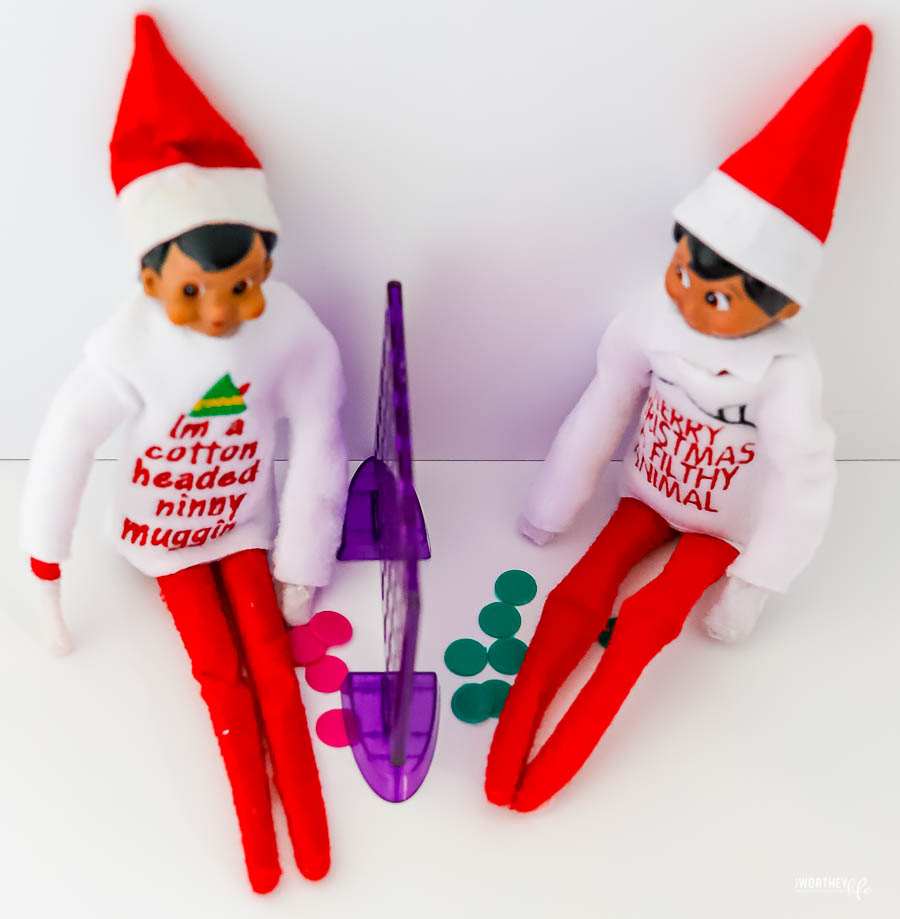 We're playing tons of board games during quarantine, and so are our elves!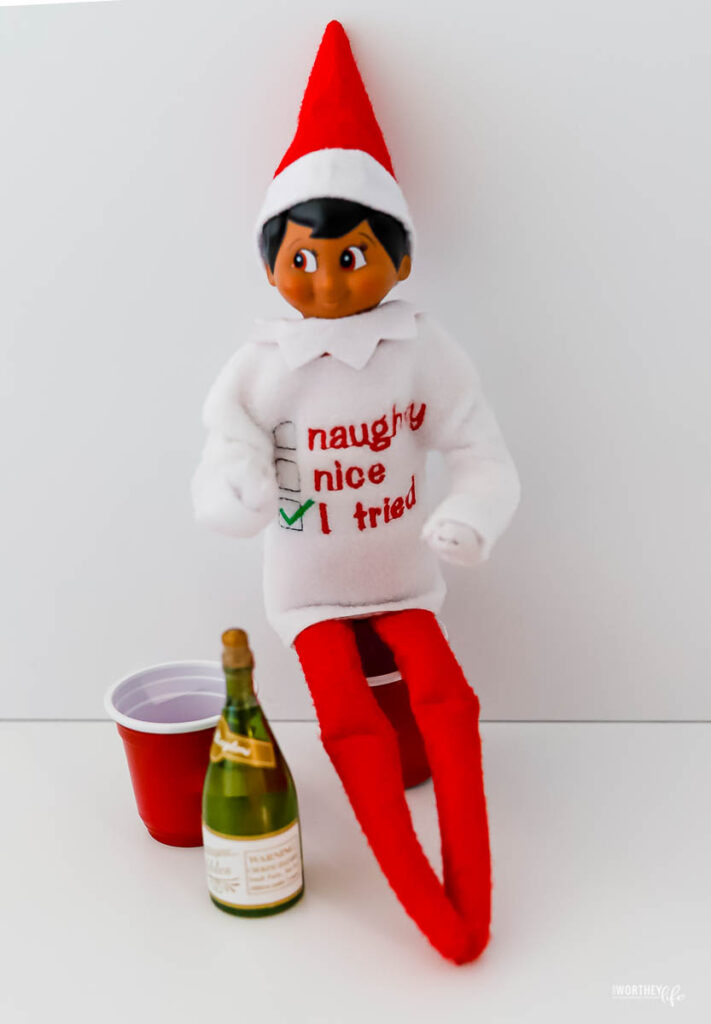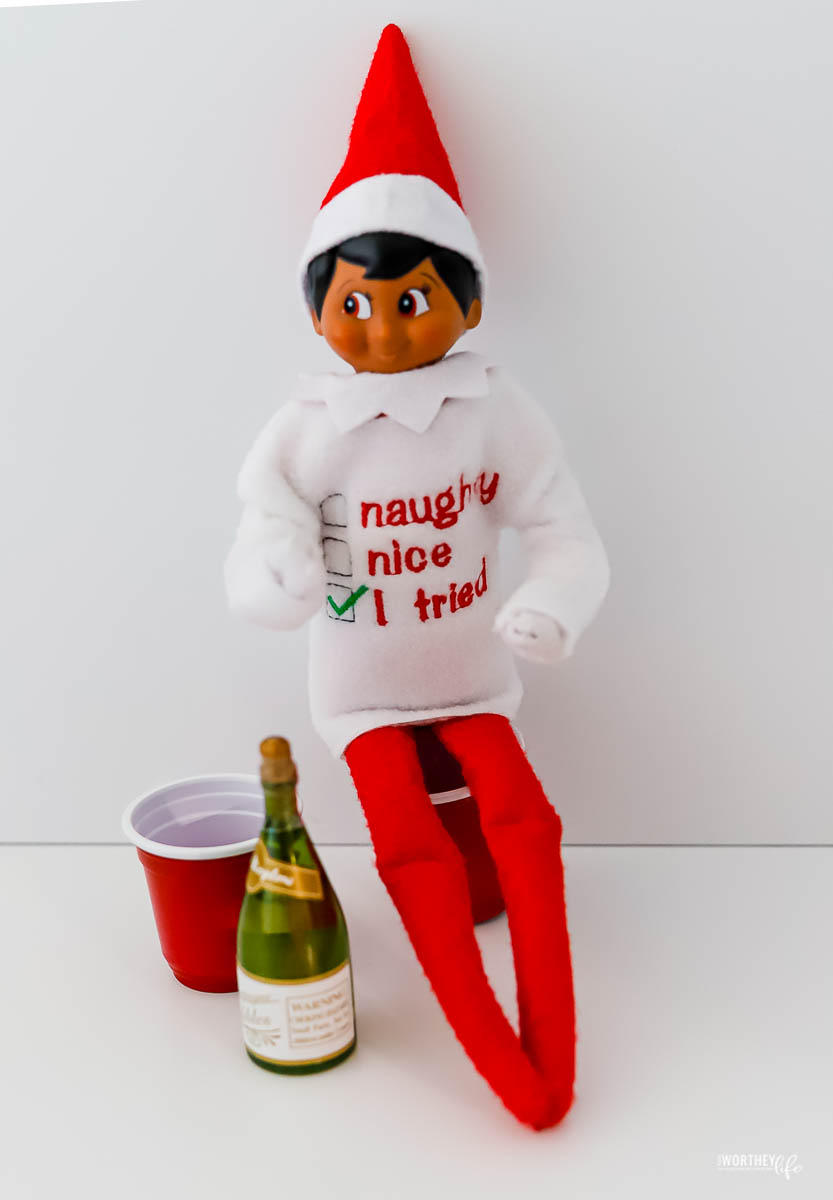 Because it's 2020
Well, Elfie tried to behave. I guess it's just not going to happen. Find more adult related Elf on the Shelf content.
And if you're right there with Elfie, try our Club Quarantine Cocktail Made With Ciroc Vodka.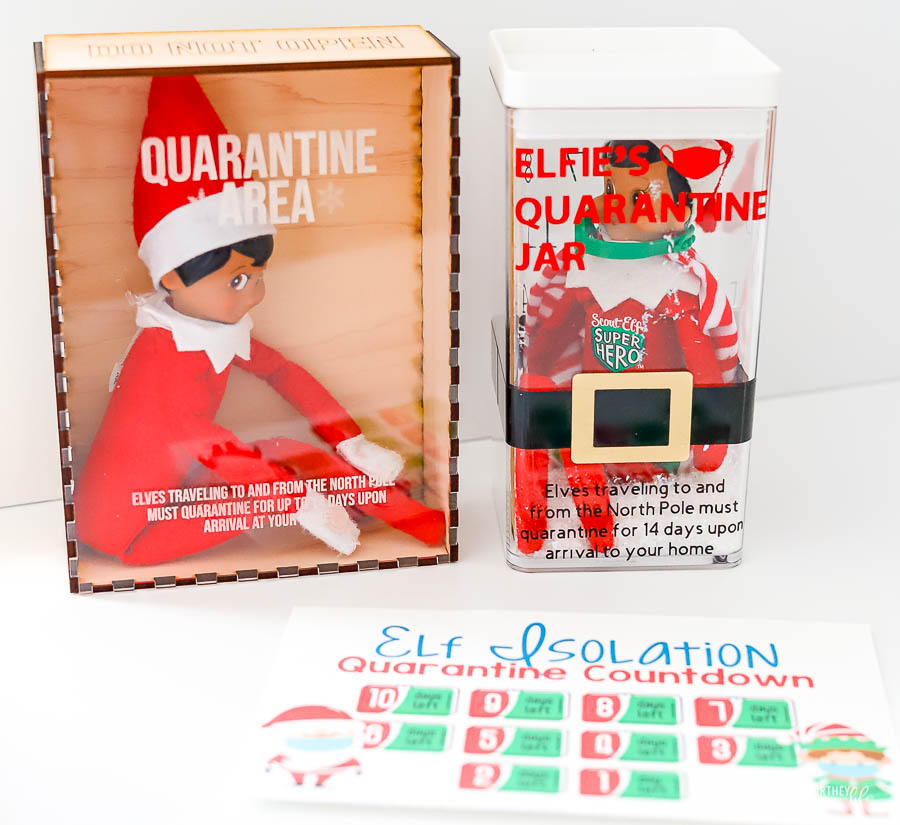 There are so many fun and creative ways to have your elf quarantine for a few days or most of the season. And while it would be so easy to have the elf sit in a quarantine jar all season, don't do it! LOL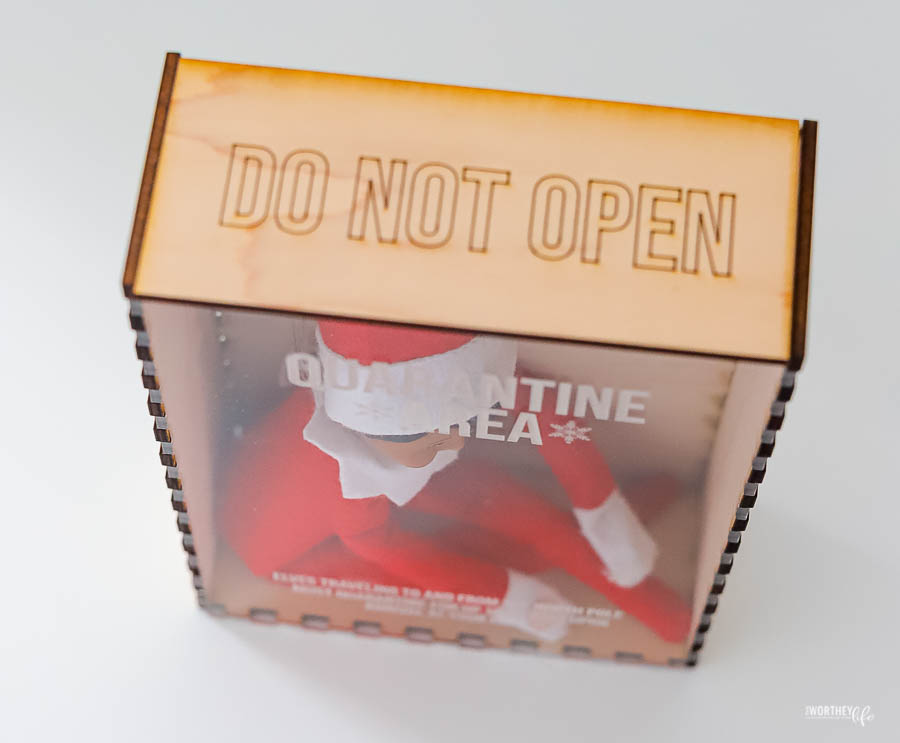 It's tempting, but bring the holiday magic by having your elf do fun things. I know it can be overwhelming to try to outdo ideas on Pinterest or around social media, but sometimes simple + easy is the best way to go.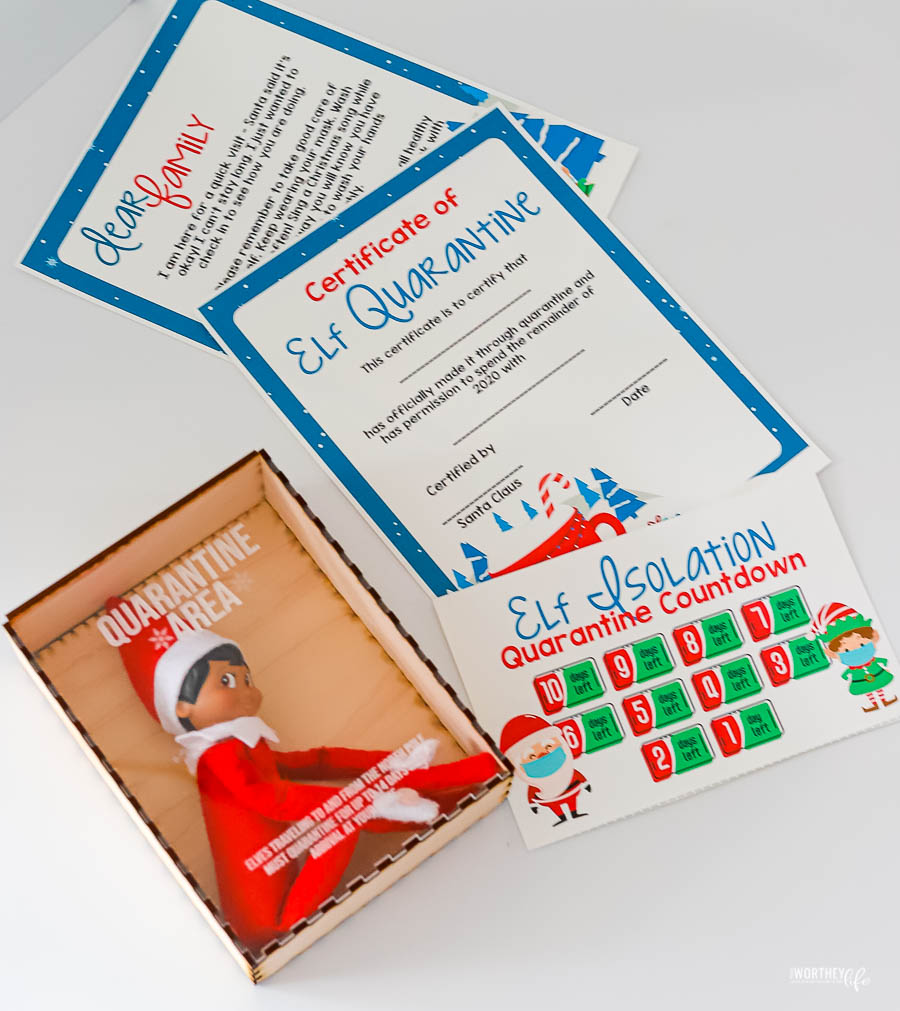 Elf on the Shelf Quarantine Letter + Certification
Grab these free printables to use while quarantining your Elf.
This Elf on the Shelf Quarantine Pack includes:
Certification Quarantine Letter
Quick quarantine note
Elf Isolation Quarantine Countdown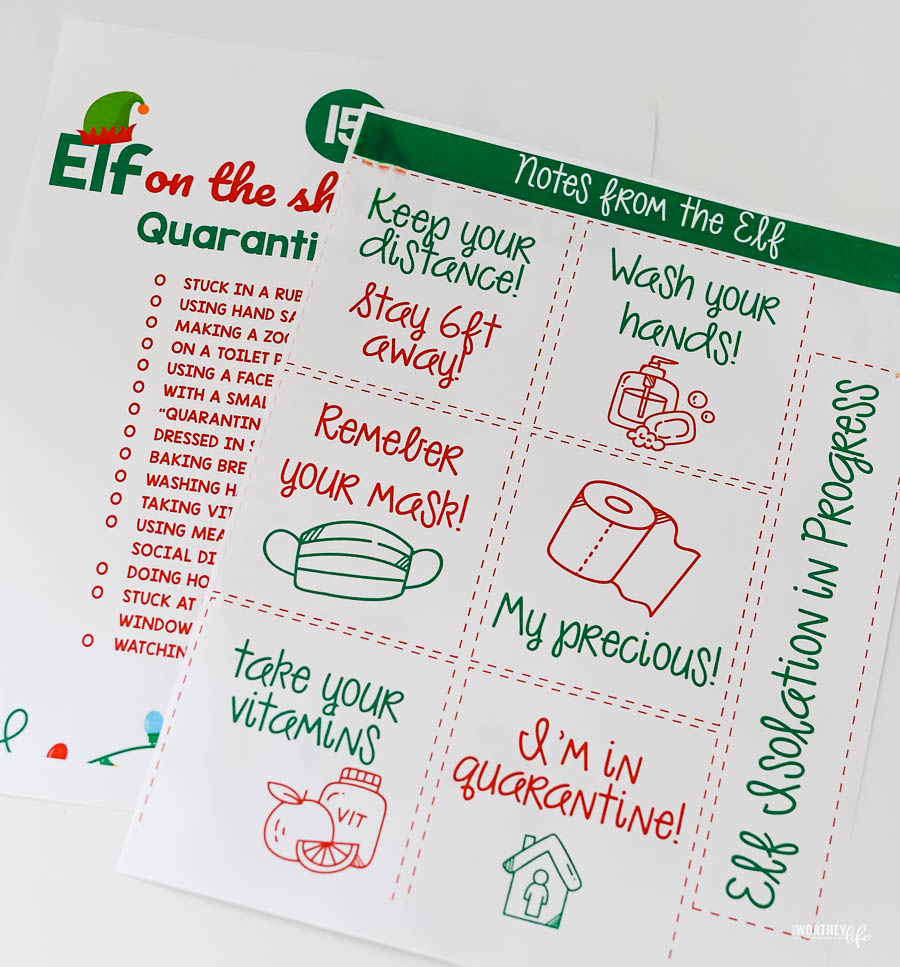 More Elf on the Shelf Quarantine Printables
You can also print out these quarantine notes, as well as the quarantine ideas checklist. You can print out this checklist and messages to use as an idea for quarantine-style ideas for 2020.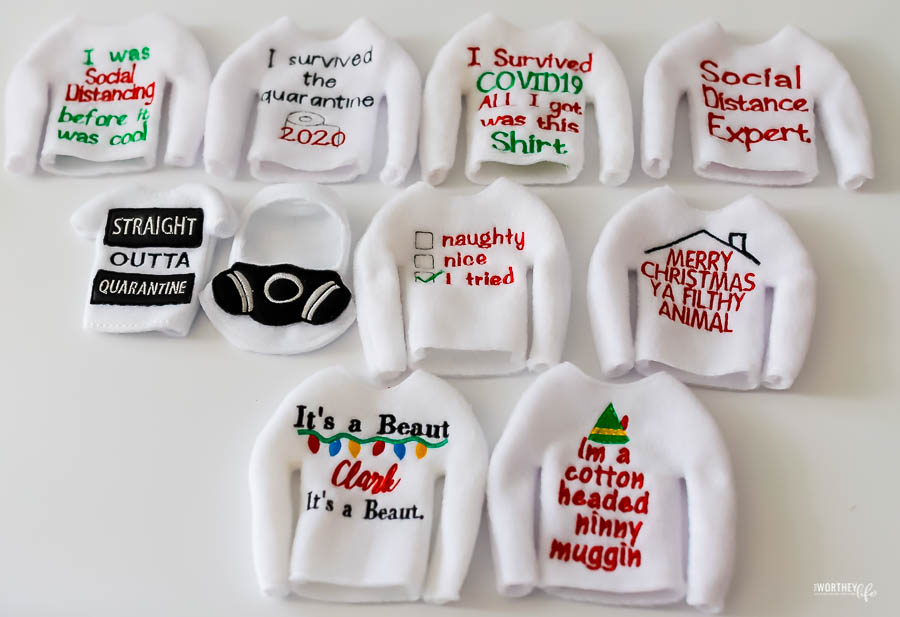 Quarantine Essentials for your Elf
I found a lot of the items found in this post on Etsy. It was easier for me to order accessories versus taking the time to make them.
Elf on the Shelf Essential Care Set (TP, Lysol, Purell, Mask) for the Holidays!!
Elf on the Shelf Quarantine Kit.
I survived the quarantine shirt.
Merry Christmas, Ya Filthy Animal.
I was social distancing before it was cool.
I survived COVID, and all I got was a shirt.
Straight Outta Quarantine shirt + mask
Bowling + tic-tac games from Confetti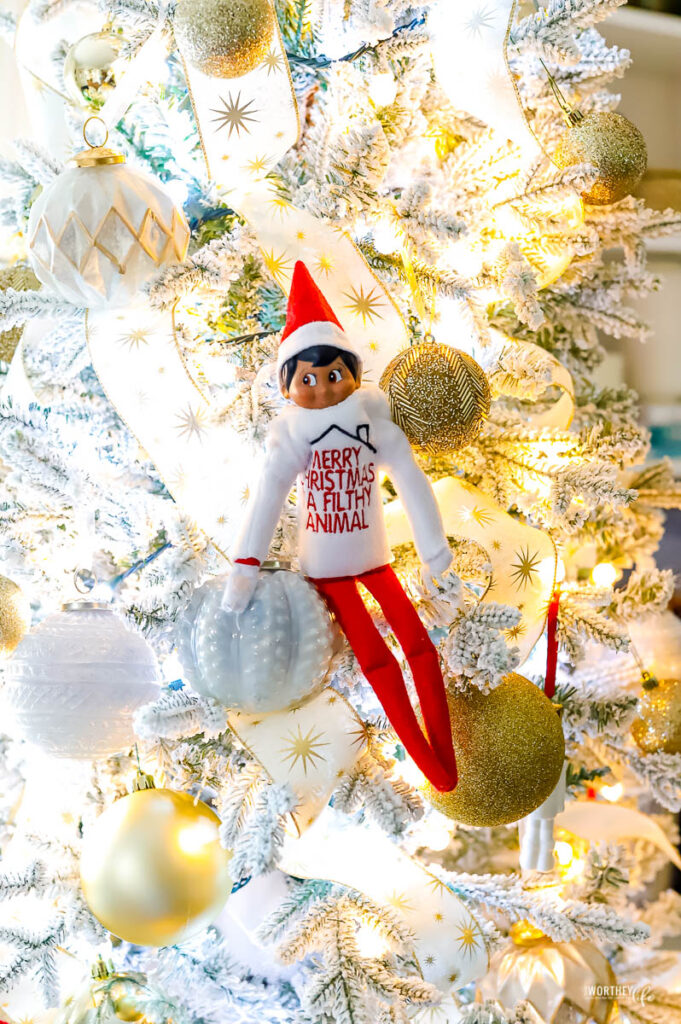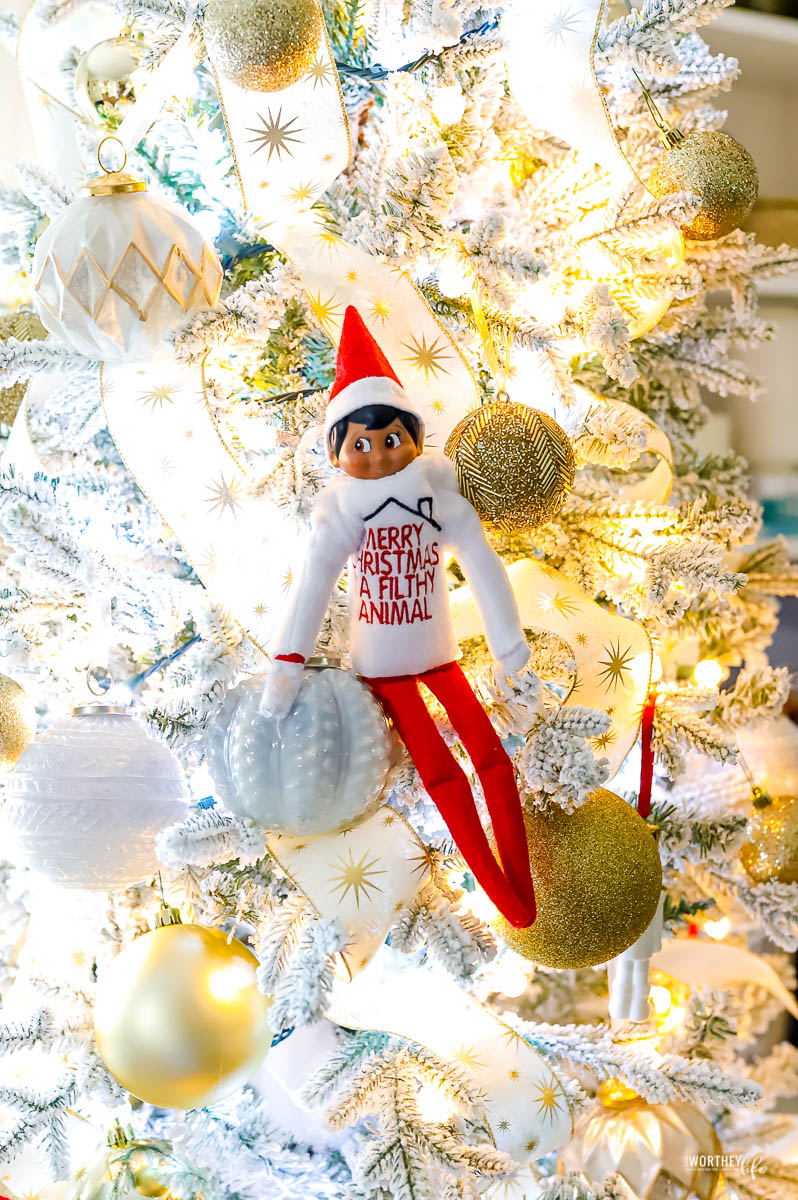 However, your elf decides to spend the season, whether in quarantine or doing fun + creative ideas– don't stress. Have fun and let this be a magical time, which is what the holiday season is all about!
More resources below:
30+ Cute & Fun Free Elf on the Shelf Printables
Elf on the Shelf Welcome Letter Printable