Who loves a good Frapp? Here are several great recipes that will save you money by making your own Frappuccino! 10 Frappuccino Recipes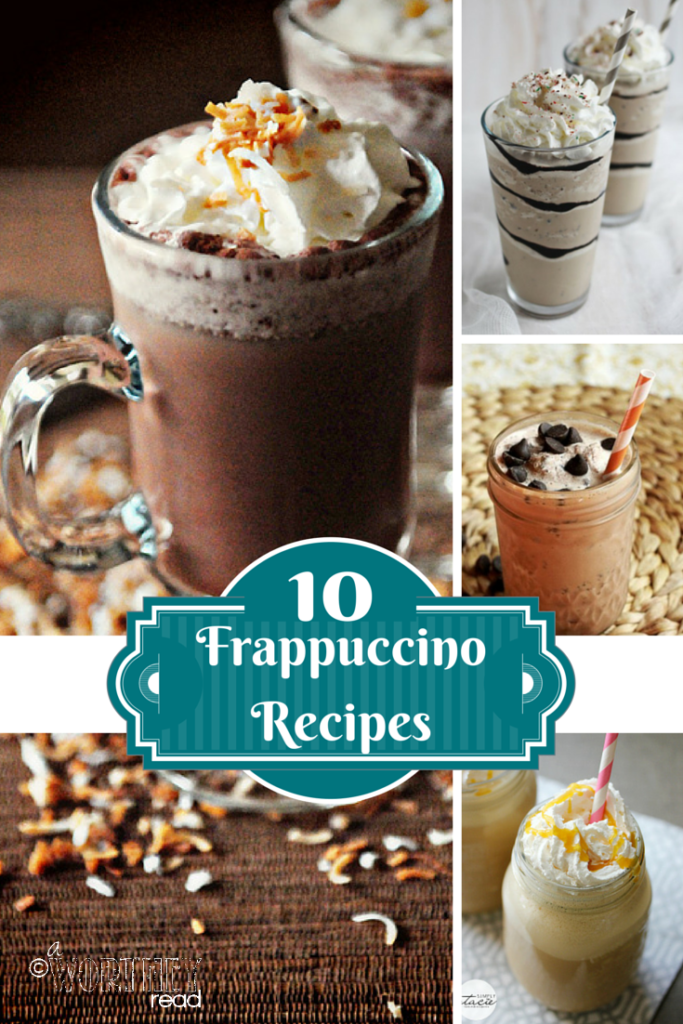 10 Amazing Frappuccino Recipes
One thing I can't get enough of is Frappuccinos and Lattes. However, that $5 per day cost can add up quickly! One way that I'm trying to work on shrinking unnecessary expenses is cutting the expensive coffee drinks! I've had my eye on this pretty sweet Espresso Machine. I do own a 2.0 Keurig Machine, but I would love to add another machine to help me perfect my coffee drinks (or maybe it's just an excuse to buy something else that churns out coffee).
Anyways, I put together some amazing recipes that will work out well for you, if you are into lattes and frappes! Here are 10 Amazing Frappuccino Recipes to try before buying another $5 dollar drink!
And don't forget…. while you're making your perfect homemade Frapp, be sure to add some biscotti's- Peppermint Chocolate Biscotti Recipe
1. Starbucks Mocha Frappuccino Made Skinny ~Skinny Kitchen http://www.skinnykitchen.com/recipes/starbucks-mocha-frappuccino-made-skinny/

2. Skinny Salted Caramel Mocha Frappuccino ~Flour on my Face http://flouronmyface.com/2013/02/international-delight-skinny-salted-caramel-mocha-frappuccino-lighticedcoffee-cbias.html
3. Mocha Mint Frappe ~A Beautiful Mess
4. Pumpkin Spice Frappe ~Faith Filled Food for Moms http://www.faithfilledfoodformoms.com/pumpkin-spice-frappe-in-honor-of-my-friends-and-fellowship/

5. Starbucks Caramel Frappuccino Light ~Skinny Kitchen http://www.skinnykitchen.com/recipes/starbucks-caramel-frappuccino-light-you-can-now-make-at-home/

6. Toasted Coconut Mocha Frappe ~Dine and Dish http://dineanddish.net/2012/04/a-keurig-brewer-giveaway-recipe-toasted-coconut-mocha-frappe/

7. Copycat Starbucks Caramel Frappuccino Recipe ~ A Mitten Full Of Savings https://www.freshouttatime.com/copycat-starbucks-caramel-frappuccino/
8. Mocha Chip Frappe ~A Beautiful Mess
9. Skinny Remake of Coffee Bean's Fabulous Ice Blended Vanilla Drink ~Skinny Kitchenhttp://www.skinnykitchen.com/recipes/my-remake-of-coffee-beans-fabulous-ice-blended-vanilla-drink/

10. Caramel Coffee Milkshake ~Simply Stacie http://www.simplystacie.net/2014/07/caramel-coffee-milkshake/
If you are a lover of Starbucks, here's a way you can score a FREE Drink!
You can also check out my copycat creation of a Copycat Starbucks Peppermint Mocha ­Recipe