Are you planning an Oscar watch party this year? If so, we have a fun gold Oscar party idea to check out. We're showing you easy ways and quick decor hacks on pulling off a fun award-watching party. And thanks to our friends at G.H. Cretors® for sponsoring this post and bringing the popped corn.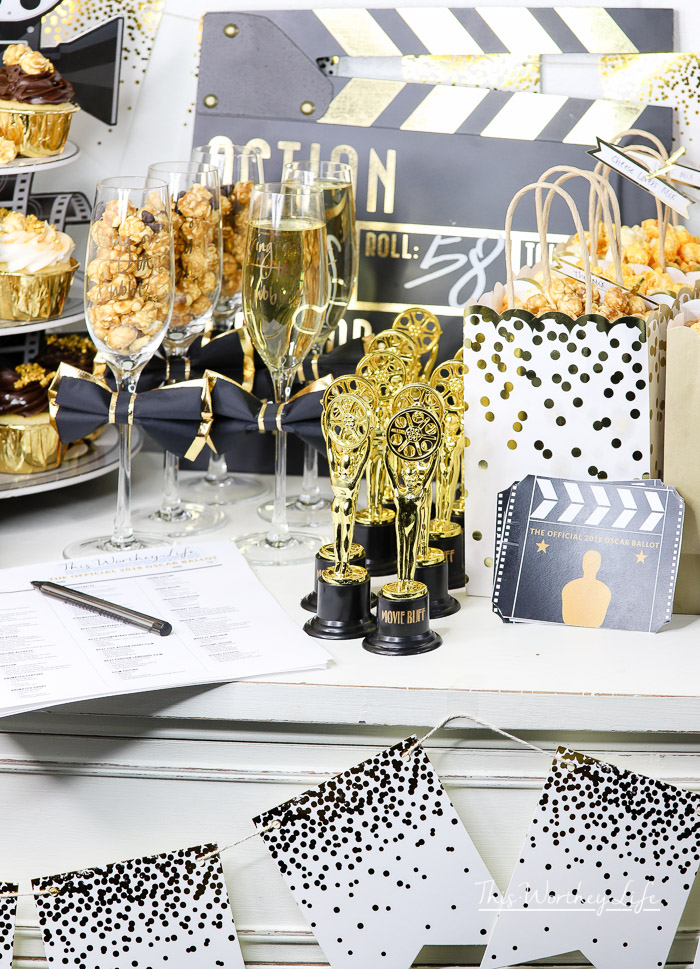 Gold Oscar Party Idea | Easy Ways To Pull Of an Oscar Award Watching Party
The 2022 Academy Award Show, also known as the Oscars, will happen on March 27th, 2022. We love to entertain, but sometimes trying to pull off a party and the food, decorating, and entertainment for our guests can be a lot of work.
There are a few tips and tricks you can do to pull off a fabulous party.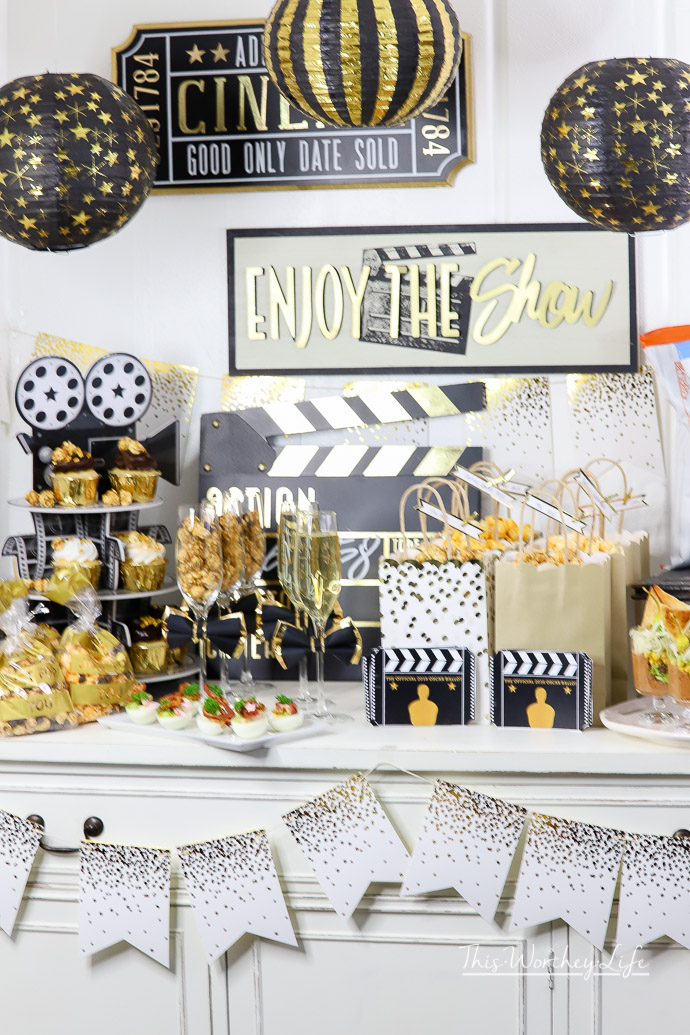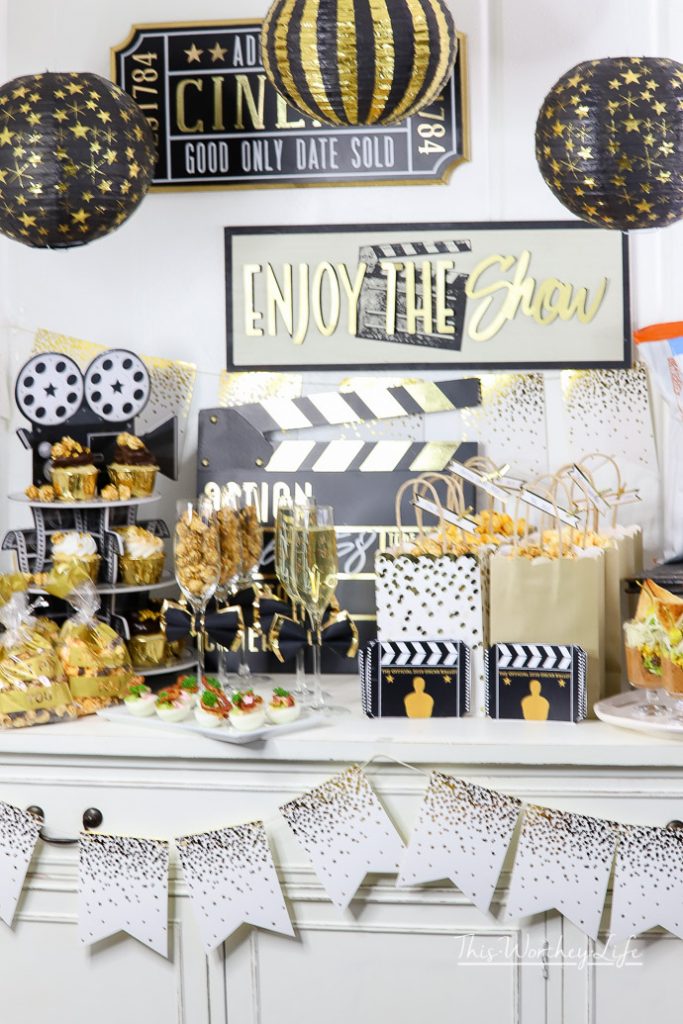 First, keep your decorating simple. One of the decorating hacks that save me every time is buying decorations. Instead of spending several hours creating my decorations, I stopped at some of my favorite stores and craft stores to purchase pre-packaged decor items.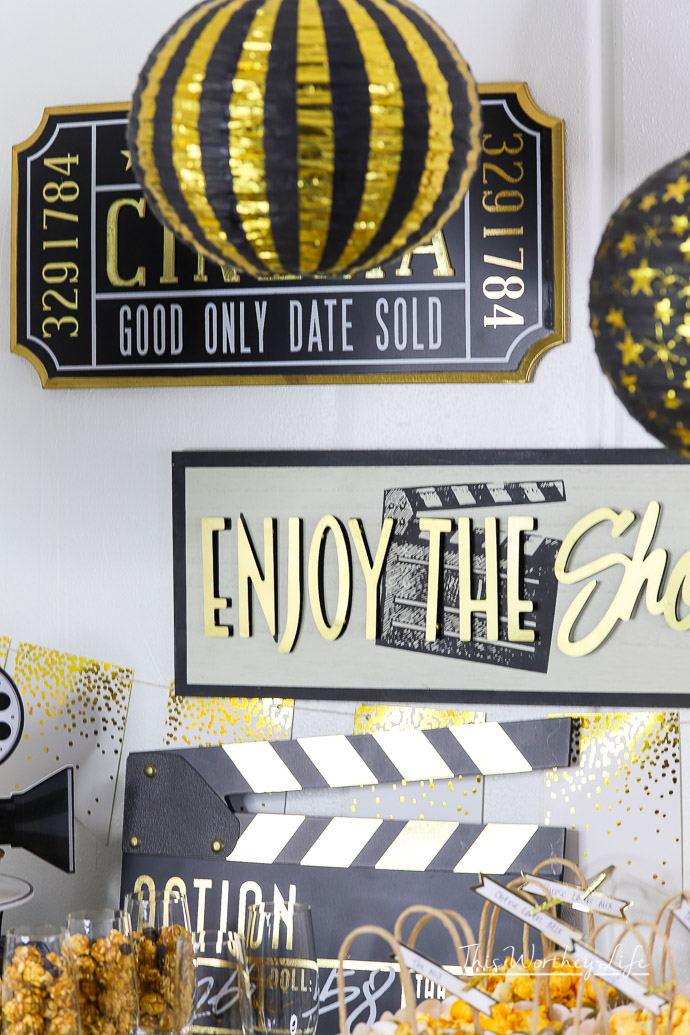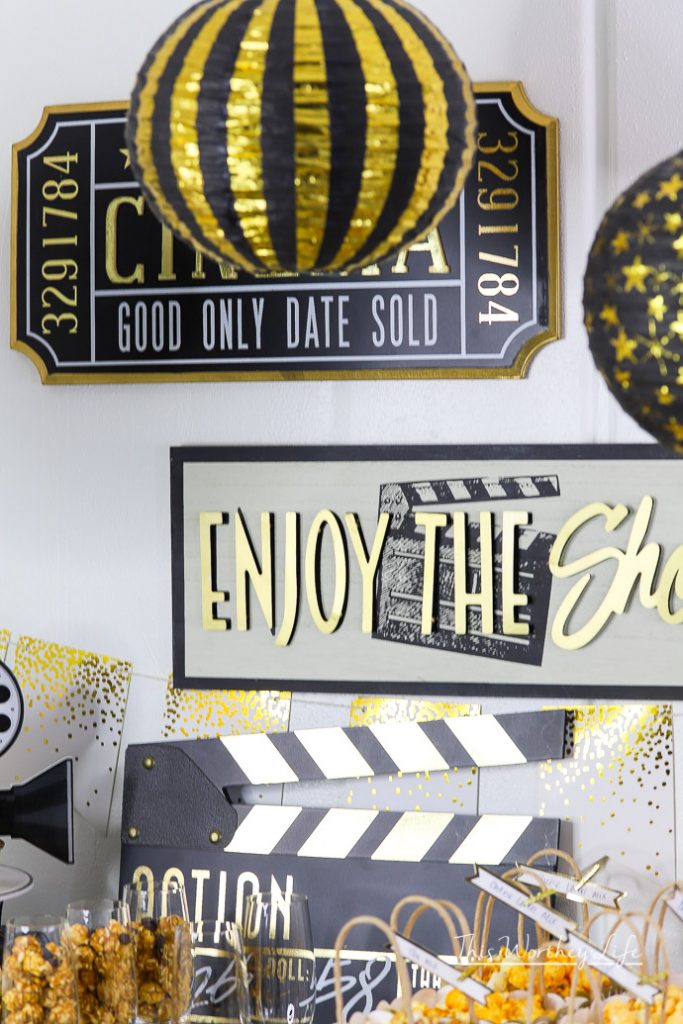 I picked up movie/cinema signs from a craft store. I was excited to find a few in gold and black, the theme colors for my party.
Another time-saving tip- when you don't have time to shop in stores, you can find many great party decor items online. I was able to order the Oscar statues and the cupcake holder online.
As much as we love to cook, sometimes buying a few platters of cheese, chicken wings, and veggie sticks is okay (we're sharing a few simple recipes below). I also like to skip making cupcakes and pick up store-bought ones.
Creative ways to style your popcorn.
One fun food item at many Oscar watch parties is popcorn. Most of us like to watch popcorn when watching a movie, so it's only fitting to serve it at your award watch party.
However, instead of serving popcorn in a plain-Jane bowl, you can jazz it up; here are a few ways!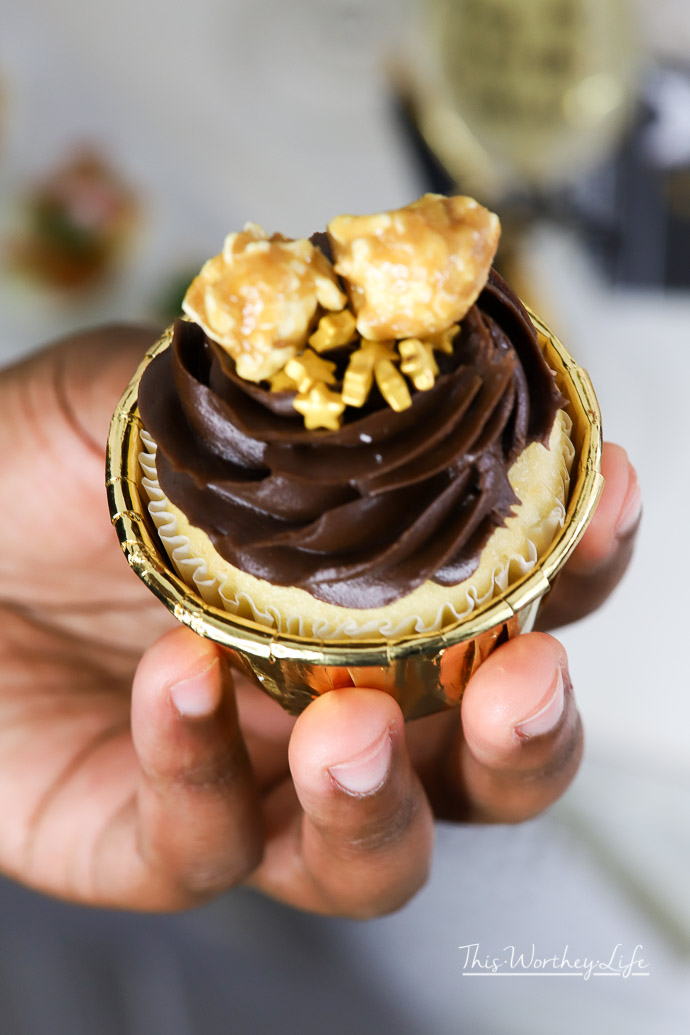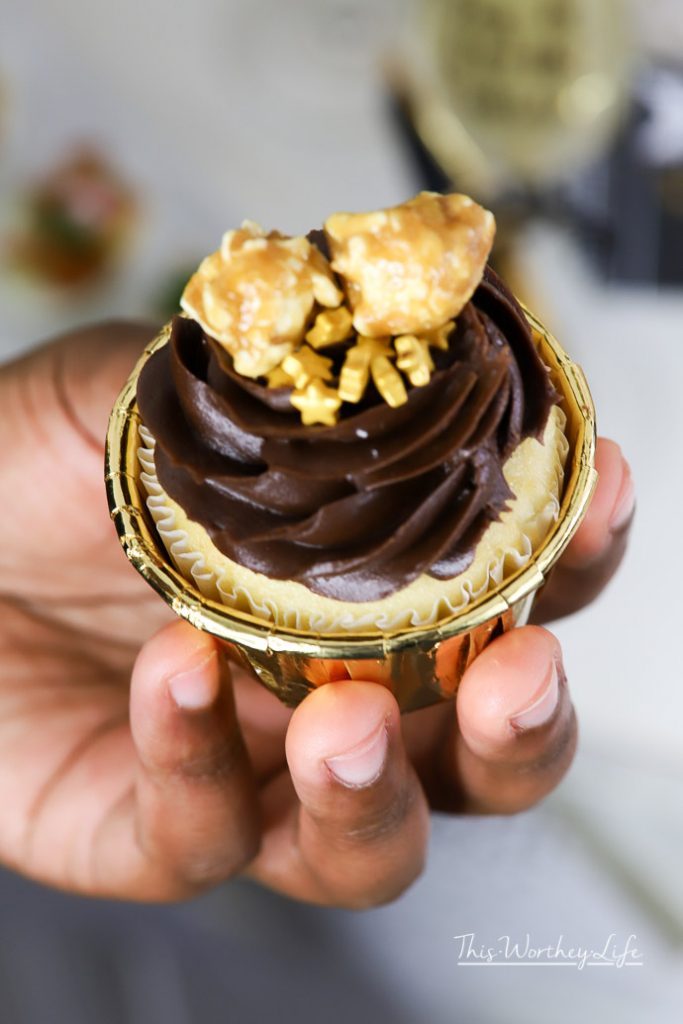 I am in love with G.H.Cretors® Popped Corn, the Caramel variety. I added a few pieces of popped corn to the top of my cupcakes. Don't knock this until you try it. It's good! Another good mix to try is our popcorn s'mores brownie dessert.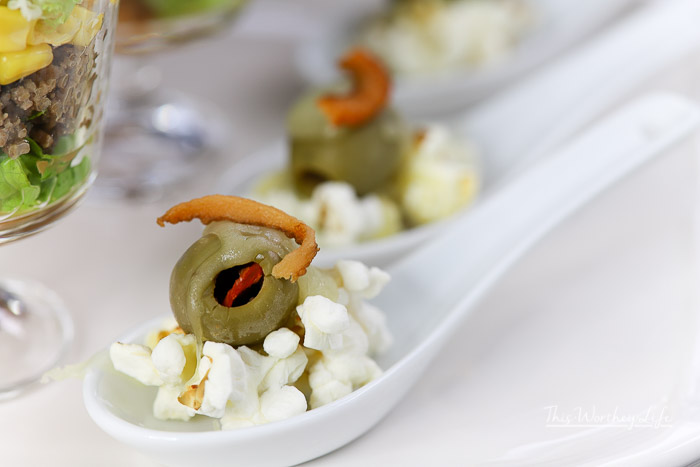 There are so many ways you can incorporate popcorn into your party.
For this idea, we used G.H.Cretors® Organic Extra Virgin Olive Oil popped corn, an olive, parmesan cheese, and a piece of bacon, placed on a bakeable spoon. Bake it in the oven at 350 for 15 minutes.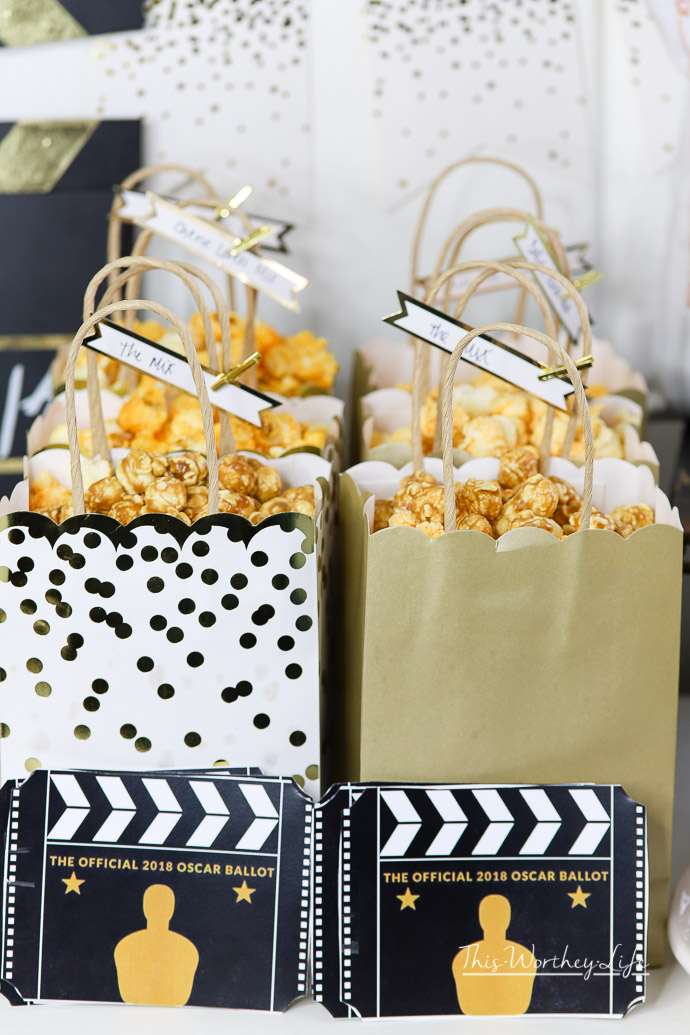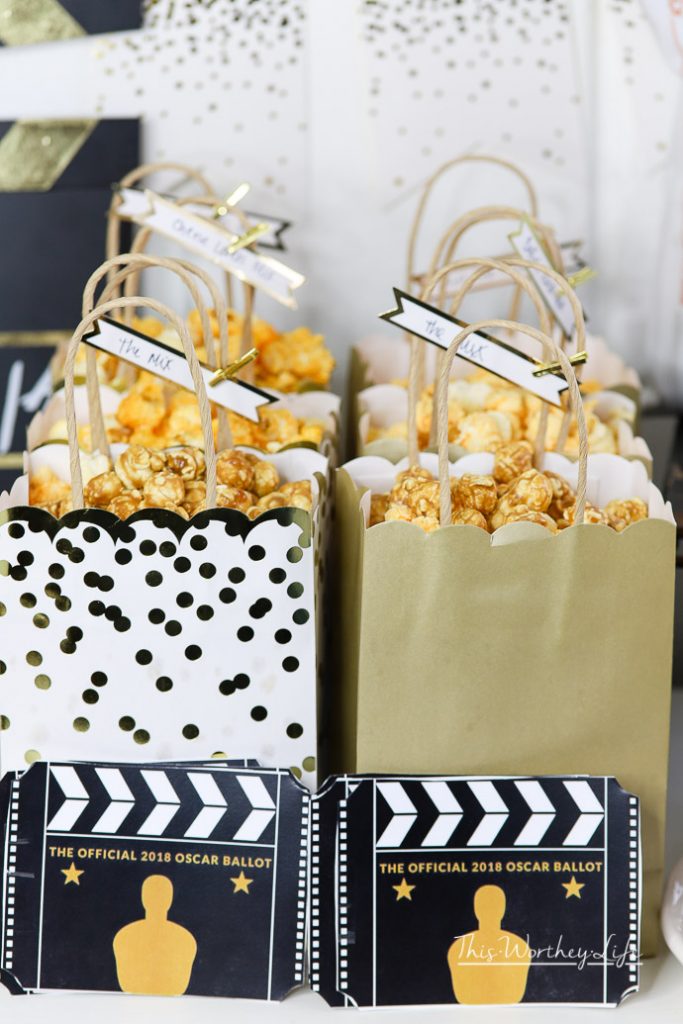 Grab some fancy paper gift bags and stick popcorn in them. Not only is this a decorative way to style your party table, but guests can pick up a bag (or two) and take it with them to their seats. Plus, you don't have to dirty up bowls or cups for popcorn; it's all in the bag!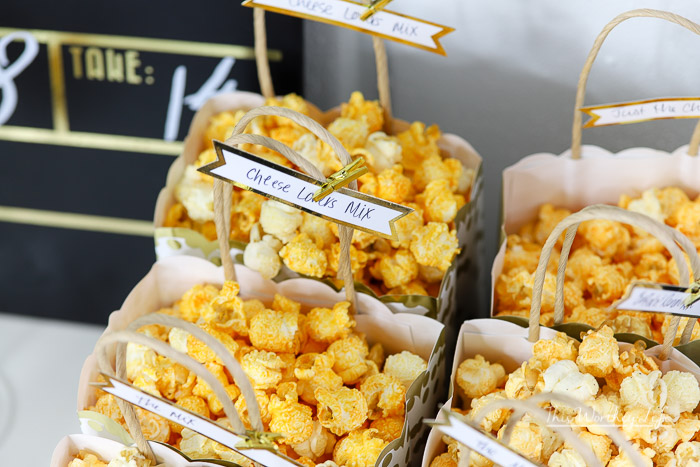 I used small gold paperclips and labels to write the variety of G.H.Cretors® Popped Corn on each bag. It's simple yet adds a fancy appeal to this Oscar party idea.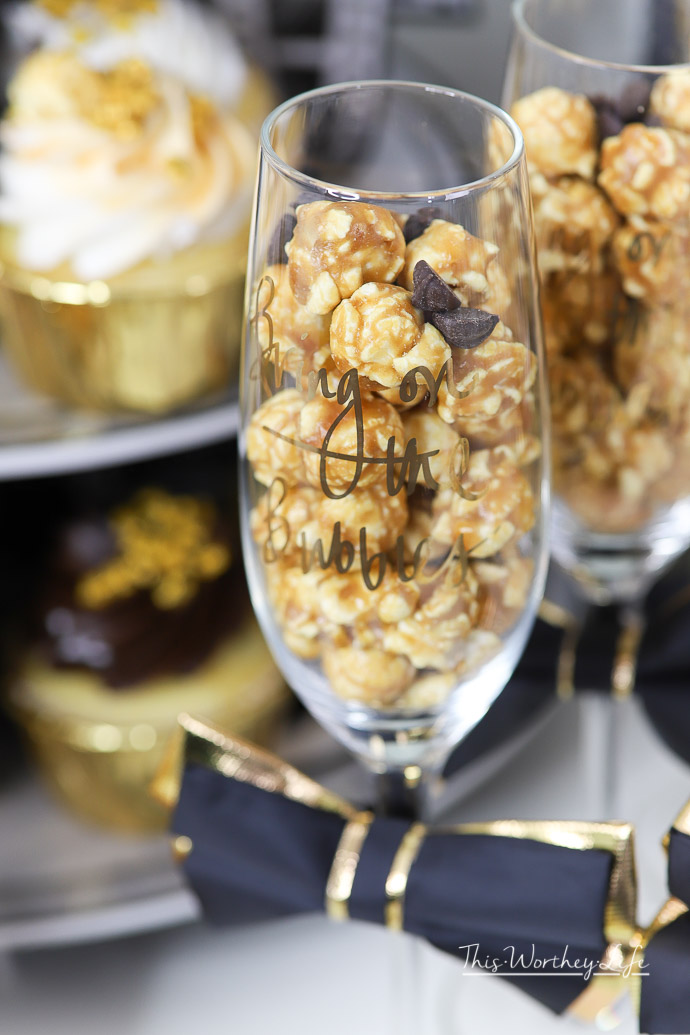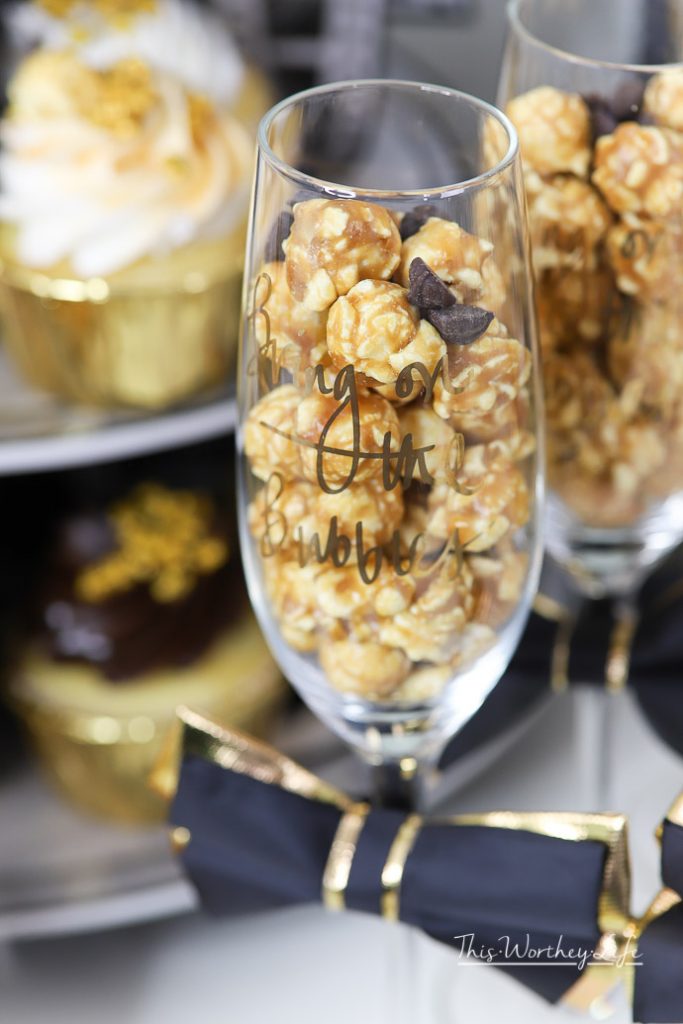 Another way we displayed our popcorn for this gold party idea is in Champagne glass s. It adds a layer of funk and jazz to this watch party and allows for a creative way for you to enjoy.
I also added black and gold bowties (picked up at a local party decor store) and tied them to each glass. This brings a "pop" to our popped corn!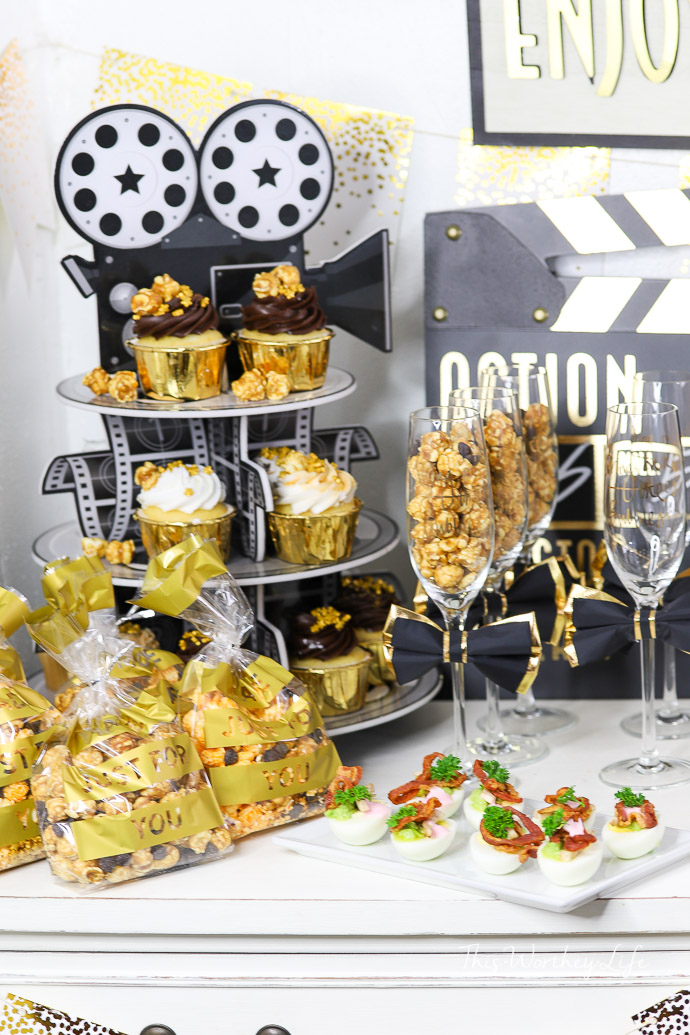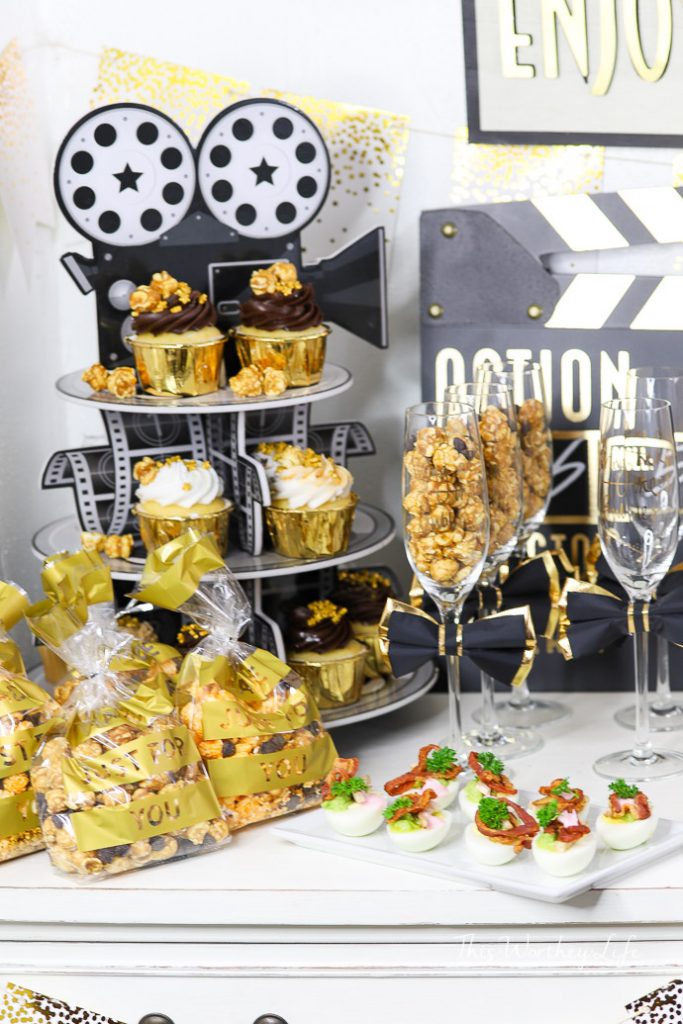 We like to give our guests a little treat, so making popcorn bags to go was an obvious choice. I picked up gold-designed plastic bags from a craft store and filled each bag with a different mix.
We're all into serving a variety of popcorn at our parties, and thankfully G.H. Cretors® creates several varieties.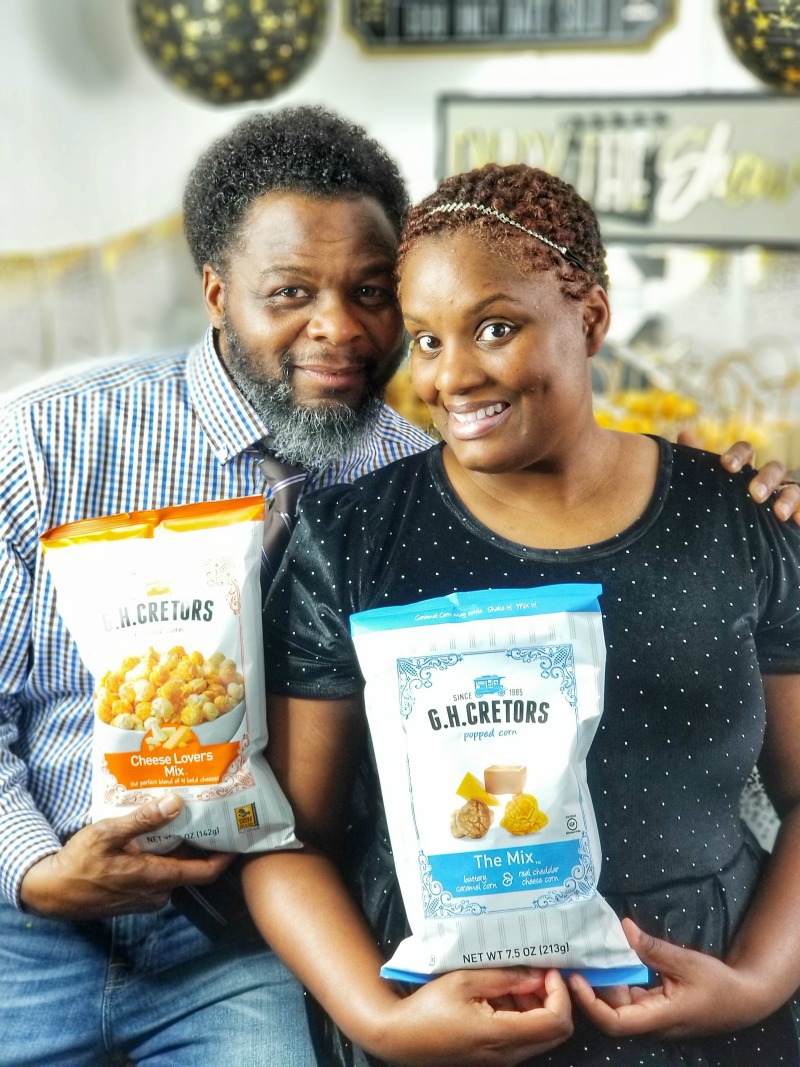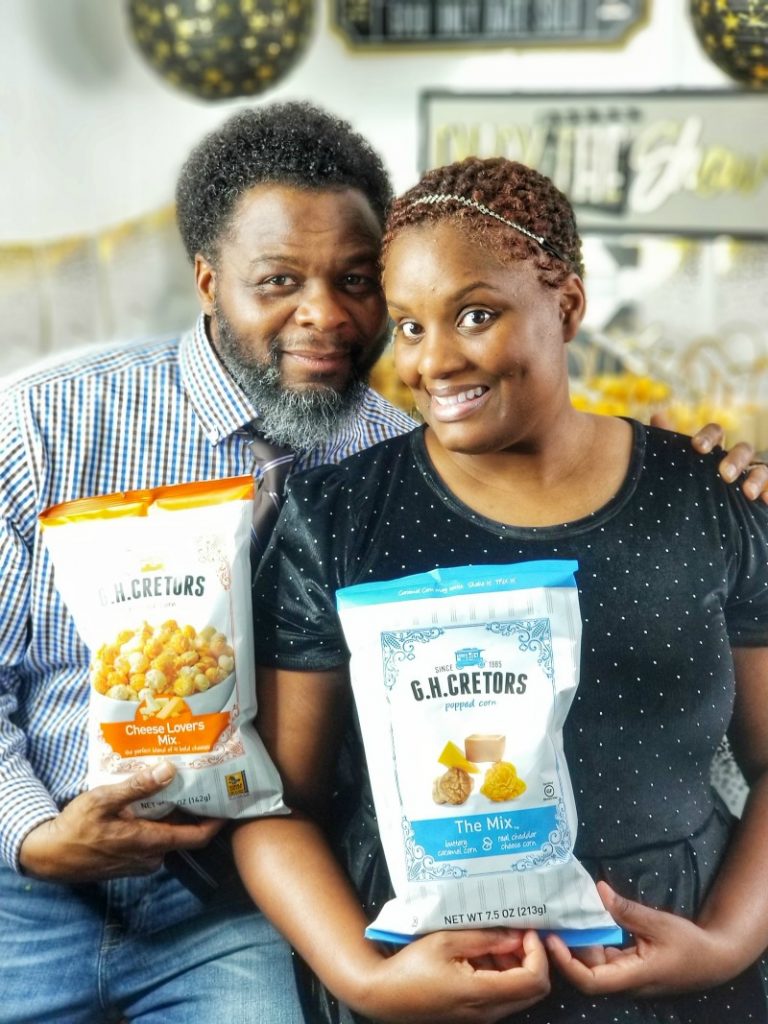 My favorite is the Caramel, and The Mix satisfies the need for Caramel, plus combining it with real cheddar and cheese corn. Another great variety to try is Cheese Lovers Mix.
The Cheese Lover's Mix is a delicious combination of four perfectly blended kinds of cheese. Enjoy the taste of bold, sharp yellow cheddar cheese and a mixture of Romano, parmesan, and white cheddar cheeses.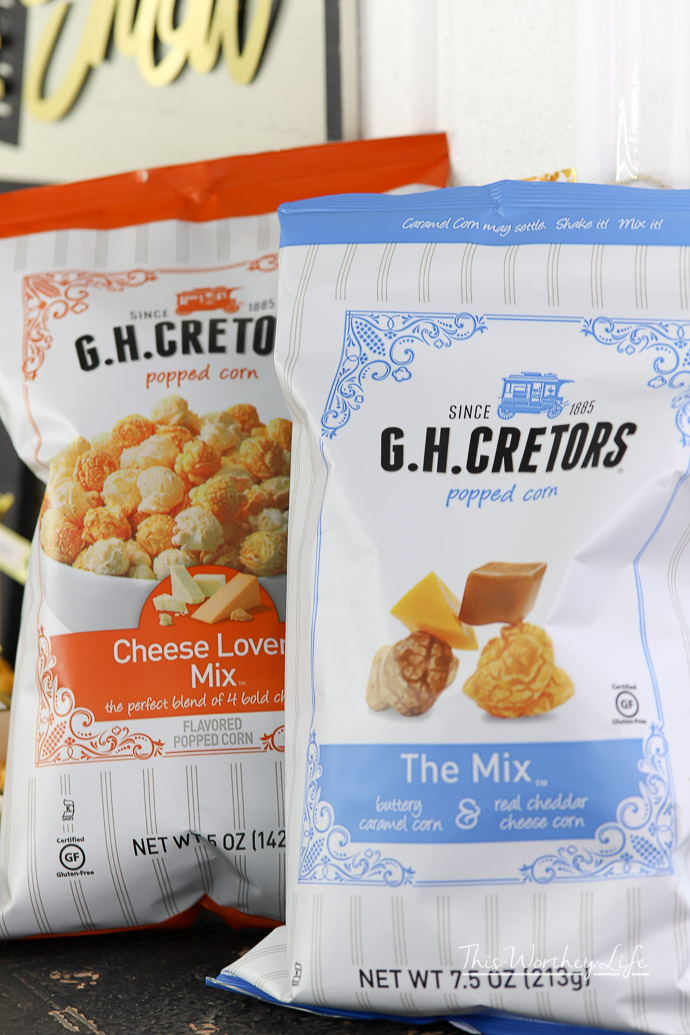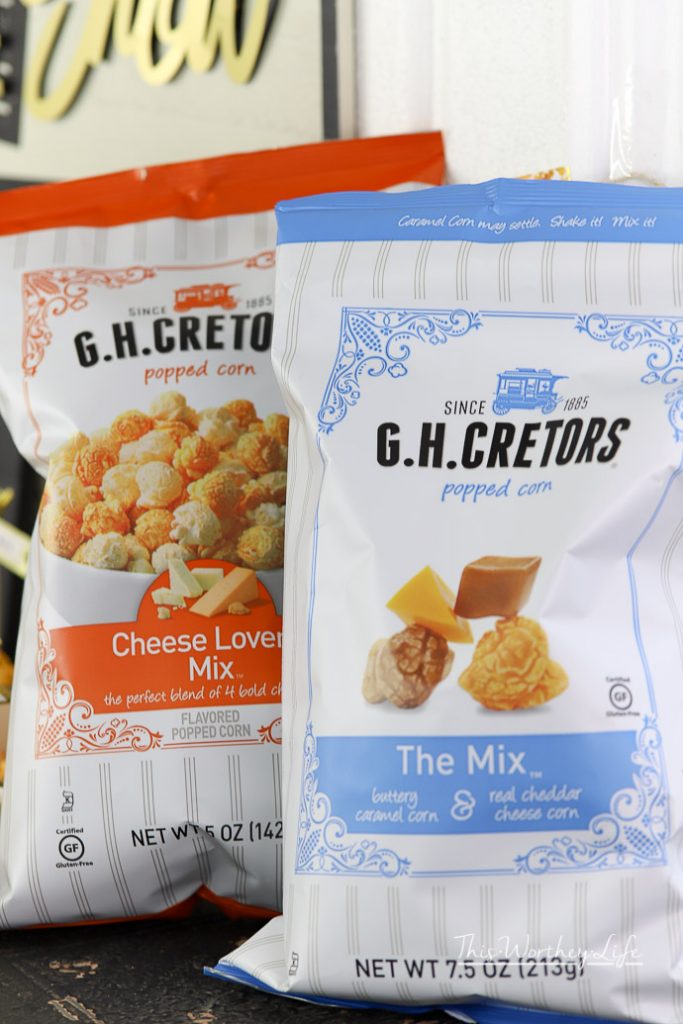 Dating back to 1885, G.H.Cretors® has been around for a long time. They have gone through five generations, but one thing has remained the same.
Create obsessively delicious popcorn by only using real, simple, high-quality ingredients.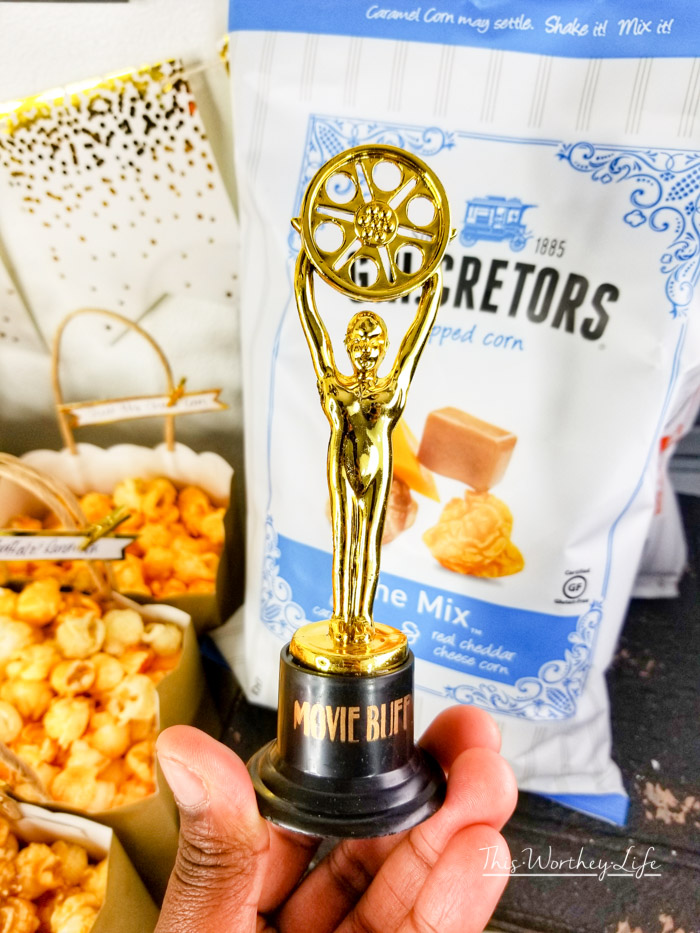 And the Oscar goes to… | Free Oscar Ballot 2022 Printable
With all the great blends, homemade popped corn, and quality ingredients, it's no wonder the party's life starts when you hear the pop of a G.H.Cretors® bag being opened up!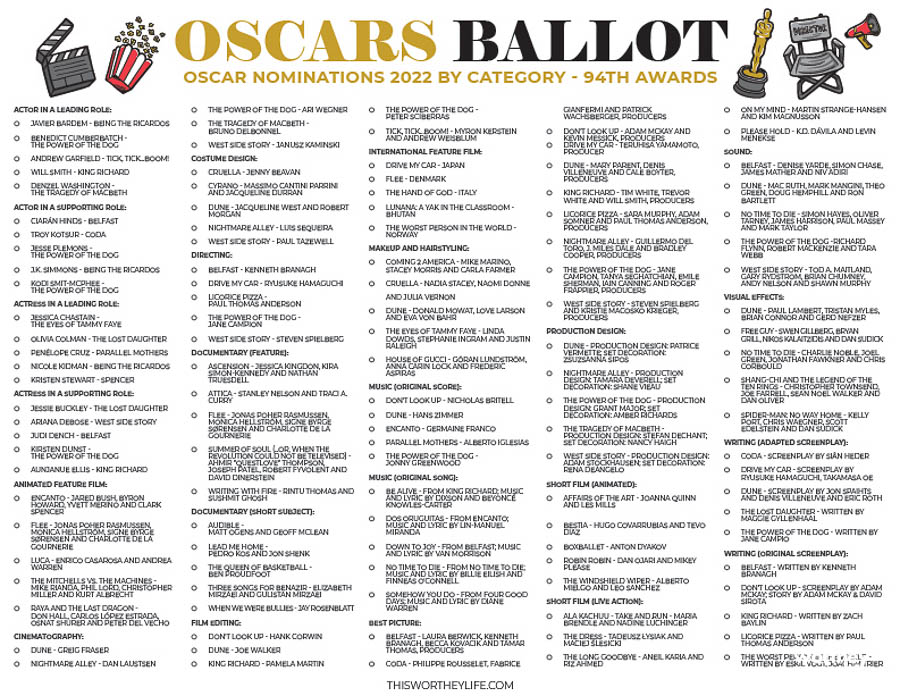 The second to last thing we did to pull off a great Oscar Party is- to get your guests involved. While the award show is the main event, have your guests get involved using our FREE 2021 Oscar Ballot printable.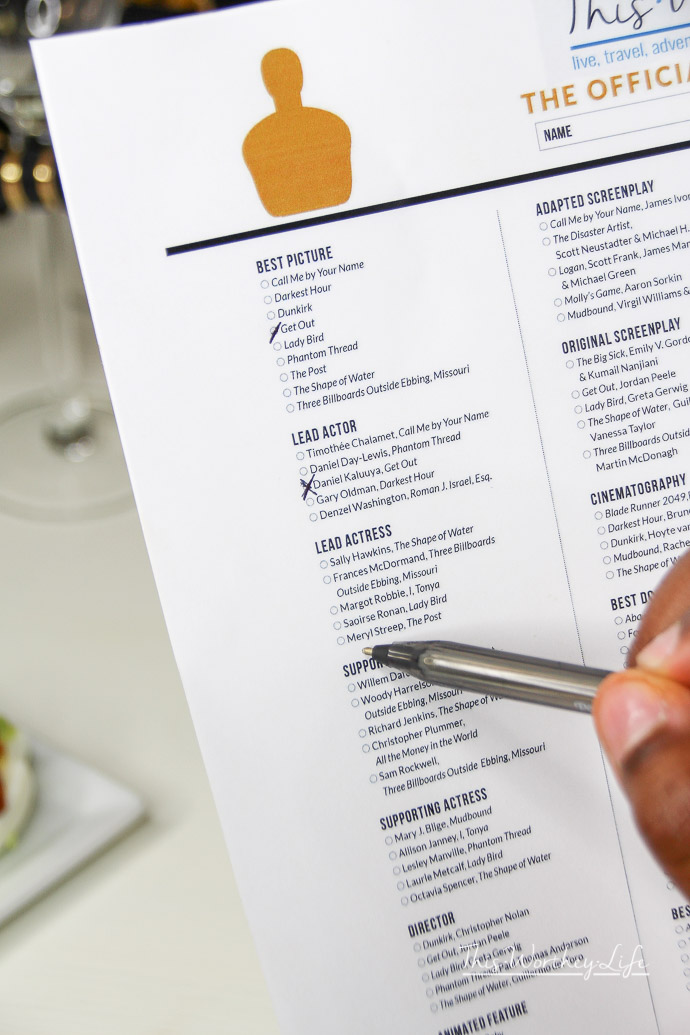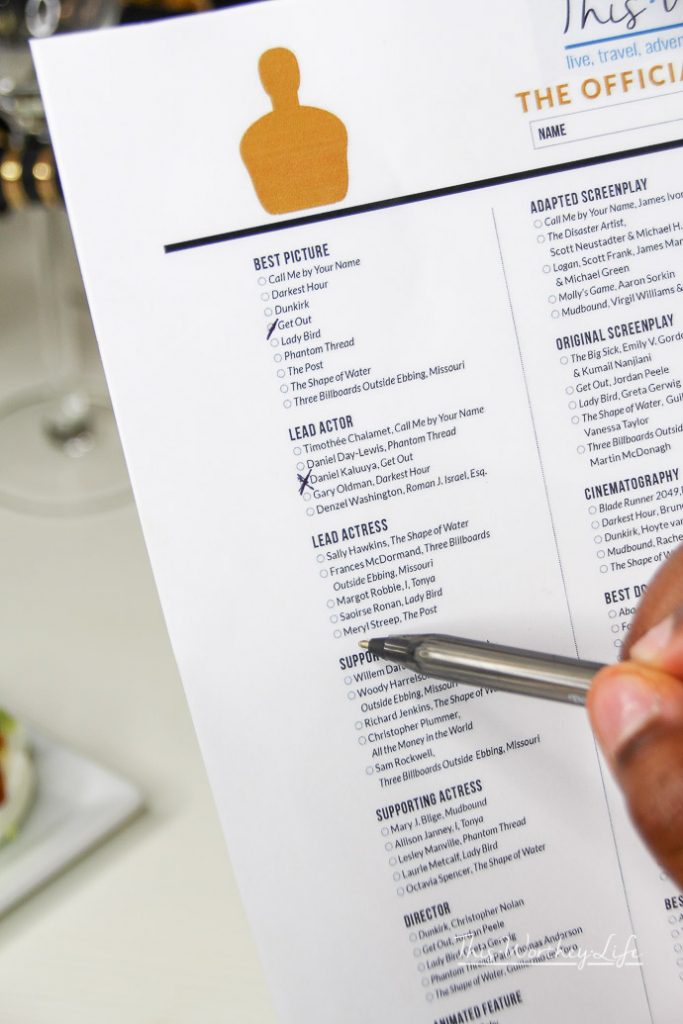 We've listed all of the categories and nominations. Before the show starts, have each guest fill out a sheet, predicting who they think will win.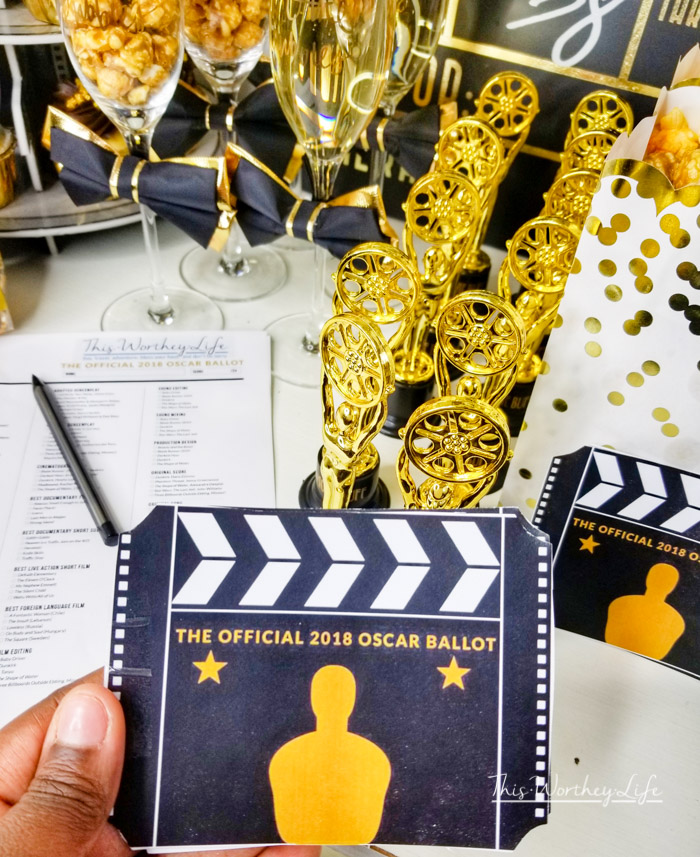 You can also use our free Oscar Ballot card (grab the free download here oscar ballot printable inside and oscar ballot free printable outside updated for 2020). While the award show is going on, you can your guests accept the ballot card (if they won that category) and give them an Oscar statue. You can order a set of 12 here.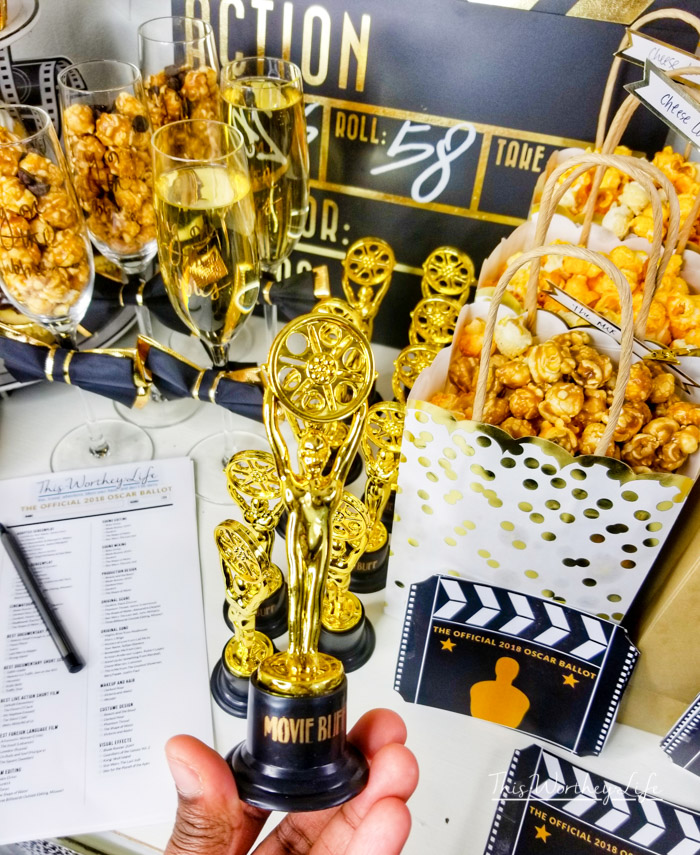 Party Food To Serve At Your Oscar Party
The last thing you need to have at your party is food! Here are two simple appetizers you can create in about 30 minutes or less.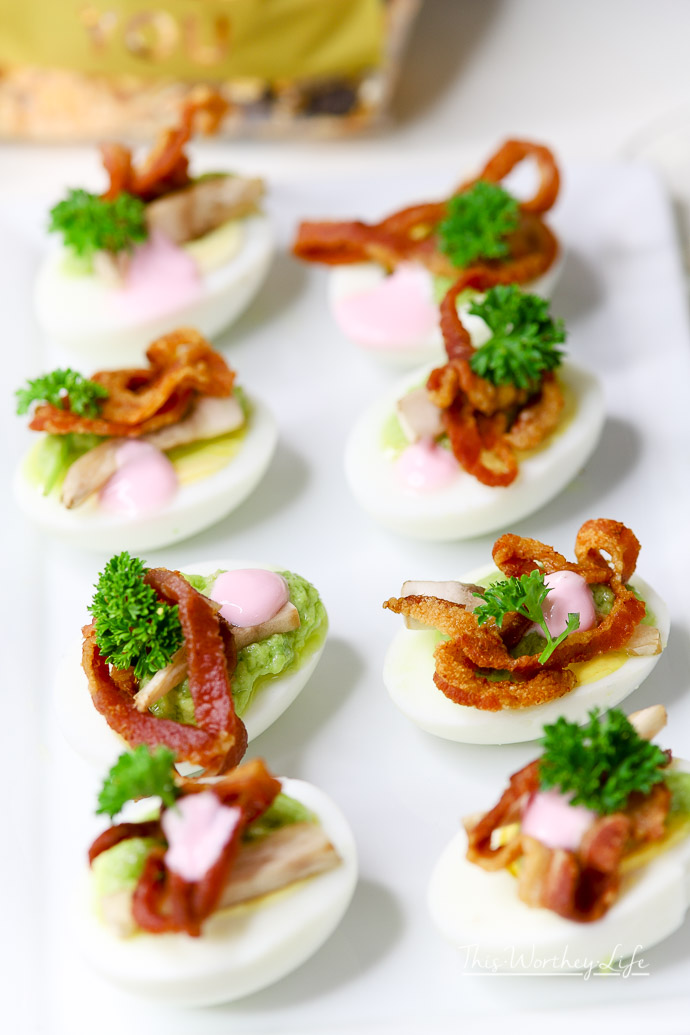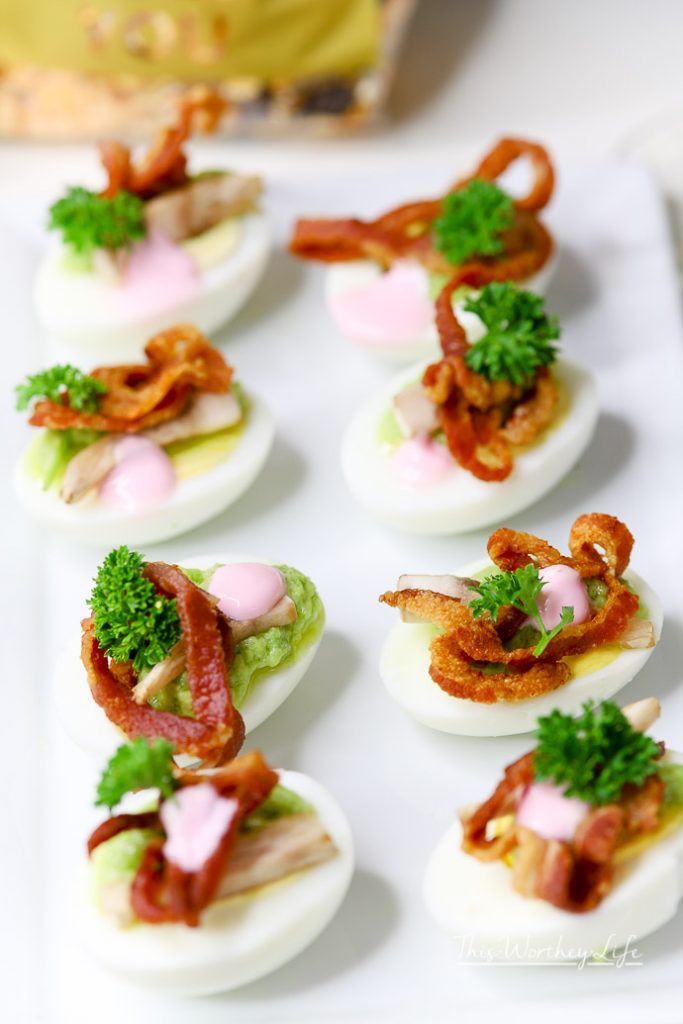 Loaded Deviled Eggs with Bacon with Beet Yogurt Creme
Ingredients:
1 avocado, cut in half with the seed and skin removed
1/4 cup mayonnaise
1/3 cup mushrooms, chopped
3 strips bacon, cut into thin ribbons
6 eggs
Fresh parsley, chopped
Directions:
Fill a small stockpot with water and set it to boil over high heat. When the water begins to boil, add the six eggs. Boil the eggs for 12 minutes. Remove the eggs from the hot water and place them in an ice bath for 10 minutes or until the eggs are cool enough to handle safely. Peel the eggs using a paper towel wipe off any excess moisture. Use a very sharp knife to cut the eggs in half.
Add a tablespoon of olive oil in a skillet over med/high. When the oil is hot, add the thin strips of bacon fold the bacon over until you get a loose circle. Continue to fry until brown, then turn over and brown the other side until crisp. Remove bacon and place them on paper towels to absorb excess grease. Set aside.
Cut an avocado in half and remove the seed. Scoop the avocado's flesh into the food processor bowl, add 1/4 cup of mayonnaise, two tablespoons of extra virgin olive oil, sea salt, and freshly cracked black peppercorns to taste, pulse the mixture until smooth. Set aside.
Wash clean the mushrooms as necessary. Cut the mushrooms into long planks set them aside.
Build the loaded deviled eggs. Place a half tablespoon of the avocado on top of the halved hard-boiled egg, add a plank of mushroom, add crispy bacon and fresh parsley, finally, add a dollop of Beet Yogurt creme. Serve.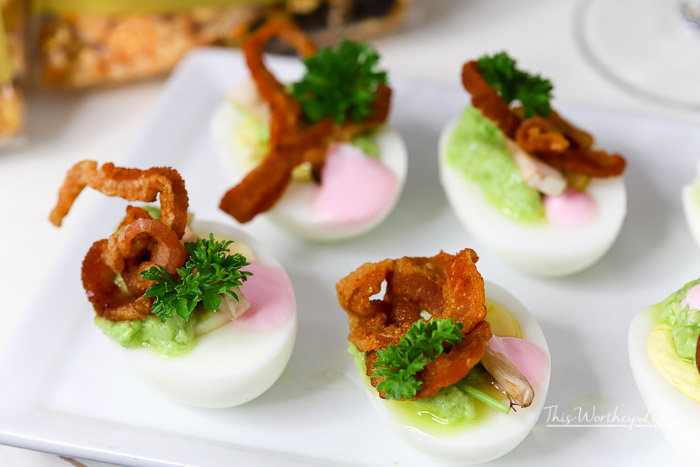 Beet Yogurt Creme
Ingredients:
1/2 tablespoon balsamic vinegar
1 1/2 tablespoons beet juice
1 cup Greek yogurt
1 tablespoon walnut oil or extra virgin olive oil
sea salt and freshly cracked black peppercorns to taste
Directions:
Add balsamic vinegar, beet juice, Greek yogurt, and walnut oil in a blender.
Pulse the mixture until it is creamy. Add sea salt and freshly cracked black peppercorns to taste.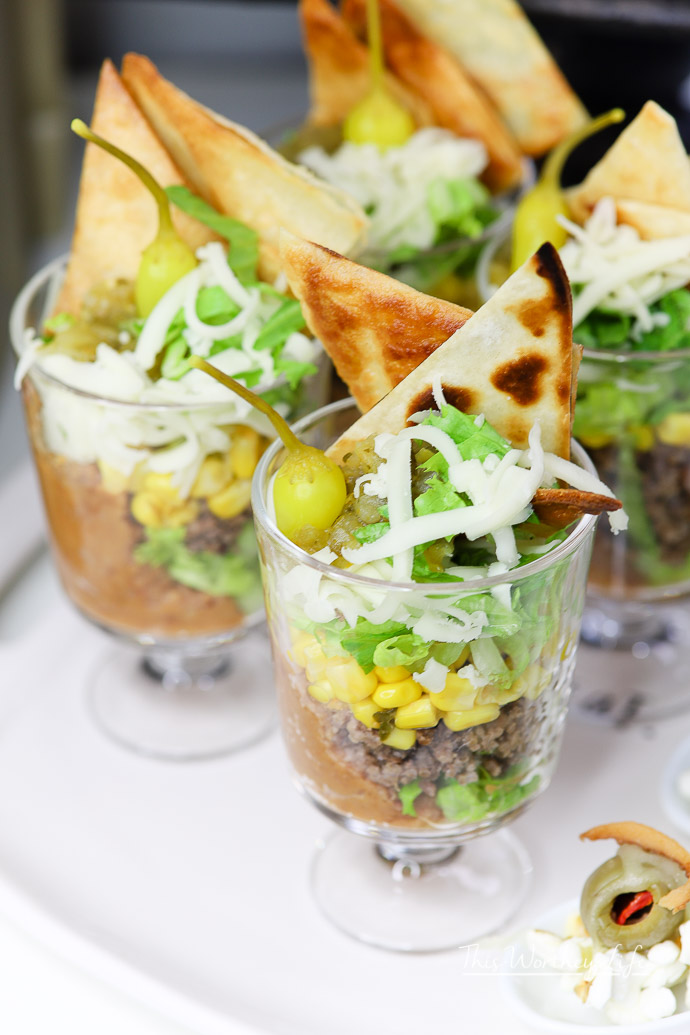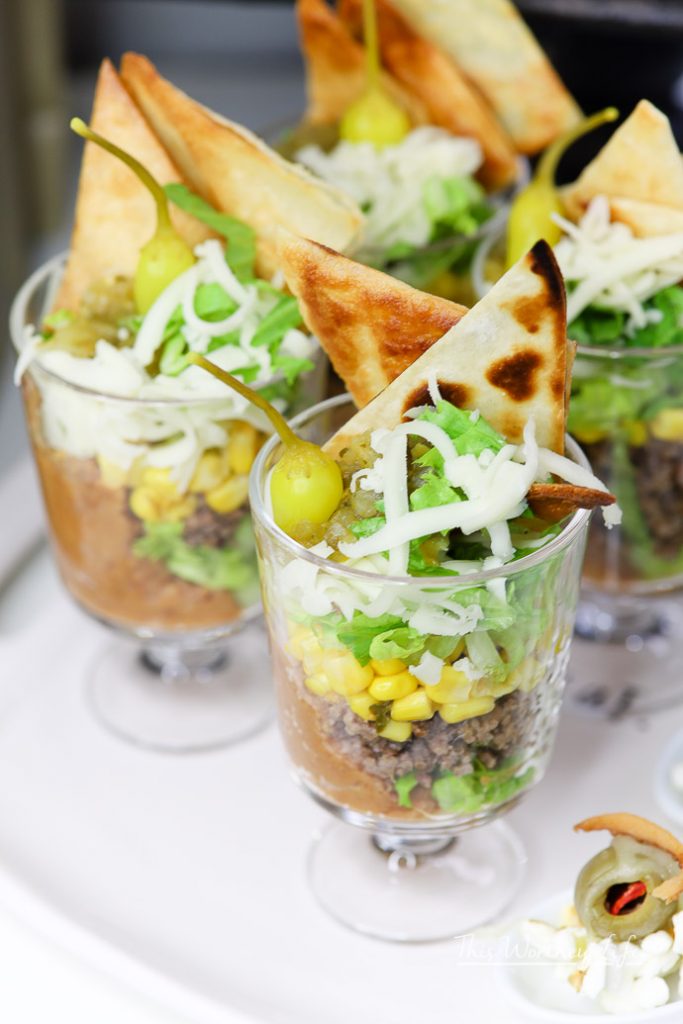 Savory Taco Cups Recipe
Ingredients:
1 can Refried beans
1 can corn with red peppers
1 pound lean ground beef
1 medium red or Spanish onion
1 cup Mexican cheese, shredded
2 cups lettuce, shredded
2 medium flour tortillas, cut into quarters
2 medium corn tortillas, cut into quarters
2 tablespoon taco seasoning
2 tablespoons extra virgin olive oil
1/3 cup green or red Picante sauce or salsa
peppers for garnish
Directions:
Wash the lettuce and shred it using a large sharp knife. Place in a bowl and keep in the fridge until ready to use.
In a skillet over med/high heat, add two tablespoons of oil. When the oil is hot, pan-fry the flour and corn tortillas in batches until golden brown. Transfer fried tortillas onto a plate lined with paper towels. Set aside.
Wipe out the skillet and add two tablespoons of oil. When the oil is hot, brown the ground beef and season with taco seasoning, strain off the excess grease when the ground beef is finished cooking. Set.
Wipe out the skillet and add a single tablespoon of oil. When the oil is hot, add the refried beans and about a half-cup of water, break apart the refried beans and continue to stir and add a little water until you achieve the consistency you want. Set aside on a warmer.
Warm the whole kernel corn with red peppers in a small pot over medium heat.
In the bottom of a serving glass and two tablespoons of refried beans, add two tablespoons of seasoned ground beef, add two tablespoons of whole kernel corn with red peppers, add shredded lettuce, shredded Mexican cheese, and Picante or salsa, and add a hot pepper. Rim the glass with several pan-fried flour and corn tortillas. Serve.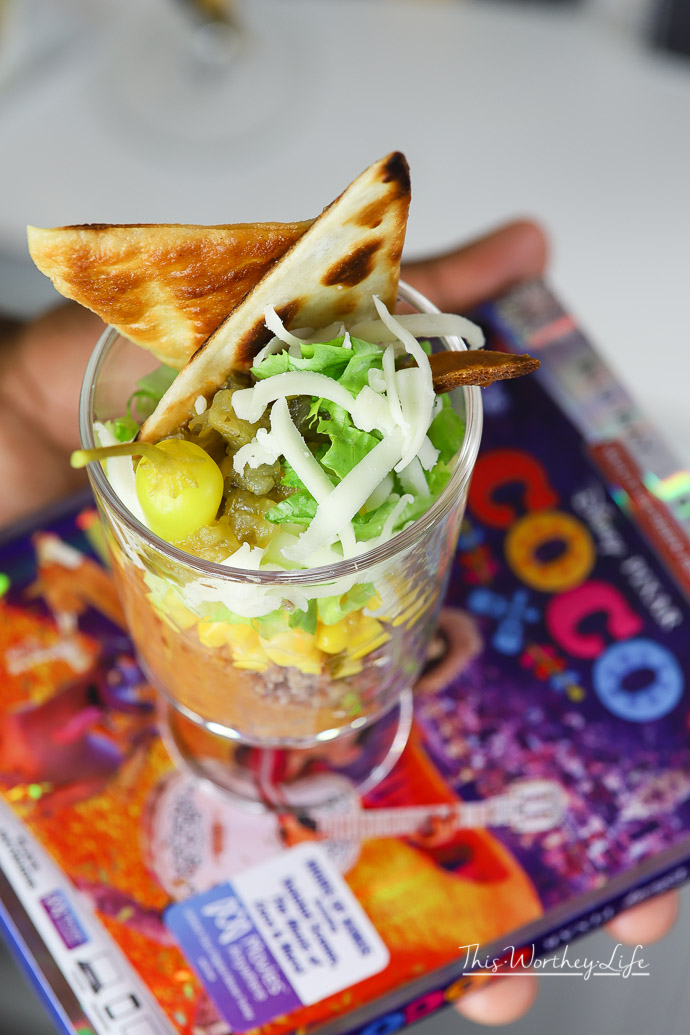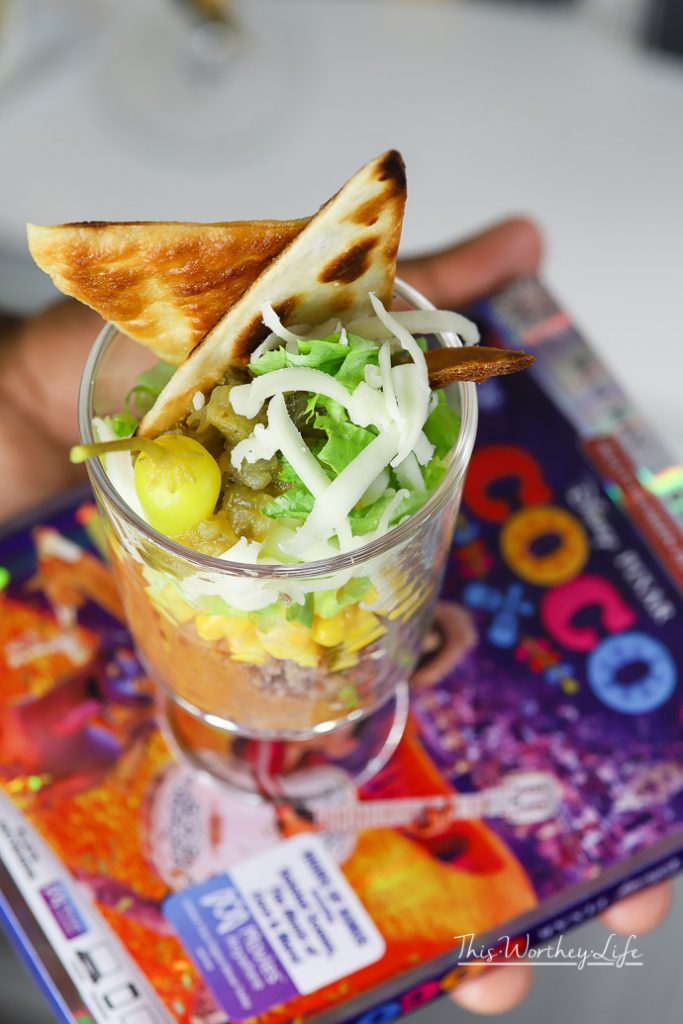 For drinks, a bottle of Champagne will do the trick. If you want something a little more exotic or add some jazz to it, we have a few of our favorite cocktails you can try this weekend.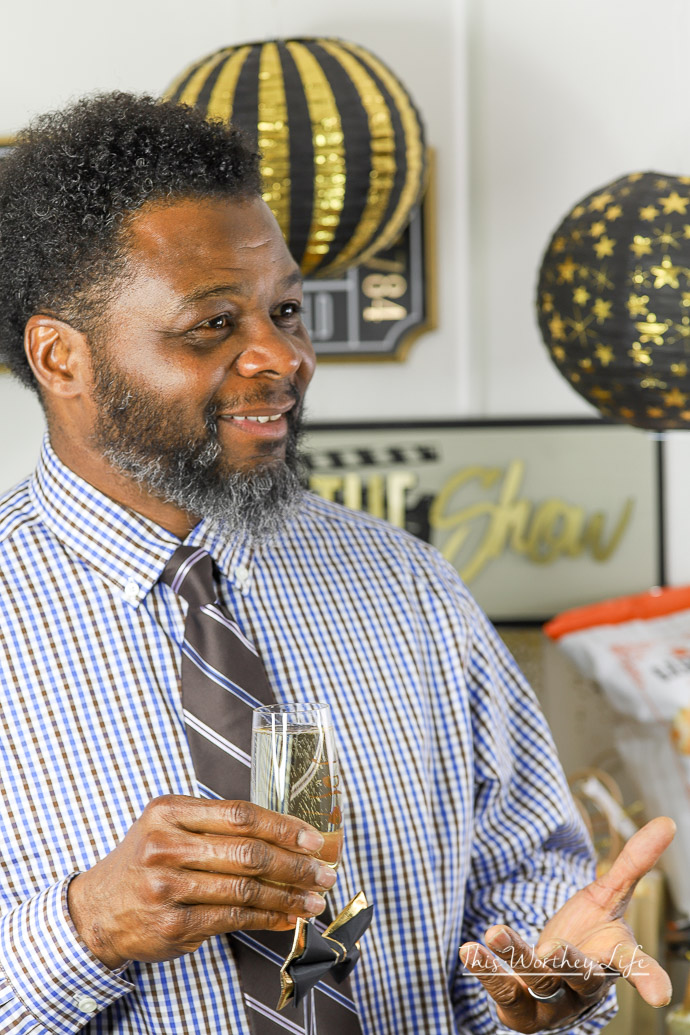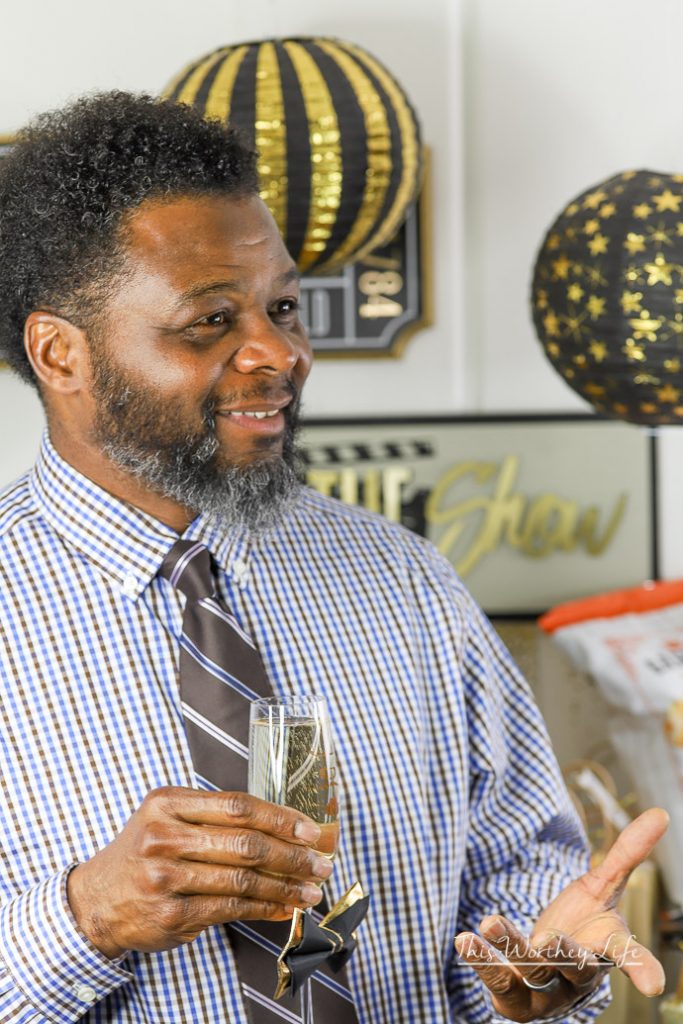 When putting your Oscar Party together, don't worry about pulling off a perfect party.
With a few simple decor ideas, great food, fun entertainment, and the right atmosphere, your party will be the best awards party EVER!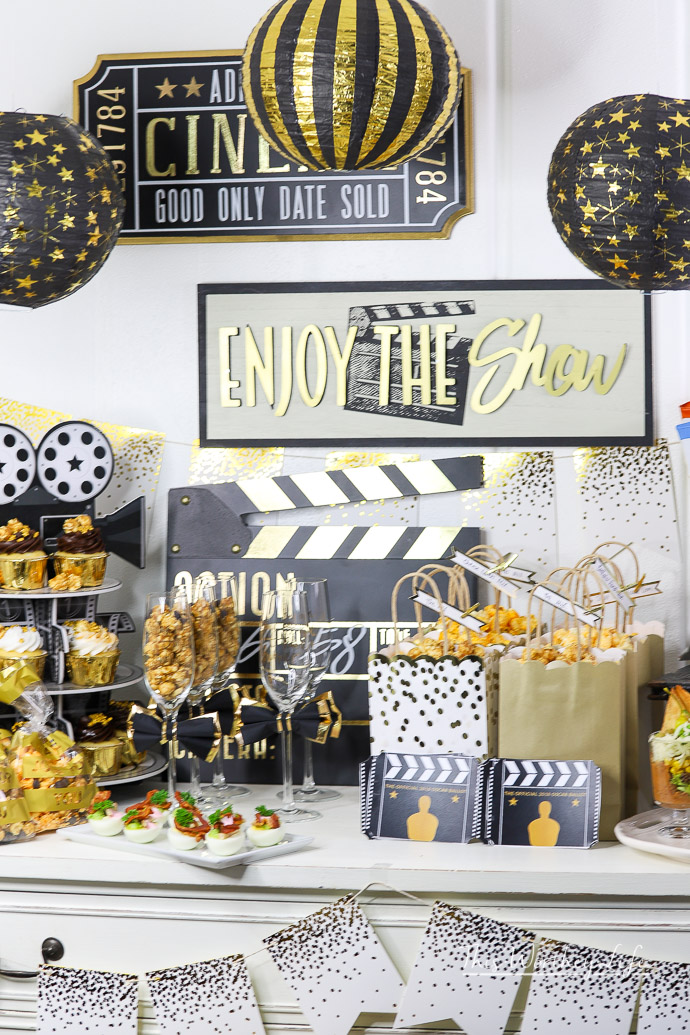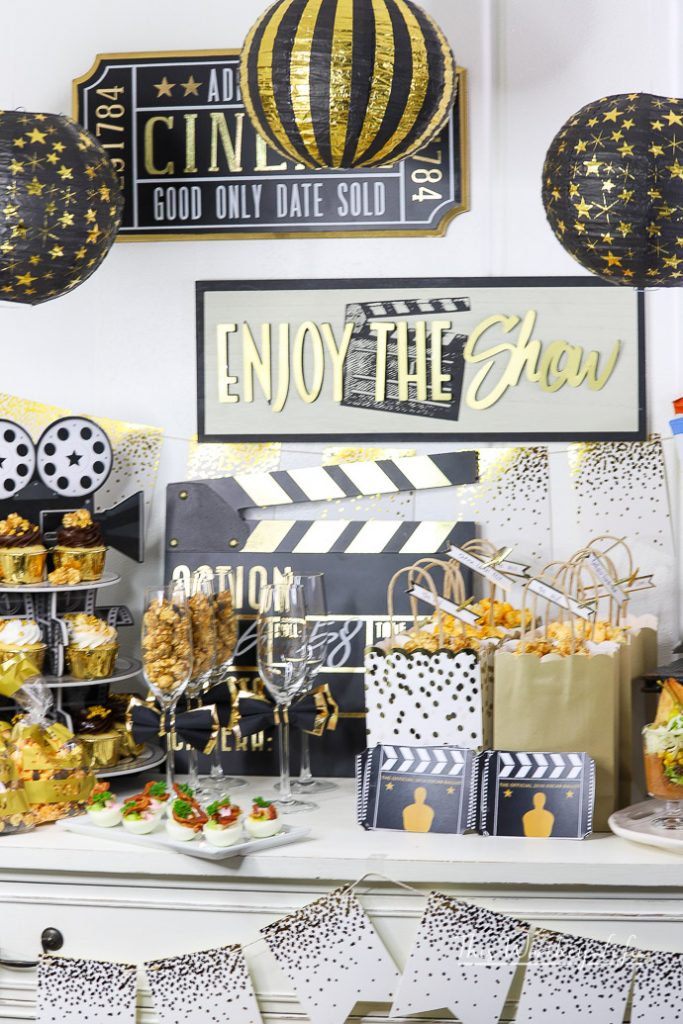 We tend not to stress about the small details. The focus of an awards party is to watch the awards. Yes, great food matters, and having the right popped corn matters. Clean bathrooms matter.
And you, being present front and center at your party, will matter. So, use time-saving hacks like buying appetizers, cupcakes, and party decorations to help ease your load.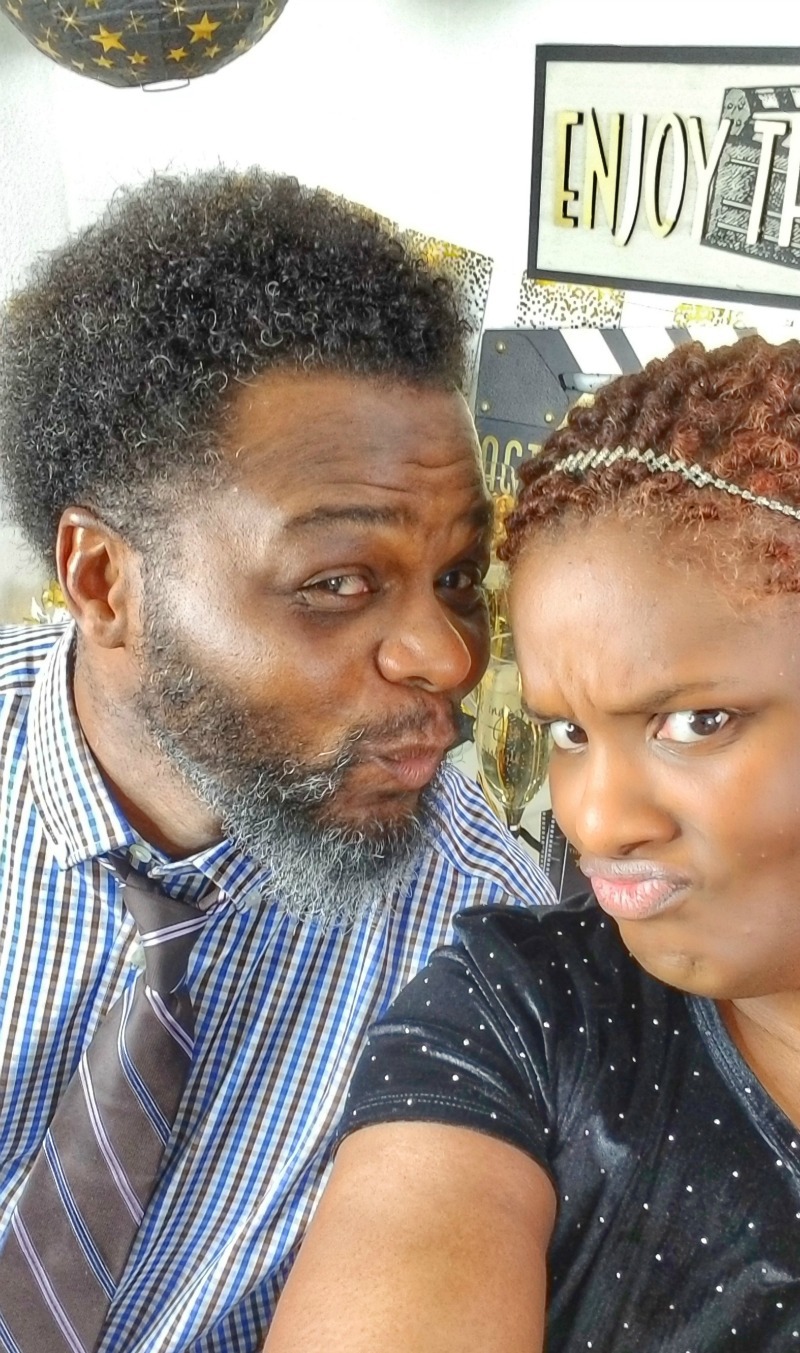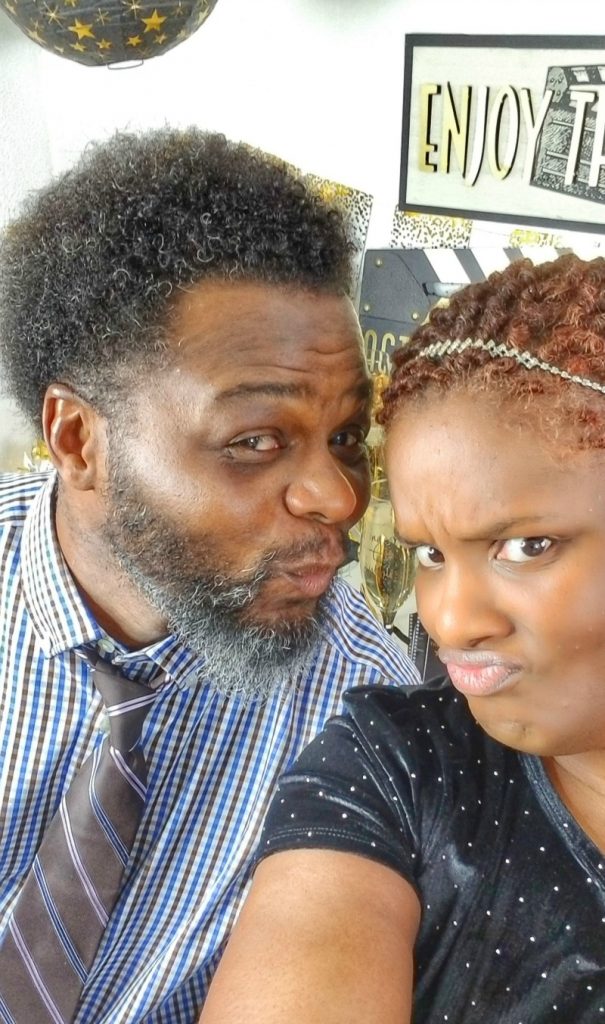 Have fun!
So, who do you think will take home an Oscar? Leave your predictions below!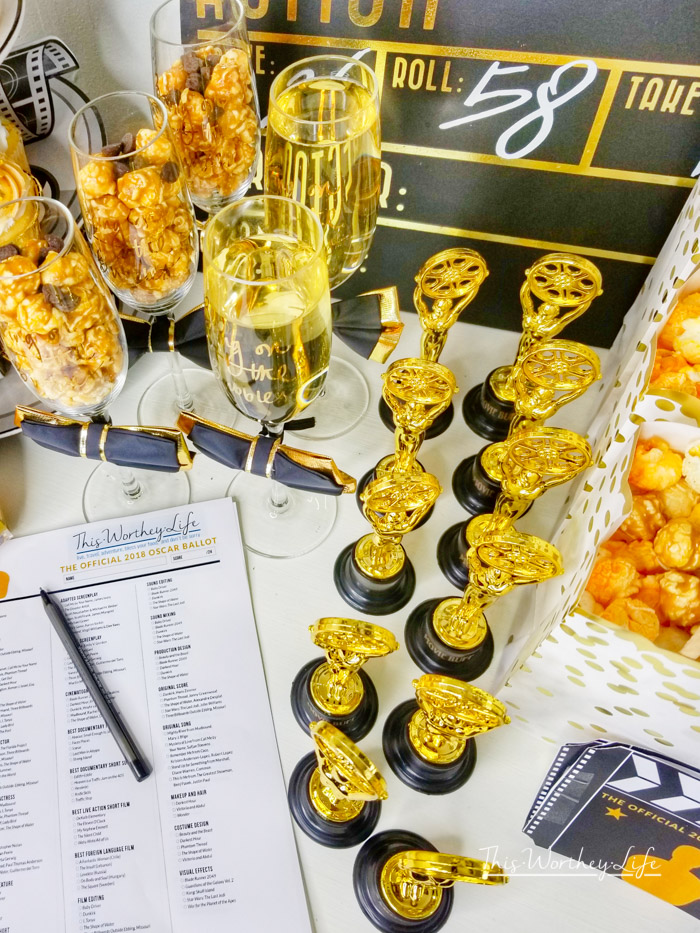 Learn more about G.H. Cretors® Popped Corn by visiting their website, including checking out fantastic recipes you can make with popped corn.
See more popcorn party ideas:
Created 2/2018 | Updated 3/2022