Our Grapefruit Gin Martini is sure to be a new classic drink!
Everyone loves a nice martini, but adding both gin and vodka into this grapefruit-infused cocktail kicks it up just enough to create a fun new twist on your favorite classic gin cocktail.
This is also a perfect drink to serve at a dinner party, weekend barbecue, or to surprise your spouse after a long hot day at work.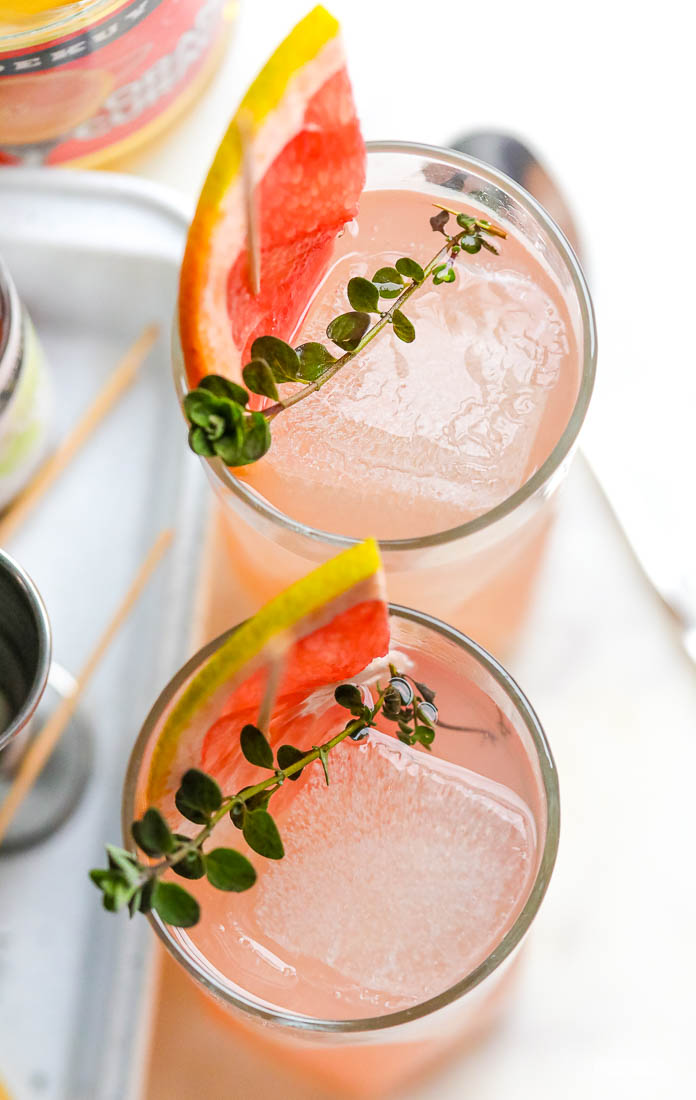 Grapefruit Gin Martini
For this grapefruit martini, you can use your own fresh grapefruit juice or buy already squeezed juice.
Both work wonderfully; if you use fresh grapefruit, remove the pith, fibers, and seeds if you squeeze your juice.
Nobody wants to find a grapefruit seed in their martini.

What You Will Need:
Ice. Gin. Vodka. For starters, this classic cocktail has both gin and vodka. Both spirits have a way with fresh-squeezed grapefruit that makes this cocktail light, refreshing, citrus fruit-forward, and perfect any day of the week. Of course, the ice dilutes the cocktail and brings everything together.
Fresh Squeezed Ruby Red Grapefruit. Using fresh ripe ruby red grapefruit is a game-changer because fresh squeezed is sweeter and less bitter than grapefruit out of a container. Ripe caracara is a great substitute if you can't find ruby-red grapefruit.
Grapefruit Bitters. Orange Curacao. A good cocktail and the addition of grapefruit bitters and orange curacao help to bring a depth of flavor and a refined sweetness to this delicious cocktail.
Ice. Grapefruit Garnish. Fresh Herb. Pour the stirred cocktail over ice, garnish with a slice of fresh-cut ruby red grapefruit, and add a bit of greenery with a sprig of fresh oregano, mint, thyme, or marjoram.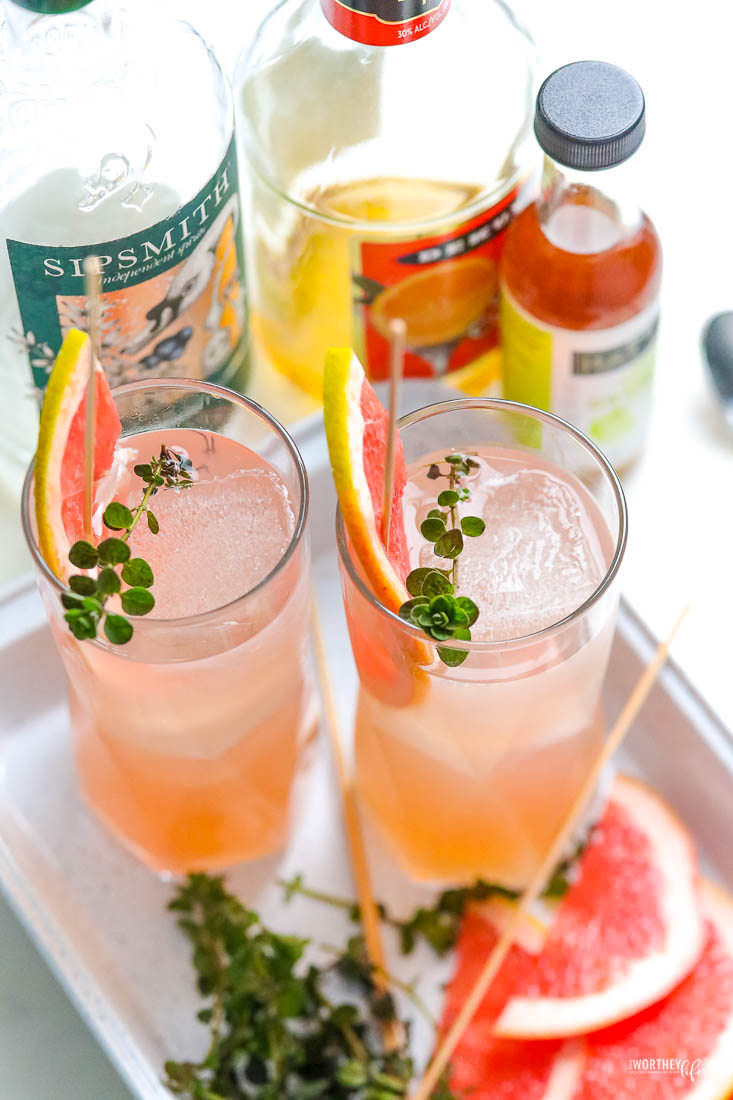 Ingredients needed for a Grapefruit Gin Cocktail
1-ounce quality gin [your favorite gin will work!]
1-ounce good vodka
2.5-ounce fresh-squeezed ruby red grapefruit juice [ alt: pink grapefruit juice]
2 dashes of grapefruit bitters
1-ounce orange curacao
fresh oregano sprig
a wedge of fresh grapefruit
ice cubes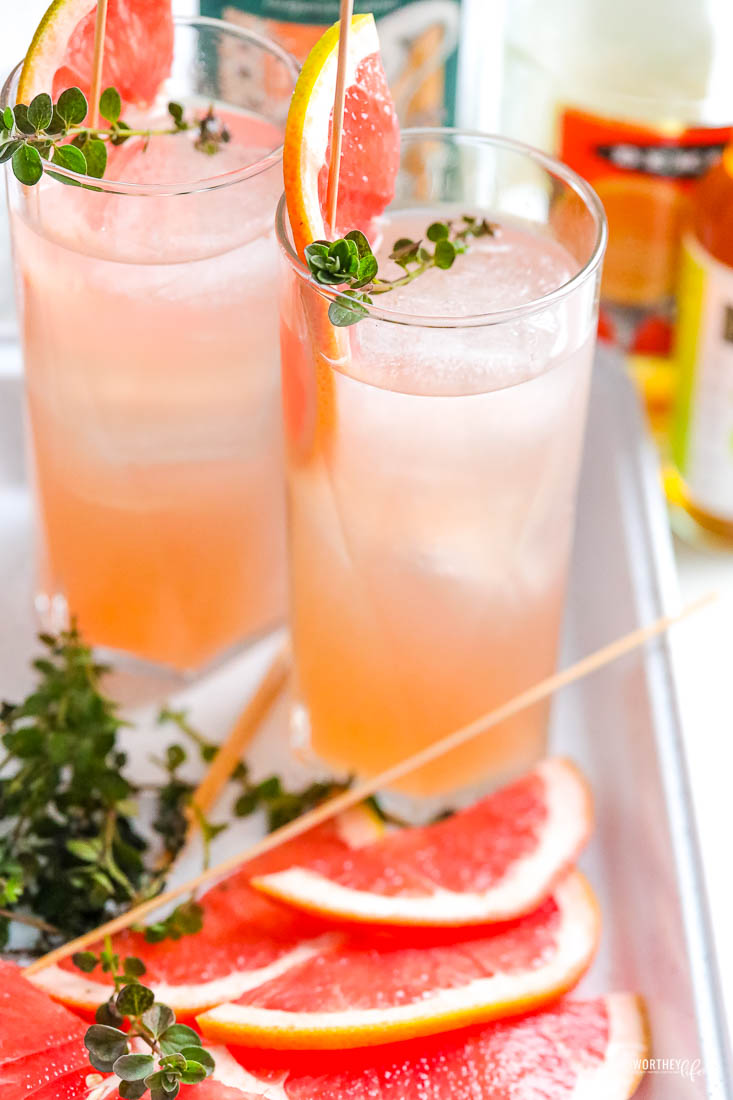 Directions to make this cocktail recipe:
In a cocktail mixing glass over ice, add gin, vodka, fresh-squeezed ruby red grapefruit juice, orange curacao, and grapefruit bitters.
Use a long-handled bar spoon and stir vigorously for 30 seconds.
Strain into a serving glass of ice.
Garnish with a grapefruit wedge and a fresh sprig of oregano, thyme, mint, or marjoram.
Serve in a martini glass, or a regular cocktail glass will work too!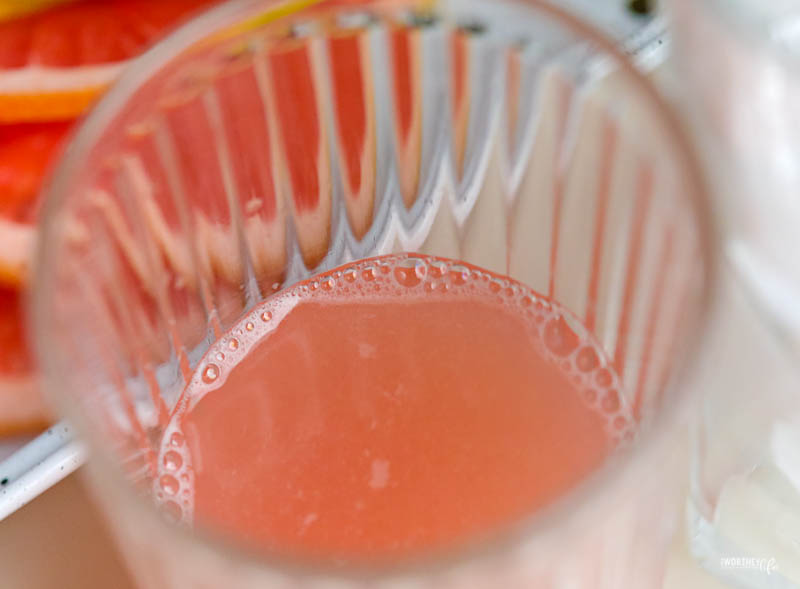 How to make simple syrup for our Grapefruit Gin Martini recipe
If you've never made a simple syrup, it is very simple and only takes a few moments. You can even easily add flavors like grapefruit or orange to this cocktail.
To add flavor, you have to place herbs, citrus peel, or similar flavor infusion items into the syrup when it is still hot to help infuse that flavor into the syrup.
Add equal parts sugar and water to a saucepan.
Heat over medium heat until the sugar is dissolved.
Add in flavor (in this case, a single tablespoon each of grapefruit and orange juice, plus a thumb of grapefruit and orange peels without the pith).
Remove from heat, allow to cool, and chill until ready to use.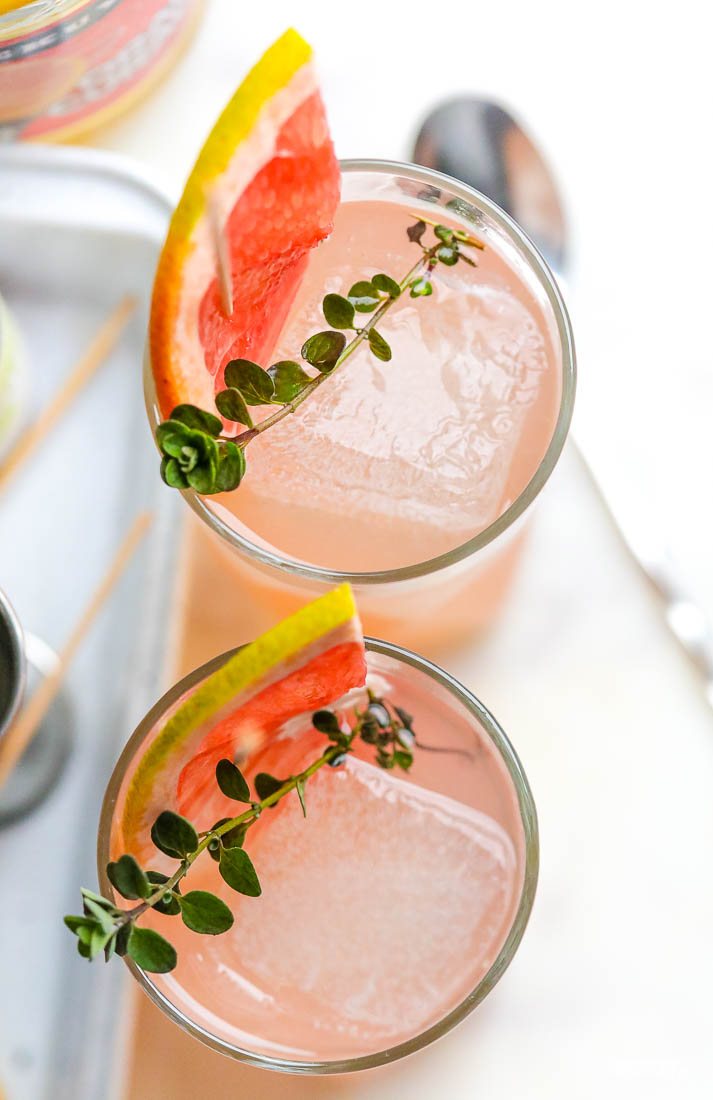 Drink responsibly, and never drink and drive
If you are looking for a bright, refreshing twist on a classic gin martini – this fun new grapefruit gin and vodka martini is going to be a huge hit.
Prepare to dazzle everyone with a delicious citrus-infused pink drink that will become a long-time favorite of everyone that takes a sip.

What alcohol is good with grapefruit juice?
I reached for gin and vodka to pair with the grapefruit juice as a duo of flavors.
It helps to level out the flavors and complements the tangy sour tang from the grapefruit.
You will also find other recipes that use rum or vodka to pair next to grapefruit.
What is the best mixer for a martini?
Gin is perfect for mixing with martini ingredients.
I suggest using quality alcohol as it will be one of the standout flavors in this martini grapefruit recipe.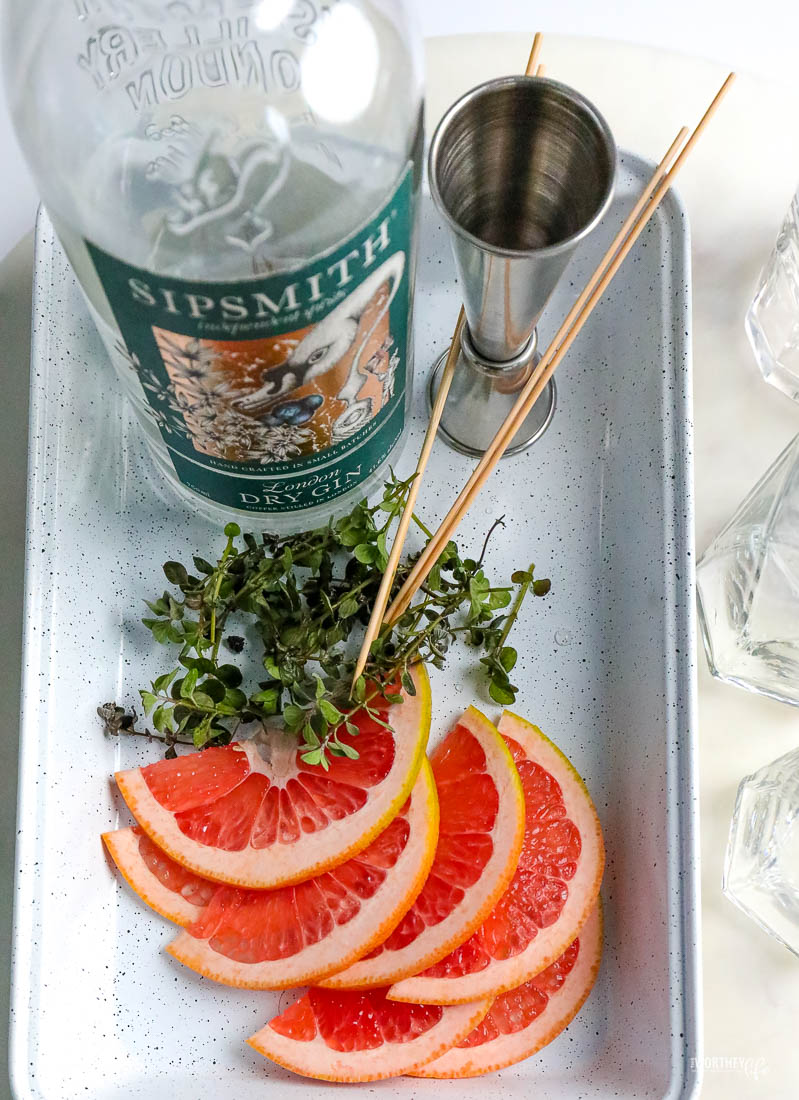 What is the difference between orange curacao and triple sec?
Triple sec and Curacao are flavored liqueurs that can confuse some.
Curacao is an orange liqueur flavor, where Triple sec normally sells clear or blue color. They both are used as a spirit base for cocktails.
Do you stir or shake a martini?
To be honest, you can actually do either when it comes to mixing up your grapefruit cocktail. It tends to be whatever you have on hand or your preference.
We stirred ours vigorously for 30 seconds. But you can use a cocktail shaker to shake and pour your cocktail.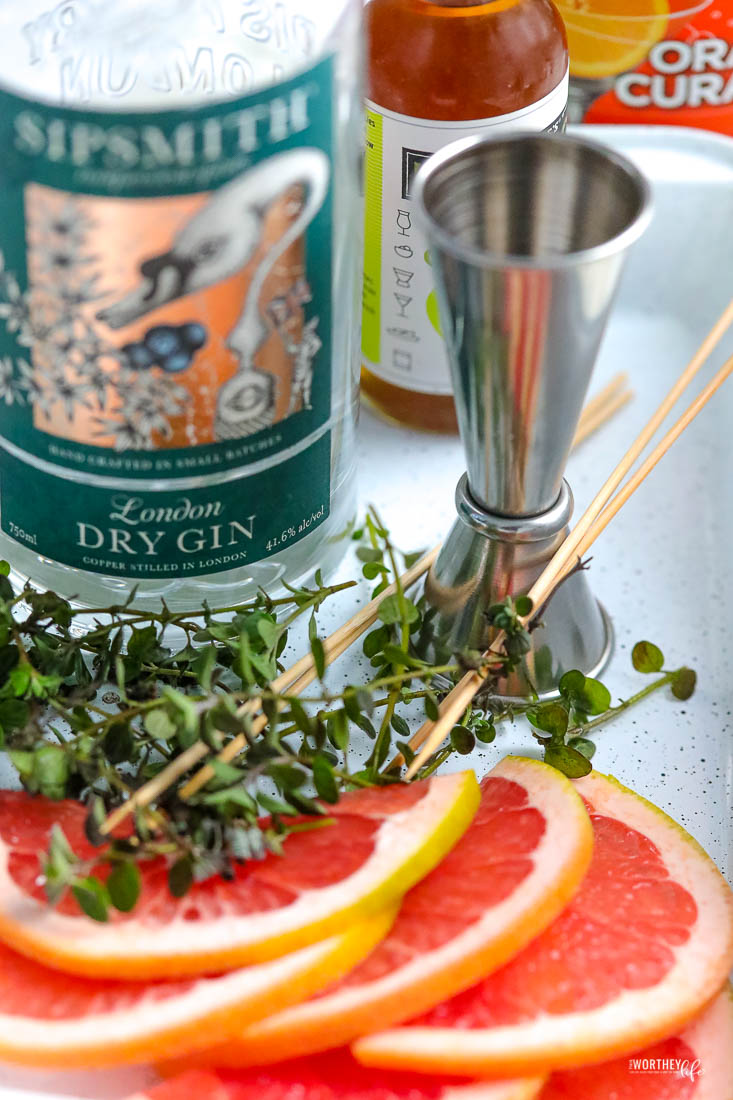 How to pick grapefruit?
The first thing to do is look over the grapefruit to make sure it offers a nice deep color with no bruising.
You want the grapefruit to feel heavy for its size.
The grapefruit will also offer smooth skin that is not full of flaws bruising, etc.
You want the grapefruit to have a little softness when you squeeze it slightly.
This refreshing cocktail is perfect for enjoying on a summer's day, a girl's day, and even for a Valentine's Day cocktail idea. You don't need a special occasion to enjoy our take on this classic martini.
More Cocktail Recipes:
Posted 2016. Updated 1/2021 | updated 1/2023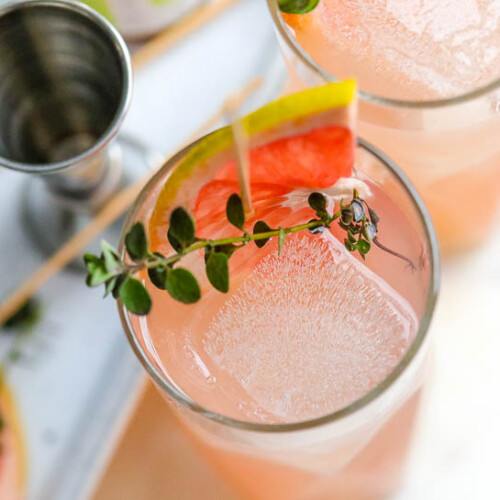 Ingredients
1-

ounce

quality gin

1-

ounce

good vodka

2.5-

ounce

fresh-squeezed ruby red grapefruit juice

2

dashes of grapefruit bitters

1-

ounce

orange curacao

fresh oregano sprig

a wedge of fresh grapefruit

ice cubes
Instructions
In a cocktail mixing glass over ice, add gin, vodka, fresh-squeezed ruby red grapefruit juice, orange curacao, and grapefruit bitters.


Using a long-handled bar spoon and stir vigorously for 30 seconds.


Strain into a serving glass of ice.


Garnish with a wedge of grapefruit and a fresh sprig of oregano, thyme, mint, or marjoram.


Serve.
This post may contain affiliate links, meaning I may receive a commission if you purchase using these links.
As an Amazon Associate, I earn from qualifying purchases.