Stay warm with this hot bowl of savory potato + tortellini soup. With hearty vegetables, potatoes, tortellini, and a few other ingredients, I'm cooking this Instant Pot Potato Soup again this weekend! Get the recipe down below!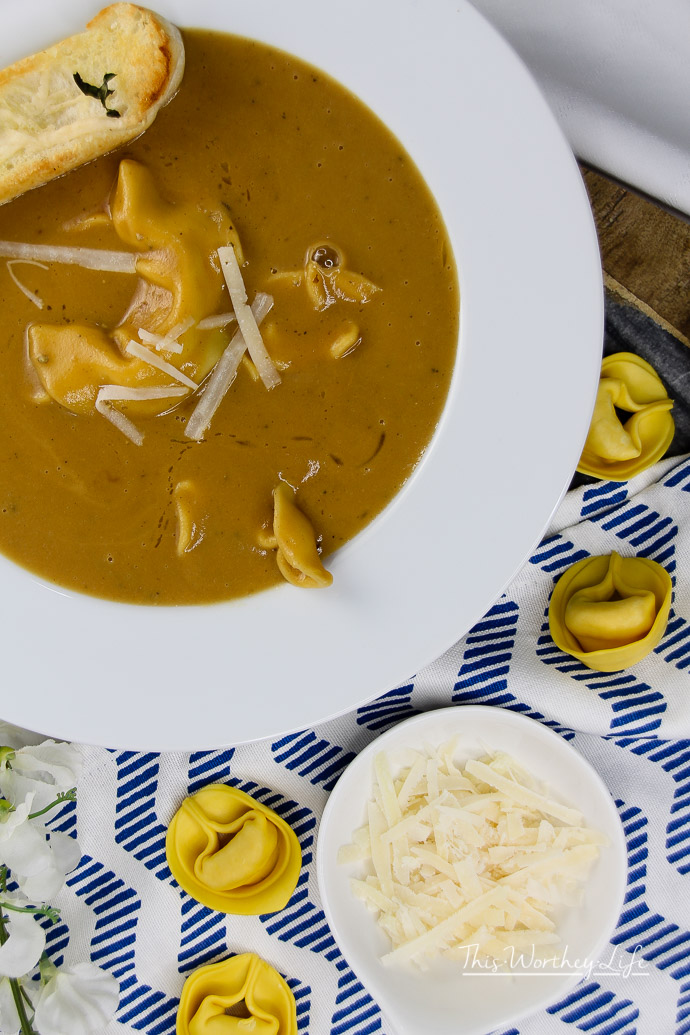 Instant Pot Potato Soup Recipe | Savory Potato +Tortellini Soup
When the talk turns to the subject of our favorite comfort foods our Savory Potato + Tortellini Soup ranks right up there with our Homemade Chicken Pot Pie. And for me, the smooth mechanics of this wonderful soup lie in its simplicity and in the unconventional addition of the soft pockets of tortellini. The homemade rusticity of this bespoke conjuring, for it was first imagined, is akin to the dumplings found strewn about in a traditional chicken and dumpling soup. But here the medium is made sturdier and yet made of simpler construction. But in ways, this is a gangly pairing, the double-carbs, the starchy rich potatoes suspending the equally carb-rich tortellini! But its saving grace is how luxurious this coupling is with the earthy foundation of Yukon Gold potatoes seasoned well and then spun into such comforting texture. Let's begin there with the potato soup; you'll need good ones, potatoes up to the job of being reduced to near liquid form but still able to retain their rich essence and flavor.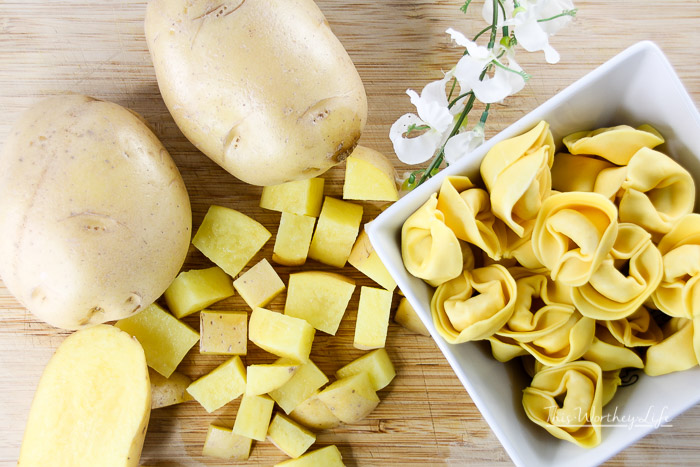 I recommend Yukon or russets because without a solid foundation nothing else matters. And like any good potato soup, the addition of The Vegetable Trinity is a must! We're talking about carrots, celery, and carrots! In French cooking this trio is known as mirepoix, doesn't it sound foodie sexy?! What can I say? My nerdiness gets the best of me at times. Blend these into equal parts.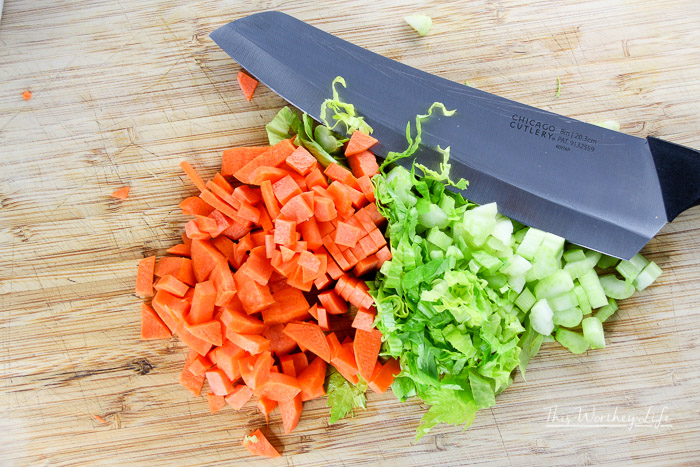 When adding the celery include the celery leaves too, rinse them well to remove dirt, grit, and other unwanted debris. You may have noticed my Chicago Cutlery knife, which I am kinda obsessed with right now. I discovered Chicago Cutlery a few years ago I am just as impressed now as I was then. These knives are mega-sharp, and they cut like a dream. And they look amazing! These are great knives no matter what your level of kitchen expertise is, for one they are super affordable, and two, they perform really well. That's why I use them, for more check here.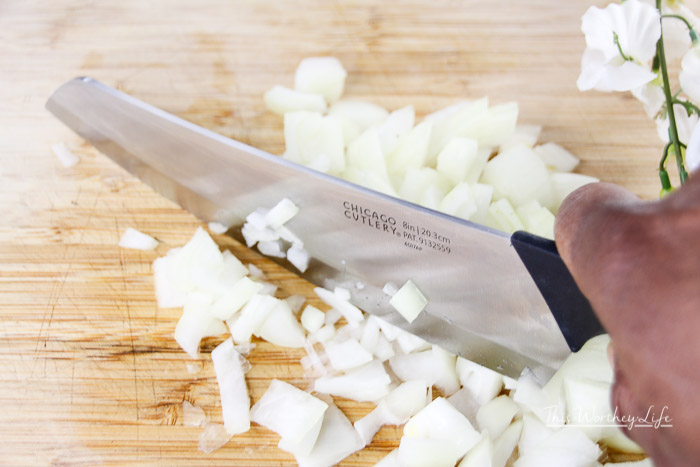 For this recipe, I deviated from yellow and employed crisp white onions here, plus I was out of my sweet Vidalia onions.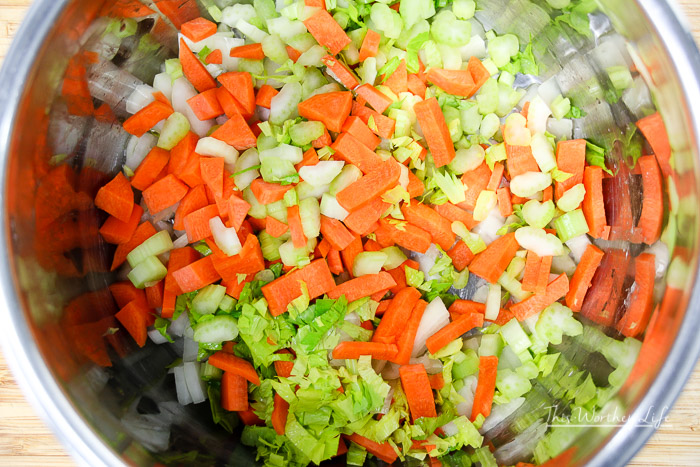 Add a bit of extra virgin olive oil then select the Sauté function, cook until the mixture is softened. A pinch of sea salt and freshly cracked peppercorns won't hurt either.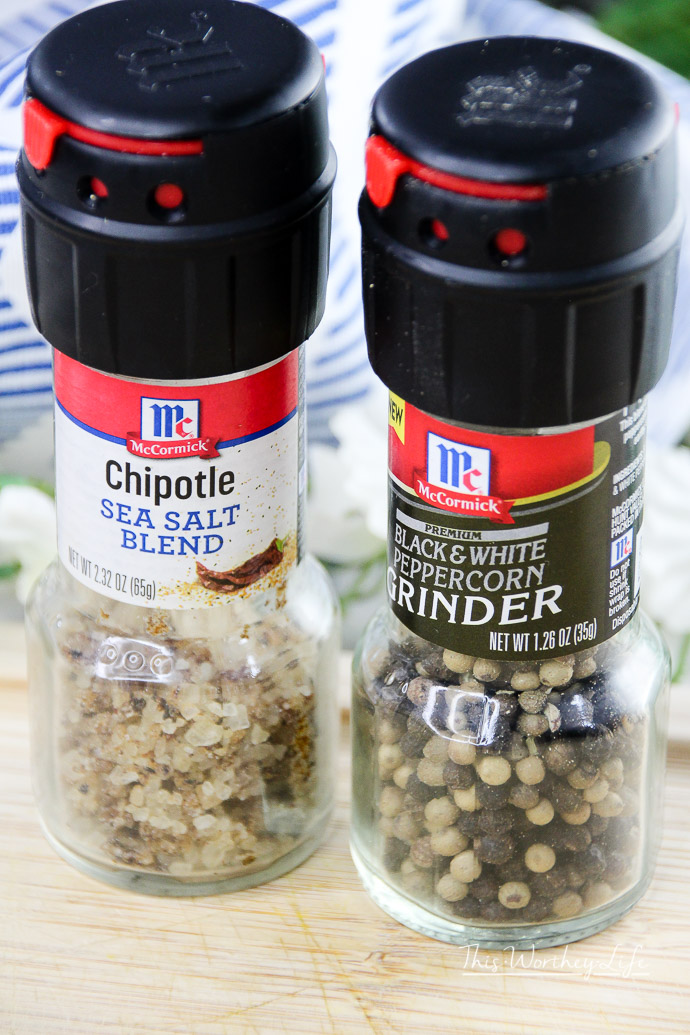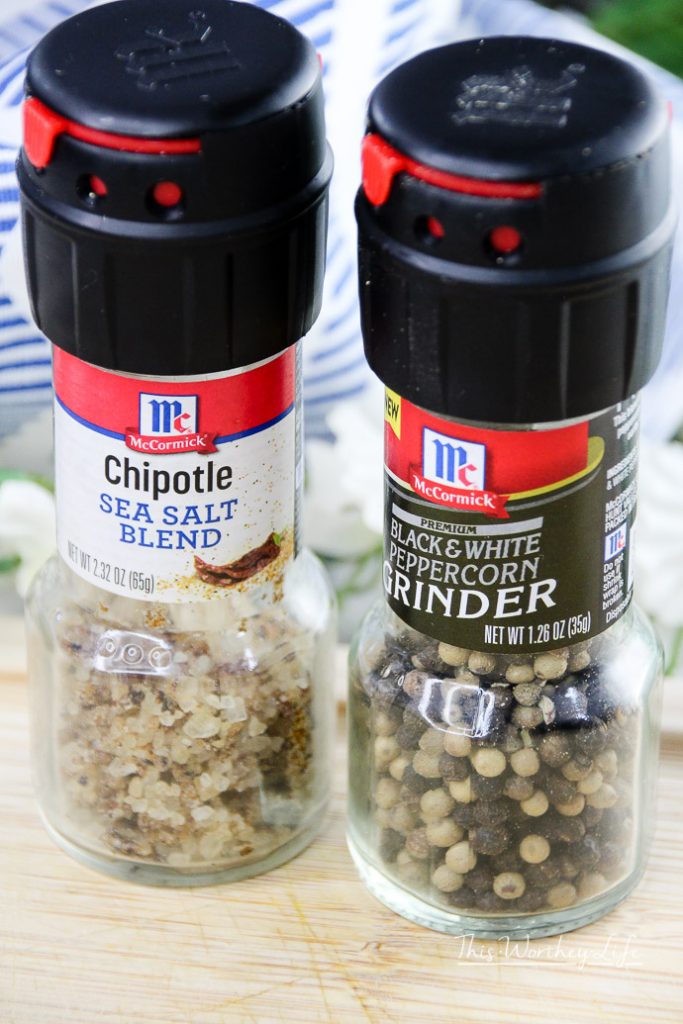 I do a rough peel on the potatoes leaving a bit of the skin on; this adds flavor and a bunch of nutrients into the soup.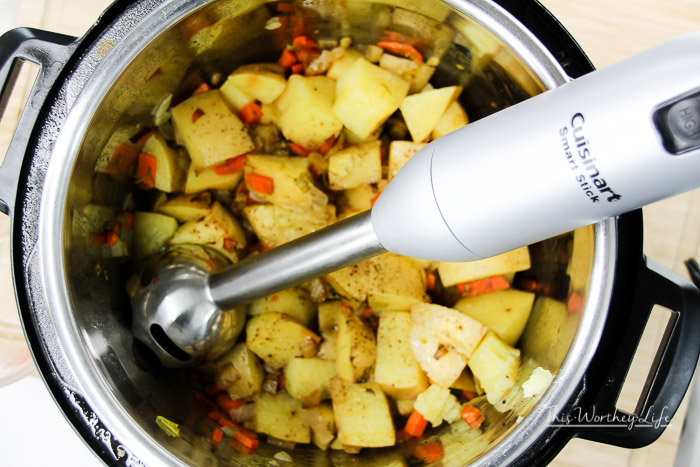 The perfect match made in soup-making kitchen tools heaven has got to be the Instant Pot and the Cuisinart Smart Stick! Why? Well, for one everything stays in one place. No more transferring soup to a blender and making a mess. With this soup making dynamic duo it's so much easier, less of a mess, and to me, that makes a huge difference. Plus, the Cuisinart Smart Stick is a beast of multifunctional, just like the Instant Pot.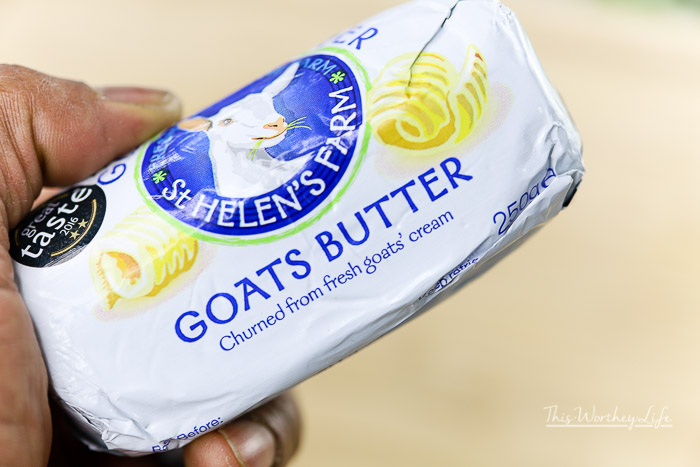 Do you see that? Of course, you do, I usually put a couple of tablespoons of butter to finish my potato soup, but this time I used a little goats butter and just WOW!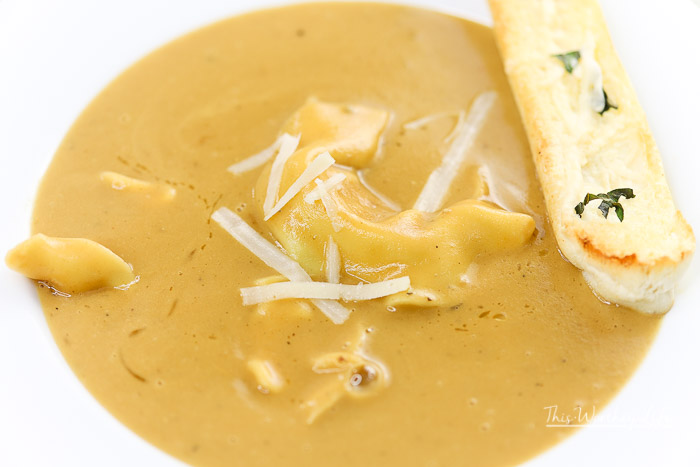 I also shredded a bit of white cheddar, but that's only because I was out of Parmigiano-Reggiano which seldom happens, but you know what? It came out beautifully just the same.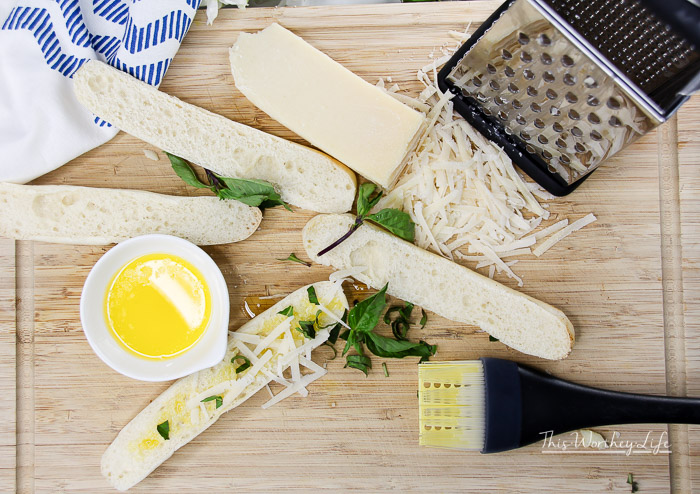 Oh, I also made these quick and yummy garlic bread sticks. No, there wasn't any baking involved. Not that I can't, but these were so much easy to make. I will post the how-to soon.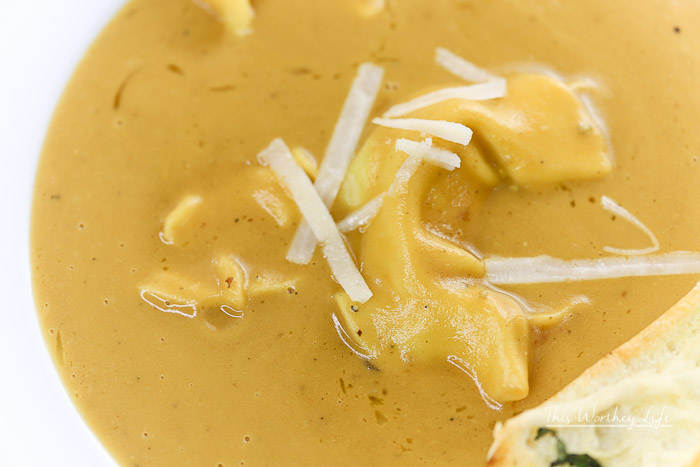 How to make this Instant Pot Potato Soup
Ingredients:
1 medium white onion, diced
1 cup carrots, diced
1 cup celery with leaves, washed and chopped
3 cups yellow or Yukon Gold potatoes, cut into cubes
4 cloves garlic, minced
2 tbsps extra virgin olive oil
22-ounces chicken stock
sea salt, to taste
freshly cracked black peppercorns, to taste
1/2 stick (4 Tbsps) goats butter
1 cup heavy whipping cream
1 package of pre-made tortellini
Directions:
Add two tablespoons of extra virgin olive oil into the Instant Pot® and press the S

auté button.

When the oil is hot add the onions, carrots, celery, and garlic.

Add sea salt or Kosher salt, and freshly cracked black peppercorns.

Continue to sauté until the onions are translucent.

Add the potatoes and chicken stock, place the lid on the Instant Pot® and lock into place, make sure the vent mechanism is set to Closed Vent.

Select the soup setting and cook for 10 minutes.

Prepare the tortellini while the soup is cooking. When the tortellini is al dente, strain off the water and set the tortellini aside.

After the Instant Pot cooking time has expired, move the venting mechanism to open and vent out of the pressure.

Unlock and remove the lid, using a large slotted spoon remove half of the vegetables and reserve for later.

Blend the soup using a hand-held blending wand.

Taste the soup and adjust the salt and black pepper.

Next, pour in the heavy whipping cream and add the 1/2 stick of unsalted goats butter.

Allow the butter to melt completely, then using a large wooden spoon stir the heavy whipping cream and butter into the soup mixture.

Add the reserved vegetables back into the soup.

Press the keep warm setting on the Instant Pot®.

When the soup has reached the desired temperature ladle soup into bowls, add tortellini and serve.
Yes, this is a great way to stay warm while enduring these cold winter, Michigan nights! What's your favorite soup recipe? Drop us a line below!
And be sure to pin this to your Pinterest board: