This loaded breakfast bowl includes fresh farm eggs, fresh veggies, and skillet potatoes. Start breakfast off the right way with this delicious breakfast recipe. Let's do this!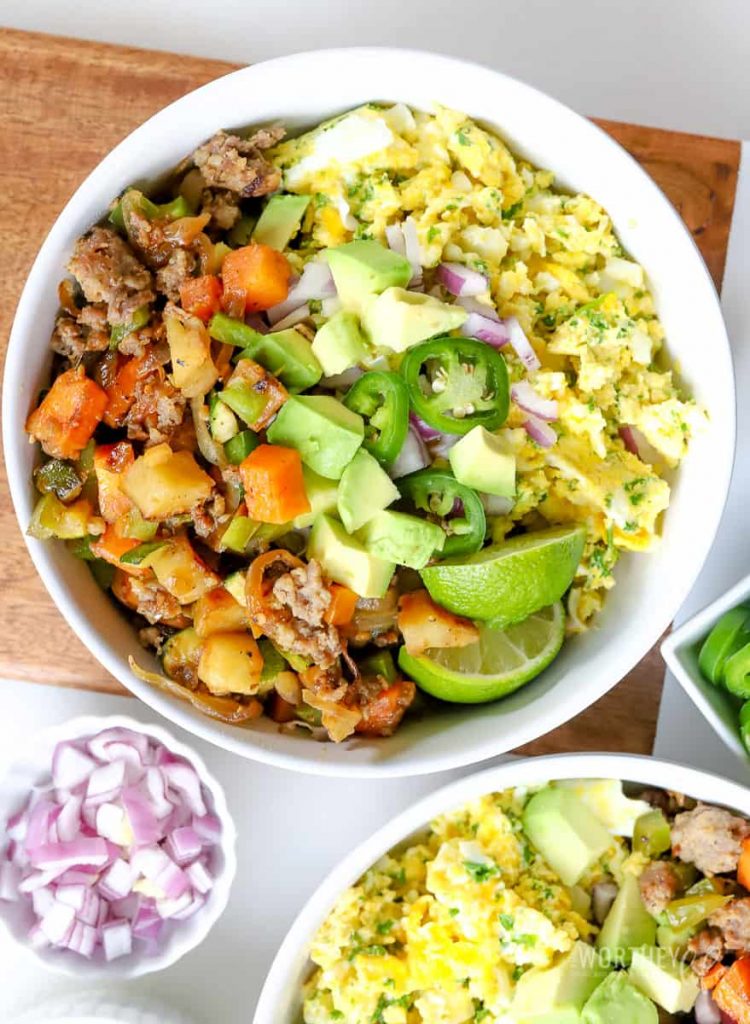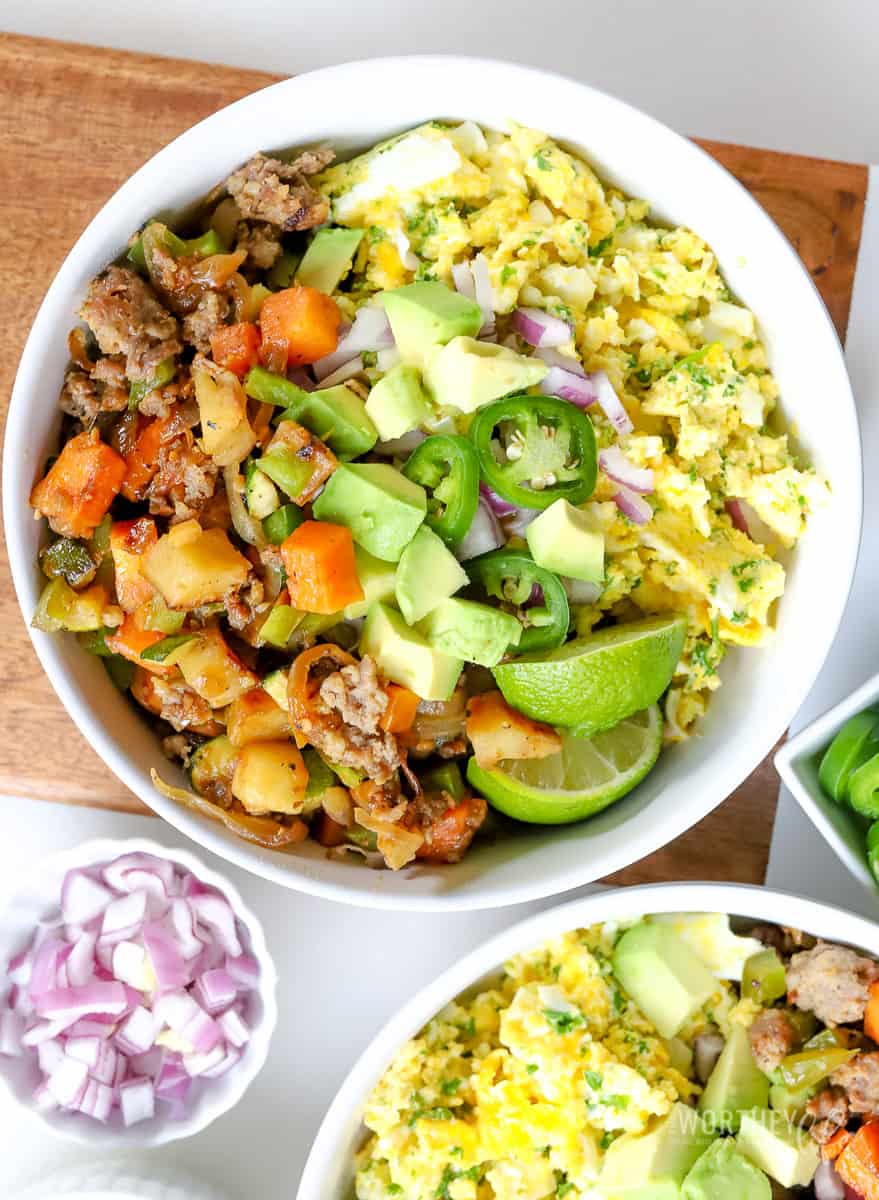 Loaded Breakfast Bowl
I am crazy about food, and for that, I make no apologies! And although I love food, in general, breakfast foods are my jam! When I was younger I was all about the sweet stuff like freshly baked cinnamon rolls with strawberry cream cheese icing or a sky-high stack of buttery, fluffy in the middle and crispy around the edges pancakes drizzled with my favorite Michigan maple syrup could always get the business.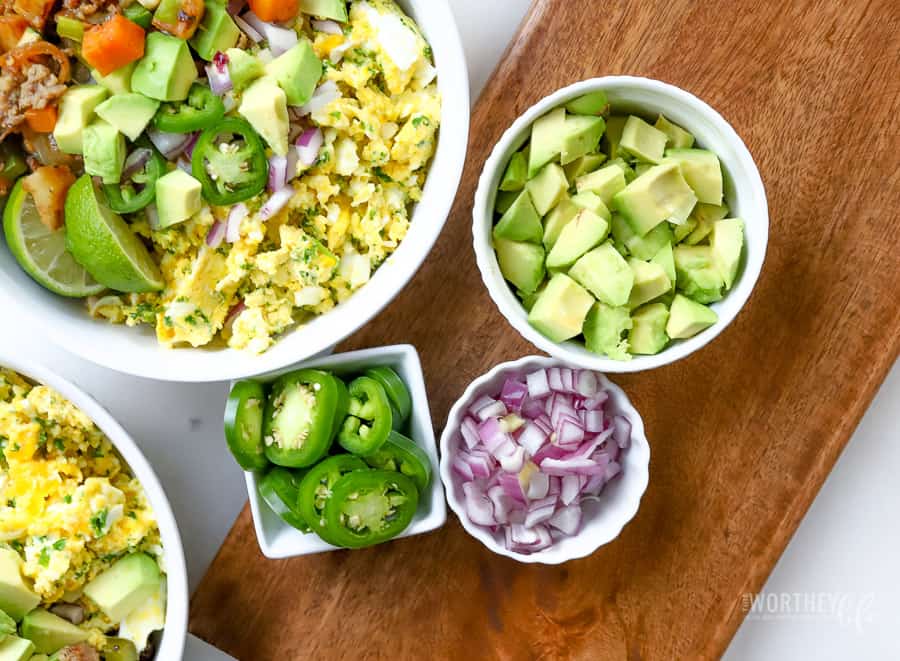 However, now it is the savory foods that make me drool, and I enjoy breakfast bowls because like most recipes there are no hard and fast rules about the ingredients. For me, it's all about what I have readily available, like:
farm fresh eggs, avocado, lots of veggies like sweet, mild, or hot peppers, squash, sweet potatoes, zucchini, kale, collard greens, red or sweet onions, tons of garlic, and fresh parsley or cilantro
crispy bacon, spicy sausage, chorizo, pork belly, leftover turkey, steak, and chicken or salmon
grains like brown rice, quinoa, wheat berries, hemp hearts, buckwheat, or bulgar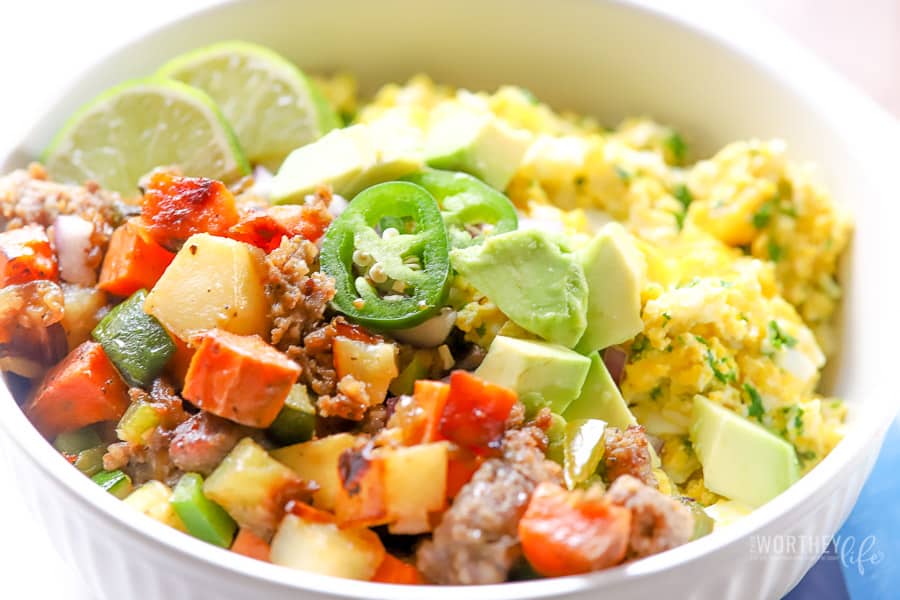 Basically, there are so many directions you can go when you create breakfast bowls that you will love!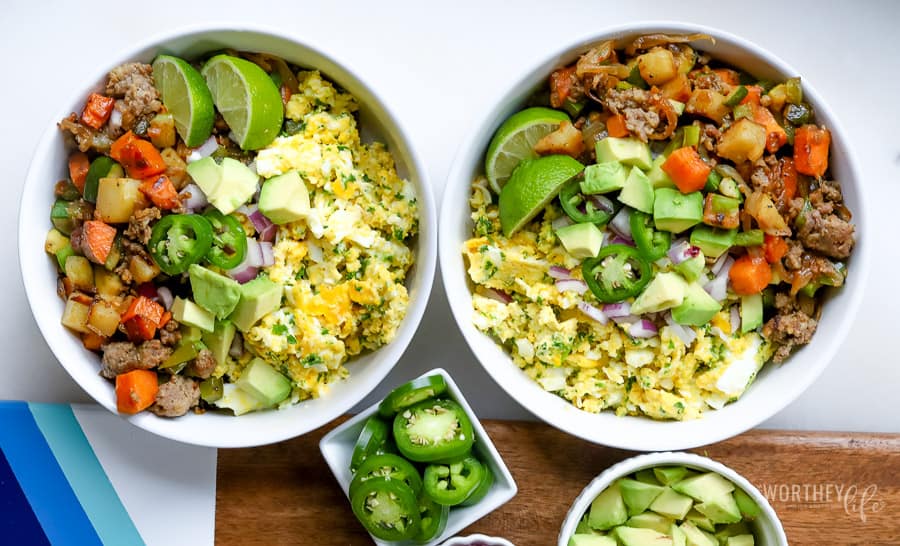 Skillet Potatoes get the business when you add spicy Italian sausage with zucchini and green bell peppers!
Our Loaded Breakfast Bowls are filled with items I had on hand, and they turned out pretty good! Lots of veggies with protein from Italian sausage and fresh farm eggs. If you are eating Keto skip the potatoes and add roasted cauliflower, rutabaga or turnips to this recipe and it will be a great addition to your weekly meal plan. But if you're vegetarian skip the sausage. And if eating vegan is your thing subtract the sausage and eggs and add garlicky chickpeas or herb pan roasted tofu! The bottom line is, do you. And remember, almost any recipe can be adjusted to meet your specific goals and individual needs. Until next time, see you in the kitchen!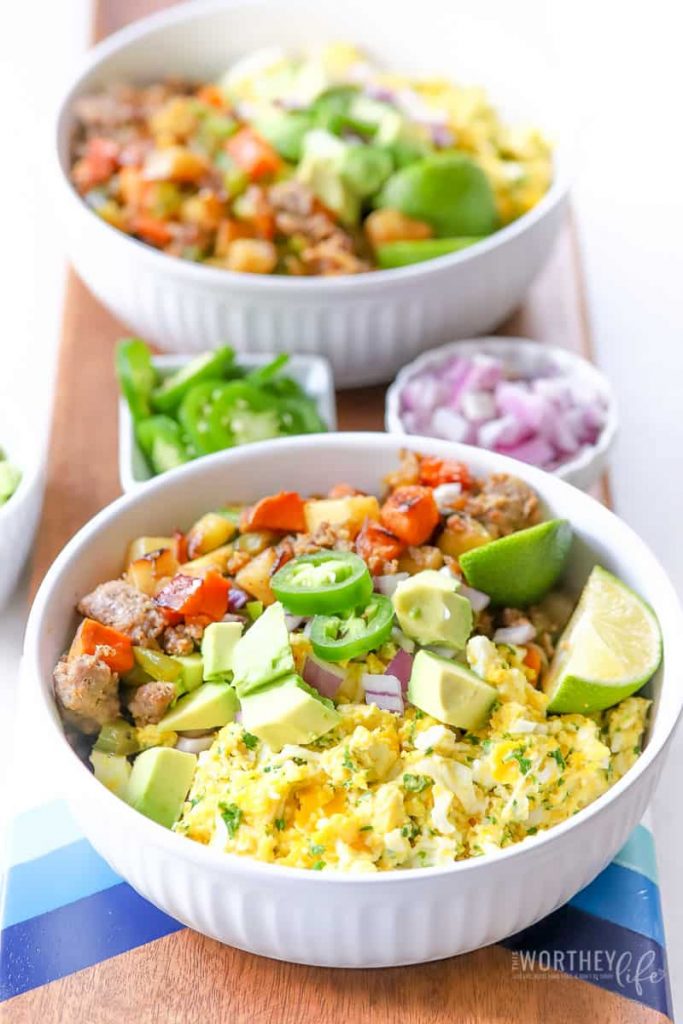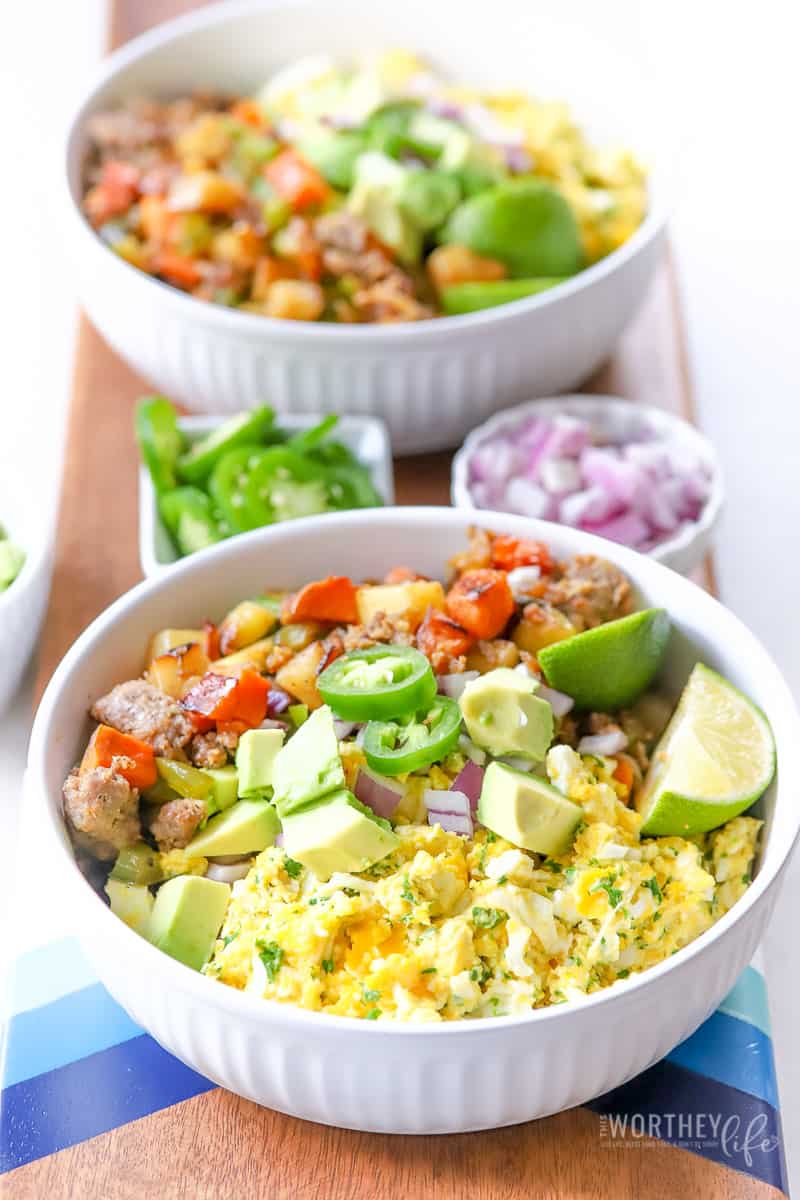 How to make a Loaded Breakfast Bowl
Ingredients for Savory Sweet & Russet Skillet Potatoes
2 medium russet potatoes, cut into cubes
1 large sweet potato, cut into cubes
1 pound spicy or sweet Italian sausage
1 cup zucchini, diced
1 large green bell pepper, chopped
1 medium yellow or white onion, diced
2-3 cloves of garlic, chopped
3-4 tablespoons extra virgin olive oil or avocado oil
flaky sea salt
freshly cracked black peppercorns
Directions:
Place a large cast iron skillet over medium-high heat and add one tablespoon EVOO.
When the oil is hot add the sausage and break apart with a spoon.
Brown the sausage until it is cooked through.
When the sausage is finished cooking spoon the sausage onto a plate lined with paper towel to absorb the excess oil.
Add the remaining two tablespoons of EVOO to the skillet with the sausage drippings.
When the oil is hot add the onion and sauté scrapping up the bits of on the bottom of the skillet.
Add the russet and sweet potatoes and brown the potatoes on all sides.
Turn the heat to medium low and place a tight-fitting lid over the skillet, continue to cook until the potatoes are tender.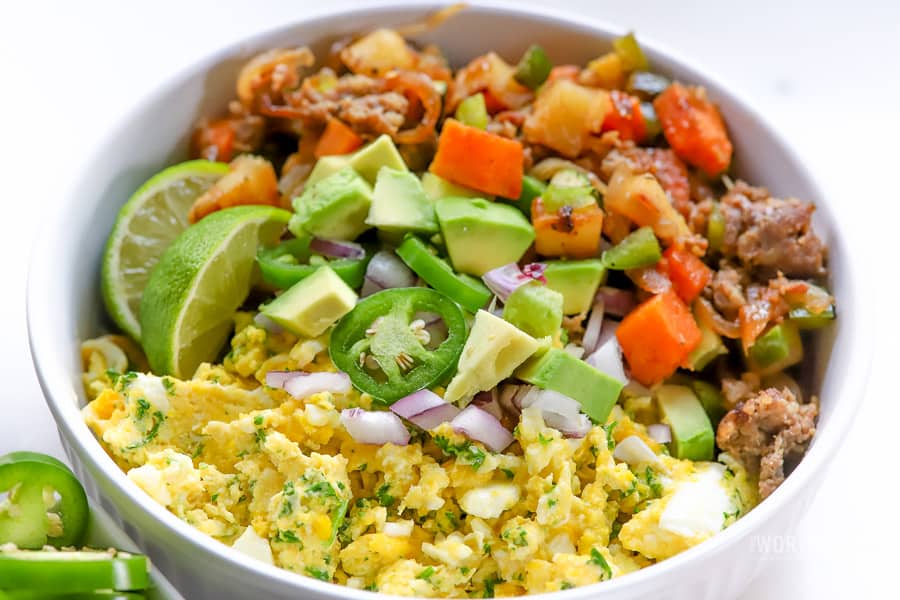 Parsley Scrambled Eggs & Sweet Red Onions
Ingredients:
2 tablespoons extra virgin olive oil
8 fresh farm eggs
3 tablespoons fresh flat-leaf parsley, chopped
3 tablespoon sweet red onion, diced
flaky sea salt
freshly cracked black peppercorns
Directions:
Into a bowl crack eight fresh farm eggs and discard the shells.
Add flaky sea salt and freshly cracked black peppercorns.
Whisk the eggs thoroughly for about 30 seconds.
Add the chopped flat-leaf parsley and whisk with a fork to combine.
Place a large skillet over medium-high heat and add EVOO
When the oil is hot add the eggs and continue to whisk for until the eggs set.
Cook the eggs to your preference soft, medium, or hard scrambled.
Spoon onto a plate and serve.
What's your favorite food? I want to hear all about it! I am revisiting these incredibly dope and effortlessly delicious Breakfast Bowls I made a few weeks ago. I think I need to make more!