This post is sponsored by BabbleBoxx.com on behalf of Bertolli® Up your Valentine's Day dinner idea by creating a delicious and savory Risotto dish. With butternut squash, mushrooms, rosa creme made with Bertolli pasta sauces, crumbled thick-cut bacon, and this Arborio short-grain rice dish is perfect for a date night at home (or just because you love risotto!) We're sharing tips on how to make the perfect risotto down below.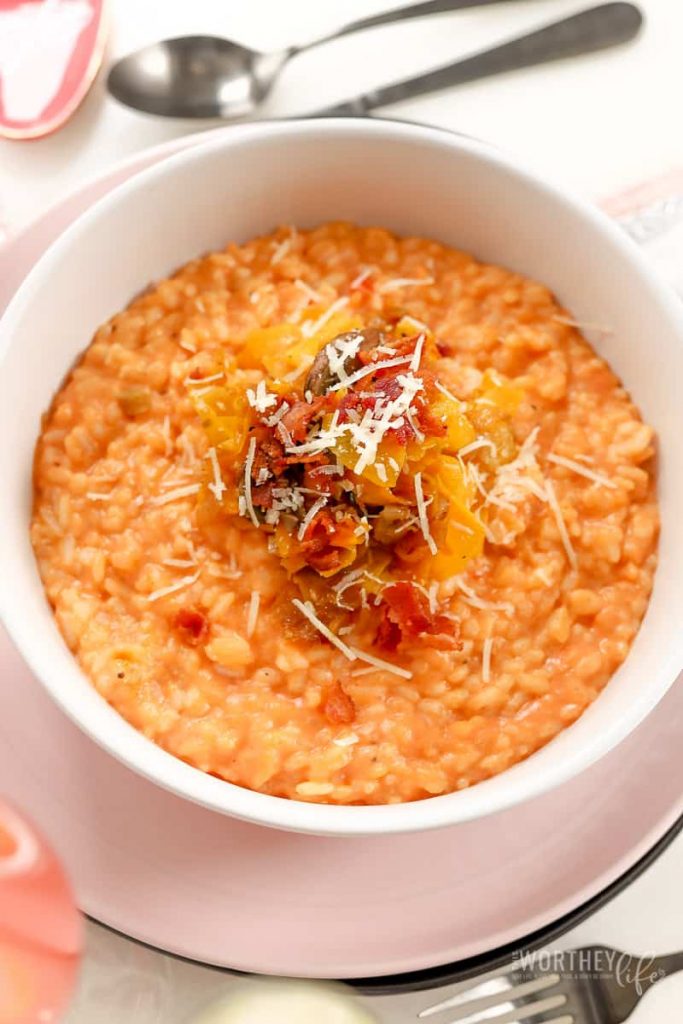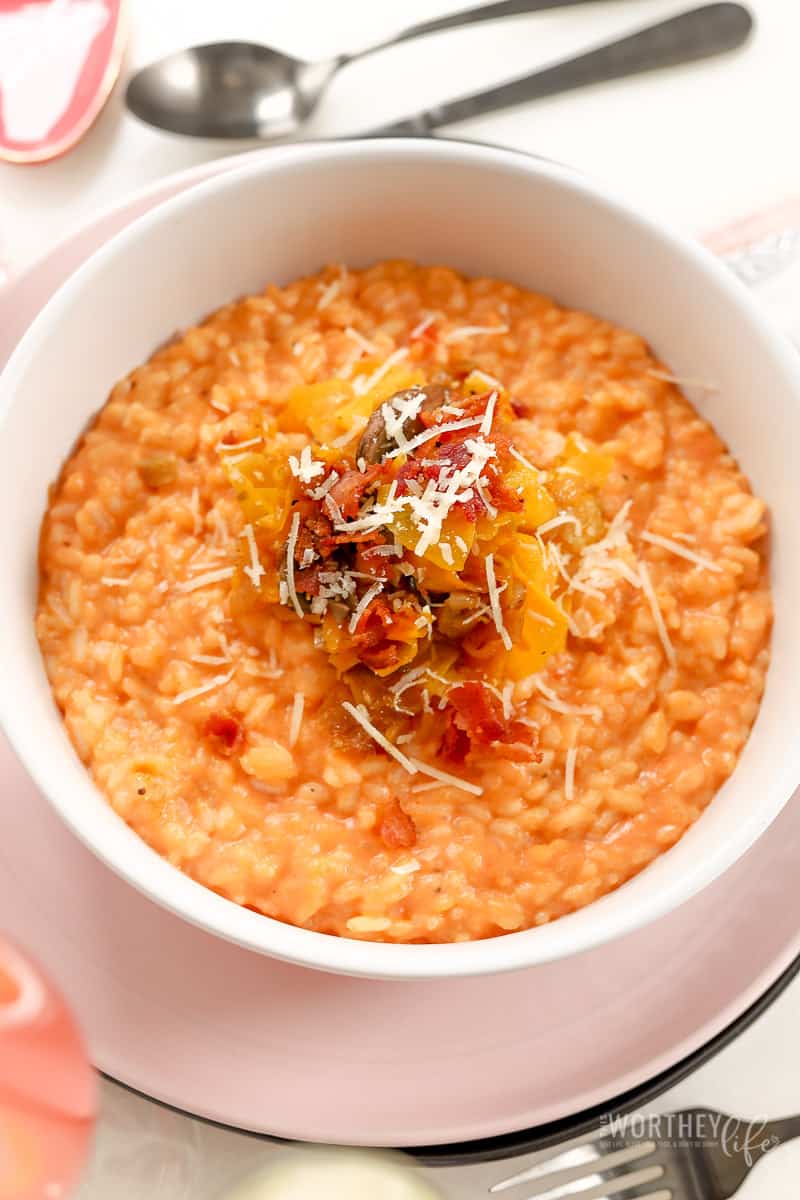 Valentine's Day Dinner Idea: Rosa Crème Risotto + Mushroom, Butternut Squash
Have you ever made risotto? Me neither! But today I made my very first risotto, and it was everything a risotto should be; delicate, silky, creamy, with perfect al dente Arborio short-grain rice! Nothing like taking on one of my favorite foods and owning it! You are going to love this Rosa Crème Risotto + Mushroom, Butternut Squash + Thick-Cut Bacon. For my finishing touch, I also dusted this beautiful dish with hand-grated savory Parmesan Reggiano cheese. Are you ready to impress your lover this Valentine's Day with this deliciously romantic main course? I got step-by-step directions down below.
And guess what? I know you can do this too because I believe in you and besides if I can do this I know you can do this too. All you have to do is believe you can, have the proper equipment, and the right ingredients like Bertolli® Organic Sauces and you're halfway there.

Did you know cooking has taught me so many important lessons? It's true because you can't arrive at any delicious recipe without love, patience, attention to detail, imagination, improvisation, and a strong desire to see a goal through to the very end. And cooking has amplified all of these important traits. Believe me; nothing gets done right in the kitchen of life without the proper ingredients. Ya' know, when you think about it, everything in life is about having the right recipes and the skills to pull them off. Cooking, as a life philosophy, who knew? Like having Bertolli® products in the pantry means you have quality ingredients to pull off great Italian influenced recipes.
Pro Tip: Cook the veggies and the risotto separate, I served my vegetables on top of the risotto when the dish was finished.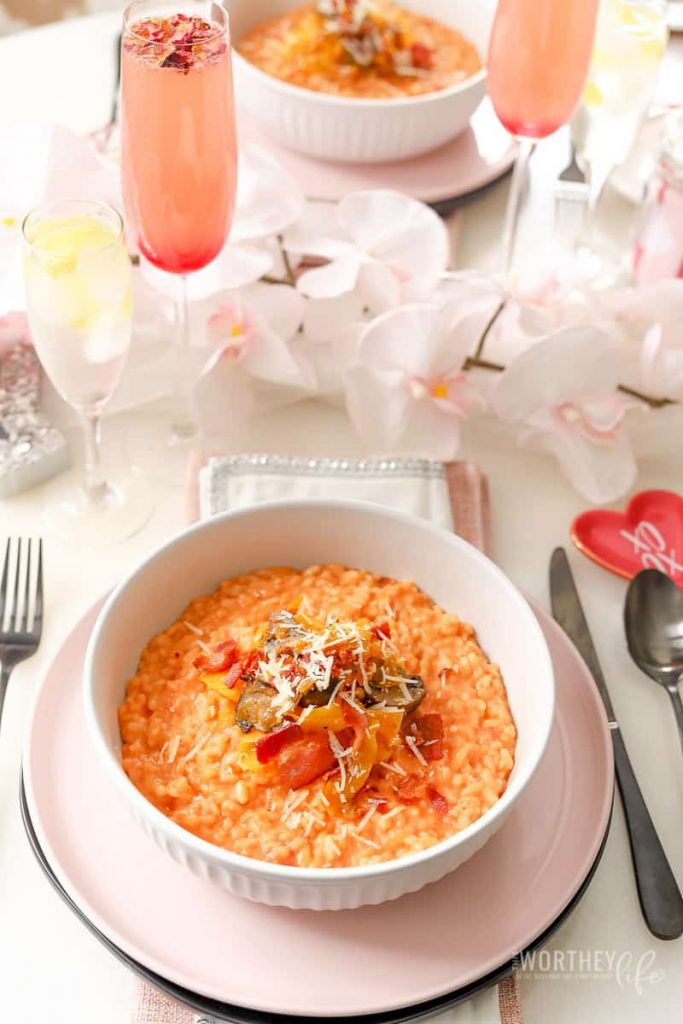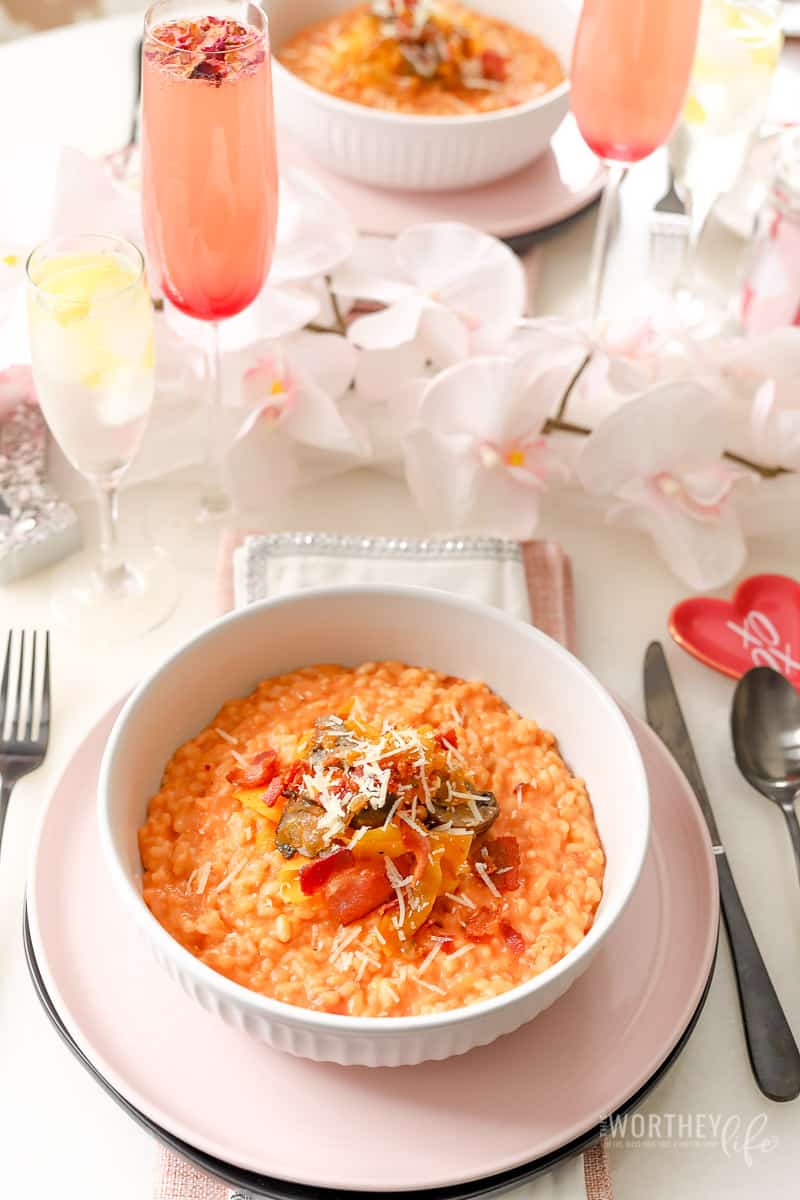 For me, cooking has taught me all of these things and more. But when it comes to risotto love and patience are the two virtues you'll need plenty of to make this recipe a reality. But you can do this, just follow along and before you know it dinner will be served. Perfect!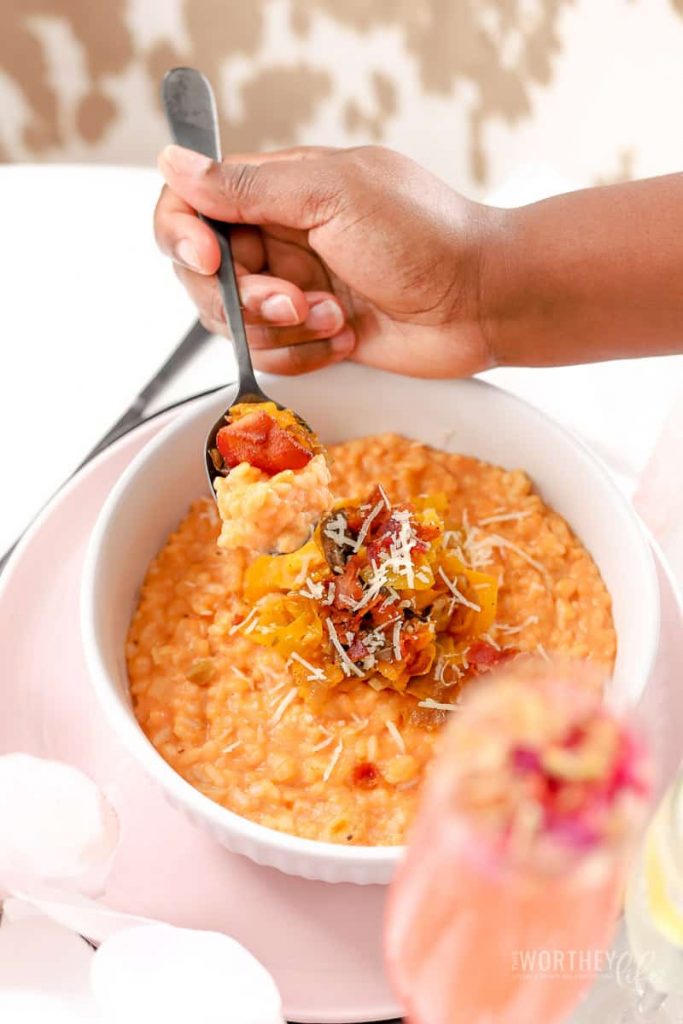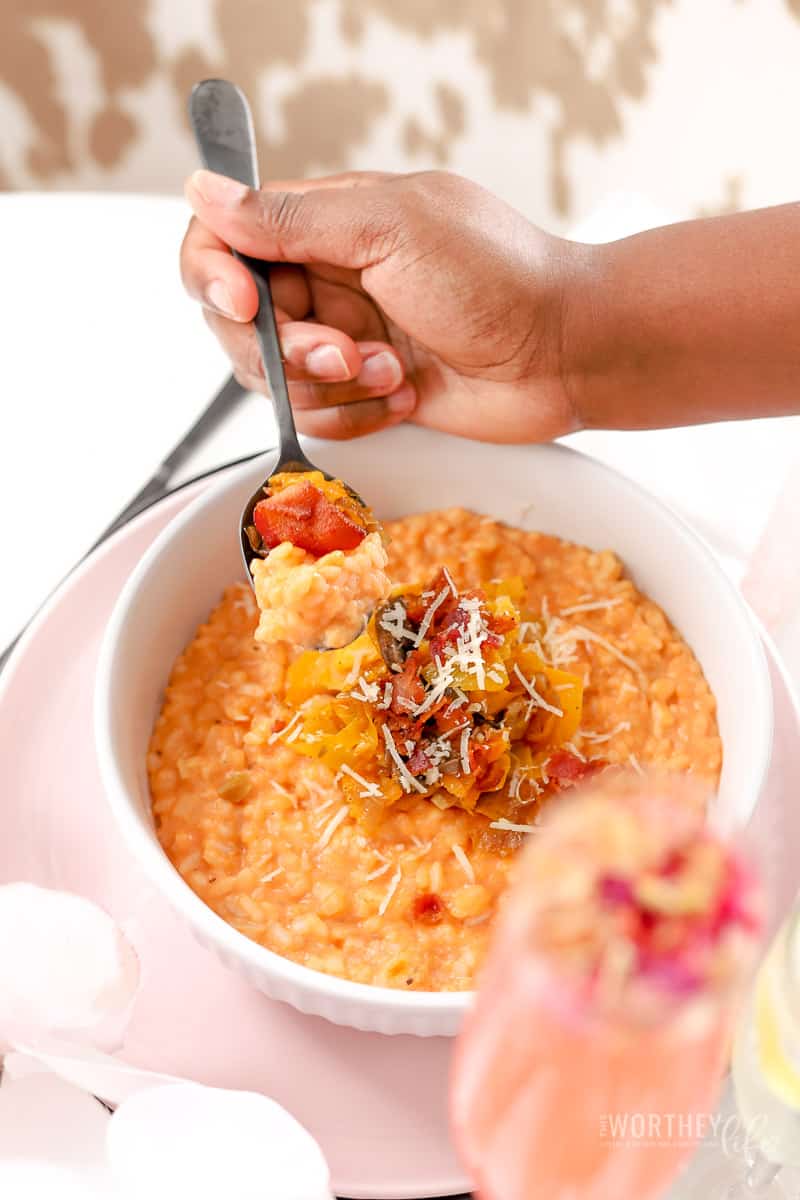 How to make Butternut Squash & Mushrooms Risotto
Ingredients:
4 strips thick-cut bacon
1 1/2 tablespoons extra virgin olive oil
1 clove garlic, minced
7 1/2 – 8 cups chicken stock, steaming
1/4 cup dry white wine, warm
2 cups arborio short-grain rice
1 teaspoon coarse sea salt
1 tablespoon unsalted quality butter
2 1/2 cups butternut squash shave into ribbons or cut into half-inch cubes
1 cup baby Bella mushrooms sliced thin
1 tablespoon unsalted butter
Rosé Tomato Sauce = 1/2 cup Bertolli® Organic Tomato & Basil Sauce + 1/2 cup Bertolli® Organic Alfredo Sauce
1/2 cup Parmesan Reggiano + more for topping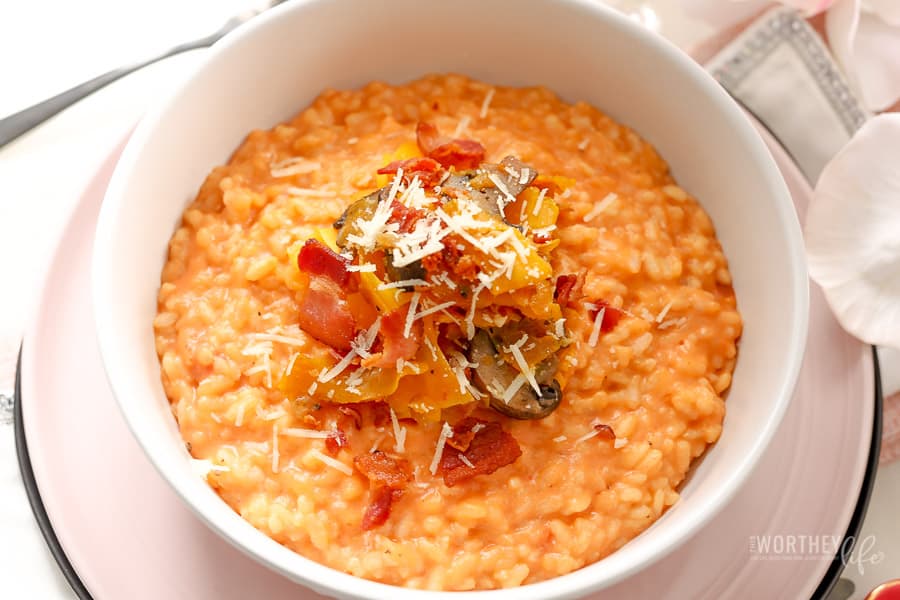 Directions on making Butternut Squash & Mushrooms Risotto:
In a high-walled skillet over med-high heat cook four strips of thick-cut bacon until crispy. When done, transfer the bacon using a slotted spoon into a bowl lined with paper towel.
Pour rendered bacon-drippings into a measuring cup, measure out one tablespoon of bacon dripping and add the grease to the skillet.
Adjust the heat to medium and sauté garlic and onions until the onions are translucent about four minutes, add the mushrooms and butternut squash and continue to cook until the mushrooms and butternut squash is tender, 3 to 4minutes. Remove the pan from the heat and set aside.
Grate a cup of

Parmigiano Reggiano and set aside.

Place a small stockpot over medium-low heat and warm the chicken stock until it is steaming. Keep the chicken stock warm throughout the process when cooking the risotto.
Place a saucepan over med-high heat and add two cups of arborio short-grain rice and add one teaspoon the coarse sea salt. Toast the rice by stirring with a wire whisk constantly for 60 seconds.
After the 60 seconds has elapsed add a tablespoon of quality unsalted butter and stir for another 60 seconds.
Now, begin adding the warm chicken stock to the rice one cup at a time, remember, only add more chicken stock after the rice has absorbed the previous cup of chicken stock. Also, do not constantly stir the rice, just stir the rice enough to prevent it from sticking to the bottom of the pan. So, make sure you aren't cooking the rice with too much heat or not enough heat. You want the rice to simmer and just barely bubble once the liquid has been introduced to the rice because cooking the rice too hot will result in burned, scorche or mushy rice.
When all of the chicken stock has been added to the rice adjust the heat to its lowest setting and stir in the room temperature wine.
Continue to stir until the wine has absorbed into the rice. The finished risotto should be loose and not stiff. If your risotto is too thick, add more chicken stock a little at a time until you get a smooth consistency.
Fold in half of the freshly grated

Parmigiano Reggiano cheese.

Taste the risotto to make sure it is al dente; you want the rice to have a creamy texture while maintaining its form.
Add a bit of flaky sea salt if needed and fold in a single cup of Bertolli Rosé Tomato Sauce.
Spoon risotto onto a serving plate or into bowls and top with the vegetable mixture.
Dust the finished risotto with

Parmigiano Reggiano

grated cheese, crumbled thick-cut bacon, and drizzle with a bit of quality extra virgin olive oil.
Serve.
Why Bertolli® Sauces? Because using Bertolli® Sauces is a great way to ensure you are adding quality ingredients.
Bertolli® Organic Creamy Alfredo Sauce uses non-GMO ingredients and lots of fresh cream, whole milk, real butter, and
aged Parmesan and Romano cheeses. And when mixed with the Bertolli® Organic Traditional Tomato & Basil Sauce it all about those plump ripe tomatoes, extra virgin olive oil, and Romano cheese. Adding one jar of each is an easy way to create a creamy and savory mixed Rosa sauce that pairs wonderfully with my first attempt at making this traditional Italian classic. Guess what? I nailed it!
To make a classic and super easy Rose sauce add one jar of Bertolli® Organic Traditional Tomato & Basil Sauce and one jar of Bertolli® Organic Creamy Alfredo Sauce. Mix well over medium heat until hot. Fold the mixture into the finished risotto for a delicious and romantic dinner for two.
This dinner is perfect for two, a romantic dinner idea for Valentine's Day idea. However, after making risotto for the first time, I've already planned to add this to my list of repeat recipes to make for any occasion. Be sure to stop by your local grocery store to find Bertolli® Organic products. You can also get inspired with additional recipe ideas using Bertolli® by visiting their website.