The holidays are just around the corner, and it's time to start thinking about side dishes for Thanksgiving. Our easy Baked Butternut Squash Potatoes is a great side recipe to try this year. Grab the recipe down below and give it a try!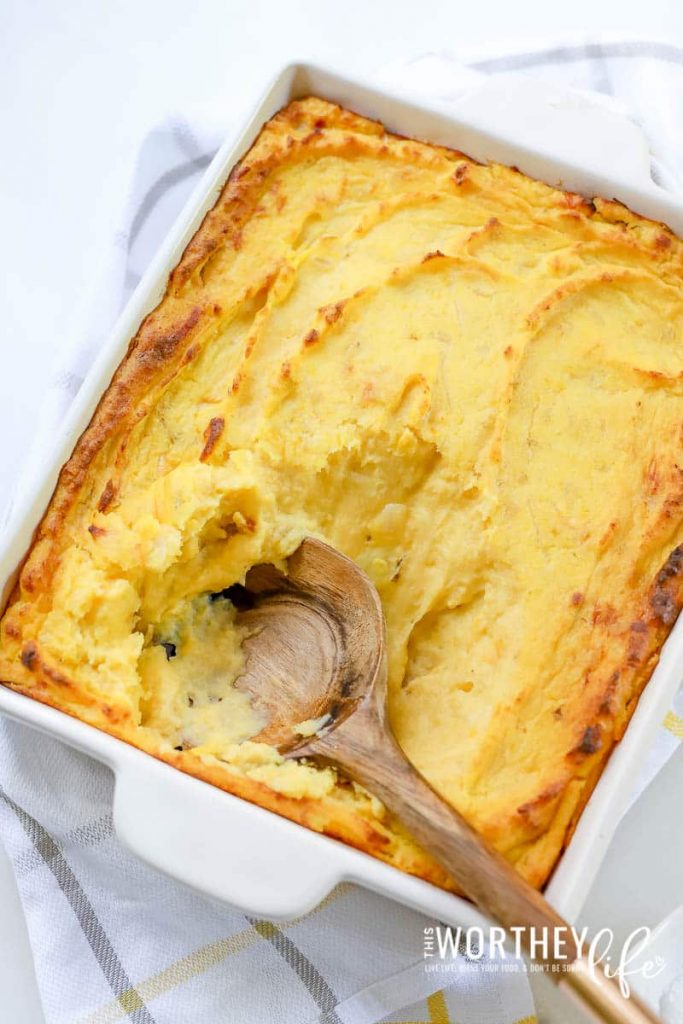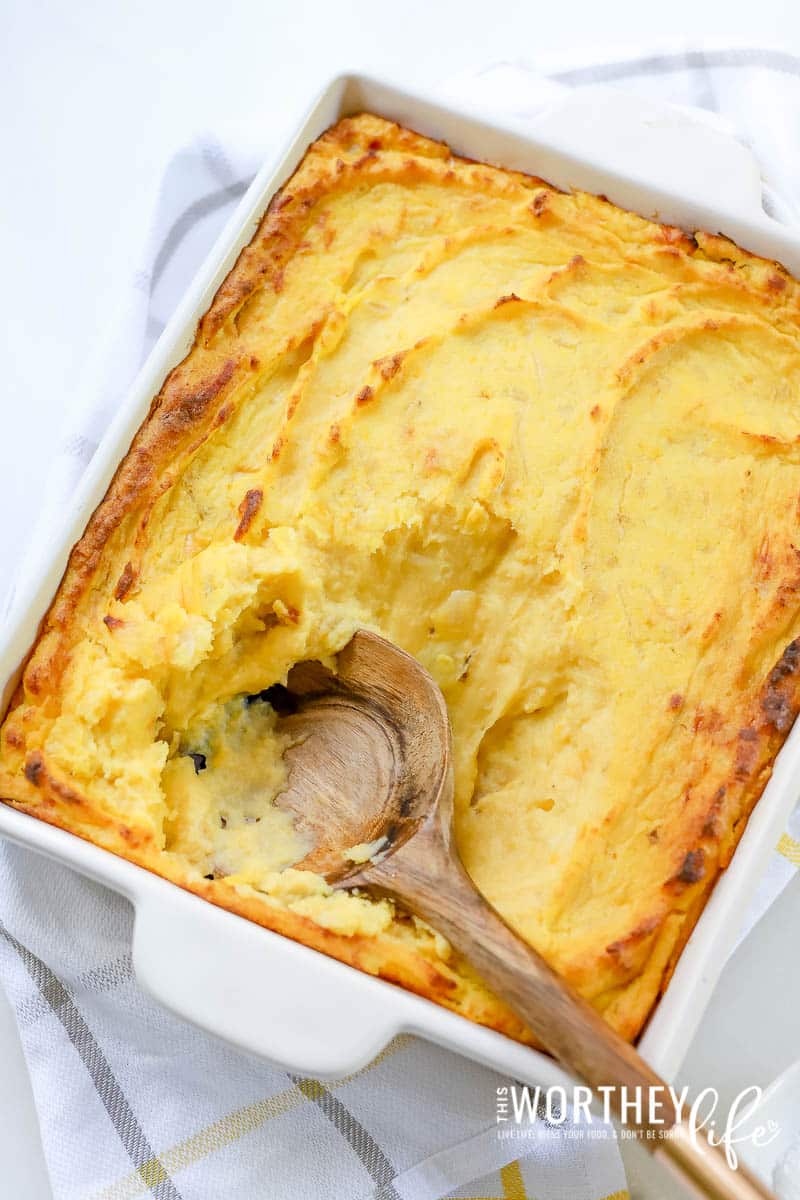 Thanksgiving Side Dish Idea | Baked Butternut Squash Potatoes
Are you looking for a new side to serve for the holidays? It's no secret that Thanksgiving is my favorite holiday of them all and every year I try a new side to go along with my turkey and cornbread dressing. Recently, I was looking around at my favorite local grocery store and either the butternut squash was eyeing me or maybe it was the other way around. Either way, the butternut squash started me to thinking about Thanksgiving and what I am going to serve this year. I was inspired so I grabbed a couple of those squash and put them in my basket to see if inspiration would hit. As I walked around the produce section I started to consider so many options, maybe a squash, eggplant, and rutabaga ratatouille. Naw. How about making a sweet potato and caramelized onion cheesy gratin? Nope! Then as my eyes fell upon a big sparkling (do potatoes sparkle?) pile of Yukon gold potatoes the skies opened up and a voice spoke to me, "Make baked butternut squash potatoes…" And there you go! Don't you just love it when inspiration comes in the form of voices in your head telling you what recipes to make? Me too!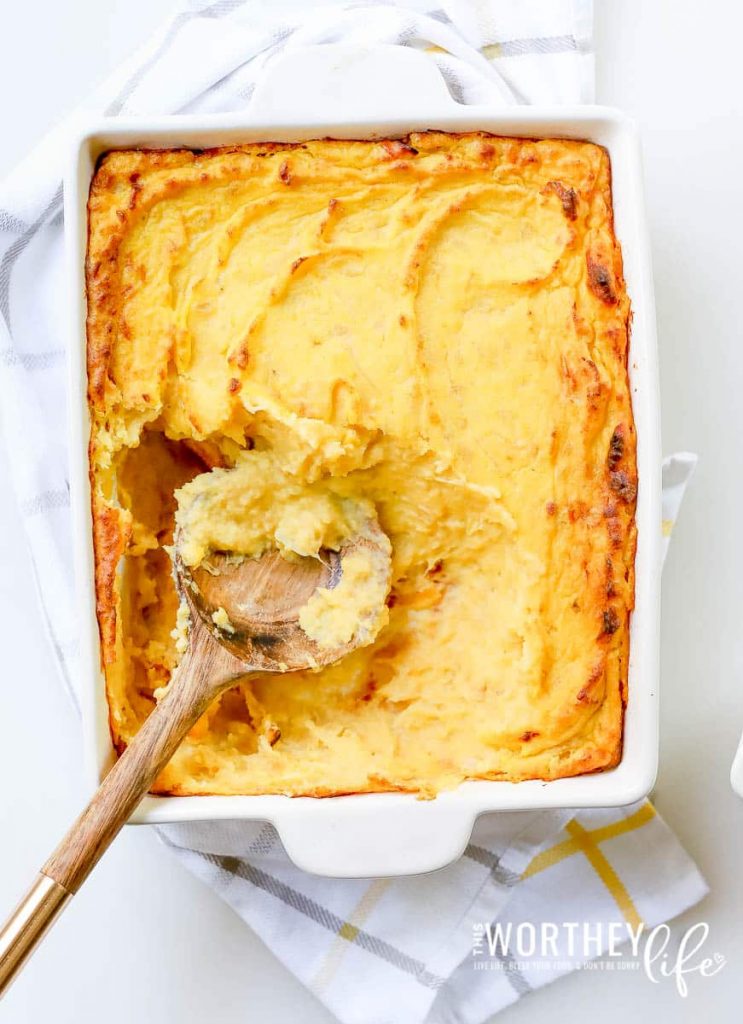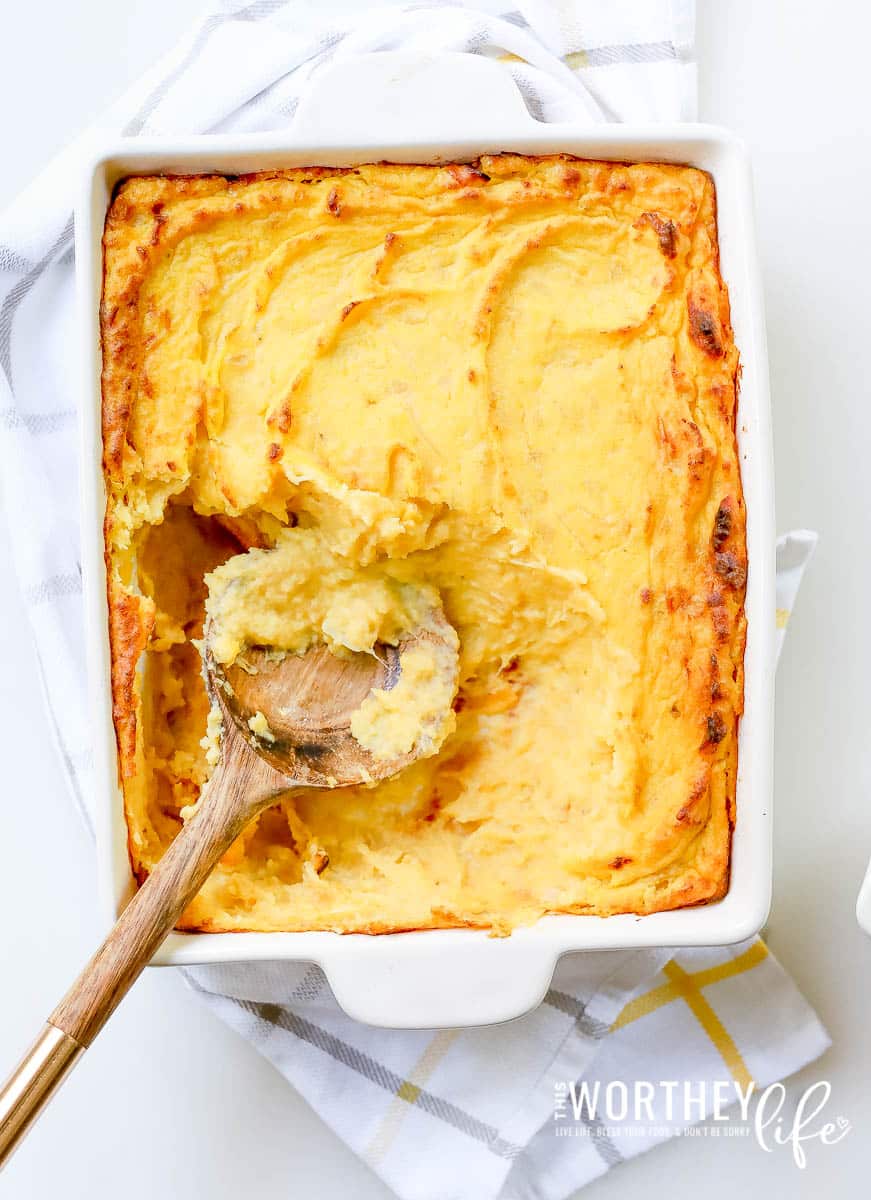 Okay, maybe it didn't' happen exactly like that (or maybe it did), regardless it's a great idea that bears repeating and replicating so in the spirit of Thanksgiving I am going to show you how I put this yummy recipe altogether. There are a few things about this mashed potato recipe that are a little different. The first thing, this recipe uses eggs, two whole eggs, and two egg white to exact. Why add eggs? Because eggs help these potatoes literally rise to the occasion and become the best-baked potatoes ever! I also added two cups of really good cheese to this recipe as well.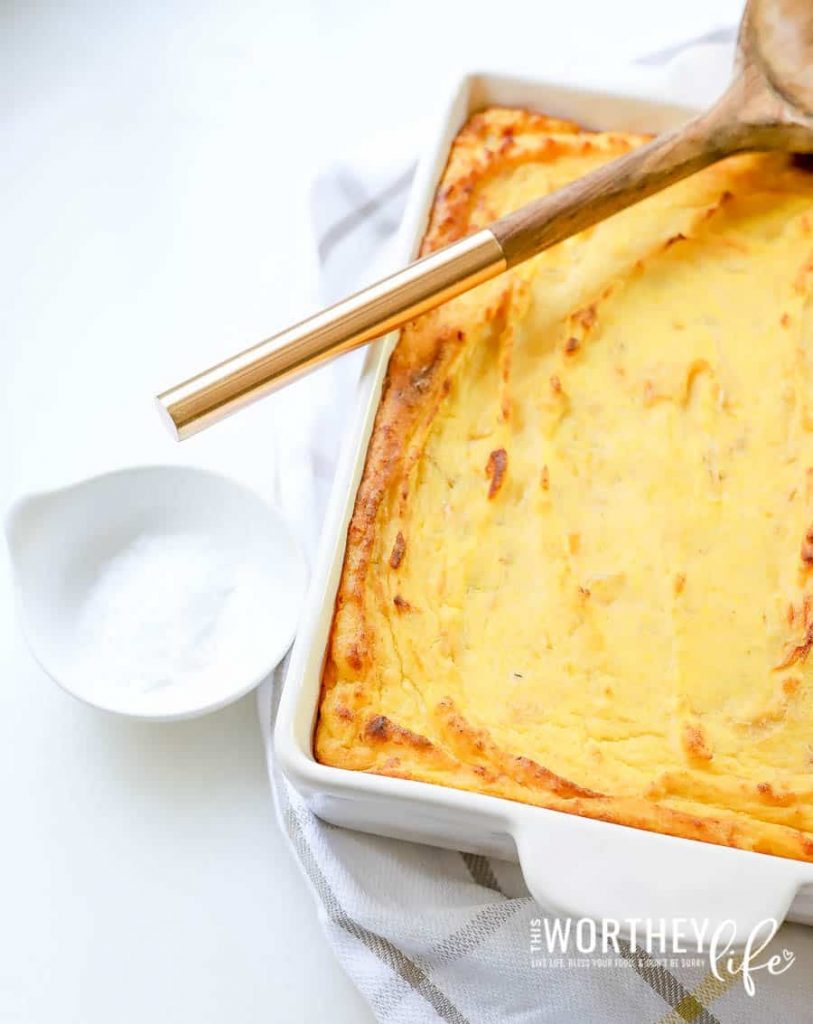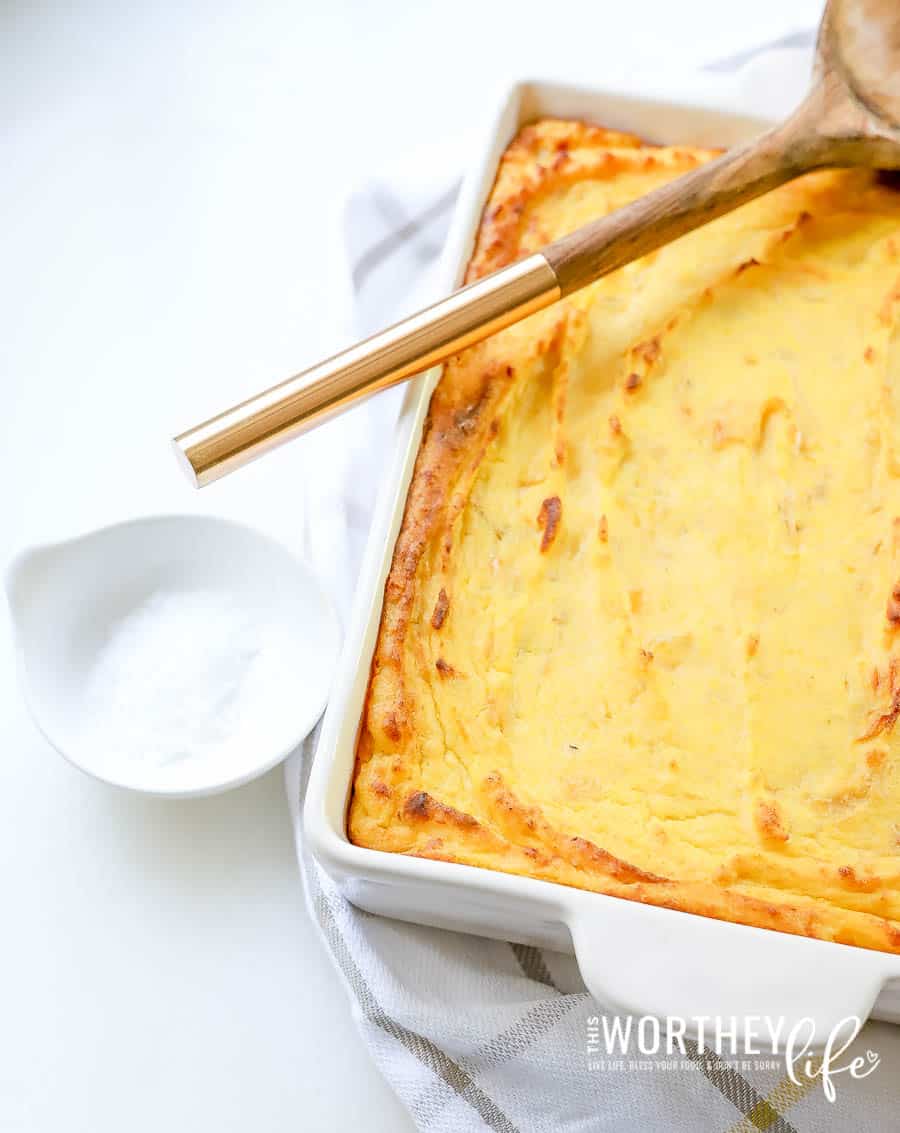 And the cheeses in question are two of my favorites! I used a cup each of freshly grated smoked Gruyère and Parmigiano-Reggiano, I mean what can possibly go wrong with this savory dynamic cheese duo? Add to the mix unsalted sweet cream butter, heavy whipping cream, sour cream, freshly cracked black peppercorns, and flaky sea salt and you got a side dish that just might steal all the shine from your Thanksgiving meal. The potatoes are boiled, then roughly smashed so they still retain some of the chunkiness of the potatoes. In my opinion, the texture of not quite totally smooth potatoes is where it's at and then some. Something about potatoes that manage to be creamy, smooth, and a little bit lumpy makes my taste buds go weak in the knees. After the potatoes are finished boiling and the butternut squash is perfectly steamed, mix them together roughly.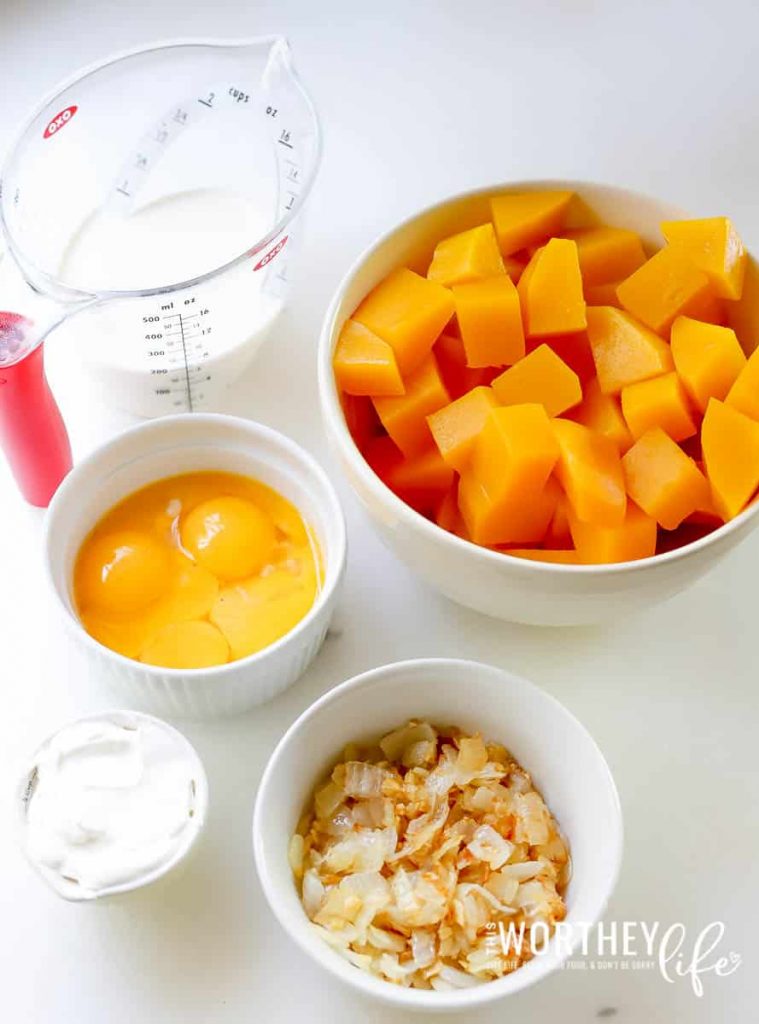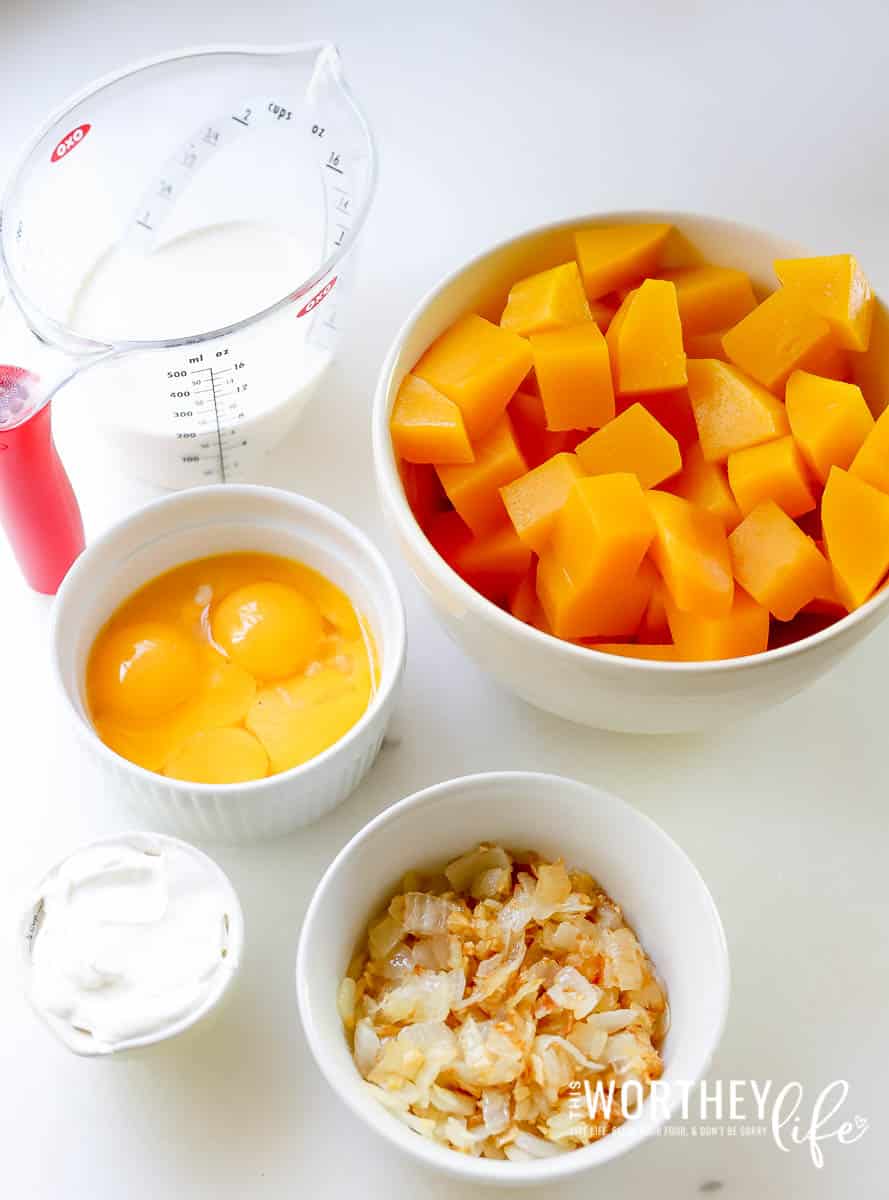 Next, it's time to add some fat in the form of cheeses, heavy whipping cream, sour cream, and a stick of melted butter mix thoroughly. In a small bowl add two whole eggs and two egg whites and use whisk them together.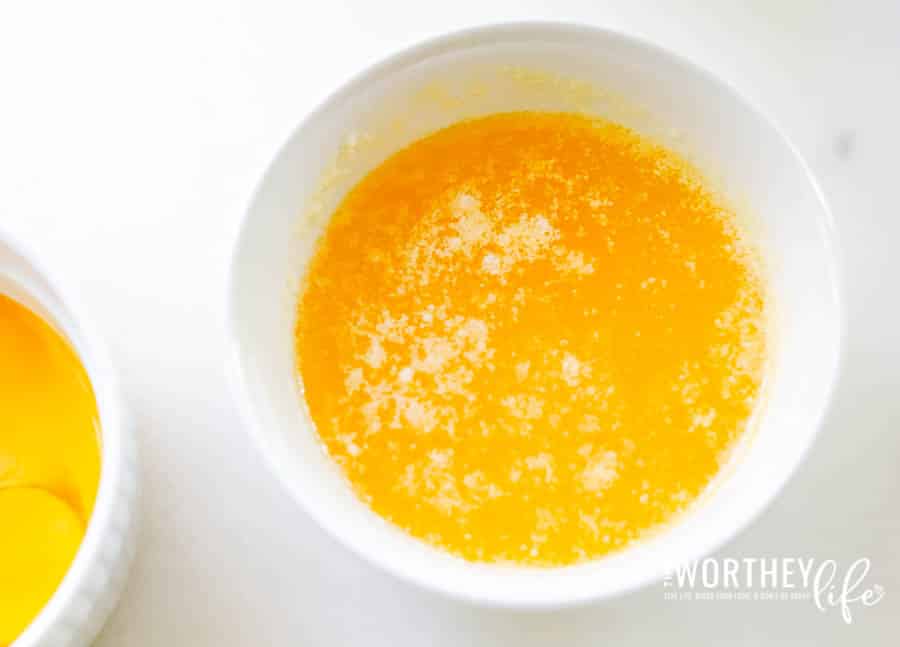 Then little by little and the eggs to the potato mixture, next add the beautifully sautéed onions and mix until they are fully incorporated into the potato mixture. If you haven't noticed by now this is one decadent potato side dish and it doesn't shy away from bringing the flavor.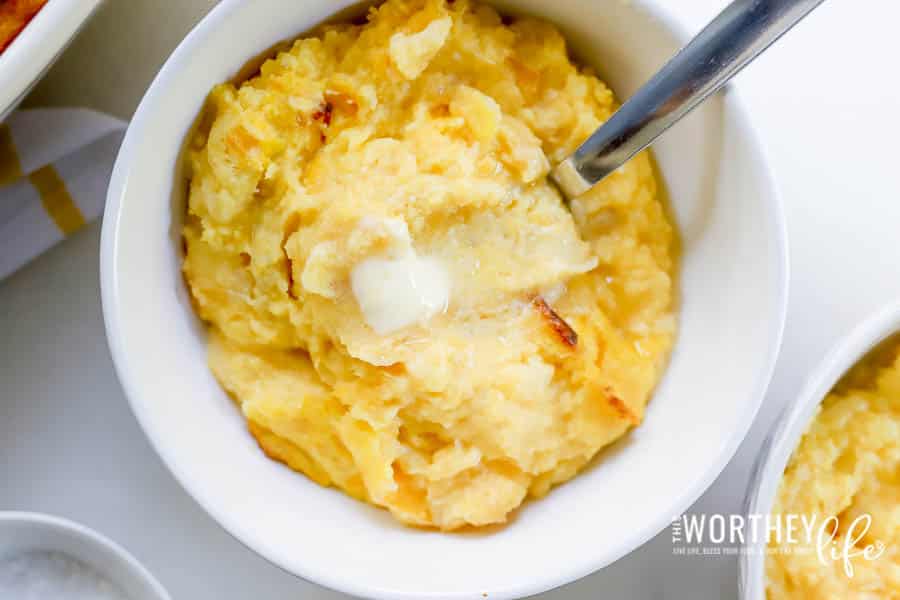 Baked Butternut Squash Potatoes
Ingredients:
5 cups Yukon gold potatoes
3 1/2 cups butternut squash cut into 1″ cubes
1 cup gruyère freshly grated
1 cup Parmigiano-Reggiano freshly grated
1 cup heavy whipping cream
1/4 cup sour cream
2 whole eggs
2 egg whites
2 tablespoons of kosher salt for boiling the potatoes
smoked flaky sea salt to taste, I highly recommend Maldon sea salt
freshly cracked black peppercorns to taste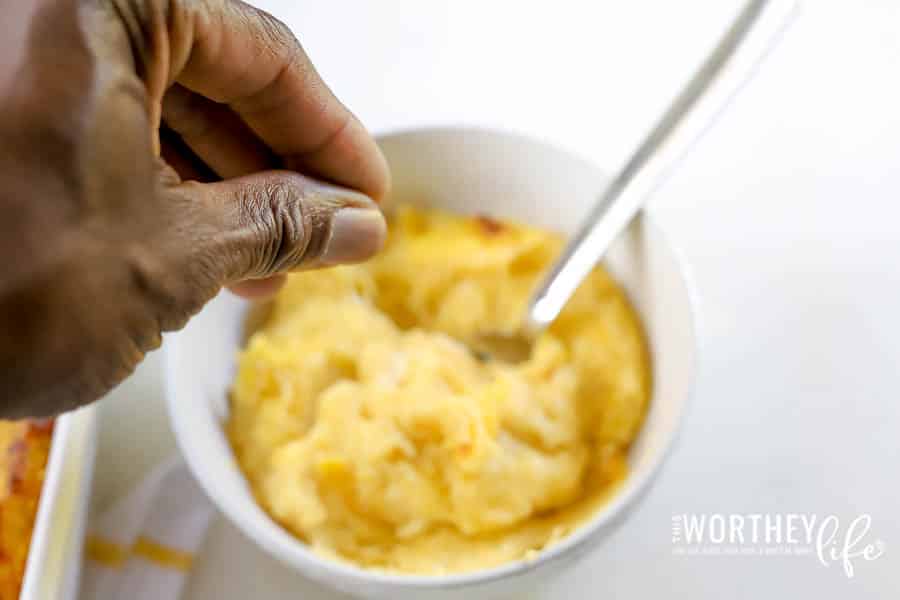 Directions:
Preheat the oven to 350 degrees.
Wash and cut all of the bad spots from the potatoes and cut them into quarters, place them into a stockpot and fill with water until just covering the potatoes, add two tablespoons of kosher salt and set over high heat for twenty to twenty-five minutes or until the potatoes are soft and can be pierced with a fork. Drain off the water and place the potatoes into a large mixing bowl.
Peel the butternut squash and cut into one-inch cubes, place the squash into a steamer pot with cups of water over med-high heat and steam for four to five minutes or until you can pierce the squash with the tines of a fork. Add the squash to the potatoes.
Add the cheeses, heavy whipping cream, sour cream, and melted to the potato and squash, using a wand mixer mash together until the ingredients are well-combined.
Next, add the two whole eggs and two egg whites and mix thoroughly, add the smoked flaky sea salt and freshly cracked black peppercorns.
Spoon the mixture into the casserole dish and bake on the center rack for an hour, the top should be golden brown.
Remove from the oven and serve.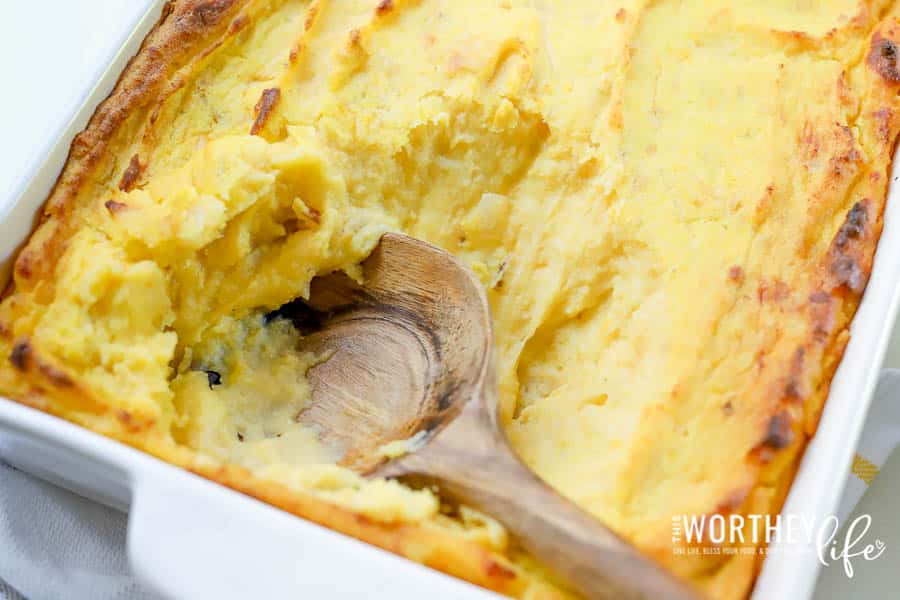 So, the only question is, what else are you making for your Thanksgiving dinner? We got a rock-solid potato recipe for you already. But just in case you need help flushing out the rest of your Thanksgiving dinner come back and visit us and I am sure a brotha' can help you out.
Find more potato recipes + side dish ideas down below!
Family Dinner Idea: Potato Zucchini Alfredo Bake
Cheesy Sweet Potato Pomme Purée
Loaded T-Rex Smashed Potato Bowl
Loaded Sweet Potato Herb Hummus
25 Side Dishes For Thanksgiving
Spinach & Bacon Smashed Potatoes