Looking for ways to decorate your tablescape for Valentine's Day? I have some inspiration using Rae Dunn Valentine's products for a sweet tablescape idea for two!

Rae Dunn Valentine's Day Tablescape for Two
Valentine's Day is just around the corner, and I can finally pull out my Rae Dunn Valentine's Day collection.
Like Christmas, Valentine's Day items were super popular and hard to find.
I was able to nab a few items this year to add to my Rae Dunn Valentine's Day collection.
See more Rae Dunn decor ideas:
Rae Dunn Hot Cocoa Bar Idea with Valentine's
Rae Dunn Inspired Halloween Party Idea
Happy Fall! | Rae Dunn Fall Display Idea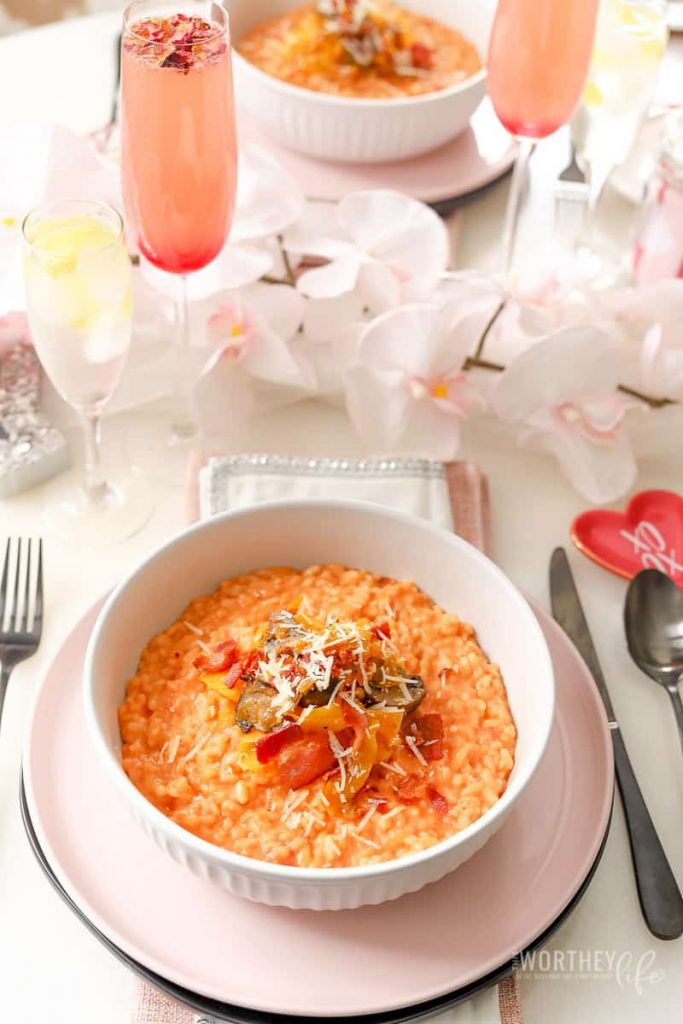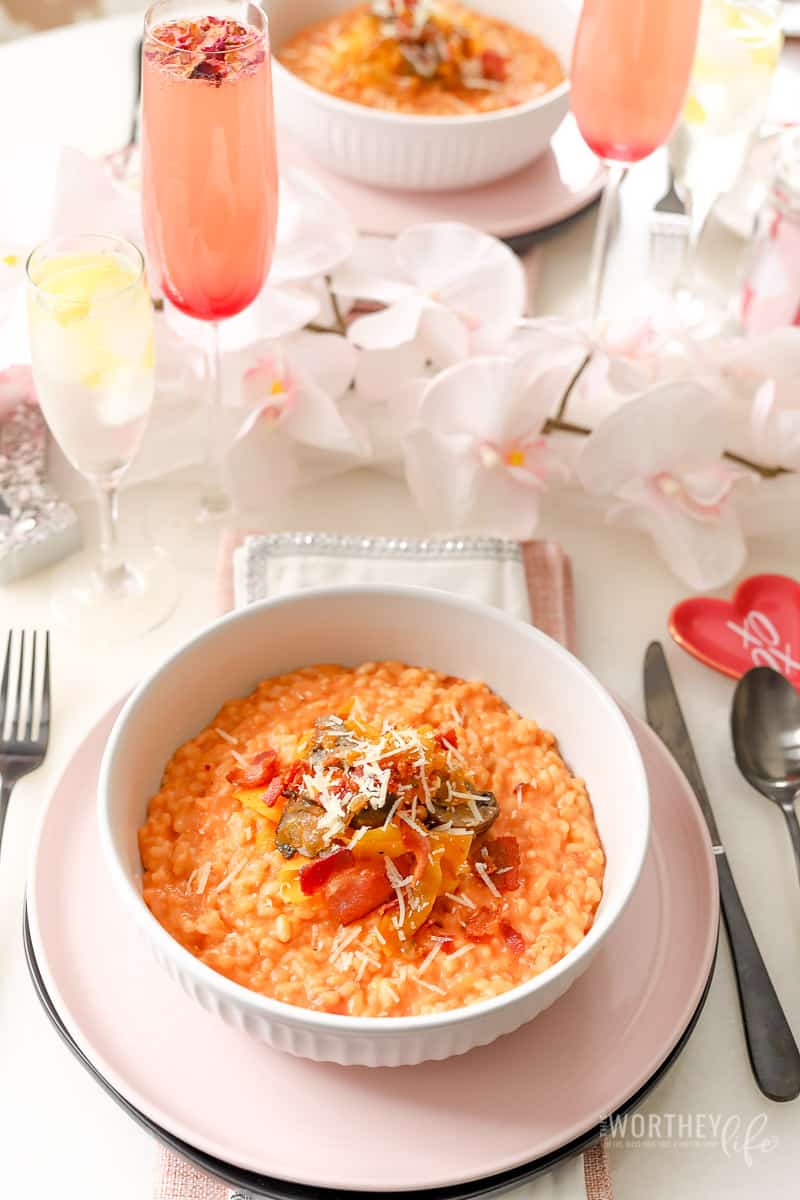 Derrick recently posted a romantic dinner recipe that would be great for Valentine's Day dinner idea.
Since we enjoy working together, I came up with a quick Valentine's Day tablescape to compliment this dinner date night idea.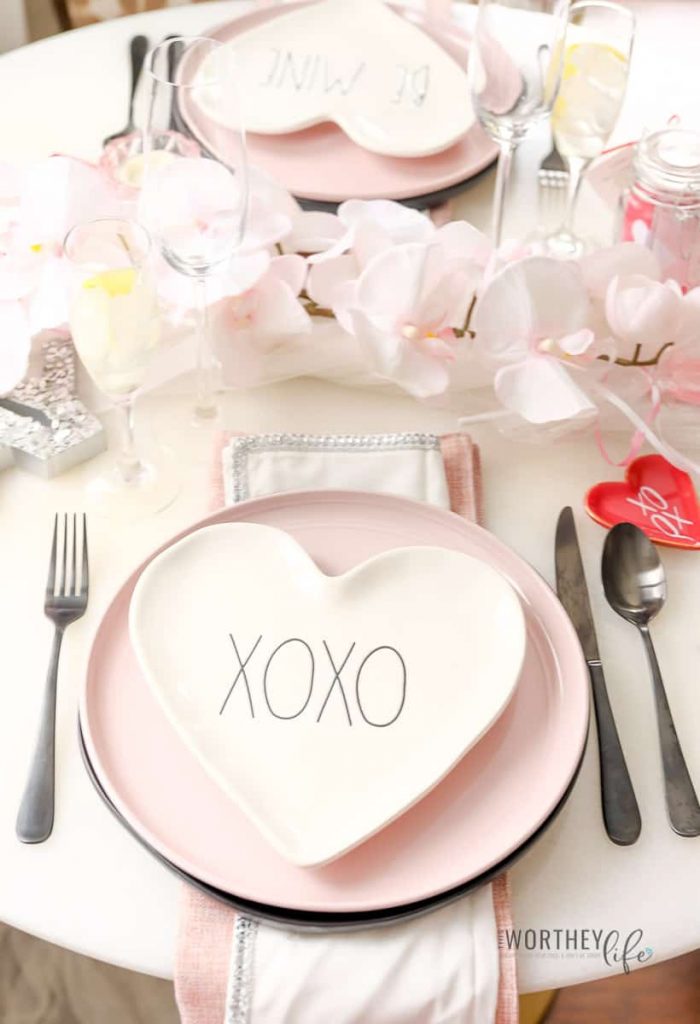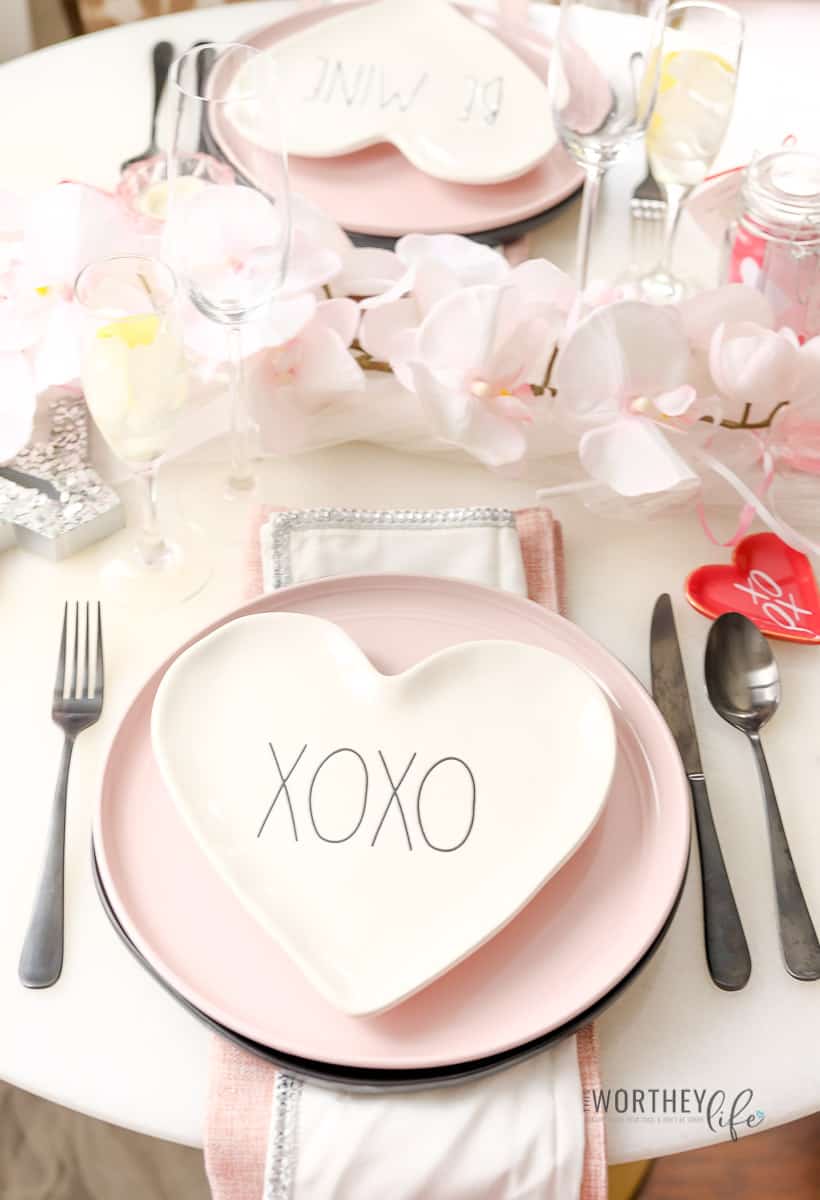 I tried to keep the color pink light in this tablescape theme.
Since this is a Valentine's Day Tablescape idea for a dinner idea, I didn't want to be super girly or have a ton of frills.
I'm all about keeping ideas simple and with no fuss.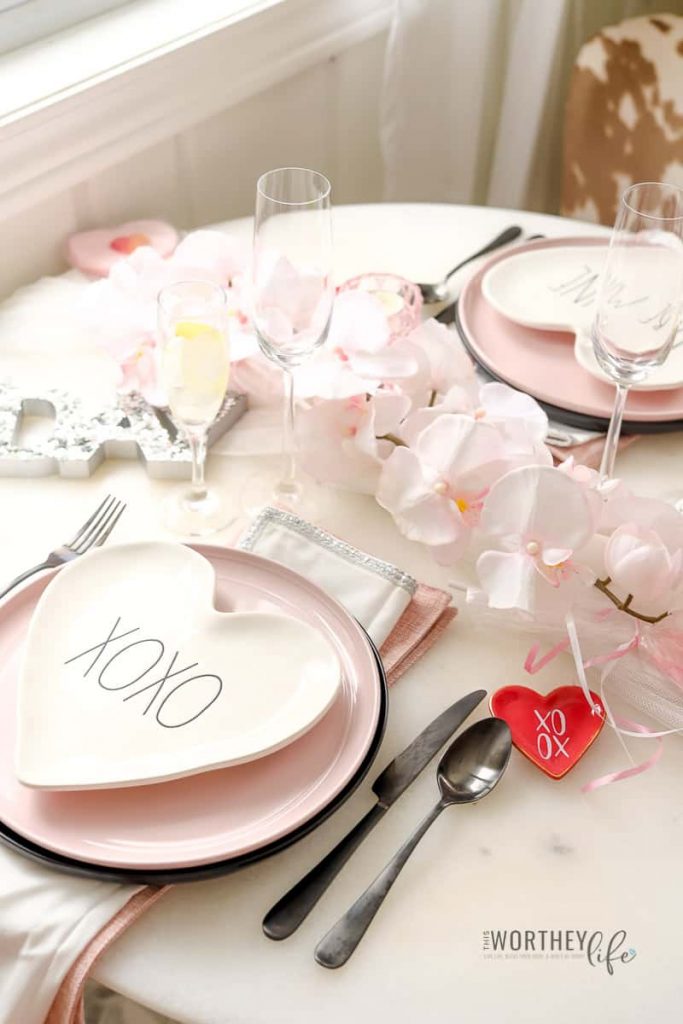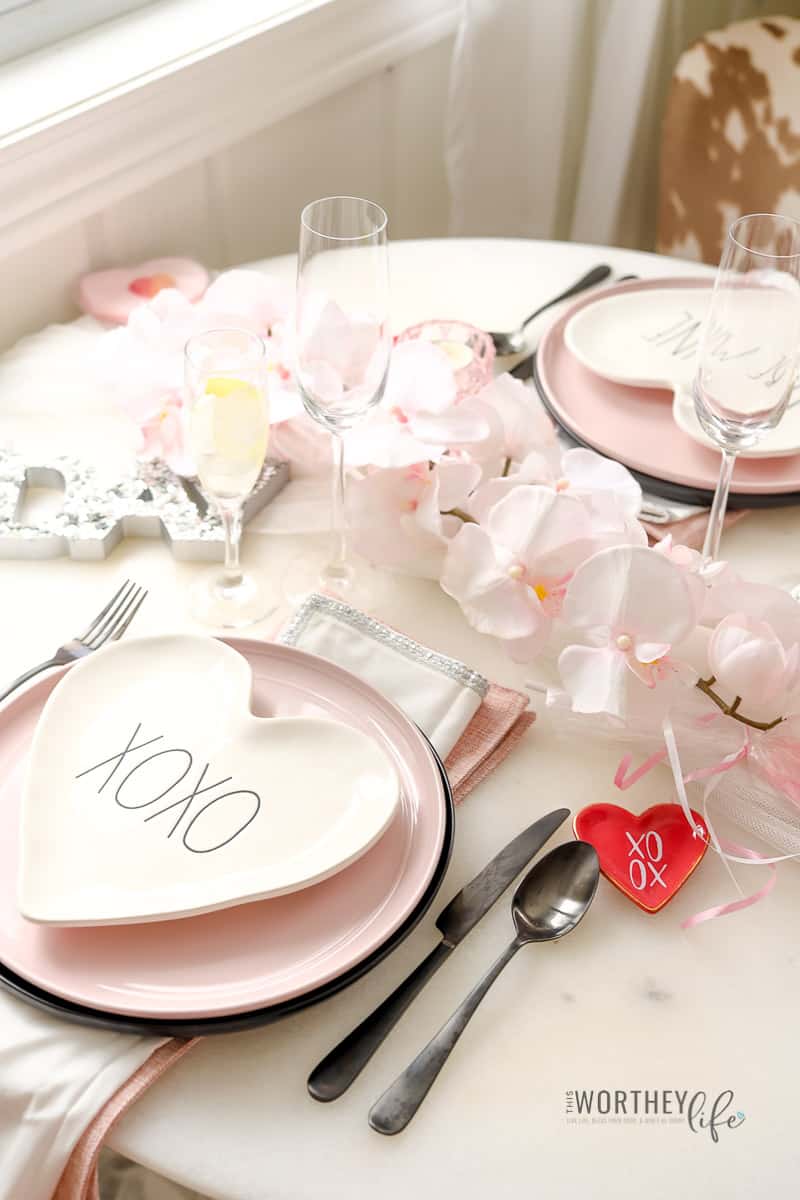 I am softening the pink napkin by placing a white with silver trim dinner napkin on top.
I also used black plates, topped with pink plates, then added Rae Dunn heart plates with black silverware.
If you're planning Valentine's Day dinner idea with a mixed party (or don't want a ton of pink), then I strongly recommend mixing up the colors.
Black, white, silver, gold, blue, and purple all go great with pink.
Or, you can skip the pink and do something totally different.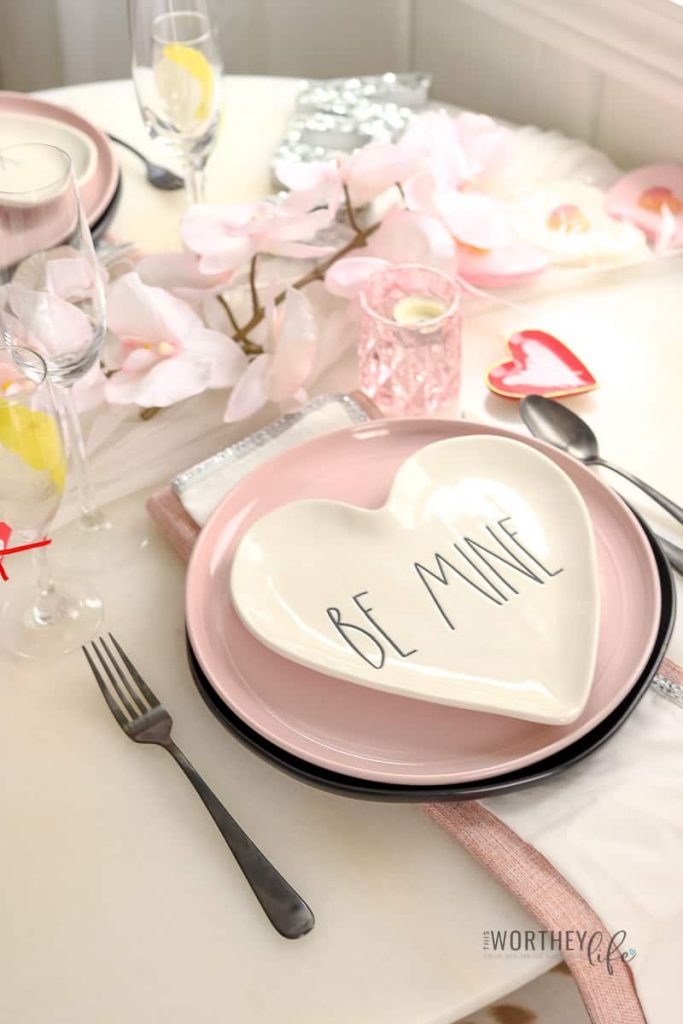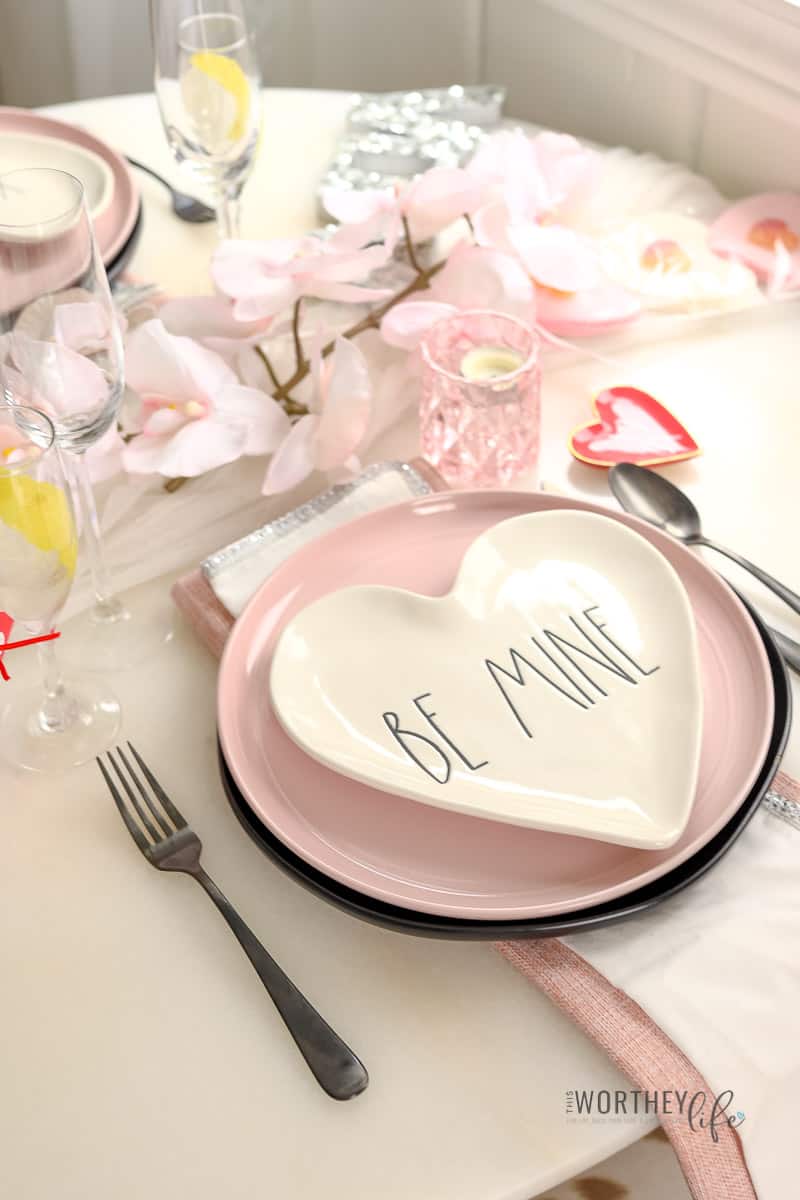 I added a few light accessories to complete our Valentine's Day dinner tablescape.
With two different glasses, one for water and the other for our Rose Pink Ginger Mocktail.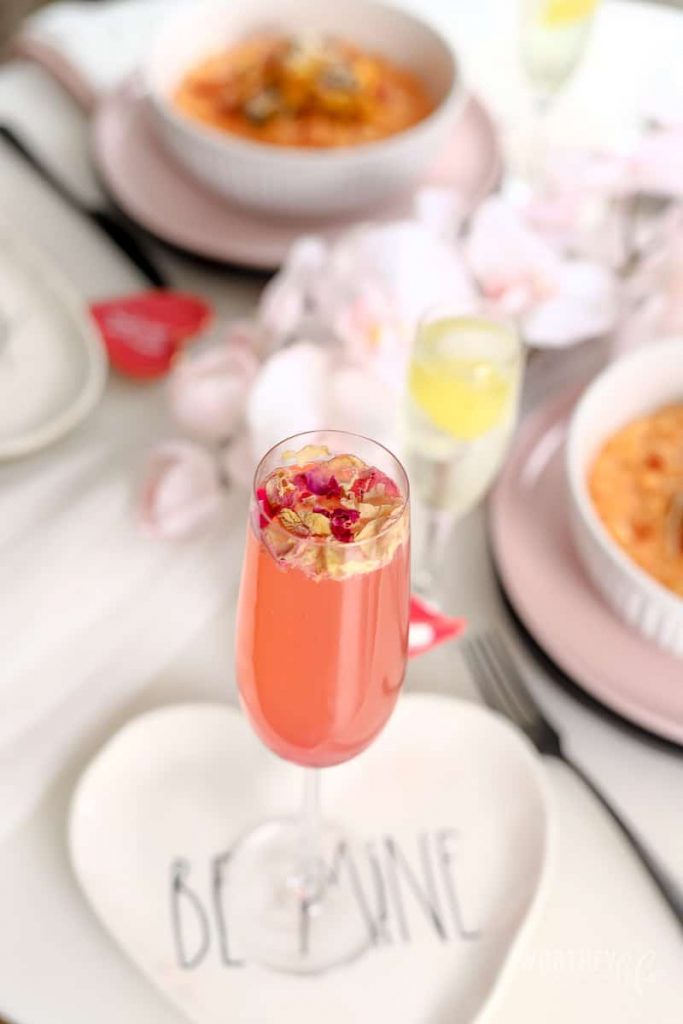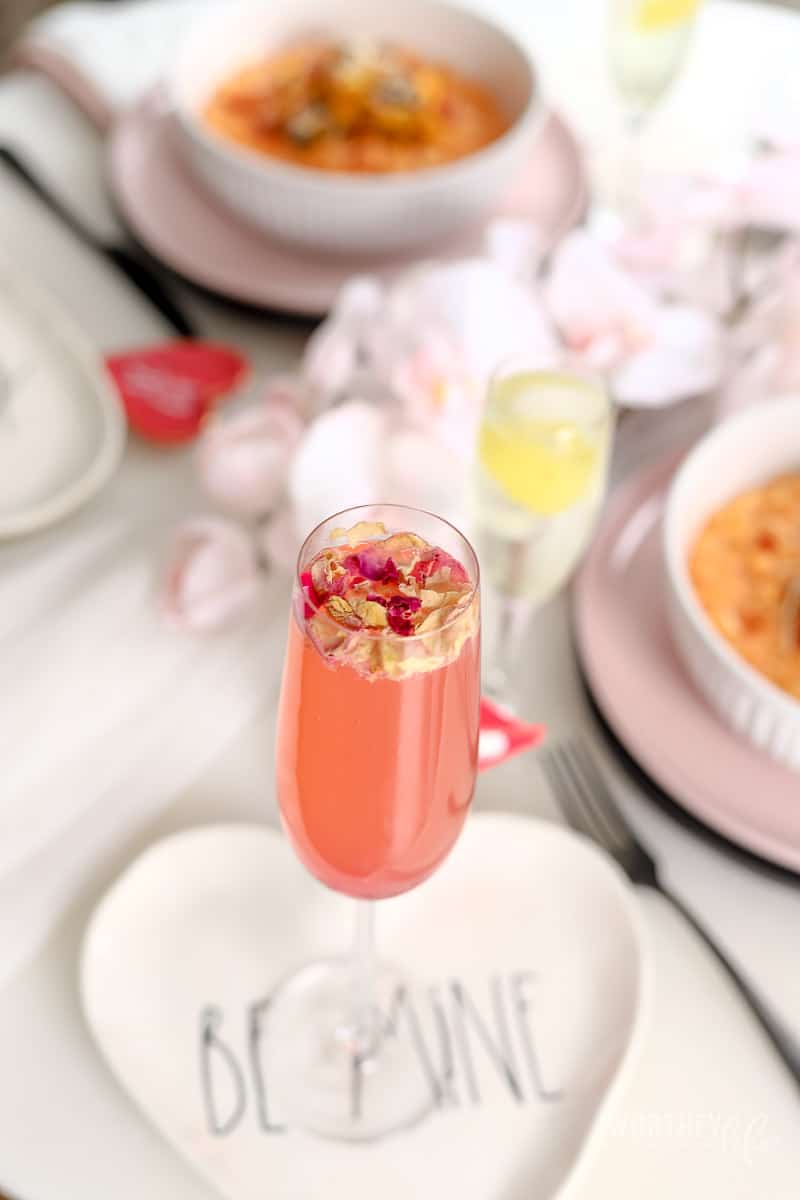 This Valentine's Day mocktail is simply delightful. Perfect for the day of love, but also great for baby showers, a girl's night out, or just because you enjoy beautiful drinks!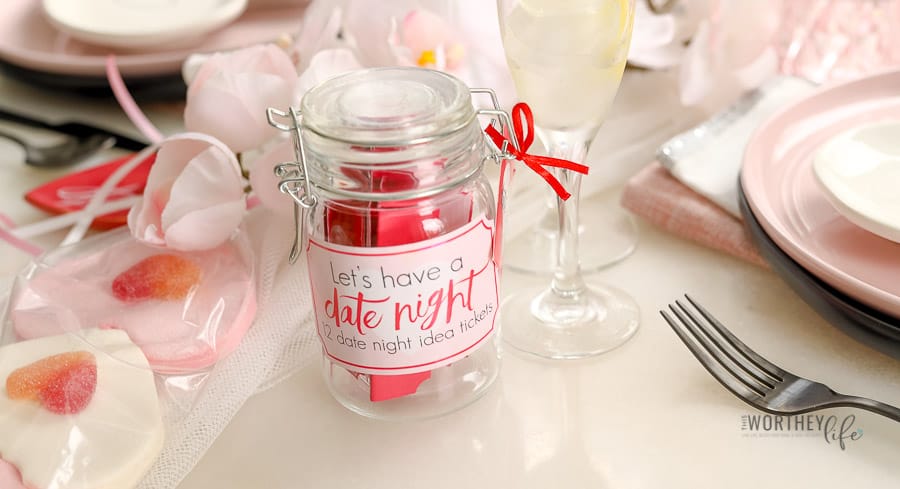 Date Night in a Jar
Have you heard of date night in a jar ideas?
I have talked about these before on the blog, but now you can buy them (if you don't want to DIY date night jar ideas).
I found this date night jar idea at Home Goods.
Sometimes you need to get out of the rut of doing the same dinner and a movie for date night.
Using these ideas is a great way to switch things up.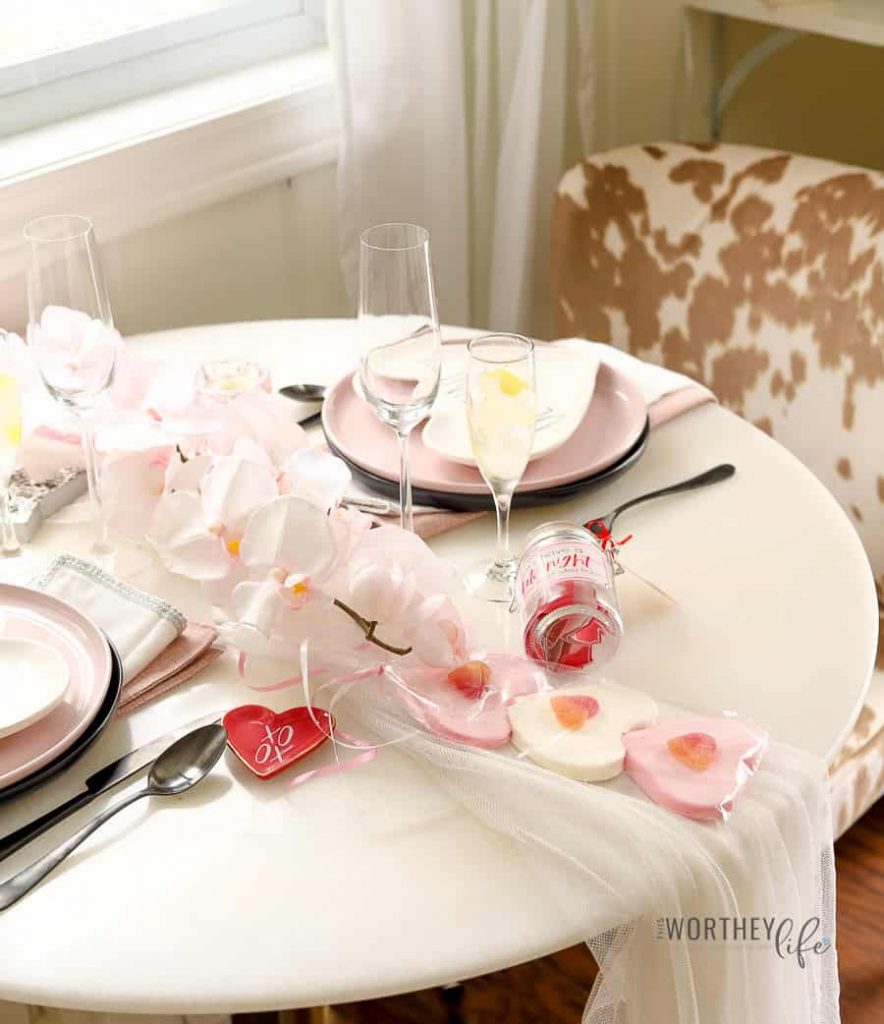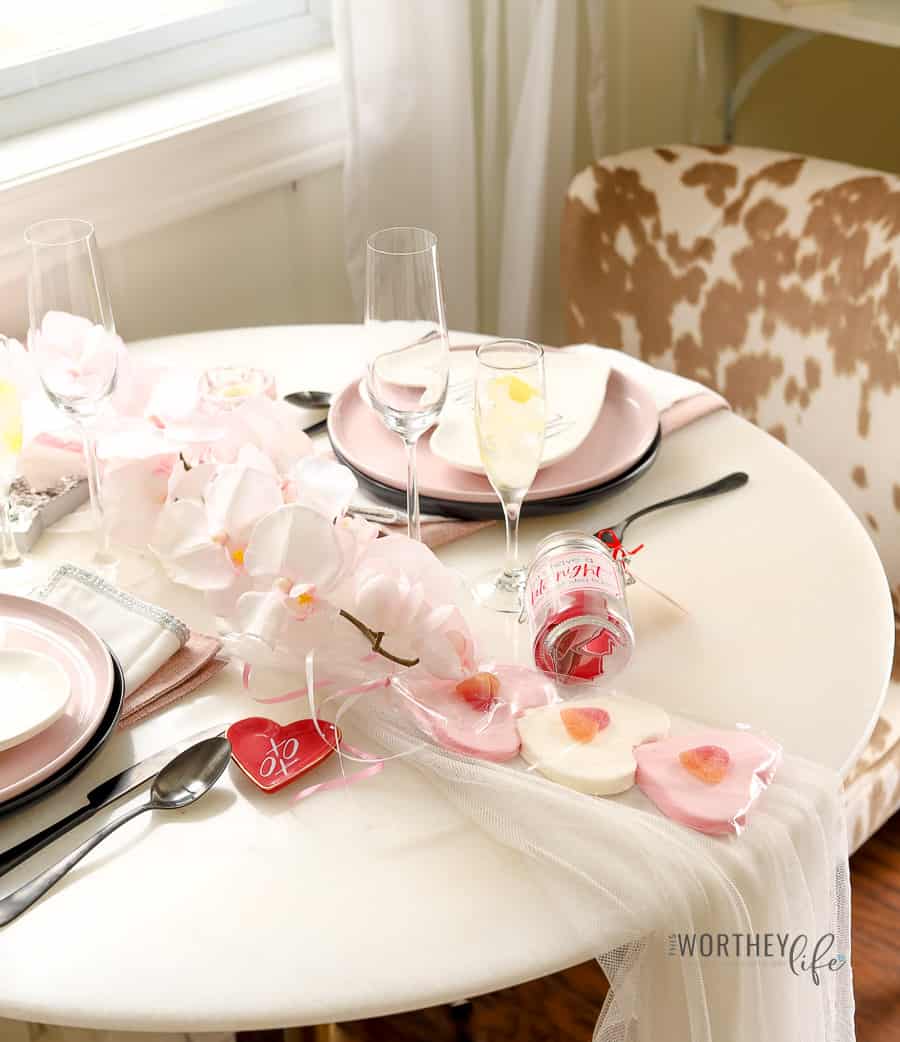 I picked up the little hearts on the table from Target's Dollar Spot. Adding some sugary candy from Home Goods, we're ready for our date night in!
If you plan on staying in this Valentine's Day, up your game by decorating your table with simple yet classy touches.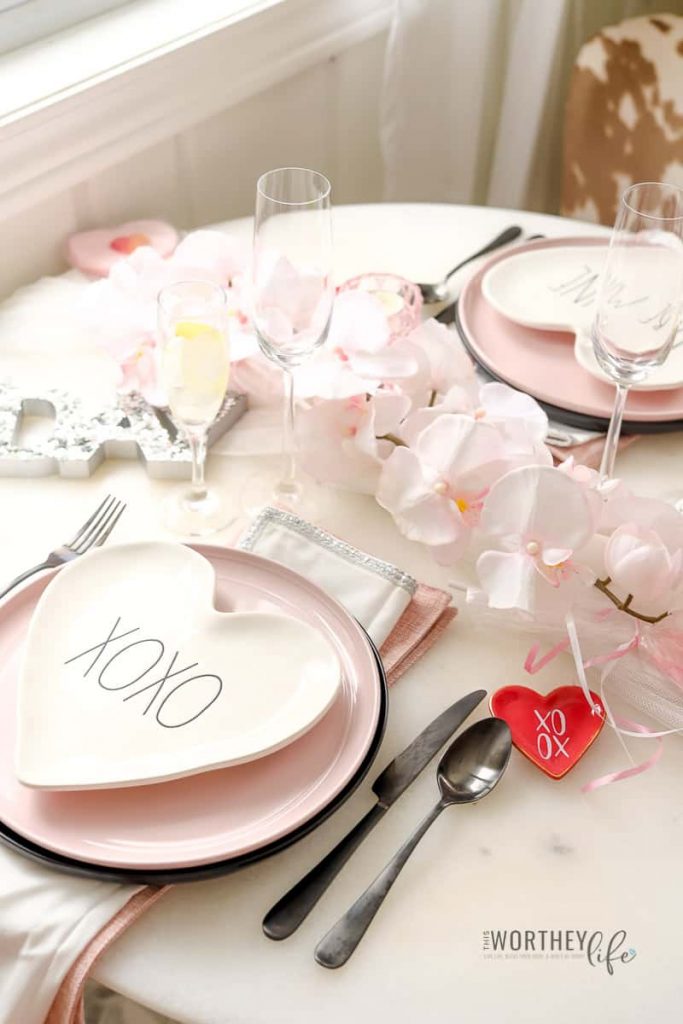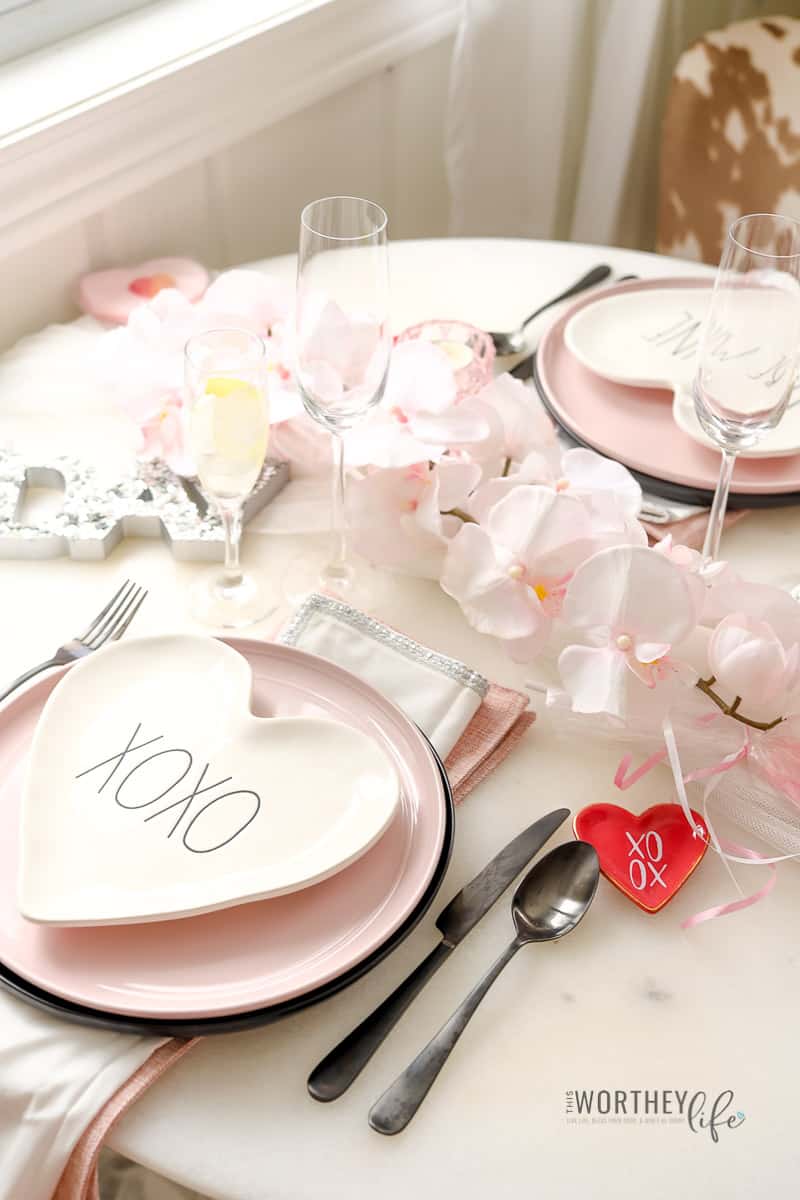 I hope this idea gives you the inspiration you need to go and create your own tablescape! If not, here's everything I purchased so you can recreate this look!
Pink napkins- gifted
White with silver trim cloth napkins- Pier 1
Black Silverware- Hearth & Hand (Target)
Black Stoneware plates- Hearth & Hand (Target)
Pink Plates- Home Goods
Rae Dunn Valentine's Day heart plates- TJ Maxx, Home Goods or Marshalls
Glassware- World Market
Candy- Home Goods
Small hearts- Target
Do you have plans for Valentine's Day? Drop us a line and let us know!
Find more Valentine's Day inspiration below:
You Rock My Socks FREE Valentine Printable
Valentine's Candy Punch Cocktail
Be Mine Mocktail Valentines Drink
DIY LOVE Rope Sign On Reclaimed Wood
Valentine's Day Sweets Grazing Board