Get inspired for Halloween with this quick-easy-to-put-together Rae Dunn Inspired Halloween Party idea. I loved putting together a variety of fun pieces to pull off a fun, but classy Halloween tablescape, perfect for a party or a dinner party! Check it out below!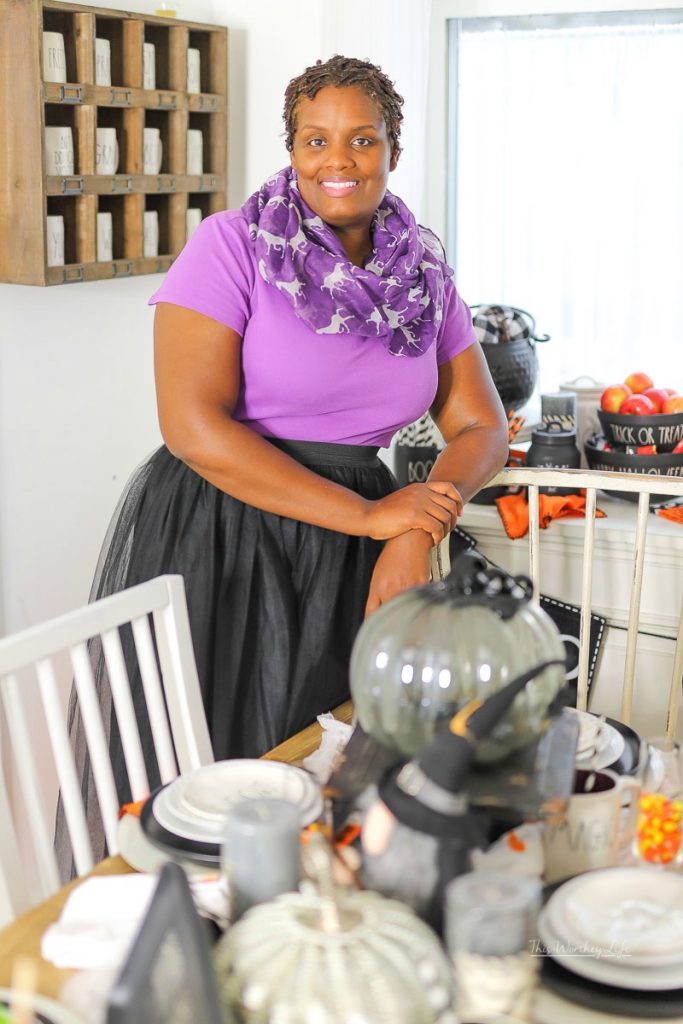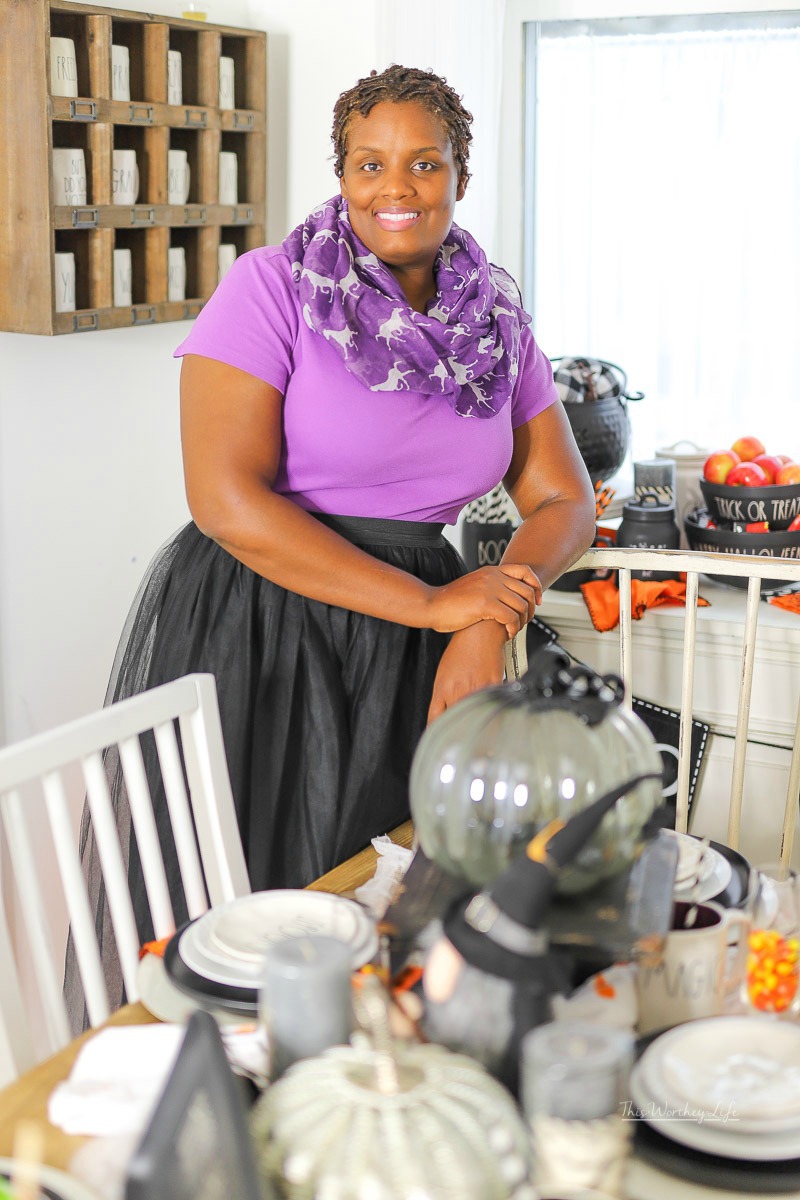 Rae Dunn Inspired Halloween Party Idea
Halloween is next week, and I'm ready for it… to be over.
Yay, I said it. I'm not a huge Halloween fan, but that changed this year. When I discovered all the awesomeness of the Rae Dunn Halloween line, I knew I had to do something with it. There are so many pieces in her Halloween line, but the way this competition is set up, I knew I wouldn't be able to get everything.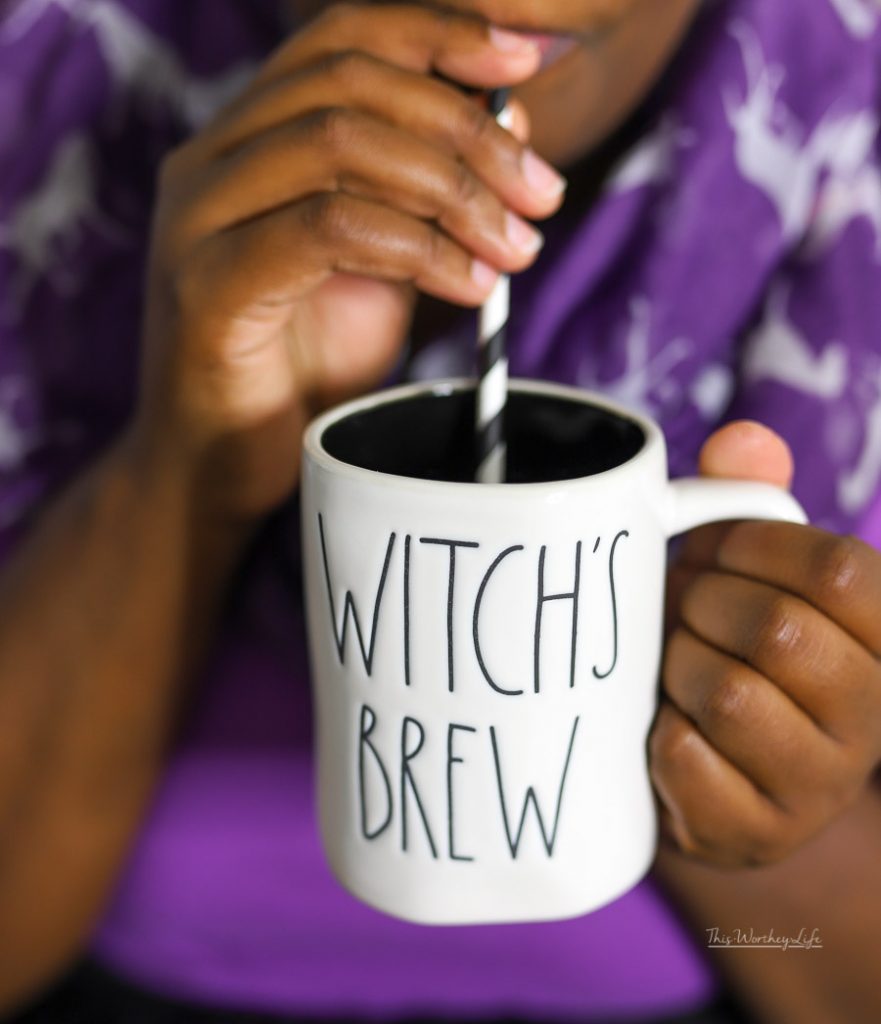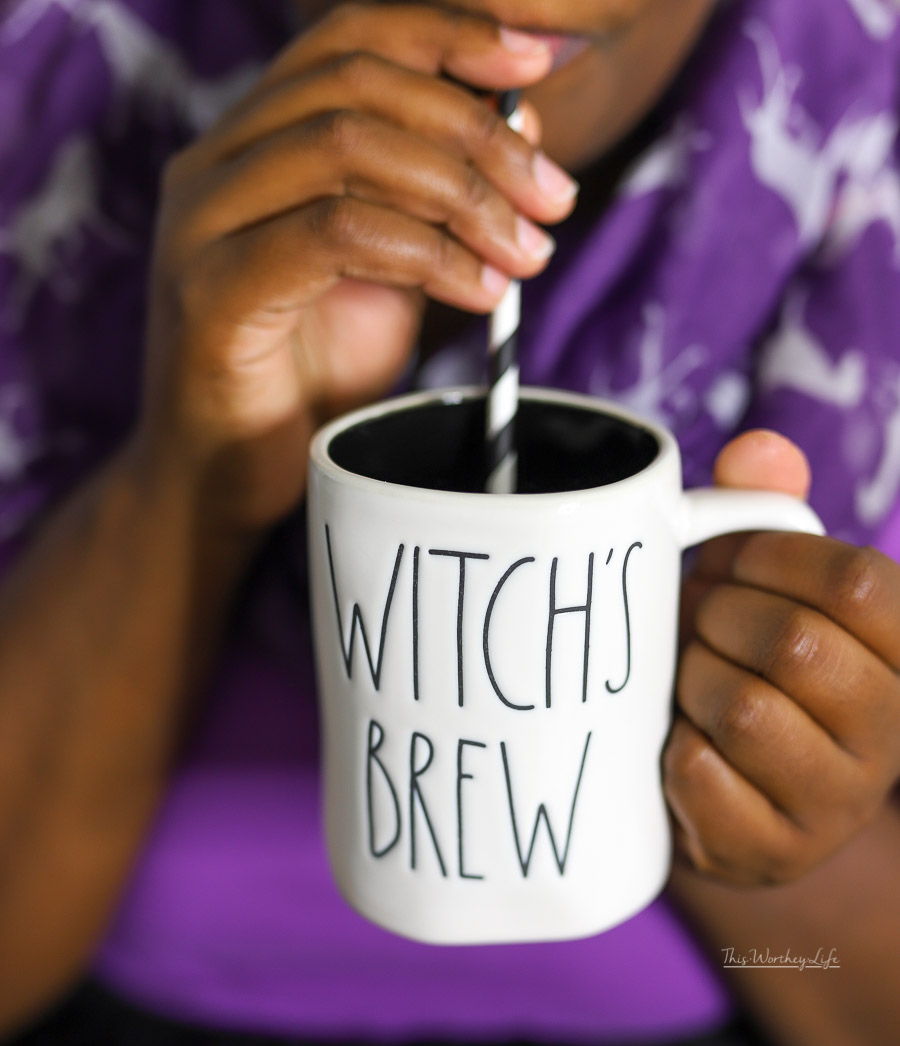 I got most of it, but the only piece that I missed out on getting was the black Happy Halloween Canister. Anyways, I got inspired to do a Rae Dunn Halloween party with the pieces I did get, and I'm sharing this with y'all today!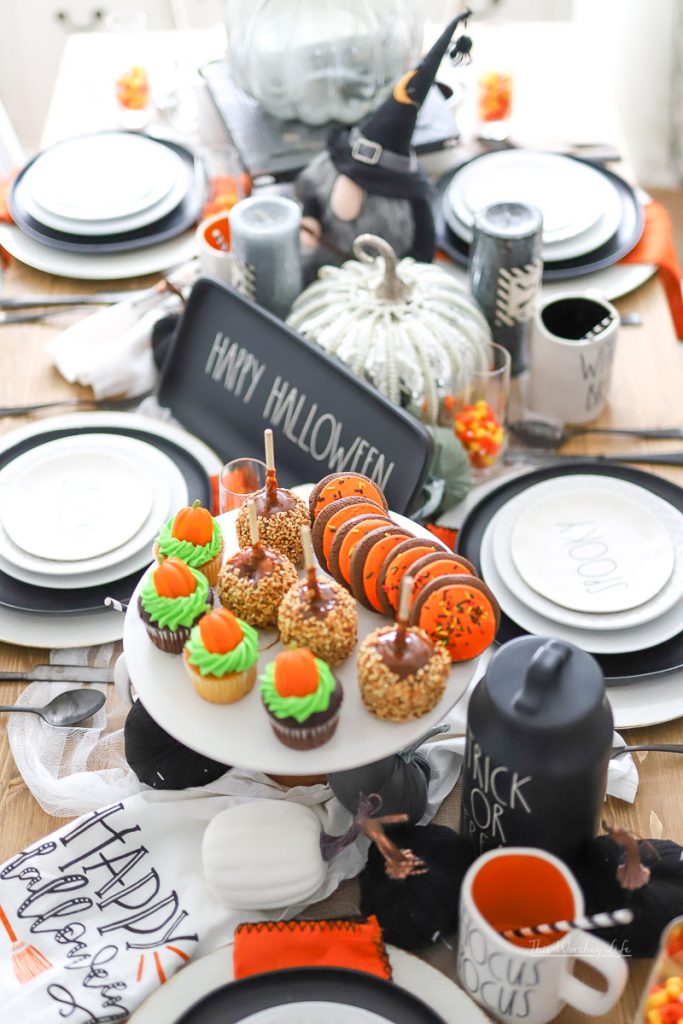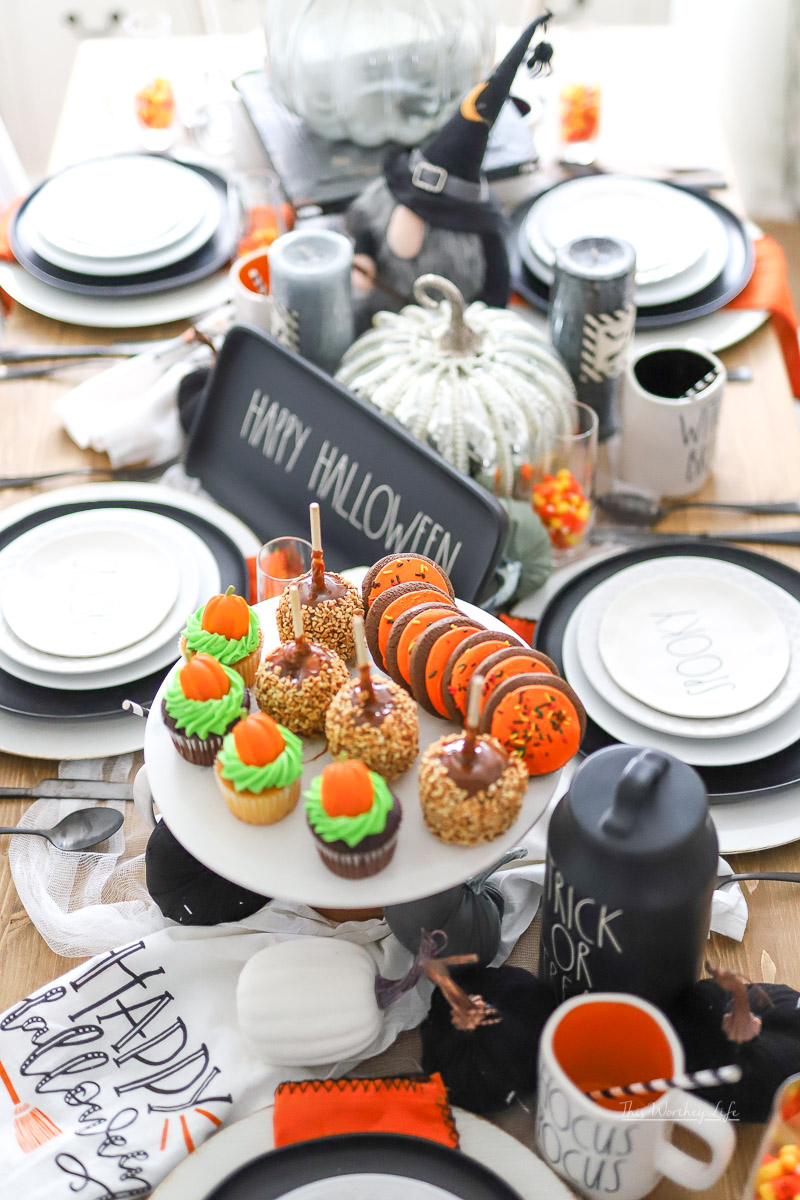 Halloween Party Idea using Rae Dunn decor
To put this idea together, you will need a variety of items. However, if you can't get your hands on any Rae Dunn pieces, then substitute for something else. You can also get mugs and platters, use your Cricut to make your own Rae Dunn mugs. Chip and Joanna Gaines's Hearth & Hand line has a lot of similar pieces to the Rae Dunn (owned by Magenta). I have a tutorial on how I made a coffee mug using a Rae Dunn inspired font with my Cricut. You can take the same steps to make your own Halloween Rae Dunn look-a-like items.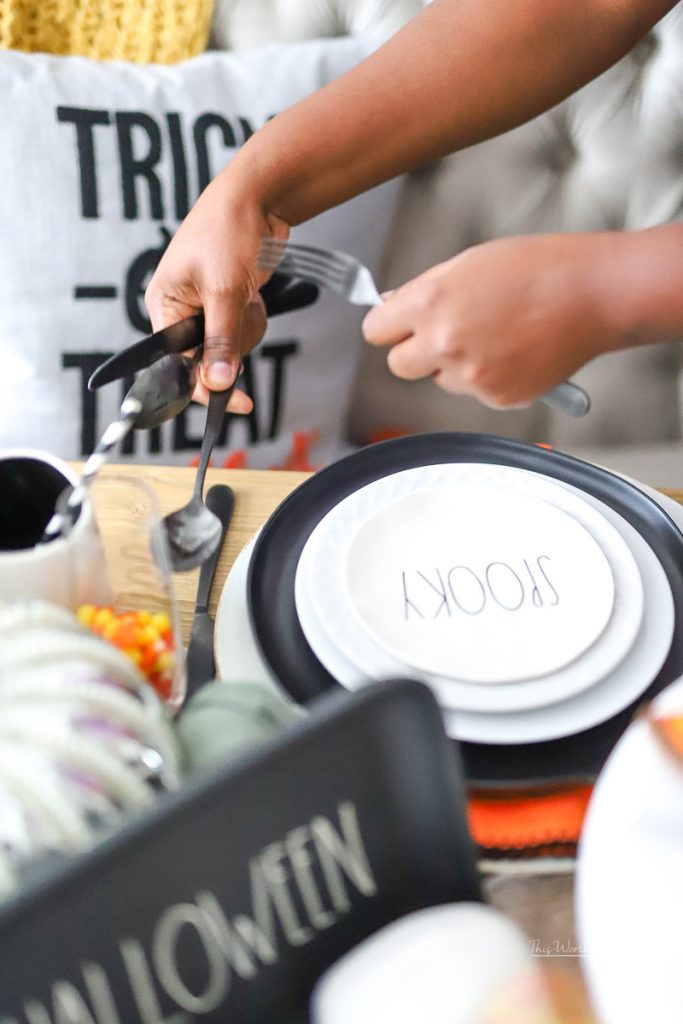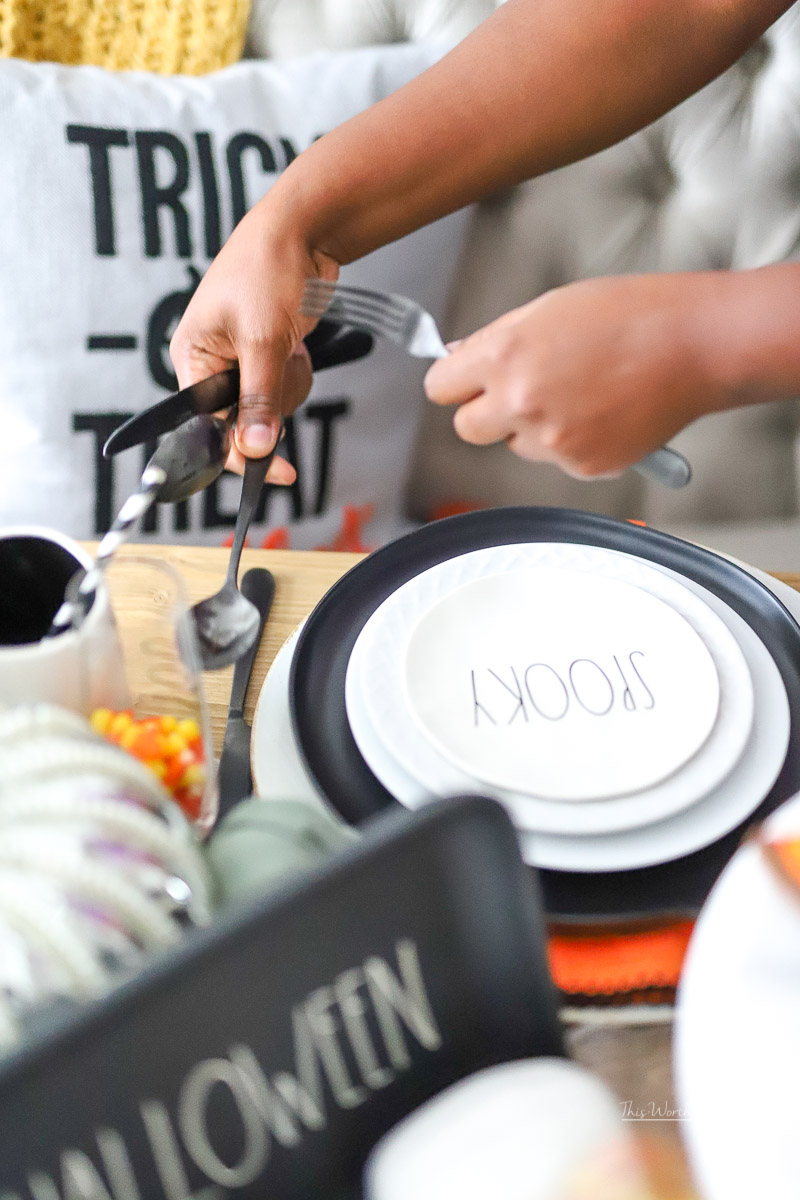 Items you will need for a fabulous Halloween party
I wanted this party idea to have a classy look. Halloween is not just for kids; many adults have Halloween parties and dinner parties with a Halloween theme.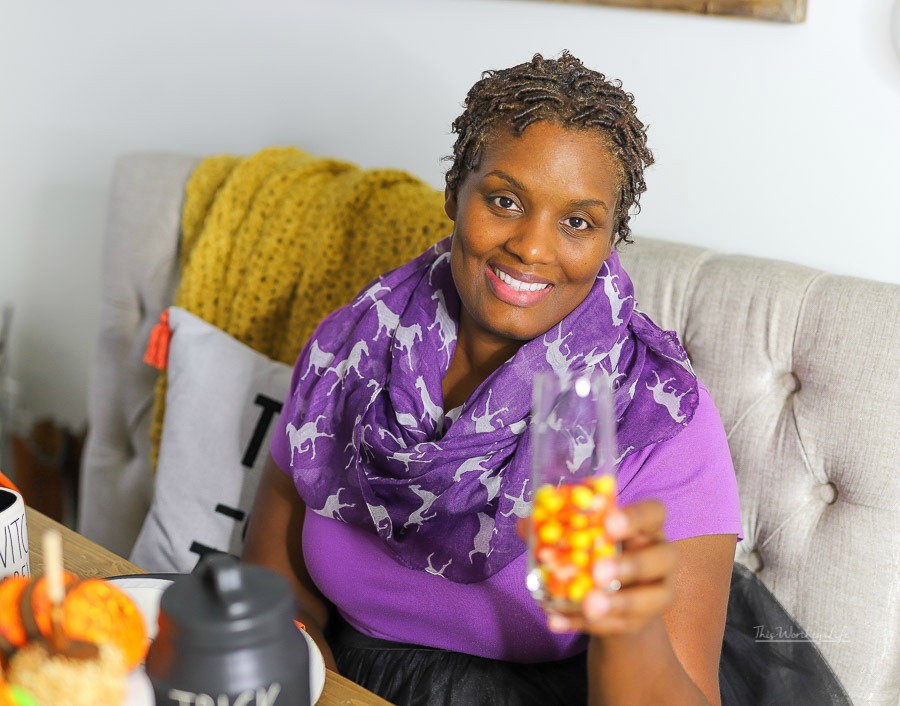 My idea trends in both categories. And since I have teens, they could easily entertain their friends with this party idea. I don't recommend putting this stuff out for a little kids party (swap out the pretty dishes for paper plates).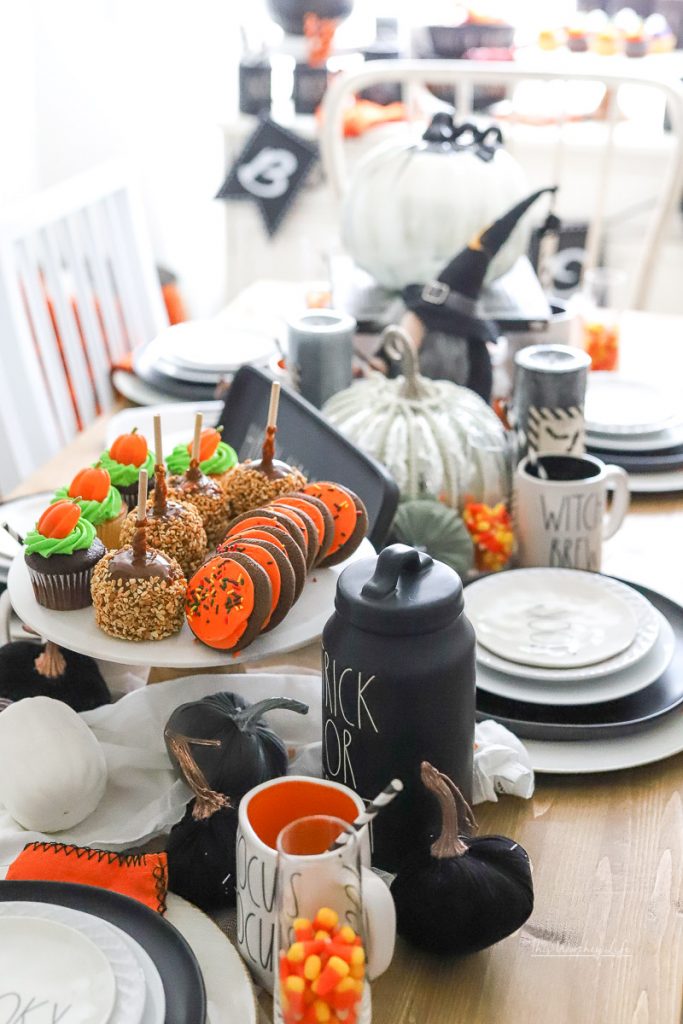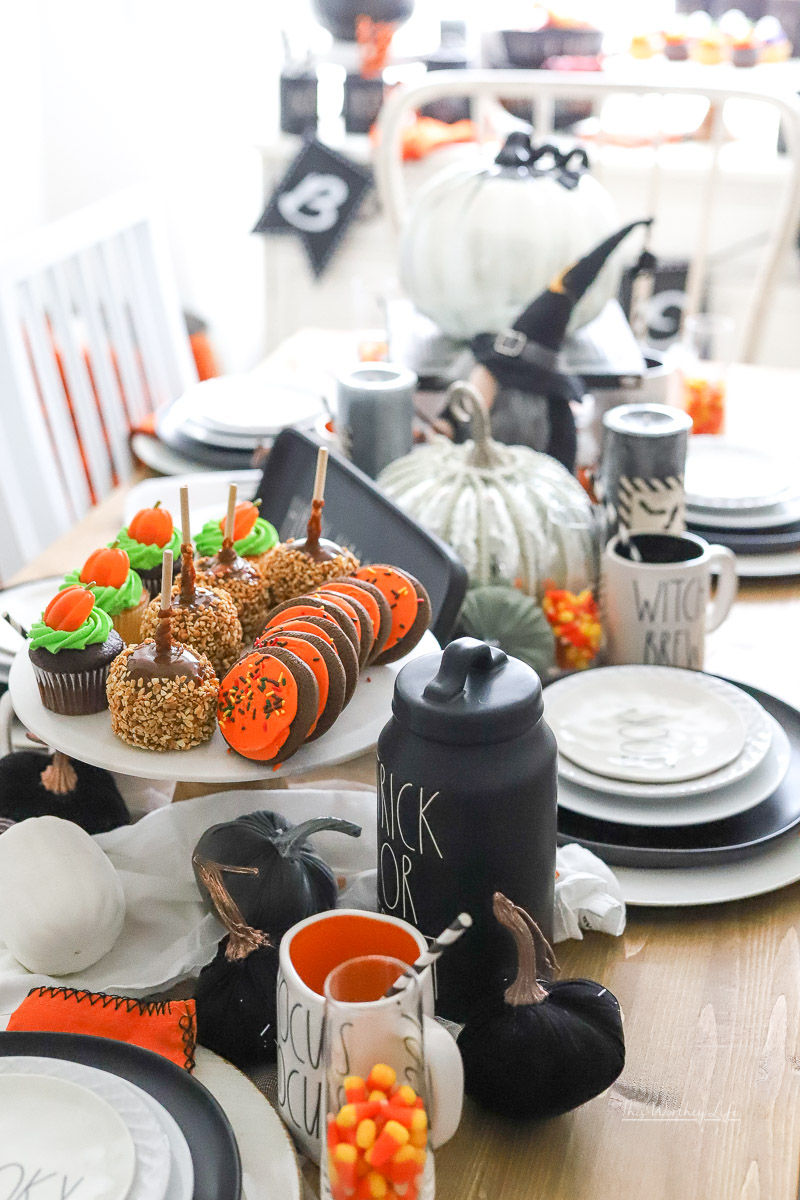 Tableware Supplies: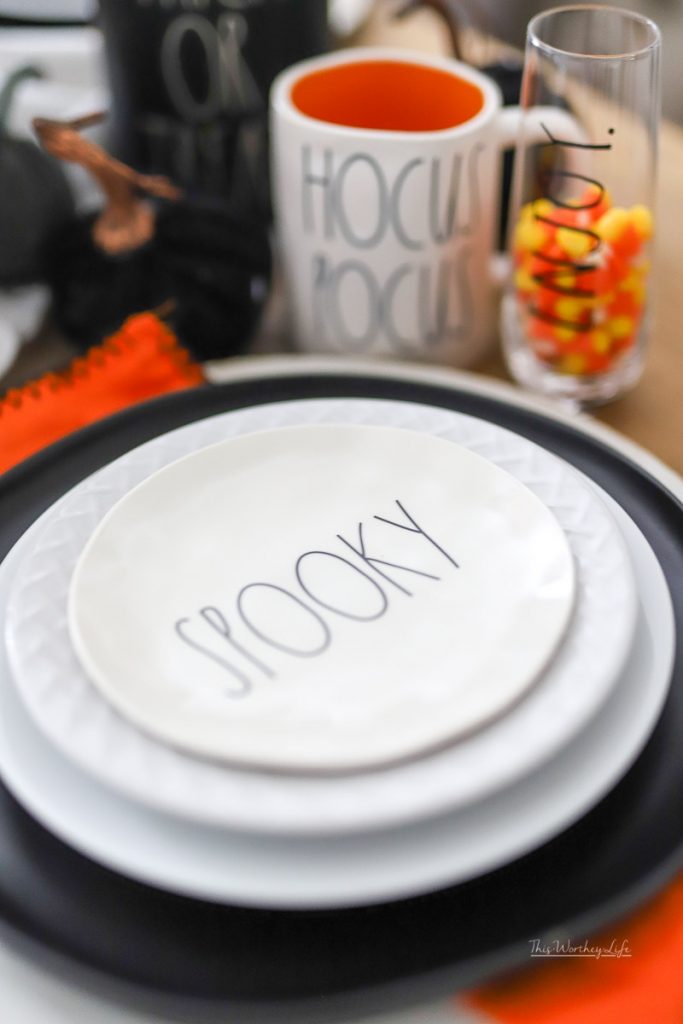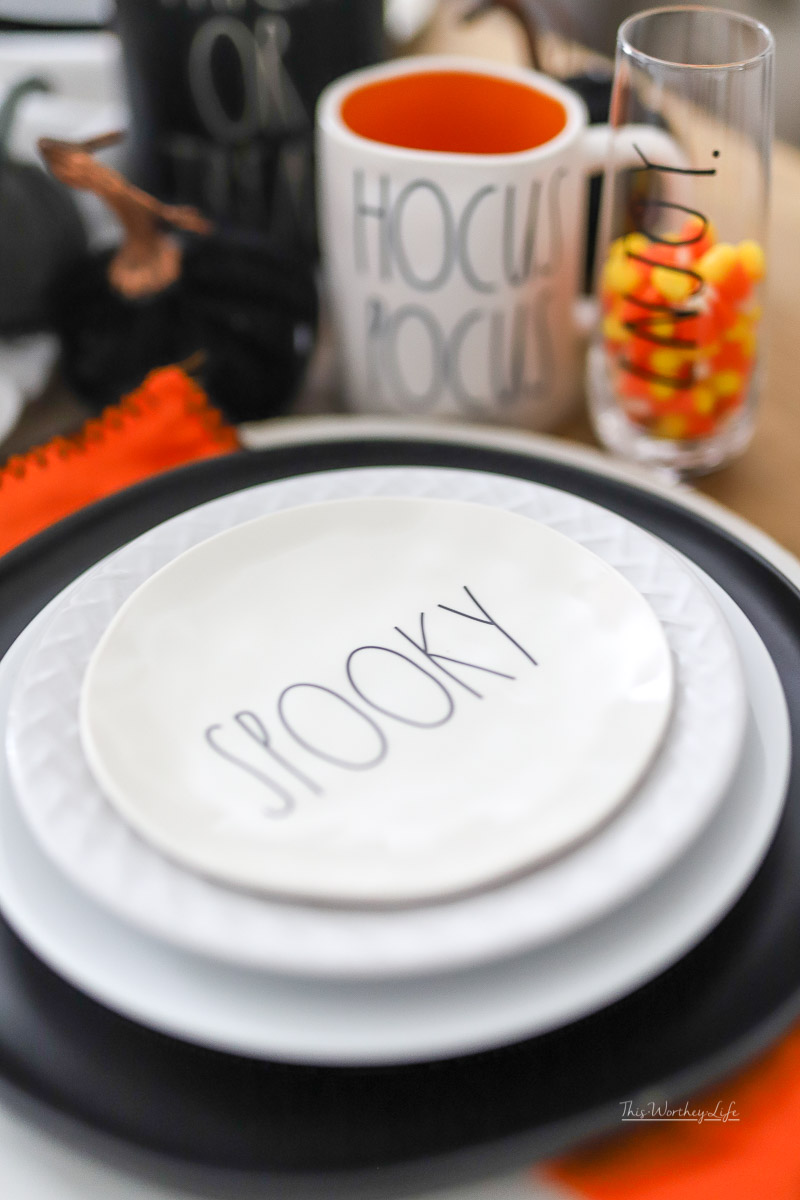 Decorative accessories: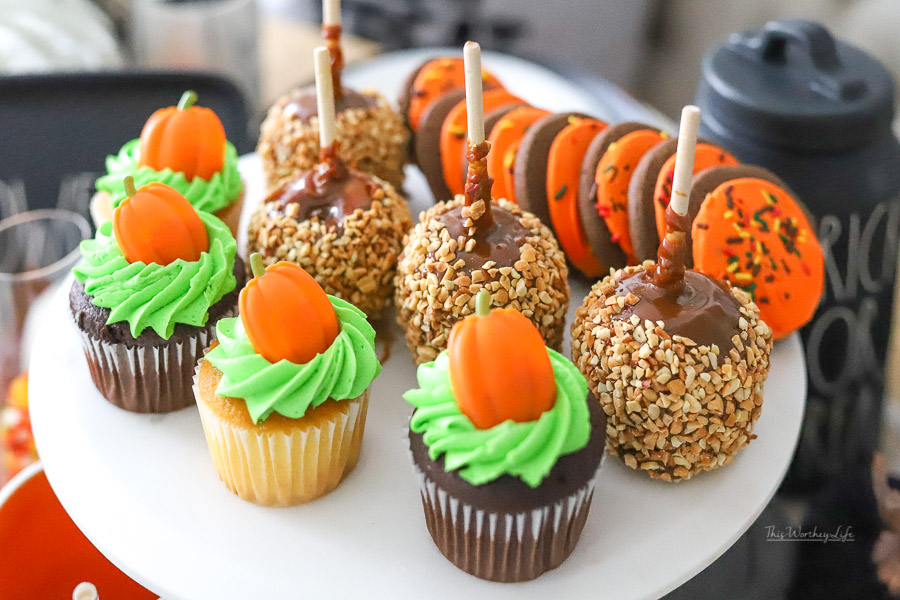 Food Supplies
These are just suggestions. I picked up everything at my local grocery store; because who has time to put this whole idea together and make all the treats?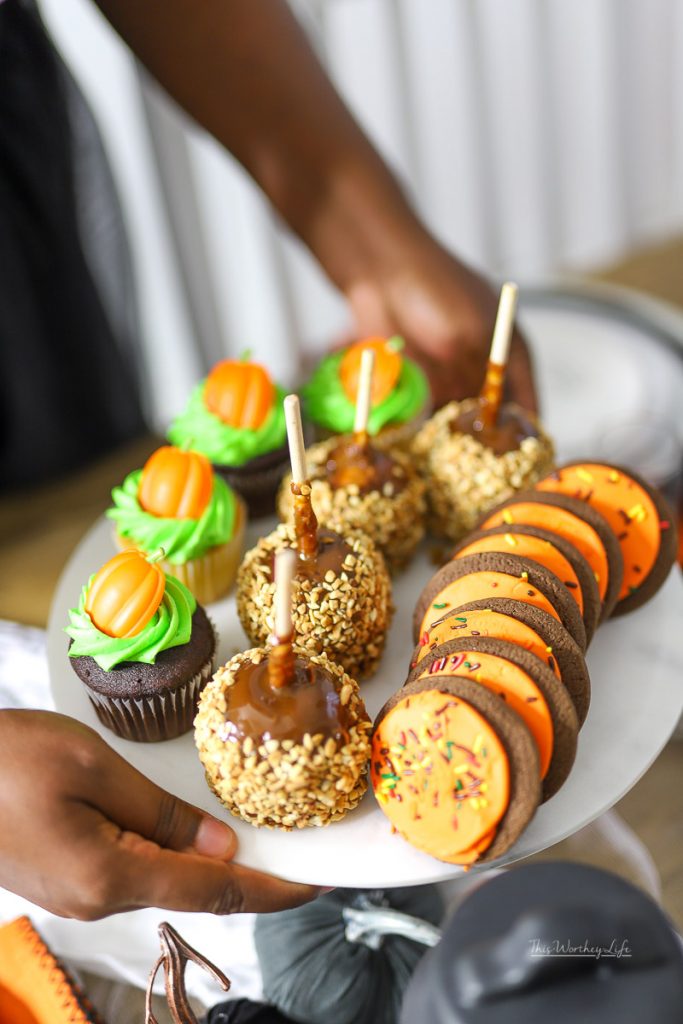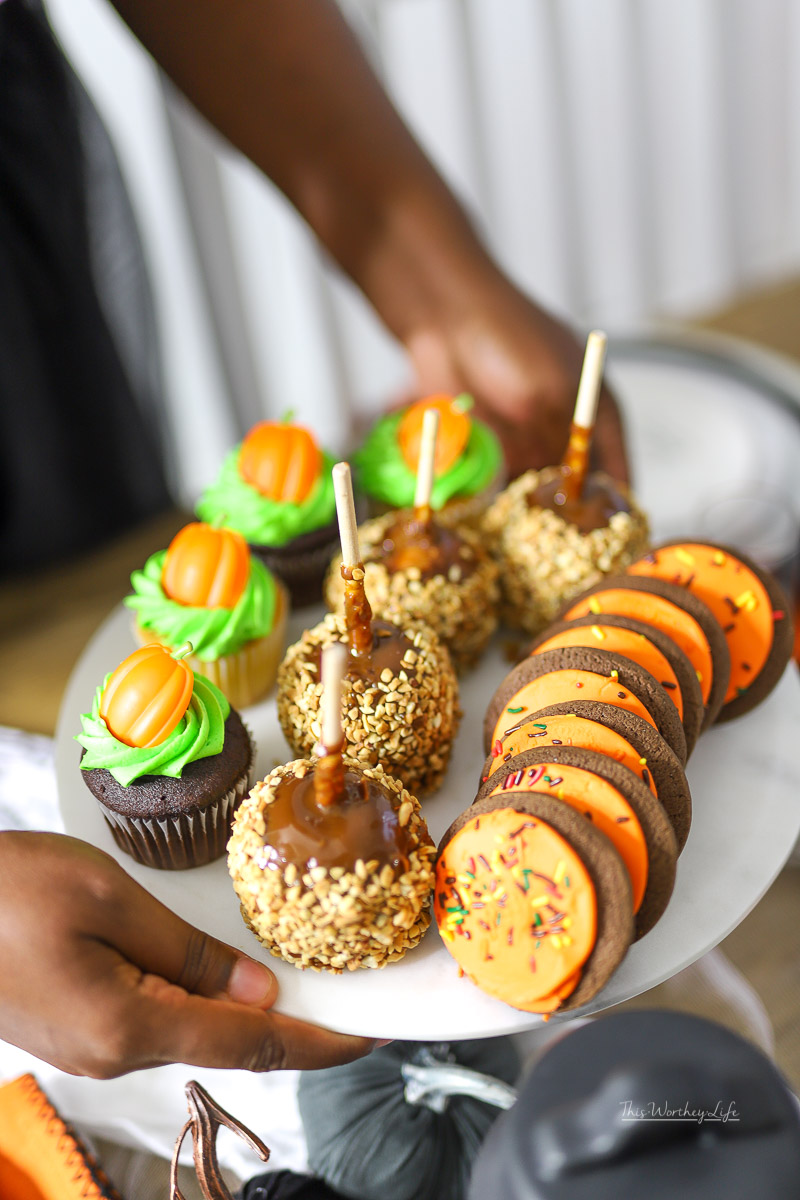 Halloween kid-friendly treats to try:
However, if you do have time to make some quick treats, here are some easy kid-friendly Halloween treats!

How to put a Halloween tablescape together
I started with the centerpiece. If you follow my tablescapes adventures, you know that I don't always set the table in order. Sometimes I start with the centerpiece, other times I work with the tableware first.
Next, I laid the cheesecloth across the middle of the table.
I placed a cake stand at each end of the table. On one cake stand, I set a variety of Halloween treats and on the other stand a glass pumpkin.
For the middle of the table, I added another glass pumpkin, candles, a Halloween gnome (TJ Maxx), black candles, and played around with the arrangements until it felt right. I placed the Rae Dunn Happy Halloween platter in front of the glass pumpkin.
From there I set the table: Linen Charger, orange cloth napkin, black Hearth & Hand plate, white dinner plate, salad plate, followed by the spooky plate. I added a Rae Dunn Halloween mug to the right of each table setting and added black silverware.
Then I went around the table to fill it in. I added the Halloween Tea Towels (well, Derrick added those, so I have to give him credit- insert rolling of eyes. LOL) I added the mini pumpkins throughout the table, the Trick or Treat Canister, and added a paper straw into each mug.
Another one of Derrick's ideas was to put the candy corn into clear glasses and place them at each table setting. Don't tell him this, but his idea was a great pop of color throughout the table.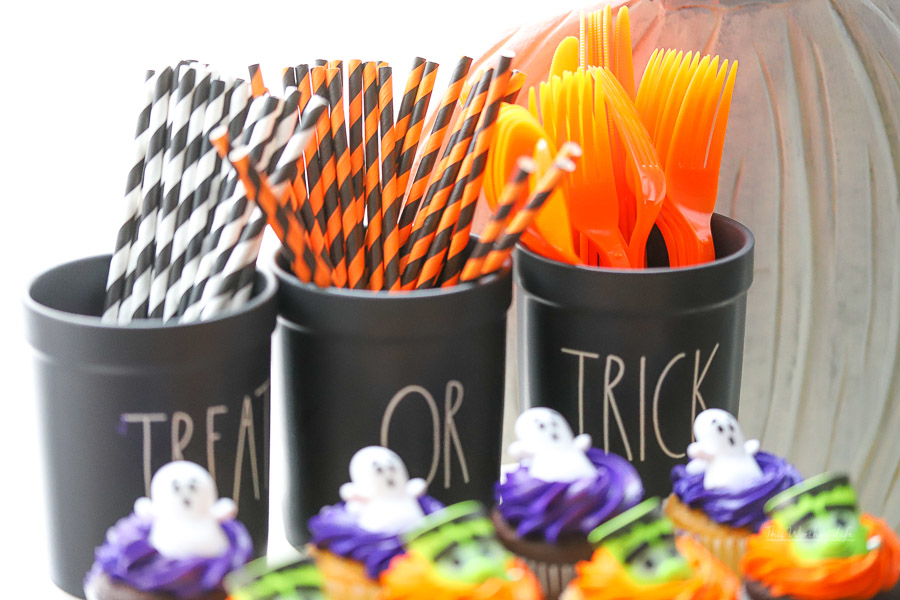 For the buffet table, I added a variety of Halloween decor items, candy, treats, and sweets.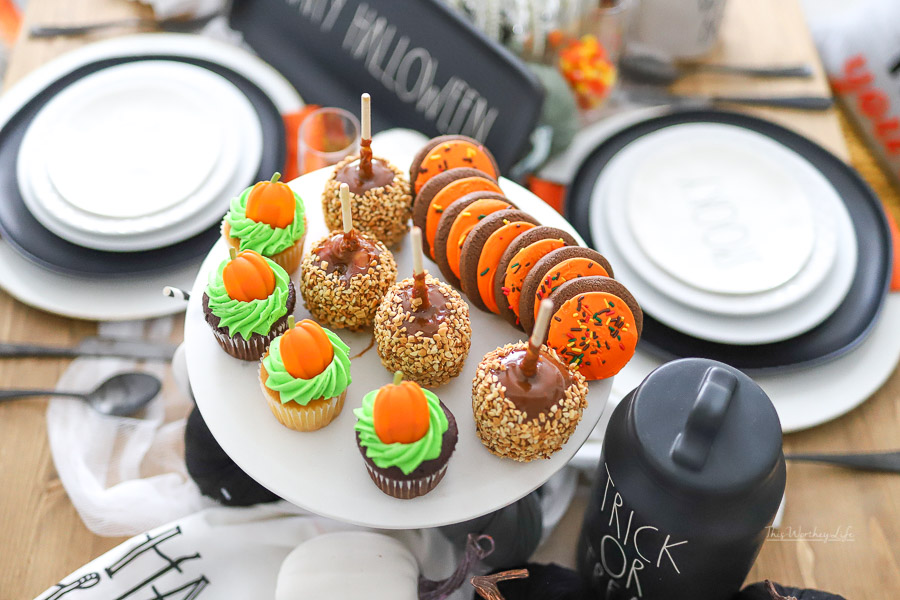 The biggest tip I can give is just to play around with everything, evenly spreading pops of color throughout the table. Check stores like Hobby Lobby, Home Goods, Marshall's and TJ Maxx for awesome Halloween decor (including Rae Dunn pieces).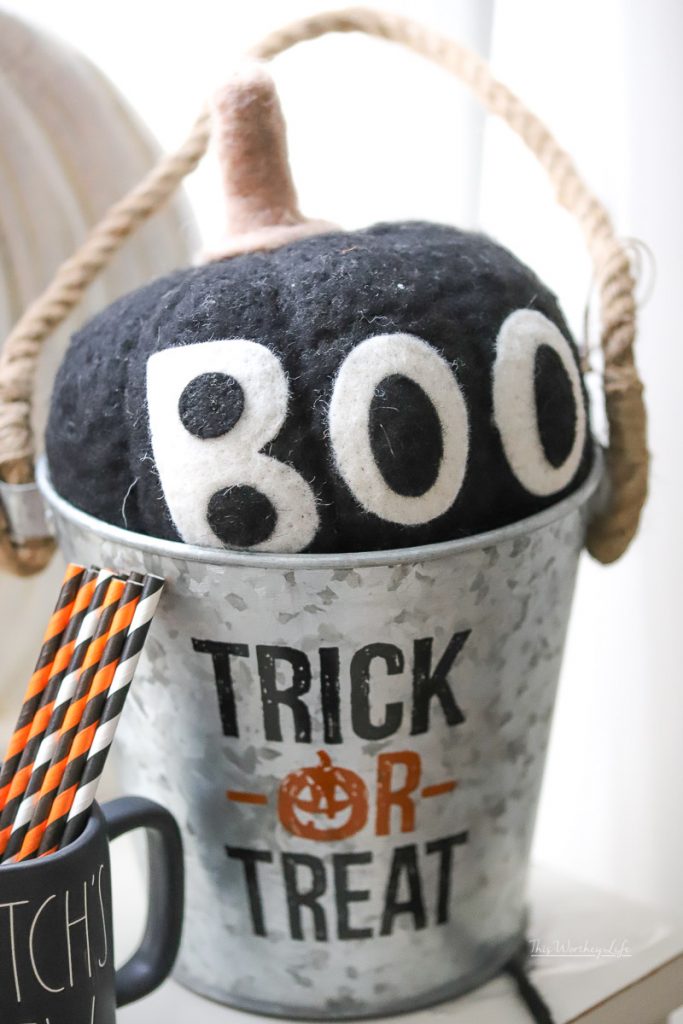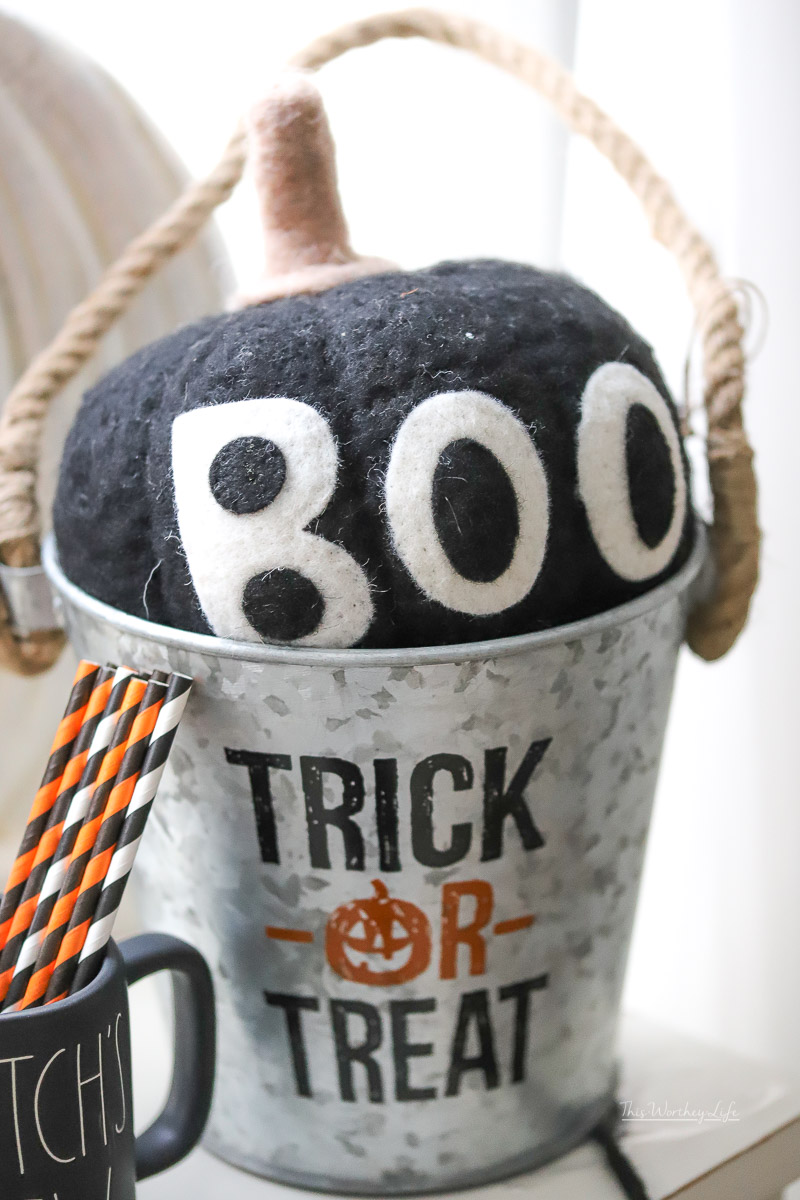 Make sure it's balanced out with a variety of different Halloween items, and even a few non-Halloween accessories.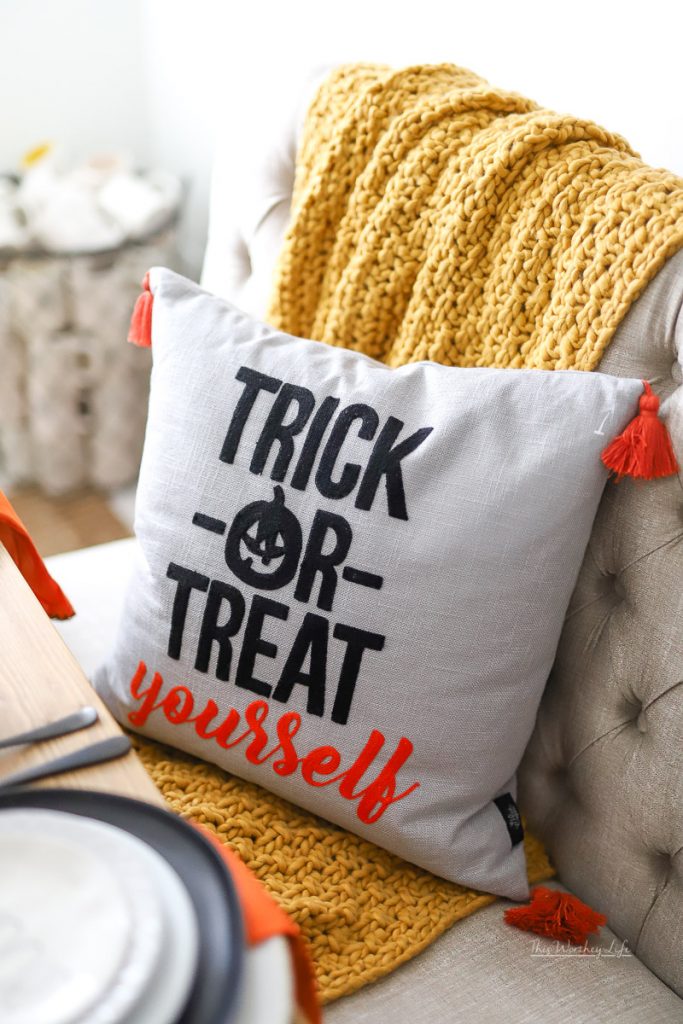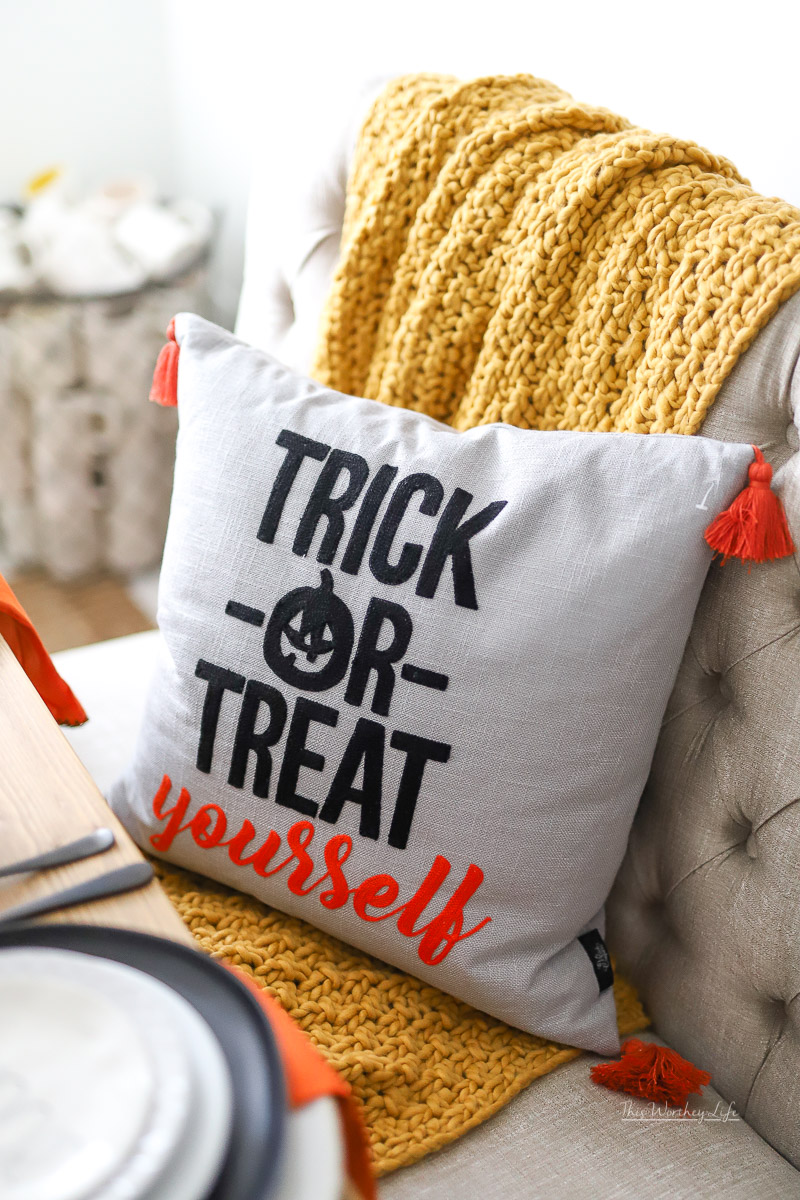 I am really loving our new bench in the dining room!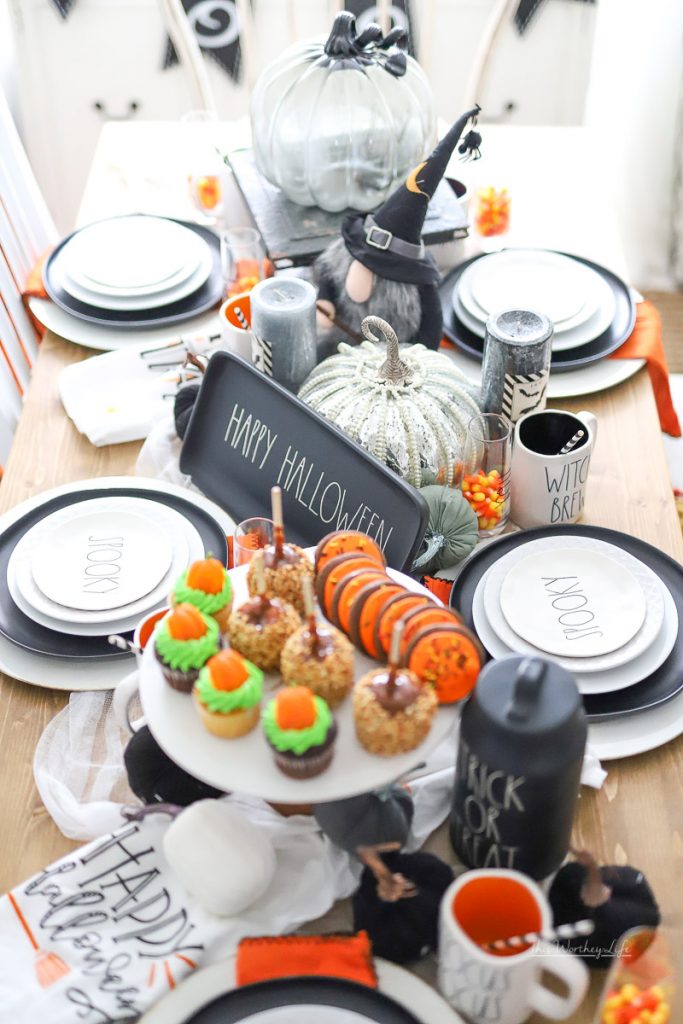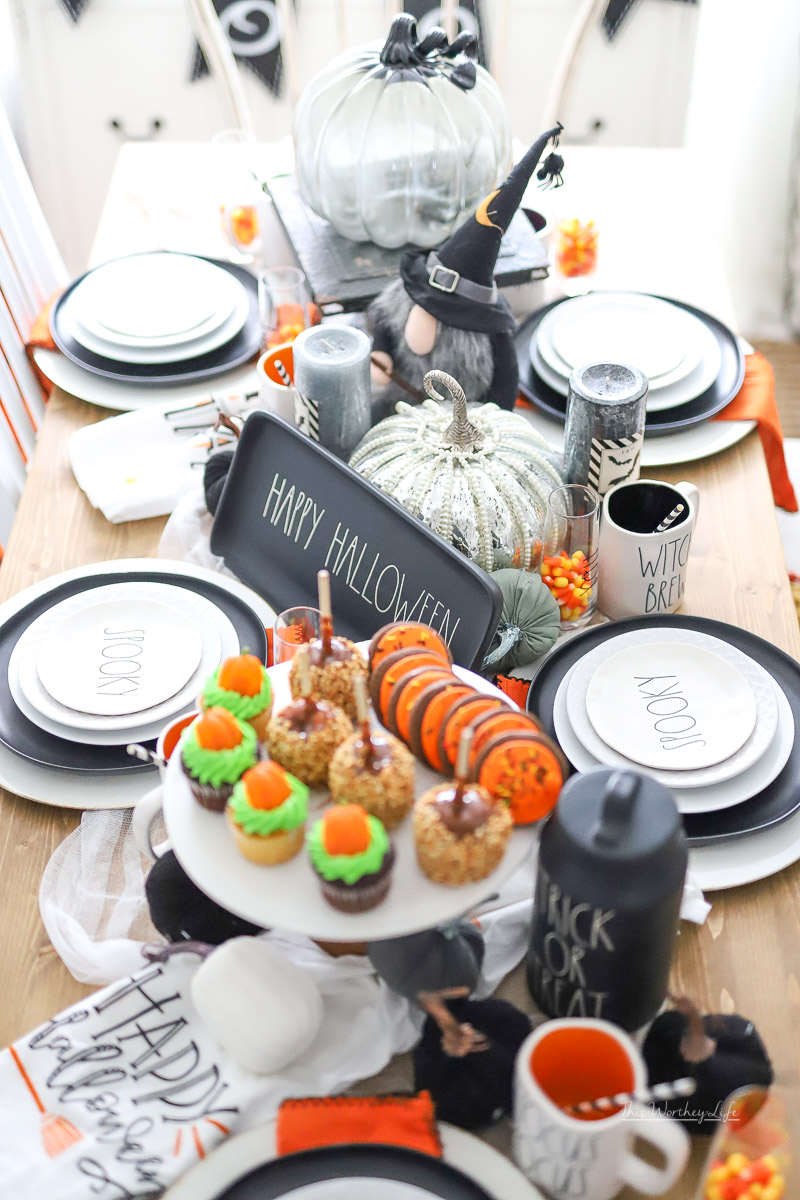 Happy Halloween. Now, bring on all things Christmas. Kidding (not really!)