Get inspired with our Rae Dunn Hot Cocoa Bar Idea to create your own hot cocoa bar using the ideas listed below.
With a Valentine's Day theme, this hot cocoa bar is perfect for those cold winter nights.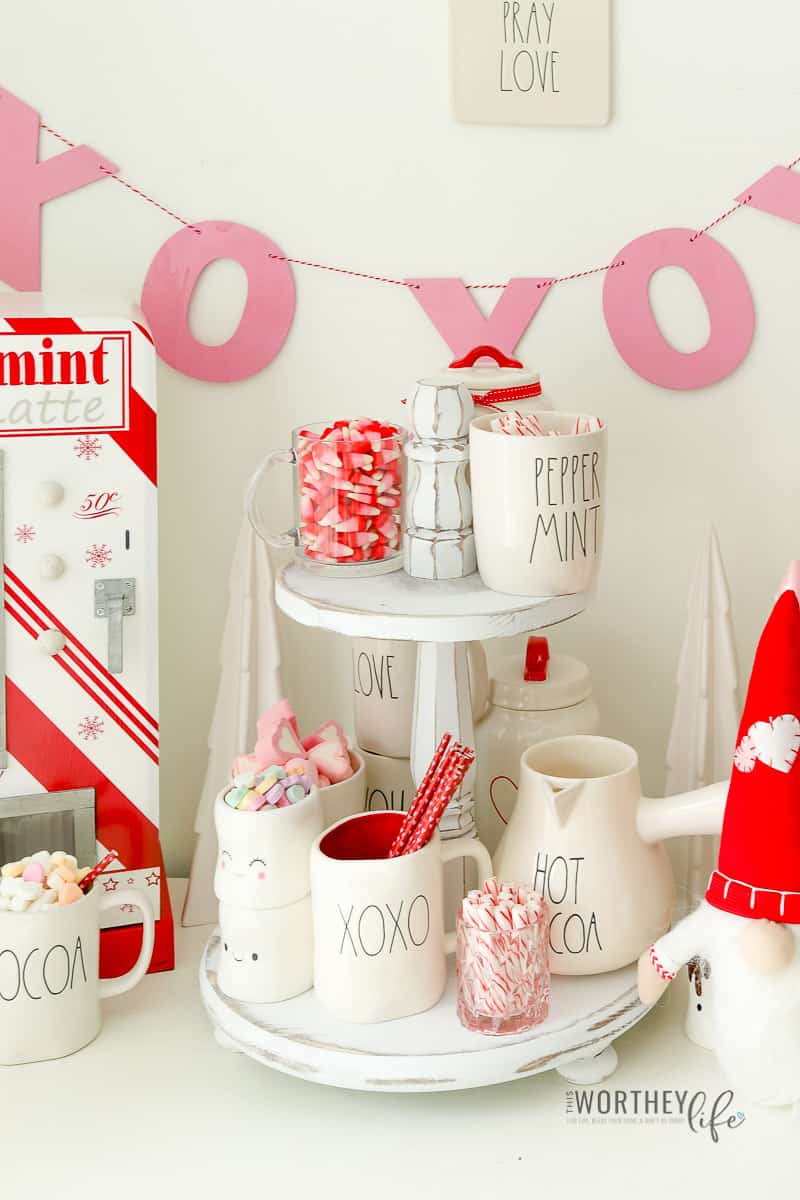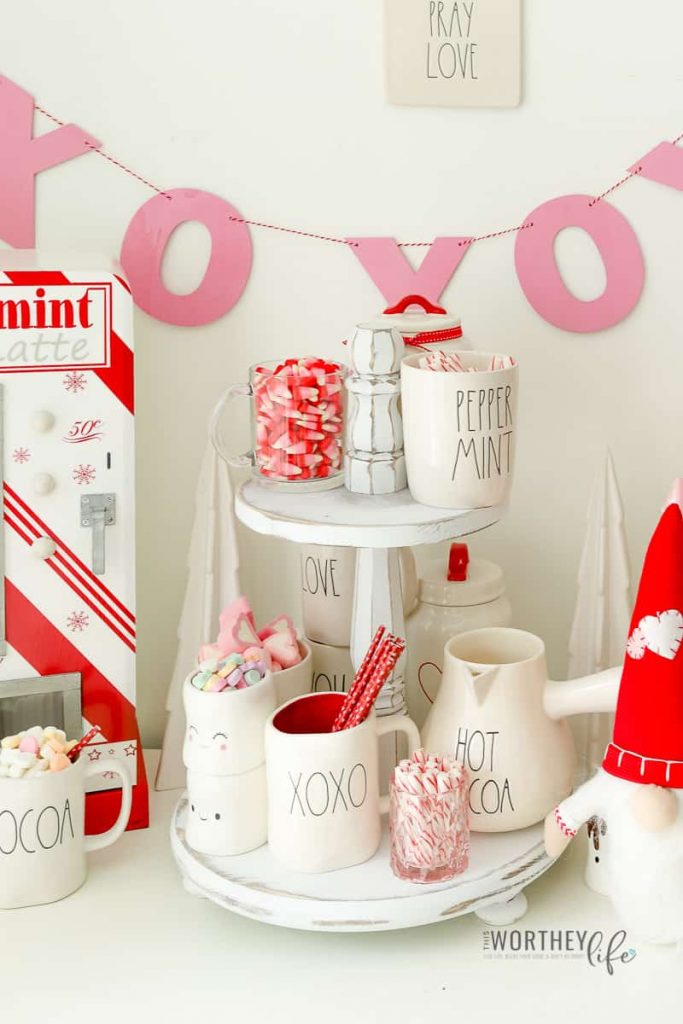 Rae Dunn Hot Cocoa Bar Idea with Valentine's Day theme
February is an awesome month for a few reasons. Not only is Valentine's Day this month, but it's also my birthday month! I'll be turning 38, only two more years till the big 4-0. I think I'm ready for it.
There are so many things I want to accomplish before that point, but I'm learning to live in the moment right now. Fun fact: my mom had my younger brother (and the baby of the family) at the age of 40.
Trust me; I have no plans to go down that road again after my miscarriage. I am blessed with three healthy and handsome growing boys, and I have learned to be okay with not having a girl.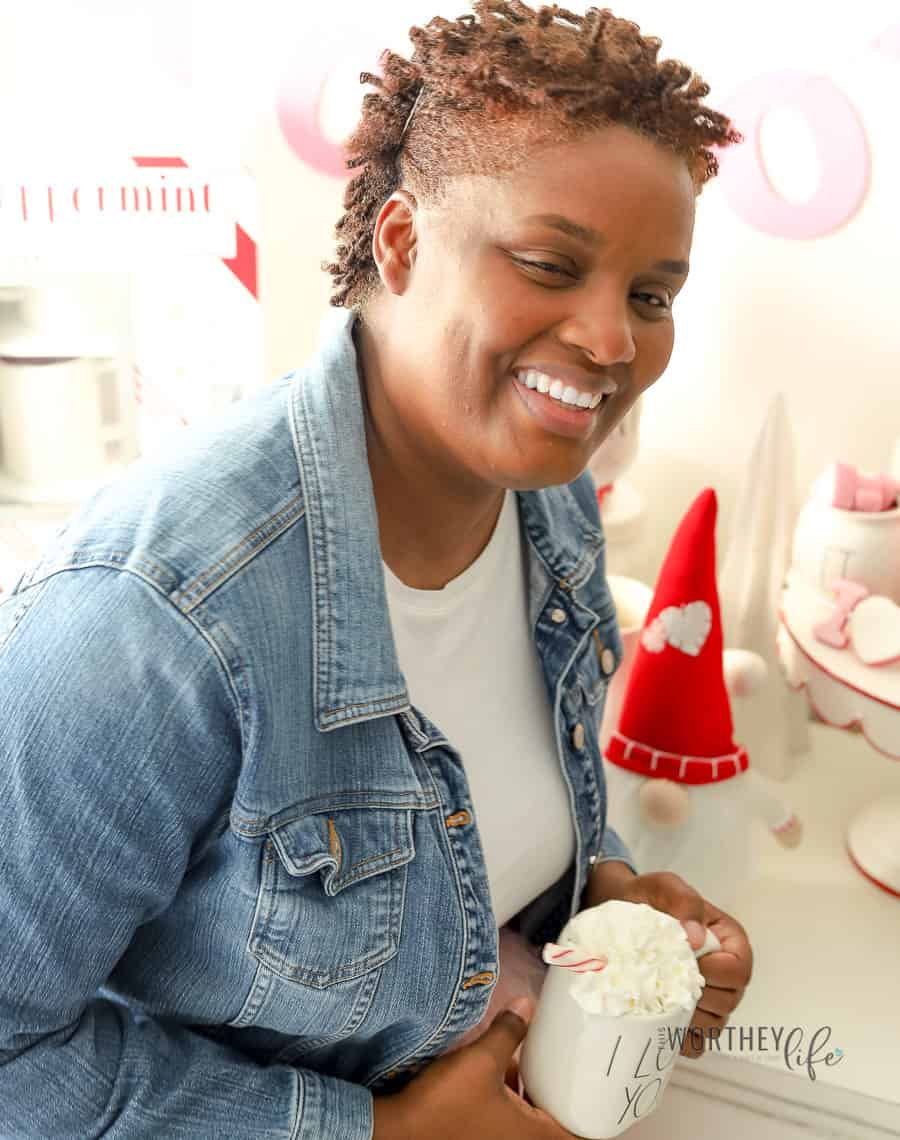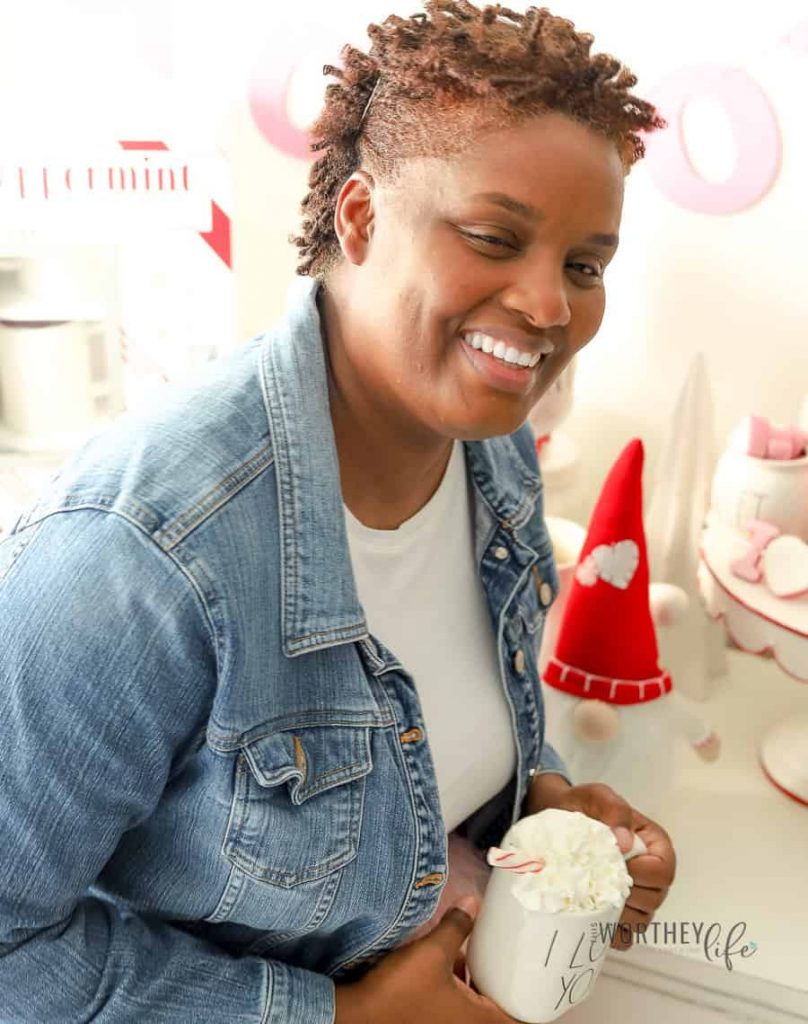 As we wrap up all of the holiday festivities, I wanted to share this hot cocoa Valentine's Day bar I put together inspired by all of my Rae Dunn v-day collection.
Since we've been snowed in with so many snow days the last few weeks, I thought it would be a fun way to have our hot chocolate.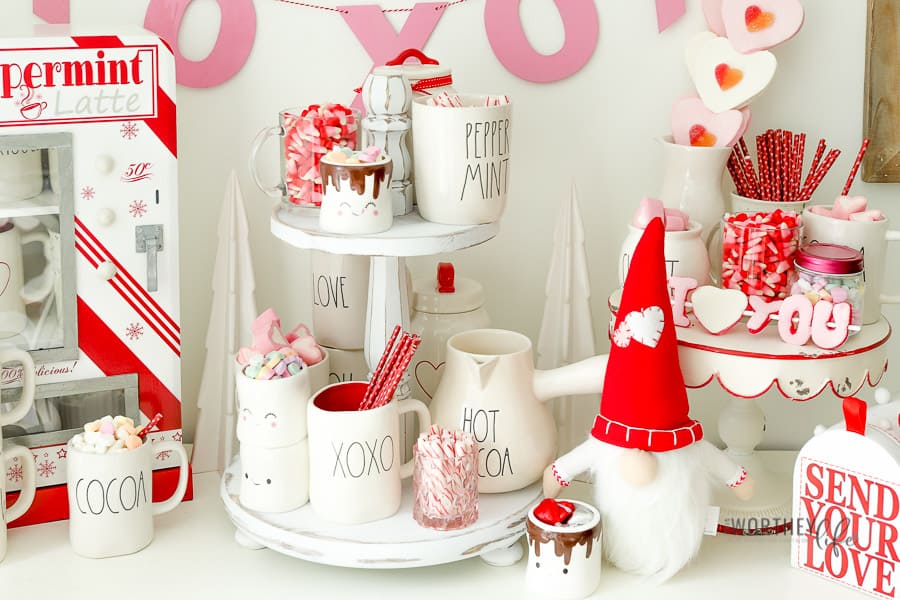 We recently shared a Rye + RumChata Hot Chocolate Cocktail with Snicker Marshmallows on the blog, using the highly coveted Rae Dunn Hot Cocoa pot. Man, this thing was HARD to get, but I LOVE it!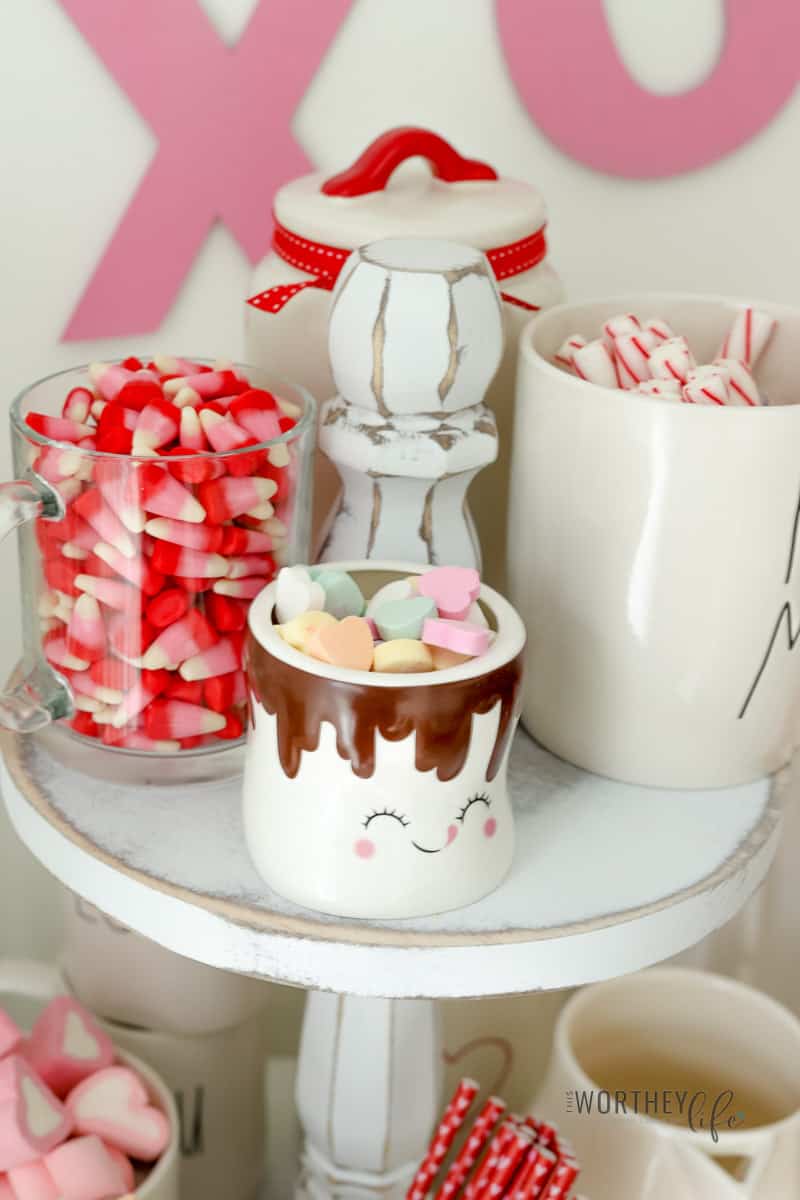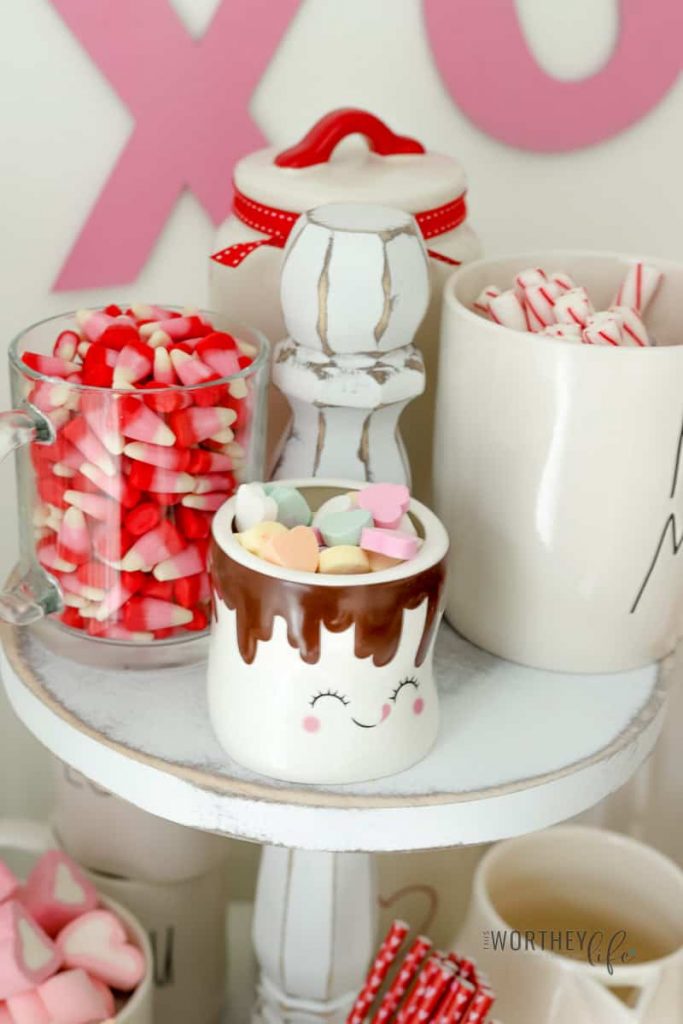 I also ordered these super adorable Marshmallow Shaped Hot Chocolate Mugs-Ceramic that you may have seen with Rae Dunn style hot cocoa bars!
People are selling these things for twice the price, but I was able to find them on Amazon for a good price. Aren't they so cute?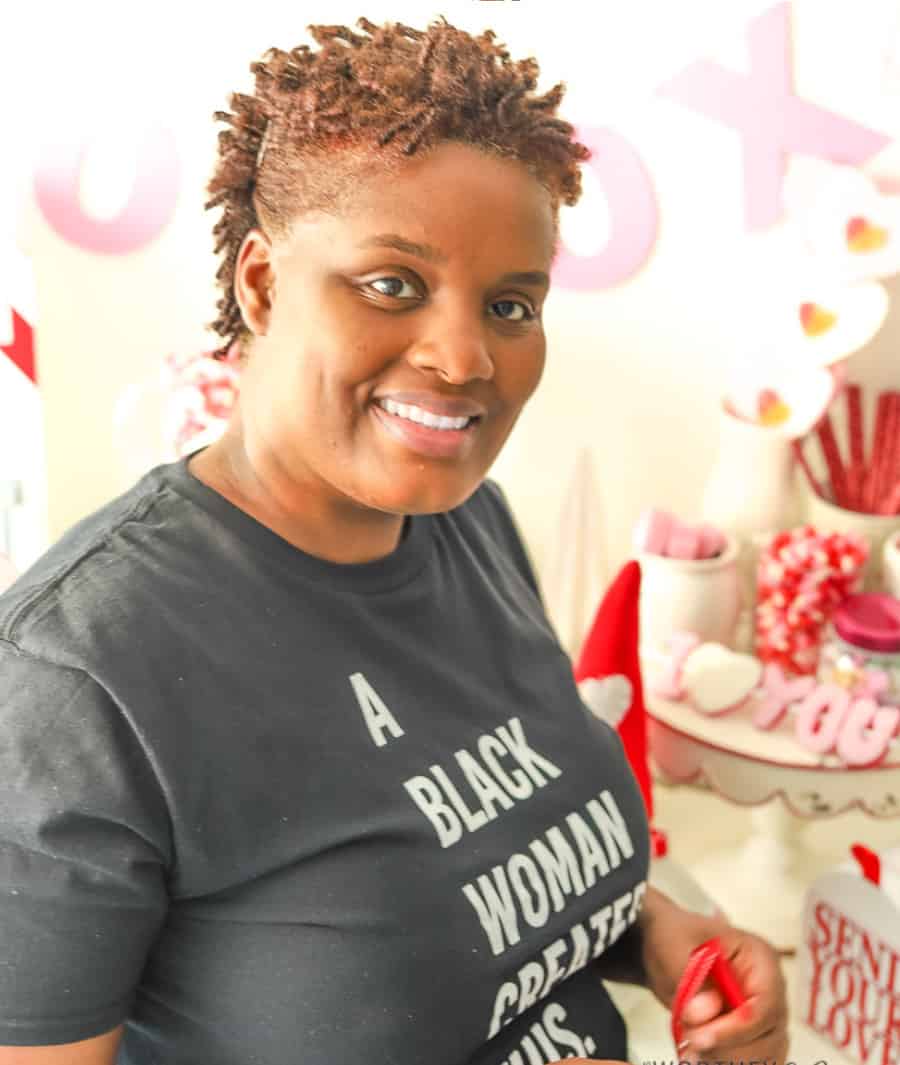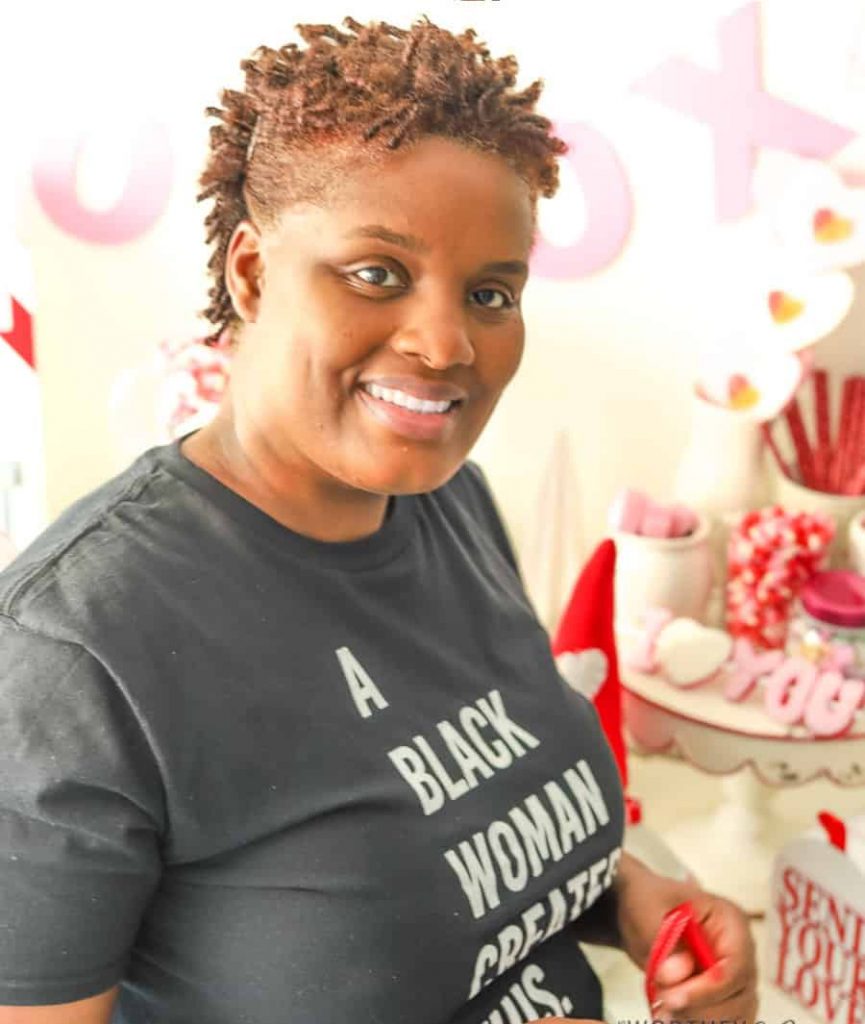 Hot Cocoa Bar Display
I loved putting together this hot cocoa bar with a Valentine's Day theme. I was able to stop by Home Goods to find pink Marshmallows and other pink candy.
I was able to find the pink candy corn at my local farmer's market- Horrock's.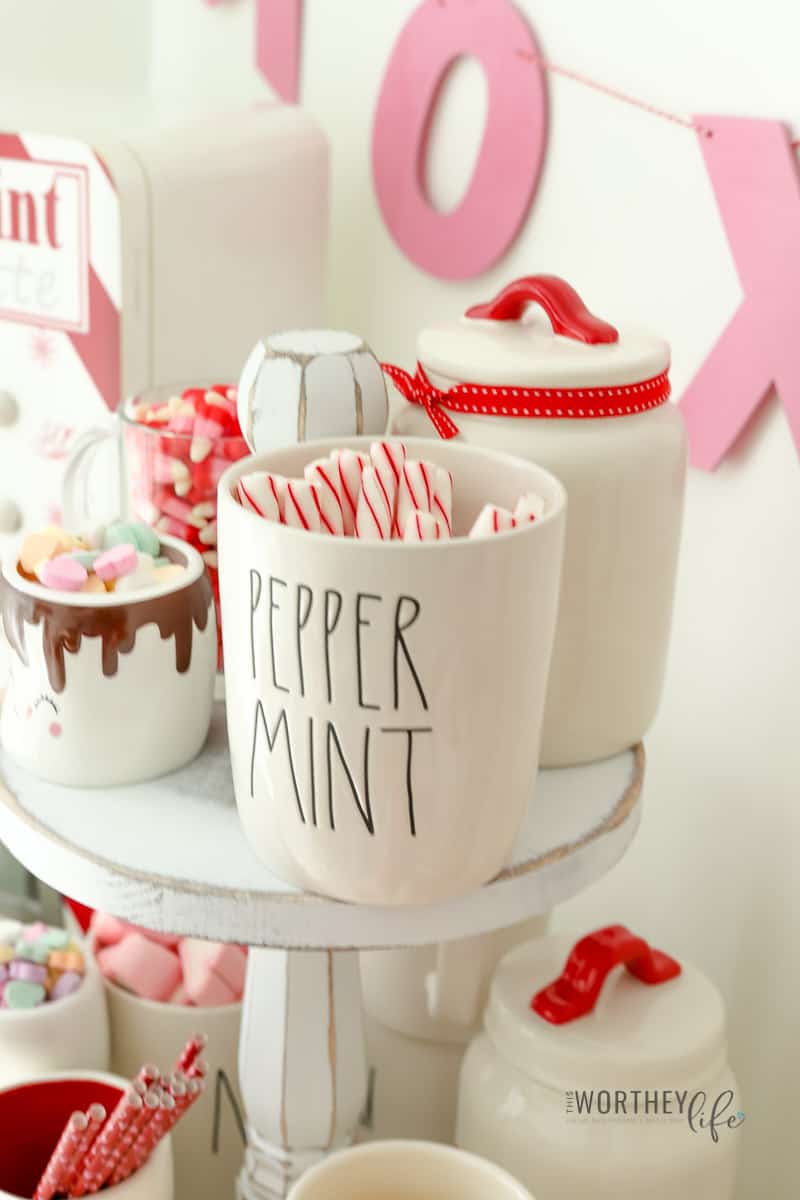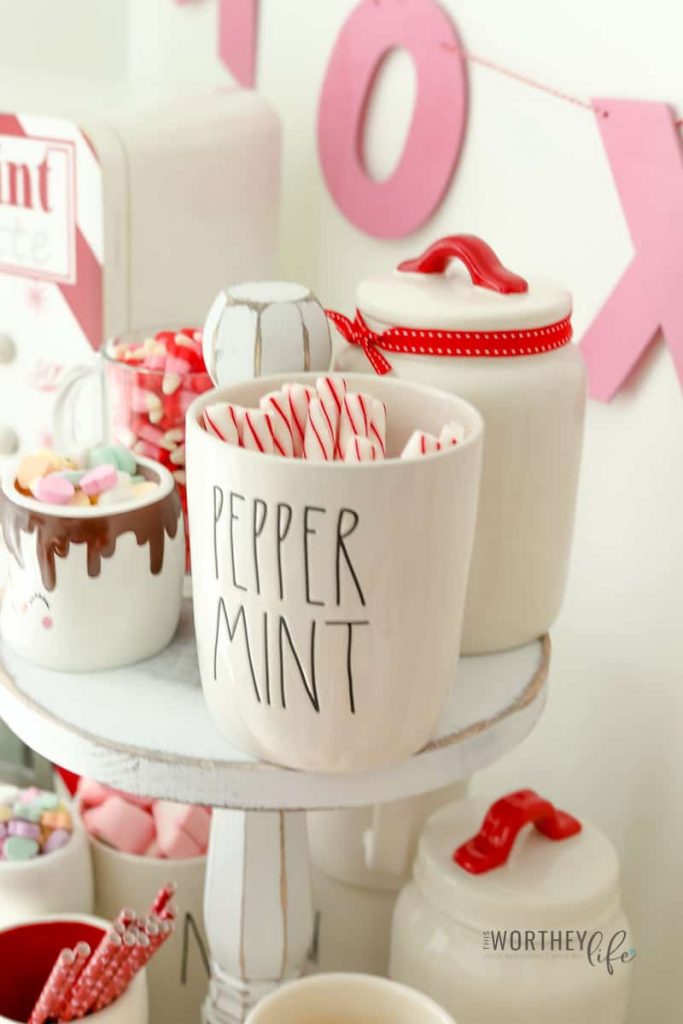 Add additional accessories like the Peppermint container with peppermint sticks, more candy, red straws, and other red + white canisters to help fill in the cocoa bar.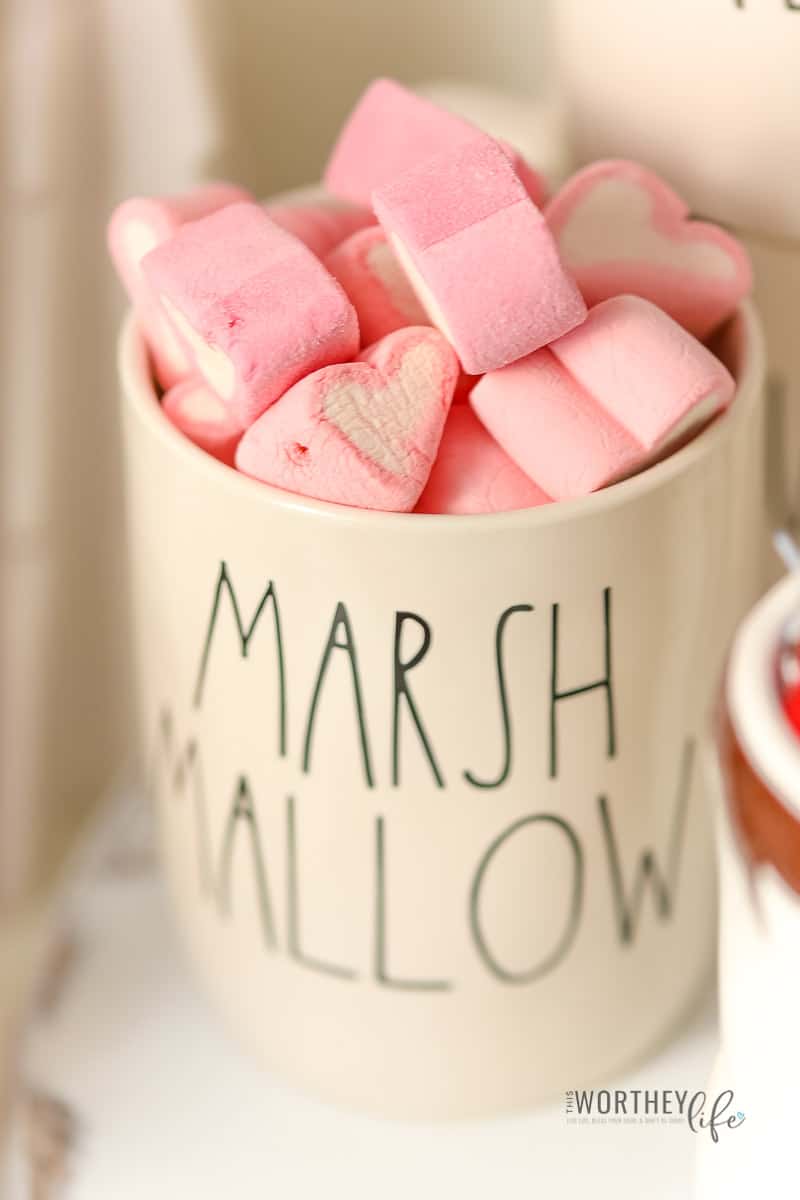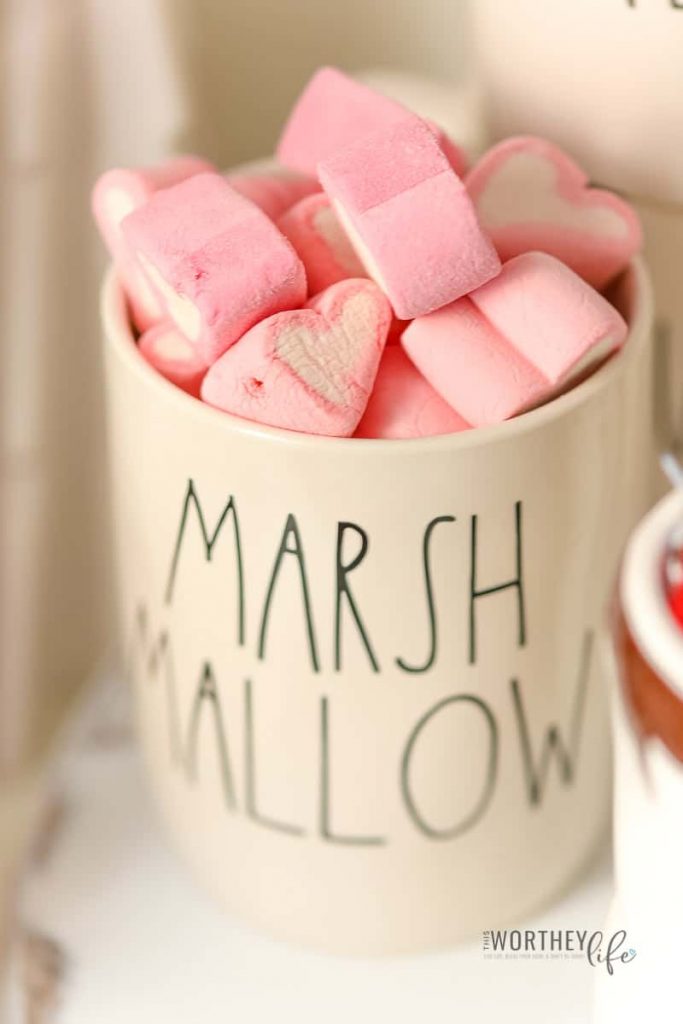 Using my Cricut, I was able to create a Marshmallow container. This was another hard-to-get Rae Dunn item, and I wasn't willing to pay an arm and a leg for it.
I just turned it over (the other side has Nutmeg on it), and using a Rae Dunn-inspired font, create my own Marshmallow container. You can learn how to Rae Dunn your own items by reading this post.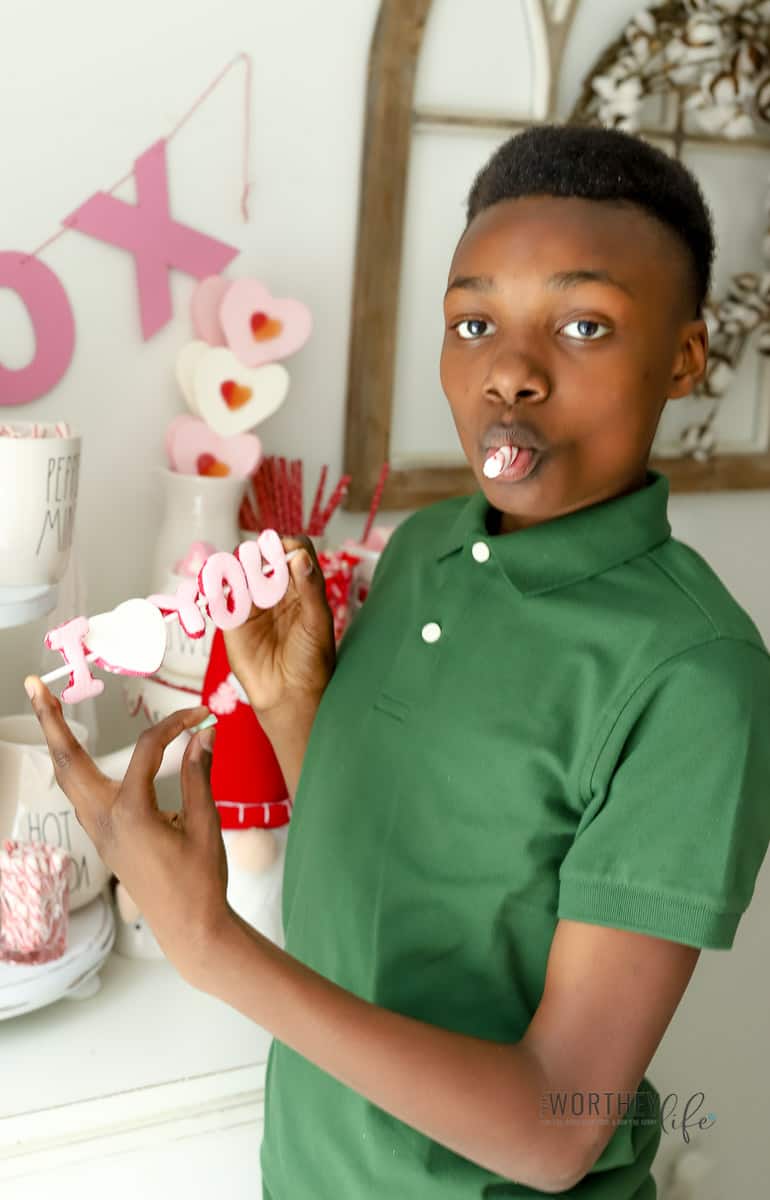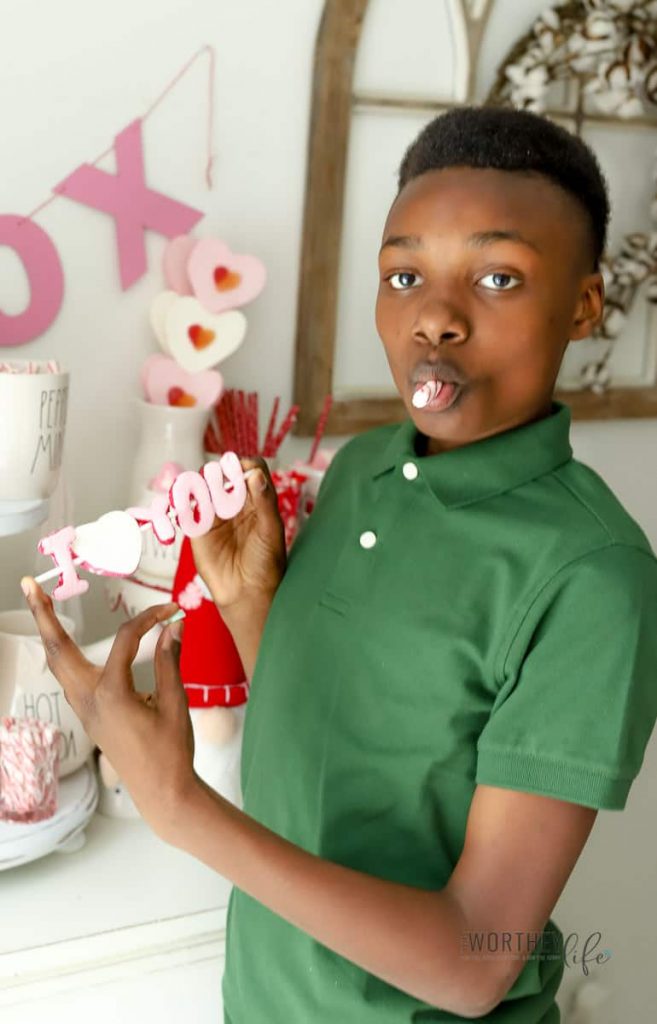 Zayd'n loved getting into the action of this hot cocoa bar, especially the candy! (go figure)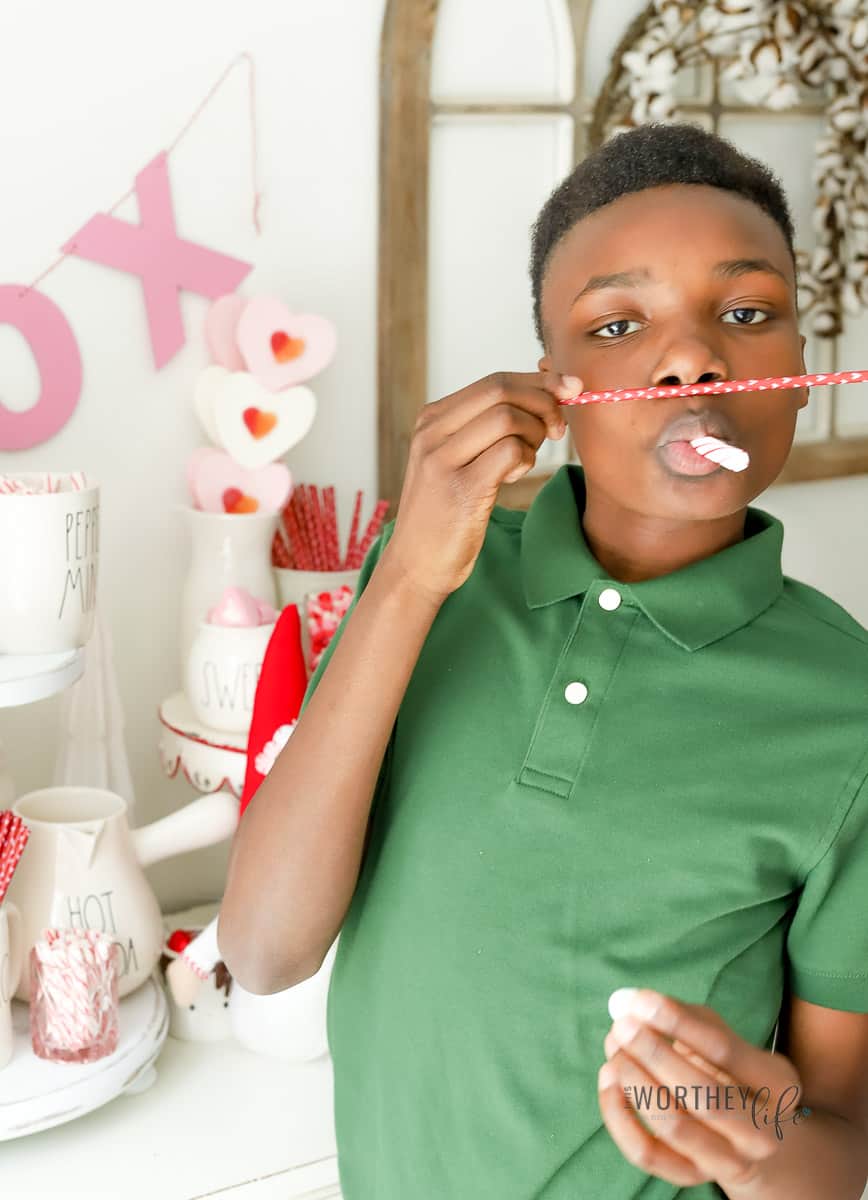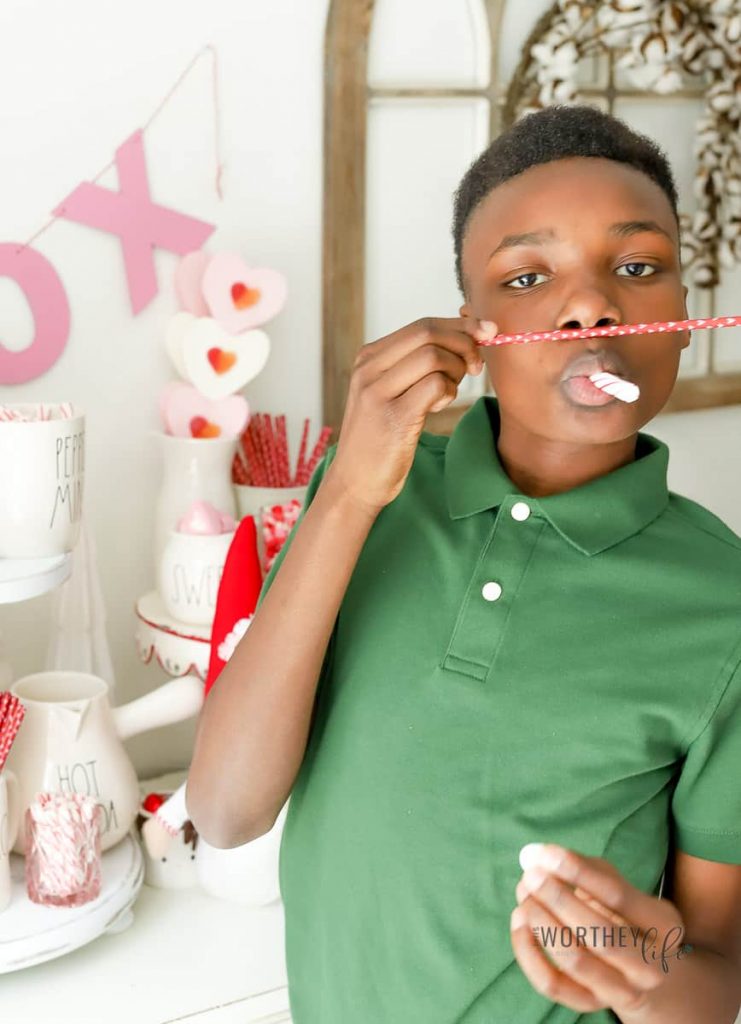 I can always count on Zayd'n to have fun with it!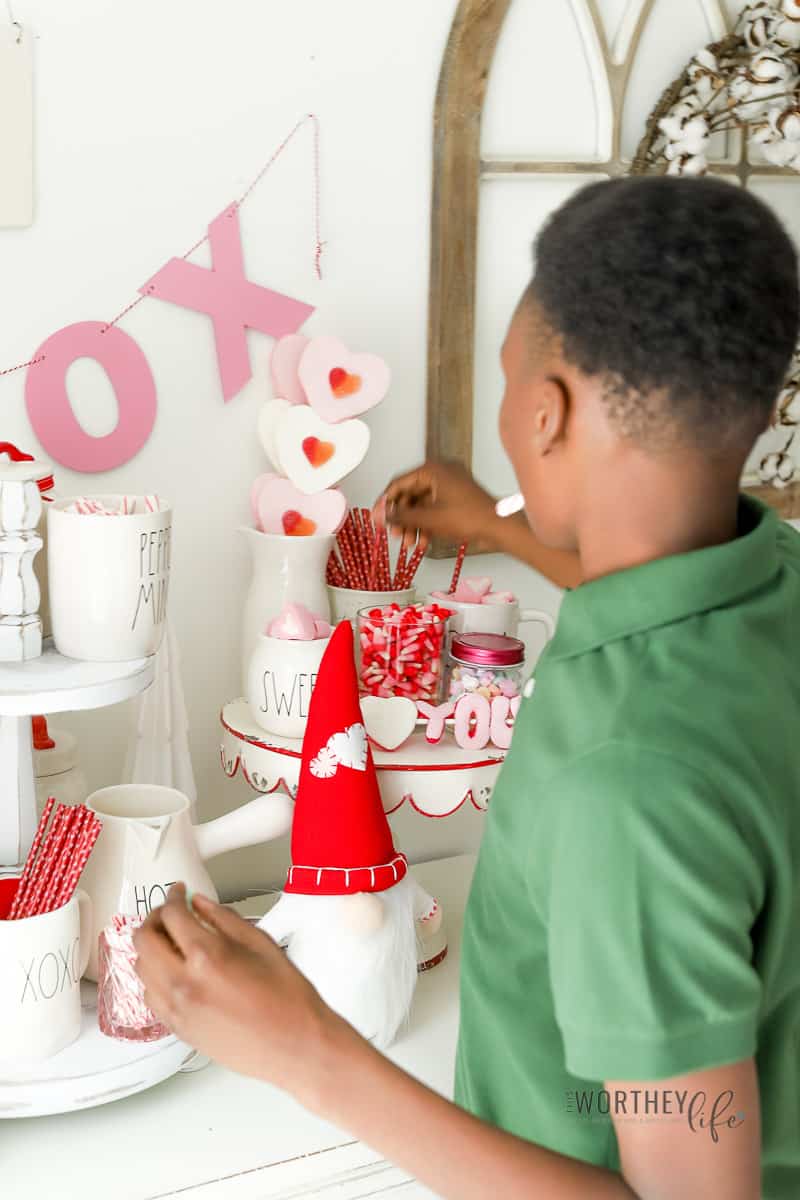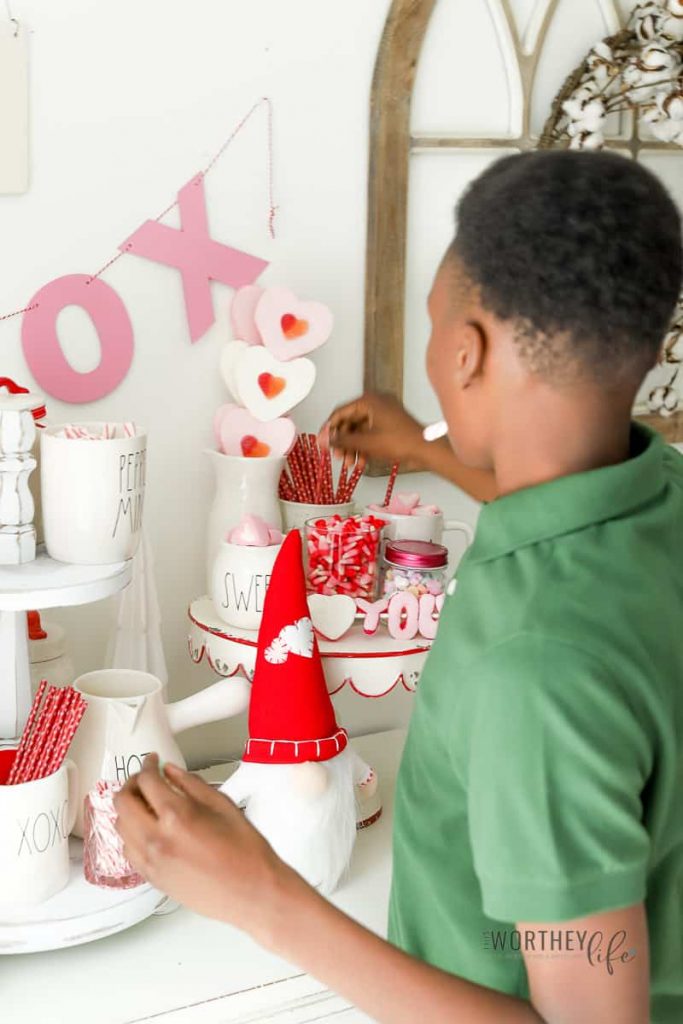 He's such a fun kid!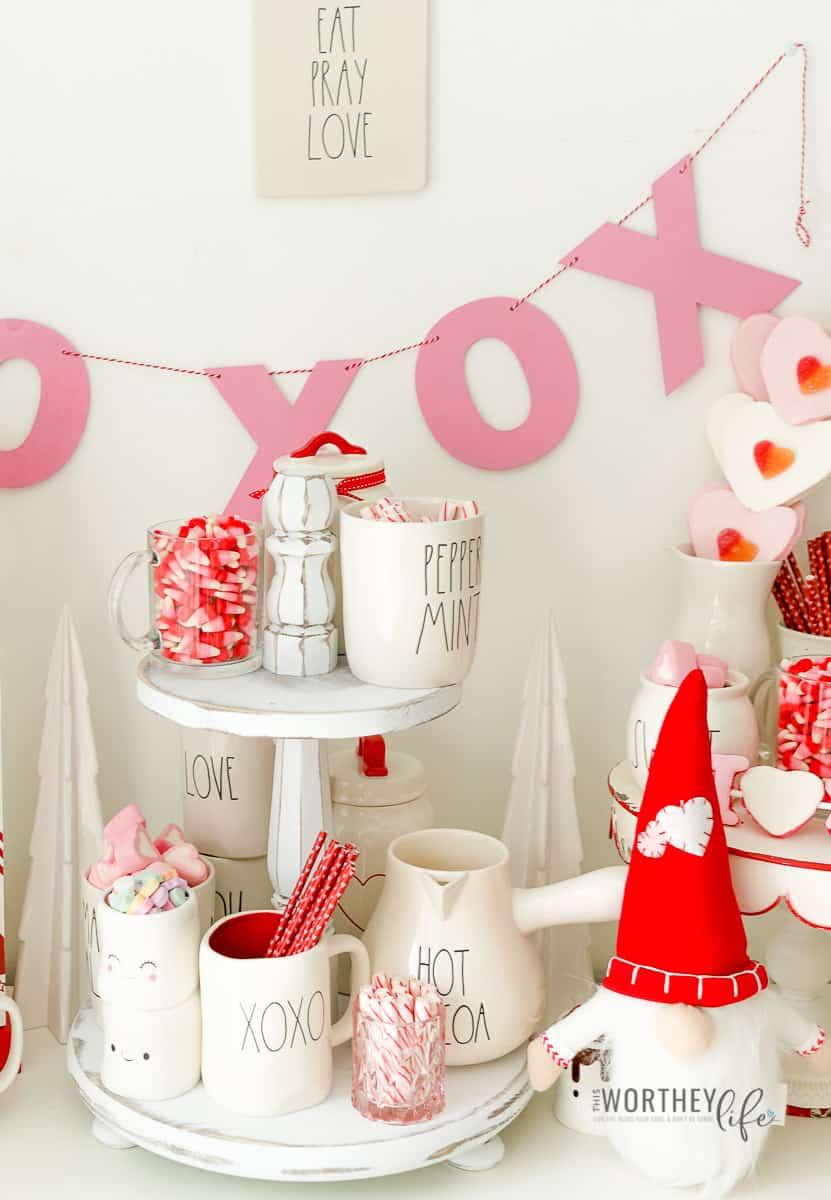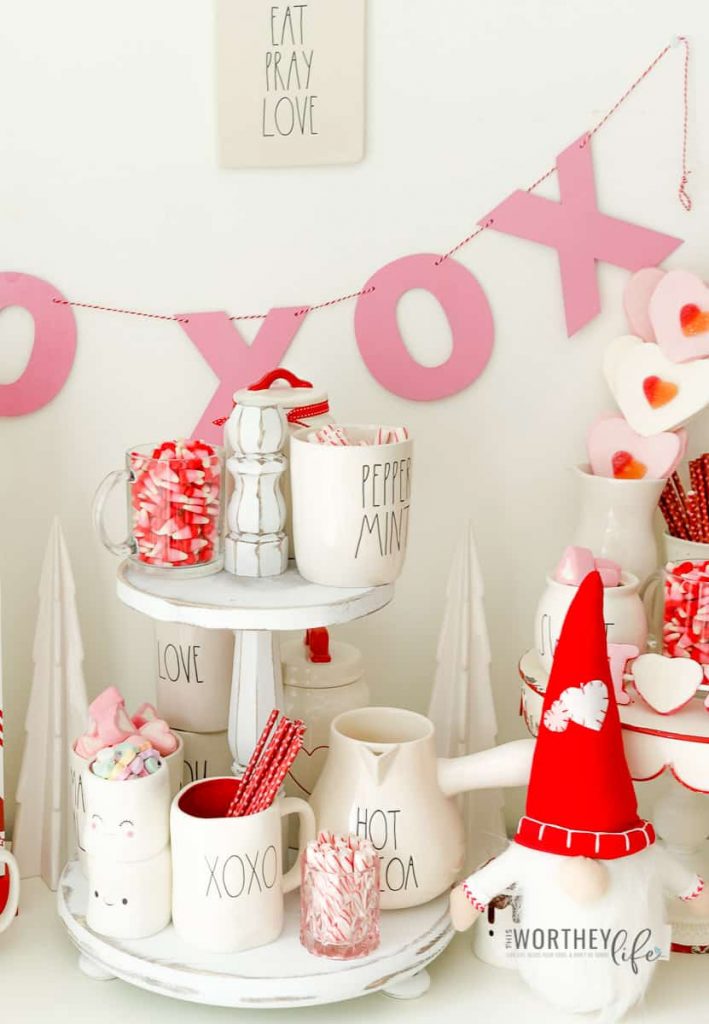 Gnomes are super popular in Rae Dunn displays, and you can find them at Home Goods, Marshall's, or TJ Maxx.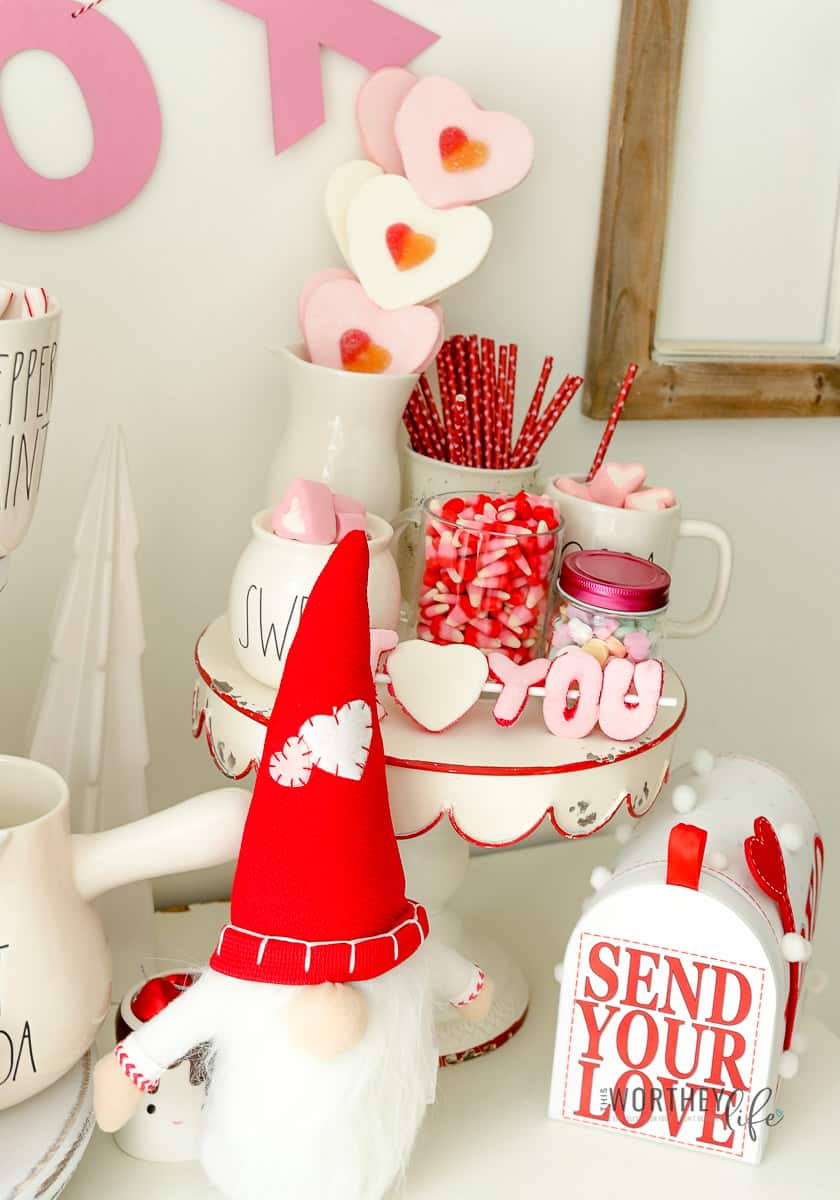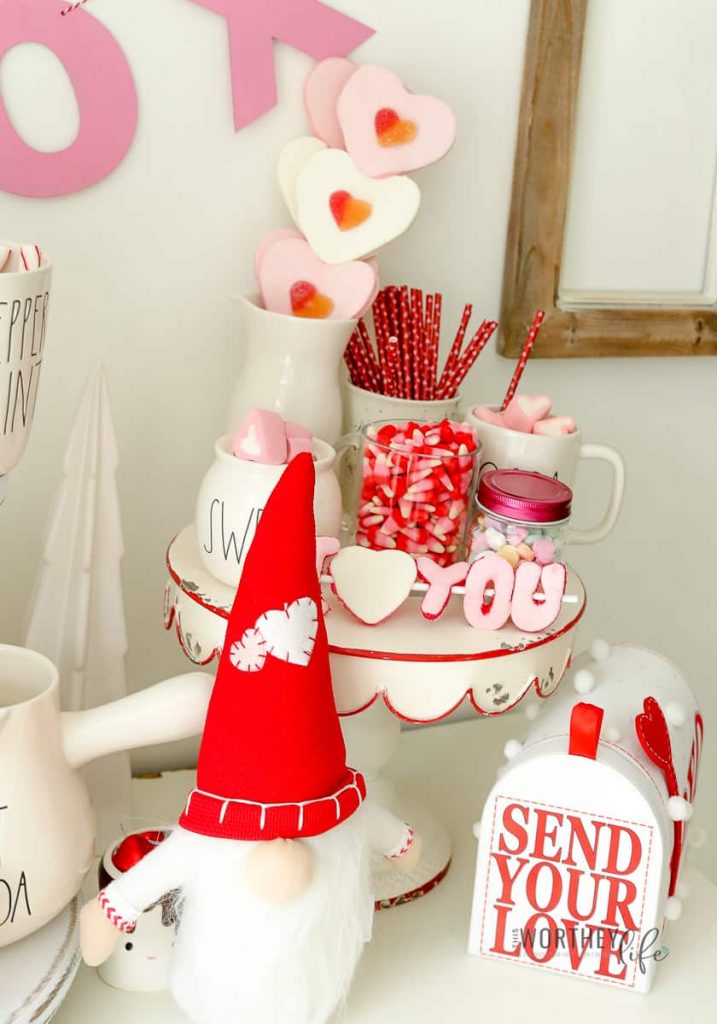 I love how everything came together. All the off-white items played well with the red and pink items. I tried not to overdo it with pink items, because I live in a house full of boys.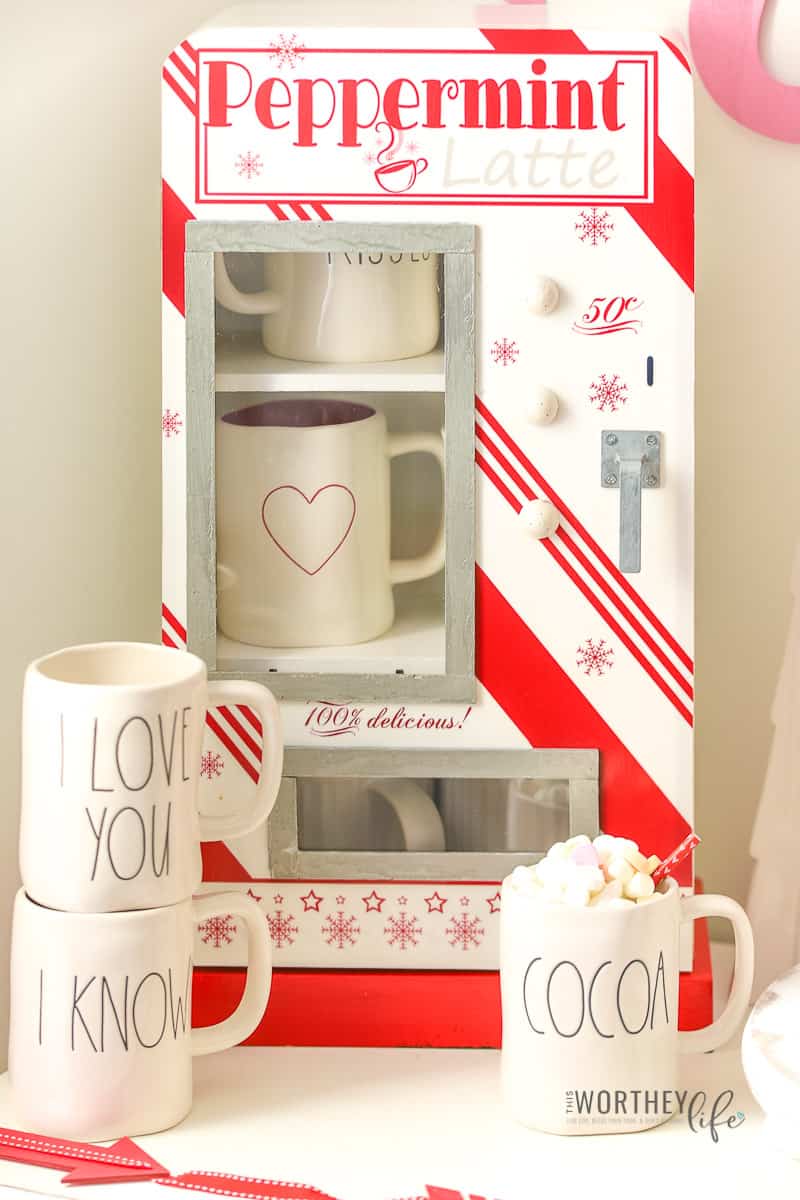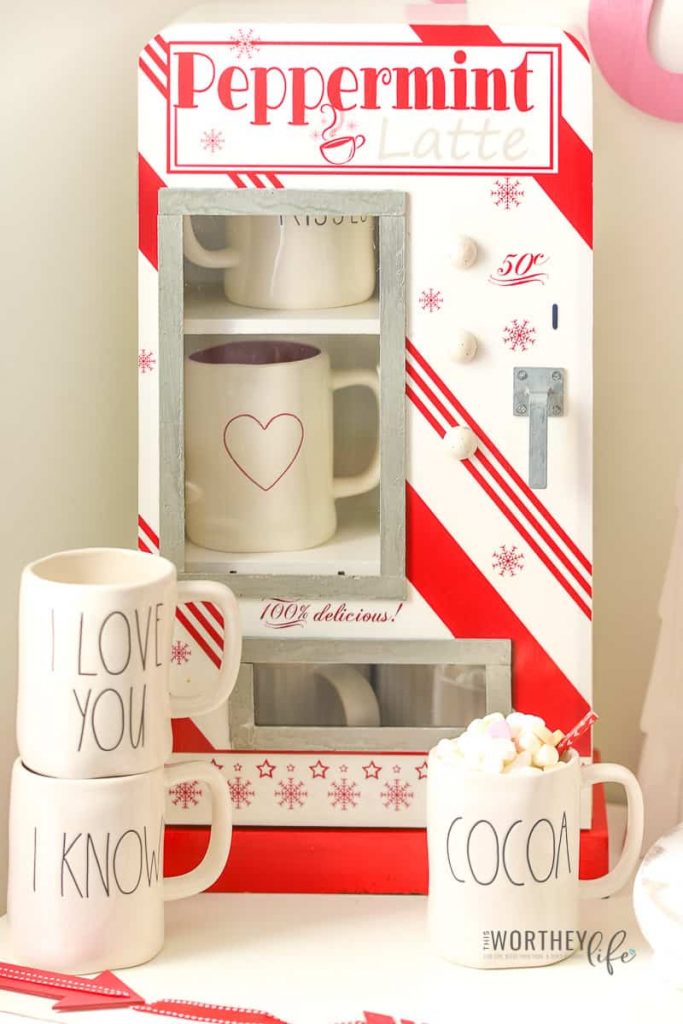 This peppermint latte cabinet is another highly coveted item that was hard to nab during the Christmas season.
A Rae Dunn buddy was able to find one for me, for which I am extremely grateful. I love how it fits in with this display.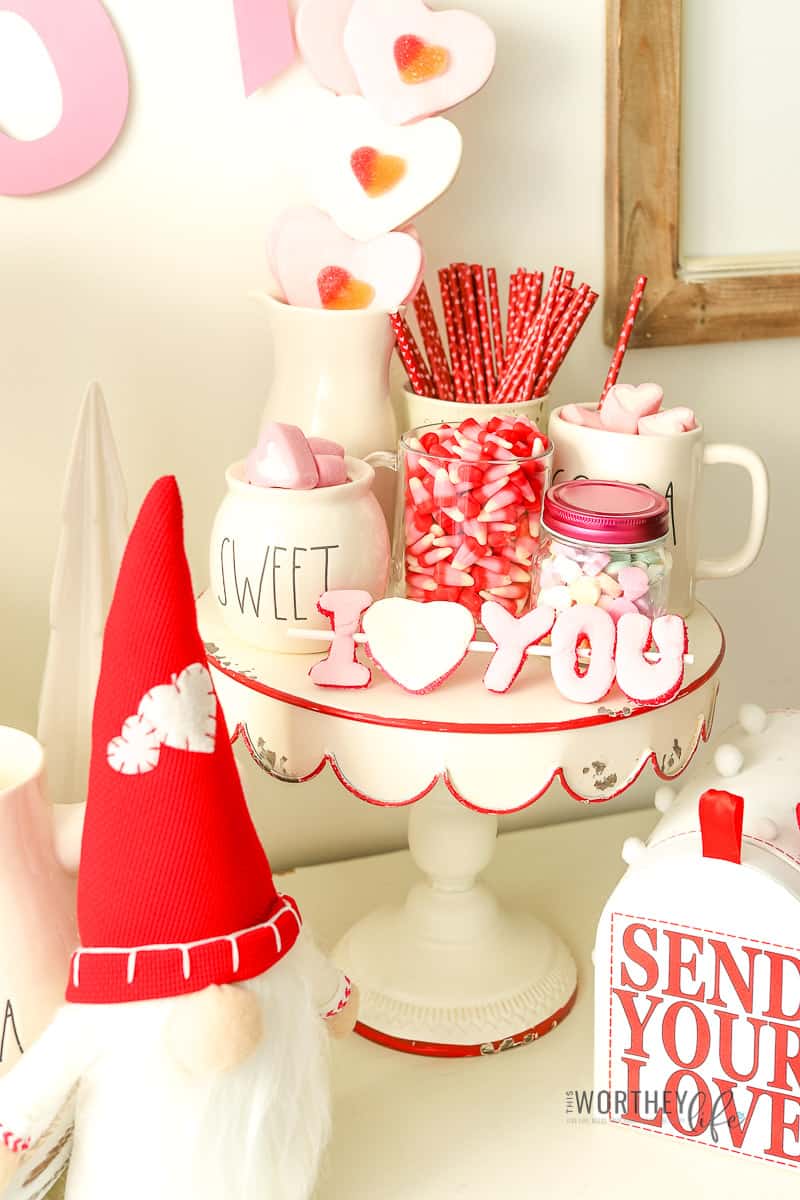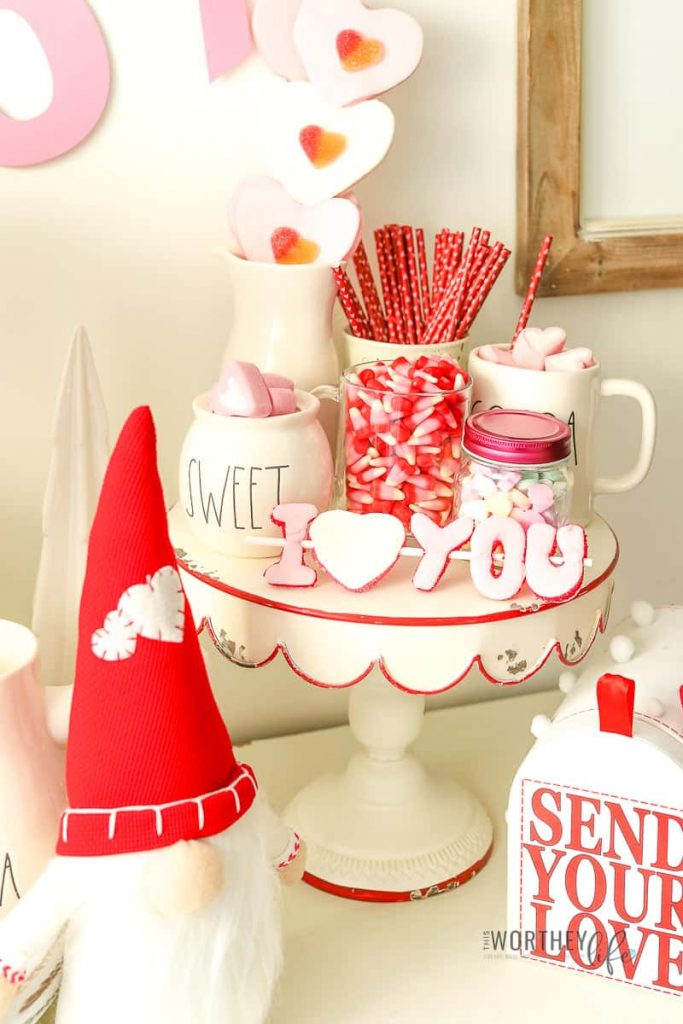 The off-white with red trim shabby chic stand came from a local antique store.
I was able to score a set for 60% off with an after-Christmas sale.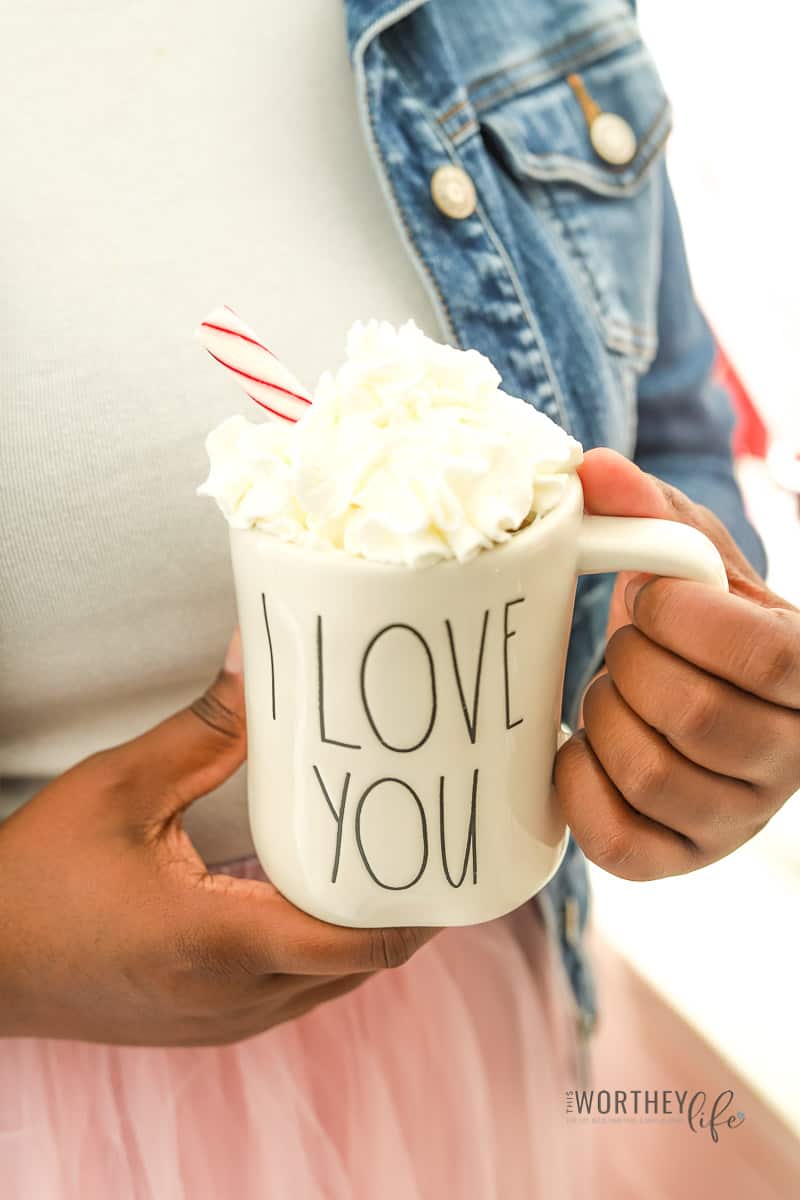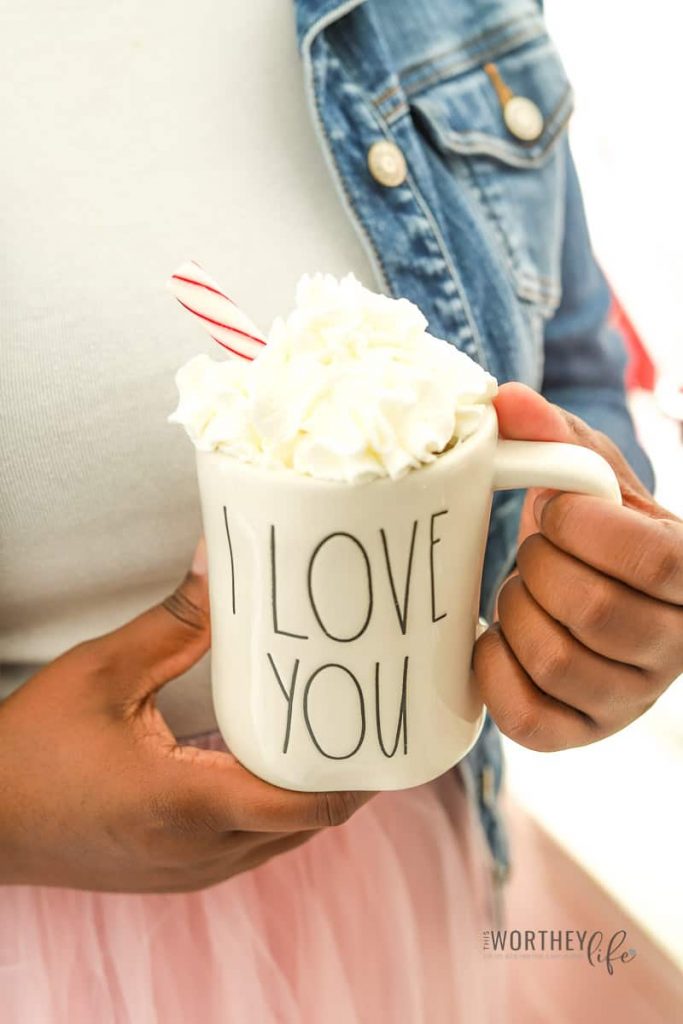 Out of all the Rae Dunn stuff, the mugs are still my favorite items to collect.
I love the mugs because with each one I can express how I feel on any given day.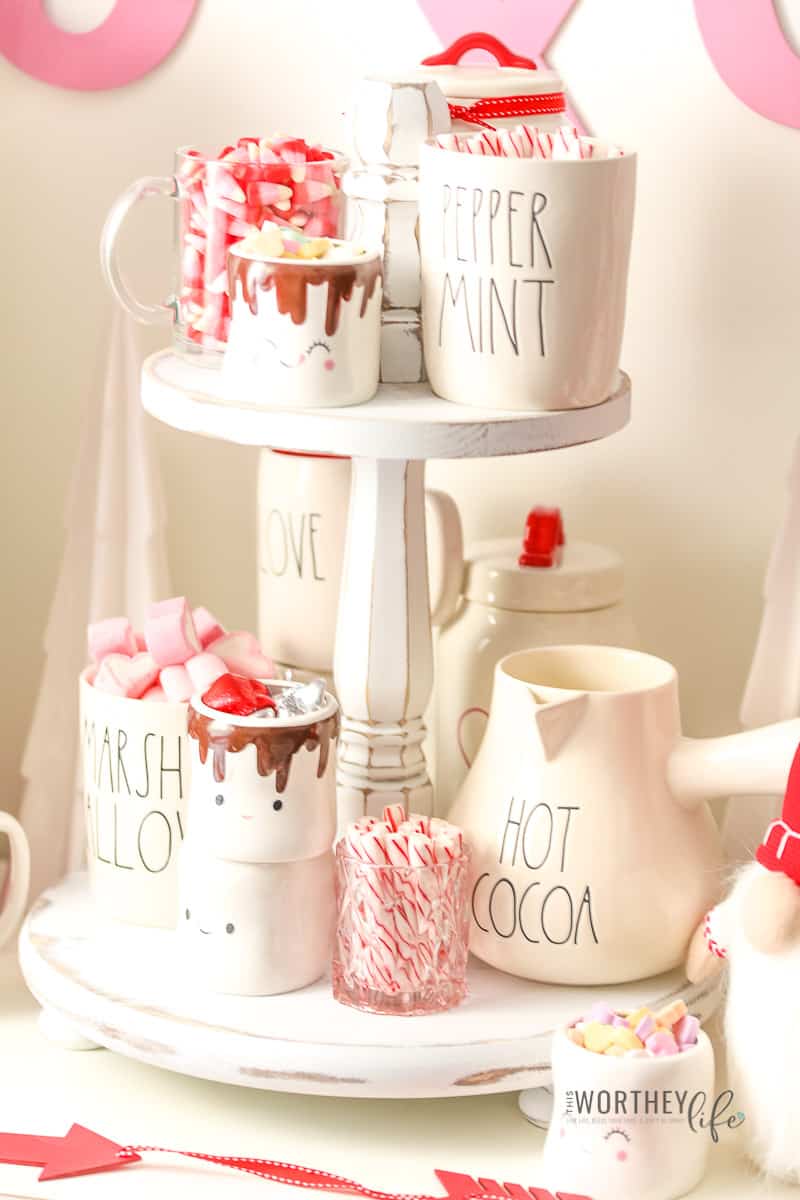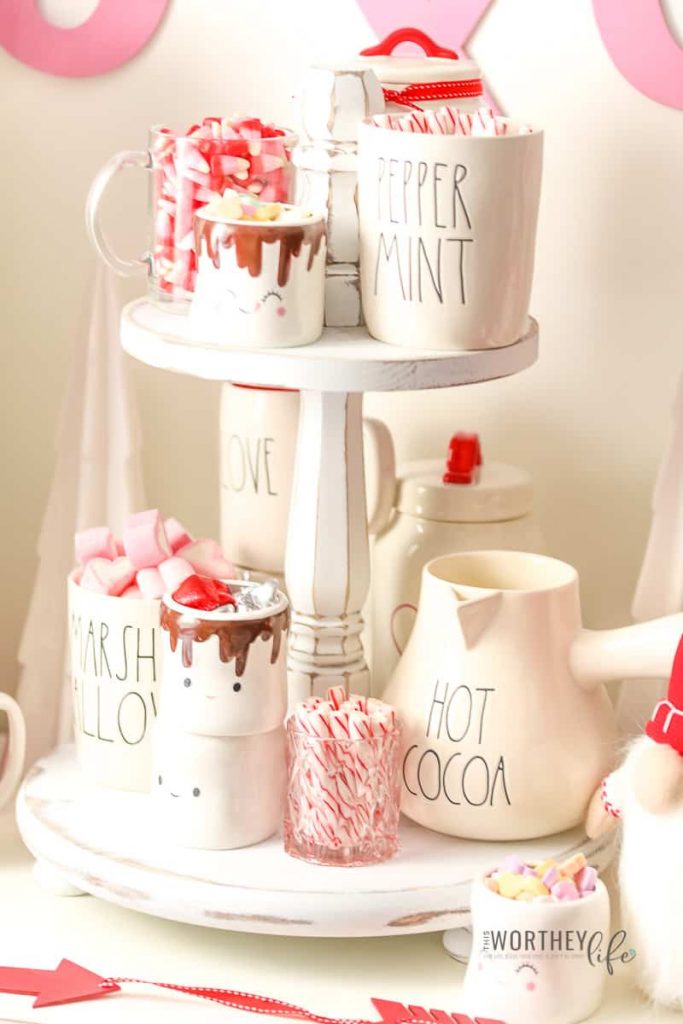 Another fun item I was able to add to this addition was the Farmhouse Two-Tiered Stand. I've had my eye on it for several months and finally broke down to purchase it from a seller on Etsy.
It took a few weeks to arrive since it was a handmade order, but it was well worth the wait!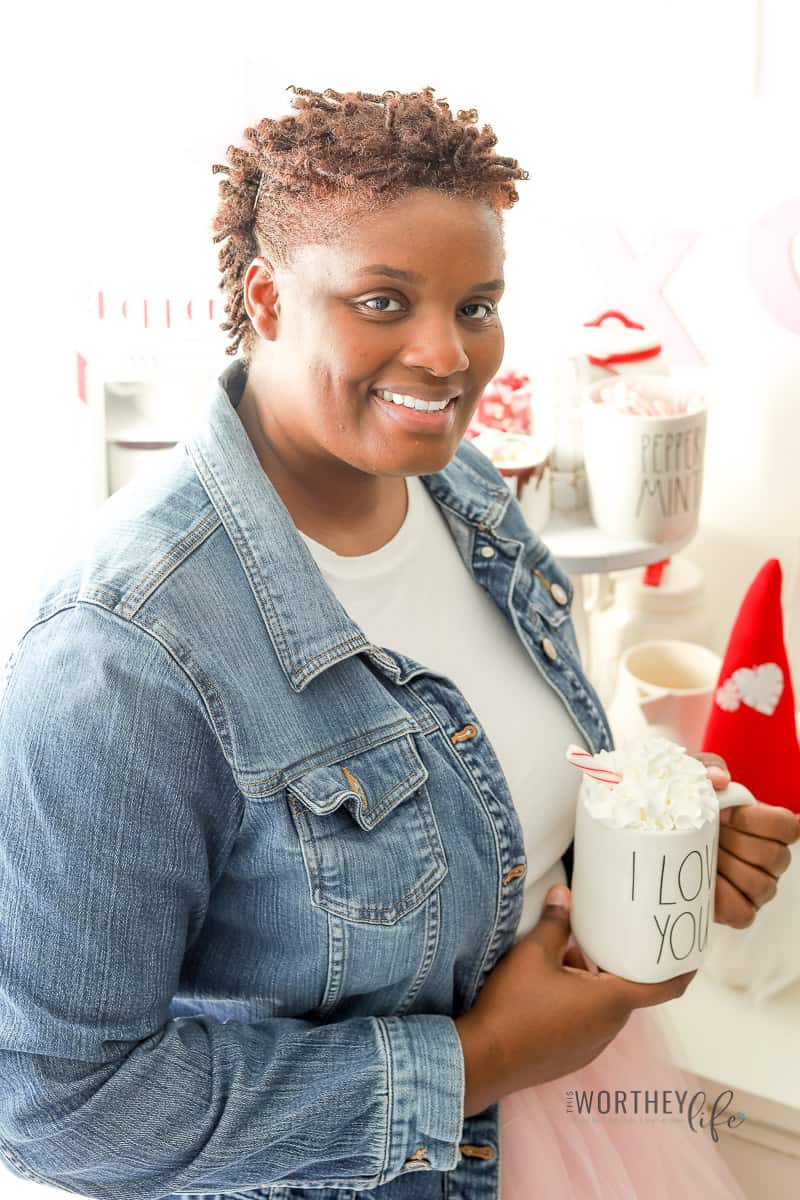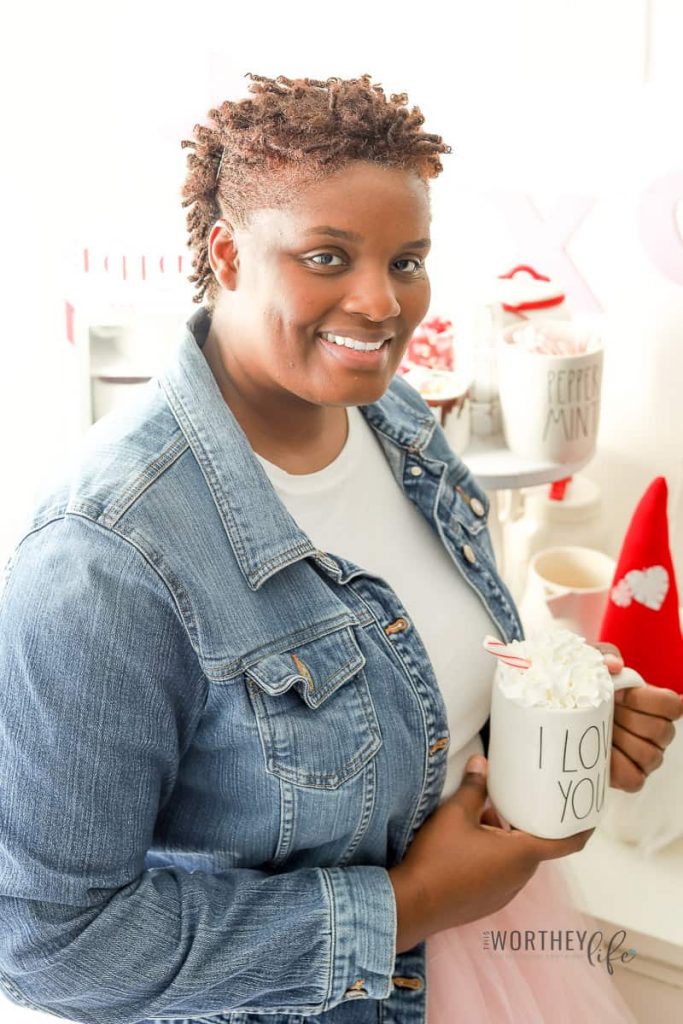 When it boils down to putting together this hot cocoa bar, it was just about styling it, using items that would compliment each other, and having fun with bringing it all together.
Be sure to check out my Rae Dunn Valentine's Day tablescape I shared last week.
How do you plan to celebrate Valentine's Day? Drop me a comment below!
More Rae Dunn inspiration:
39 Rae Dunn Tiered Tray Christmas Ideas
Rae Dunn Pottery 101 – Everything You Need To Know