We're on a countdown to Christmas, and we're using our Rae Dunn Christmas themed mugs. Get inspired by our Rae Dunn Advent Christmas countdown!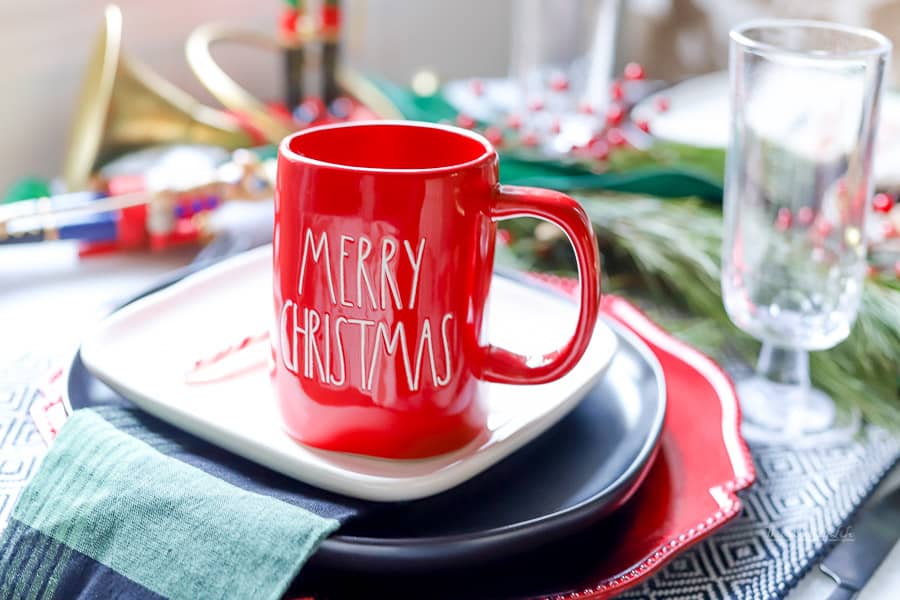 Rae Dunn Advent Christmas Countdown
It's no secret I am a huge fan of Magenta's Rae Dunn collection. I've been collecting these adorable mugs for a few years now, but this is the first year I started to collect seasonal items. From the Rae Dunn black Halloween items to the red Christmas mugs, I was on a mission to get as many as possible, well, within reason. But in my defense, they're kinda hard to resist. I just had to have them!
I'll be the first to admit these mugs have obtained true pop-culture status, and they're so darn popular it's pretty much hit or miss to find them anymore. Thankfully, I have a few awesome Rae Dunn buddies who helped me out this season. And together, we have scoured our local go-to stores almost every day just to lay our hands on the treasures you see here. Yes, it was hard work but so worth it.
Just before the holiday season, I had a thought, "Do I have enough to do a Christmas countdown?" So, here we are doing our very first Rae Dunn Advent Christmas Countdown. Pretty genius, huh?
And so it has begun. I've rounded up so many adorable pieces, put on my creative thinking cap, and got to work! I hope you guys enjoy these fun and creative ideas and get inspired to do the same!
Christmas Countdown Ideas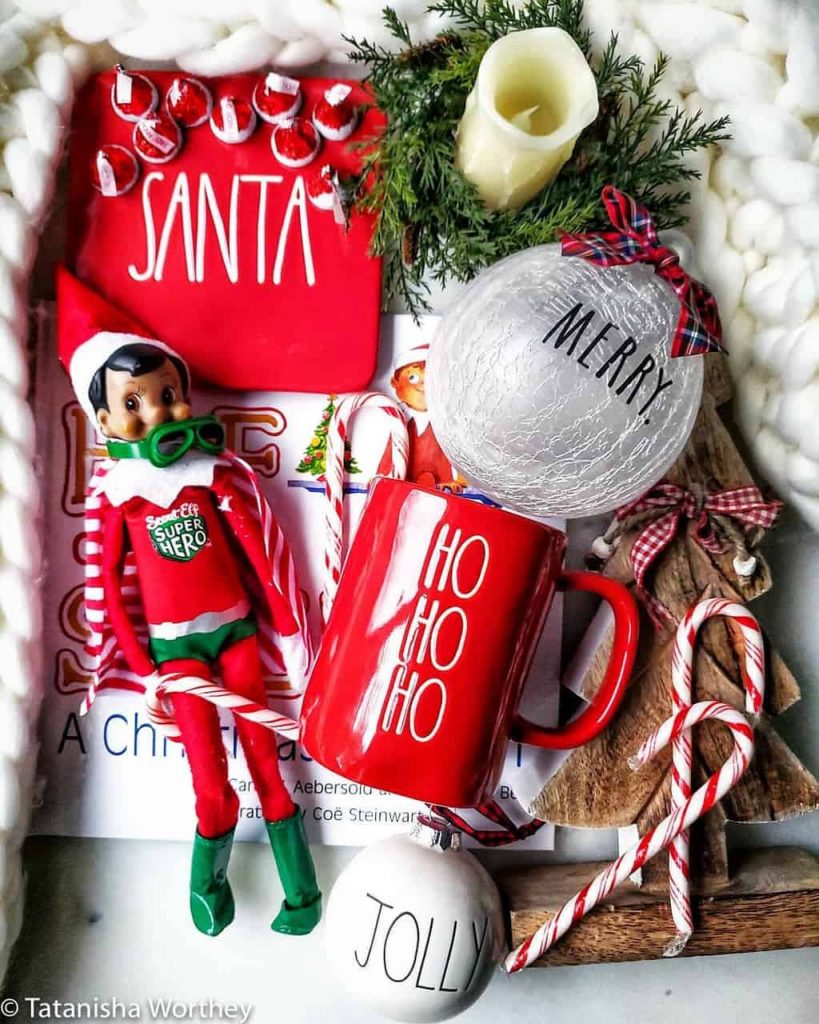 Day 1: On the first day of Christmas, my @raedunn gave to me a HO! HO! HO! mug! ?? Yes, ya'll let the 1st Annual This Worthey Rae Dunn Christmas Advent Calendar begin! ?That's a mouthful, but I am So excited the official countdown to Christmas has begun! I have also enlisted a little help for my Elf On The Shelf buddy Elfie! Isn't he just the cutest?! We are showcasing our favorite Christmas themed Rae-Dunn mugs every day until Christmas! But wait! Do I even have enough Rae Dunn Christmas mugs to pull this off successfully?! ? I guess we'll find out! Use the #raedunnadventcalendar to join in on our celebration of all things Dunn and Christmassy! Ready? Set? Jingle Bells! ?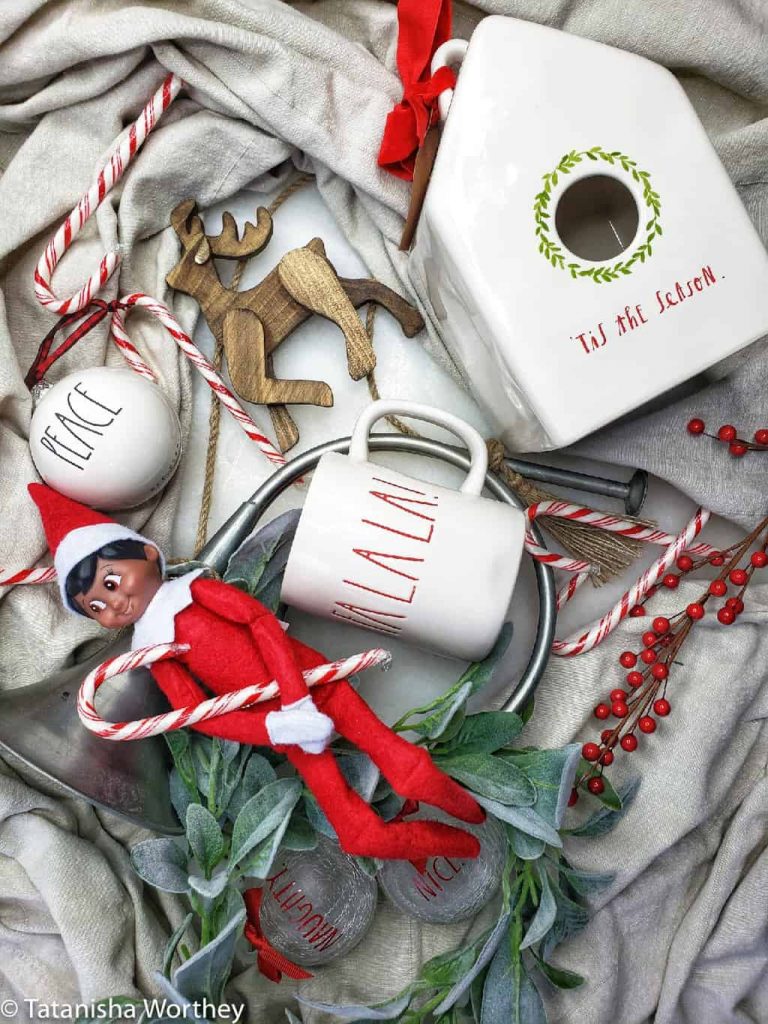 Day 2: On the second day of Christmas, Tis the season to be jolly, and a melodic Fa-la-la-la-la, la-la-la-la! YES, I love all the Christmas decor in my feed, especially the #raedunnchristmas stuff! Aren't you? After a laidback weekend, we're gearing up for another snowstorm. But I say bring it on because the more snow, the more like Christmas it feels! How's your weekend going? Are you almost ready for The Big Day? We are getting there slowly but surely, more slowly than surely, but what are gonna do. I am so trying to pace myself, but the holidays are totally CRAY CRAY!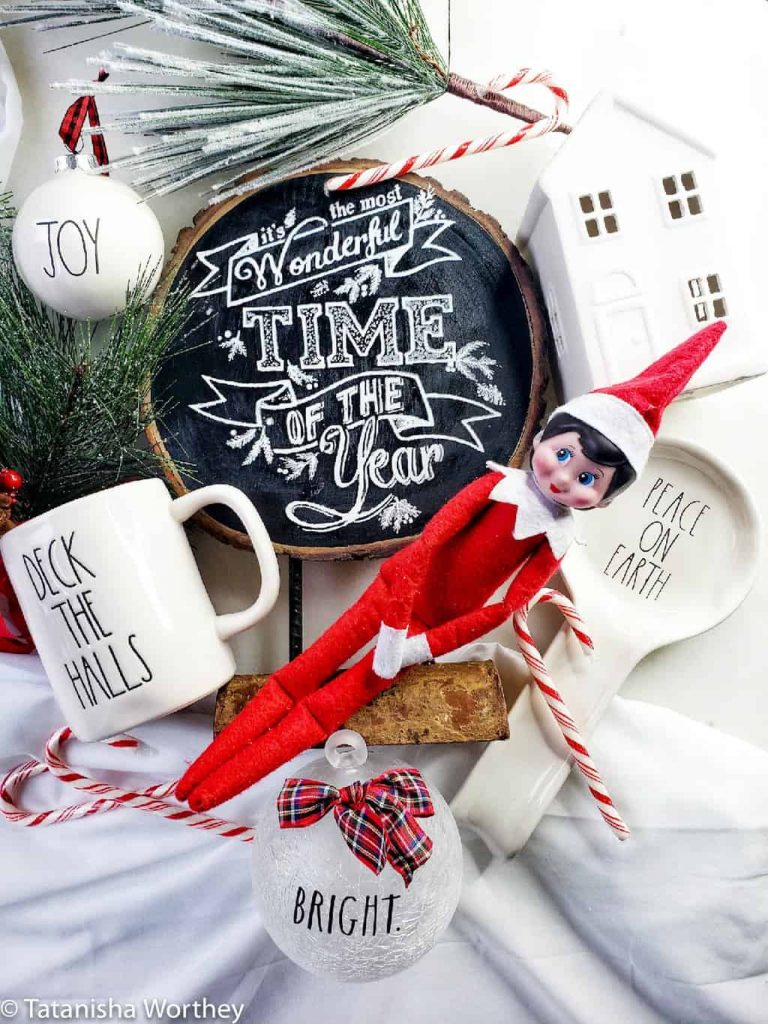 Day 3: It's December 3rd, and as the number of days until Christmas kindle our excitement around The Worthey House! No, Scrooge's here! So we're Decking The Halls and singing yuletide carols. Basically, we're working ourselves into a holiday-inspired frenzy. But that's okay because we are having so much fun. Today we are showcasing our @raedunn Deck The Halls coffee mug. And guess who managed to sneak into our photos? You guessed it right, Elfie's lady friend is spreading lots of Christmas cheer, and we ain't mad at this cute little lady all. Look at her CHEEKS! EEEEK!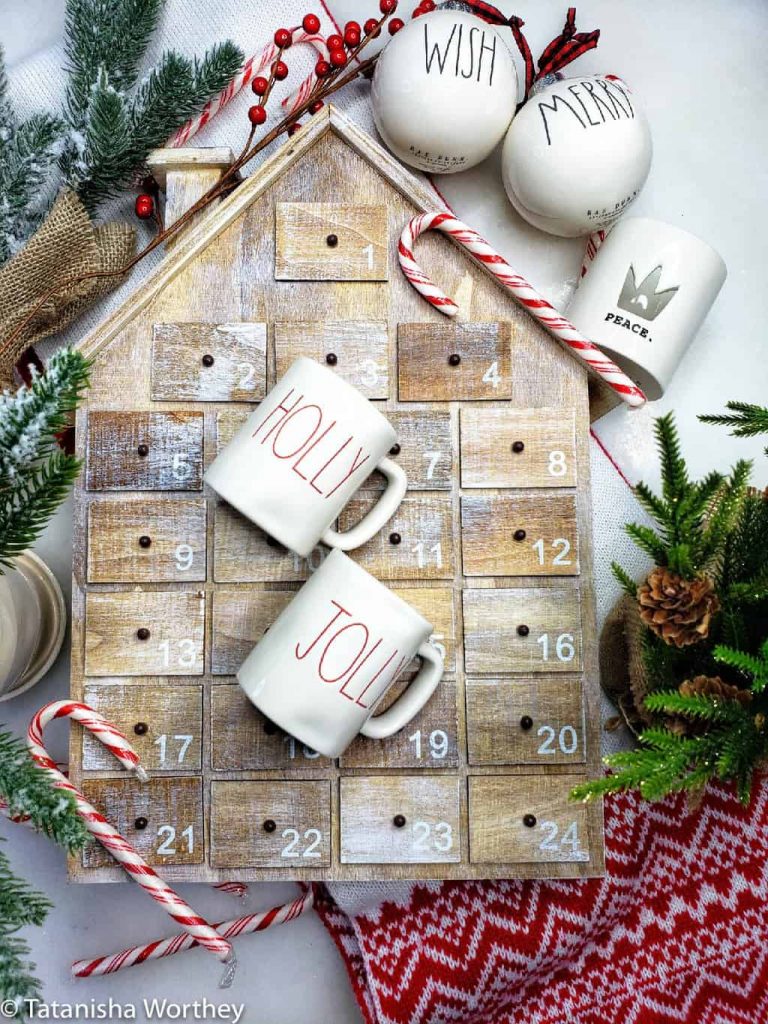 Day 4: Have a Holly Jolly Christmas! Are you in the Christmas spirit yet? Let me tell you; I have been feeling the Xmas vibe for about a whole month now! Facts! Why? Well, Christmas is my jam thanks to my maternal grandmother; she had Christmas on LOCK D! I have so many fond memories of the Christmases we spent in Columbus, OH. So, thanks, grandma, for giving me the gift of your loving Christmas spirit. Today we're featuring our @raedunn Holly Jolly mugs on Day 4 of our Advent Christmas Calendar. Tell me who's responsible for your love of Christmas!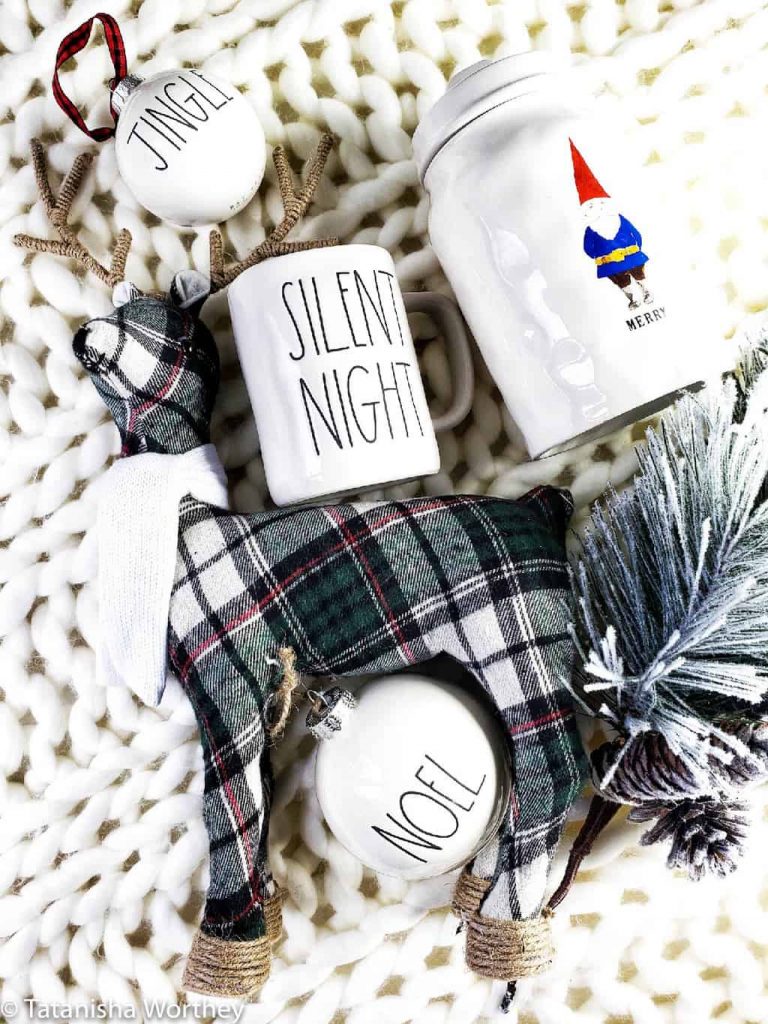 Day 5: Are ya'll still with me? I need everyone to keep their Christmas spirit high! And here's how we're going to it! "First, we'll make snow angels for two hours; then we'll go ice skating, then we'll eat a whole roll of Tollhouse Cookie Dough as fast as we can, and then, to finish, we'll snuggle. Deal?
Does that sound familiar? The movie classic ELF is one of our favorite Christmas movies, and Rae Dunn makes some of our favorite Christmas mugs. A perfect match, right? What's your favorite holiday movie. And, is there a #raedunnChristmasmug you love the most? We want answers to both of those two important questions.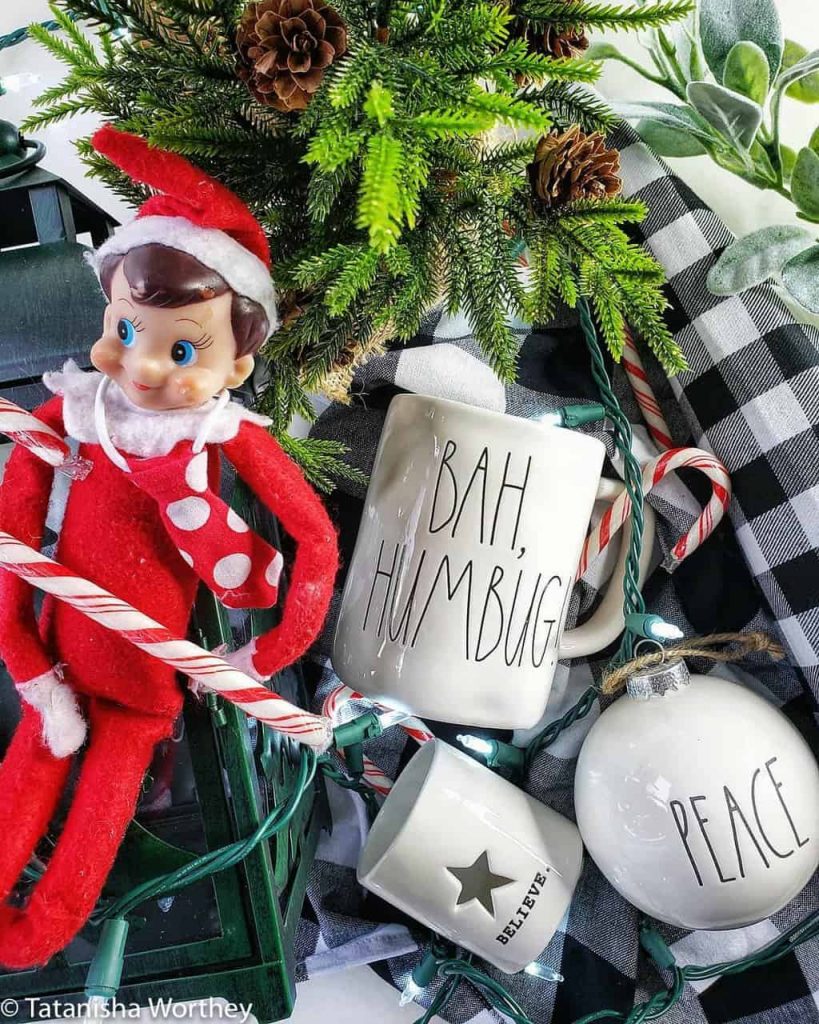 Day 6: We're moving headlong into Christmas over this way, and we got zero patience for Scrooge's and Grinches. Our goal is to turn those frowns upside down and spread a little Feliz Navidad all over the dang place! So keep your Bah Humbugs to yourself! Truth! I am warning you, we got mistletoe, and we know how to use it!
In the words of one of our favorite Christmas movie dads, Mr. Griswold, "We're gonna have the hap- hap- happiest Christmas." — Clark G.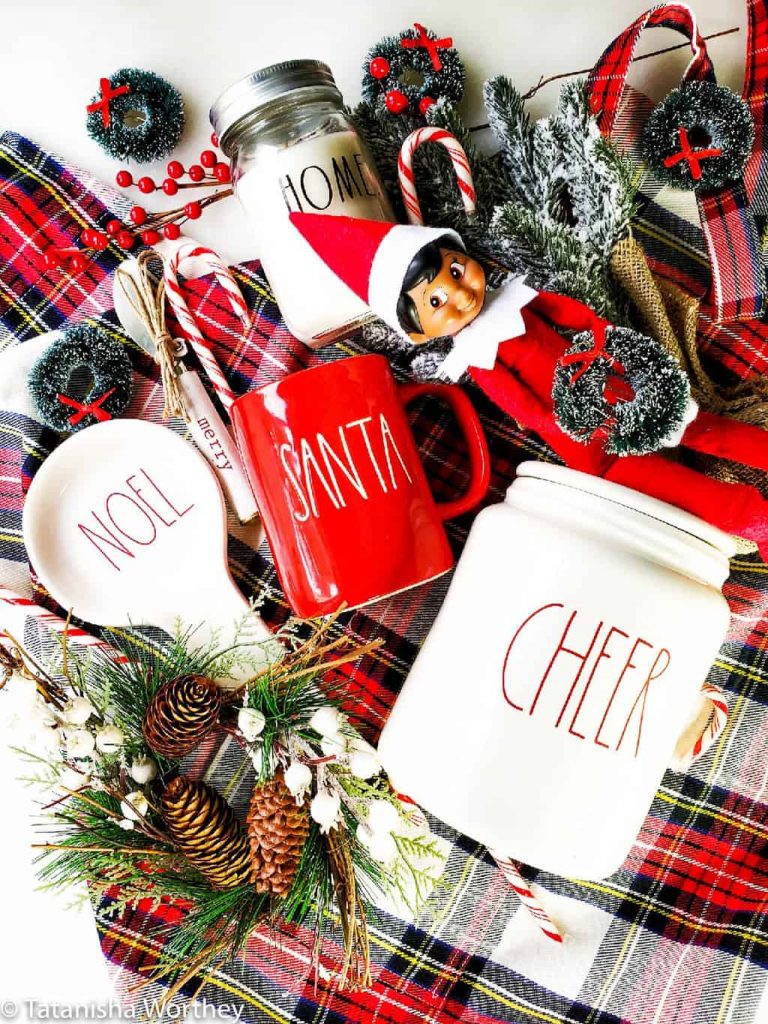 Day 7: Legend has it someone saw Mommy kissing Santa Claus. Now, why would the woman go and do such a thing? That's so ratchet! Downright scandalous! But wait! Look at my tall, dark, and handsome Elfie. Isn't he so adorable? Hmmm, I think mama might've been onto something. Maybe I'll roll the dice and snuggle up to my Santa. I mean, a sista has quite the Christmas list, and well… SMOOCHES! ? ???? Do you hear that? I am singing, 'Santa Baby' over here! ?
"Santa cutie, and fill my stocking with a duplex and checks.
Sign your 'x' on the line
Santa cutie, and hurry down the chimney tonight? ?Come and trim my Christmas tree
With some decorations bought at Tiffany
I really do believe in you.
Let's see if you believe in me⛄ ?, Santa baby, forgot to mention one little thing, a ring.?
I don't mean on the phone.
Santa baby, and hurry down the chimney tonight
Hurry down the chimney tonight
Hurry, tonight!"?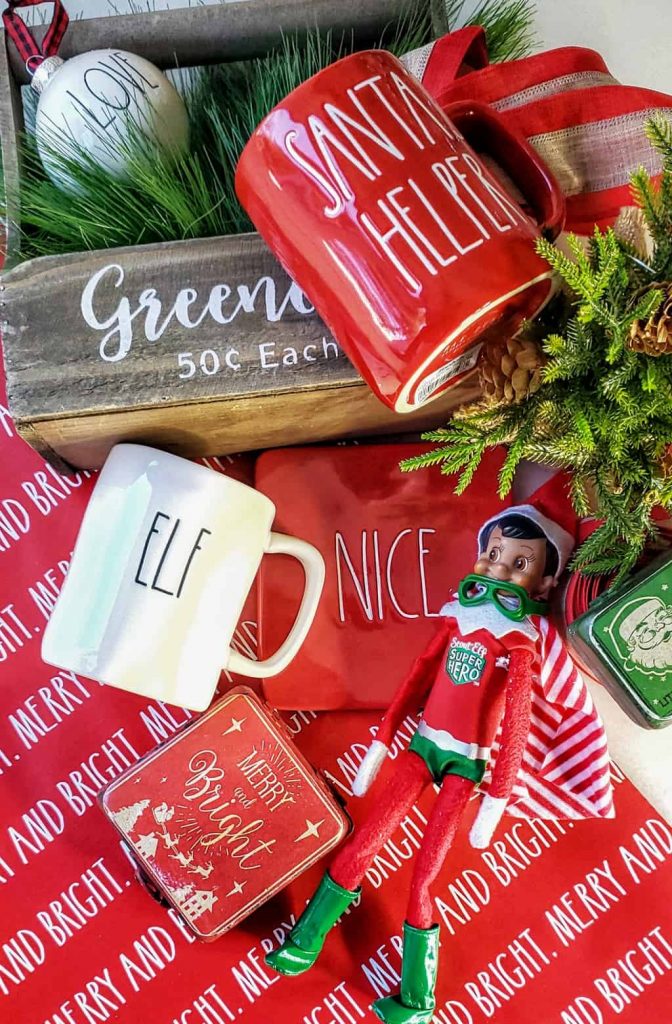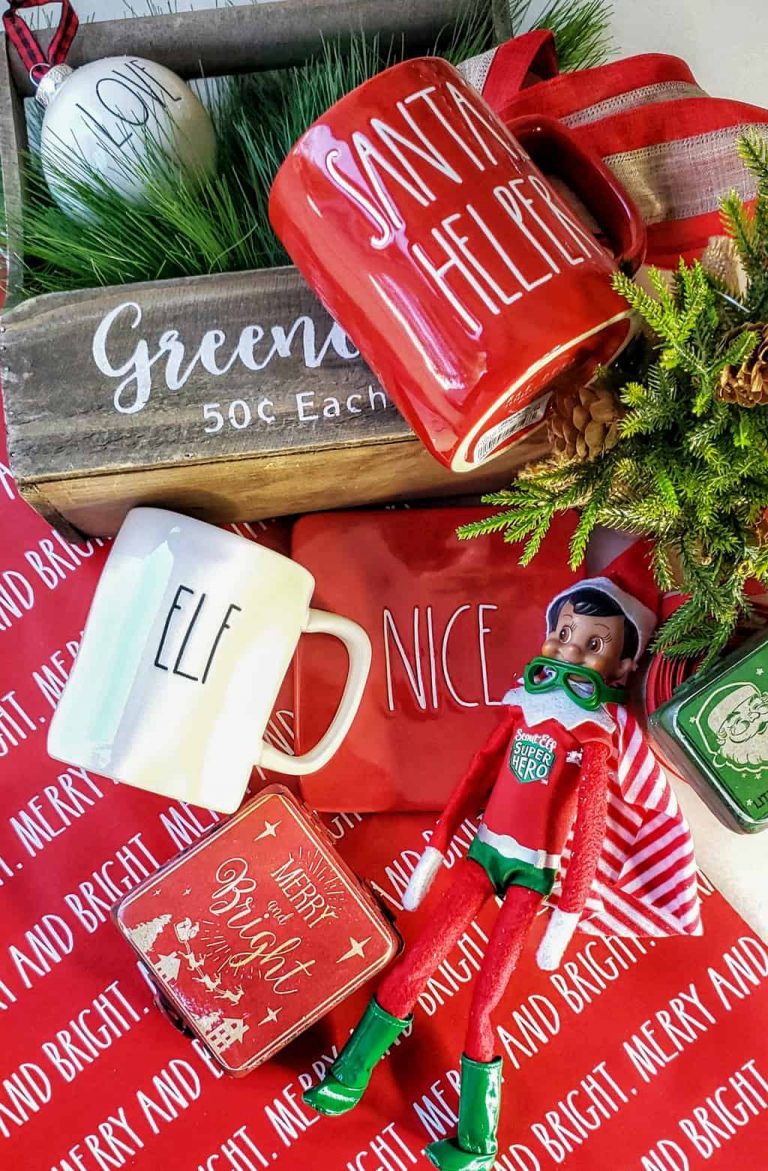 Day 8: It's day #8 of our #RaeDunn advent calendar! We're also in the thick of the #elfontheshelf season. If you do Elf on the Shelf, how's it going? Are you ready to give up? LOL! Our boys are so over the "magic" of the elf (sad face), but they still think it's funny to see what I come up with every night. But to be honest, my four elves have been sitting in the same spot since day 1. Don't judge 'cause I've been so busy! However, since I'm no stranger to this whole song and dance charade, I have a TON of ideas for those parents still in the thick of it. I have easy, super creative, last-minute, and of course, lazy elf on the shelf ideas. I even have several things you can say to your child when you fail to move the elf. Hey, it happens. See, I've got your back! So head over to the blog and find them all. (google: This Worthey Life + Elf on The Shelf Ideas)⠀
⠀
Happy Elf Season! ⠀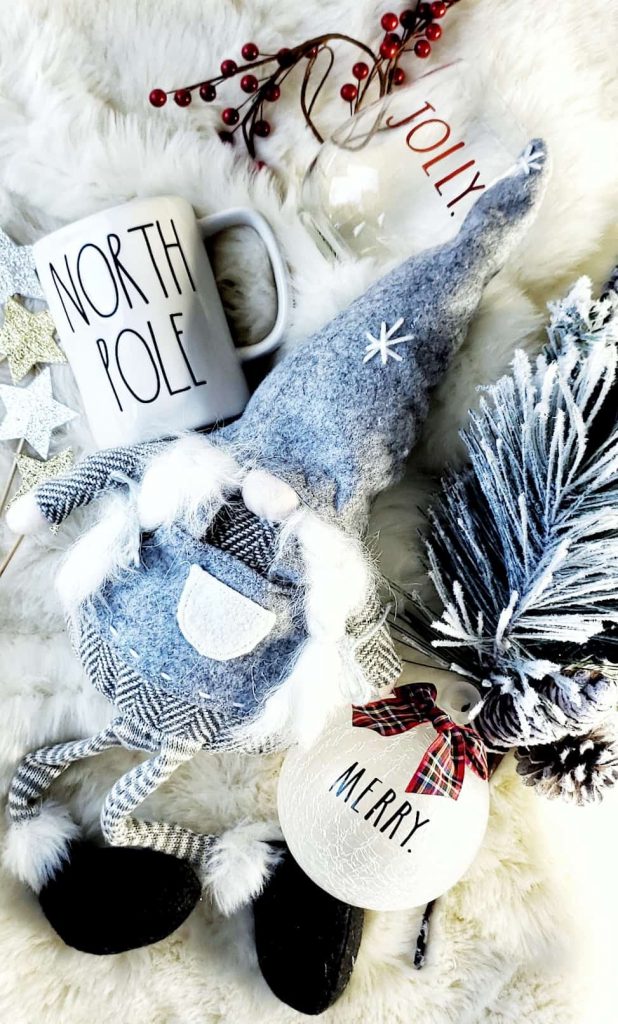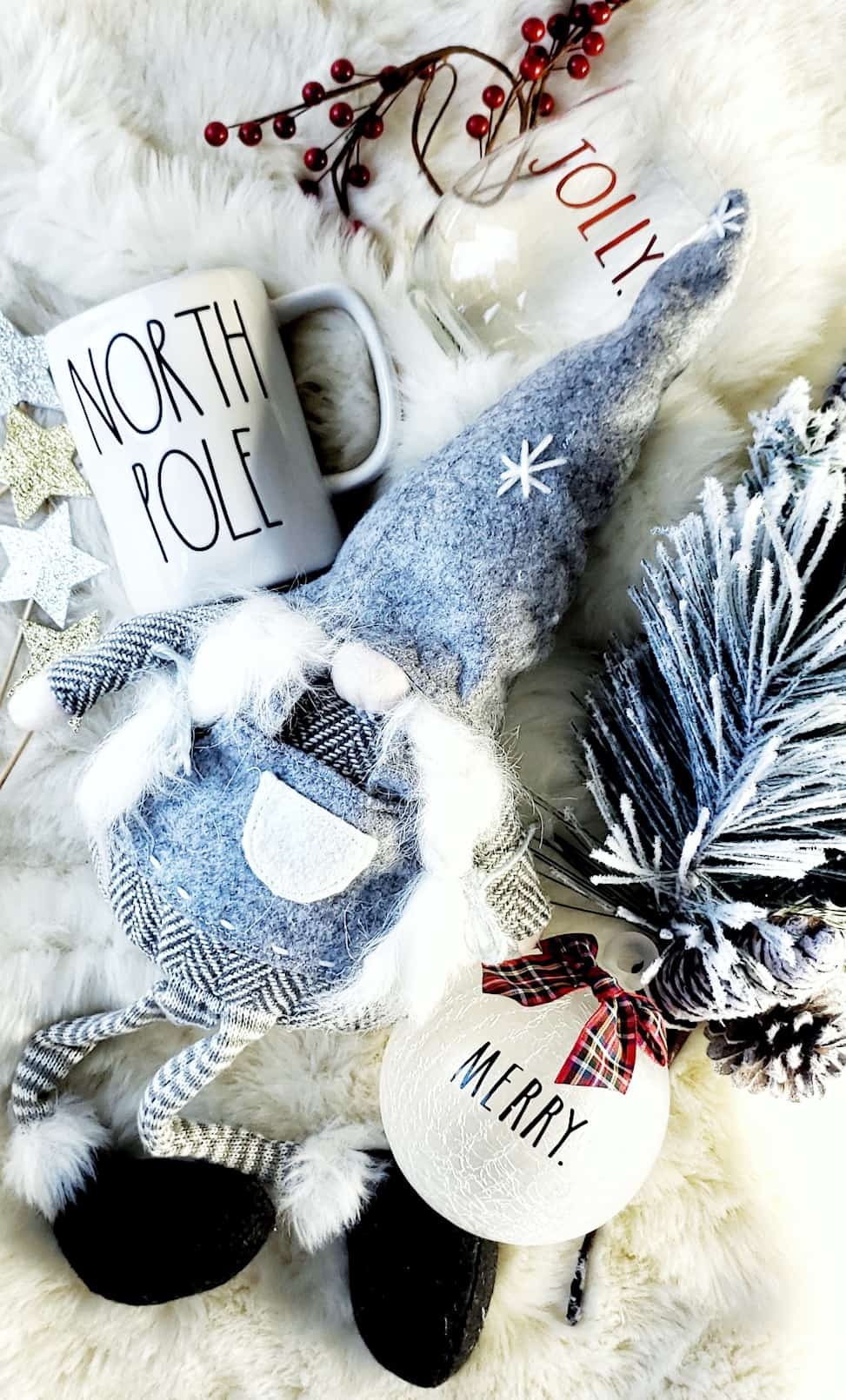 Day 9: Day nine of our #RaeDunnAdvent Calendar. I wonder if I could head to the North Pole to shop and get all of my Christmas shopping done at once. No? Okay, I tried. Well, maybe the North Pole could send some snow this way, so it feels like Christmas. Is it snowing where you are? ⠀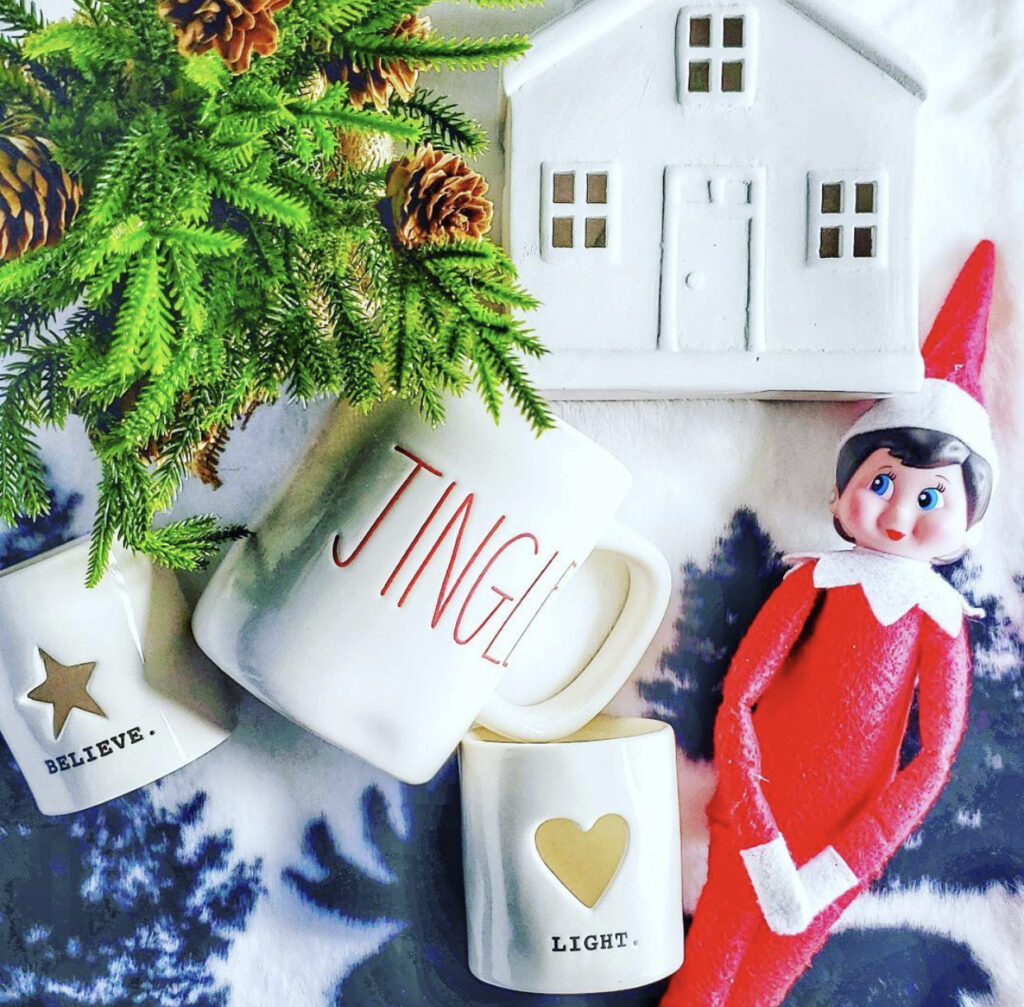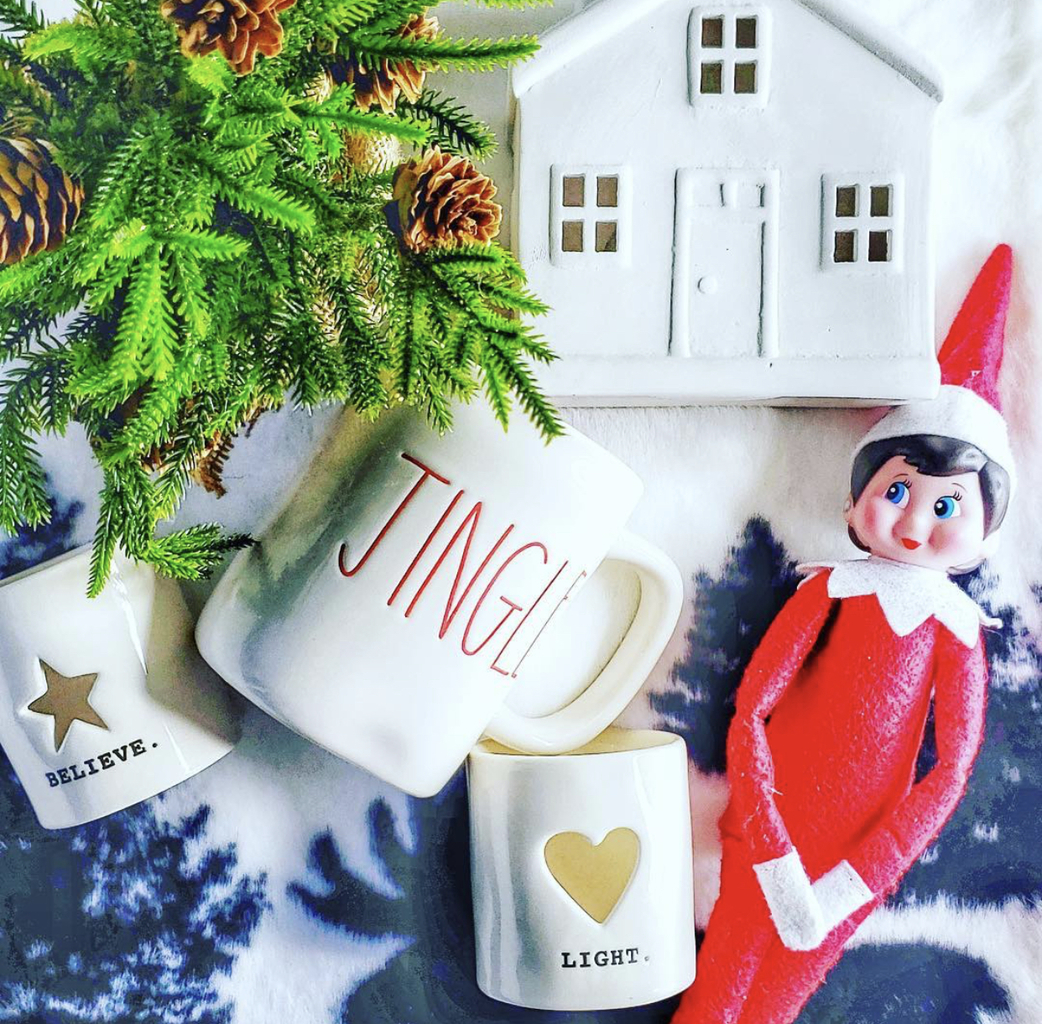 Day 10: I'm proud of myself for making it this far. ?? Between trying to remember to move the Elf and doing an advent calendar every day, this is exhausting. ?? But the show must go on, so let's get ready to jingle! ????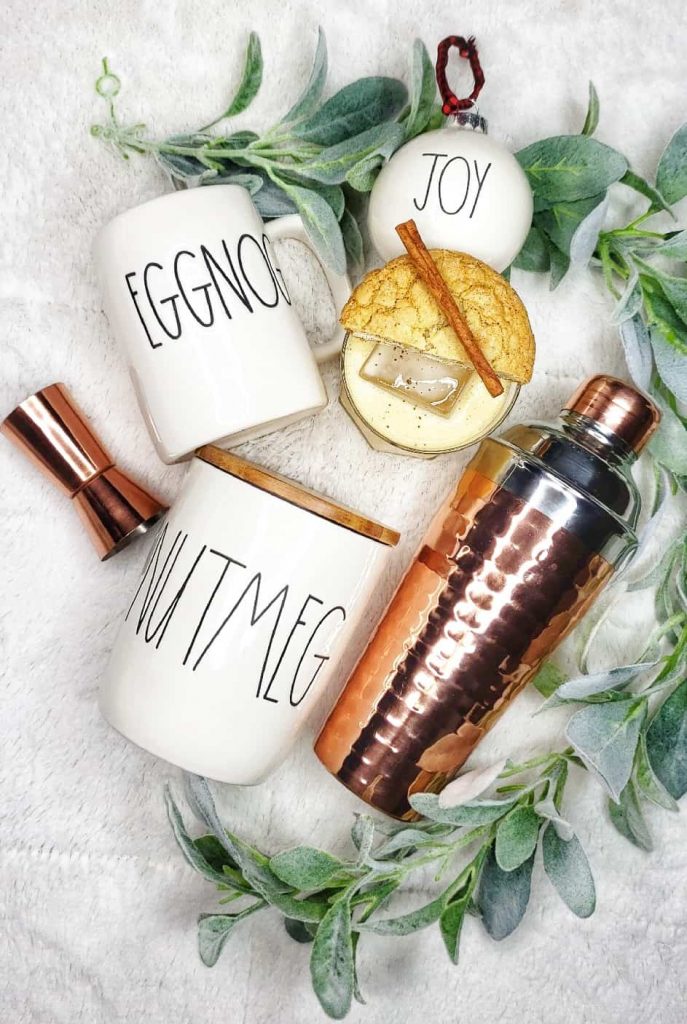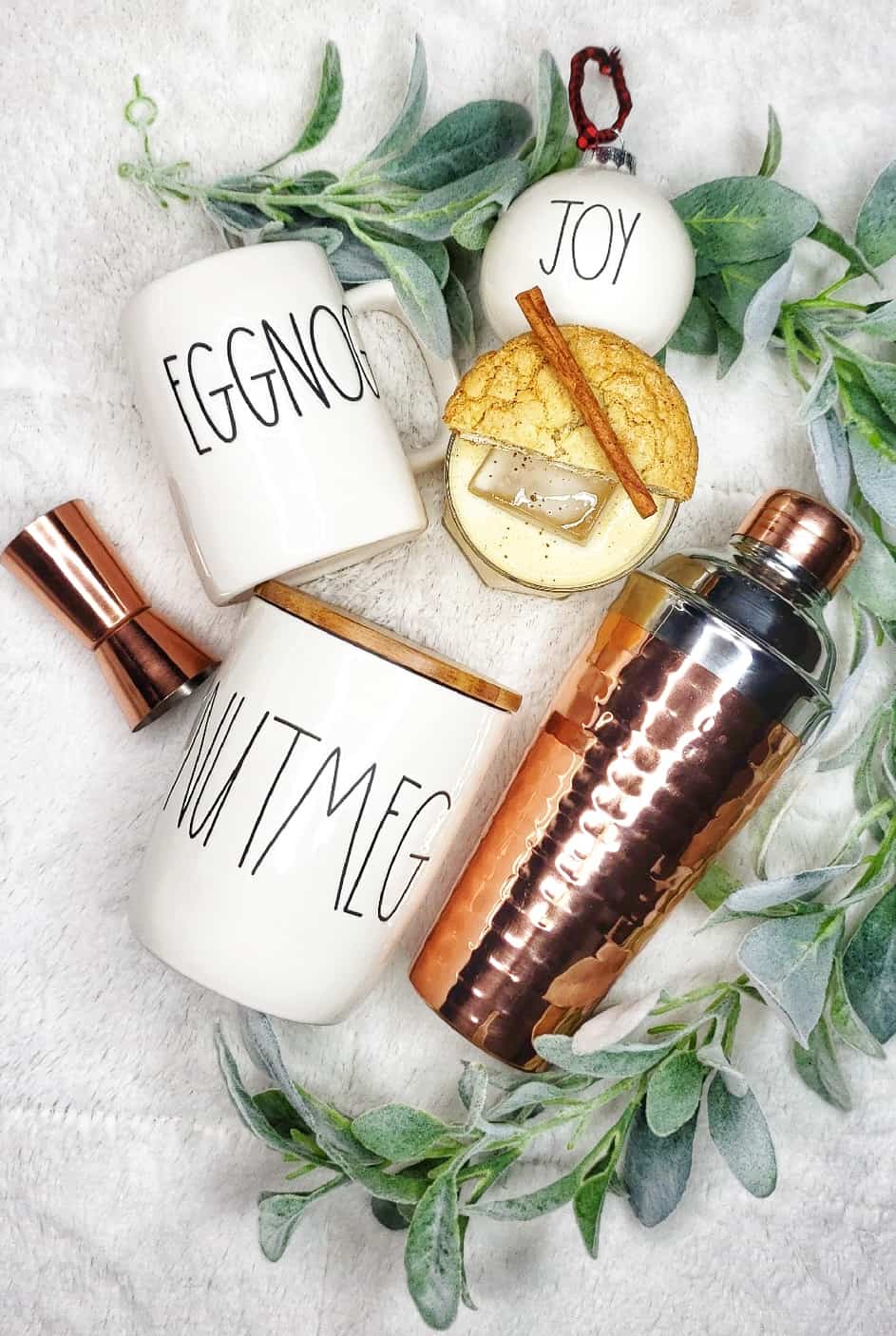 Day 11: We're in it Y'all. It's cold in this winter wonderland, but that's okay. So throw another log on the fire and snuggle up with our Spiked Bourbon Eggnog. So, fill those @raedunnmugs up to the brim with something heartwarming and delicious. MERRY CHRISTMAS CHEERS!
Recipe for this holiday bourbon cocktail:
1 1/2 ounces bourbon cream liqueur
1-ounce praline liqueur
4 ounces eggnog
Pinch of ground nutmeg
Cinnamon stick for garnish
White Macadamia Nut & White Chocolate Chip Cookie
Directions:
Into a cocktail shaker, add bourbon, praline liqueur, eggnog, a pinch of nutmeg, and ice.
Secure the lid and shake vigorously for 30 seconds.
Strain into your favorite Rae Dunn glass over ice.
Add a dusting of ground nutmeg.
Garnish with a cinnamon stick and serve with our White Macadamia Nut & White Chocolate Chip Cookies.
Psst! This cocktail recipe is pretty darn good warm too! Just simmer the ingredients in a saucepan over medium-low heat until it starts to steam them. Serve it in your fav Rae Dunn Christman mug!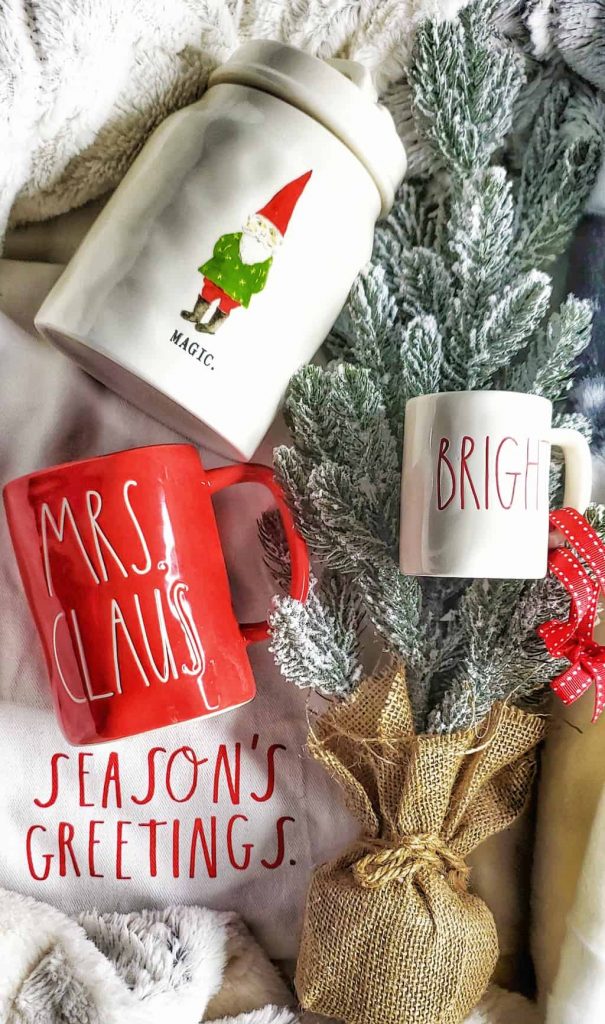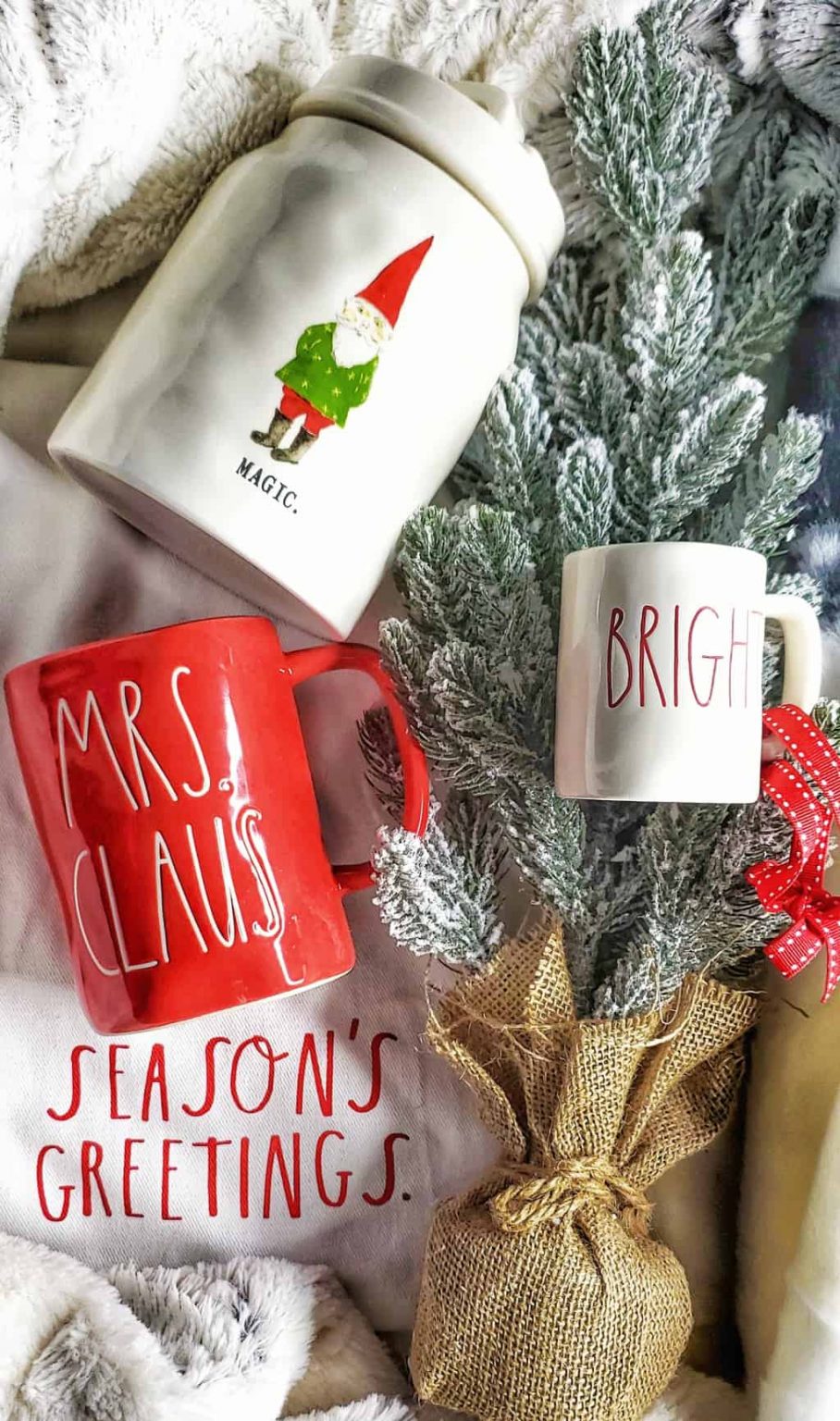 Day 12: Mrs. Claus is running out of time. ??? Thankfully, ordering online makes this process a whole lot easier. ??‍??? I am in love with the new red @raedunn Christmas mugs. I've been attempting to collect all of them, but admittedly it has been a huge challenge. Are you obsessed with these super cute mugs too? Which one is your favorite?! Show me your Dunn! ?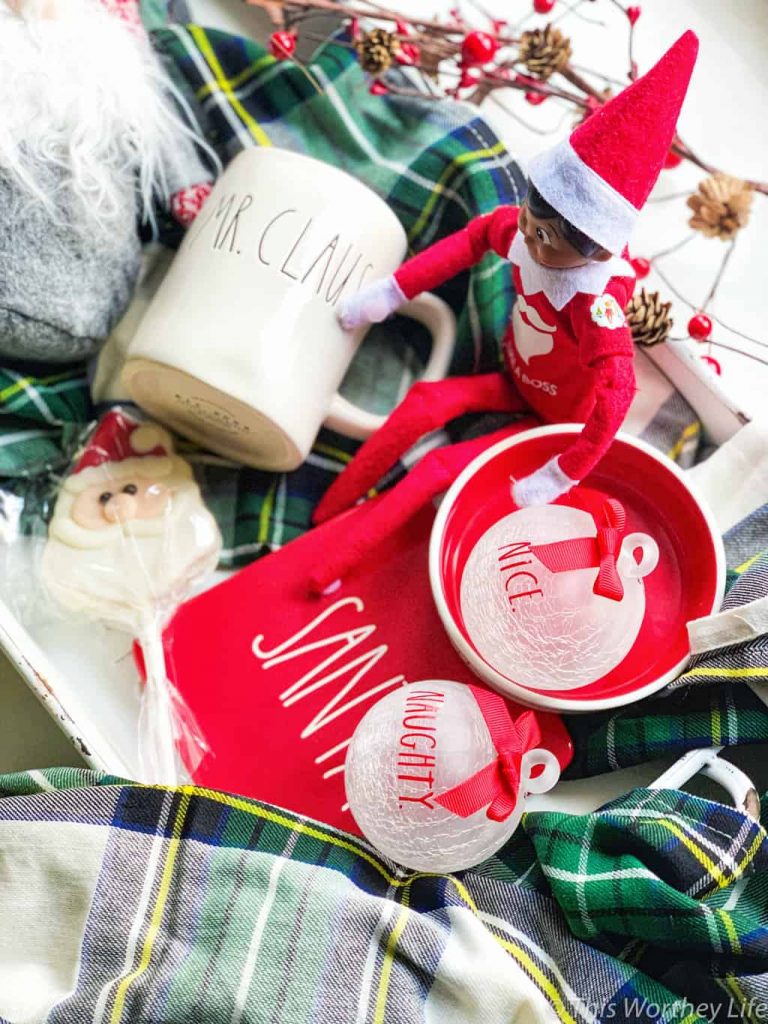 Day 13: Santa Baby! ?? We are on Day 13 of our Rae Dunn advent calendar. Mr. Claus is working hard to get everything ready for December 25th! ?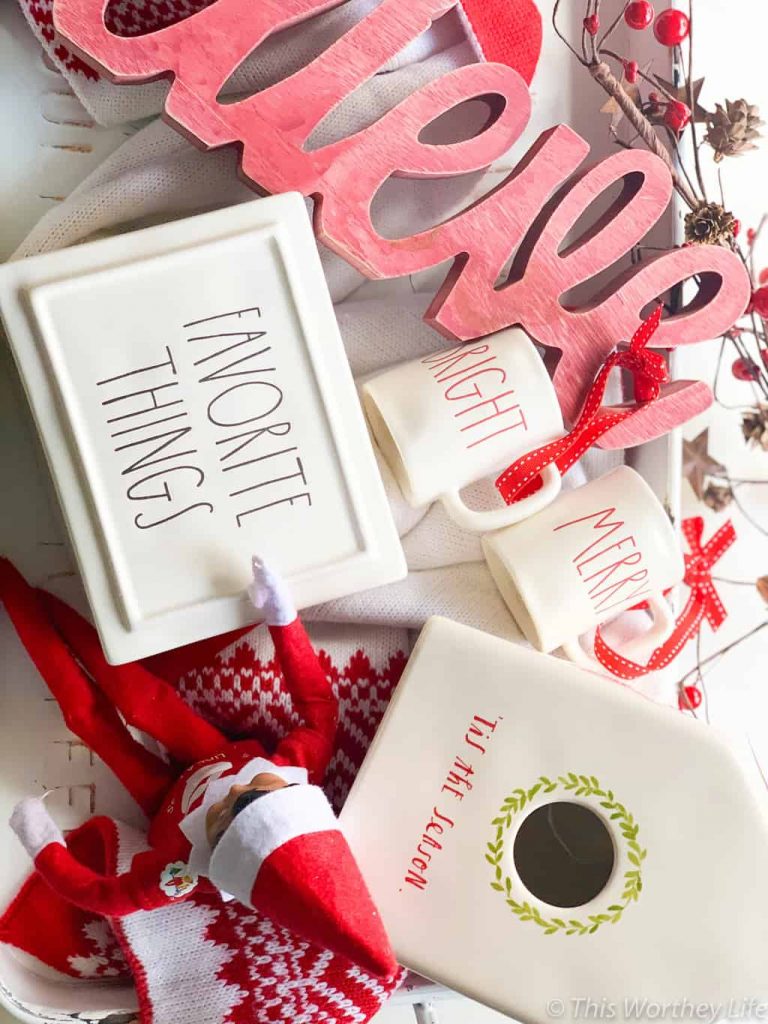 Day 14: These are a few of my favorite things. ❤️?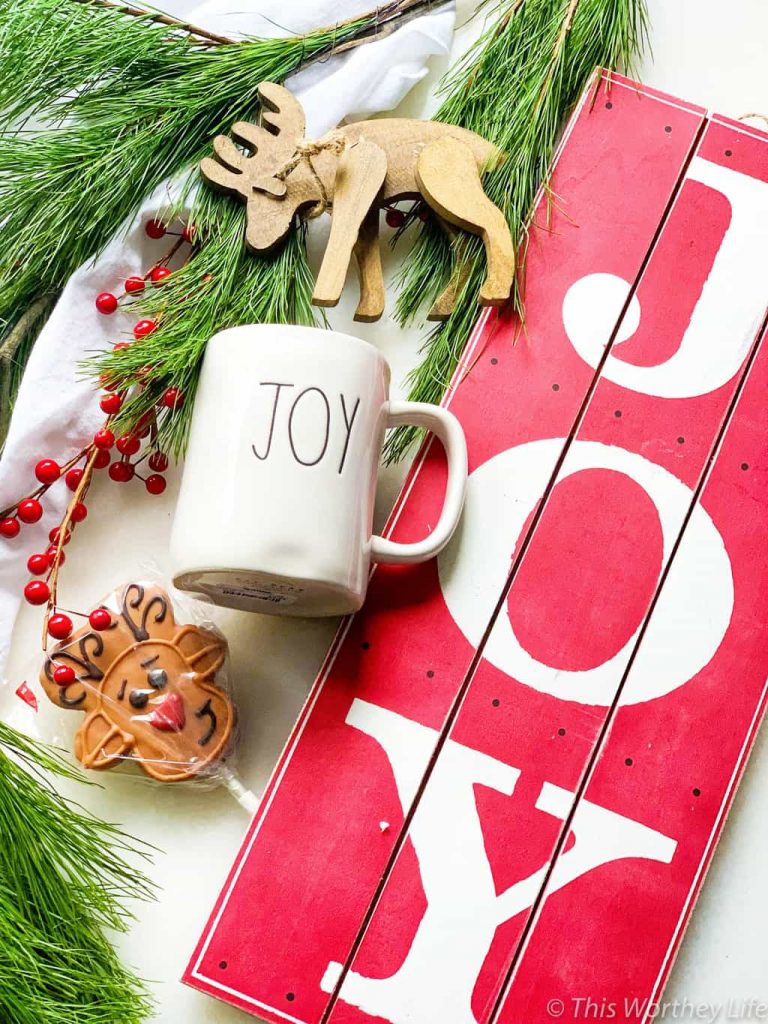 Day 15: ?Joy to the World ? Day 15 of our #raedunn #adventcalendar Christmas is less than ten days away!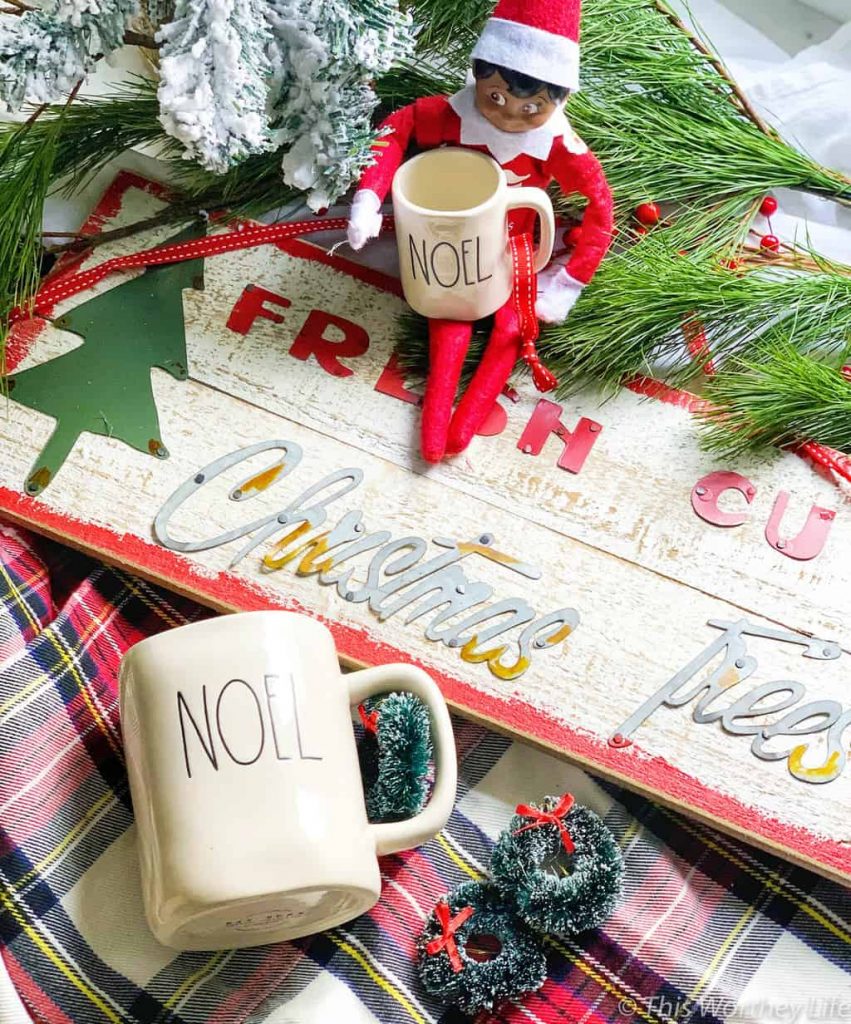 Day 16: Today, we celebrated the twins' sweet 16th birthday — no big fanfare. I asked them several times if they wanted a party, and they said no. So, we took them out for a birthday dinner at a new restaurant and showered them with gifts. Because their birthday is so close to Christmas, we make sure to give them an equal amount of love like their younger brother gets in July. How was your weekend?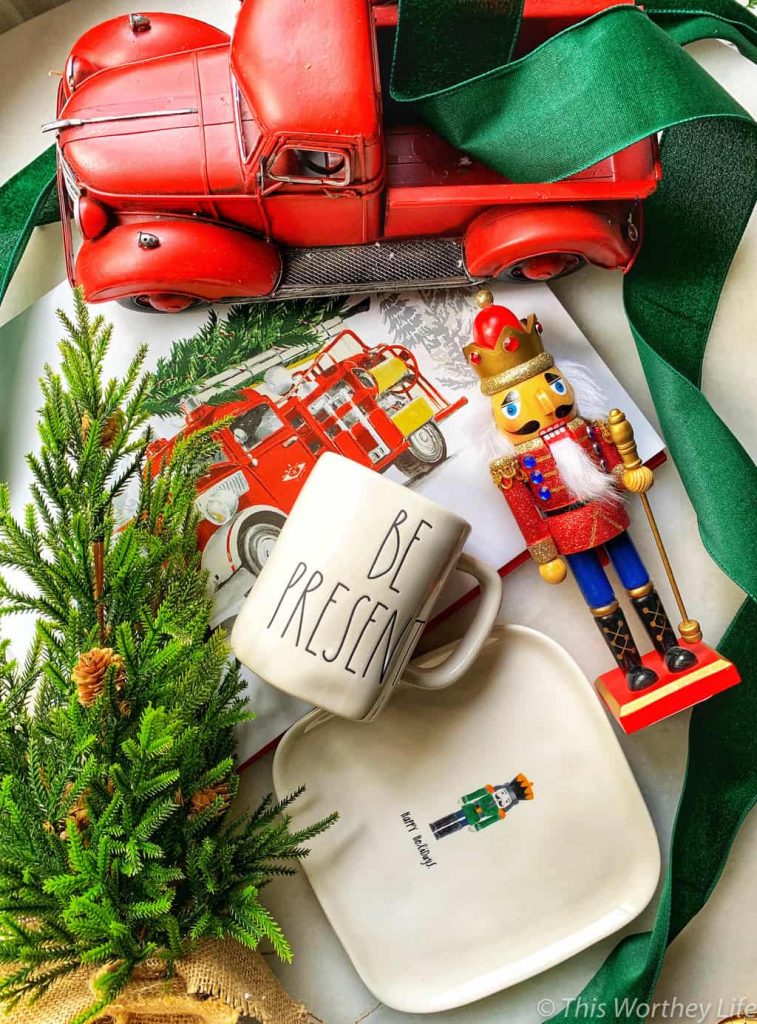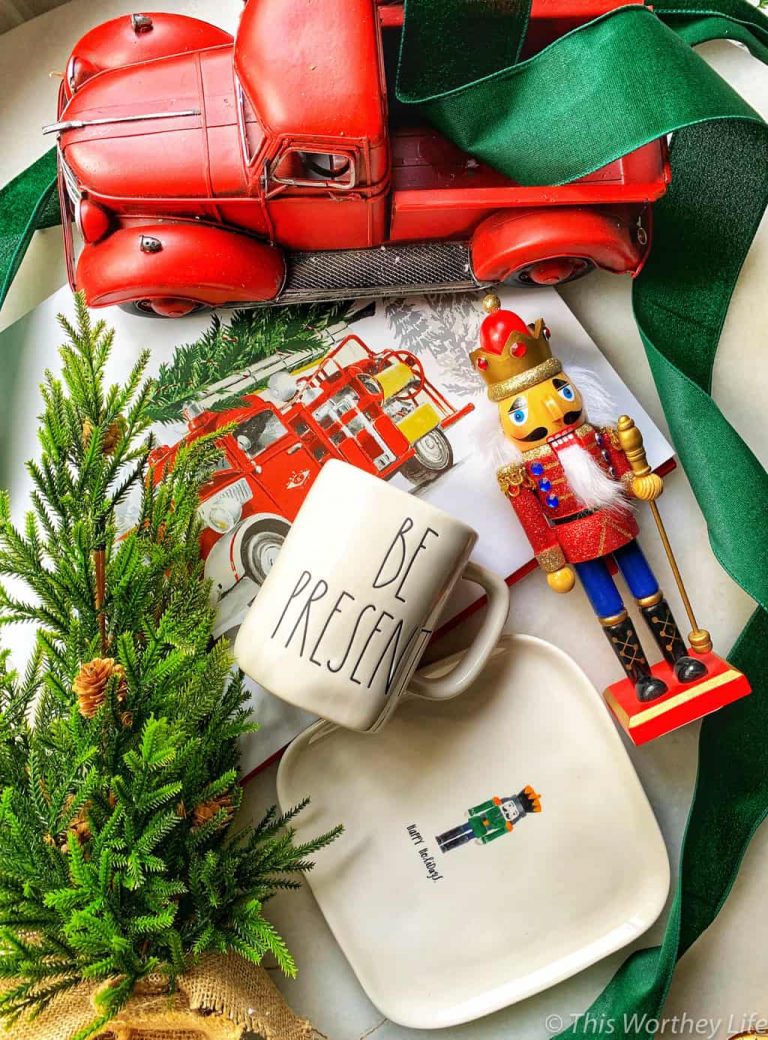 Day 17: As much as we are all hustling around to get ready for Christmas, make sure you take time to be present. Be mindful, take care of yourself first and foremost, be hopeful, be kind, and loving. Be in the moment. Don't get bogged down with the cares of having a "perfect" Christmas that you miss the real reason for the season. And the real meaning of Christmas is… whatever you decide it is! BAM! I said it! Love ya'!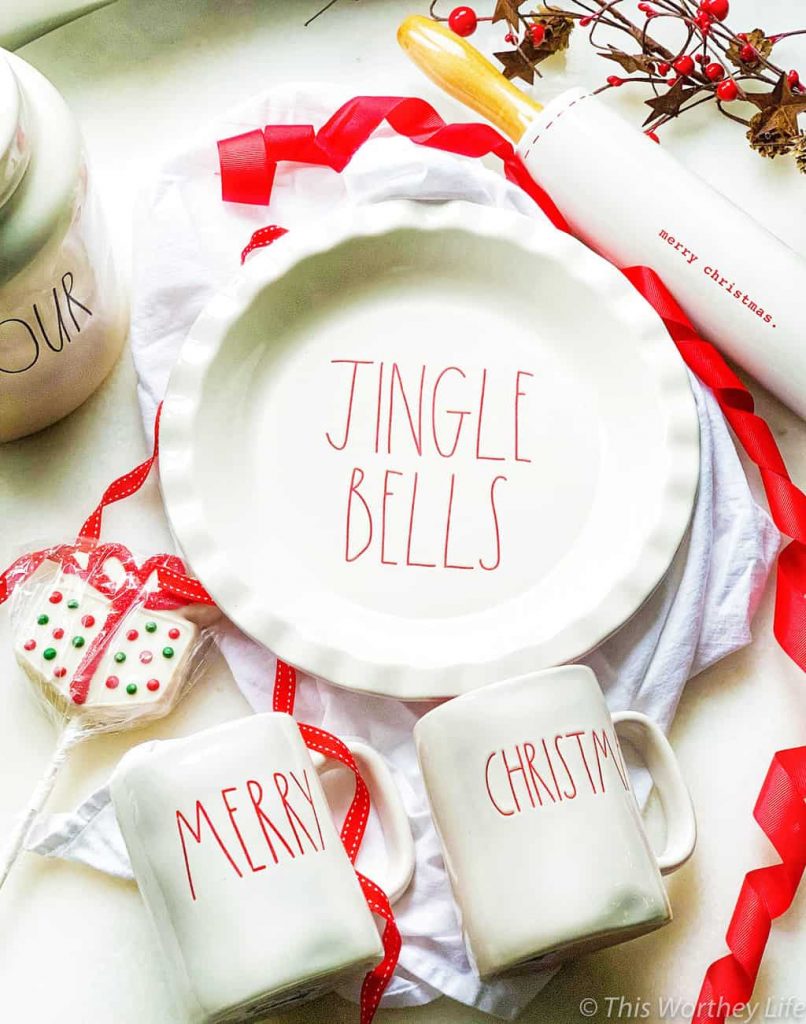 Day 18: We're almost there, folks! Christmas is a week away! ? Are you guys ready? I am like 90% done, with plans to finish today, maybe! I'm ready to relax and enjoy this holiday season before it's gone! Merry Christmas Jingles Bells to ya! ???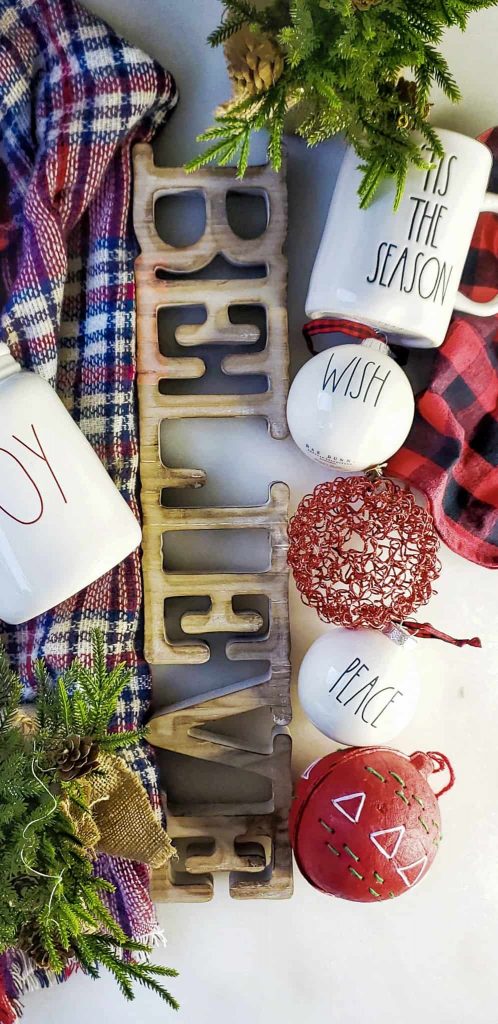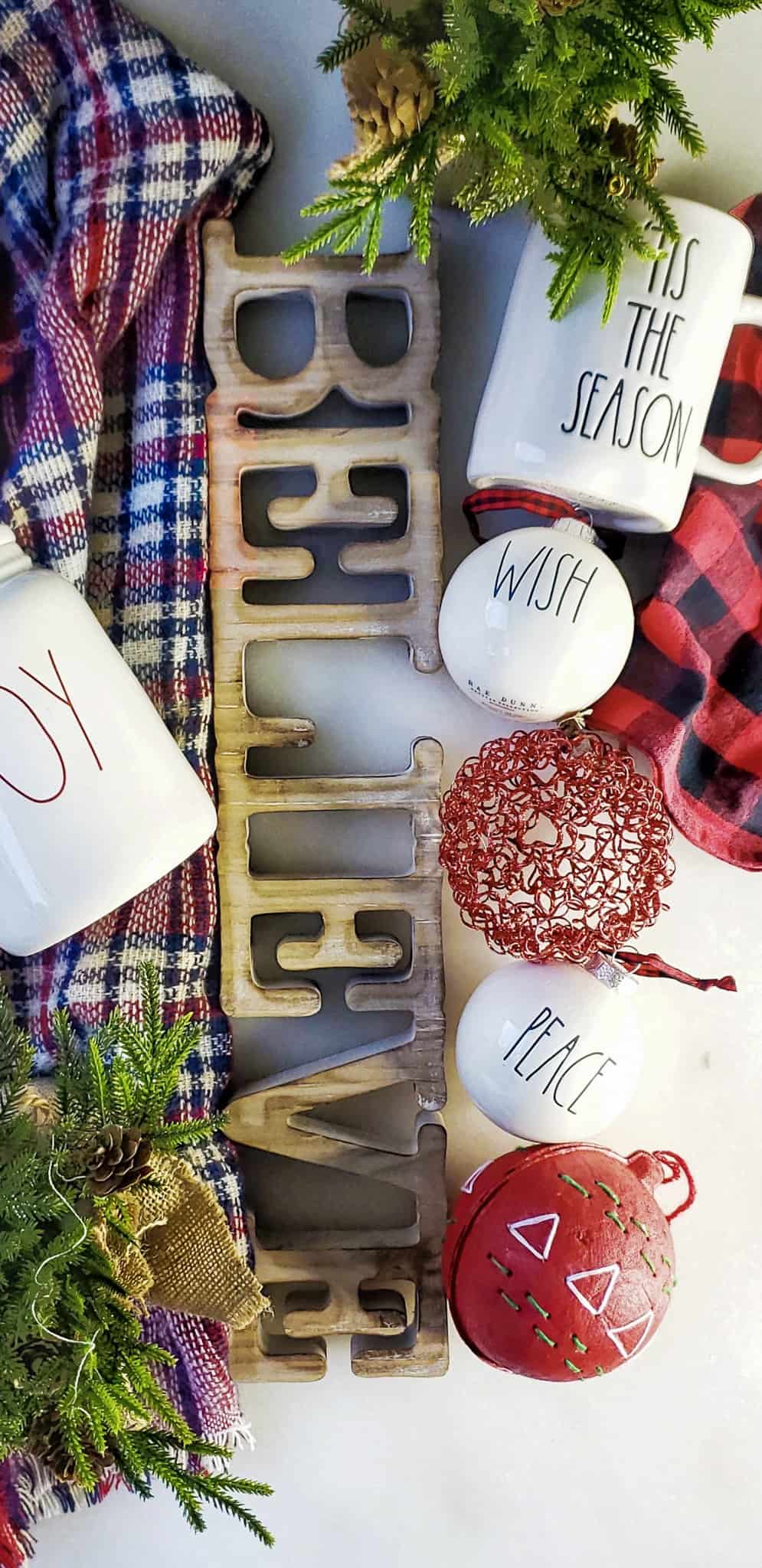 Day 19: 'Tis the season. ? "Christmas isn't a season. It's a feeling." ―Edna Ferber.
I came across this quote and thought, "Oh my goodness, this is accurate!" For me, Christmas has always been about the spirit of giving. A time of reflection. It's hard to describe the feeling of Christmas. But, it's there in the small corners of your heart of hearts. I try to remember and be mindful of the simple joys of life year-round, but then life happens, and we tend to forget. But Christmas comes a calling with all of its trappings: the pretty twinkling lights, the pine tree filling our home with the smell of a forest, then there are the Christmas carols curling around my ears like magic lil' spells. It does a number on me, and it shakes me out of whatever doldrums I am hanging onto. Christmas time for me is a reminder to spread love and to be love. It ain't about the gifts, ya'll. The gift-giving is nice, and all, but the core of it all is LOVE! Whether or not you believe in the magic of Christmas, you can't deny the holiday cheer that comes around this time of the year.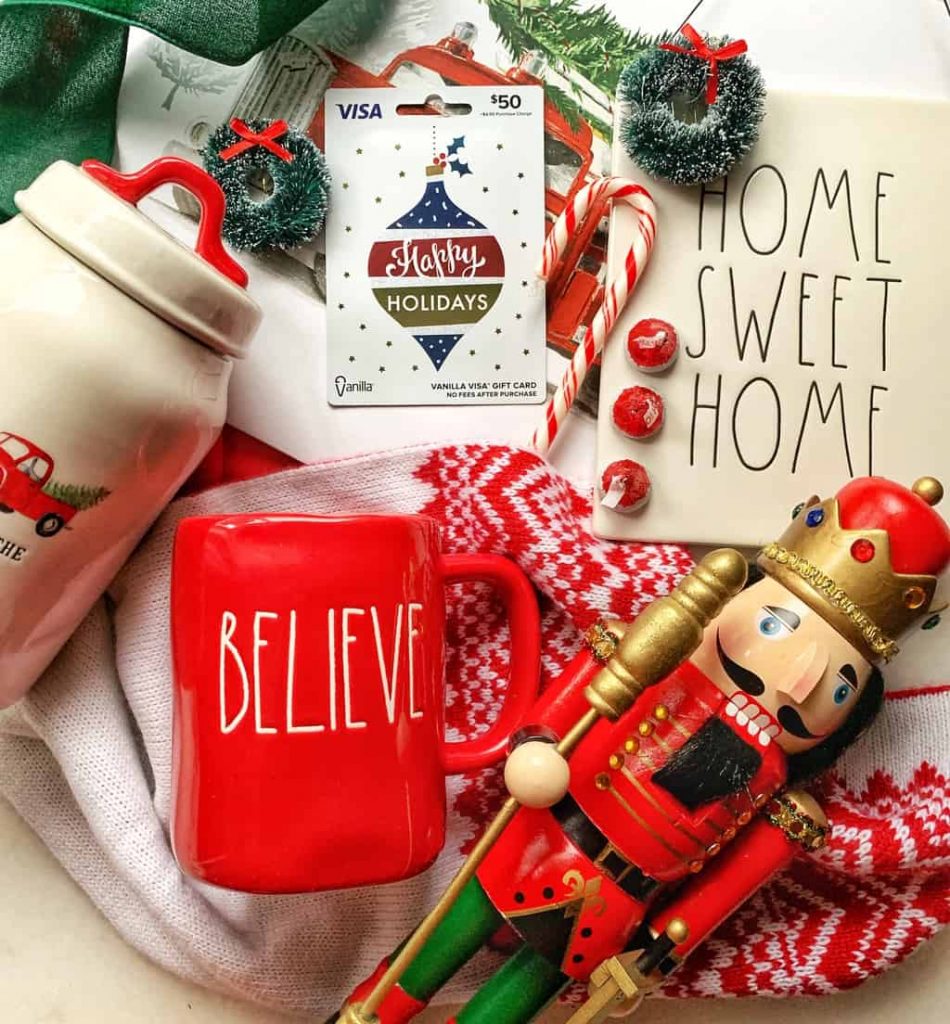 Day 20: Y'all, Christmas will be here in just a FEW days! I'm finally getting close to the finish line on my list. The last thing I need to grab is gift cards. #ad ??? Gift cards are a great gift idea for last-minute gift ideas, teacher gifts, loved ones that are far from home, and for that one person, you don't know what to get them! ? When you buy a @vanillagiftcards, you will receive a chance to win one of over 100 prizes! There is also a Grand Prize for a $10K shopping spree at Macy's! (drawing is on 12/24/18) ?
Here's one way I personalize my gift cards. You can buy a mug, like this Rae Dunn mug, place the gift card inside along with some of their favorite candy.
Put the mug/gift card combo in a gift bag, and now you have a beautifully wrapped and personalized gift idea with minimal effort.
These visa gift cards are available at your local Walgreens, CVS, Rite Aid, or H-E-B. Head there this weekend to grab these gift cards and be automatically entered into the Winner Wonderland Sweepstakes from Vanilla Gift!
#VanillaGiftWinnerWonderland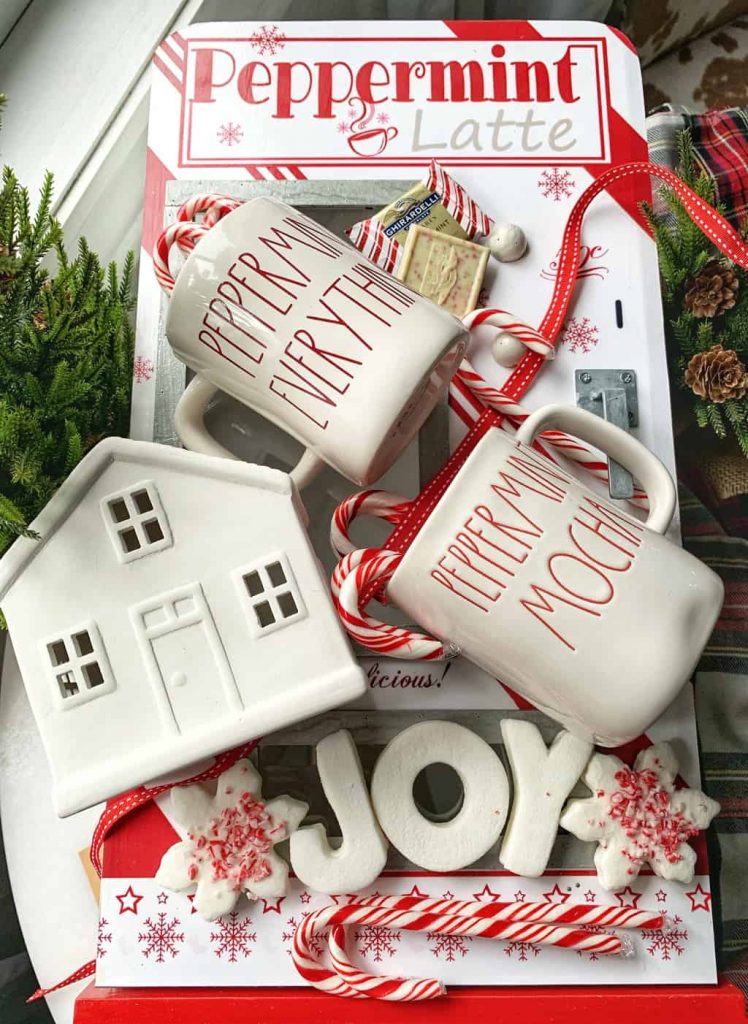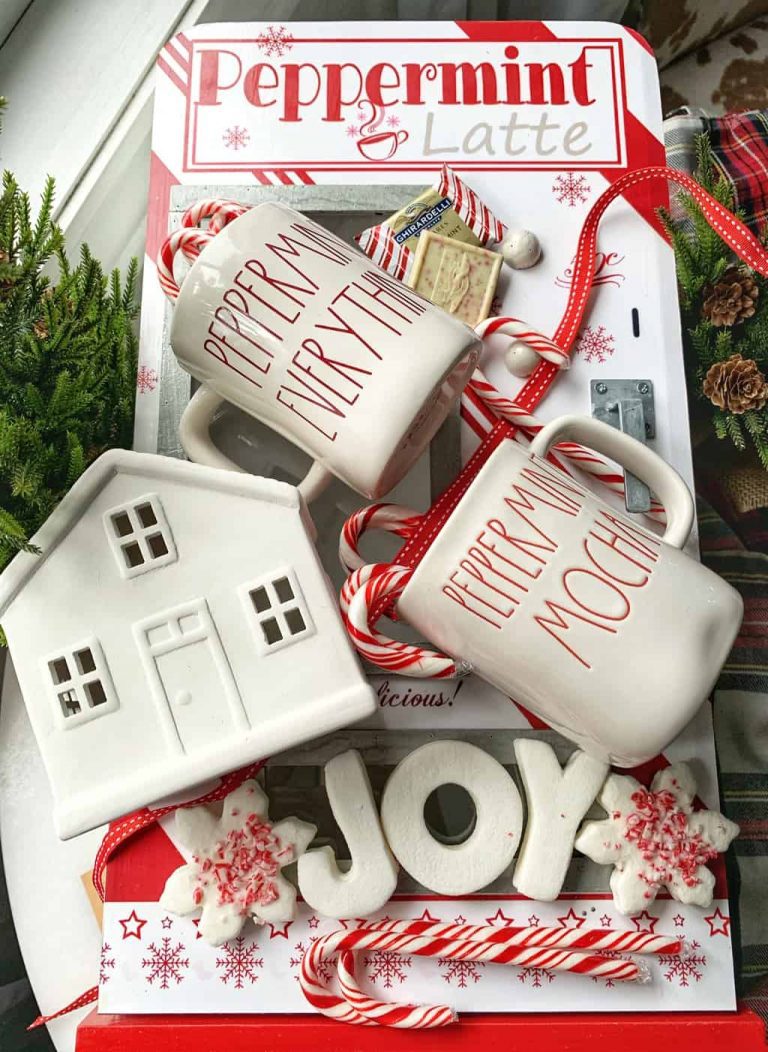 Day 21: Peppermint EVERYTHING! When it comes to all things Christmas, the taste of peppermint triggers so many fond memories! Anyone who knows me has heard my story about my Grandmother and Christmas. ?? This lovely and amazing woman instilled in us the magic and joy of Christmas! From making fudge to singing Christmas carols, she defined this very special holiday season for me way back when and will continue to do so far into the future. The song, "I Miss You Most at Christmastime" by Mariah Carey gets me all in my feelings. It reminds me of my Grandma Jane and all of the special memories we created together. I feel her energy and spirit the most during this holiday season. ?Do you have a special someone who has made Christmas the best time of the year for you? Give "em a shout. And if they're way up in heaven, that's okay; shout a lil' bit louder.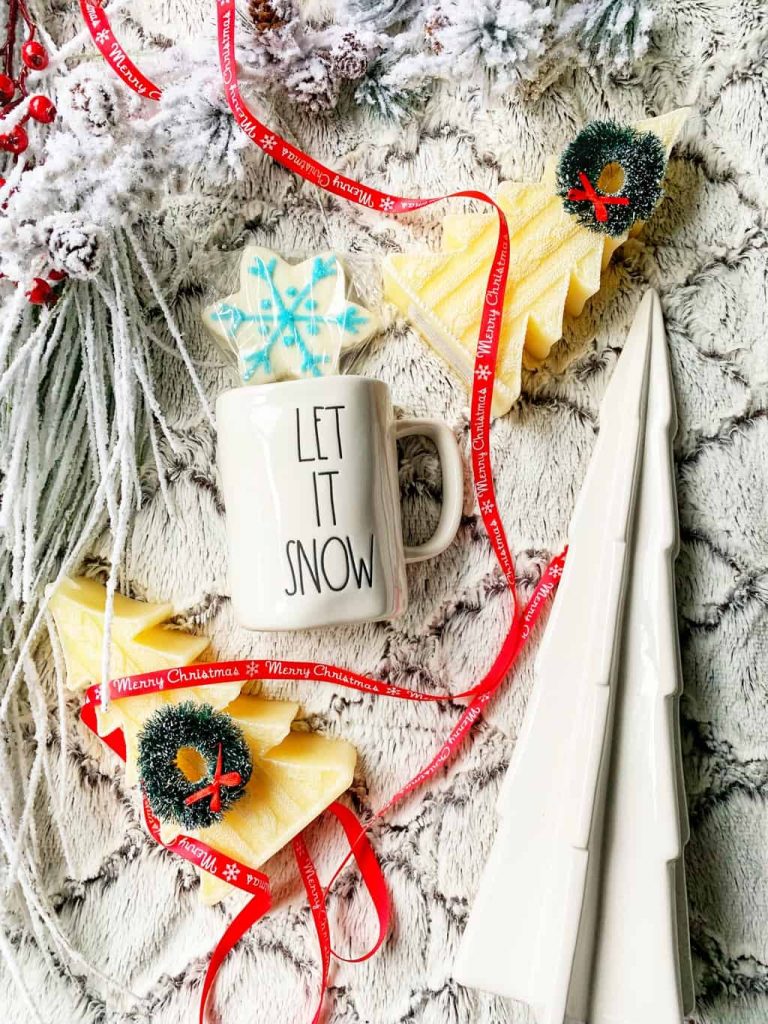 Day 22: Just three, count 'em, one, two, and three! We're so close to Christmas I can smell the Gingerbread man's spicy morning breath!
Let me tell you the way my brain works when it comes to Christmas. Inside my head, there's a picture-perfect Christmas postcard. There's a happy little family gathered around a beautifully decorated Christmas tree, it's a real tree, and the smell of pine permeates our cozy home. There are prettily wrapped presents everywhere, the mouthwatering smell of oven-baked cookies and hot cocoa are being passed around. Everyone is wearing festive and comfortable jammies. Can you hear the logs crackling in the fireplace? I pull back a curtain, and the landscape is blanketed in deep billowing snow. Trees, rooftops, and every lawn is nothing but white. Snowflakes by the billions are falling all around. Yes, I'm dreaming of a white Christmas. ❄️❄️ Well, at least in my mind it is! Have a White Merry Christmas, everyone! ??
Day 23: We are so close to Christmas! In a way, though, I'm somewhat sad. Once Christmas is over, I have to take down all the decorations and put them away. ? So, I'm going to enjoy them this week, including my newest mug, Noel Y'all! Almost Happy Christmas Eve!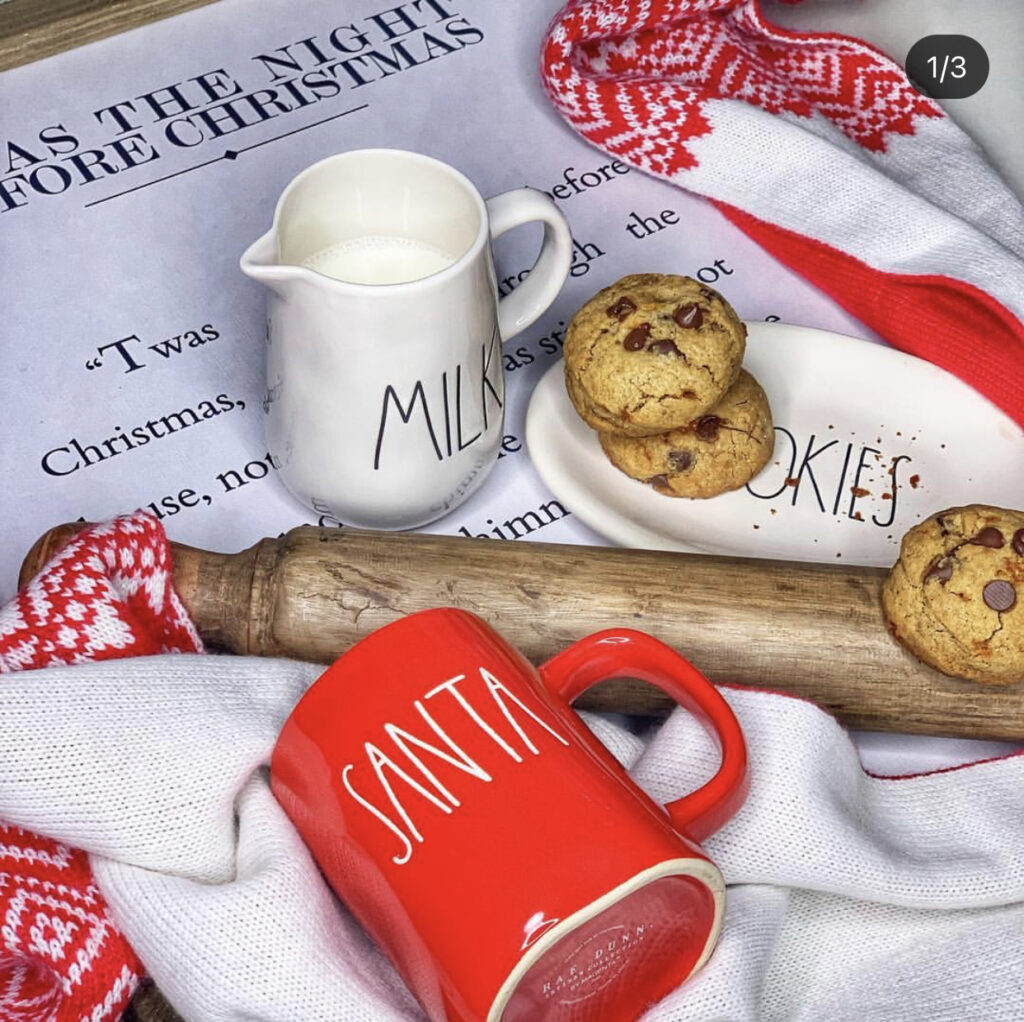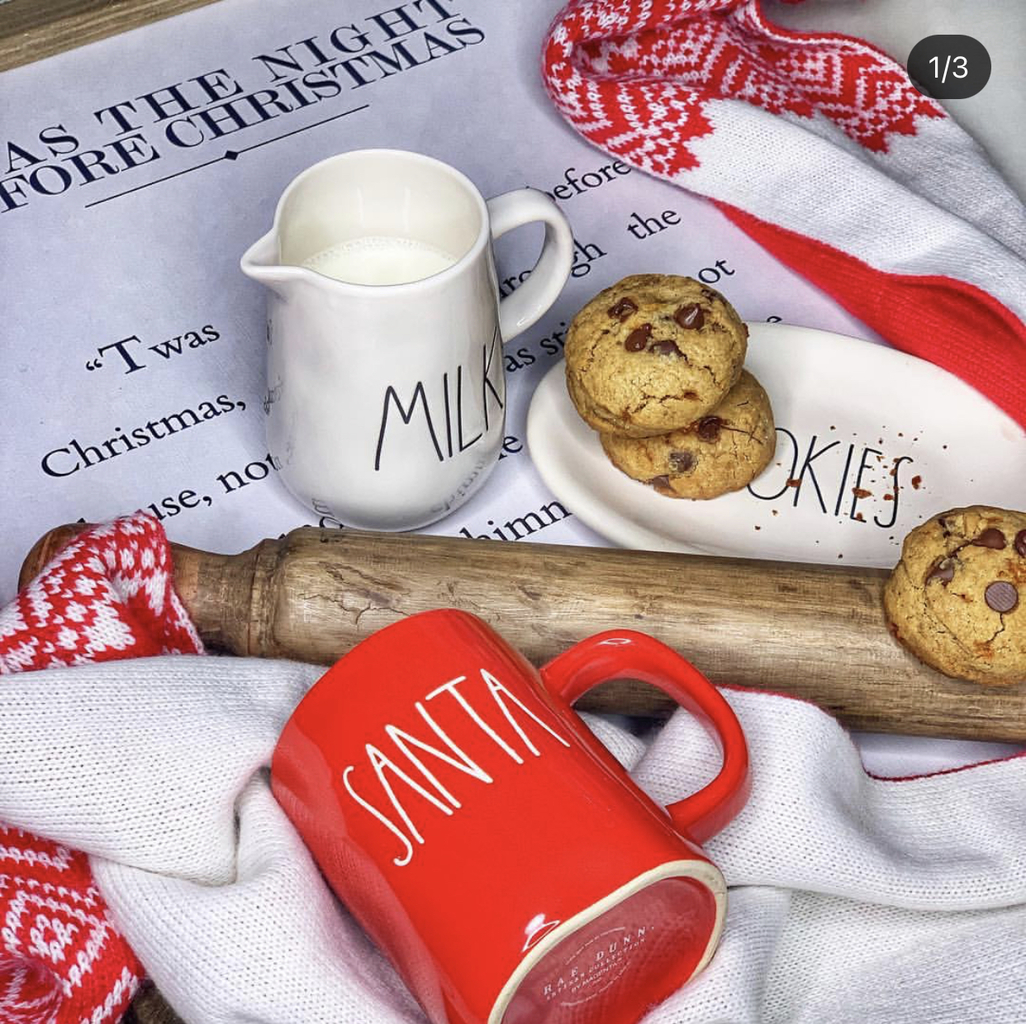 Day 24: "May you never be too grown up to search the skies on Christmas Eve." Merry Christmas! ❤️? True. We made a promise to ourselves to never get too old and stodgy in the pants for Christmas. It's a mindset, really, maintaining a youthful and optimistic outlook, being open to the magic of whatever a moment, second, minute, hour, or day may manifest. Believe me; it's there if you look for it! It's also true the world can be a big bad horrible place, and at times humans aren't always so humane. Yet we passionately hold onto our kindness, compassion, reserve our judgments, curb our cynicism, and open up our hearts because we got to. We do this to maintain our inner peace, which is an outward expression of our full loving potential. We have to rise above it all, or at least try to, for it is in the trying to be a better person than we find our greatest and defining character of humanity. HOPE! Ya'll, hope is my true jam. We hope for a better, more caring world, don't we? HOPE is the glue that binds us ALL together! ?? ???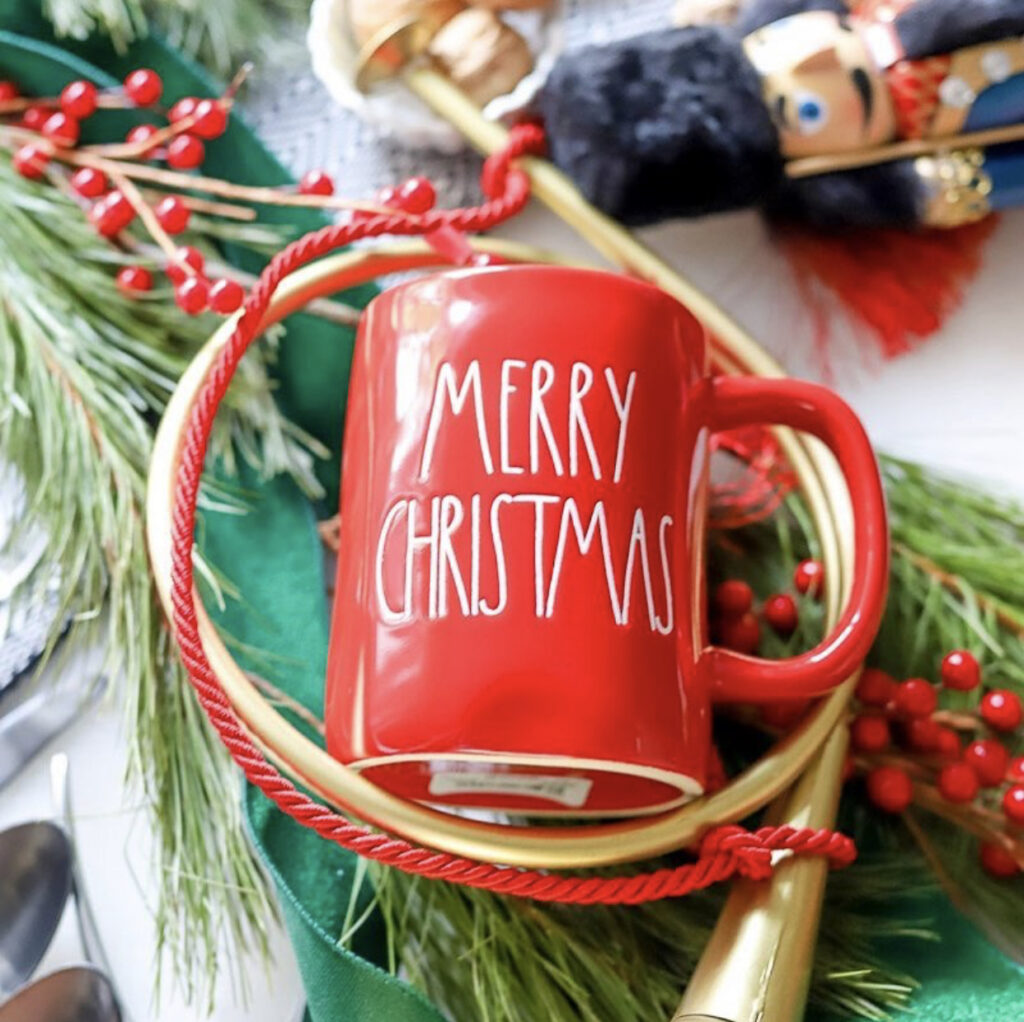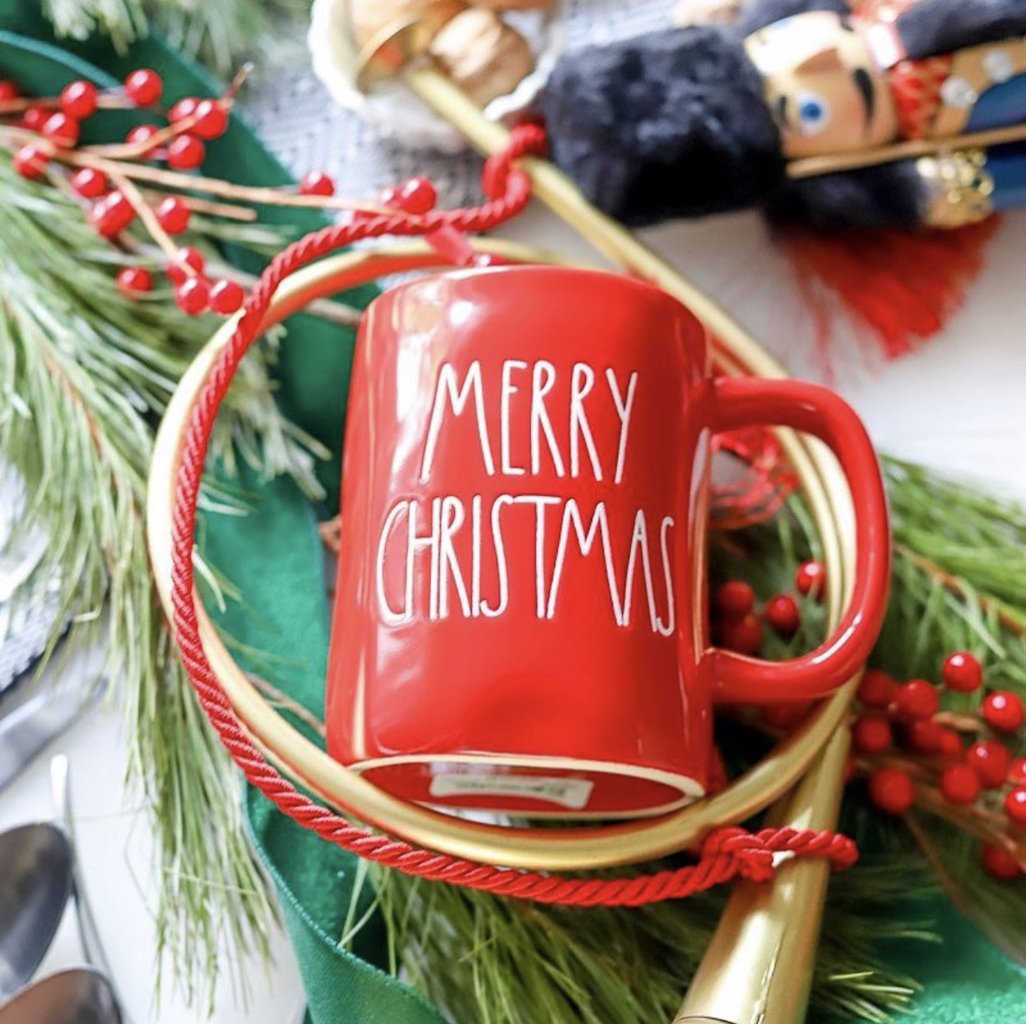 Day 25: Merry Christmas!
We hope you enjoyed our Rae Dunn Advent idea. There are so many fun ways to use Rae Dunn Christmas decor in your advent countdown idea. Hopefully, we've inspired you with this list of ideas.
Here are a few more Rae Dunn Advent ideas: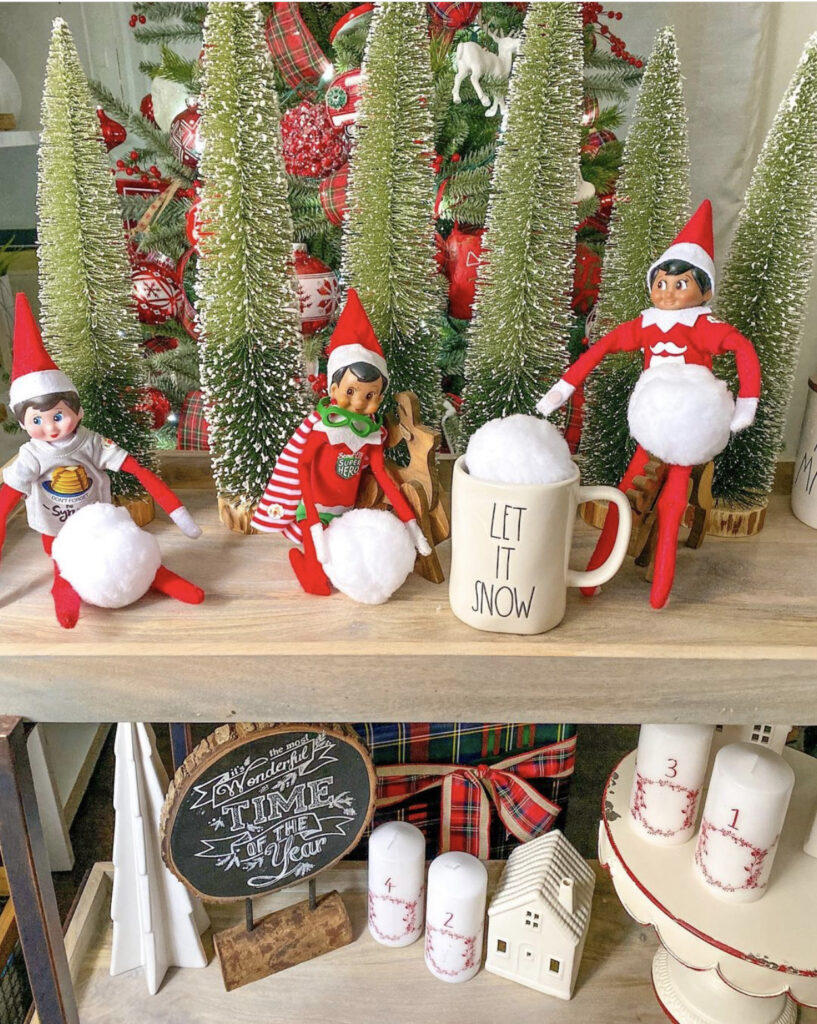 10/25: Snowball fight! Our elves are enjoying the snow Mother Nature sent our way last night. This is the only time of year I enjoy the snow. There's something about the little white stuff that makes Christmas more magical. If you're doing #elfontheshelf this is a quick idea to do. You can use a cotton ball or find these snowballs at any craft store.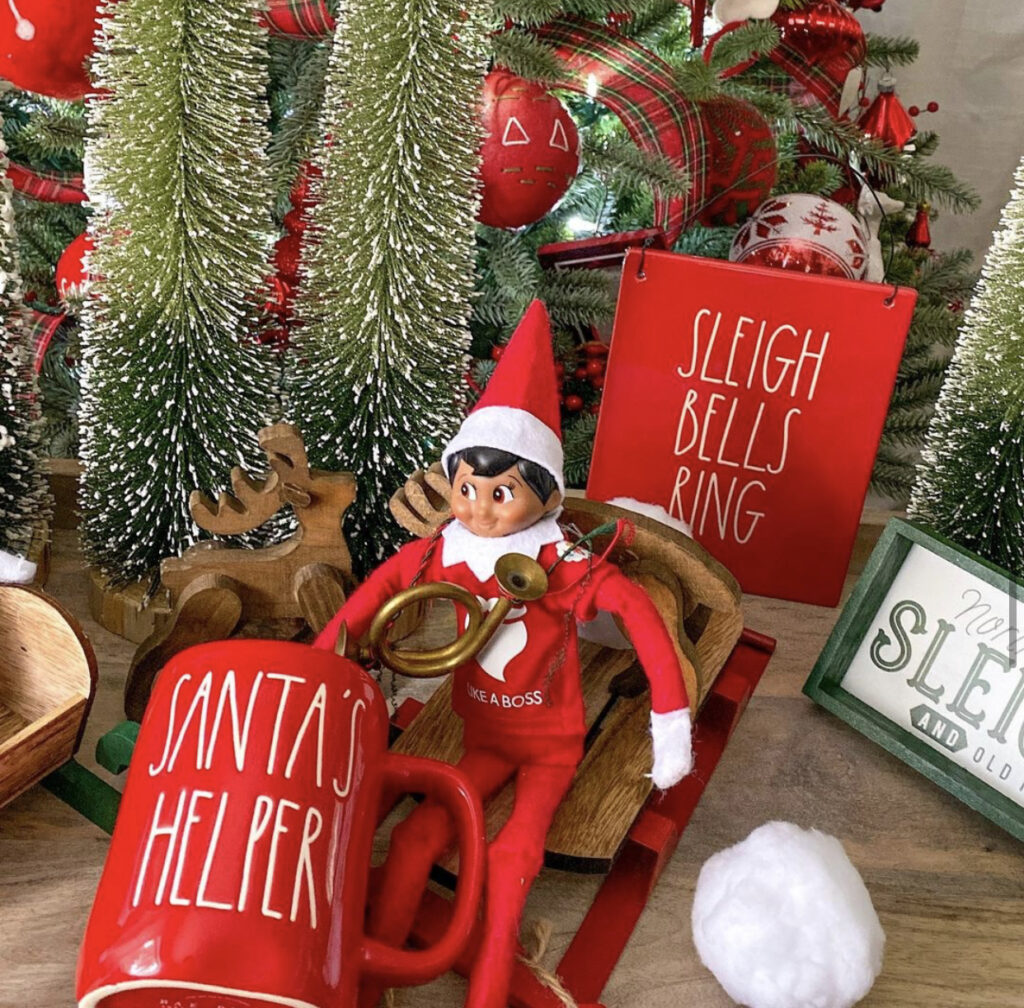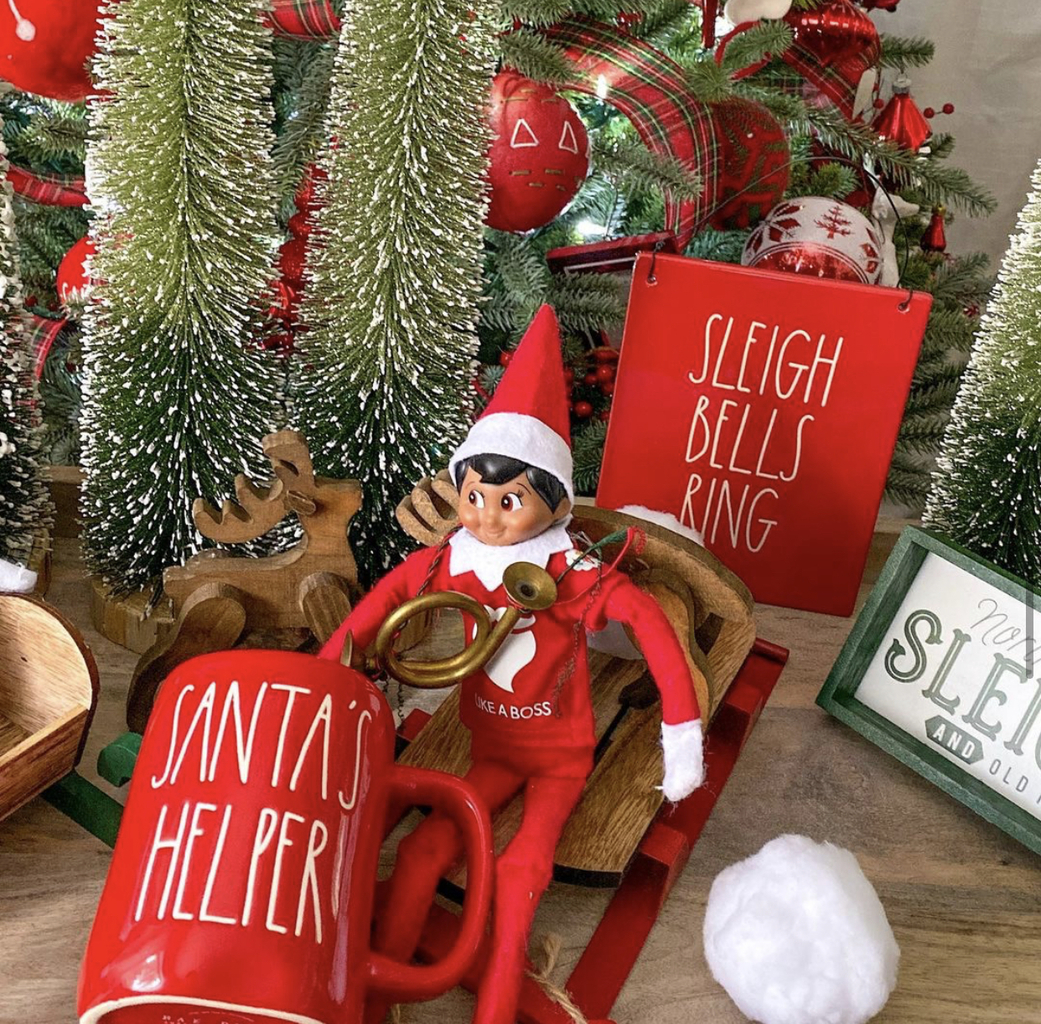 11/25: What does it mean to be Santa's little helper? Does it mean giving your loved ones the perfect gift? Or does it mean leaving cookies and milk out for Santa? Perhaps it's all about being appreciative of the many blessing you have. When it's all said and down, maybe it's a combination of all the above.
Be like Elf and live to be the best Santa's helper you can be!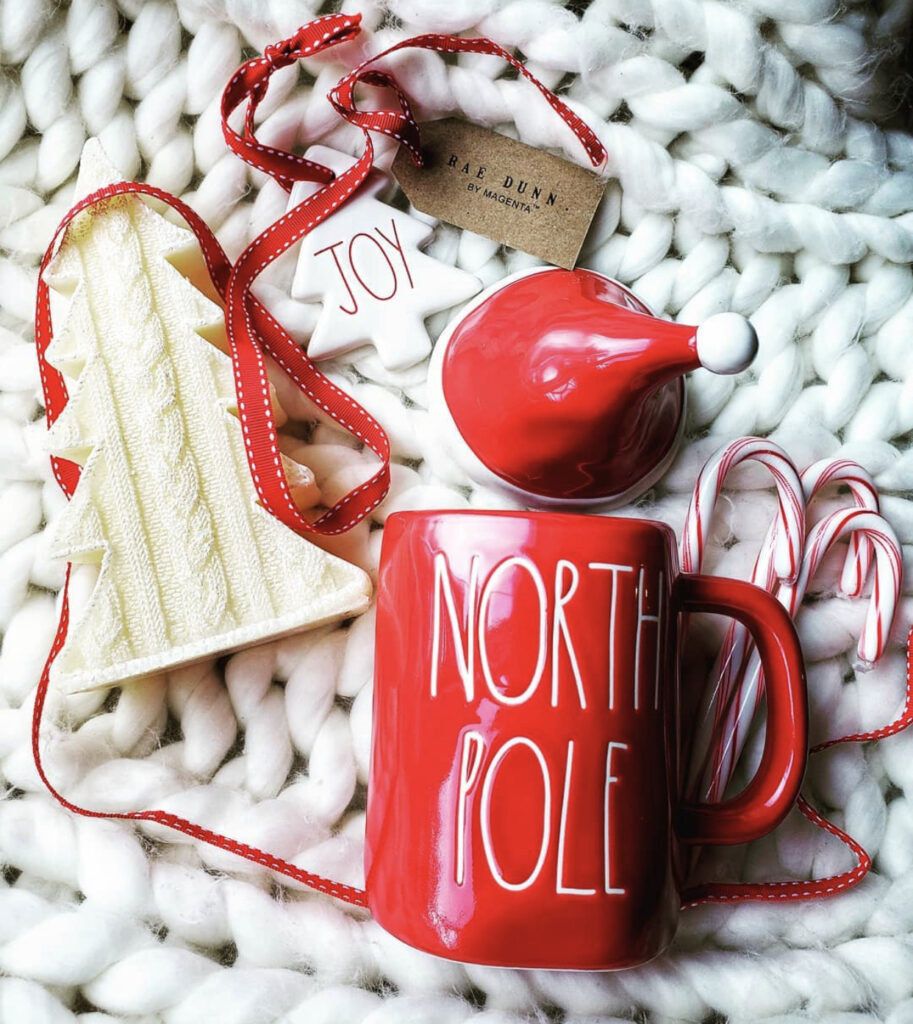 7/25: I can't wait until Santa arrives from the North Pole and delivers all of the Christmas goodies this year. As a kid, what was your favorite Christmas gifts ever? Also, what is the one thing you hope Mr. Claus slides under the evergreen this year?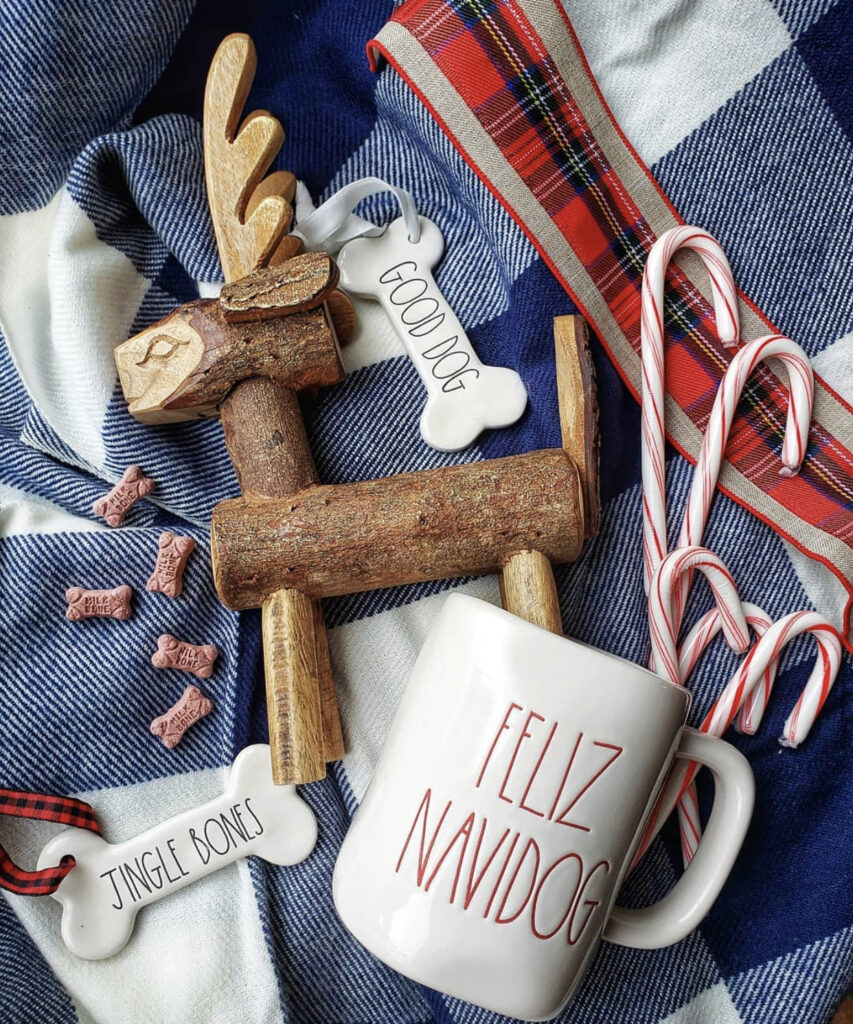 6/25: Pets have made an appearance in so many of our favorite Holiday and Christmas movies from Snoopy to Aunt Bethany's Angora kitty in National Lampoon's Christmas Vacation. And who can forget The Grinch's dog, Max?
Today we're celebrating our fur babies who are another family member to hang up a stocking for. What's your favorite Christmas movie with a pet in it? I'm casting my vote for Snots, Cousin Eddie's dog with a bit of Mississippi Leg Hound in him. Happy Holidays.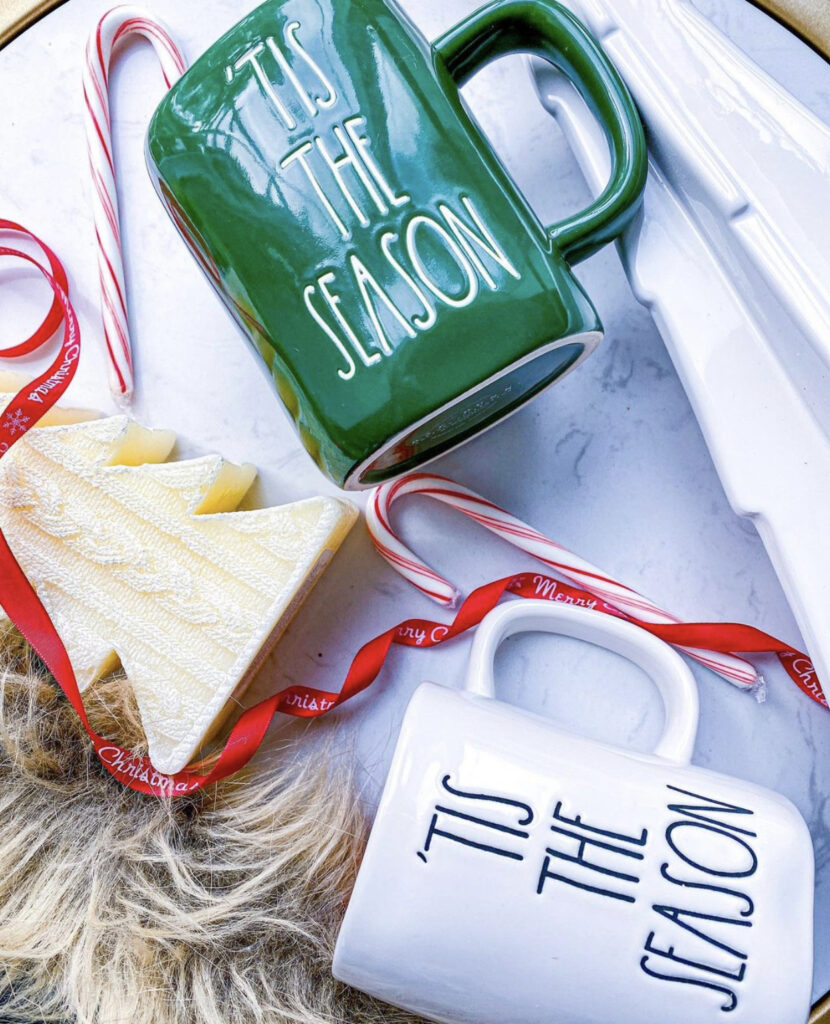 3/25: 'Tis the season for all things Christmas. If you're a #raedunn fan, then you'll know the green mugs are new this year. At first, I wasn't sure if I would like them, but after holding one in my hand, I'm loving it!
Every year I create a bucket list of what I want to do during the Christmas season.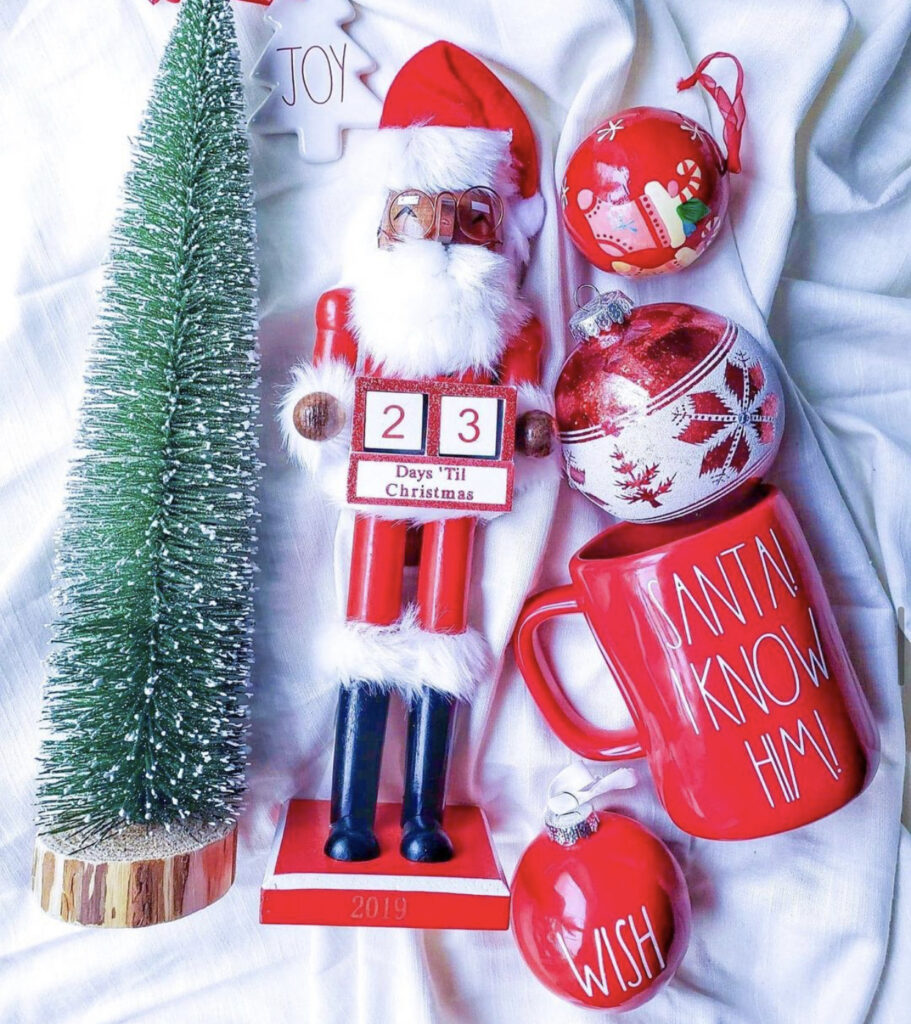 2/25: Today's mug is brought to you by the letter E, as for one of our favorite movies, "Elf." There are so many funny lines, in this Christmas movie, with this phrase, "Santa, I know him," being one that stands out and used in memes and random one-liners.
But on the low, low… this is not a real Rae Dunn mug. This is one created with our Cricut and a very close "inspired" font. We also love nutcrackers and thought he would pair nicely in our countdown.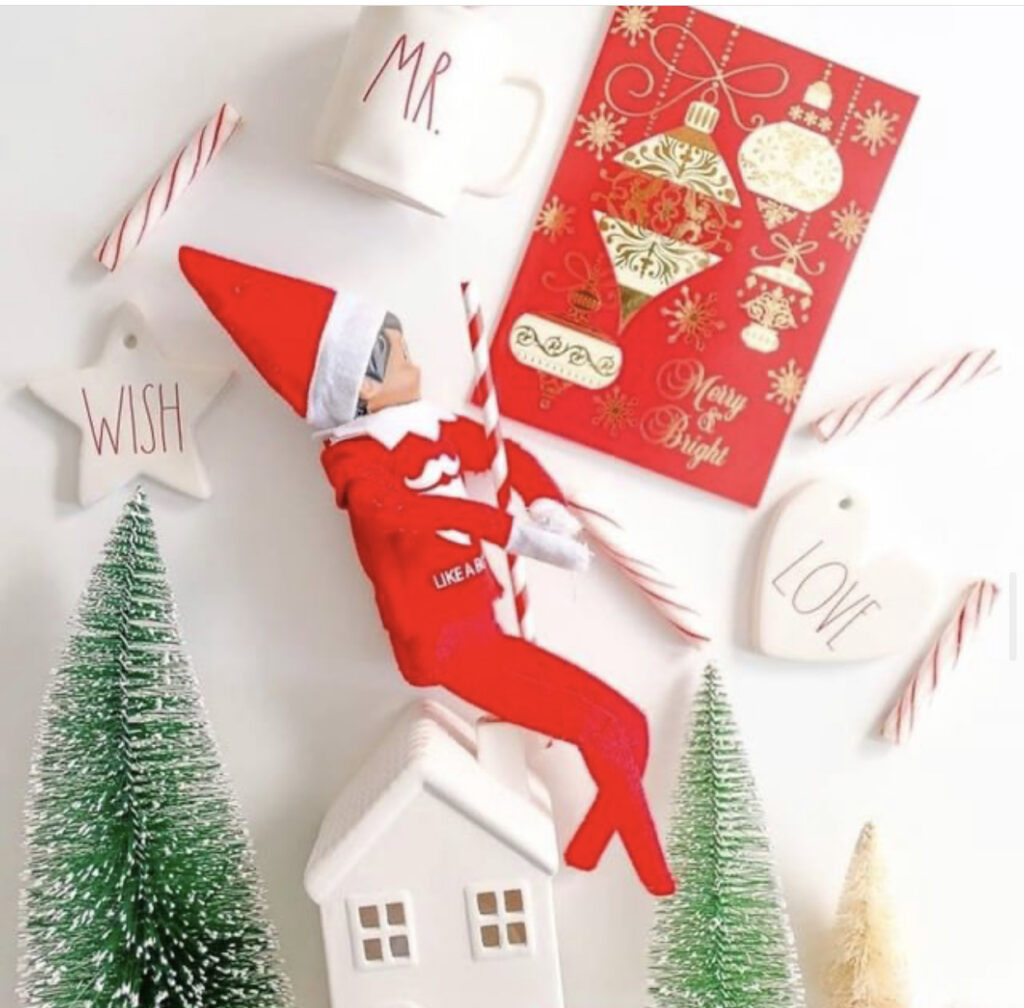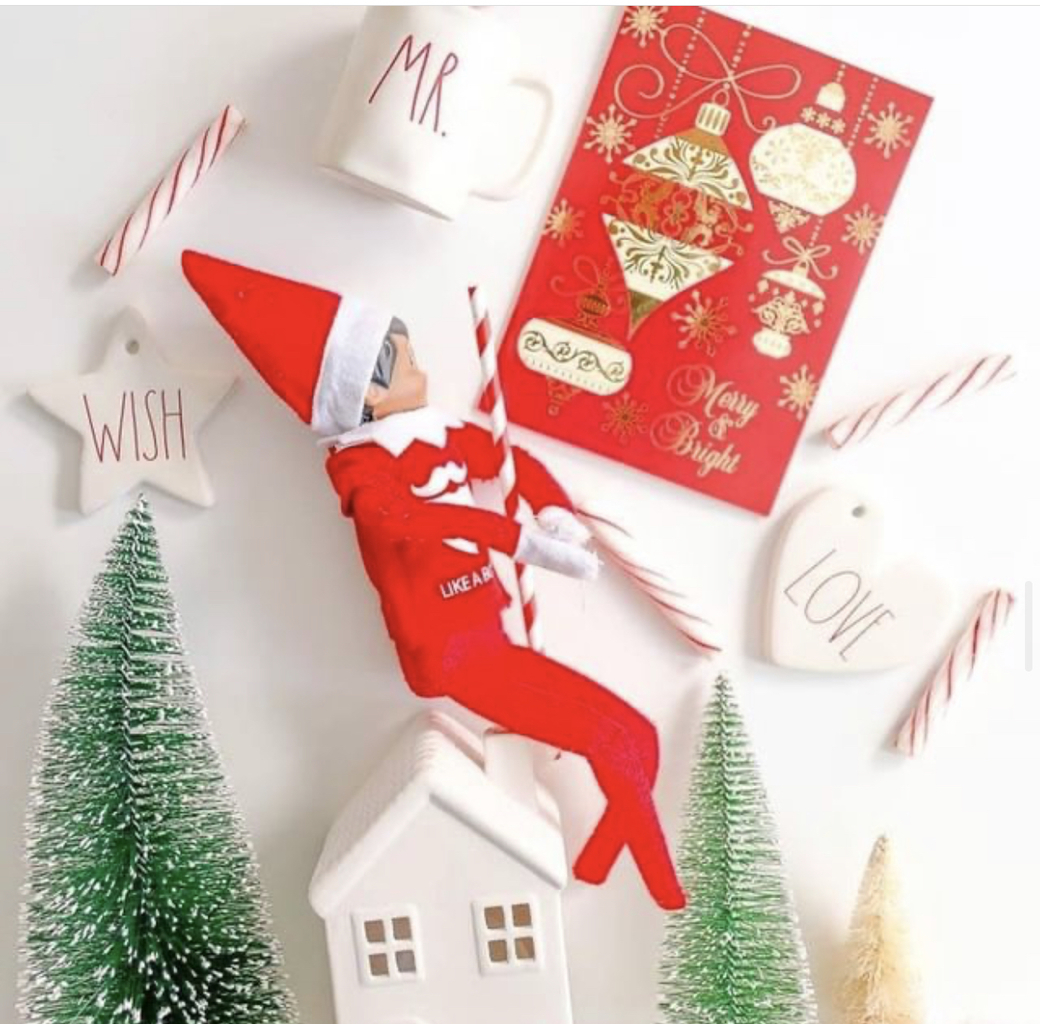 Find more Rae Dunn holiday ideas below:
39 Rae Dunn Tiered Tray Christmas Ideas
Rae Dunn Hot Cocoa Bar Idea with Valentine's Day theme
Gorgeous Rae Dunn Christmas Display Ideas
Christmas Tablescape Idea for Two | Rae Dunn Christmas Decor