Year-end eating just got a whole lot better with our hearty Orzo Vegetable Soup. On a cold day, try this Italian-inspired deliciously comforting soup, it's one of our favorites and 100% certified meatless and so easy to make in an Instant Pot.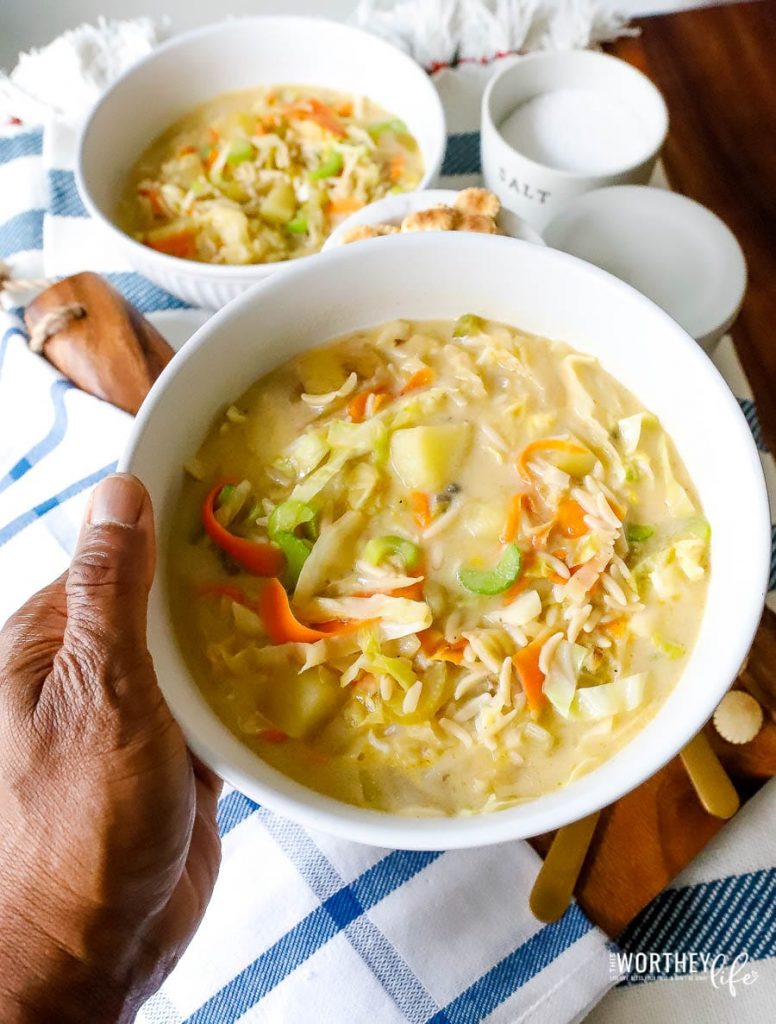 Orzo Vegetable Soup
This soup came to me one night when I had no idea what I was going to make for dinner. I looked in the fridge and found some veggies I needed to use, grabbed a few cloves of garlic, and lo and behold three yellow skin potatoes had their eyes on me something fierce. I also discovered a box of orzo pasta tucked into the back of the pantry. I always have stock on hand (vegetable, chicken, and beef), so I thought, why not make soup? In my opinion, soup is one of the easiest meals to make, and having an Instant Pot to prepare it in is even better. Out of the fridge, I grabbed almond milk, a couple of carrots, two stalks of celery, and half a head of cabbage.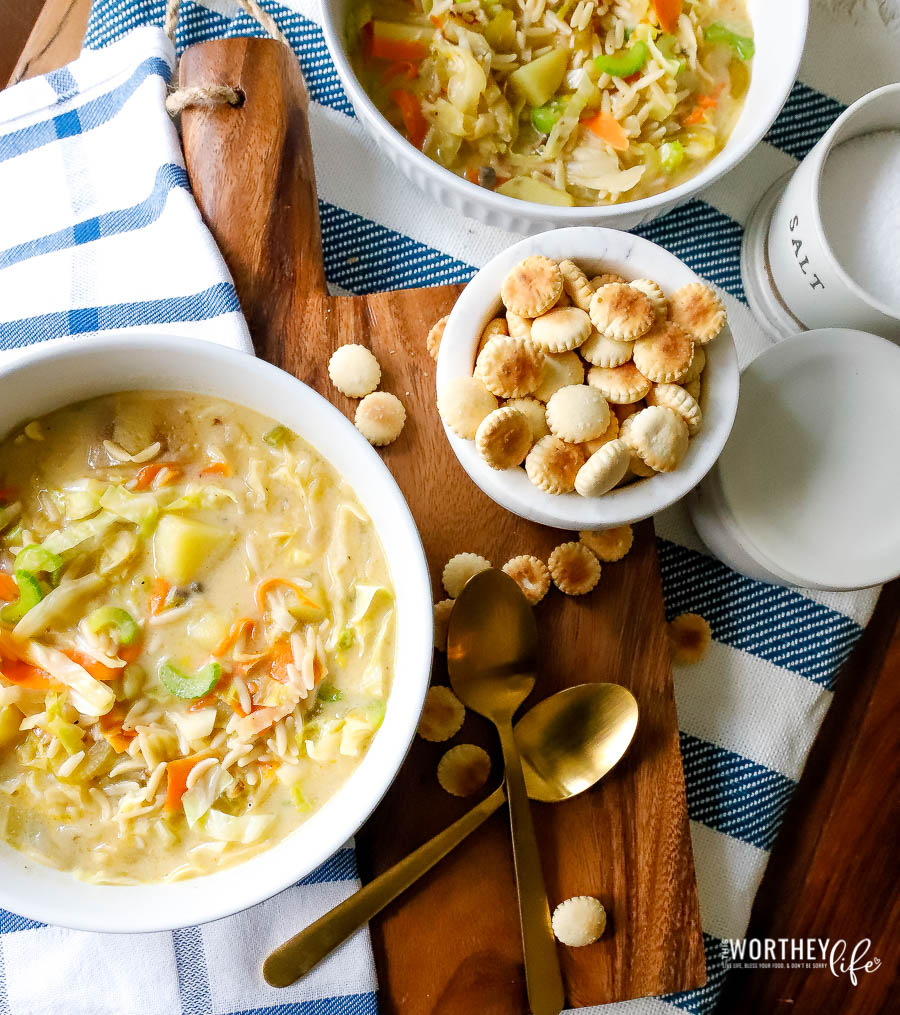 From the bottom of the pantry, I nabbed an onion, garlic, and yellow skin potatoes. I stood up and grabbed a can of cream of mushroom soup, vegetable stock, and some oyster crackers. The only seasonings I needed were sea salt, freshly cracked black peppercorns, and Old Bay.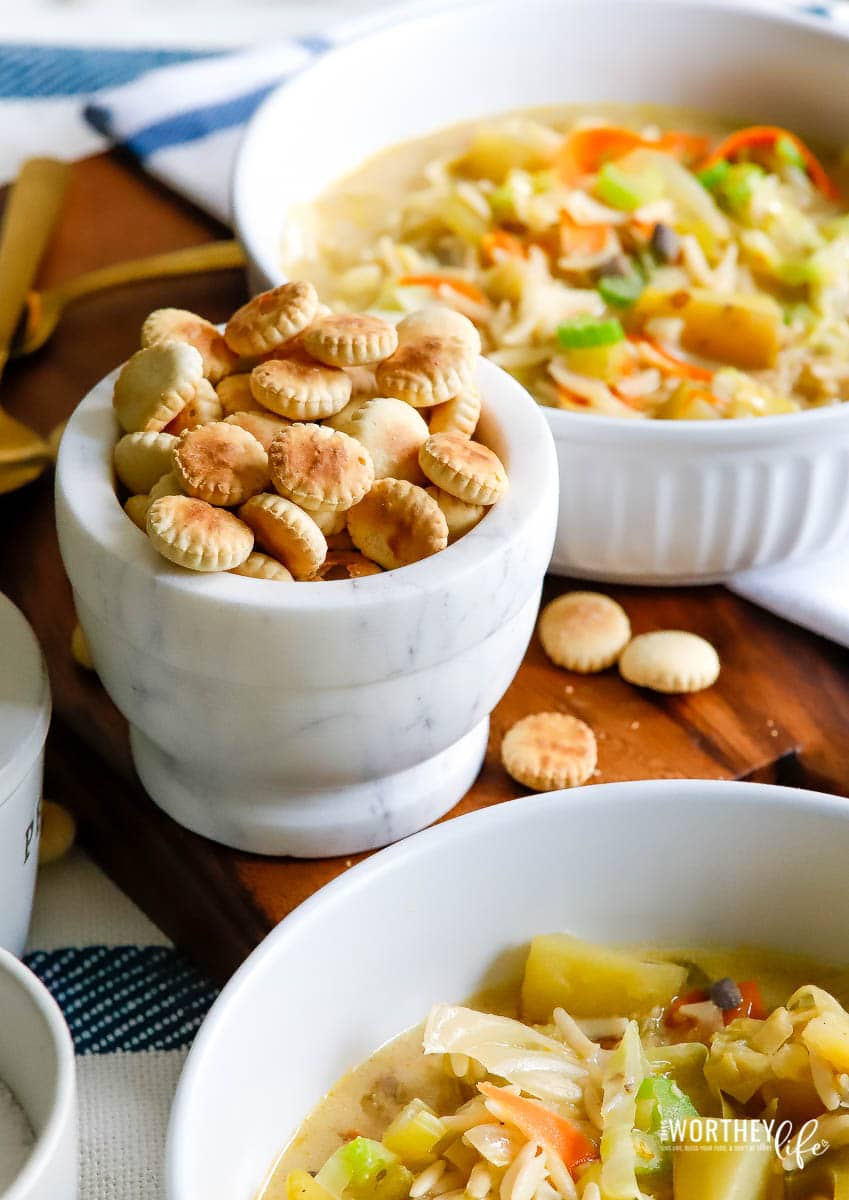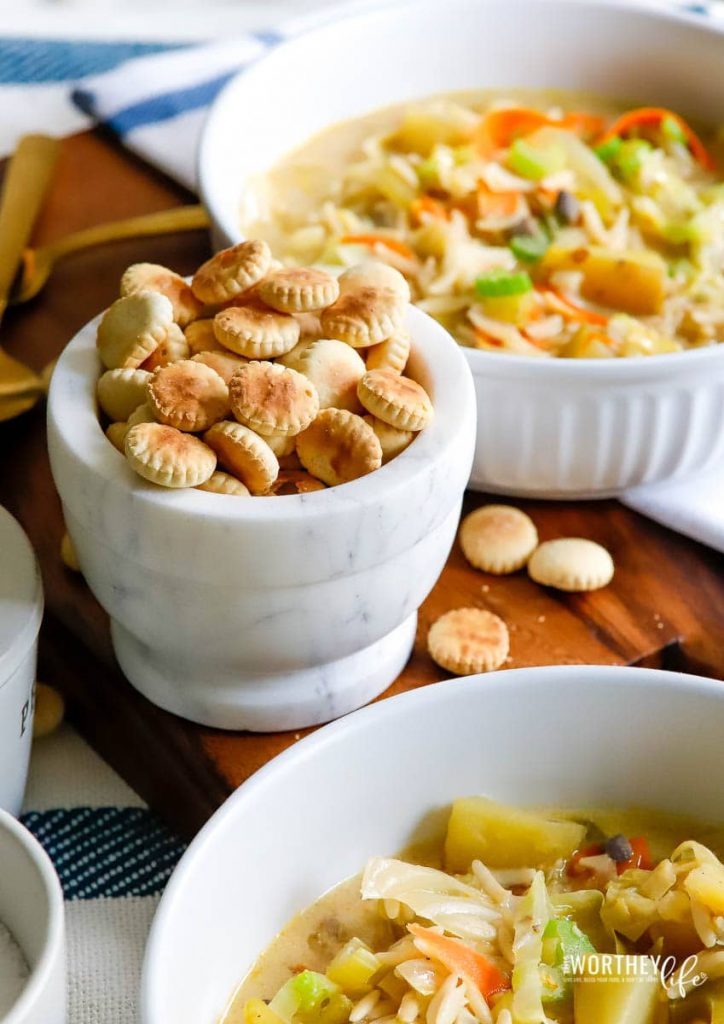 I selected the Sauté function and added two tablespoons of extra virgin olive oil after the oil was hot I added the celery, onions, and cabbage, tossed in a pinch of sea salt and freshly cracked black peppercorns. I cooked this mixture for two minutes, then added the ribbons of carrots, garlic, and potatoes. Next, I added a single can of cream of mushroom soup and vegetable stock, sea salt, freshly cracked black peppercorns, Old Bay seasoning, and the orzo pasta. I gave the mixture a few stirs, then lock and secured the lid of the Instant Pot and selected the Soup/Chili setting on high for 10 minutes.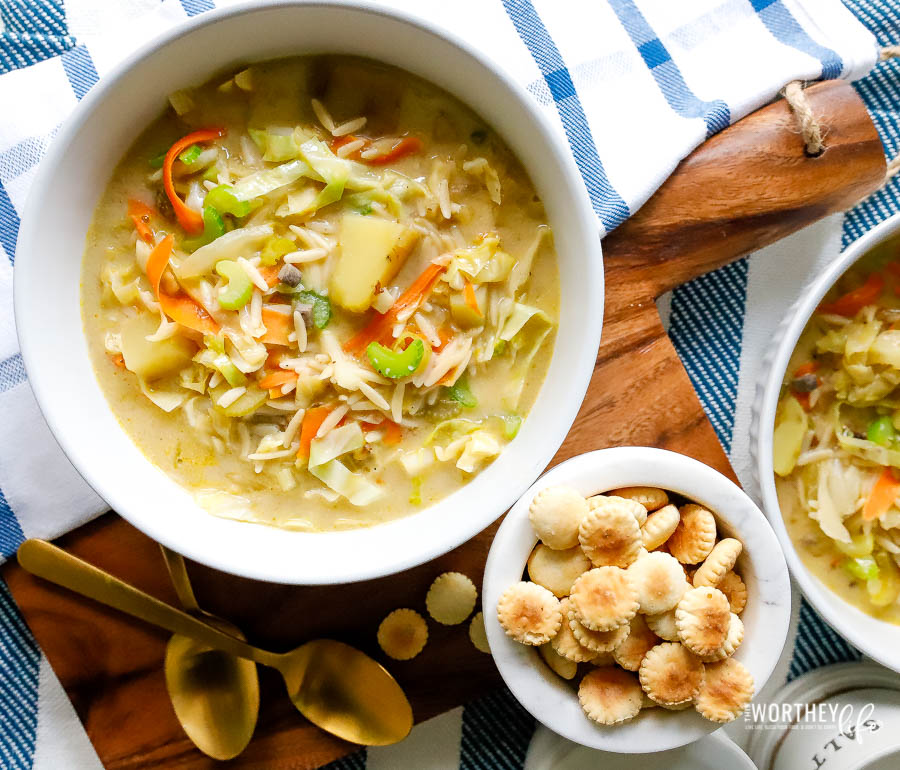 Vegetable & Orzo Soup Ingredients:
Here are the essentials for making this wonderfully comforting Vegetable & Orzo Soup! You'll need:
Orzo Pasta: I used 100% made from wheat semolina flour Orzo pasta (also known as risoni pasta), and it works so well in this recipe; it lends a heartiness to this already fulling soup. However, if you want to make it gluten-free, go right ahead and use long-grain rice or a wild rice blend.
Vegetable Stock: Keeping with the veggie theme, I used vegetable stock, but feel free to use chicken or beef stock.
Hearty Vegetables: Use a mix of cabbage, russet potatoes, celery, and ribbons of carrots.
Seasoning: I used sea salt, freshly cracked black peppercorns, Old Bay, and minced garlic. But feel free to add whatever seasoning you like.
The Mushroom Sauce: For this sauce, I used cream of mushroom soup, heavy cream, and whole milk. If you prefer a dairy-free option, try this gluten-free option or this one, with 2/3 cup almond milk with 1/3 cup quality extra virgin olive oil and one cup of coconut cream.
Cabbage Galore: I love using cabbage in winter soups, try pan-frying the cabbage first with good olive oil, then season with sea salt, Kosher salt, and lots of freshly cracked black peppercorns. Getting those chard caramelized bits are always useful, as well. Alternatives include collard greens, baby spinach, red Russian or Tuscan kale, or Swiss chard.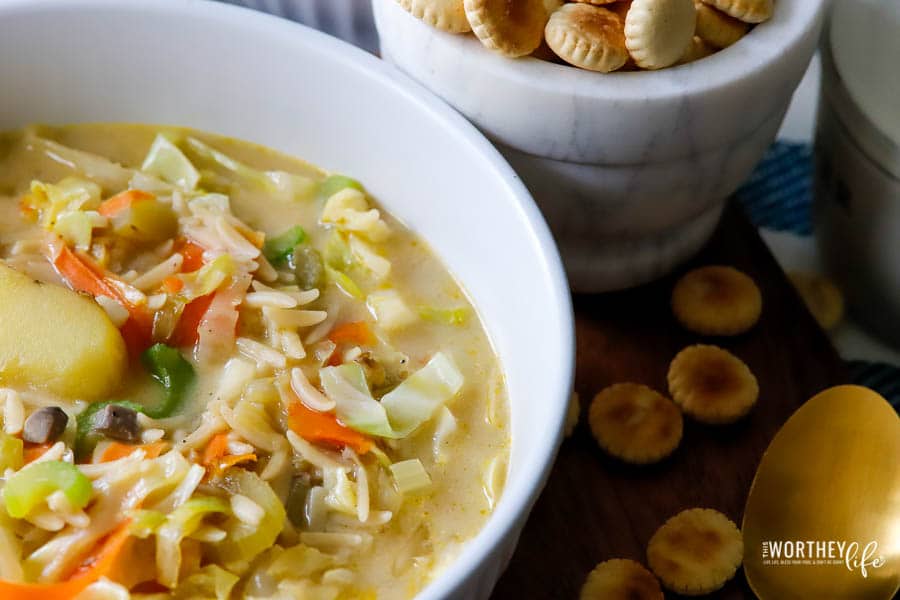 Why You Need This Orzo Soup
This here is the soup you'll need for those days when the chill in the air lingers and seeps into your bones. Just ladle up a big steamy bowl of this soul-soothing lusciousness, and you'll start to thaw out in no time. Yes, this is a veggie soup, but feel free to add shredded or chopped chicken or turkey. And, instead of using heavy cream, I lightened up this soup recipe with a cup of almond milk. Although I used some root vegetables, you good just as easily add chunks of sweet potatoes, fennel, turnips, or parsnips! You have lots of options. You can also substitute the cabbage for collard greens, kale, or baby spinach.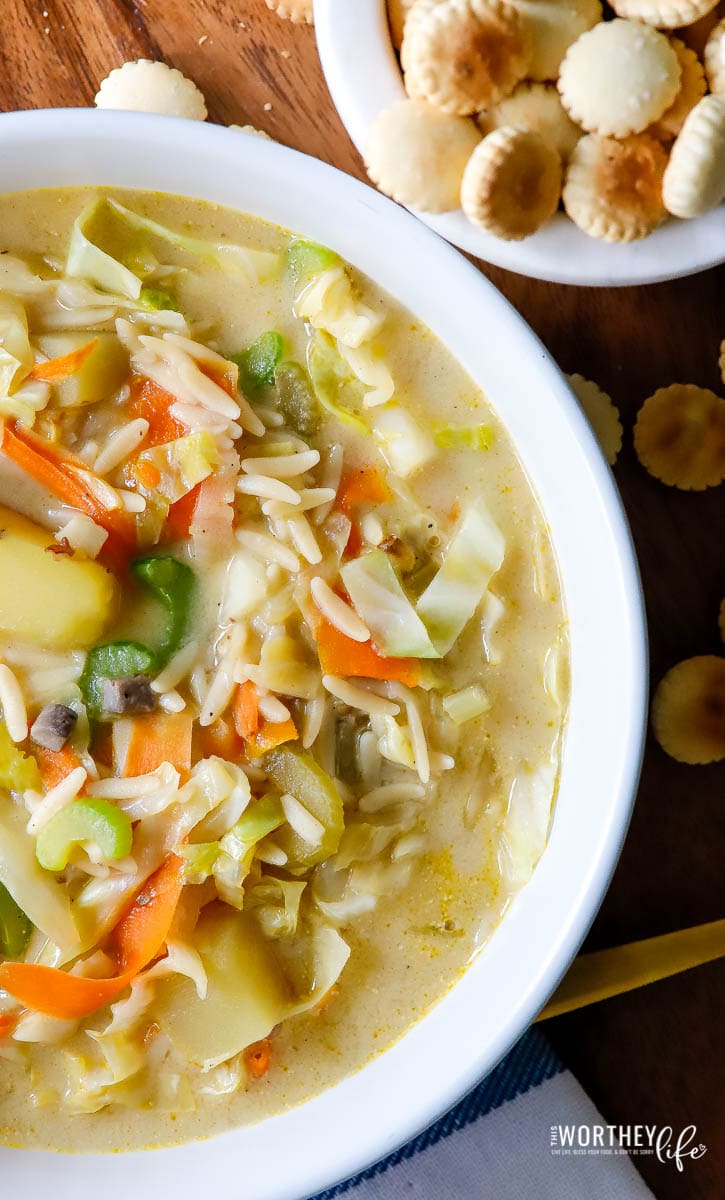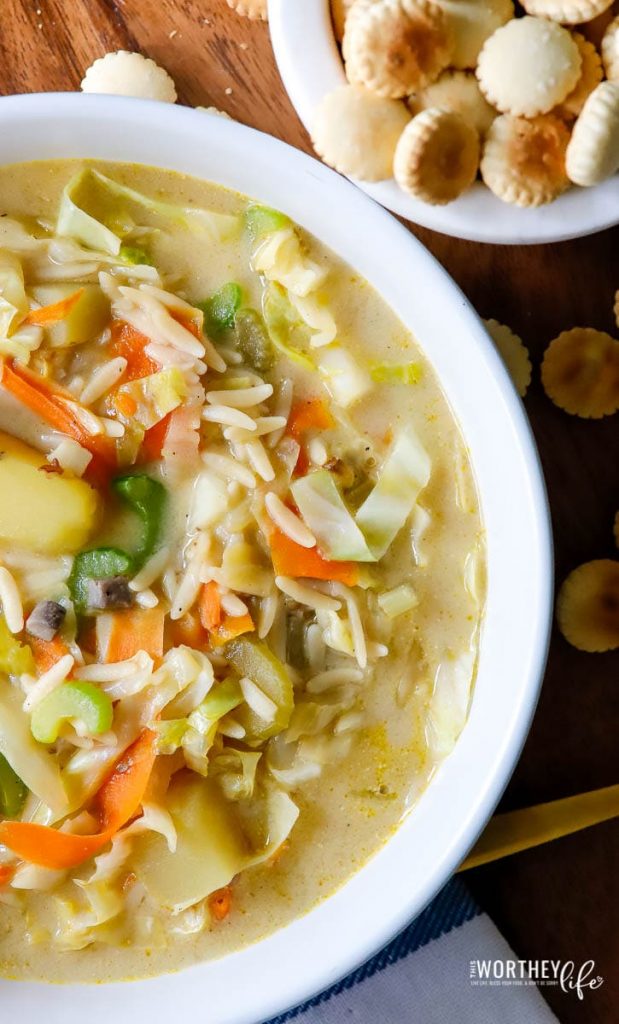 Easy recipe for Orzo and Vegetable Soup made in the Instant Pot
Ingredients:
3 cups shredded cabbage
2 carrots, shaved
1 medium sweet onion, chopped
2 celery stalks, sliced thin
3 cloves of garlic, minced
1 32-ounce organic vegetable broth
1 cup almond milk
1 can cream of mushroom soup
2 medium Yukon or russet potatoes, quartered
1 cup orzo pasta
1 tablespoon of sea salt
1 tablespoon Old Bay seasoning
teaspoon freshly cracked black peppercorns
Directions:
Remove the lid and select the Saute function on the Instant Pot, and add two tablespoons of extra virgin olive oil.
When the olive oil is hot, add the shredded cabbage and chopped onions and occasionally stir until the onions are opaque.
Add the minced garlic, sliced celery, and quartered Yukon or russet potatoes.
Pour in the vegetable stock and almond milk.
Add the orzo pasta and sprinkle in the sea salt, freshly cracked black peppercorns, and stir the mixture.
Secure the lid and lock it into place. Select the Soup/Chili function and cook on high pressure for 12 minutes.
Vent the Instant Pot and remove the lid.
Top the Vegetable & Orzo Soup with oyster crackers or shaved parmesan cheese.
Serve.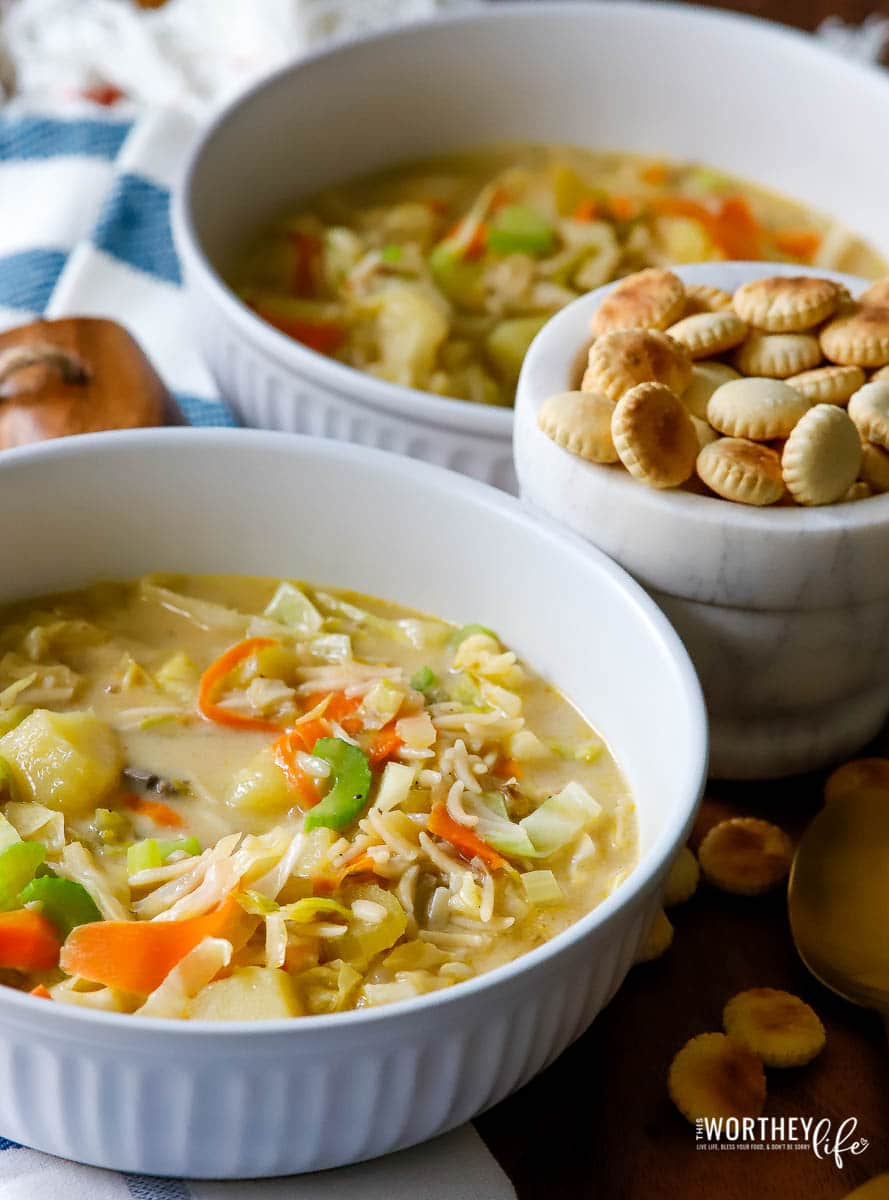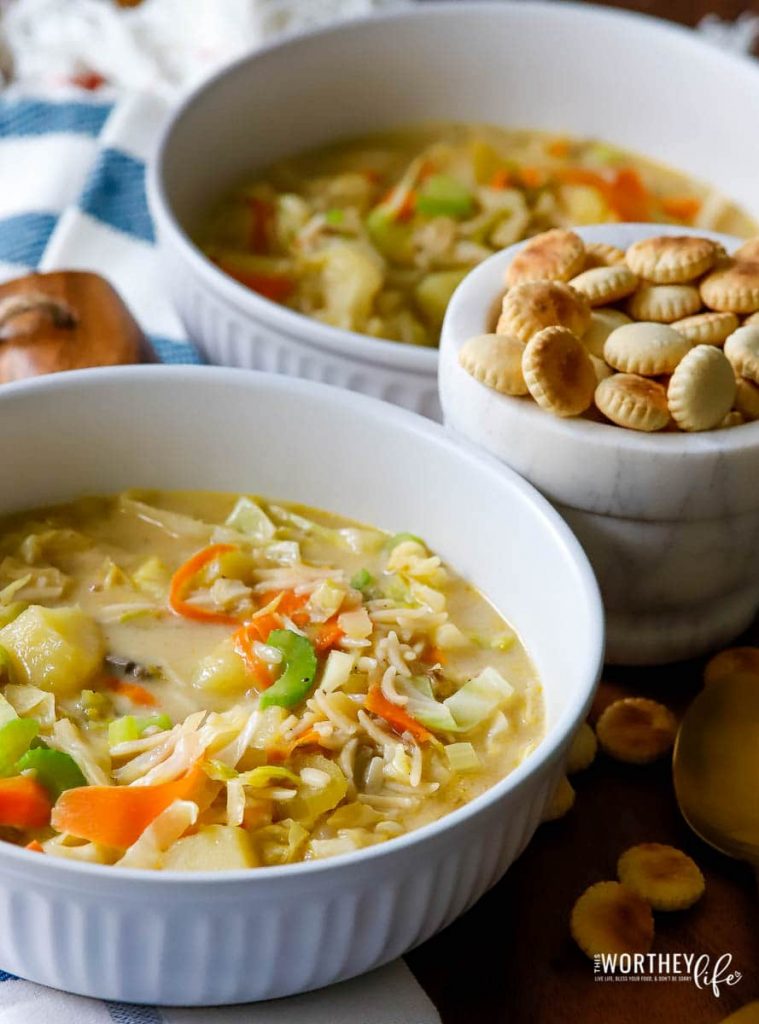 You got the recipe, so let's you and I throw this soup together in no time flat. I'll bet you a King's ransom you and yours will love this Vegetable & Orzo Soup, and it may just become a family favorite. Our family loves it, and I am sure yours will too!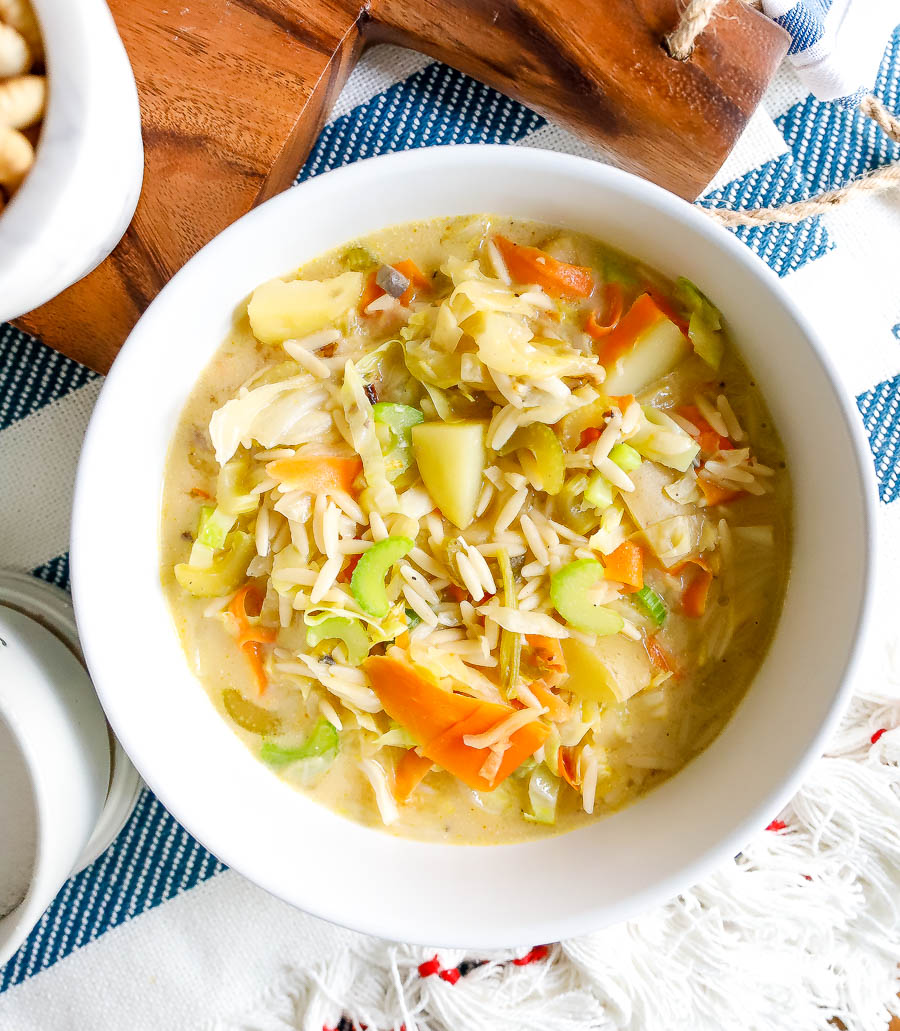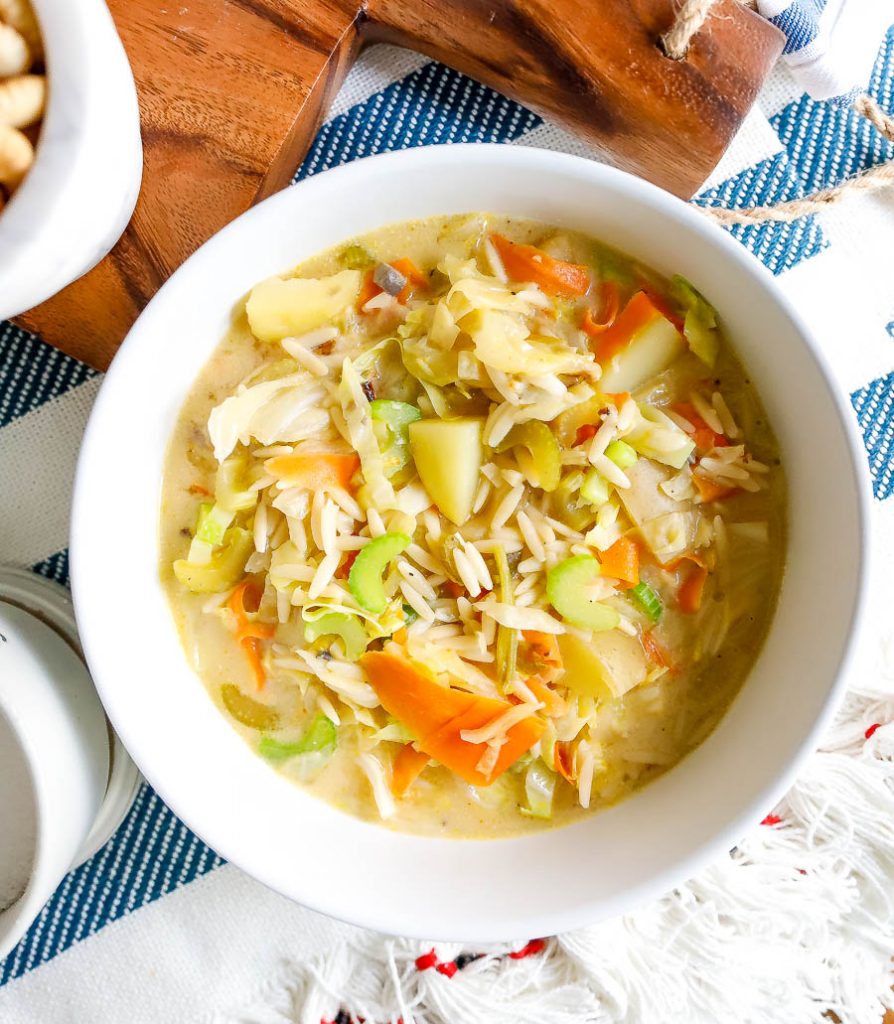 Love soup? You should try these soup recipes made in the Instant Pot:
Homemade Creamy Cabbage Soup {instant pot soup recipe}
Loaded Taco Soup Made In The Instant Pot
Creamy Tomato + Chickpea Soup (Instant Pot Recipe)