Ahead of "Incredibles 2" movie, Pixar is debuting a short film with their first female director, Domee Shi. We sat down to talk to her, producer Becky Neiman about "Bao" the inspiration behind it, and how it feels to blaze the way for other women.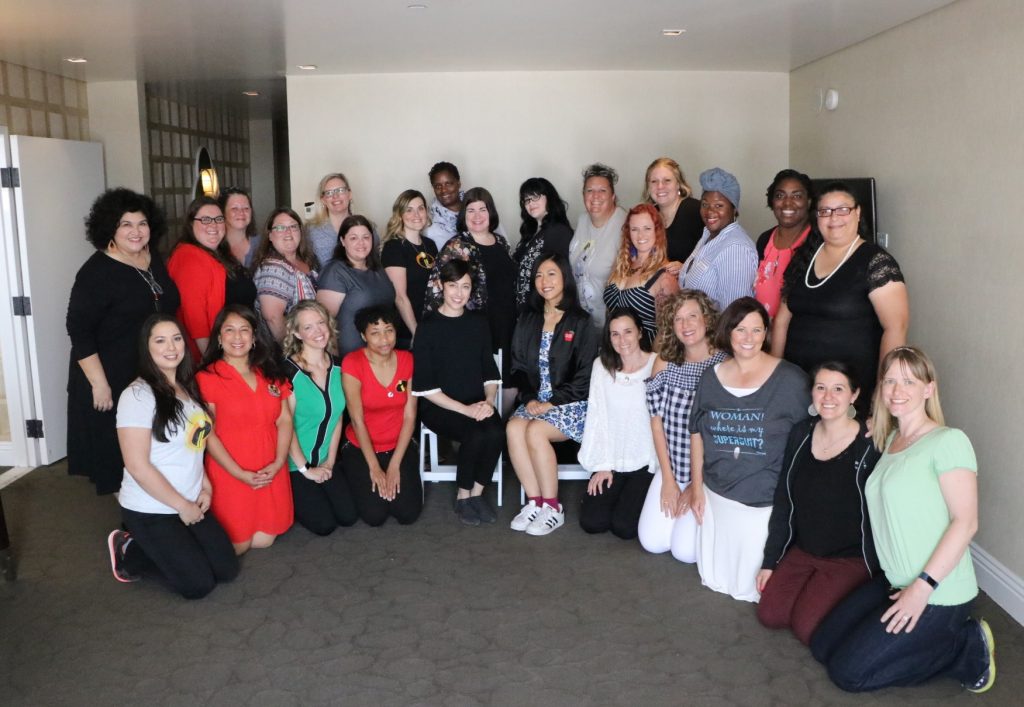 Pixar's Short Film BAO | Interview With First Female Director Domee Shi
Part of Incredibles 2 press junket included interviewing "Bao" Director Domee Shi & Producer Becky Neiman. In Disney•Pixar's "Bao," an aging Chinese mom suffering from empty nest syndrome gets another chance at motherhood when one of her dumplings springs to life as a lively, giggly dumpling boy. Mom excitedly welcomes this new bundle of joy into her life, but Dumpling starts growing up fast, and Mom must come to the bittersweet revelation that nothing stays cute and small forever. This short film from Pixar Animation Studios and director Domee Shi explores the ups and downs of the parent-child relationship through the colorful, rich, and tasty lens of the Chinese immigrant community in Canada. "Bao" opens in theaters on June 15, 2018, in front of "Incredibles 2."
I am not going to give a lot of this short film away, but it touched my heart. As a mom of two growing teens, I can understand what the Mom in "Bao" is going through. You don't want your kids to grow up. You want to keep them young and at home with you forever. But, that's not how life works. They grow up; they move out, they find the love of their life; we are left with an empty house and figuring out how to move on without our babies. I felt everything this Mom in Pixar's short film felt, and I'm dreading the day my boys grow up and leave.
The inspiration for "Bao"
Sitting down to hear more about the inspiration about this movie and talk to Domee Shi about her transition from interning at Pixar to producing her first short film was inspiring.
Domee stated she came up with the idea of doing this film about four years ago. She was sitting in her office one late night, super hungry. She wanted to put a modern twist on a "classic fairytale like The Little Gingerbread Man but with a Chinese dumpling. And actually, I was like just doodling in this image of this mom nuzzling her little baby boy dumpling to death. It just popped into my head. I had to draw it out, and as I was drawing, I started developing this story. I was also drawing a lot of inspiration from my own life growing up."
Exploring Mother/Child Relationship
Domee talked about wanting to explore the relationship between a mother and a child. She is the only child, and "ever since I was little, I feel like my mom and my dad have always treated me like a precious little dumpling, always making sure that I'm always like safe and never wandered away too far." She then smiled and gestured to the woman standing to the side of the room, "My mom is actually over there." She laughs, and then says, "So, I didn't wander away too far. I want to explore that relationship between this parent and this child and this mom character learning to let go of her little dumpling."
Producer Becky chimed in to share with us the meaning of the title Bao. It has two meanings, steamed bun and treasured, something precious.
A question was asked to Domee about why she choose to the tell story from the Mom's point of view, versus her (the dumpling's) point of view.
"When I'm coming up with stories or when I'm developing any art or anything like that, I wanna learn something new as well. And if it was just from the dumplings point-of-view, like I already know what is, 'cause that's me. And I guess I wanted to know what it was like for my mom like learning to let go of me. And so, I decided to explore this idea from the parents' point-of-view. And then if it gets too autobiographical, then you get too precious with details, and you don't wanna like cut stuff out. So, it was good to kind of do it but like from like a distance, like tell the story from a distance."
She also went to share that her mom came in to teach the Pixar team how to make dumplings. And her mom received creative consultant credit in the film! Domee mentioned, "It was really important for us to get all of those little details right and to get the animators and effects artists like in there like studying my mom technique of like how she folds the dumpling exactly and kneads the dough and just like, you know, poking the dough and smelling the pork filling. 'Cause it was important to get those details right like just to get them as accurate as possible on the big screen."
Domee shared her thoughts on working with her mom, " I never would've expected that I would collaborate professionally with my mom on my first short film. So, it's been amazing."
On being the first female director of a Pixar Short Film
As I mentioned above, Domee started out as a story intern in 2011 at Pixar. It was a three-month storyboard Bootcamp, pitching to a room full of veteran story artists, supervisors, directors consistently. She was offered a full-time position as a story artist on Inside Out. She has worked on The Good Dinosaur, Toy Story 4, and even Incredibles 2. All this prepared her for this film. When Pixar opened up auditions for short film pitches, Domee was ready, and she went for it! She pitched three ideas, and Bao was selected.
When asked how she felt about being the first female director of a Pixar Short Film, Domee had this to say, "I feel super like honored and humble, but hopefully I'm the first of many female short film directors and feature film directors. Yeah, it's been awesome. I was telling Becky like it almost didn't hit me that I would be like the first because like making the short I was just focused on like finishing it and hoping that people liked it or understood it. And now I can kinda sit back and bask and be like wow. We're blazing that trail."
Photo credit: Louise Manning Bishop / MomStart.com
Becky also shared her thoughts, " It's happening. Yeah, and you had a really strong female leadership team. We, you know it's us, but it's also our editor, our production designer, our sound editor, our production manager, technical manager." Wow, I love it!! I love hearing how women are blazing the way, but also coming in packs, versus a woman here, or a woman there.
It also goes to show you that, everything you do, every job, every idea is helping you prepare for that moment- that moment that is made for YOU! As a woman entrepreneur, I found motivation in Domee's story to keep going, keep working hard, and preparing for that big moment!
When you go to see Incredibles 2 this weekend, be sure you are on time. You don't want to miss catching Pixar's short film, Bao. It's a heart-warming film, universal, but with a cultural twist. I loved it!
Here's a look at Pixar's short film, "BAO":
Take a look at our Incredibles 2 coverage:
5 Memorable Moments from My Interview with "Incredibles 2" Craig T. Nelson + Holly Hunter
Honey, Where's My Supersuit? | Interview with Samuel L. Jackson
Experiences Worth Trying During Pixar Fest
It's Going To Be An INCREDIBLE Summer! | Incredibles 2 Movie