I use shredded smoked pork shoulder to create an easy and delicious Pulled Pork Breakfast Skillet.
We served smoky tender pork with savory sweet potatoes, black beans, and sunny-side-up fried eggs for this breakfast or brunch dish.
But that's not all; there are plenty of fresh ingredients, like red onions, cilantro, and sliced jalapeños, topped with white cheddar cheese and served with warm flour tortillas.
This post is sponsored by the National Pork Board; however, all content and photos are our own.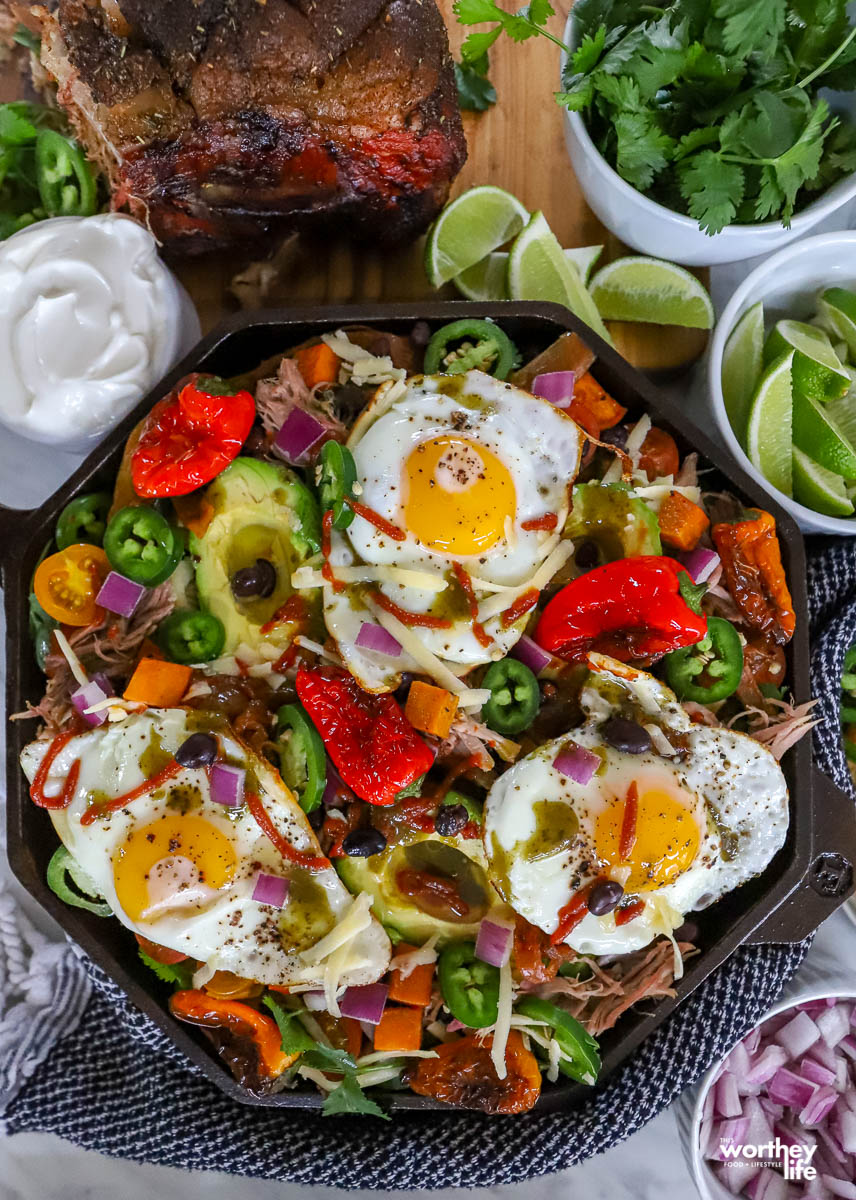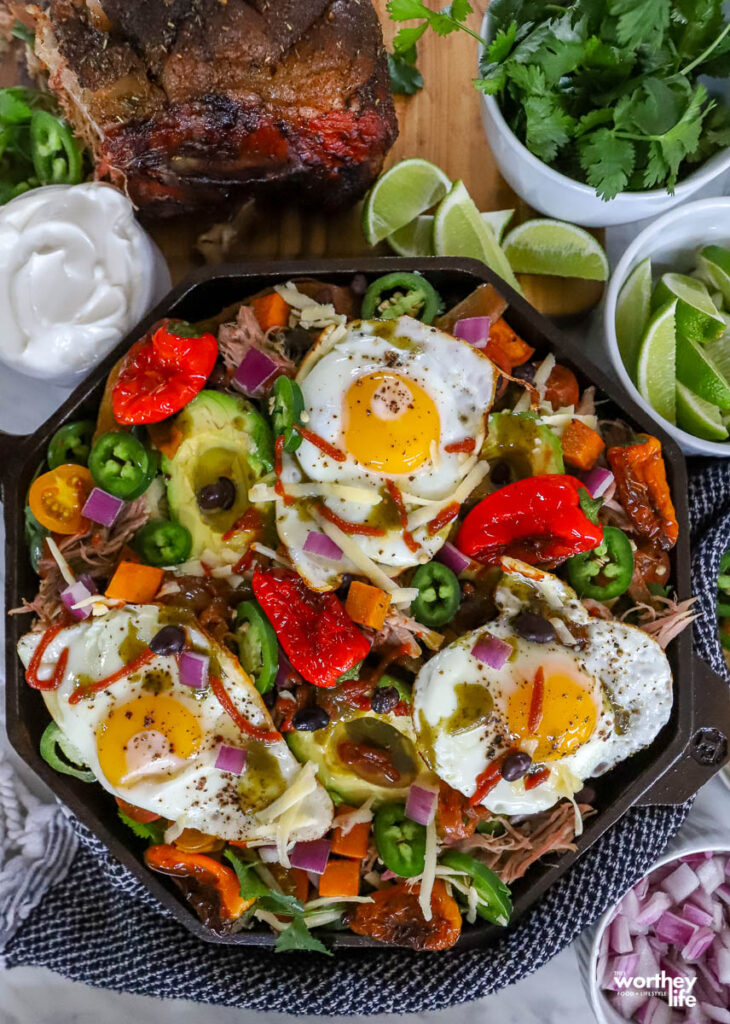 Pulled Pork Breakfast Skillet
With great pork comes lots of versatility. Here is how I made our family's weekend brunch special because if I can't spoil my family, who else will, I spoil?
For me, the first sign of spring is charcoal smoke. Firing up the grill is a year-round thing, but springtime marks the end of winter and the official start of the grilling season.
And with winter in the rearview mirror, the days are longer, which means more time spent outside tending the grill.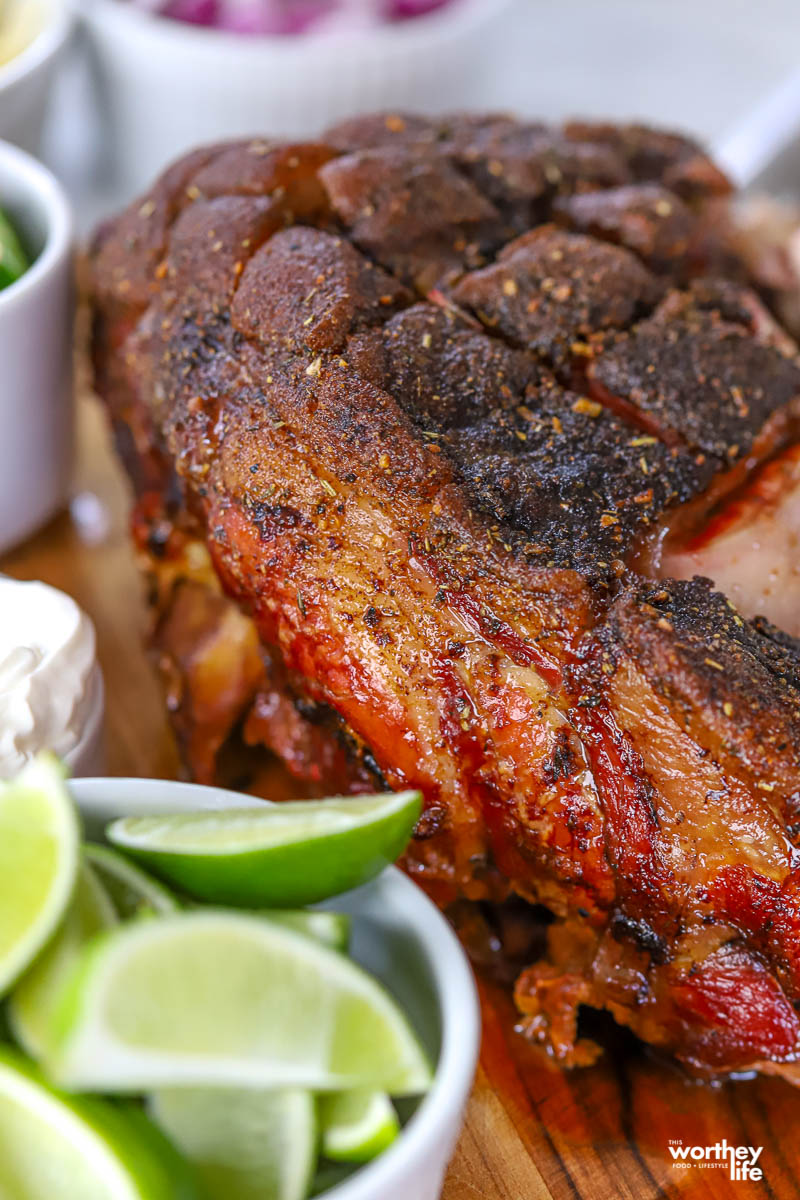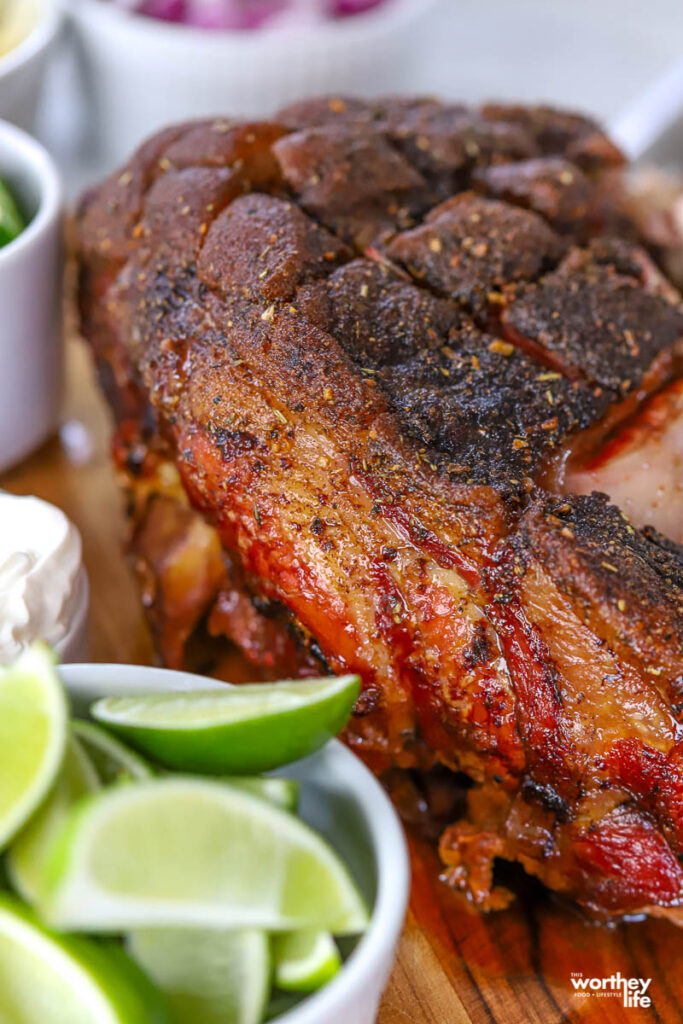 Today, I smoked a 14-pound bone-in pork shoulder encased in an umami rub at 225° until an instant-read thermometer gave me a reading of 195°.
The final time clocked in at a little less than 20 hours.
Smoking times depend on many factors; cold-to-touch meat will take longer. It is vital to allow the meat to come to room temperature.
But the smoking process can take longer for similar cuts of meat, based on how much fat marbling there is or how much moisture it has, etc.
Below you will find how I did it!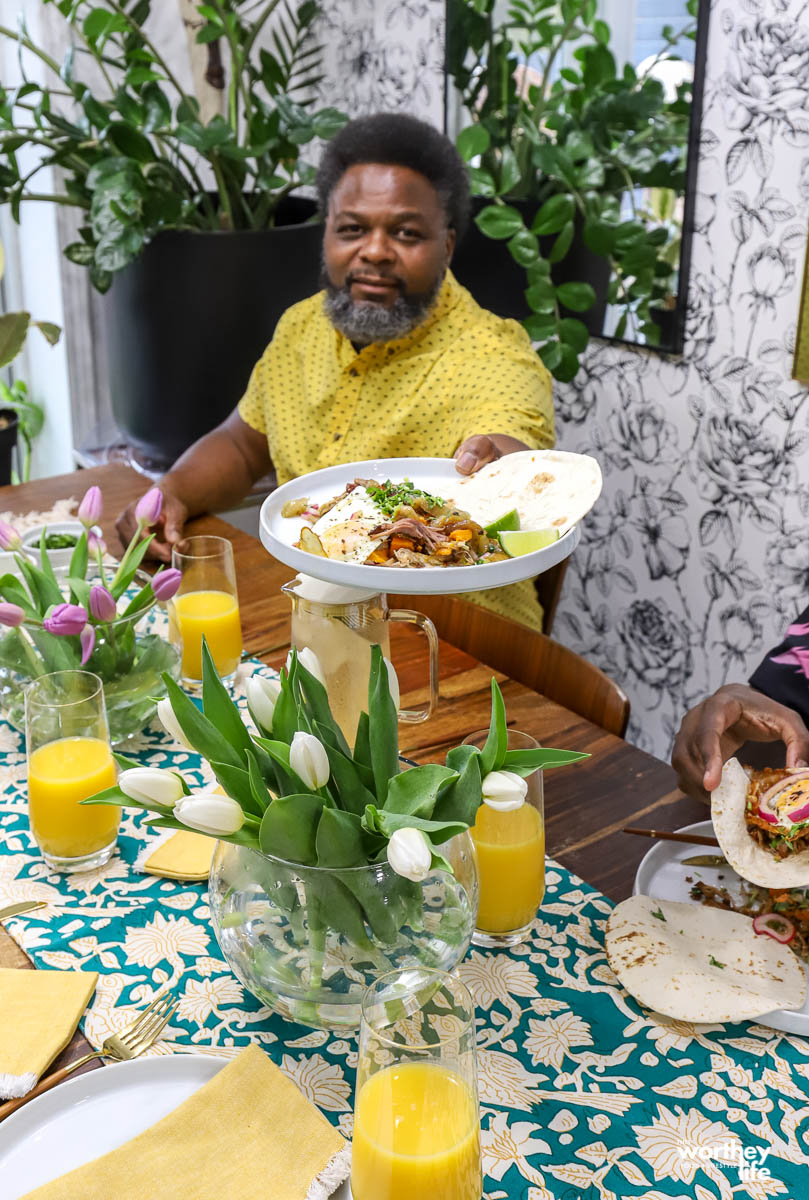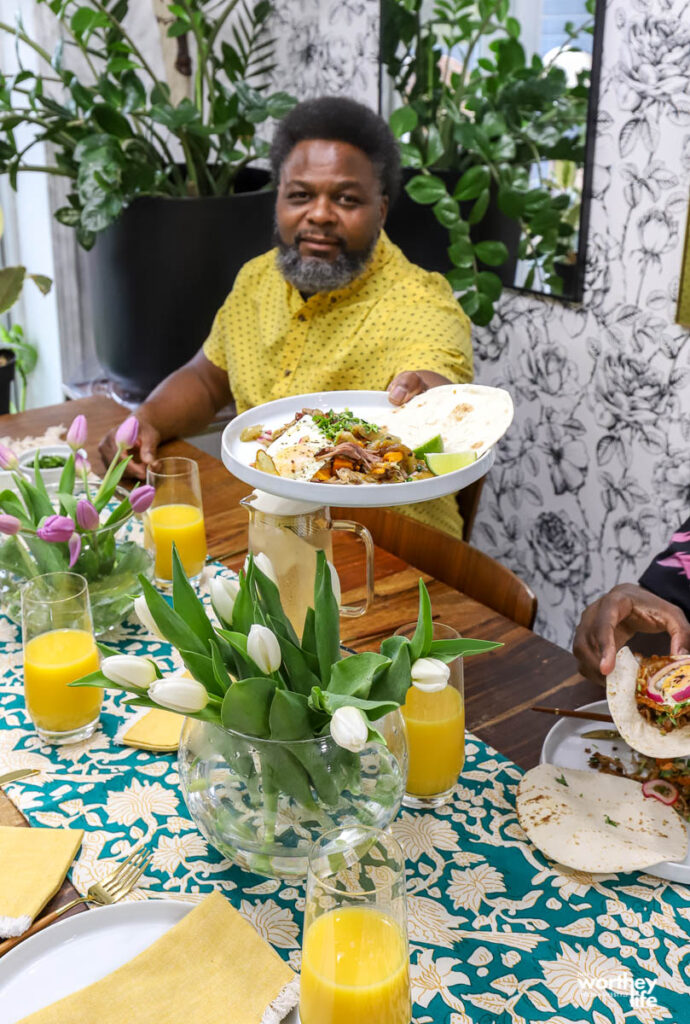 Another sign of spring is having brunch with our friends and family here in our backyard, also known as The W.
Since we live in the Midwest, we tend to hibernate during winter.
The first signs of spring have us itching to host a weekend brunch as we get ready to welcome the warmer season.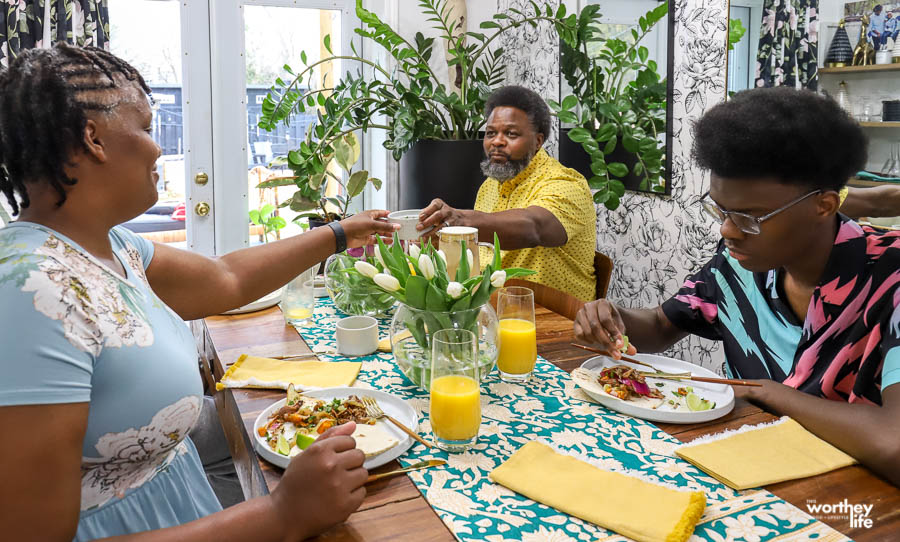 Springtime brunch is about using fresh flowers from our garden to set the table, fresh veggies, firing up the grill, food, and great conversations.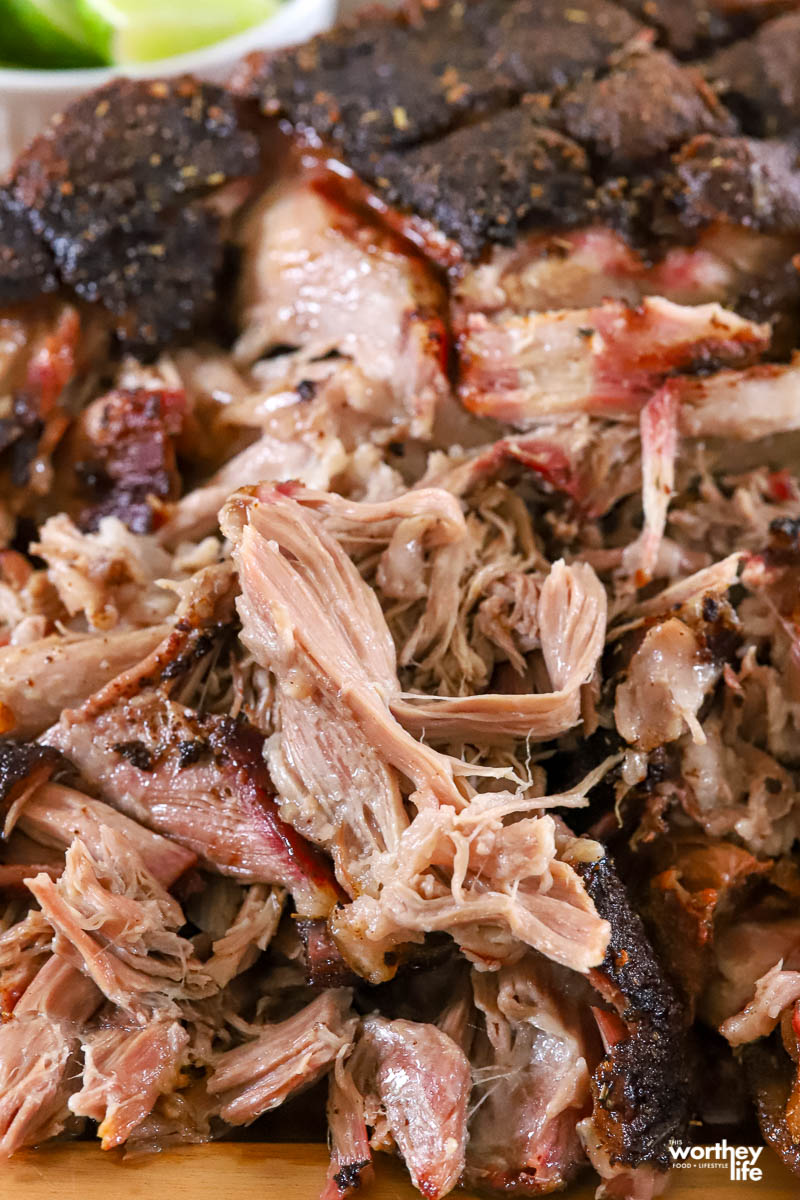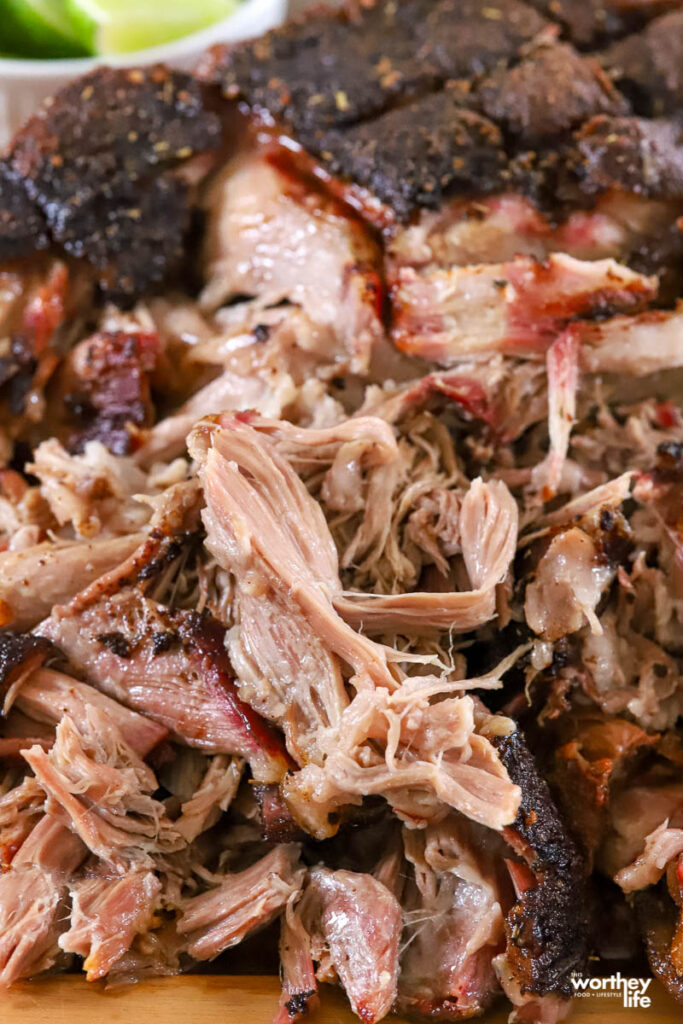 Smoked Meat: Why Low & Slow
Why would anyone want to cook a pork shoulder for almost twenty hours?
In case you are wondering, meat cooked at low temperatures for a long duration of time can, at first glance, appear over the top.
But there is a reason people have been using the tried and true low and slow method of cooking meat.
Our piece of pork is cooked at lower temperatures using a mixture of premium lump charcoal and hardwood like hickory, maple, or oak, which gives the meat a deeply satisfying smoky flavor.
Using a fruitwood like an apple or cherry imbues the meat with a sweeter smoke flavor.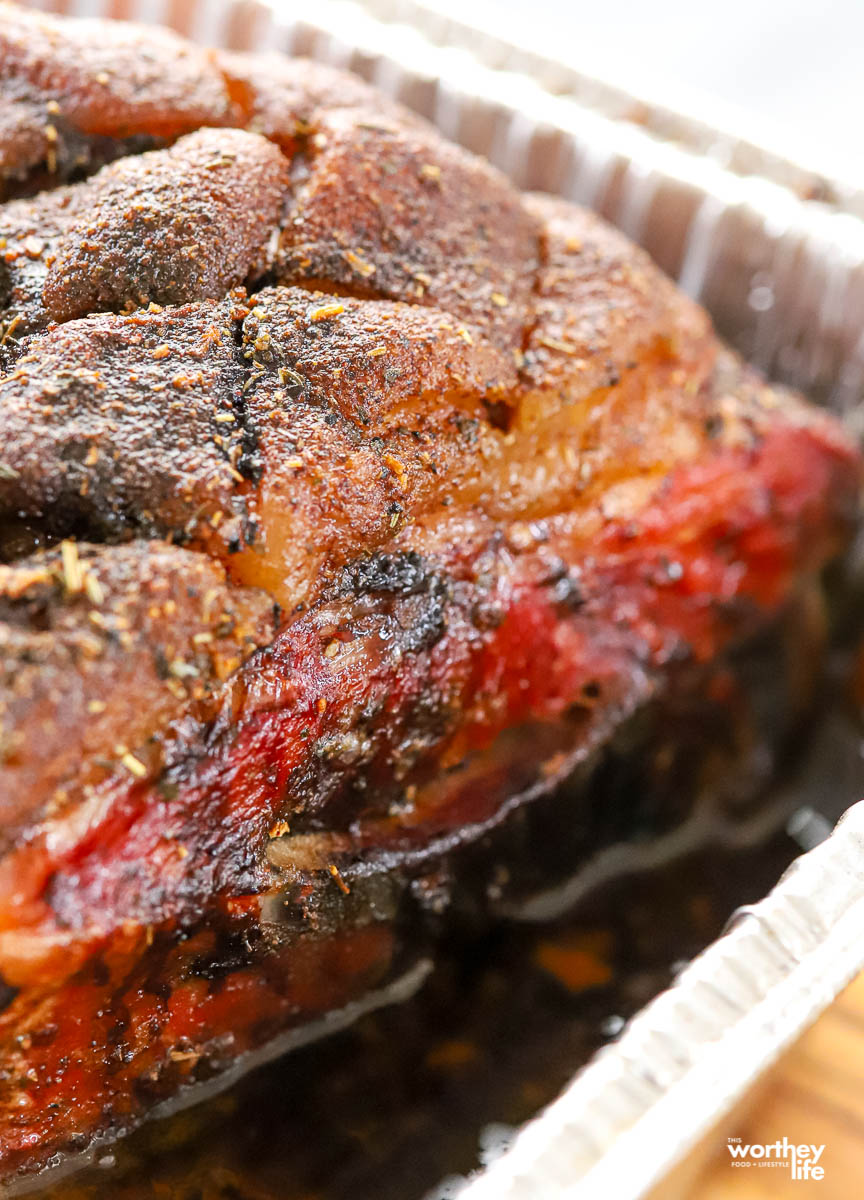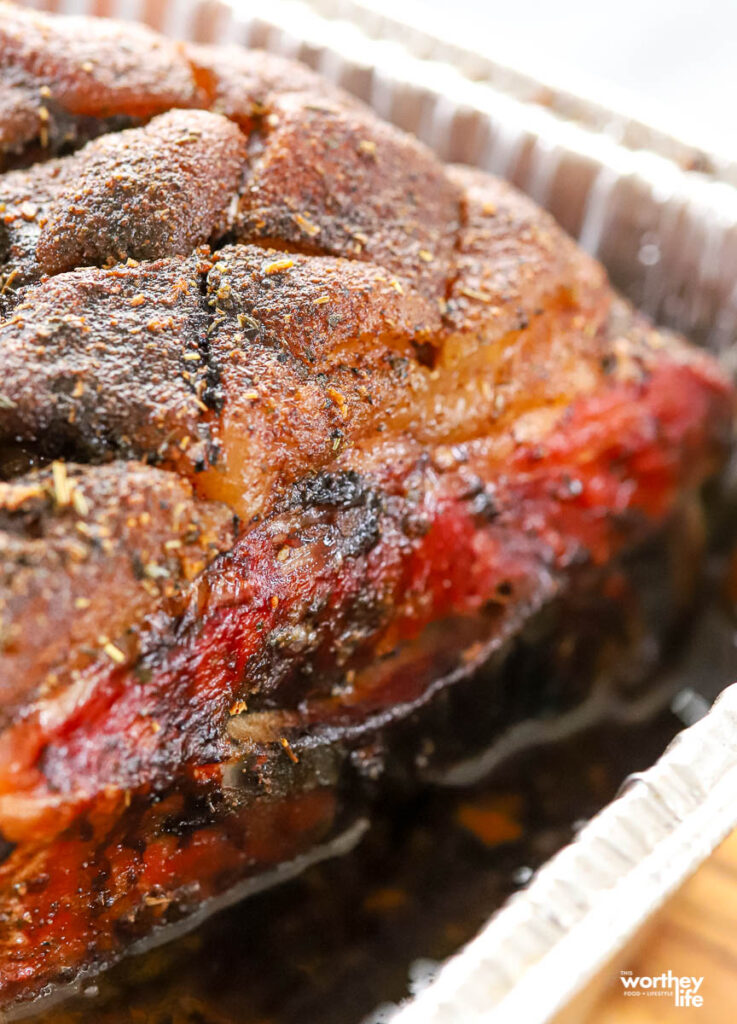 Why slow? Smoking meat at lower temps means you will need to cook the meat longer, and the longer the meat is smoked, the more the collagen breaks down (collagen is the tough muscle fiber in meat), and the fiber of the meat becomes tender.
The longer meat is smoked, the more flavorful the meat becomes.
Smoking meat is an art form, and once you master it, there is no going back.
Because who doesn't want to turn out mouthwatering, tender, juicy, and intensely satisfying smoked meats anytime they want it?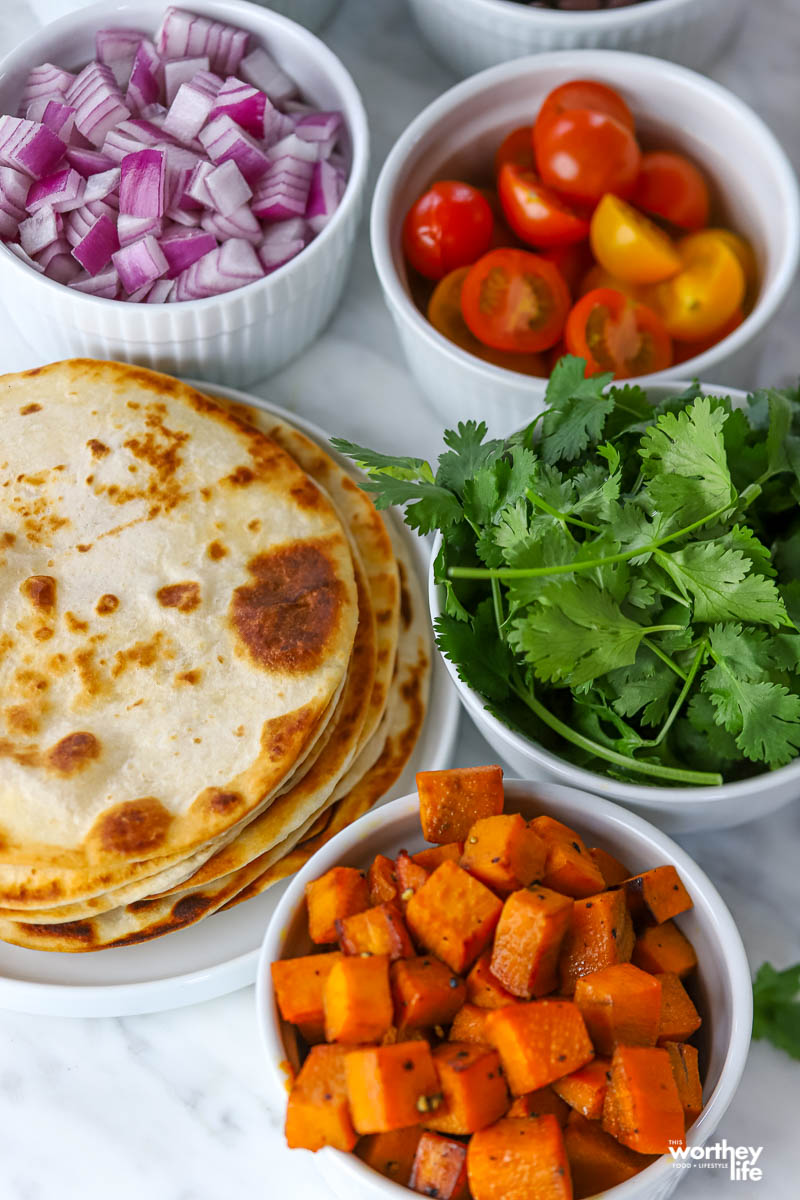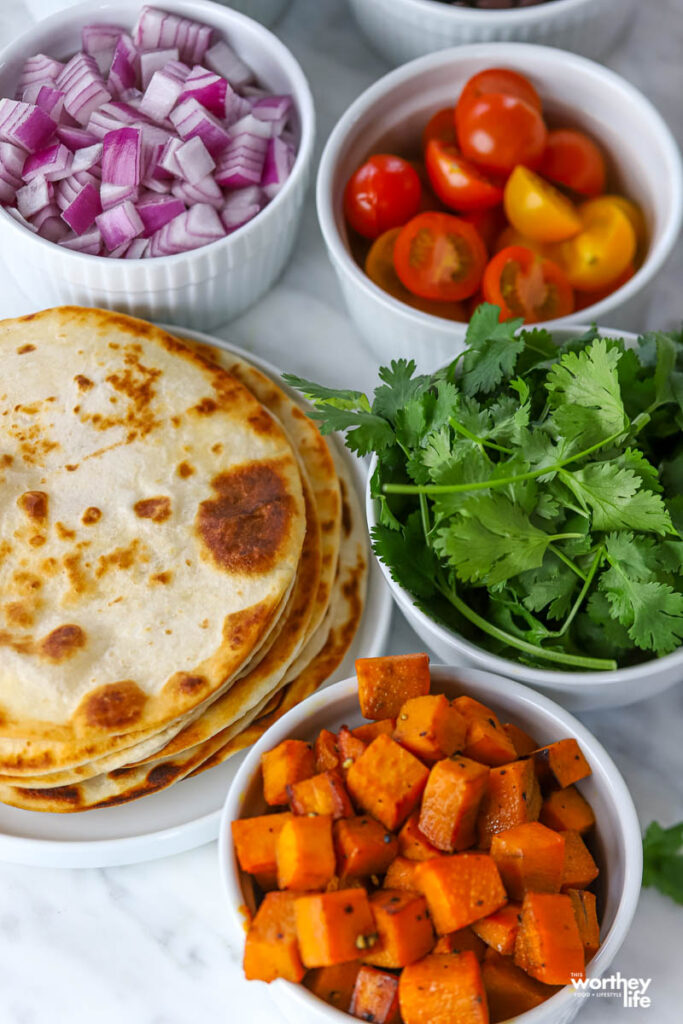 Here Is What You Will Need
Bone-in Pork Shoulder. Also called a bone-in pork butt, the general rule is to smoke the pork for 1 and 1/2 hours per pound or until you reach an internal temperature of 205°, which can take as long as 21 hours.
BBQ Rub. This time out, I used one of my favorite rubs. The Simple Truth Organic Mushroom Umami Herb adds a lot of flavors and works particularly well with smoked pork.
Olive Oil. After the meat is patted dry, I like to coat the entire surface of the meat with olive oil; you can also use vegetable oil, canola oil, grapeseed, or avocado oil. The oil helps the rub stick to the meat; many of the ingredients in a rub are oil-soluble, meaning they can only be dissolved in oil. You can mix the rub with a few tablespoons of oil to make a paste, then coat the meat with the paste.
After adding the oil and rub, allow the meat to rest at room temperature for 2 to 4 hours, resulting in a juicy and tender smoked shoulder.
Onions. I used two (2) large sweet onions. I sliced them and placed them in the bottom of the aluminum pan, adding a bit of coarse sea salt and freshly cracked black peppercorns.
During the smoking process, the onions release water and help keep the pork moist and tender.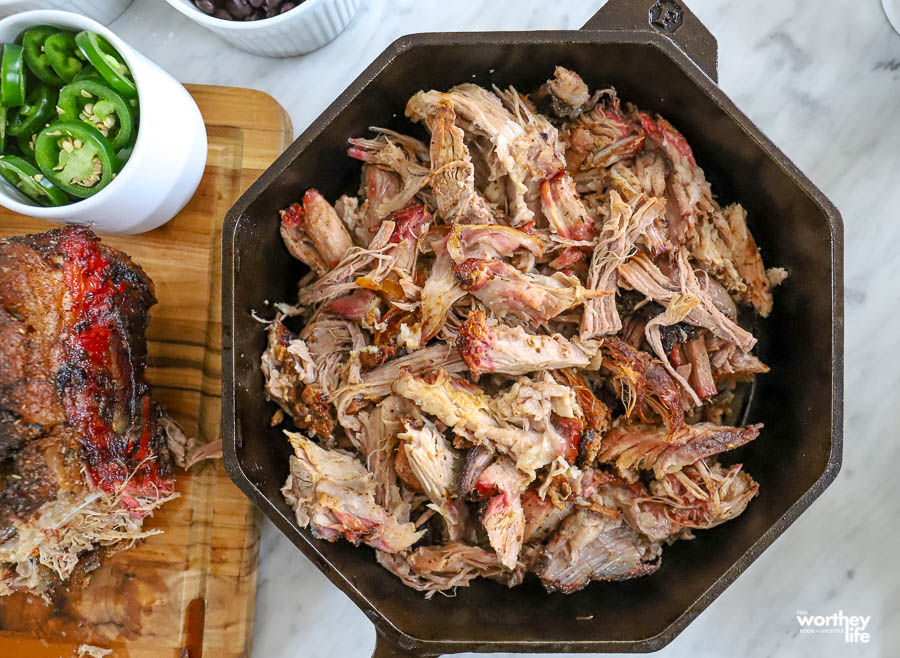 Why Pork?
One of the main reasons I love serving pork to my family is because pork is delicious. Also, pork is very affordable.
Facts. I also love how versatile pork is when it comes to meal planning. I can use pork in almost any recipe that requires beef or chicken.
When cooking a large cut of meat like pork butt or bone-in pork shoulder, I love using the leftovers to make some of my family's favorite meals like Pulled Pork Tacos, Pork Stir-Fry, Cheesy Rice & Pork Casserole, and Shredded Pork Ramen.
Usually, we think about using pork in soups, tacos, stir-fry, casseroles, or serving pork with smashed cheesy potatoes, rice, or our favorite kinds of pasta.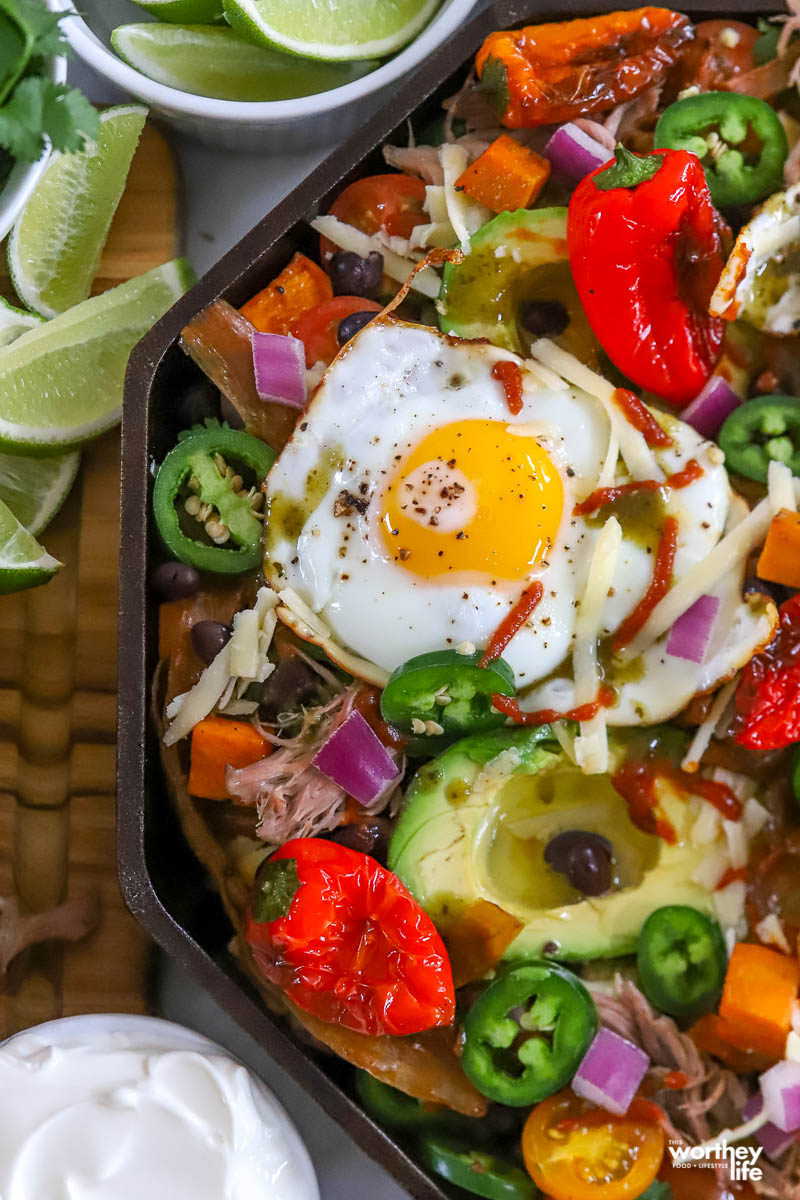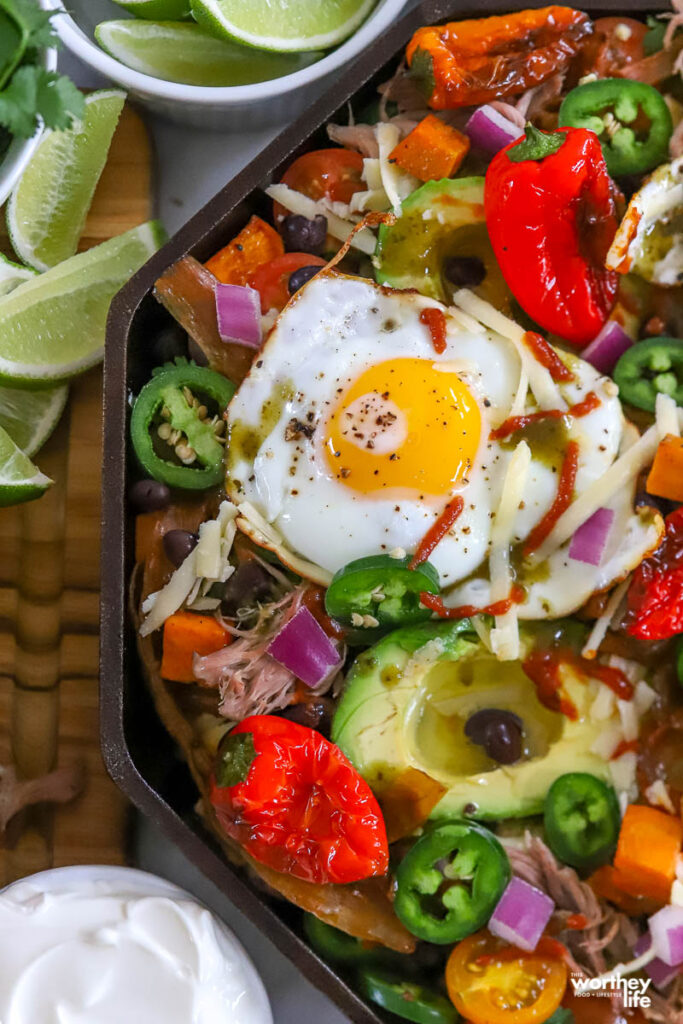 But pork works in breakfast and brunch recipes, including the breakfast skillet recipe we're sharing below.
With pork, the possibilities are endless! Get inspired and find more delicious recipes by visiting the National Pork Board's website to check out the complete recipe collection.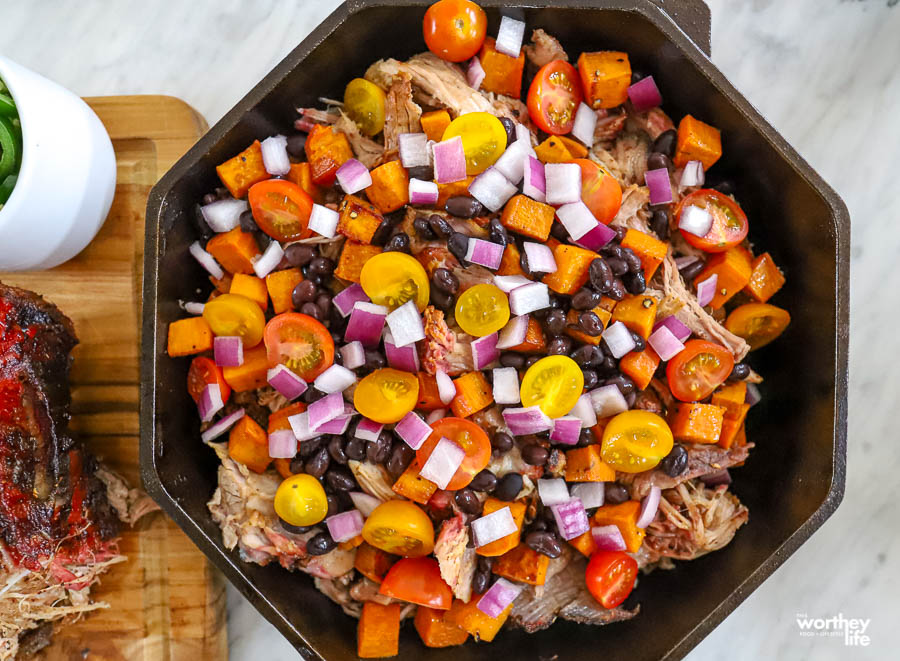 How to make a Smoked Pulled Pork Breakfast recipe in a cast-iron skillet
Ingredients:
14.8-pound bone-in pork shoulder
1 cup of mushroom umami mushroom herb rub
2 large sweet onions
2 tbsps of extra virgin olive oil
1 tbsp of coarse sea salt
3-4 turns of freshly cracked black peppercorns
Equipment:
Charcoal Grill + Smoker
9″ x 13″ high-walled aluminum pan
Latex Gloves
Meat Thermometer
Hardwood Hickory Lump Charcoal
1-2 Charcoal Starter Squares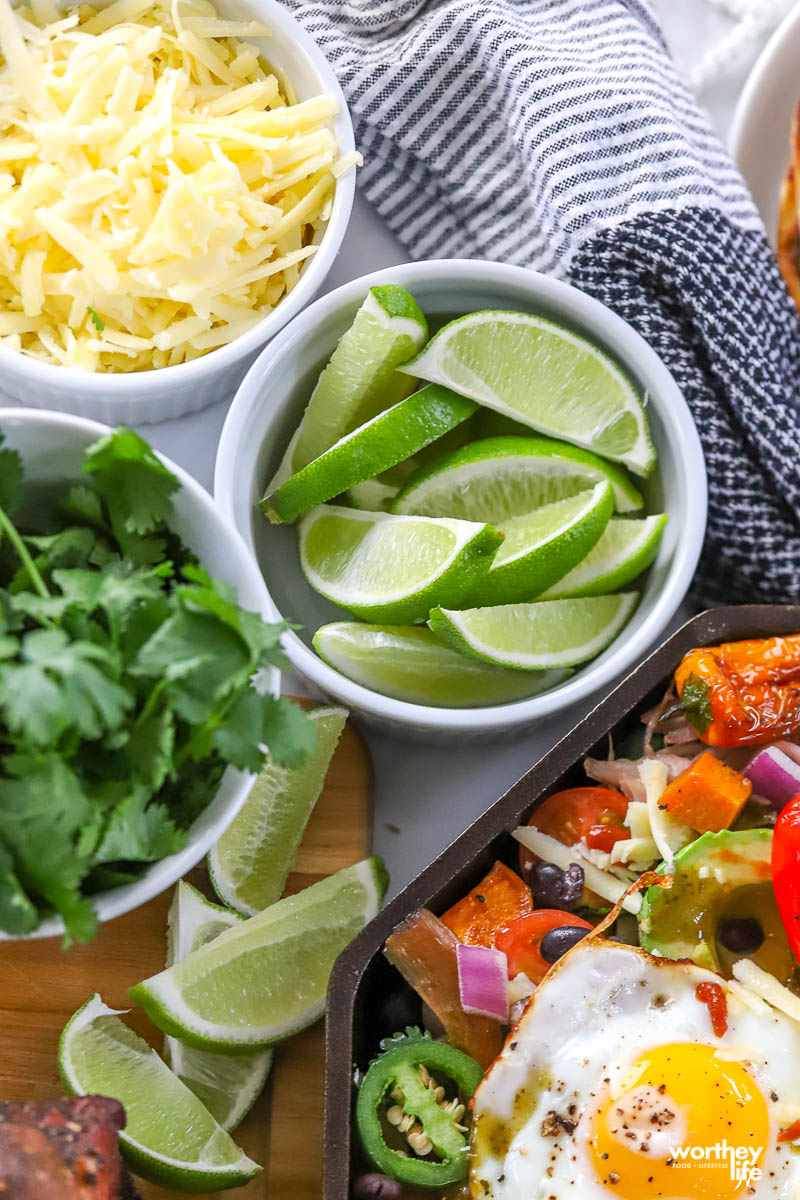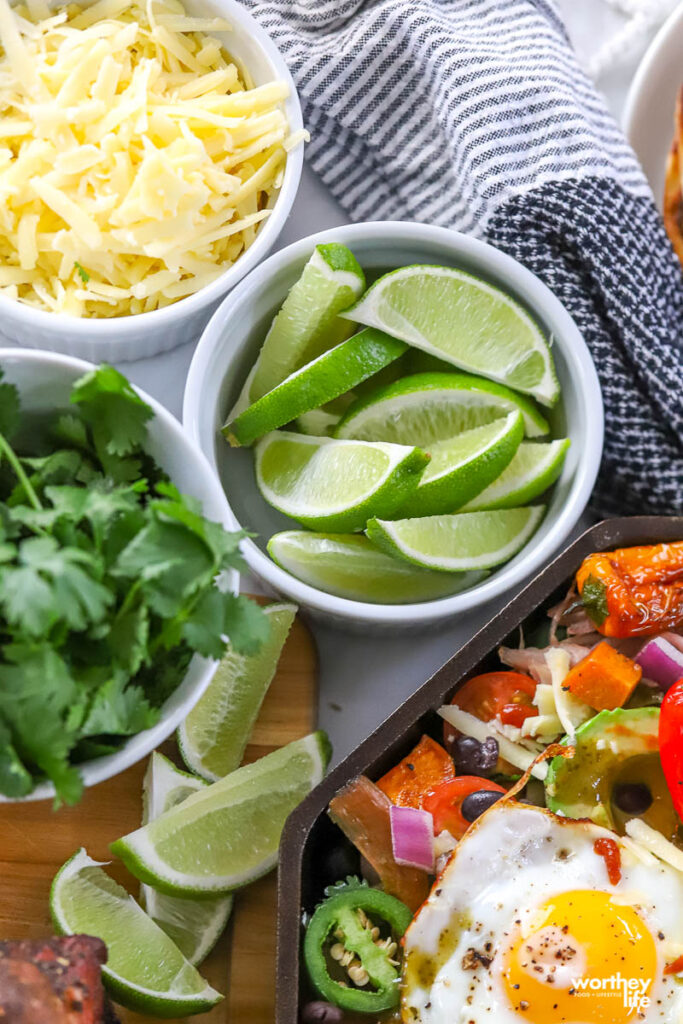 Directions:
Peel and slice two large sweet onions, and place the onions in the bottom of the 9″ x 13″ pan. Season the onions with coarse sea salt and a few turns of freshly cracked black peppercorns.
Remove the bone-in pork shoulder from the meat packaging. Place the pork on a clean cutting board, apply two tablespoons of EVOO, and rub the oil over the entire surface area of the pork. Put on your latex gloves and use paper towels to remove as much moisture from the pork as possible.
Using a sharp knife, score the fat cap with a criss-cross pattern. Place the pork shoulder into the aluminum pan on top of the onions. Add half of the rub mixture to the top of the pork and work it with your fingers. Flip the meat over and repeat. Allow the meat to rest at room temperature for 20 to 30 minutes.
If using a smoker, fill the hopper with quality slow-burning hardwood hickory lump charcoal. Use a charcoal starter square in the starter chamber and light. Close and latch the ash bin door.
Turn on the power, press the temperature button, and set the temperature to 225°. Hit the timer button, and adjust the timer to 16 hours. Allow the grill to heat up to the selected 225° temperature.
When the desired temperature is reached, place the pork shoulder in the center of the cooking grate and close the lid. Allow the meat to smoke. Refill the hopper with charcoal as necessary. I refilled the hopper twice during the smoking process. I continued to smoke the pork until I got an internal temperature reading between 195°-200°.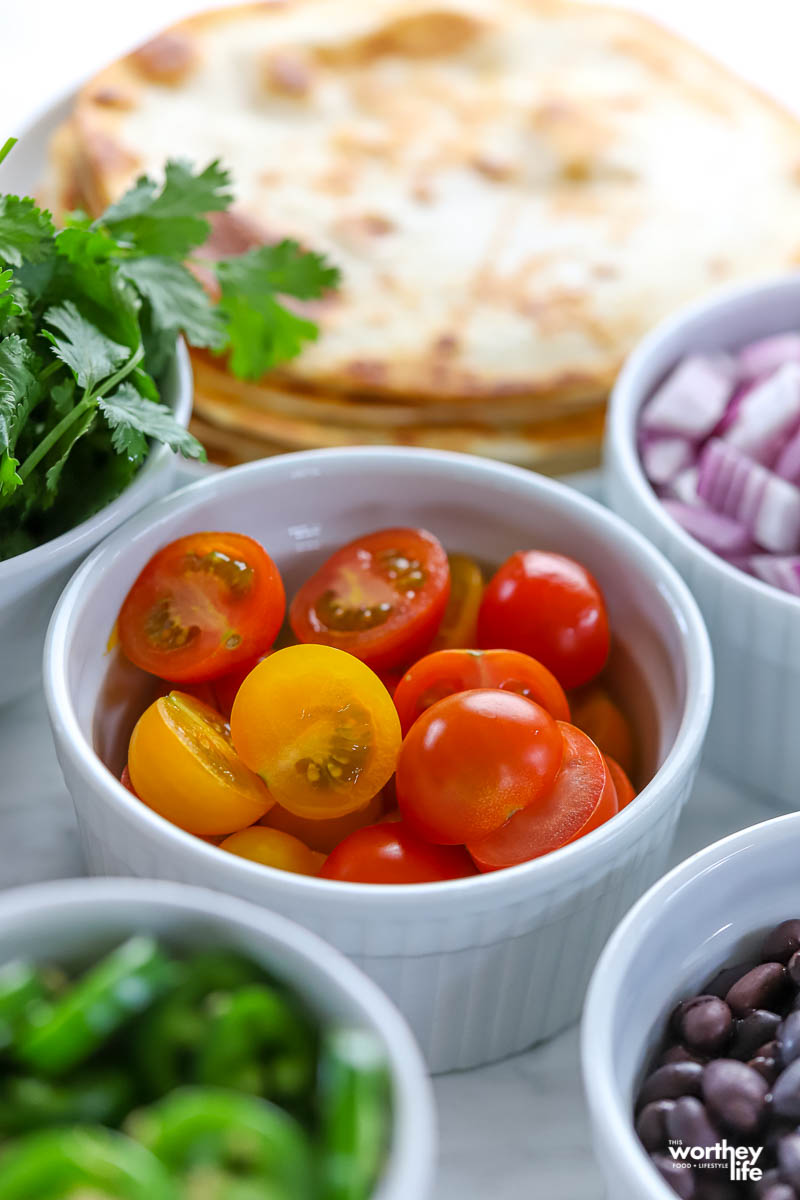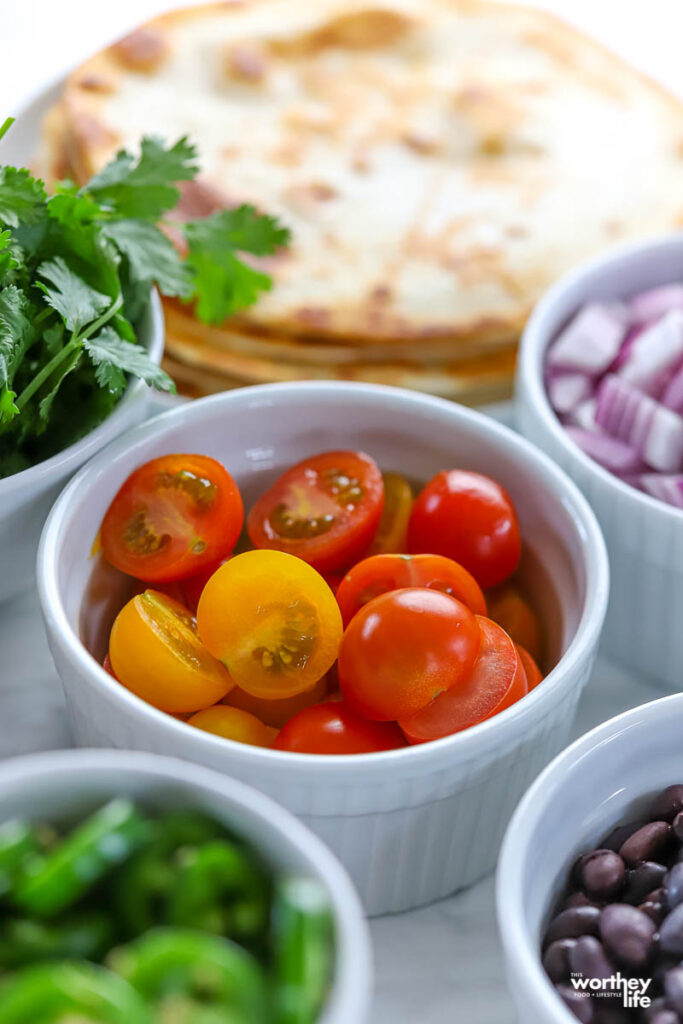 Toppings
1 medium red onion peel and chopped
1 large sweet potato peeled and cut into ½" cubes
1 large red bell pepper
1 large jalapeño pepper
6-8 tri-color mini peppers
4 tbsps of EVOO divided
2 tbsps of water
2 ripe but firm avocados
3 eggs
1 can of black beans rinsed thoroughly
1 cup freshly grated white cheddar
1 cup cilantro leaves
Red hot sauce
Green chili hot sauce
Coarse sea salt
Freshly cracked black peppercorns
Directions:
Place a medium skillet over medium-high heat and add the EVOO. When the oil is hot, add the cubed sweet potatoes. Brown the sweet potatoes, then adjust the heat to low and add the water. Place a tight-fitting lid over the skillet and allow the potatoes to cook for 10 minutes or until the potatoes are fork-tender. Using a slotted spoon remove the potatoes from the skillet and into a bowl. Set aside
Whip the skillet clean, add the remaining oil, and adjust the heat to medium-high. When the oil is hot, add the mini tri-color peppers. Cook in the oil until the peppers are blistered and slightly charred. Using a slotted spoon, remove the peppers and place them on a paper towel to absorb any excess oil. Set aside. Fry three eggs sunny-side up in the hot oil and gently remove them.
Arrange the 3-4 cups of shredded pork shoulder into a serving skillet, layer on the sweet potatoes, black beans, red onion, fresh jalapeños, avocado, cilantro, mini blistered tri-color peppers, and fried eggs. Serve with sour cream, red chili hot sauce, and green chili hot sauce.
Serve with warm corn or flour tortillas.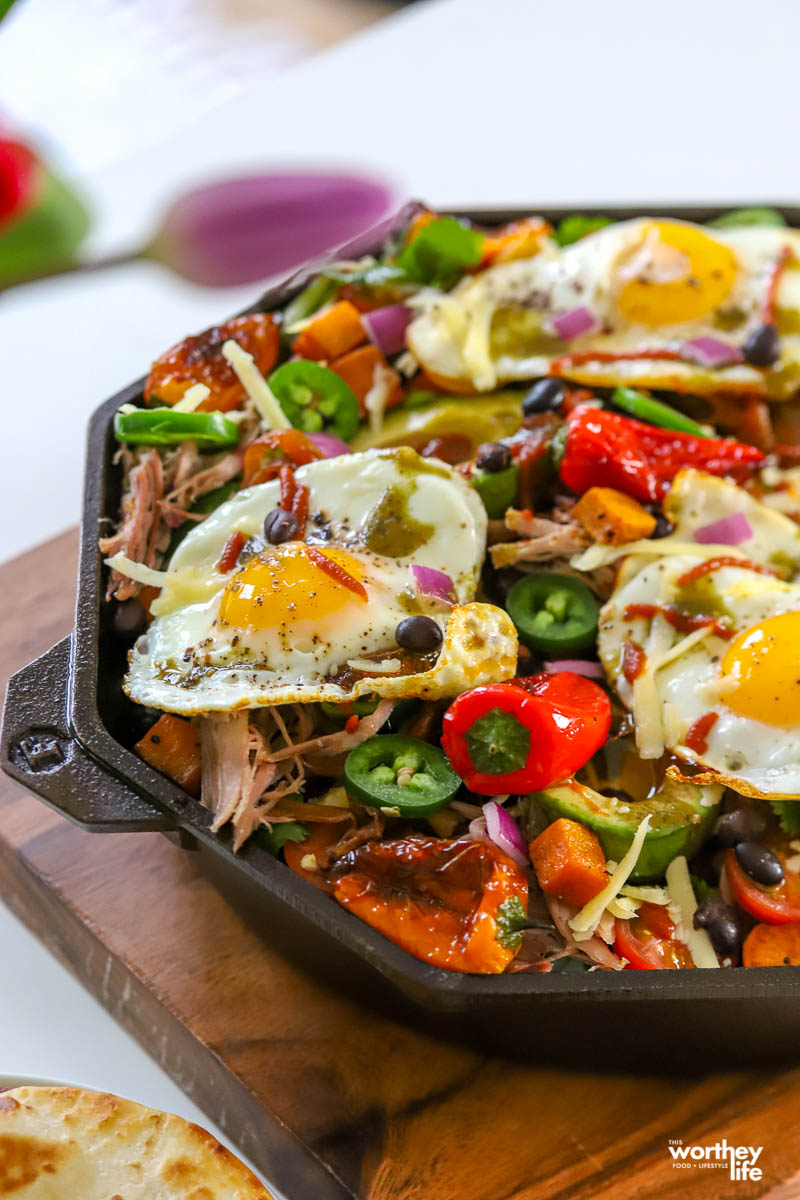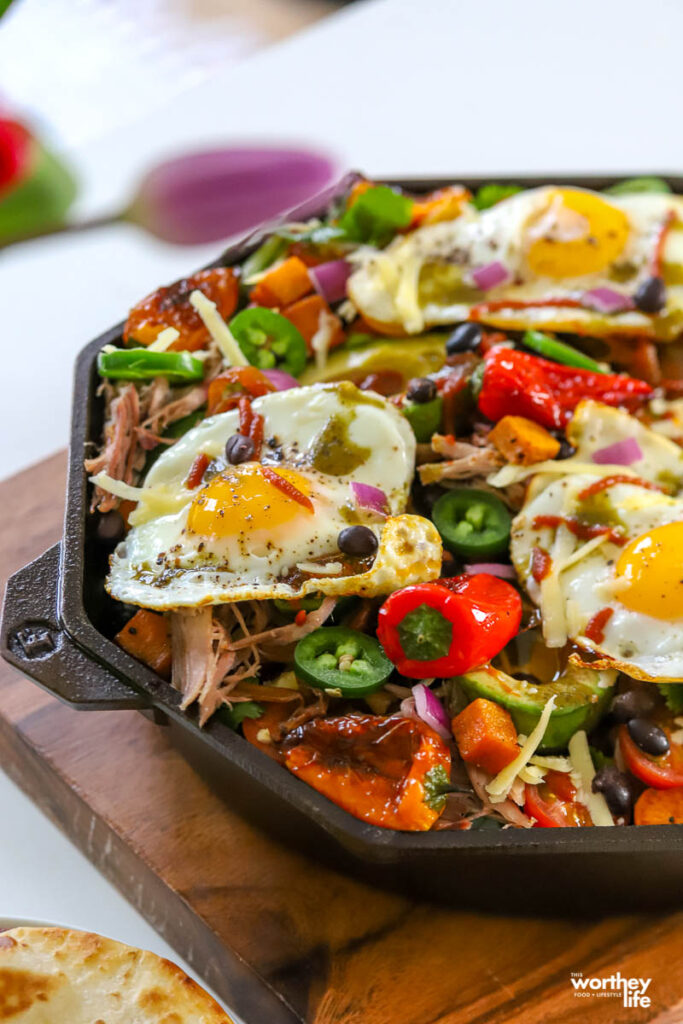 Before smoking, how long should the pork shoulder or pork butt rest at room temperature?
No longer than two to three hours at room temperature between 65º to 72º.
A general rule is that meat closer to room temperature will cook quicker and more evenly.
If it's your first time smoking meat, start with a five to six-pound pork butt. It can be a lot cooking a piece of meat for a long time. The result will be a quicker smoke time, but you will still get deeply smoked, tender, and delicious meat.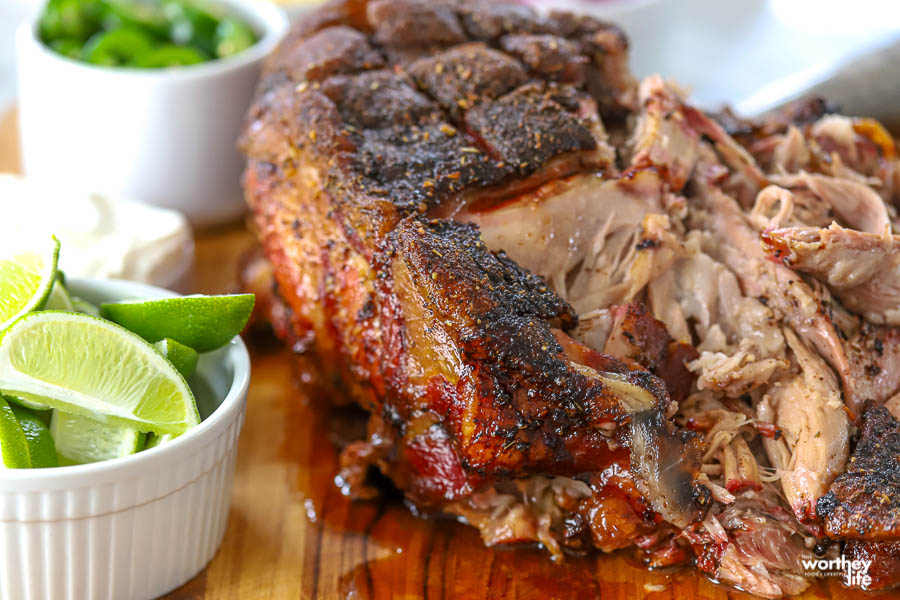 Don't Have A Smoker?
No worries, use a smaller cut of pork and prepare in a slow cooker.
Add one cup of low-sodium chicken stock, two tablespoons of liquid smoke, and one large sliced sweet onion into the bottom of a slow-cooker.
Prepare a four-pound boneless pork butt by rubbing it all over with your favorite barbeque rub, place it into the slow cooker and cook it on low for eight hours or until you get an internal temperature between 190° -195°.
When finished, remove the lid and allow the pork to cool.
Remove the pork using two large serving spoons and place it on a cutting board.
Reserve one cup of drippings and discard the rest.
Return the pork to the slow cooker and use two forks to shred the pork and the drippings. Add one or two cups of your favorite barbeque sauce and toss to coat the meat evenly.
Store leftovers in an airtight resealable bag for three to four days.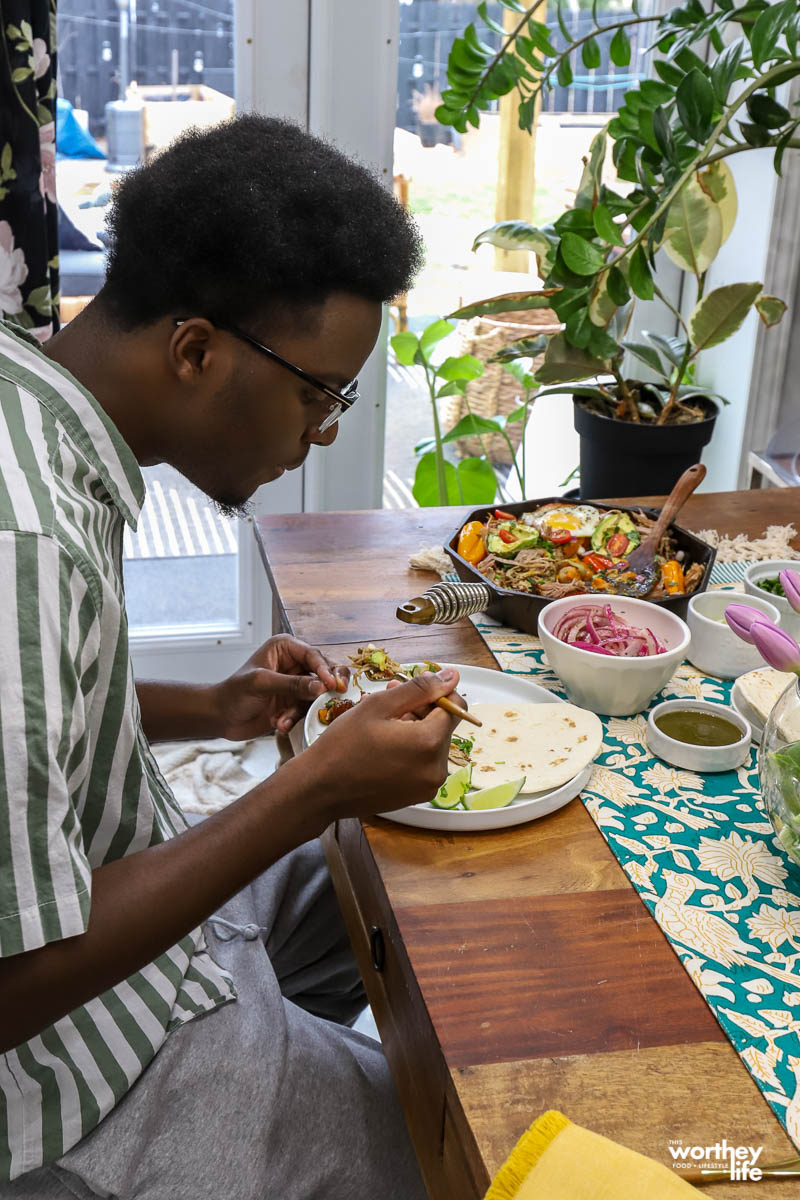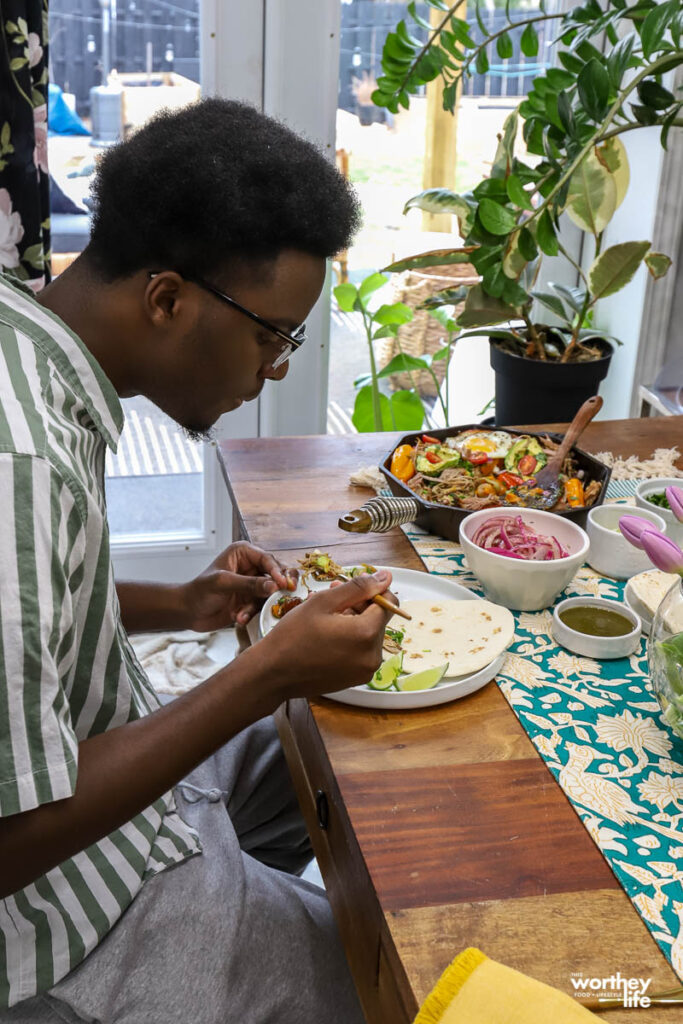 Can I make it ahead of time?
Absolutely. You can make the pork a day ahead and store any leftovers in the fridge for three to four days.
How long to allow cooked pork shoulder or butt to rest before shredding?
Let the pork rest for up to fifteen minutes to allow the juices to redistribute.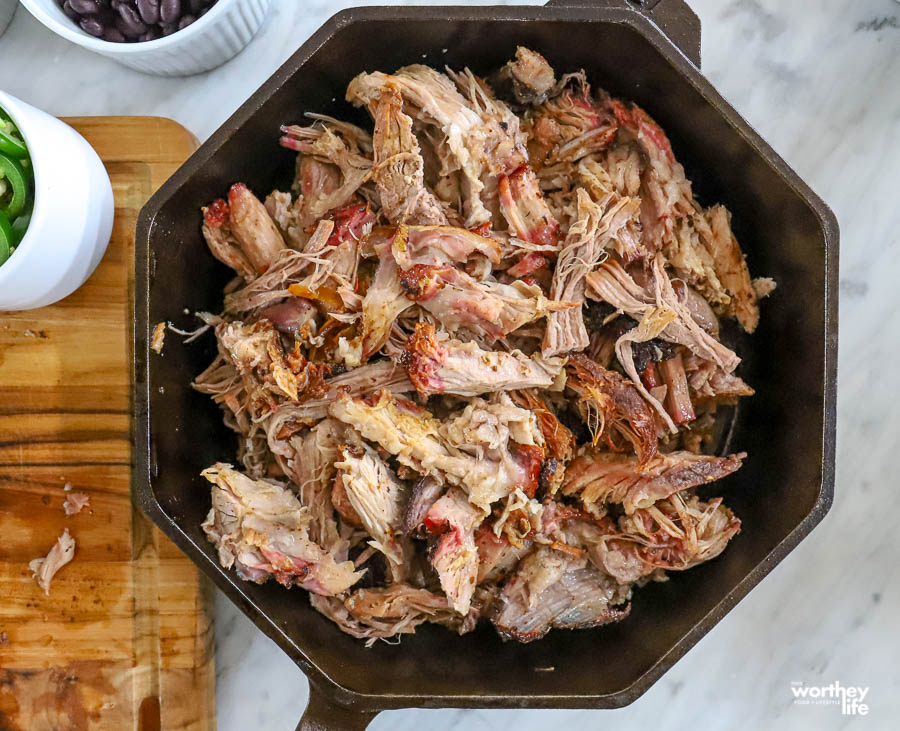 Can I freeze leftover pork?
Yes. Properly stored pork, ideally in a vacuum-sealed bag and wrapped in foil, will last two to three months in a 0° freezer.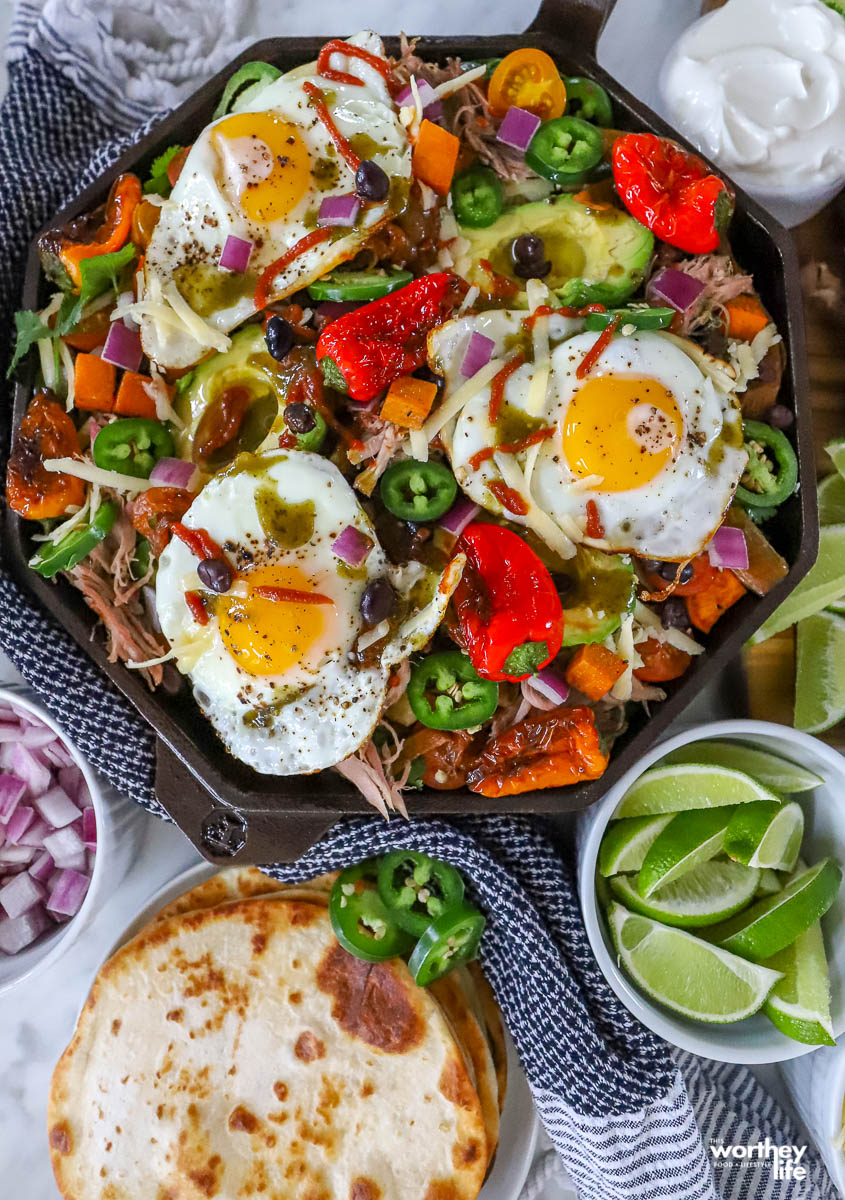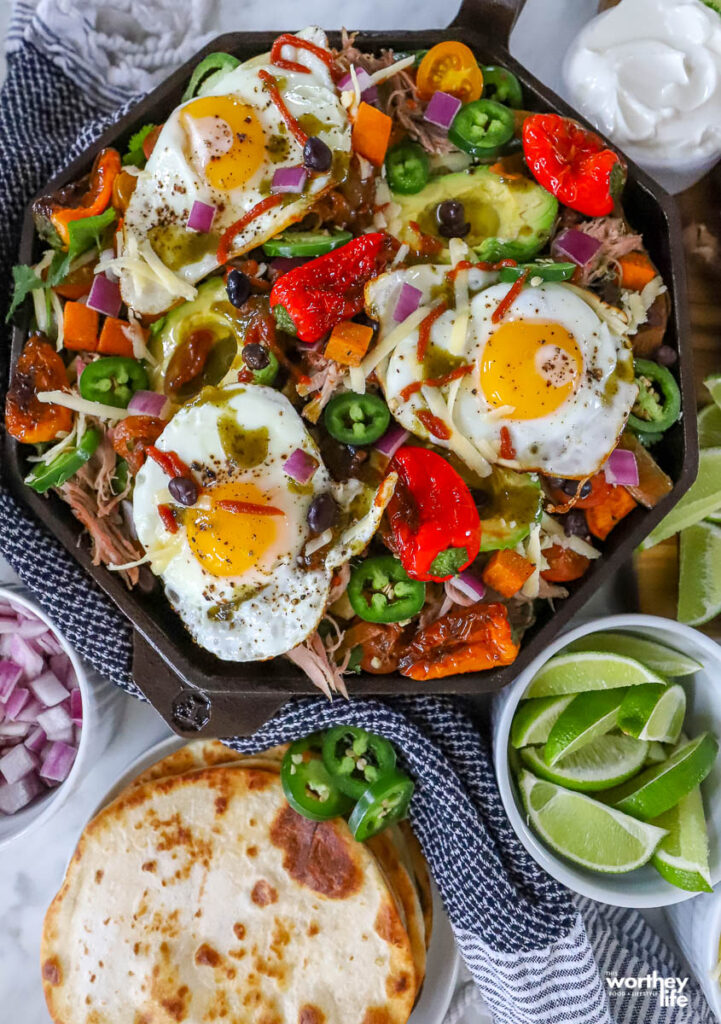 As we get ready to celebrate the warmer weather and all the first signs of spring, add our smoked pulled pork breakfast recipe to your arsenal of brunch recipes.
We've made this breakfast skillet recipe many times before, but adding smoked pulled pork was a game-changer.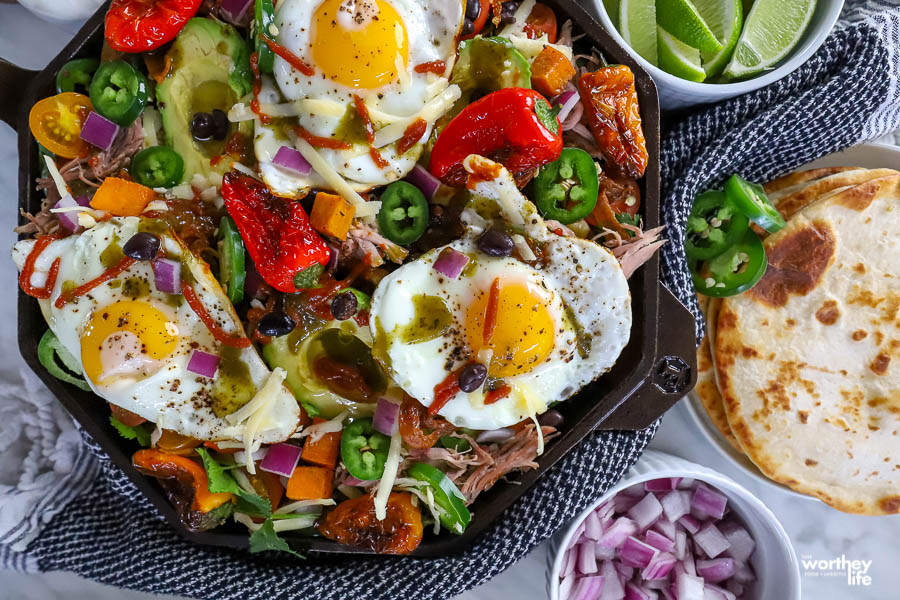 The smoky flavor and tenderness of the pork is what this brunch recipe needed to give it a new, modern twist.
Learn more about how pork can be a game-changer in your recipes, including some new recipe ideas using pork, by visiting the National Pork Board's website.