Sink your teeth into these soft and chewy pumpkin chocolate chip cookies. This is a pumpkin-y cookie studded with chocolate morsels and a sweet chocolate drizzle on top. These pumpkin spice cookies will be a hit this fall season.

Pumpkin Chocolate Chip Cookies Recipe
I'll be the first to say I'm not a huge fan of anything pumpkin. However, when done right, the results can be amazing, especially when you add chocolate. The chocolate chips elevate the flavor to a whole new level for these soft pumpkin cookies. Add a sprinkle of sea salt and watch your chewy pumpkin cookies transform to a whole new level. It's an easy recipe to follow and will help get you in the mood for pumpkin season and pumpkin pie spice and everything nice!
Here are some of our favorite pumpkin recipes:
Spiced Pumpkin Eggnog Mocktail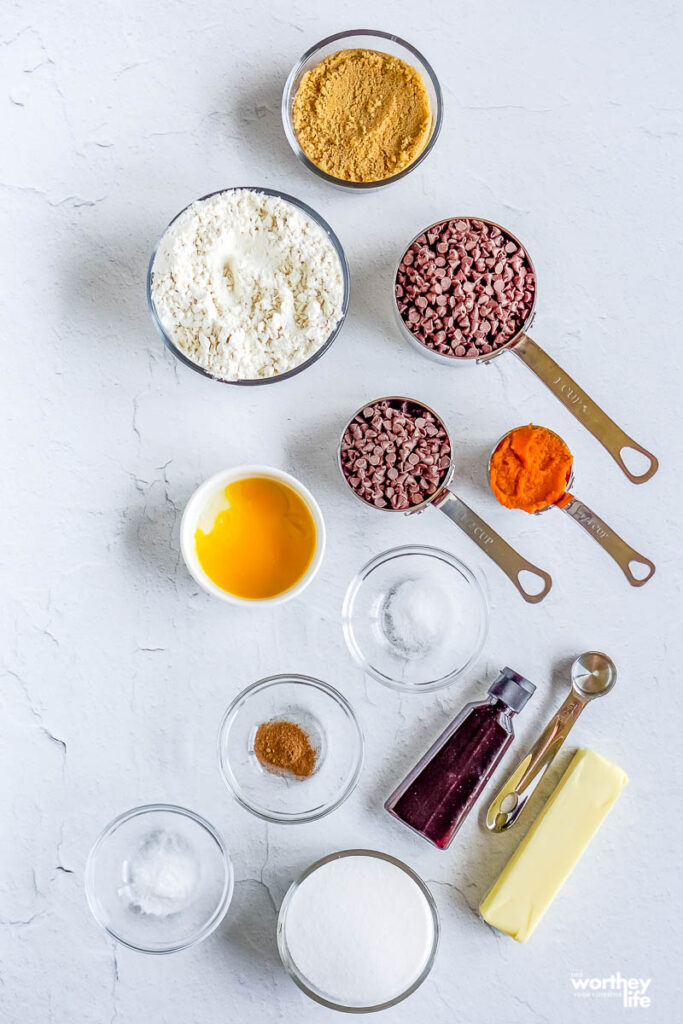 What Do I Need For Pumpkin Chocolate Chip Cookie Recipe
Pumpkin Puree. Make sure to reach for a can of pumpkin puree, not pumpkin pie filling. The canned puree is just pumpkin purée.
Butter. I use unsalted butter. If you opt for salted butter, omit the salt.
Sugar. Granulated sugar and light brown sugar combine to offer sweetness and a caramel flavor to the cookies from the light brown sugar.
Egg. The binder in the recipe brings all the ingredients together.
Vanilla. Vanilla extract is a simple ingredient but offers such warmth and sweetness to the cookies.
Flour. Baking Soda. Salt. For the dry ingredients, I used unbleached flour for this recipe and baking soda and salt.
Pumpkin Pie Spice. This spice blend helps to bring out all the flavors of the pumpkin truly. A must-have item for sure!
Chocolate Chips. Mini chips or classic, either give these cookies the perfect amount of sweetness in each bite.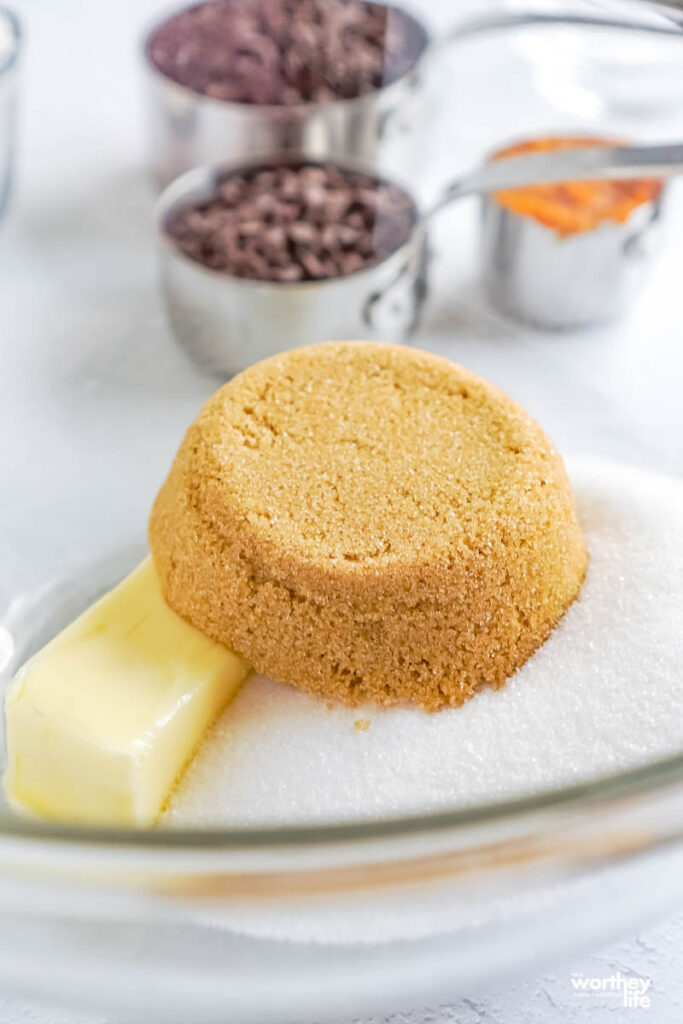 Ingredients for Pumpkin Chocolate Chip Cookies
Yields: 13 cookies
Preparation time: 10 minutes
Baking time: 18 minutes
Additional time: 20 minutes
1/2 cup unsalted butter, 1 stick (softened)
3/4 cup white granulated sugar
1/2 cup light brown sugar
1/4 cup pumpkin puree
1 egg yolk
1 teaspoon pure vanilla extract
1 1/2 cup unbleached flour
1/2 teaspoon baking soda
1/2 teaspoon table salt
1/4 teaspoon pumpkin pie spice
1 1/2 cup mini semisweet chocolate chips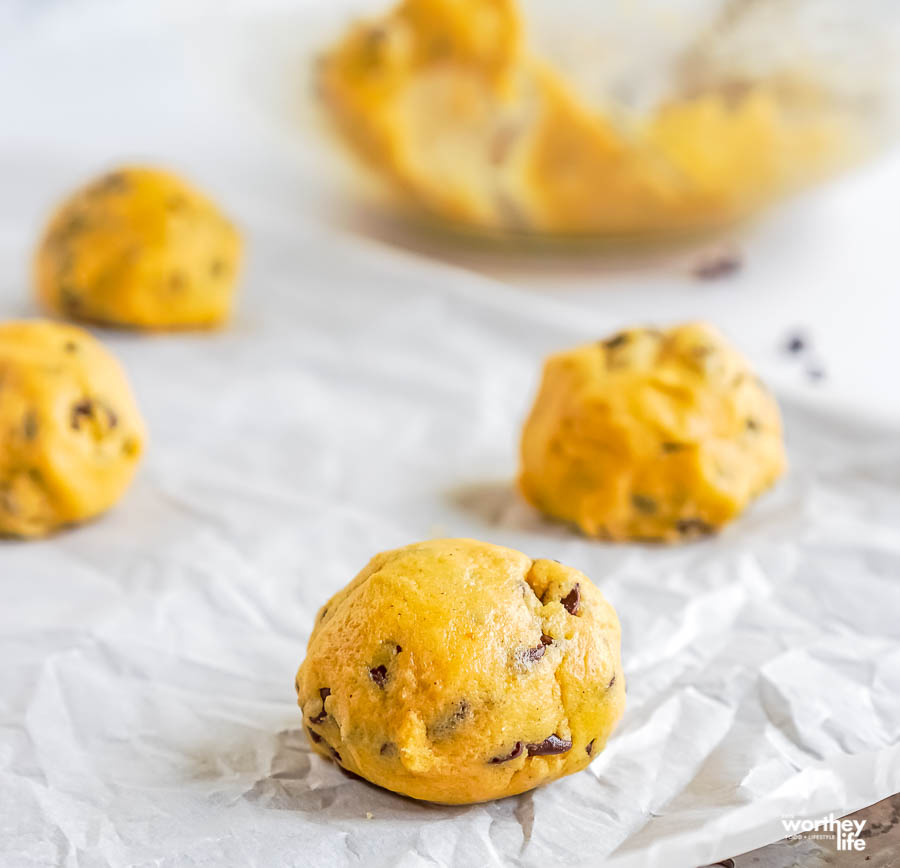 Directions:
Preheat the oven to 300 degrees and line a baking sheet or cookie sheet with parchment paper.
Using a large bowl and a hand mixer or fork, cream butter, sugar, and brown sugar on low.
Add pumpkin, egg yolk, and vanilla and mix until combined.
Slowly stir in flour, baking soda, salt, and pumpkin pie spice.
Fold in 1 1/4 cup mini chocolate chips (save 1/4 cup for garnishing after baking).
Using a 2 tablespoon cookie scoop, create 2 tablespoon cookie dough balls and place them 2" apart on the prepared pan.
Bake for 18-20 minutes or until the edges start to brown.
Remove from the oven and let cool on the baking sheet for 15 minutes before moving to a wire rack or cooling rack.
Immediately after removing from the oven, add chocolate chips to the tops of cookies and spread chocolate once it melts a little with a toothpick.
Enjoy with a glass of milk.

How to Make Cookies Look Extra Pretty
Do you want to know how to make a cookie look extra pretty? Once your cookies are out of the oven, sprinkle over the rest of the chocolate chip cookies from the recipe on the tops of the cookies. Then let it sit a few minutes to soften up.
Then with a knife or toothpick, gently run over the cooking to smear the chocolate chips. It will give the cookies a gorgeous look and make them stand out!

What Type of Chocolate Chips to Use
Feel free to use what variety of chocolate you like the most. You can use milk, semi-sweet, or even dark chocolate. I have even used white chocolate chips before, and it was a delicious pairing. And if your sweet tooth calls for extra chocolate chips, feel free to add more.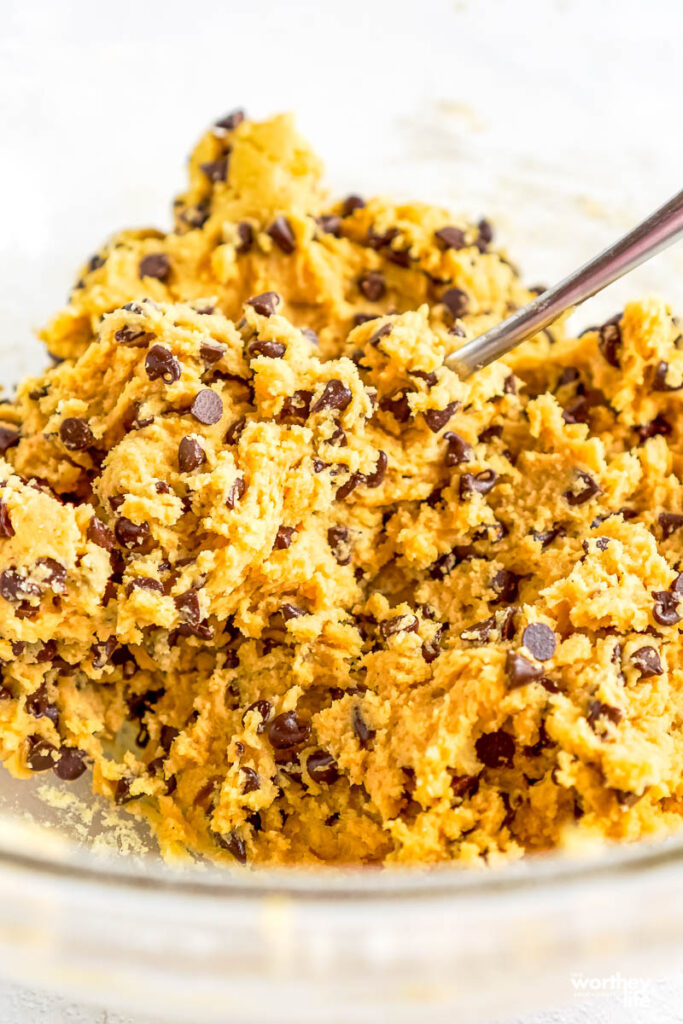 Can I Freeze The Cookie Dough Raw
Go right ahead and place your cookie dough in a freezer airtight container or roll it up in a plastic wrap. I will roll into a log, make the round cookie balls and flash freeze them if I have time.
Then when we want a cookie or two, I grab the frozen balls, or log, and bake. If it is the log, you have to let it thaw just a bit; then, you can slice it into even pieces to bake.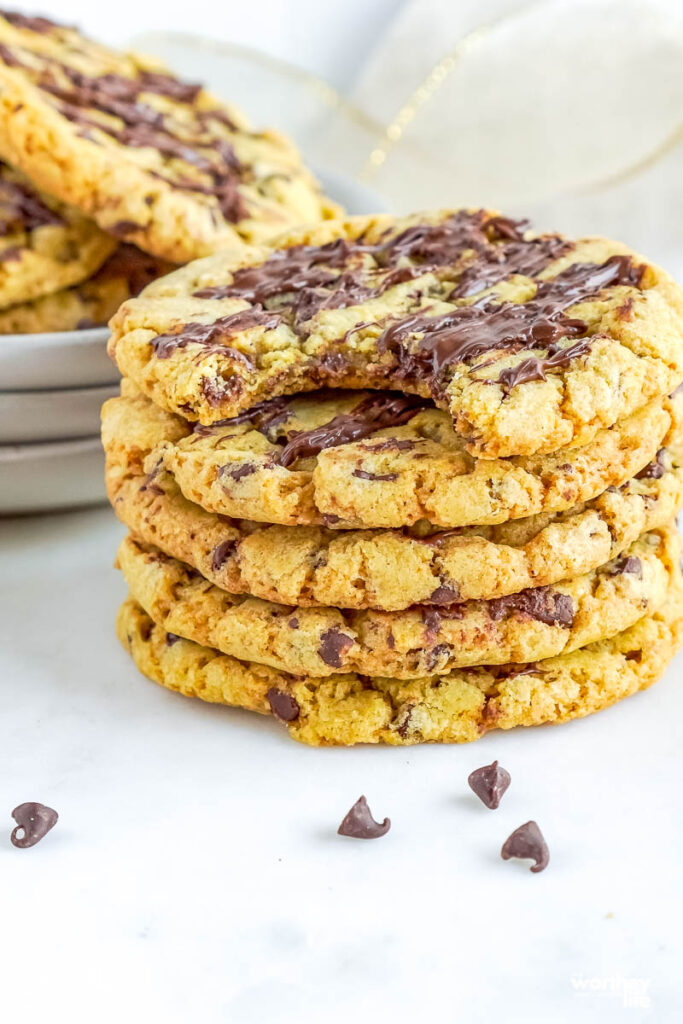 How To Store Cookies
Room Temperature. The pumpkin cookies can be stored at room temperature for around 4-5 days. Anything after that, the cookies will begin to become pretty dry. You can also store your chewy chocolate chip pumpkin cookies in an airtight container, along with a few strips of bread. This helps keep the cookies soft and chewy.
Freezer Friendly. You can also freeze any of the cookies you are not going to eat right away. Freeze for 3-4 months in a freezer bag or container. Then thaw on the counter for a quick thaw.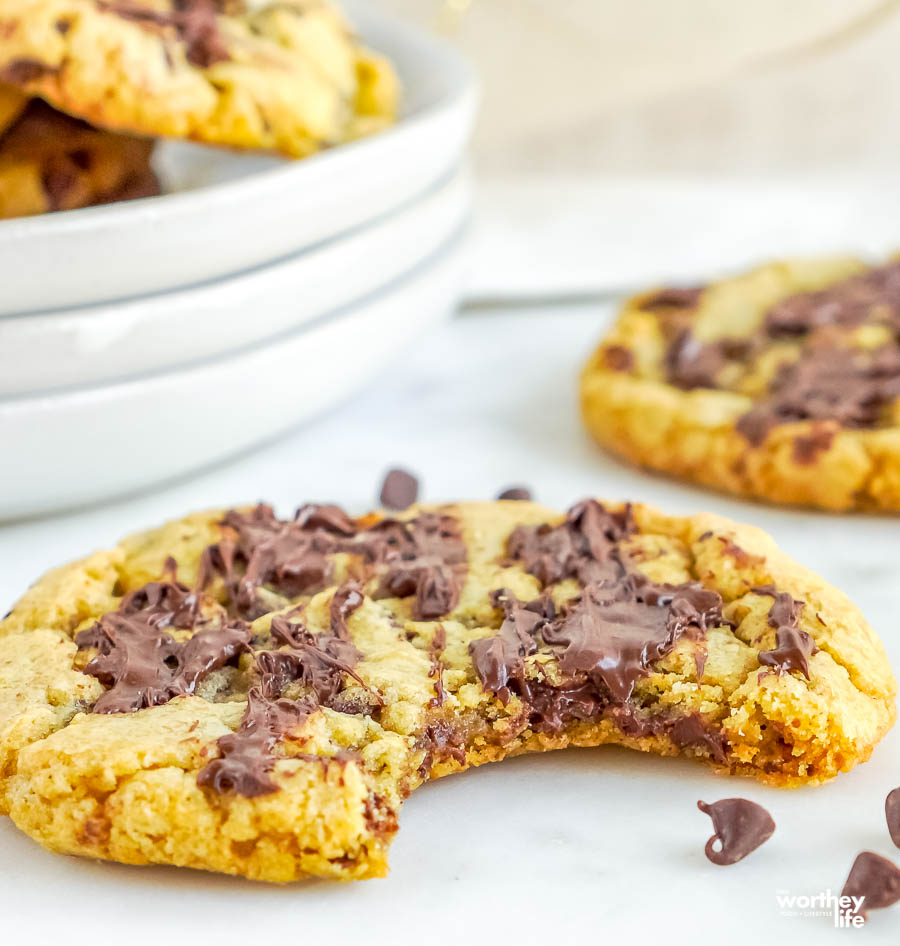 These easy pumpkin chocolate chip cookies have a soft and chewy texture. They are a perfect fall baking recipe to try while enjoying all things pumpkin!
Pumpkin Desserts to try:
Easy Recipe for Pumpkin Banana Bread