These delicious slider recipes are sure to score winning points at your next game day party!
When it comes to game day, delicious snacks and food are just as important as the game!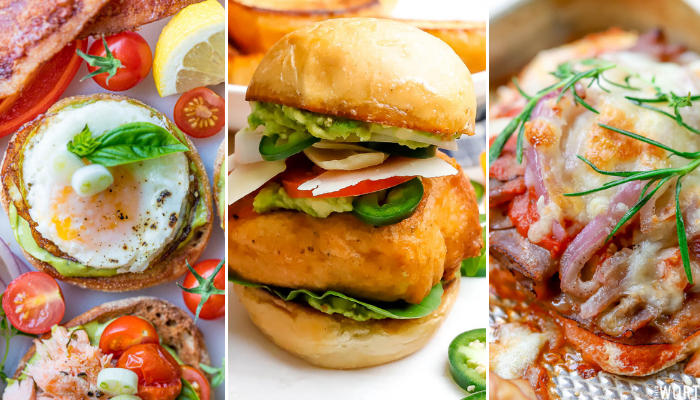 50+ Delicious Slider Recipes
We're a foodie family, which means any event has to involve food. And not just any food, but GOOD food!
When it comes to game day- no matter if it's football or basketball, we enjoy watching the games together along with our favorite snacks and appetizers.
Beyond the fun of watching the game, fist-pumping, and yelling at the TV, party foods are a highlight of the day.
We enjoy planning a menu of appetizers and sliders to enjoy during the game. And, as par for the course, when you have several members in your family, everyone has different favorites.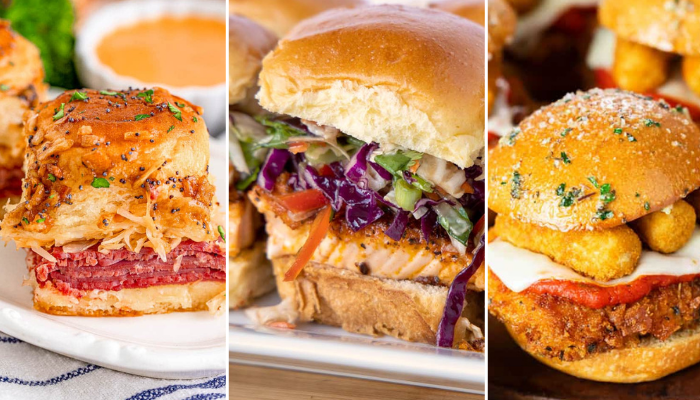 Game Day Food Strategy Ideas:
When we get ready to watch the big game together, we typically will ask the boys what they want to have on the menu. Dips, snack foods, and sliders are great game-day food ideas.
Everyone has a favorite. However, who says you can only have "one" kind of slider on the menu.
I have to say, it has been a winning strategy and one that has scored BIG points from everyone year after year!
I want to share a few of our family's very favorite slider recipes, as well as a list of the best sliders found on the Internet.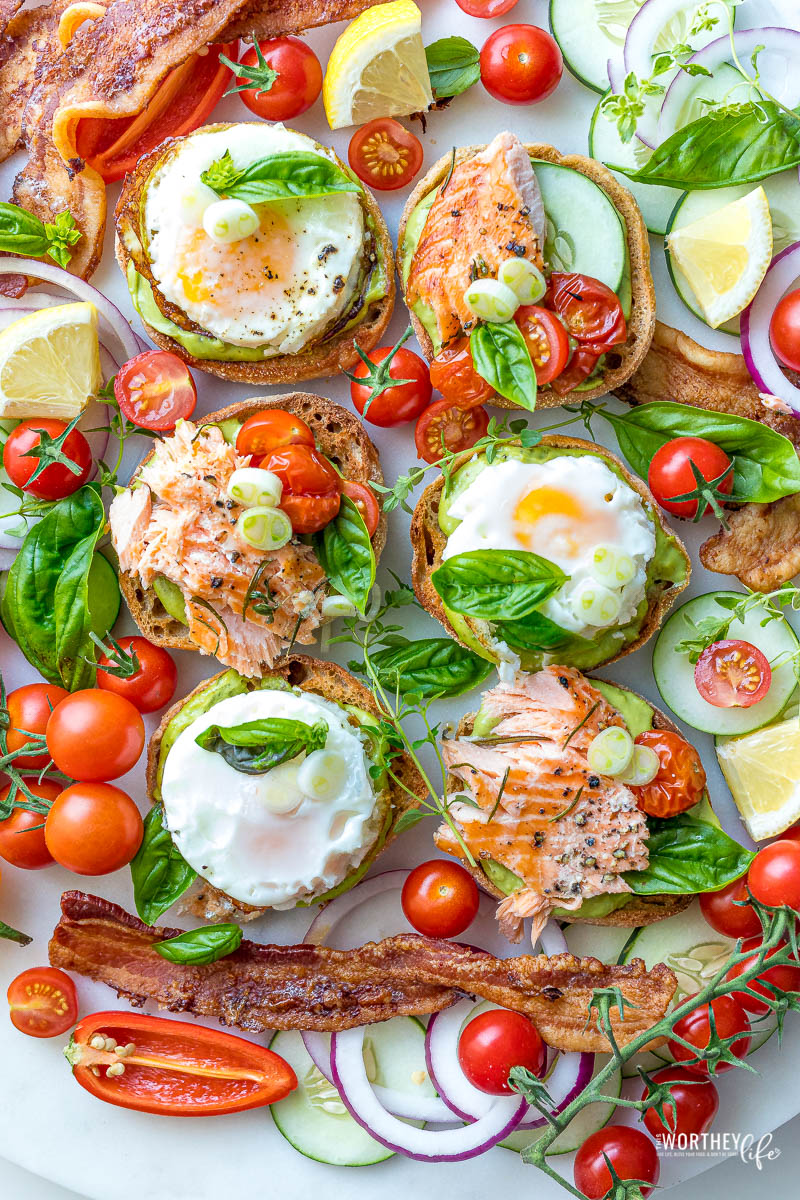 Sliders are not just an appetizer or afternoon snack. This mouth-watering English Muffin Salmon Sliders Board puts a whole new spin on the concept of "sliders" and makes a fabulous brunch board.
This board is easy to pull together by adding fresh English muffins, herb-roasted salmon, thick-cut bacon, and eggs.
Our family loves using fried eggs but you can use scrambled, boiled, parched, or any way your family prefers them.
Don't forget the addition of fresh veggies such as fresh cucumbers, cherry tomatoes, red onions, tri-colored peppers, and maybe a few sprigs of fresh basil.
Not only do the fresh veggies make for a beautiful brunch board they add another dimension of flavor.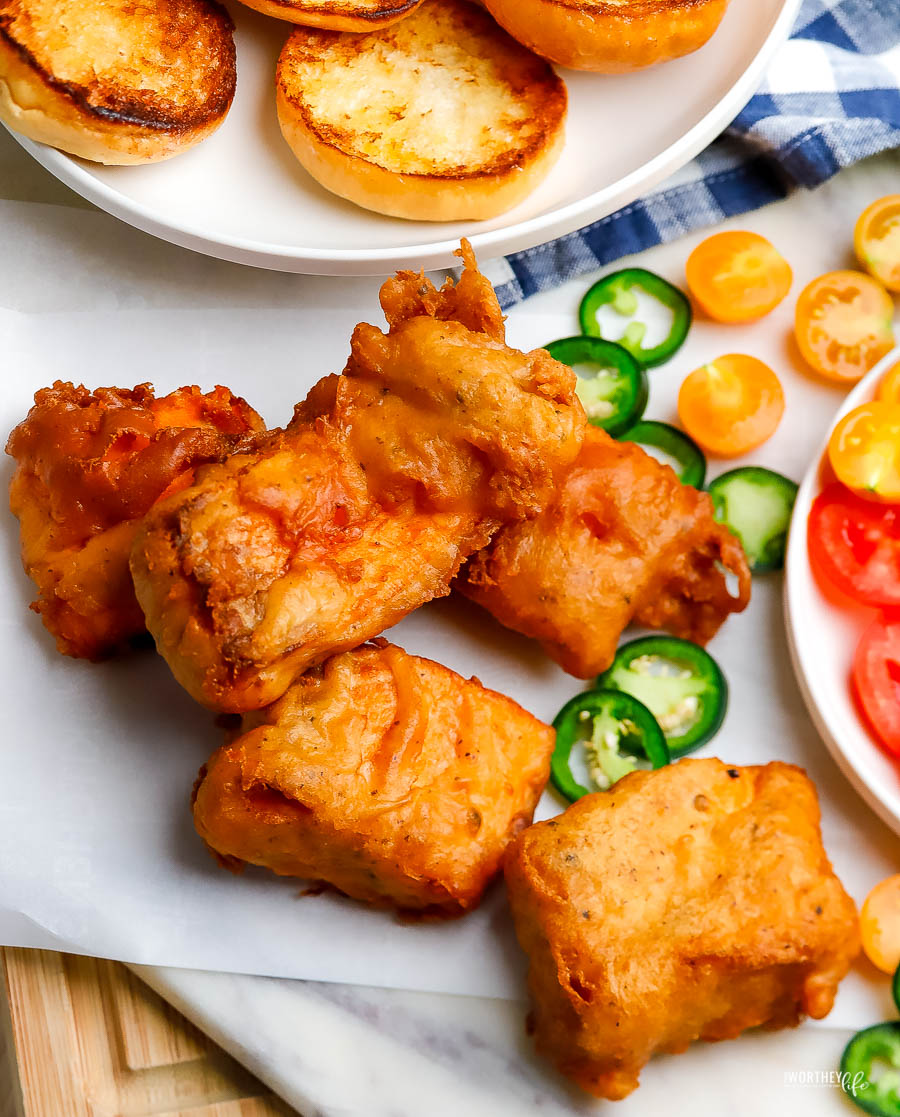 These over-the-top delicious Deep-Fried Salmon Sliders made with a beer batter will shine as the main event!
You simply can't beat the deliciousness of deep-fried salmon with "just-right" seasoning.
My secret of amazing flavor is to add the seasonings right into the beer batter.
I use a combination of onion salt, garlic powder, 30% lover sodium Old Bay seasoning, sea salt, and freshly cracked black peppercorns to taste.
The salmon and seasoned batter come together for a delicious slider that will have your guests coming back for more!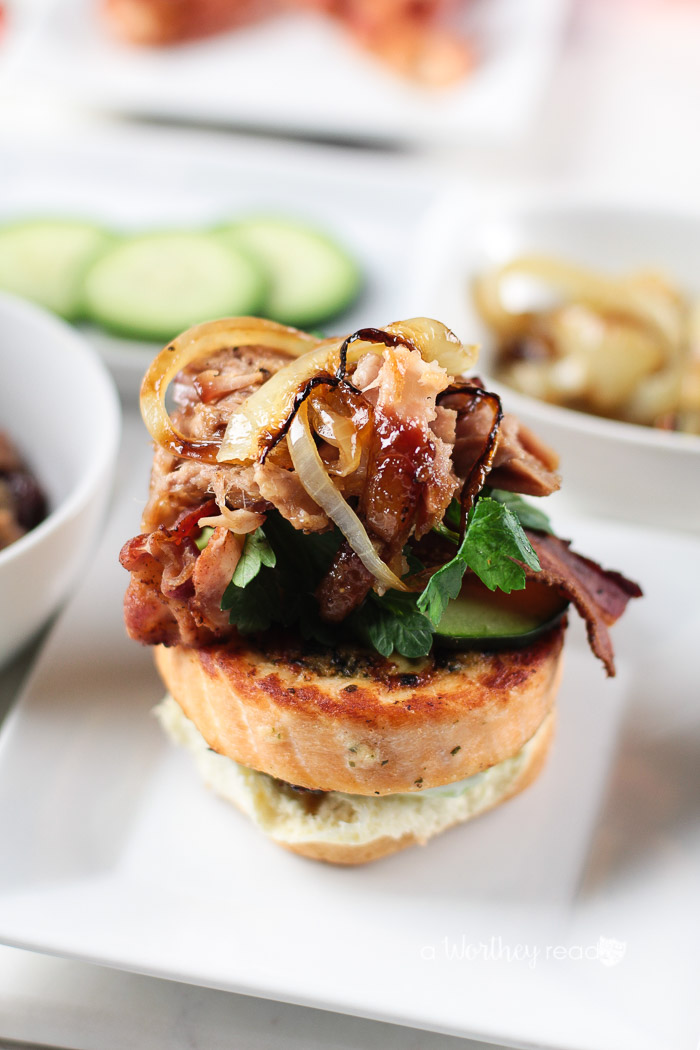 If you are looking for a slider recipe that will truly WOW your guests, then you simply must try our Baby Back, Herb Salmon, and Bacon Sliders plus a Cherry Cider Beer mix.
This over-the-top delicious slider has baby back rib meat, herb salmon, bacon, avocado salad, caramelized onions, and fresh parsley packed between soft slider buns.
Oh, my! Get in my belly already! Need I say more?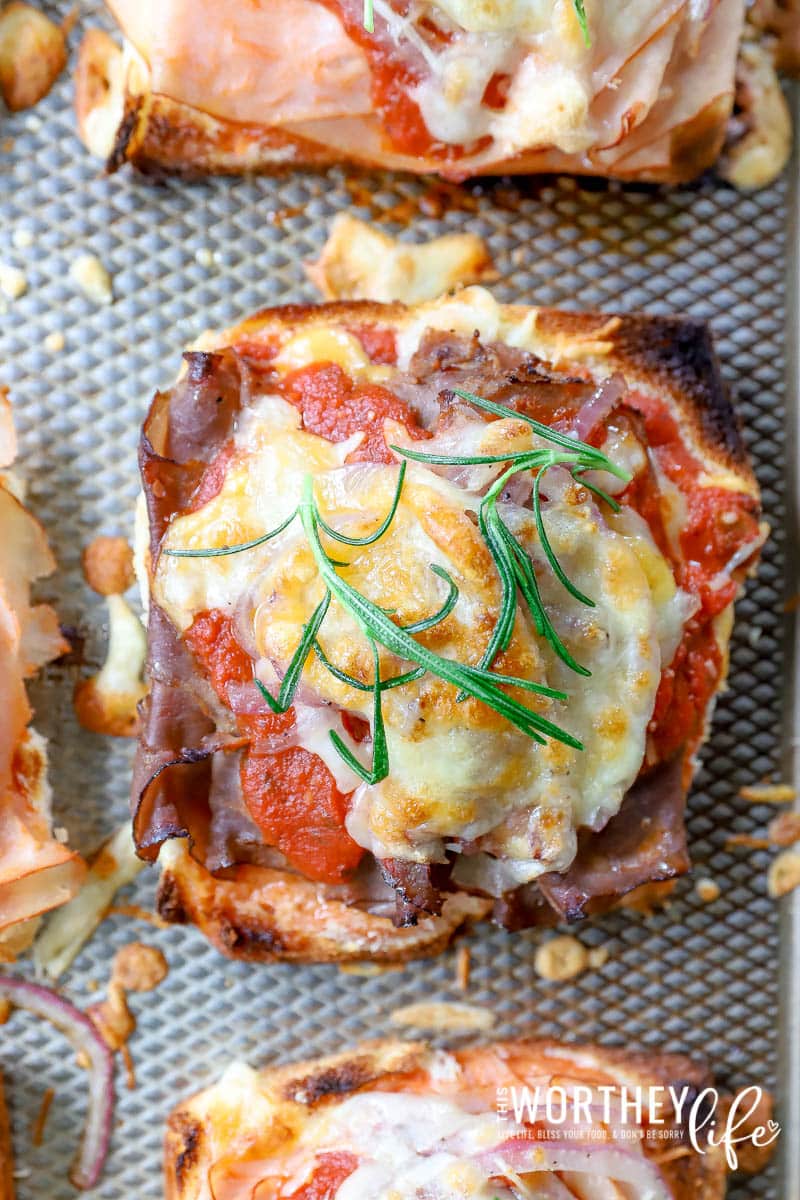 These Open-Faced Roast Beef Sliders + Turkey Sliders are sure to score winning points at your next party!
They are easy to make, super delicious, and will satisfy hungry football fans like nothing else.
This delicious slider recipe begins with soft King Hawaiian Rolls which we pile high with roast beef and turkey.
Then, add your favorite marinara sauce, pan-roasted onions, and loads of Mozzarella cheese to take these sliders to the finish line with an explosion of mouth-watering flavors.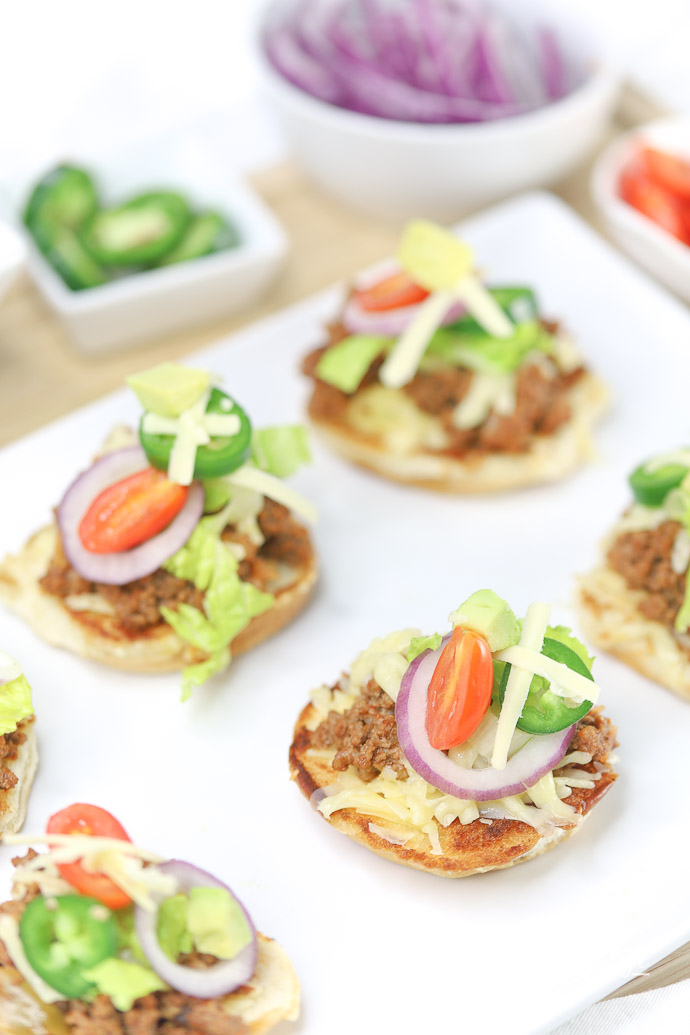 My family loves tacos and sloppy joes so what better way to combine the delicious flavors than these unique and delicious Taco Sloppy Joe Sliders?
In this slider recipe, we changed the flavor profile of the traditional Sloppy Joe mix by adding taco seasoning and our favorite salsa for a yummy slider you simply can't resist!
Our Taco Sloppy Joe sliders deliver high on flavor with toasted slider buns piled high with Sloppy Joe mix and shredded Asadero cheese.
Then, top with sweet heirloom cherry tomatoes, Spanish onion, jalapeños, diced avocado, shredded lettuce and, you guessed it, more cheese! YUM!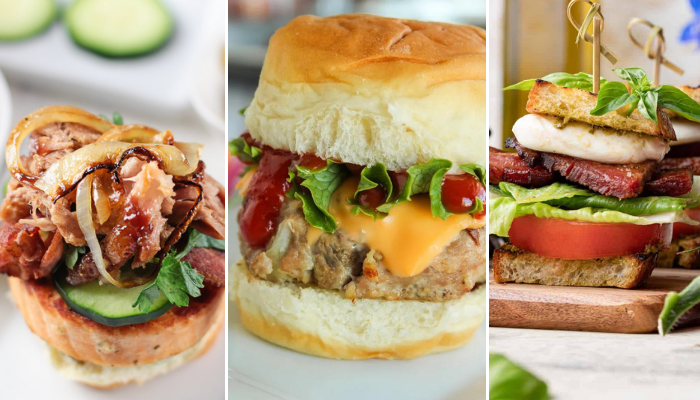 Keep reading below for more Slider Recipes!
Find drink recipes to pair with your sliders:
46 Non-Alcoholic Drinks + Mocktail Ideas To Serve At Parties
Mocktail + Cold Appetizer Idea for Game Day
40+ Easy Mocktail Recipes To Enjoy