I scream! You scream! We all scream for yogurt and fruit popsicles! With our super easy popsicle recipe, you will have the bases covered when it comes to eating delicious fruit-filled frozen treats this summer. With yogurt, fresh produce, and two other ingredients, you can put together our Strawberry + Blueberry Yogurt Popsicles in no time.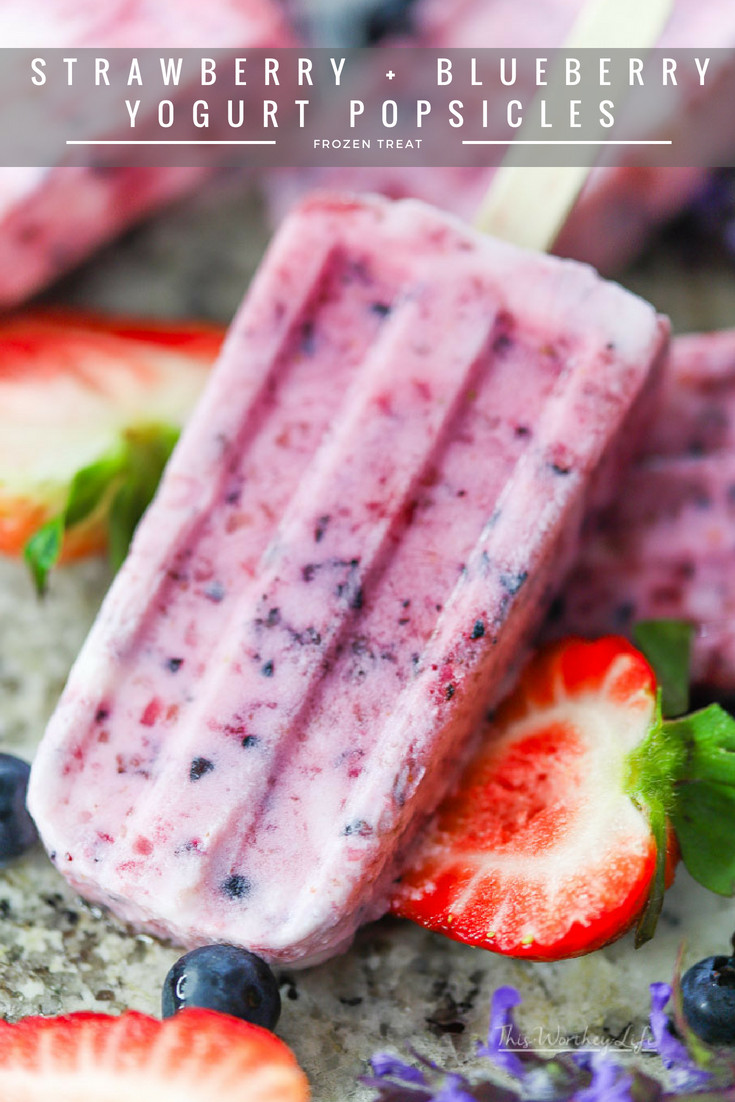 Strawberry + Blueberry Yogurt Popsicles
Just because the days are getting longer doesn't mean you have time to waste! It's time to seriously start thinking about those refreshing summertime treats your family is going to need like nobody's business. Let me tell you, you don't want the hot days of summer to arrive and you don't have a cool-down game plan. Because when the heat of summer hits, every family needs to have a list of delicious go-to refreshments. And there's nothing that says summer quite like a cold and refreshing popsicle! But wait, we have something a little more yummy-er than just plain old popsicles on a stick. We made our delicious Strawberry + Blueberry Yogurt Popsicles!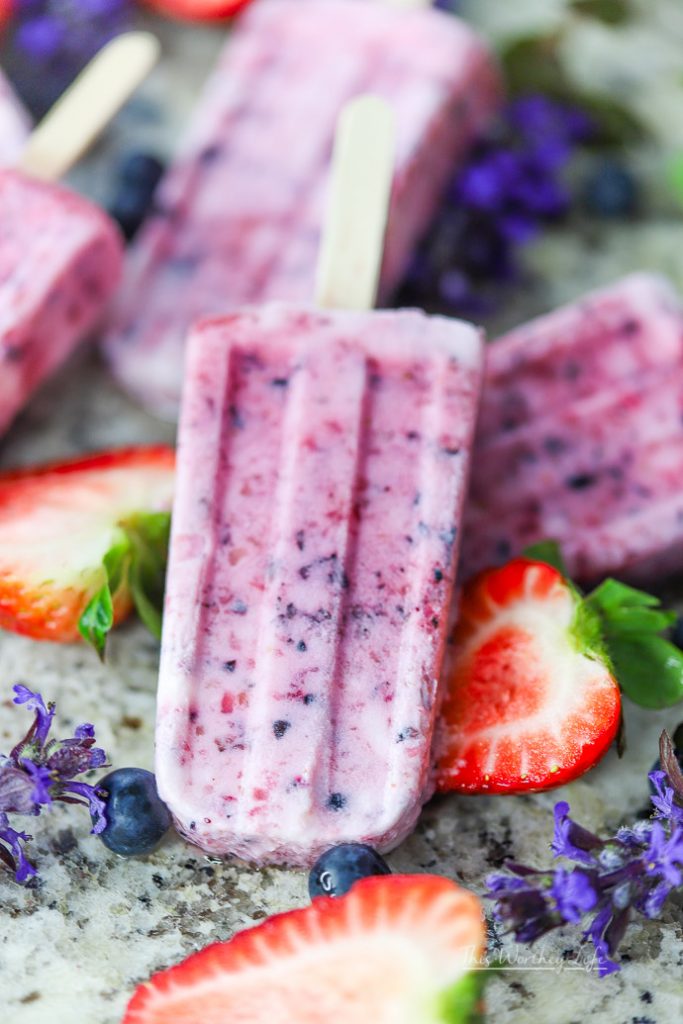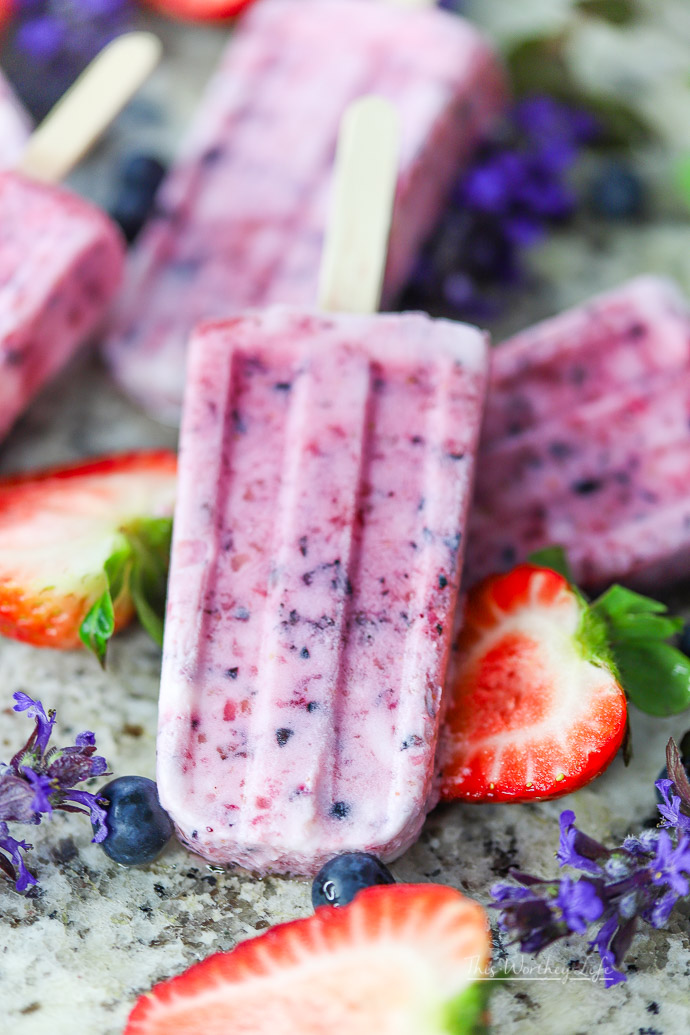 Imagine, red strawberry and purplish blueberry swirls of fresh ripe, sweet fruit suspended in a white frozen glacier of yogurt! Now, if that doesn't sound like a refreshing and yummy good time, then I don't know what does! And get this, these frozen fruit yogurt popsicles are so easy to make. With only a handful of ingredients, deliciousness can happen lickety-split. Did you see what I did right there? Lickety. You know? As in lick, popsicles, you lick popsicles. C'mon keep up! So grab the kiddos and get in the kitchen and have a scrumptious fun time putting these yogurt pops altogether. Cold, slightly sweet, and filled with all sorts of goodness. What's not to like?!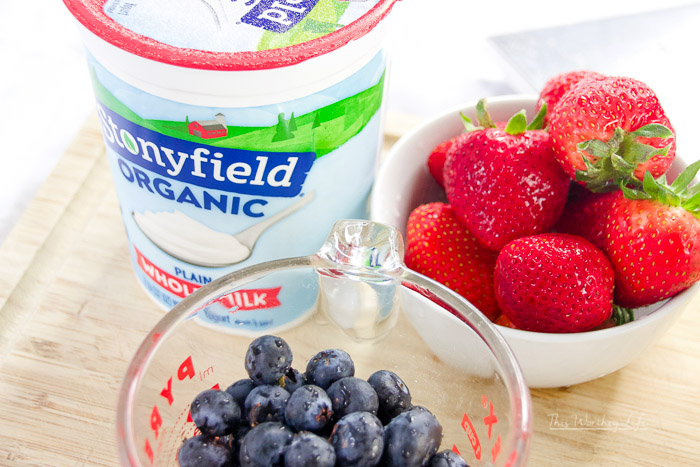 Let's start with fresh succulent strawberries and ripe, juicy blueberries, and let's not forget the creamy, dreamy organic goodness of Stonyfield yogurt. We used Stonyfield Organic yogurt; knowing the yogurt we feed our boys is made with real quality ingredients is important to us. Mix the mixed berries with a bit of honey, date sugar, or agave, and we're ready to get down to popsicle making business!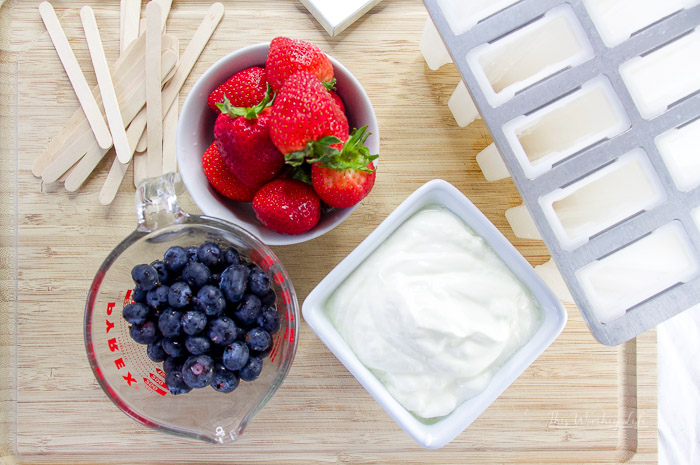 Look at all the fresh and wholesome ingredients, how can these yogurt pops not be absolutely crazy good?!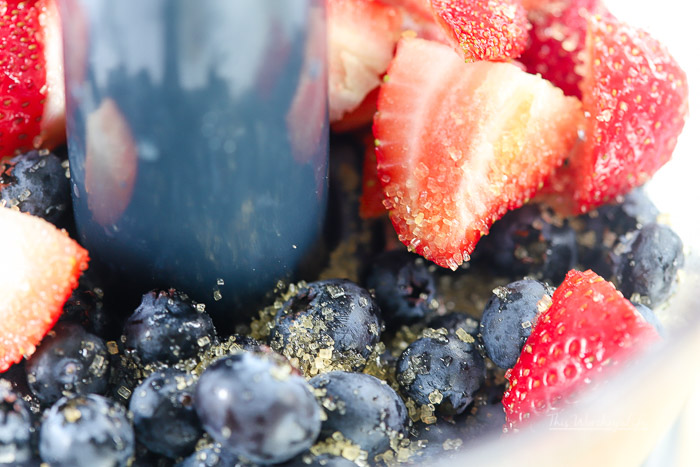 Into a food processor goes the strawberries, blueberries, agave, and raw date sugar. Where are they going? They're goin' for a spin!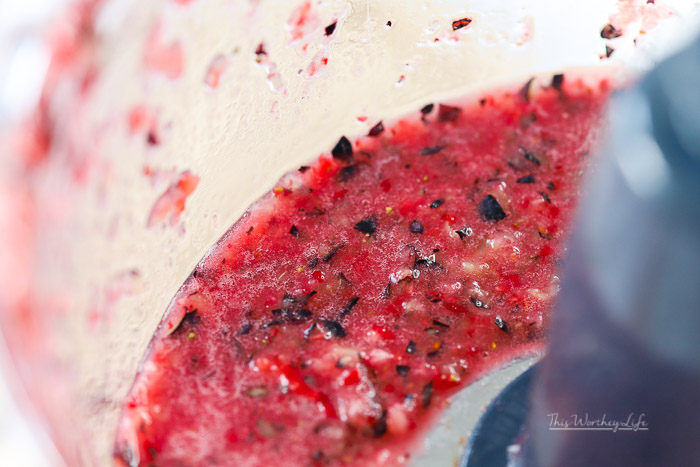 Give those juicy berries a little time being sliced a billion times a second by a super-duper sharp blade and WAH-LAH!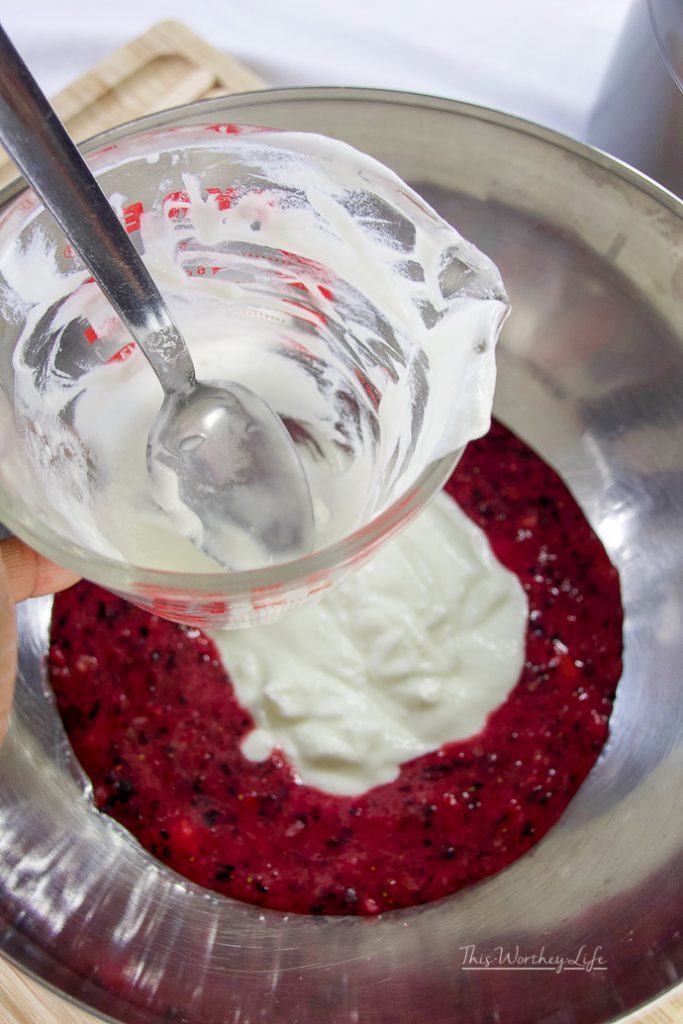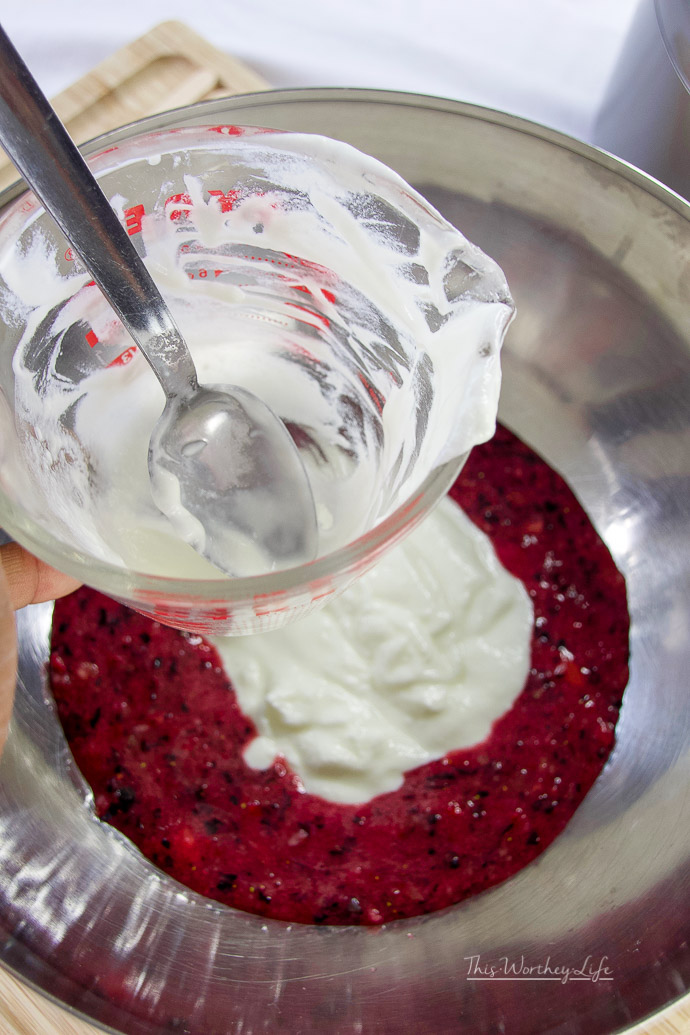 Pour the pulpy berry mixture into a bowl then plop in the yogurt, hold on we're almost there!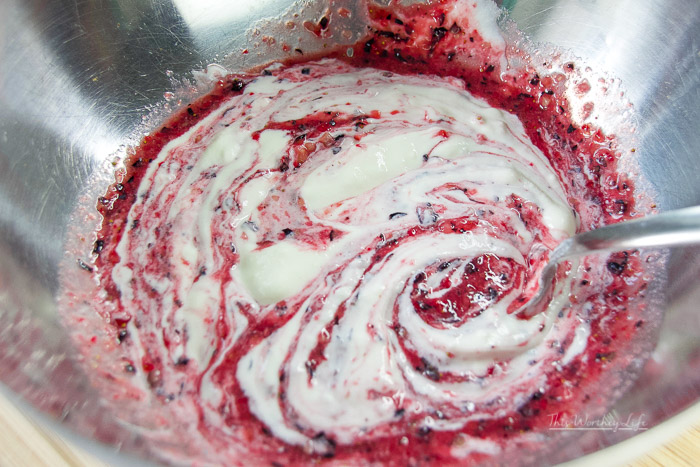 Would you look at all of those strawberry and blueberry swirls and creamy yogurt? Reminds me of the Milky Way only yummier!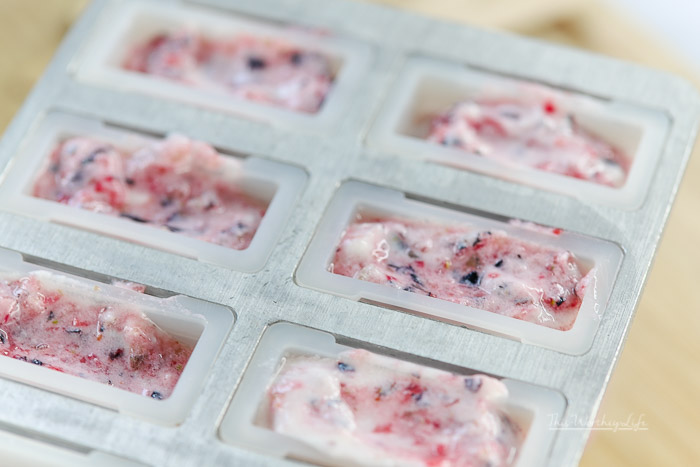 I've got a license to chill! We've filled the popsicle molds to the tippy top and now let's "stick" it to 'em real good!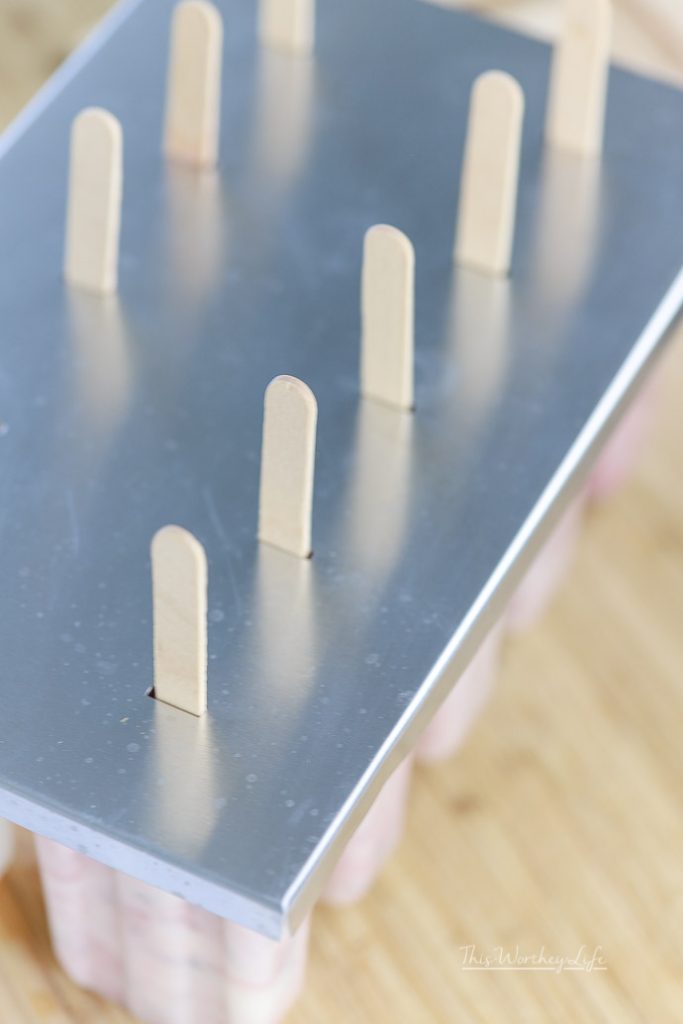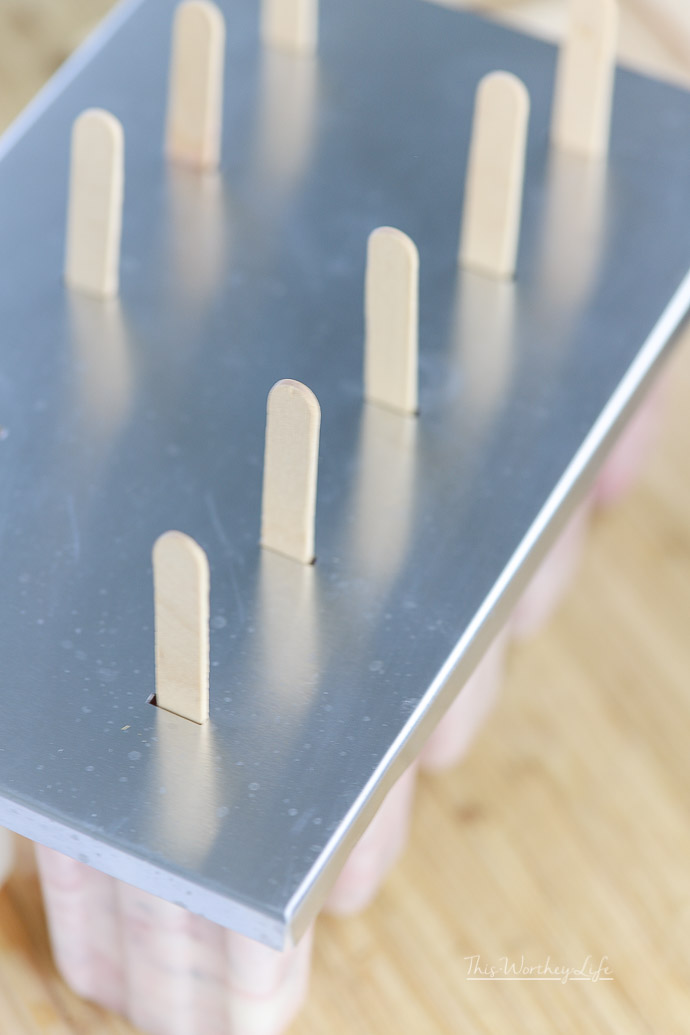 Okay, now it is time to put these babies into the freezer for an overnight sleepover in the icebox. Meh, 4 hours will work too!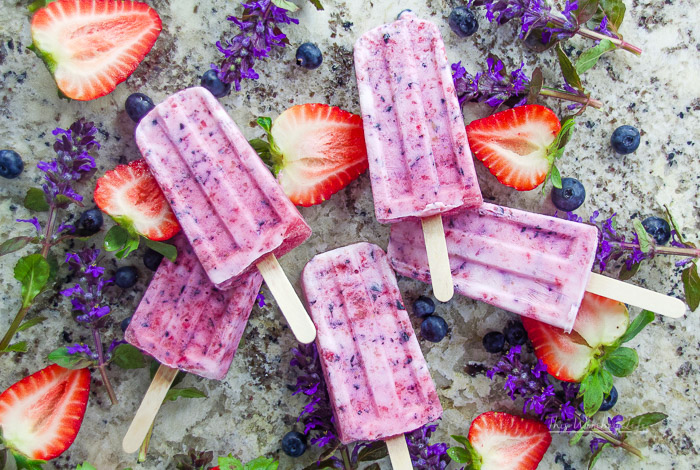 As it turns out these double berry yogurt popsicles are Cray Cray DELICIOUS!
How to make Yogurt popsicles with fresh fruit
Ingredients:
1 cup blueberries
1 cup fresh ripe strawberries
2 1/2 cups Plain, Vanilla or Greek yogurt
1 tablespoon raw sugar
1 tablespoon honey or agave
Equipment:
Directions:
Rinse and pick the stems from the blueberries, same goes for the strawberries, remove the green stem.
Leave the blueberries whole, but cut the strawberries in halfsies.
Place the fruit into the food processor, add agave and raw date sugar.
Pulse until the fruit mixture is loose but still has noticeable bits of fruit.
Spoon the mixture into a bowl and add the plain or vanilla yogurt, gently swirl the ingredients together leaving spirals of creamy yogurt. Doing this will give the popsicles a more defined swirl pattern or just mix it all up, it's all up to you dear.
Spoon the yogurt and fruit mixture into the popsicle molds to the top, place on the lid, and push the popsicle sticks into the slots.
Place the popsicle mold in the freezer overnight or at least four (4) hours to get solidly frozen popsicles.
Remove the popsicles just before serving and run warm water along the sides to loosen them from the mold.
Serve.
Will frozen fruit work instead of fresh?
If you don't have fresh fruit on hand, or want to save some money consider buying frozen fruit. It will work just as good as fresh. Frozen fruit is frozen at the peak of it being harvested. You will find that it won't affect the flavor of the fruit popsicles.
Can I use flavored yogurt instead of plain?
If you want to change up the flavor a bit go right ahead and reach for a flavored yogurt if you want. Coconut yogurt, fruit flavored, or other types of flavors work. Feel free to buy and use any flavor of yogurt you would like.
Can I use other varieties of fruit?
This recipe for making fruit flavored popsicle works with any type of fruit you would like. Just use any fruit you want or mix and match like we did. I love the berry flavors paired with the creamy yogurt.
How long does homemade popsicles store for?
You can store these popsicles for 1-2 months in the freezer. I like to place them in a freezer container that has a lid. I find if they are not in a covered container the plastic popsicle molds will begin to take on odors of the freezer making your popsicle flavor change.
Can I just freeze yogurt to make frozen yogurt?
I find mixing all the ingredients together helps to offer a creamier texture to the frozen yogurt bars. If you want to freeze just plain yogurt you can, but it won't have as creamy of a texture.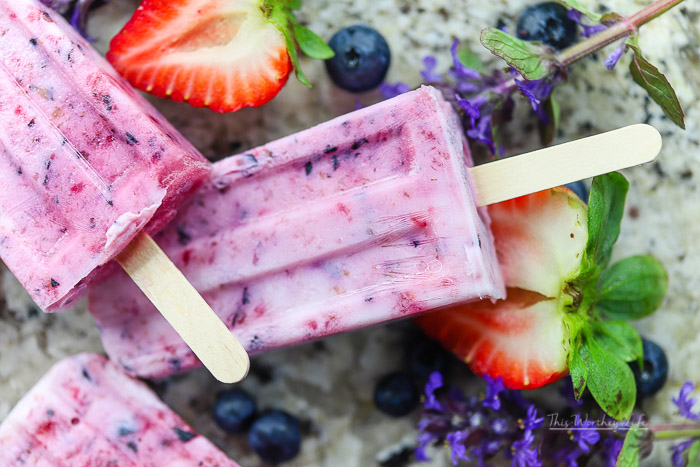 So, tell me how does your family stay super chill in the hot heat of summer? Are you whiz in the kitchen capable of whipping up delicious frozen good stuff in the blink of an eye? We would love to hear from you, drop a comment down below. Later, dudes!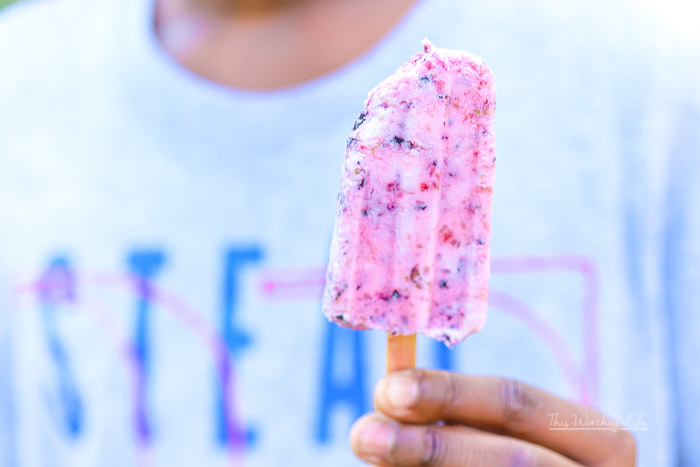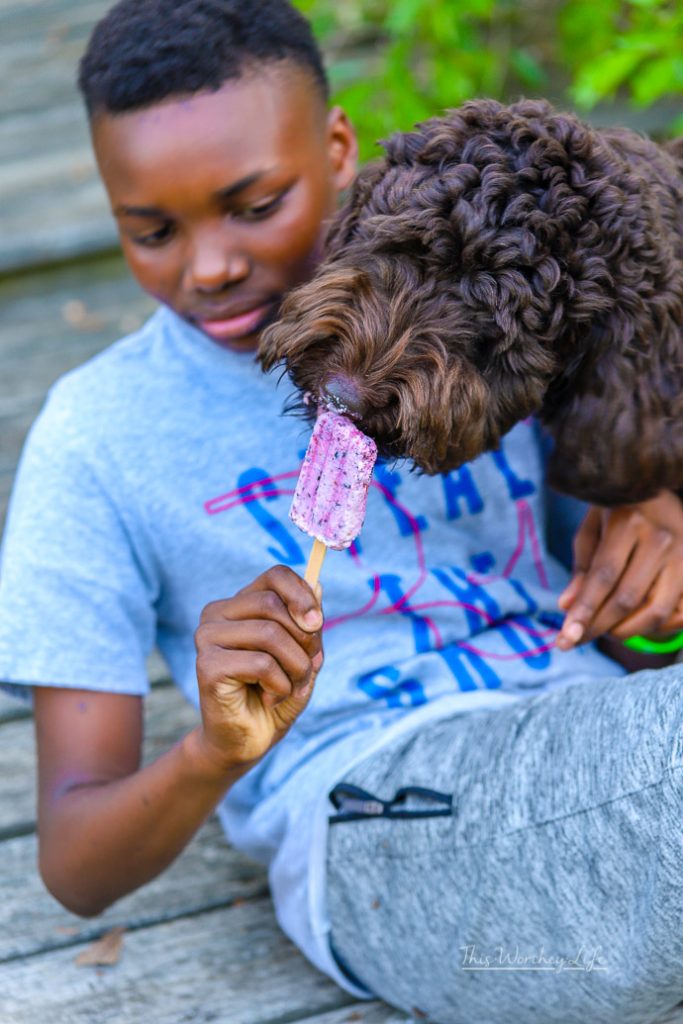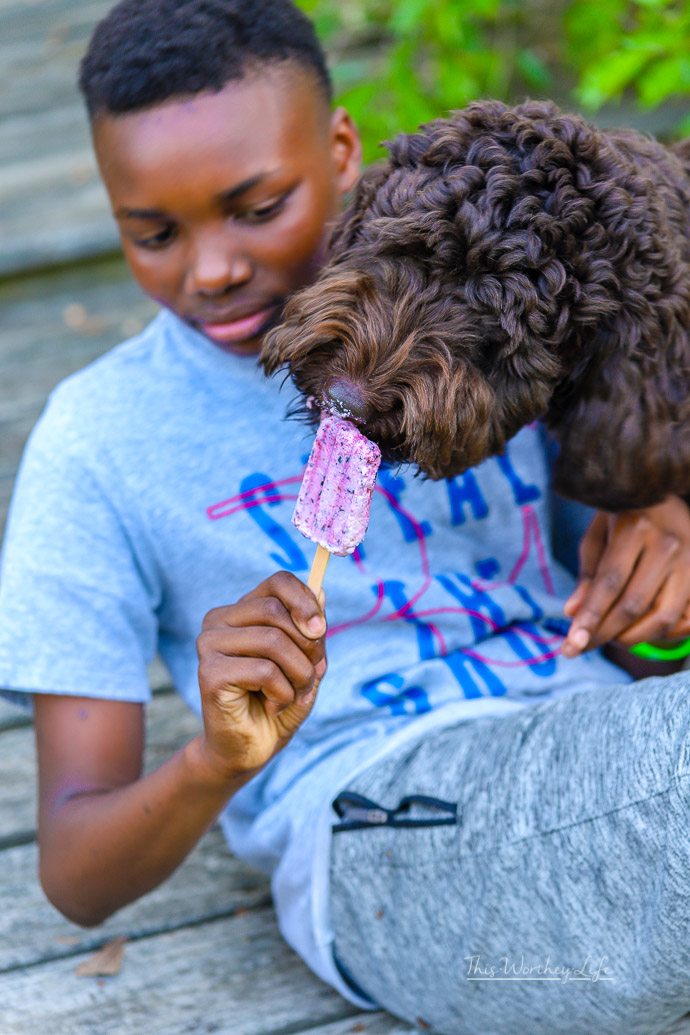 Chance, our chocolate Labradoodle, just had to have some of Zayd'n's popsicle.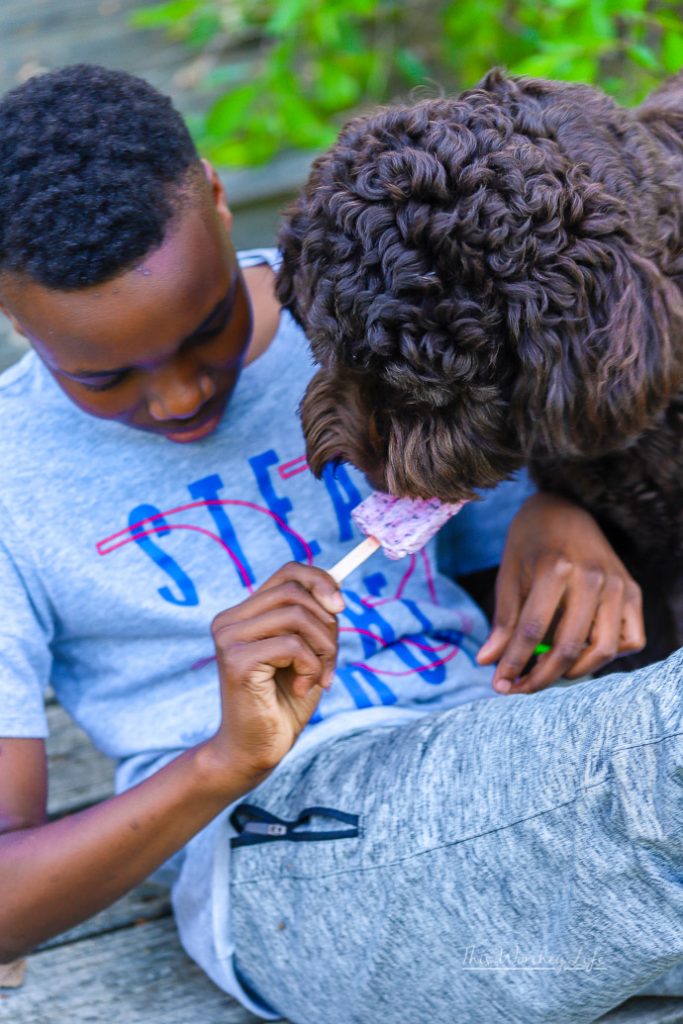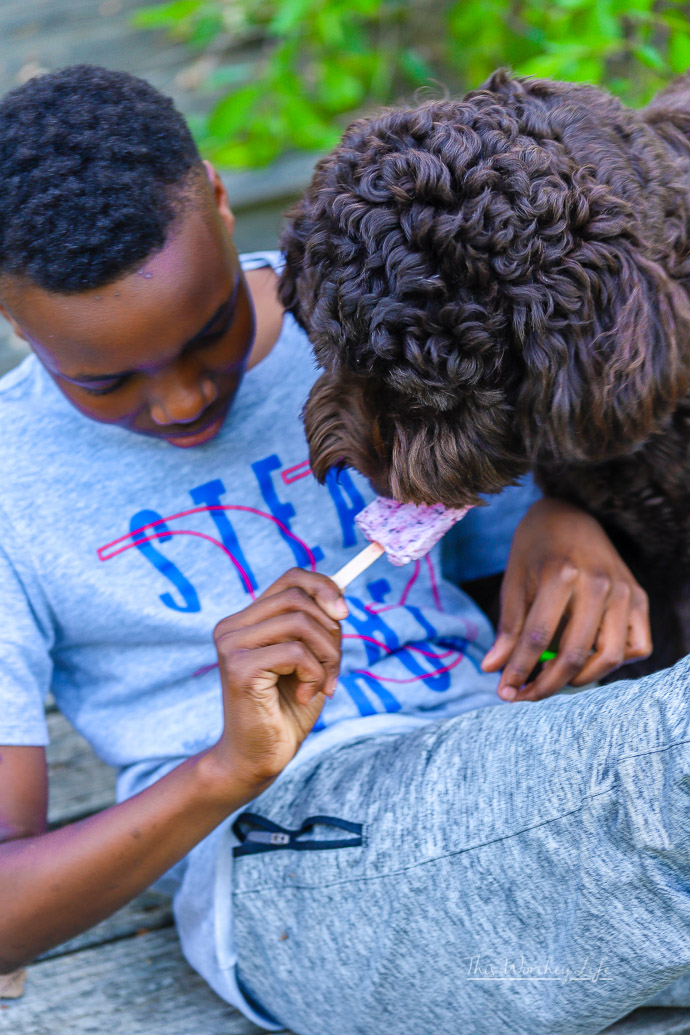 Little did Zayd'n know, Chance was going to eat the whole thing! Yes, they are THAT good!
Find more frozen treats to try below:
Blueberry Cheesecake Popsicles