When it comes to summertime entertaining nothing says keeping it classy like a traditional shrimp cocktail. But what if I told you a better shrimp cocktail is possible? It's true and we are going to show you how to take a classic and make it classier! Our Teriyaki + Black Pepper Shrimp Cocktail just might become your go-to party appetizer of choice this summer and beyond.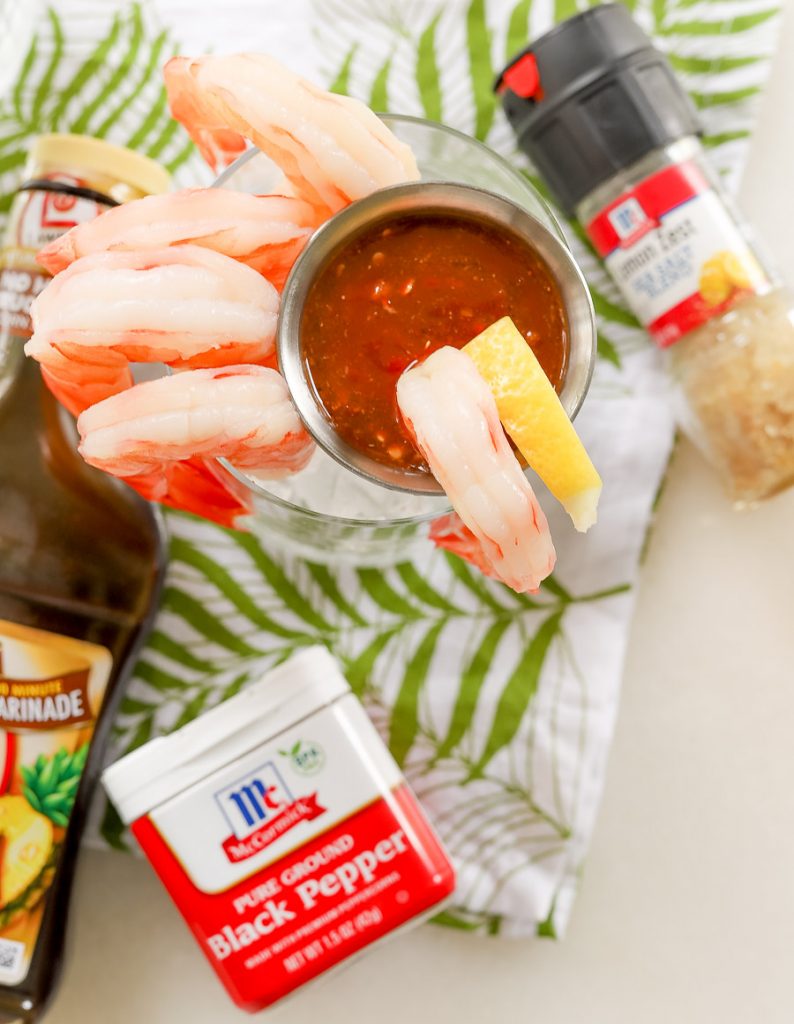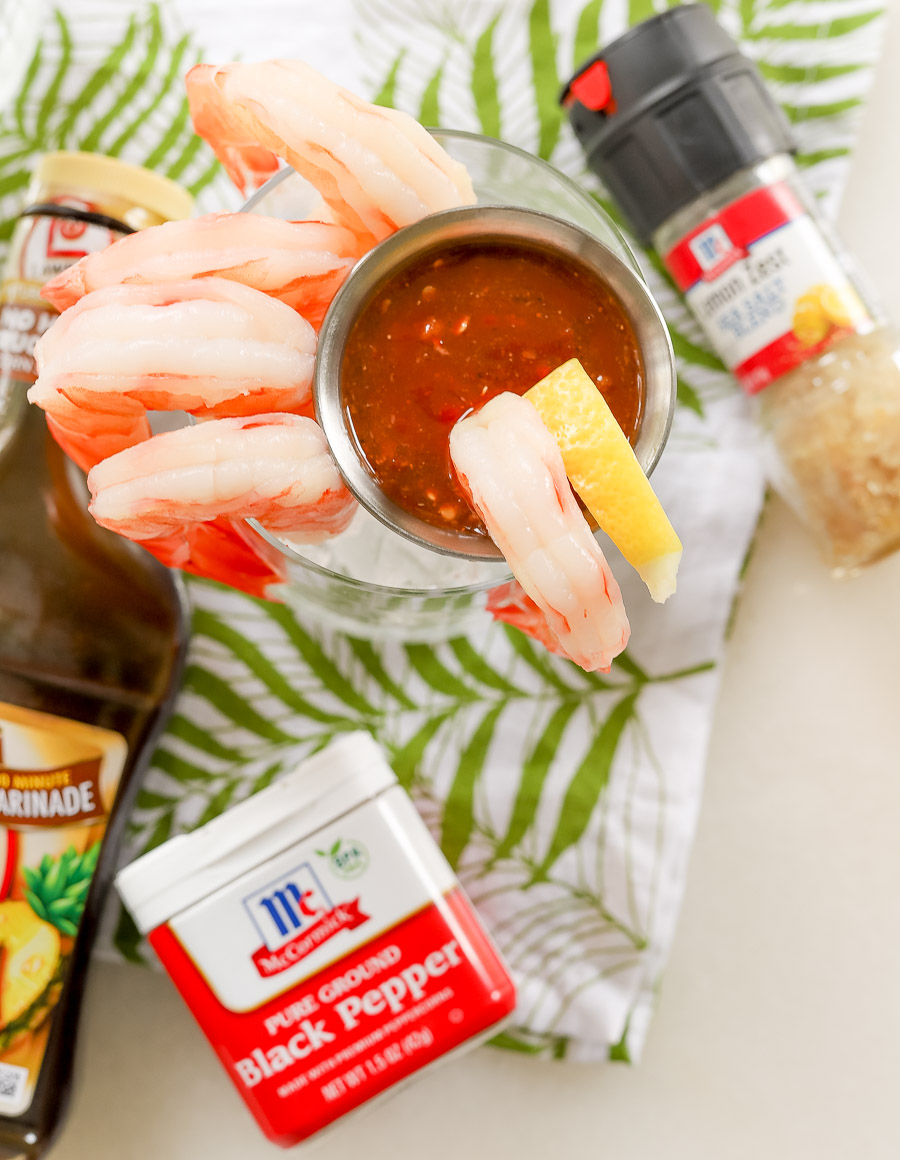 Teriyaki + Black Pepper Shrimp Cocktail
Do you ever get stomped when it comes to preparing appetizers? Whether you are throwing a backyard party for friends or treating yourself to a quiet evening at home at times it can be an exhausting and endless cycle of what to make and how. Do you feel me? We've all been there but relax, I got you. How about mixing it up a bit and adding a little spice to a quick and easy classic? Our Teriyaki +Black Pepper Shrimp Cocktail is the ticket and when you're using quality ingredients you can't help but make something so delicious it begs repeating and often.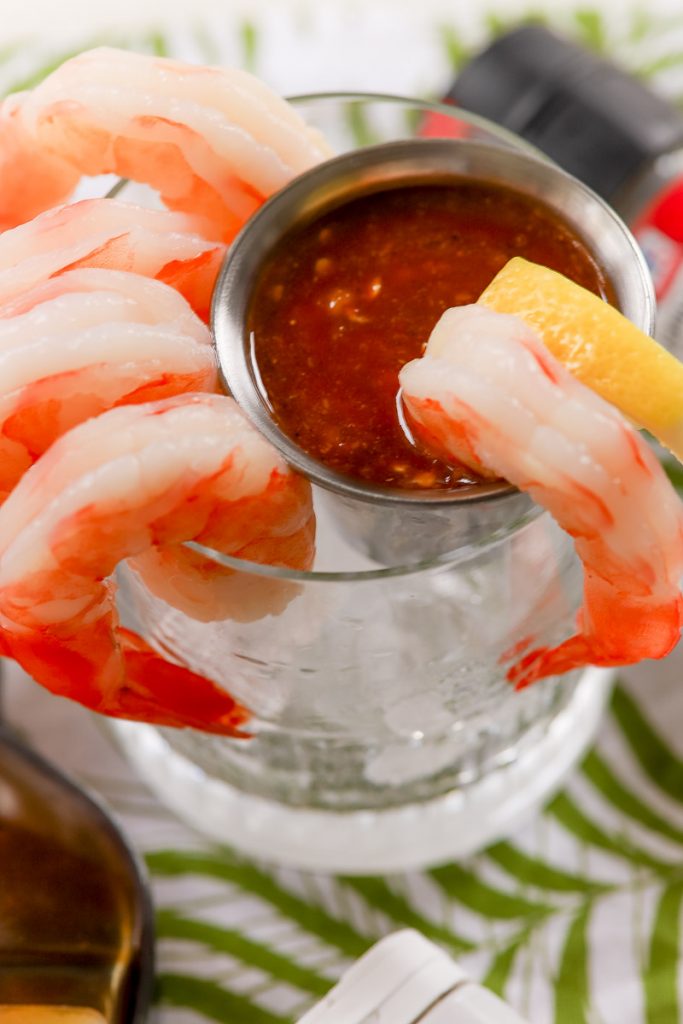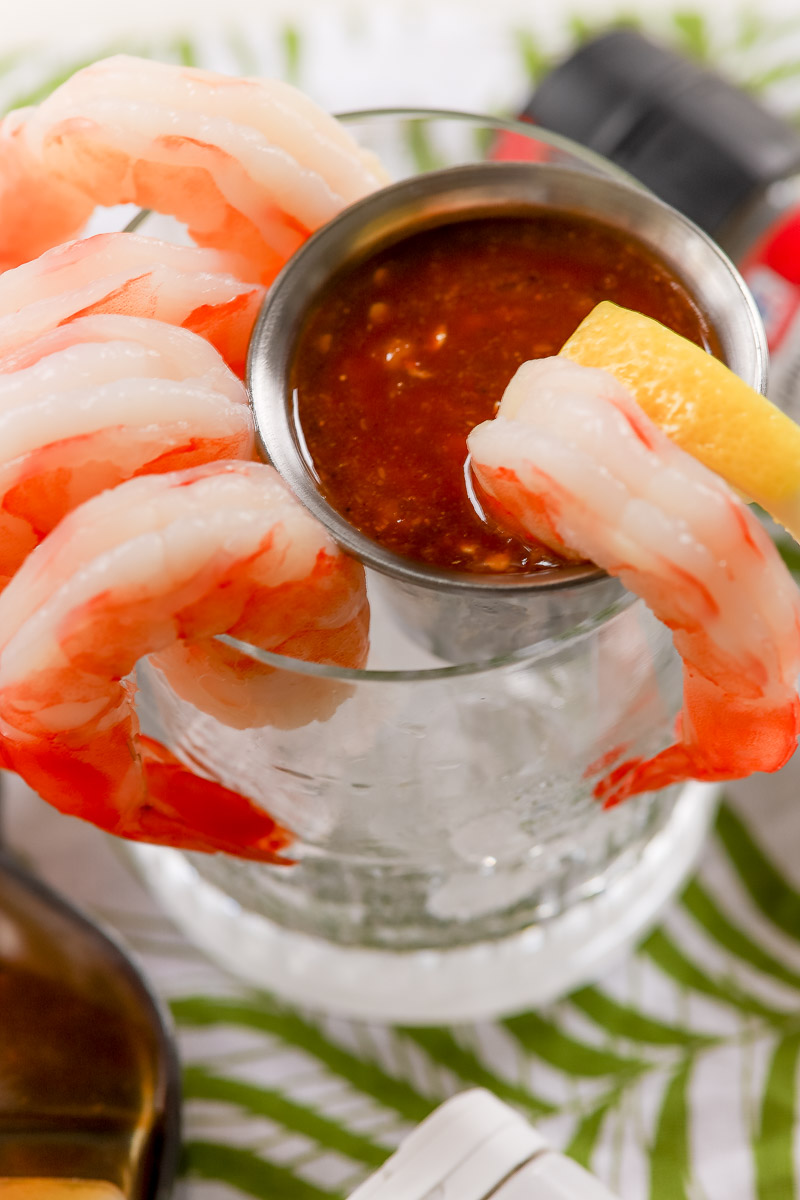 We made it so easy, I mean we are talking minimal effort here, and with a few ingredients, you can throw this recipe together in short order and spend the rest of your time wishing you made more!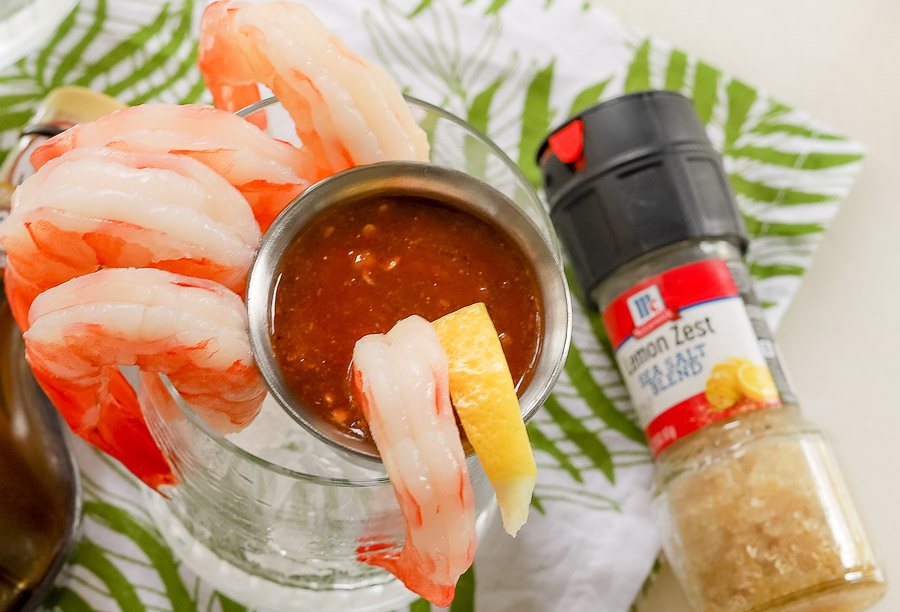 And did you know that's what McCormick products bring to the table (pun so intended)? It's what they are known for, taking your recipes and making them better is what they are all about. And I am so down with food being the best food it can be. For this recipe, I used Lowry's Teriyaki Marinade, McCormick Black Pepper, and McCormick's Lemon Zest Sea Salt Blend. Follow the steps below and we'll have you ready to make your next get together some kind of wonderful. Also, I really love the serving set up here, because is it me or does having everyone noshing out of the same dish kinda sorta creep me out? Having individual serving options are always a good look, especially when we're talking about a party situation. And it doesn't get any classier than this, does it?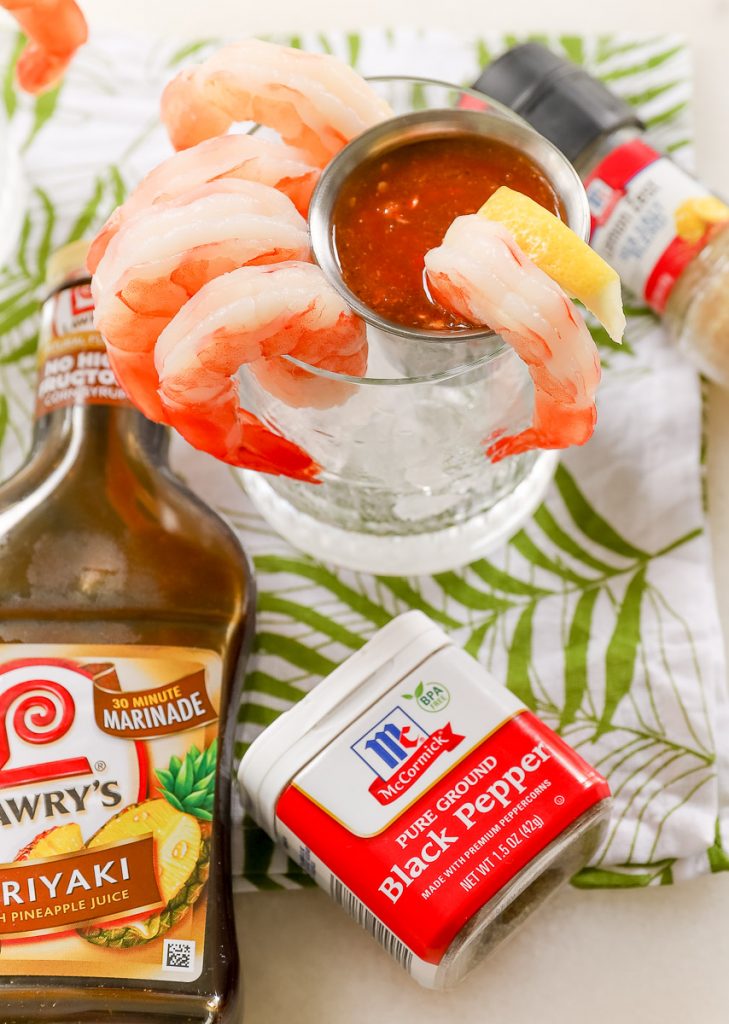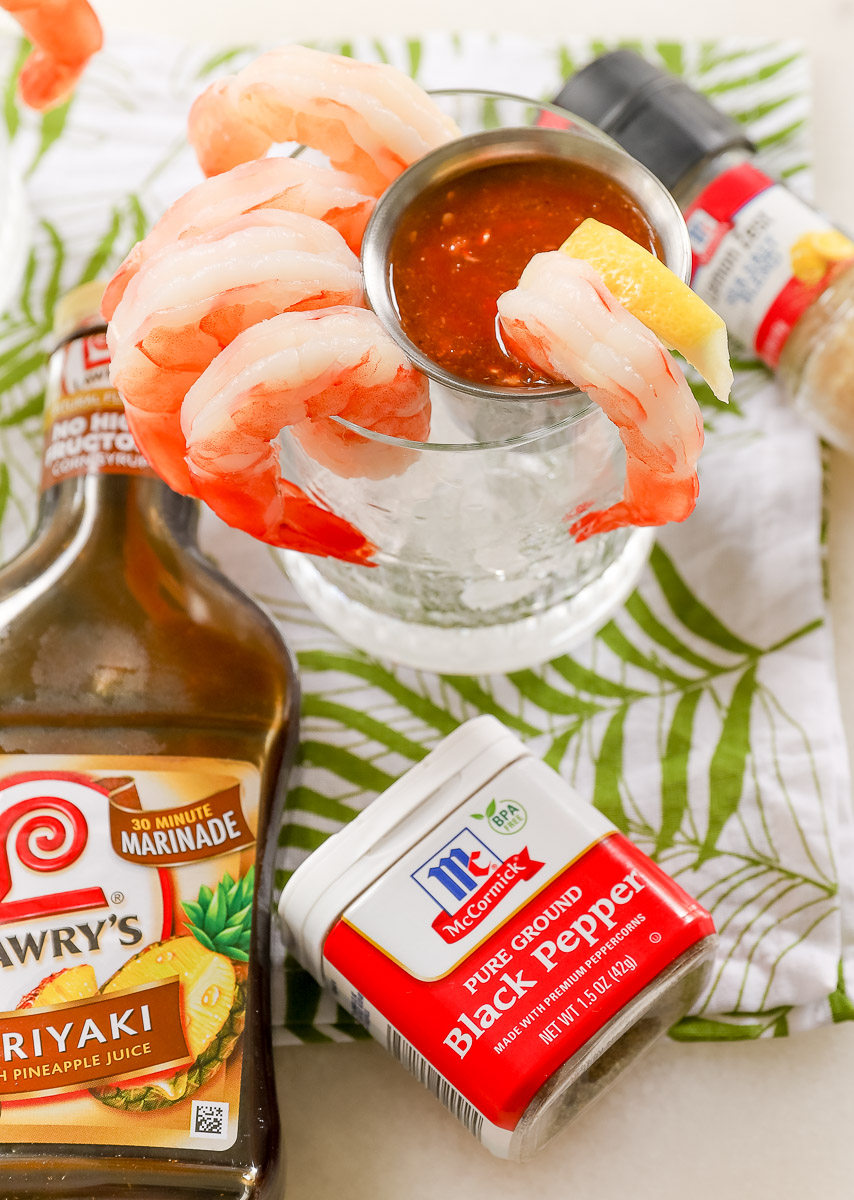 Teriyaki + Black Pepper Shrimp Cocktail
4 Servings
Shrimp Ingredients:
1 pound jumbo shrimp deveined
2 tablespoons honey
2 1/2 lemons
1 tablespoon granulated sugar
1 tablespoon McCormick® Lemon Sea Salt
5 cups of water
4 cups crushed ice
Ingredients need for the Cocktail Sauce:
3/4 cup chili sauce
1/4 cup hoisin sauce
1 tablespoon fresh lemon juice
1 1/2 teaspoon McCormick® Black Pepper
2 tablespoons Lawry's® Teriyaki Marinade
2 tablespoons Horseradish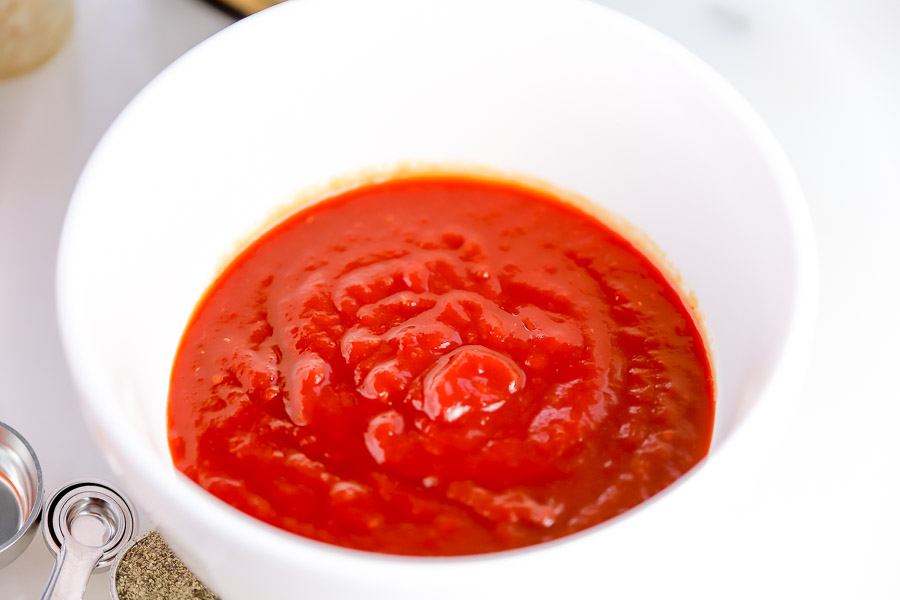 Directions to create the cocktail sauce:
In a bowl, combine chili sauce, hoisin sauce, fresh lemon juice, McCormick® Black Pepper, Lawry's® Teriyaki Marinade, and horseradish.
Mix to combine then spoon into a serving dish and refrigerate until ready to serve.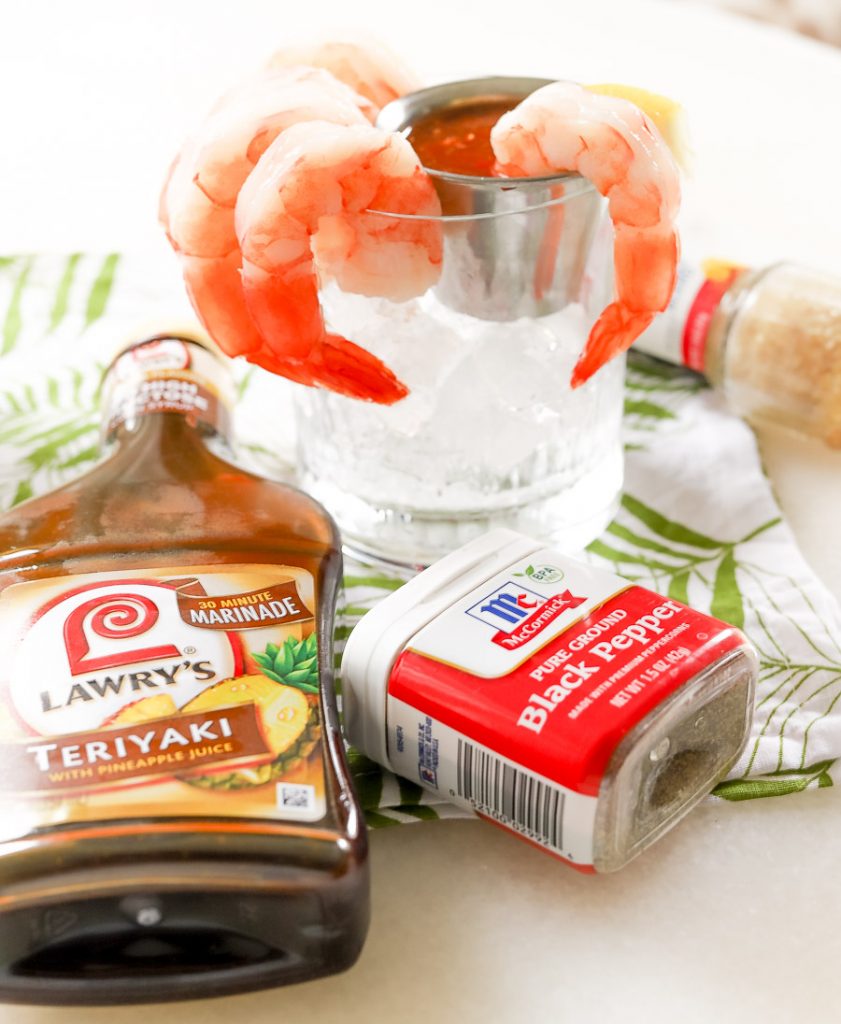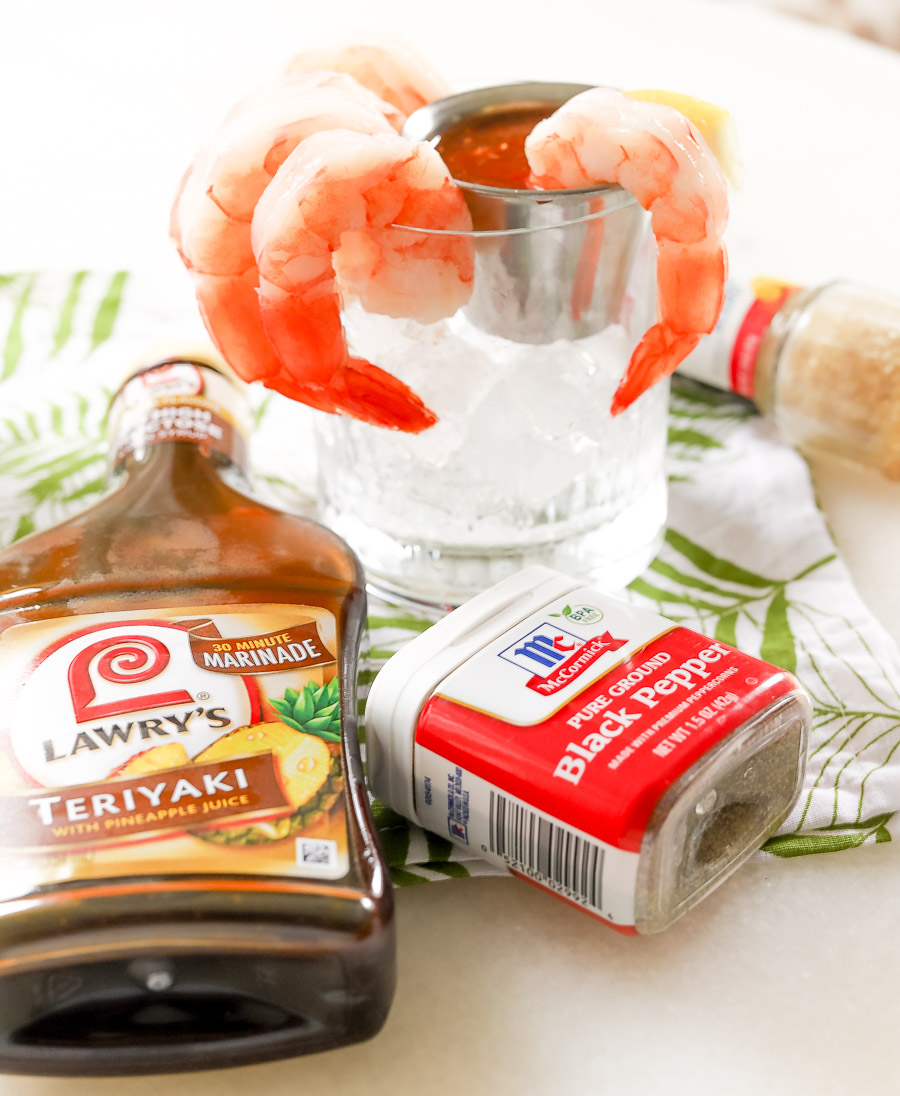 Directions on how to cook shrimp
Place a large stockpot over medium-high heat. Add 5 cups of water and bring to a boil.
Stir in the sugar, salt, and honey to dissolve. Squeeze the juice of half of a lemon into the water mixture.
Add the shrimp and cook for 1-2 minutes.
Use a slotted spoon to remove the shrimp from the hot water and place the shrimp onto paper towels to remove any excess moisture.
Transfer and arrange the shrimp around the edge of a rocks glass filled with crushed ice.
Place lemon wedges and dipping tins of Teriyaki + Black Pepper Cocktail Sauce alongside the shrimp.
Serve.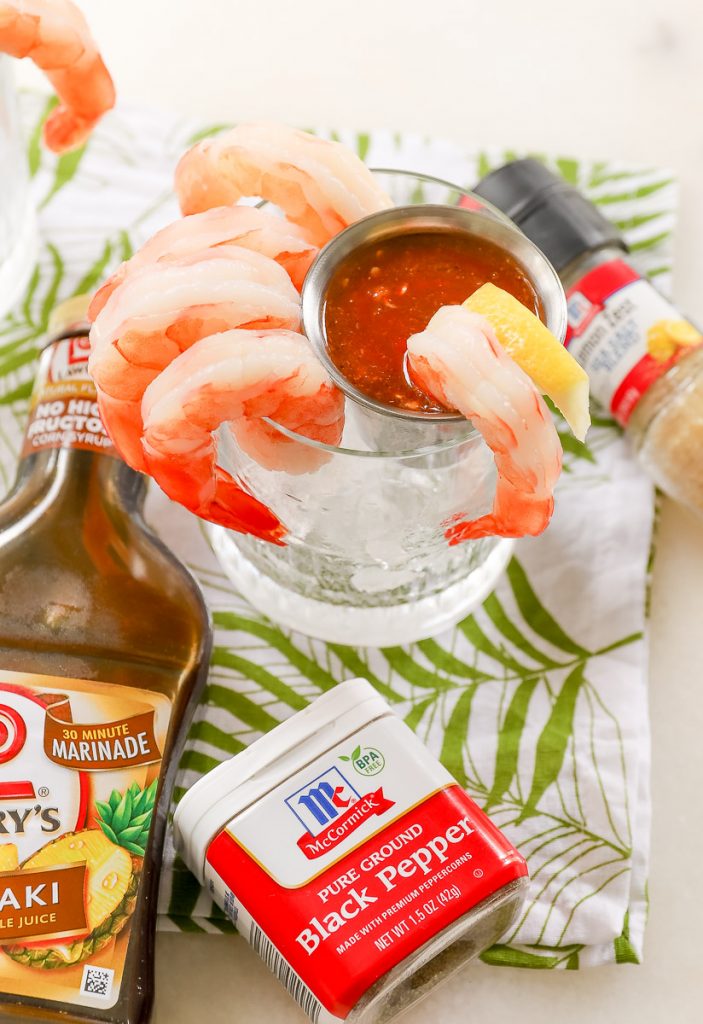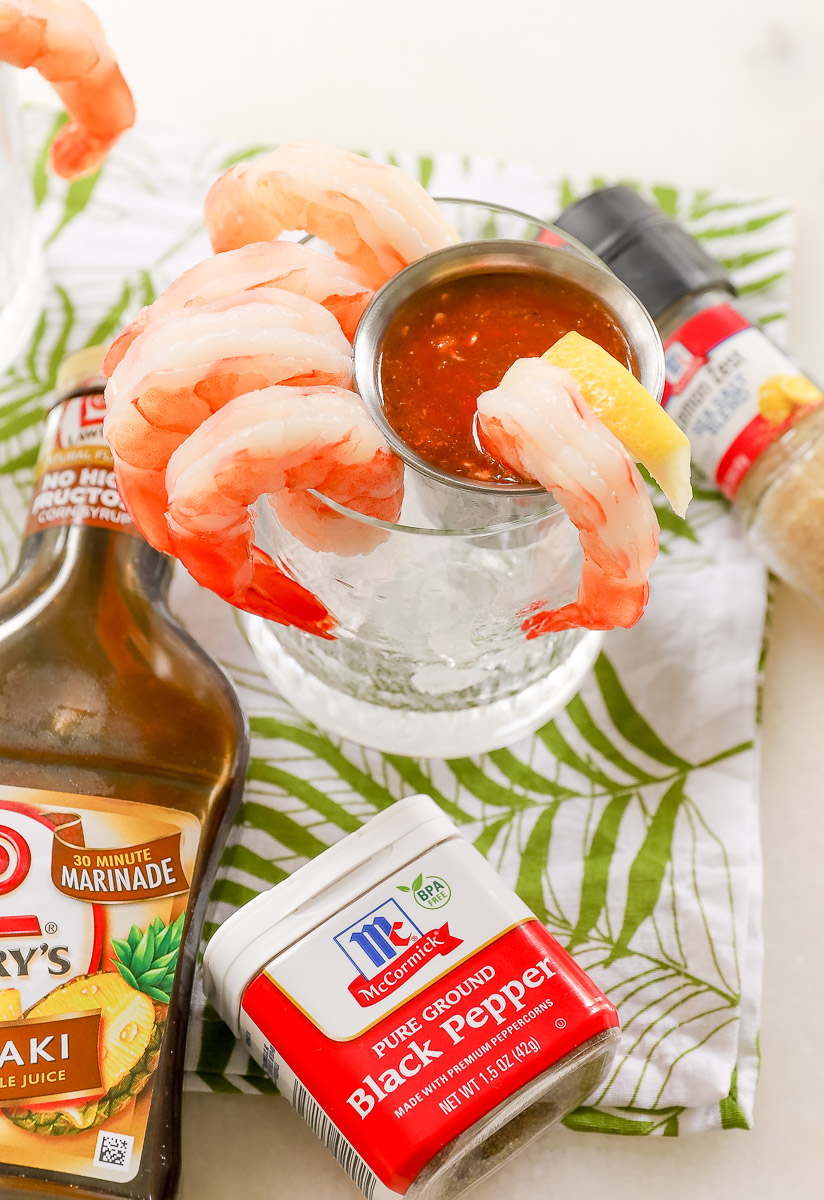 Disclaimer: We were hired by McCormick to create Teriyaki + Black Pepper Shrimp Cocktail for our Instagram channel. This blog post is not sponsored by McCormick, but we loved the recipe so much that we wanted to share it with our readers here.
Other summer recipes to try:
Shrimp Bisque Recipe Made in the Instant Pot
Shrimp Po& Boy Sandwich Recipe
Tips On Hosting A Summer Pie Party
Two Summer Cocktail Ideas Using Jameson + Malibu