This shop has been compensated by Collective Bias, Inc. and its advertiser. All opinions are mine alone.#InsideOutEmotions #CollectiveBias
Using Disney's Inside Out Movie To Talk About Emotions {printable}
When I first heard about Disney producing a movie all about emotions, I knew I had to check it out.
Dealing with different emotions and how to appropriately handle them is something we deal with on a daily basis at our home. With both twins on the Autism spectrum, I was curious to see how Disney's Inside Out would be helpful with children dealing with emotions.
After watching Disney's Inside Out, (out now on DVD and available at your local Walmart), I was convinced this movie would be a perfect way to show children of all ages how to express and manage their emotions. AND, that it is okay to have a wide range of emotions.
One thing the twins struggle with when it comes to emotions is knowing which ones to use appropriately and how to handle them.
I put together a fun, interactive game that gets them talking about emotions while using pieces of the story-line from the Disney movie, and the Inside Out Characters.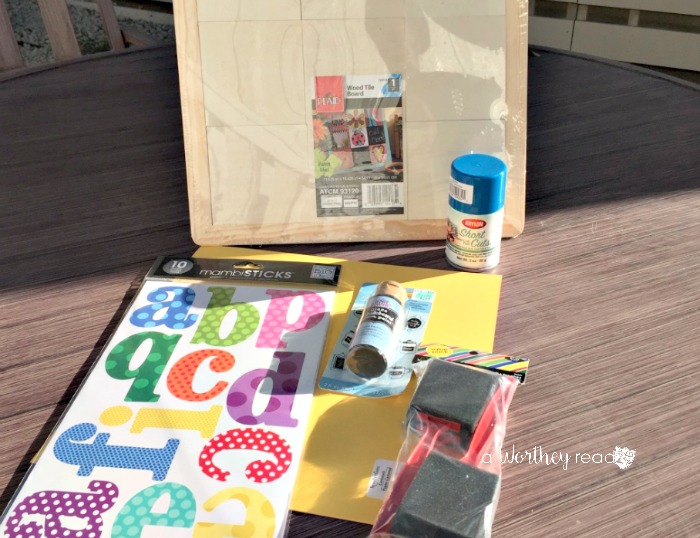 First, you need your supplies:
One wood tile board
A pack of stickers
One foam brush
Six pieces of scrapbook paper
One small bottle of chalkboard paint
One bottle of blue spray paint
One black marker
Five Inside Out Characters (or as many as you can find)
Directions:
First, remove the tile pieces from the wood. Then spray paint the wood tile board with the blue spray paint:
Then take each tile board piece and paint each one with the chalkboard paint. Once it is all dry, you can add the stickers to each of the tile board pieces.
While I was waiting for the wood pieces to dry, I took half of the scrapbook paper and cut them into tiny squares. I took the other half of the scrapbook paper and cut them into rectangles.
On the small paper squares, write the directions:
Go three spots to the left
Move one spot ahead
Skip over your opponent
Jump three spots over Sadness (if you are Sadness, you miss your turn)
Fear is scared to move, lose a turn (if you are not fear, jump over fear)
Anger got mad; he loses a turn (if you are not anger, you get to jump over him)
And so forth. You can create any directions you want for this game, depending on the age of your children. For my tweens, I am using guidelines that will continue to enhance discussion about their emotions.
On the rectangles, you want to write discussion questions which will prompt your tweens to think about and hopefully talk openly:
What are some other words to describe fear?
What happens when you get angry?
What are some things that make you angry?
Show me what happy looks like?
Show me what sadness looks like?
Show me what anger looks like?
Show me what scared looks like?
Do you know anyone that is sad?
Act out what disgusted looks like.
What are some things that made Riley change how she felt about moving?
What feelings did Riley have when she found out she was moving? Have you ever felt that way?
How are the core memories (the glowing balls) made? What are some of your core memories?
What's the difference between a short-term and long-term memory?
Can our past determine our happiness?
Do you think girls are happier than boys?
Do you think material things make you happy? Should they?
Does having money make you happy? How much money would it take to make you happy?
When someone talks about you, how does that make you feel?
At the end of the movie, the emotion Sadness does something brave. What was it, and how did that help save Riley?
Why do we feel sad sometimes?
Why do we feel angry sometimes?
Have you ever been scared? Why?
Demonstrate what you think angry means?
Is anger a helpful emotion to have? Why and why not?
Tell me about something that made you sad. Why?
How does your core memories affect your personality?
What can we do when you are angry?
What can we do when we are sad?
How can we help others that are scared?
How can we help others that are angry?
How can we help others that are fearful?
Should you be happy all the time?
Do you think emotions are contagious?
What are some things that make you happy?
Tell me about your happiest moment?
These are all great questions that will not only prompt a discussion about their emotions, but also hopefully help children process and understand what they are feeling and how to appropriately handle them. Feel free to add additional questions you may find helpful when playing this fun, interesting and thought provoking InSide Out game with your children.
Below you will find a list of questions in an Inside Out Interactive Game Parent's Guide printable which is great to use for a study guide for Parents.
On the back of each rectangle, place a letter stick ( stick to the same letter stickers you used on the tile pieces. And yes, you will have several A's, J's, D's, S's, F's, H's, etc.).
Once you have all of your squares cut out, you're ready to play the game.
Up to five players can use the board game, using the Inside Out Emotion Characters:
Sadness
Joy
Disgust
Anger
Fearful
Decide who gets to go first. So, for example: Sadness goes first. Player picks up a small square, and the instructions read, "Start at the square h."
Then the player lands on the square h. Now, the player pulls a rectangle sticky from the back of the letter h square and reads the question aloud. The question is, "Show what happy looks like."
Next, the player demonstrates with words and actions what they think "happy" sounds and looks like!
Play moves from left to right (clockwise) and they next player gets a turn. Keep playing, the game concludes when all of the rectangles have been used.
There are no winners or losers in this game, which is critical when you're dealing with Autism and the many competing emotions we all have each and every day. Sometimes, my boys can get very upset when they don't win. Which is another way to talk about their emotions, and how to handle them!
My local Walmart had everything I needed to put together this Inside Out Interactive Emotions Game. I dropped in and picked up the craft material, the Inside Out DVD and the Inside Out Character Tomy Toys.
Be sure to print out your interactive Parent Guide for Inside Out here:
Be sure to stop by your local Walmart to pick your copy of the Inside Out DVD and all of the supplies to make this game.
Have you watched the movie, or do you plan to watch it? If you have already watched it, what are some of your thoughts on this movie that's all about our colorful emotions? Do you feel it is great for children (kids with Autism)?
If you decide to create this game based on the tutorial listed above, come back and let me know how it turns out and if it helps!