If you are tired of stepping on legos and seeing them all over the house, I have the perfect post for you: 7 Ways to Organize Legos with Lego Storage ideas. Get ideas on how to properly store all those legos in a safe spot!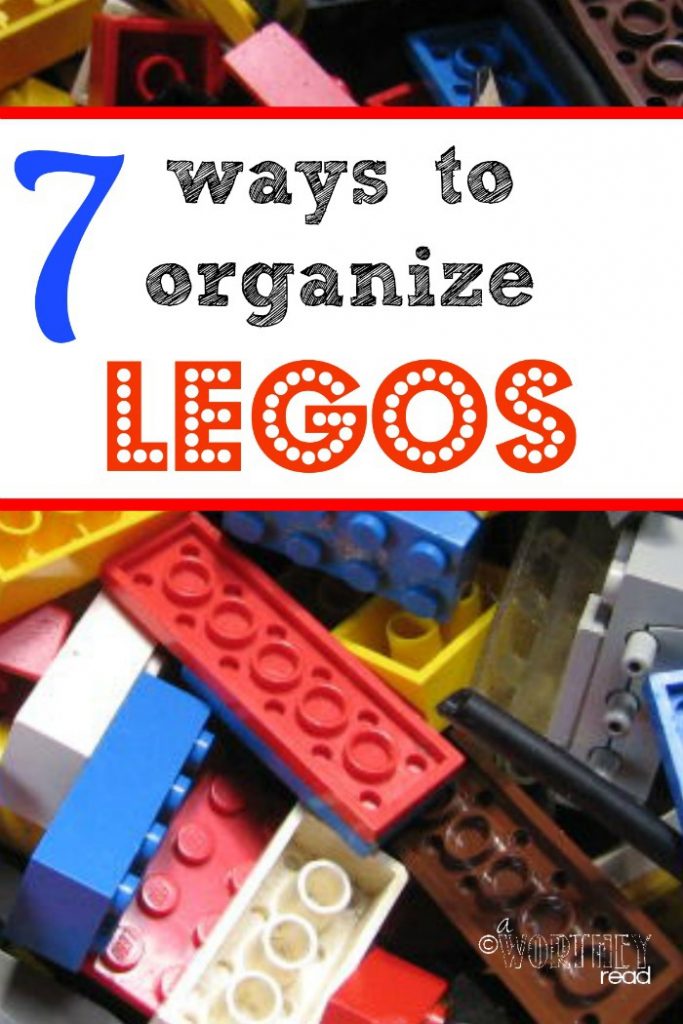 7 Ways to Organize Legos with Lego Storage Ideas
If you have Lego fans in your house, you know how quickly the little blocks can take over! How many times have you stepped on a Lego, only to scream (even tossing in a curse word or two!?) and wonder if there was any way to organize them? A while back, I was having a conversation with other Moms on Facebook about the "stepping on the lego pain". One Mom suggested this excellent and genius idea that she purchased for her boys. It's a floor mat that turns into a shoulder bag. So the kids can play with the legos on this mat. Then when they are finished, all you have to do is pick it up. This idea just may be perfect for you! You can check it out HERE. Take a look below at seven ways to organize Legos that you can try. Legos can not only be fun, but easy to store away safely when you give these tips a try. Take a peek!
1. Muffin tin magic
Purchase muffin tins from your local dollar store. Use the compartment in the tins to sort the Legos by size or color. You can even buy muffin tins from your local retail store that come with a snap-on lid, perfect for keeping them in place.
2. Shoebox foot saver.
Don't step on Legos again. Instead, save your shoe boxes to store them in. Shoe boxes are sturdy, have great lids, and are FREE. Plus, you can take a marker and write directly on the side of the box identifying the contents within.
3. Eggcellent egg boxes.
Save your foam egg containers to store Legos in. These are especially perfect for the tiny pieces that tend to get lost. Simply place them in the compartments and close the lid. You can secure the top with tape or string if you wish.
4. Terrific totes.
Buy small plastic totes with snap-on lids. Not only do they offer plenty of room for your Legos, but you can glue a Lego base to the lid so kids can play directly on the box as well. How cool is that?
5. Sensational shoe bag storage.
Snag an over the door shoe storage bag. They have dozens of small pockets perfect for storing Legos in. Plus, the-over-the door lego storage frees up floor space. You can even label the pockets for easy sorting.
6. Cents-able canning jars.
Grab mason jars from your local thrift shop or dollar store. They are quite roomy, and the screw-on lids will keep the Legos safely stashed away. You can even label the jars or lids if you wish for easy identification.
7. Ziploc bag awesomeness.
Place Legos in a large Ziploc bag. Then, use a skirt hanger to snap onto the bag. You can then hang the hanger in a closet. This is a great way to keep Legos off the floor and out of sight when needed.
See how easy it can be to organize your Legos? Give these tips a try and never find yourself stepping on them again!
What are some ways you organize the legos? Leave me a comment. I would love to hear what you have to say!
Get more organizational tips below:
60+++ Kitchen Organizational Ideas
Say Goodbye to Ugly Cable Cords
7 Awesome Ways to Organize Your Closet