Alice Through The Looking Glass Food Ideas
Serving our Dreamy Peach & Strawberry Tea cocktail and Cucumber & Tomato Nachos is an excellent way to update your next tea party. Both were inspired by Lewis Carroll's Alice In Wonderland don't you know? Our family recently attended the Tim Burton-directed sequel Through The Looking Glass and without giving any spoilers away it was one surreal and trippy ride. As a kid, I read Alice in Wonderland in school, and although I don't remember everything about it, the description of the Tea Party stuck with me.




Tea Time is the quintessential English custom, imagine those crustless cucumber sandwiches and tea served from steaming pots into fine bone china. But with our modern twist the crustless cucumber sandwiches have been replaced with a pan-roasted flour tortilla slathered with a herb and cheese mayo, thinly sliced cucumber and vine tomatoes, thick cut bacon and fresh basil. Hello?! But what about the tea you ask? Well, fear not I got you covered with our delicious Dreamy Peach & Strawberry Tea cocktail. This is a tea time you'll not soon forget. This cocktail is a stunner with the addition of Lucid absinthe, hibiscus tea, Italian soda and fresh strawberries. Can you say CHEERS?! Check out the tea time details below.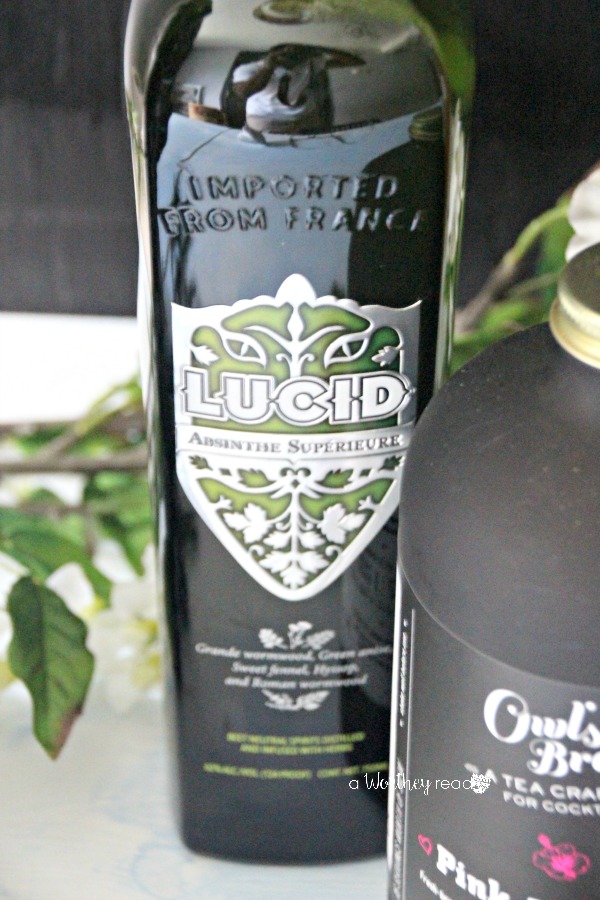 Oh by the way about the Owl's Brew Pink & Black Tea. Tat and I purchased it at Home Goods about a month ago, and we love it. It is specifically crafted for cocktails; I know this because it is emblazoned right on the bottle. The Pink & Black is fresh-brewed Darjeeling hibiscus tea, with notes strawberry and lemon. And the black bottle just doesn't look cool it helps protect the delicate tea inside from ultraviolet light which can degrade the quality of the tea. All I have to say is, "Good stuff!" Cheers!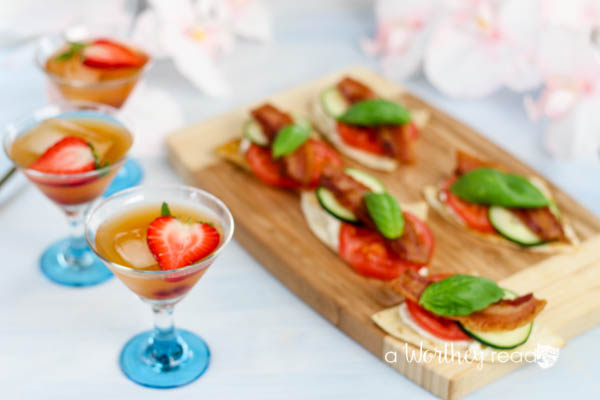 Dreamy Peach & Strawberry Tea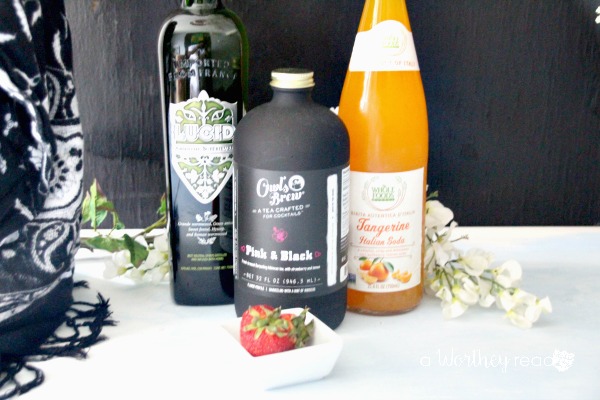 Ingredients:
o.5 ounce Lucid Absinthe
0.5 ounce Italian Soda
1 ounce Svedka Peach Vodka
2.5 ounces Owl's Brew Pink & Black Tea
Sliced Strawberry
Ice Cube
Directions:
In a cocktail shaker add absinthe, peach nectar, peach vodka, tea and crushed ice.
Secure the lid of the cocktail shaker and give a good resounding shake for 30 seconds.
Strain into a chilled martini glass.
Add a single ice-cube and a fresh slice of strawberry.
Serve.
Drink responsibly, and never drink and drive
Cucumber & Tomato Nachos
Ingredients:
4 flour tortillas, quartered and pan fried
1/2 lbs thick cut bacon
1 medium cucumber sliced thin
2 vine ripened or Roma tomatoes sliced thin
3 tbsps herb and cheese mayo
1 tbsp extra virgin olive oil
sea salt to taste
freshly ground peppercorns to taste
Directions:
Prep. Pan fry a mess of 3″ bacon slices ahead of time until they are perfectly crispy, when the bacon is finished cooking lay the slices of bacon on paper towels to absorb excess grease. Set aside.
In a medium size skillet add two (2) tablespoons of EVOO. When the oil is hot add four quartered flour tortilla slices, cook until they are slightly brown on one side then flip over. Remove to a plate lined with paper towels. Add a bit of sea salt to finished tortillas. Set aside.
Using a clean cutting board thinly slice the cucumber. Place in a small bowl and refrigerate until ready to use.
Clean the cutting board and thinly slice the tomatoes, when finished place into the fridge to chill until you're ready to use them.
Rinse off fresh basil leaves and place them onto paper towels.
Make our Herb and Cheese Mayo by combining 3 tablespoons of Hellman's mayonnaise, 1 tbsp EVOO, minced rosemary and thyme, sea salt and freshly ground peppercorns to taste and 2 tbsps of 5 Italian shredded cheese blend. Mix well and refrigerate until ready to use.
To make spread a thin layer of herb and cheese mayo onto a pan-fried flour tortilla, arrange a slice of cucumber and a slice of tomato, add a slice of thick-cut bacon, top with a fresh basil leaf.
Serve.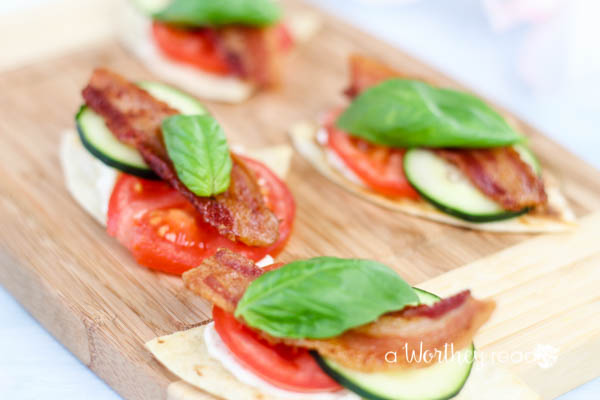 Have you checked out the new movie, Alice Through The Looking Glass? If so, feel free to let me know your thoughts on the movie below!
And be sure to read our movie review and Life Lessons We can Learn from Alice Through the Looking Glass!