Using these tea drink recipes with tea as the main ingredient, you can make mocktails, cocktails, smoothies, and more.
In this roundup, you'll find a variety of tea drinks, both hot + cold, seasonal, and good for any time of the year.
Check out these recommendations shared below.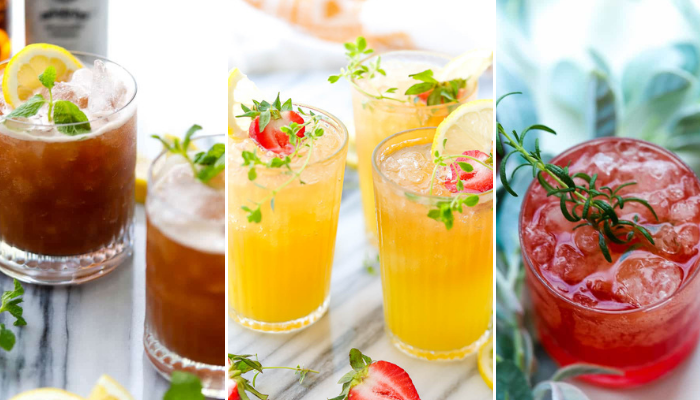 65 Tea Drinks | Drink Recipes Using Tea As The Main Ingredient
When you think of tea, most of us think of England but did you know the Irish are also heavy tea drinkers? It is a part of their culture and a way to share warmth and hospitality.
But who says you have to be English or Irish to enjoy a glass or cup of tea? Here in America, we also enjoy tea both hot and cold.
However, when the summer heat is smoldering down, there is nothing better than a tall cold refreshing glass of iced tea.
With that thought in mind, did you know we can take our all-time favorite tea and turn it into mocktails, cocktails, and even smoothies?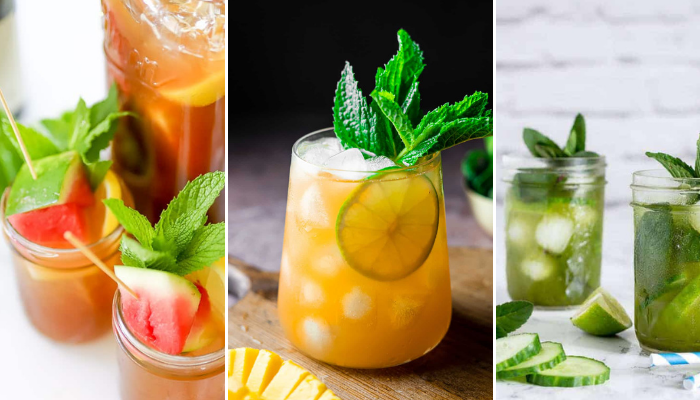 Drinks made using tea are fabulously delicious and equally refreshing! But, how do you make these mouth-watering drinks?
We're here to share some amazing drink ideas using tea. Whether you want to enjoy them year-round or looking for the perfect Irish tea drinks for St. Patrick's Day, we are sure you want to try a few of these.
If your mouth is dry before browsing our list, it won't stay that way!
These tea drinks are enough to have your taste buds screaming YES, let's make this one and that one AND this one too!
Ready to see the amazing drink ideas using tea?
Let's go!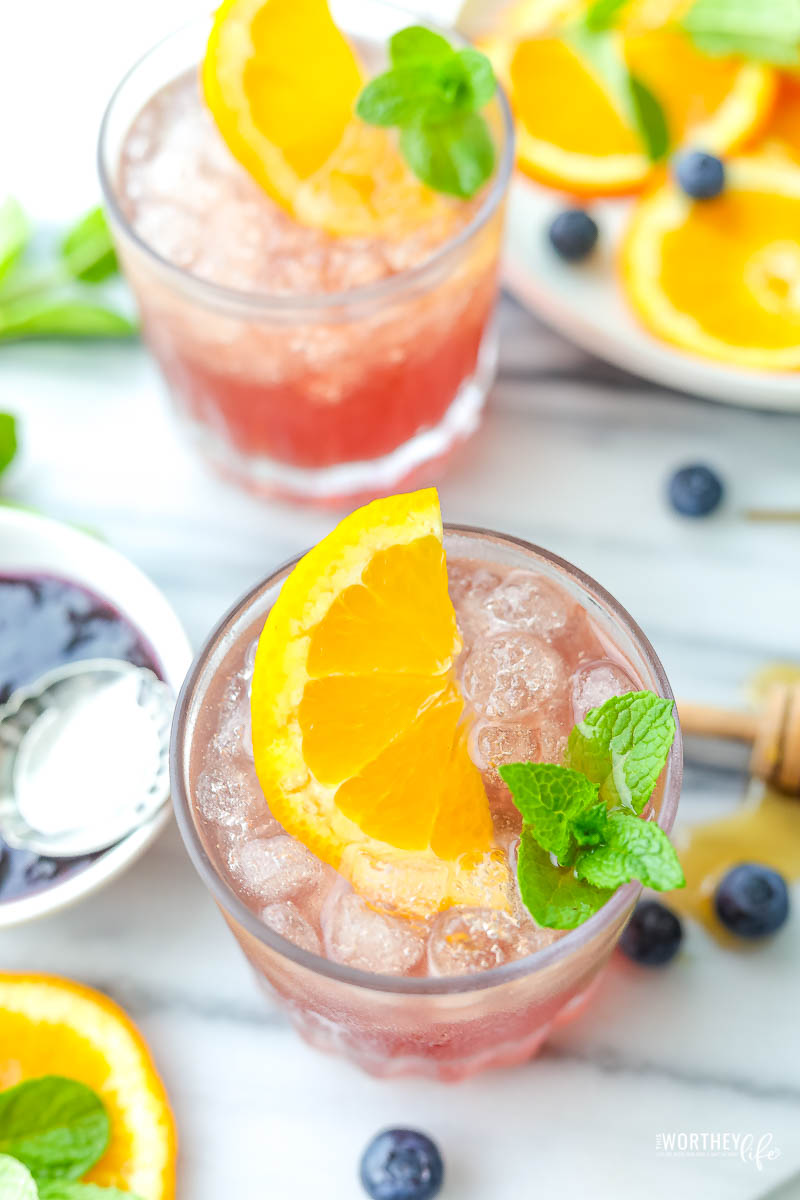 If you love fruity refreshing drinks, then you will absolutely love our Blueberry Smash Tea Mocktail.
This tea mocktail offers a combination of refreshing and lots of berry fruit flavor.
A Hibiscus Blueberry Tea is the starting base for this recipe. Then, add in our Blueberry Smash (recipe included) for a delightfully fruity taste that will tantalize the taste buds.
Honey truly makes this mocktail shine! Then, we go a bit further by adding fresh mint and also orange slices that give this refreshing drink a hint of citrus.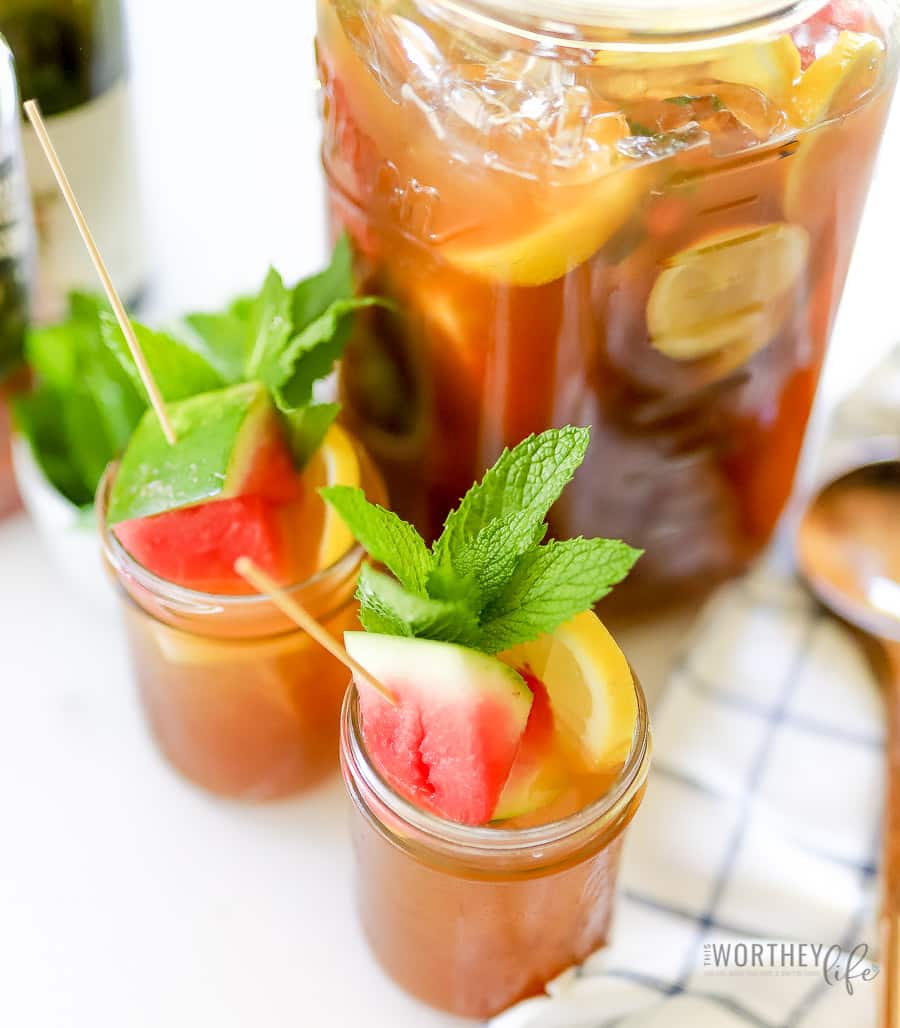 Our Bourbon Moscato Tea Punch takes your summer tea to a whole new level. It is so delicious you won't be able to stop drinking it!
This cocktail features bourbon, tea, peach melon Italian soda, and sweet Moscato that will have your taste buds on overload.
You can't help but love this taste-tingling tea. It is sweet, fruity, boozy, colorful, easy to make, and perfect for entertaining!
Another bourbon tea drink recipe to try is our Blackberry Bourbon Tea Cocktail.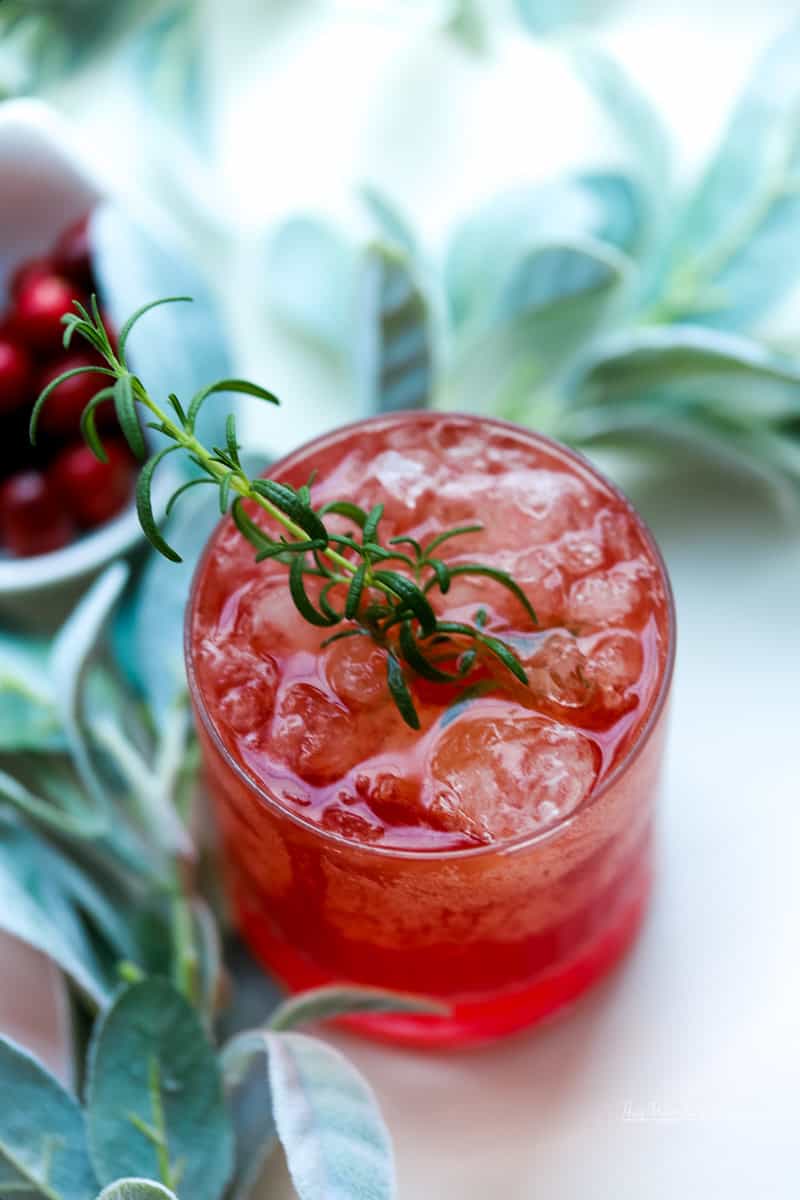 Our Cranberry Tea Punch is a mocktail the whole family can enjoy. It is also the perfect choice for entertaining, especially during the Christmas holiday season.
This tea punch combines Cranberry Sprite tea soda, cranberry simple syrup, cranberry juice, and mulled spice mix for a flavor sensation you can't resist.
While it is delicious as a mocktail, you can easily add Tequilla for those who prefer alcoholic refreshments.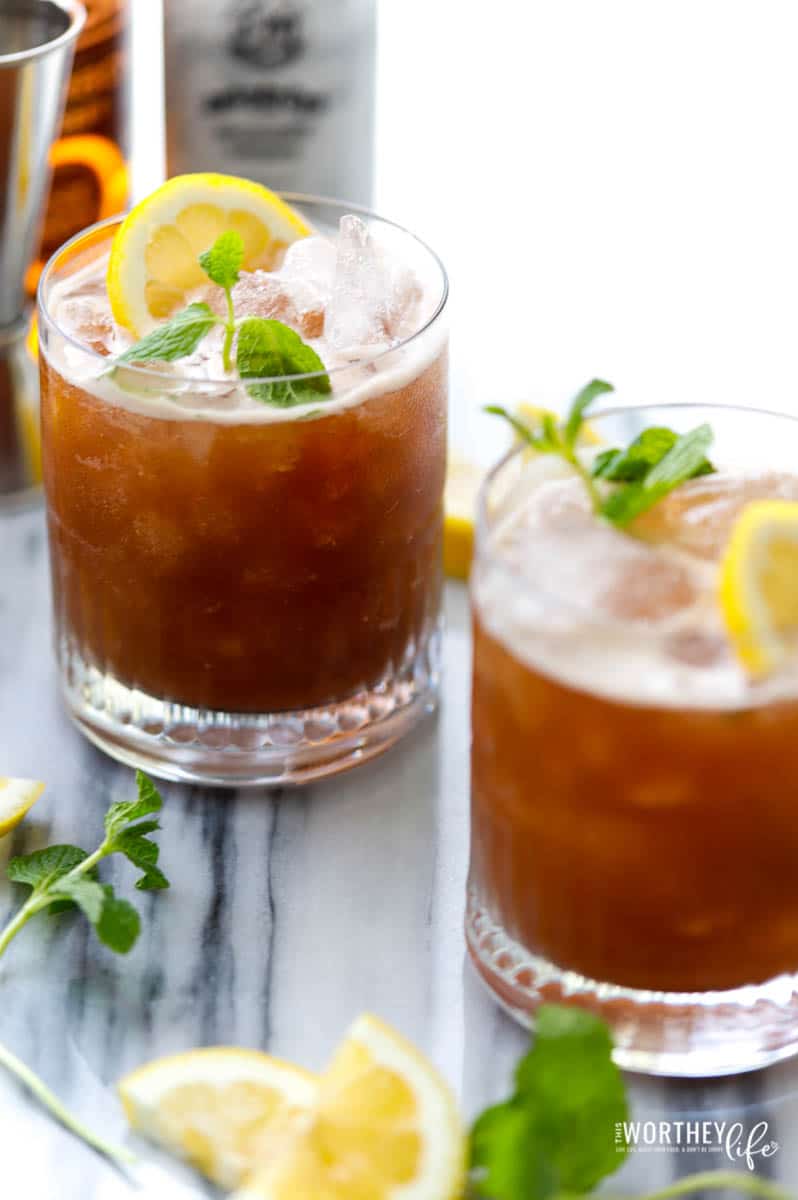 For those long-smoldering days of summer, our boozy Bourbon Sweet Tea Cocktail served in tall frosty glasses will certainly hit the spot.
This refreshing drink is a grown-up version of your favorite icy tea and is easy to make.
You make this cocktail with bourbon, honey simple syrup to add sweetness, organic tea mixer, aromatic bitters to balance the flavors, fresh mint for a hint of cooling mint, lemon for a hint of citrus and to brighten the drink.
Then, serve over cracked ice.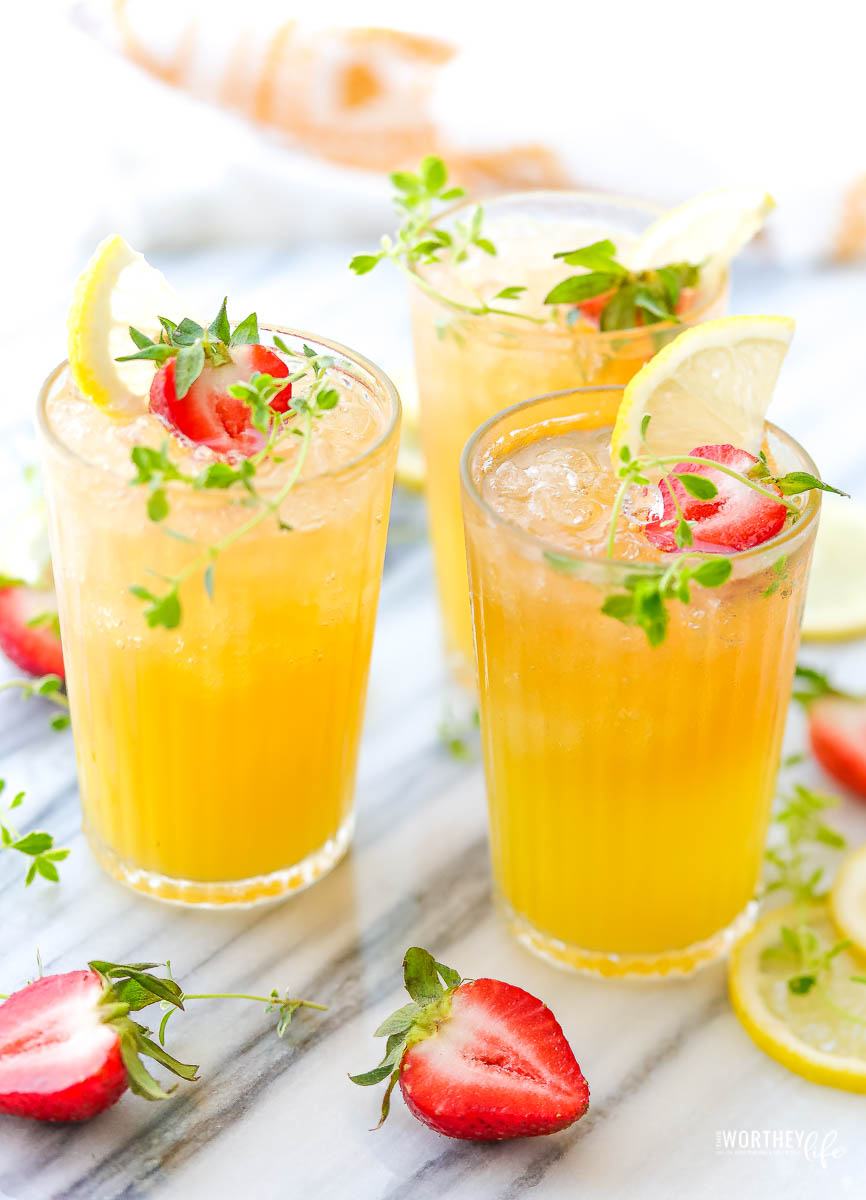 When the summer heat is bearing down there is nothing better than a tall glass of this Pineapple Arnold Palmer tea.
Most tea lovers are already familiar with the Arnold Palmer drink. And while it is typically made with equal parts sweet tea and lemonade, we put another spin on it.
We use pineapple juice to make the lemonade to take it to another level.
You can easily add lemon-infused vodka or your favorite gin for a mouth-watering Boozy Pineapple Arnold Palmer!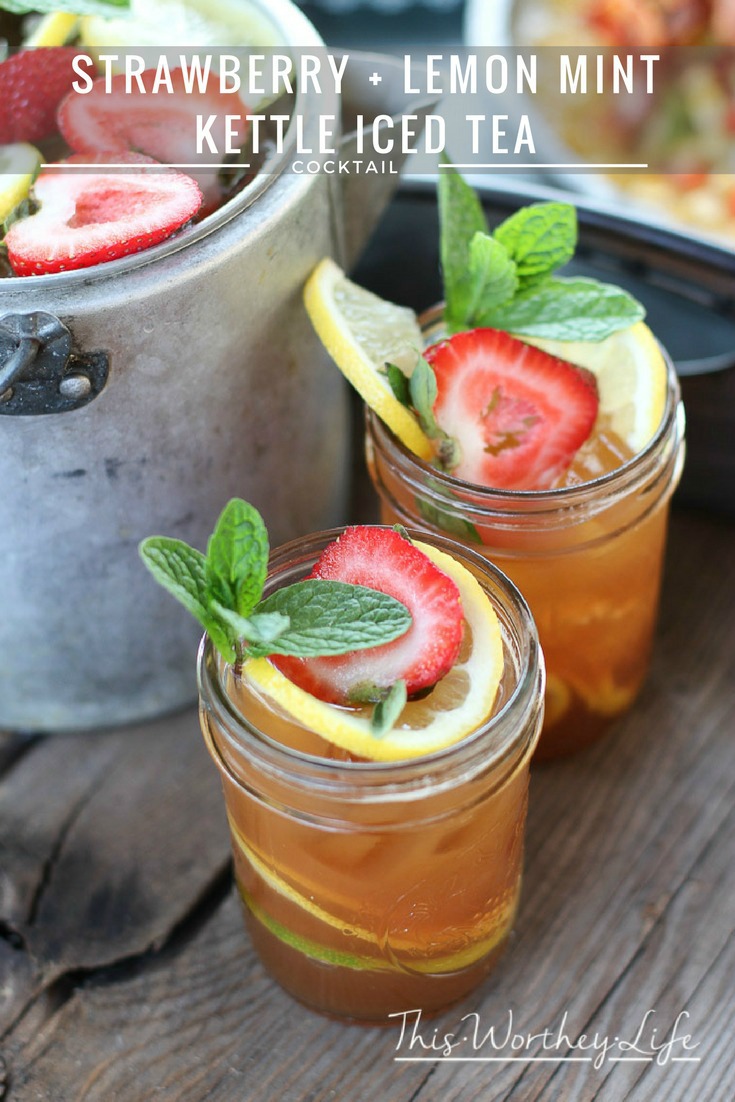 Strawberry + Lemon Mint Kettle Iced Tea Punch is another favorite adult iced tea we enjoy.
This summer sun tea is filled with fresh sliced strawberries, lemon, Jack Daniels Rye, and mint for a refreshing drink you can't resist.
Sun tea is already in a class amongst itself for its deliciousness and then the rye lends an undercurrent of flavor that takes this summer punch to the top of the list.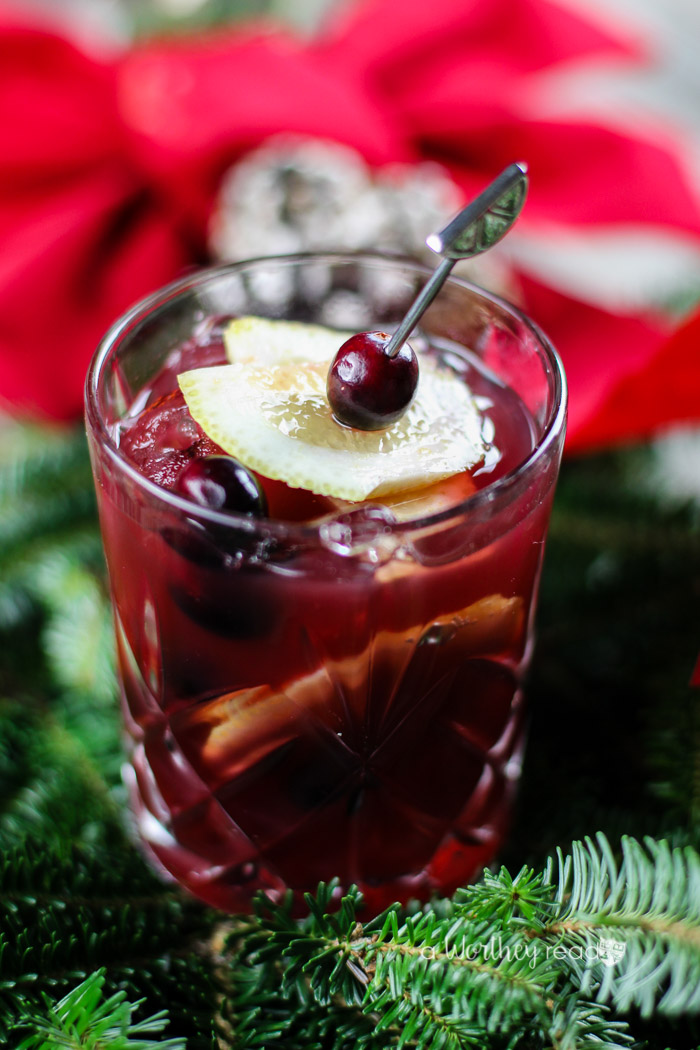 We give "tea-time" a whole new vibe with our Spiked Lemon & Tea Cocktail.
It is a citrusy and relaxing lemon and tea cocktail with perfectly paired ingredients.
The Owl's Brew is the star of the show, while the bright citrus is refreshing for summertime and/or in the wintertime reminds you of bright sunny days ahead.
Of course, the vodka is a welcome addition.
Our tea cocktail has an English flair and sophistication truly taking "tea-time" to a whole new level!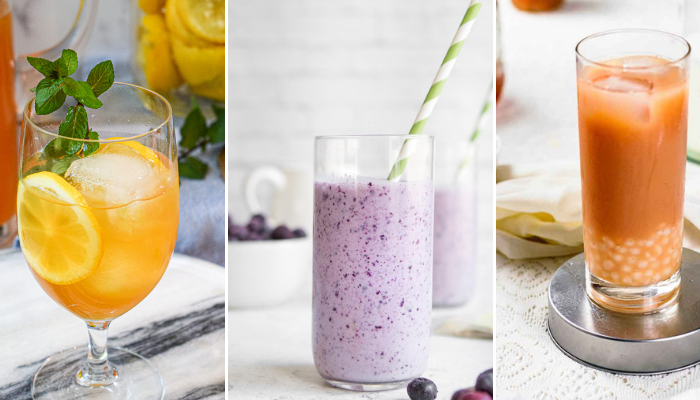 Keep reading below for more drink ideas using tea.