If you're trying to decide where to stay in Anaheim for your next vacation, we're breaking down the differences between why you should stay in an Anaheim Vacation House versus a regular Airbnb in Anaheim.
We're also giving our review on staying at Anaheim Vacation House's Property #30.
If you're planning a trip to Anaheim, California, staying at Anaheim Vacation House is a great choice.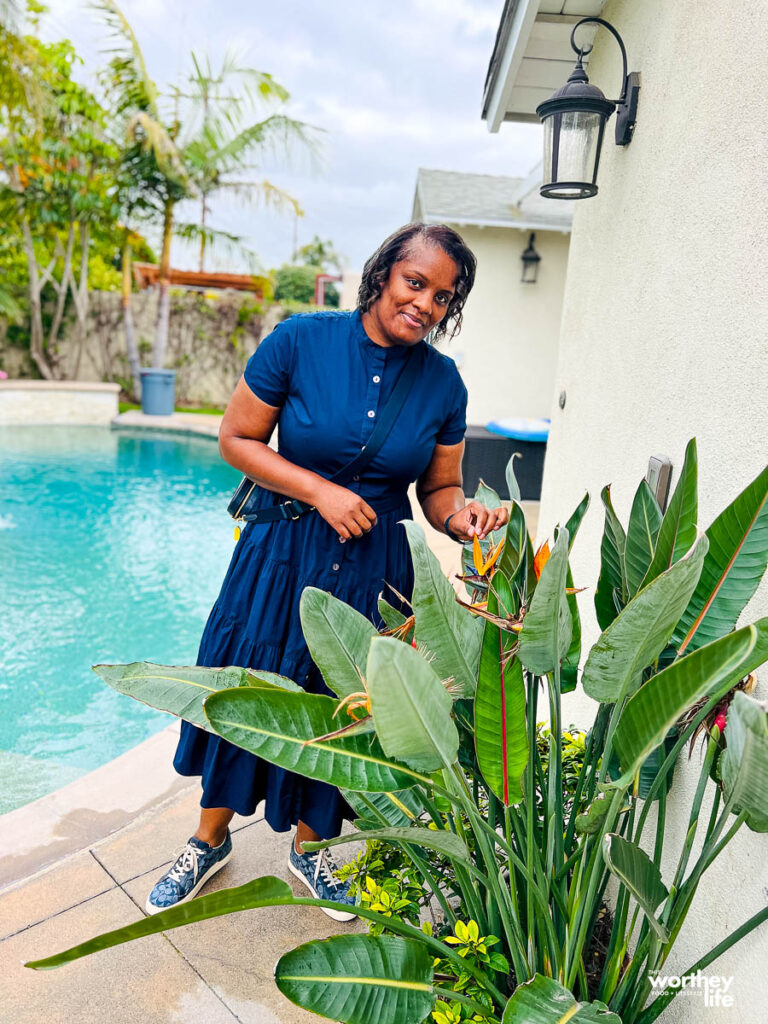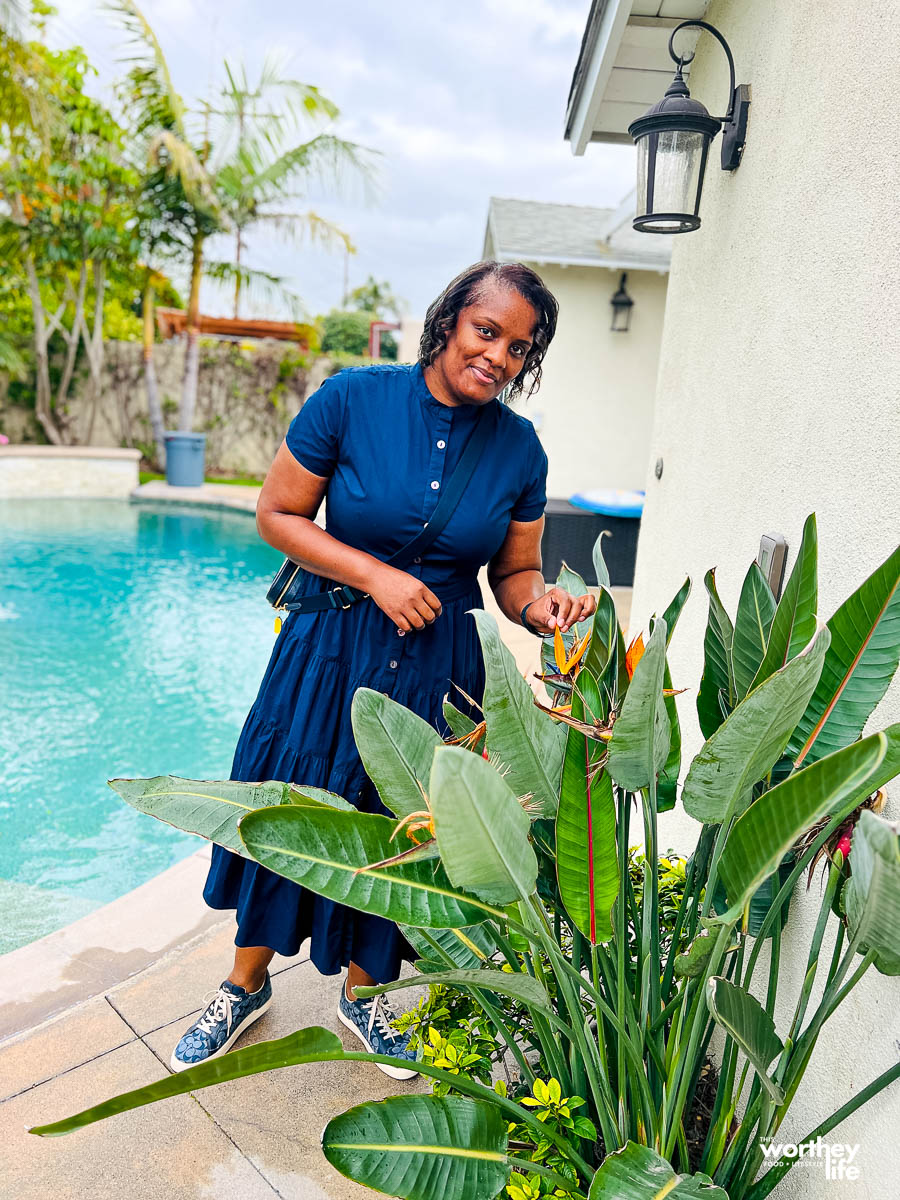 Staying At An Anaheim Vacation House Near Disneyland
Here are some reasons why you'll love staying at Anaheim Vacation House:
Location: Their vacation homes are in residential neighborhoods, giving you a more authentic experience of living like a local.
Disneyland is within walking distance. Most people coming to the Anaheim area for a vacation will include a trip to Disneyland, even if it's just Downtown Disney. Anaheim Vacation House has several properties within walking distance of Disneyland. On our most recent stay at Property #30, we could hear the fireworks every night.
Flexibility: When you stay in a vacation home, you may have flexibility regarding check-in and check-out times. [be sure to check your rental agreement for specific times.] there's also the ease and ability to come and go as you, please.
Family-friendly: Vacation homes are excellent options for families, as they offer more space and privacy than a hotel room. You can also cook meals, which can be a big money-saver when traveling with kids.
Central location to main attractions in Orange County. Anaheim is the ideal place to stay if you have plans to visit Disneyland, Knott's Berry Farms, other theme parks, Universal Studios, and more. Plus, you're a short drive away from several beaches.
Professionally managed. Regarding maintenance and thorough cleanliness, Anaheim Vacation House delivers because they are managed by a Real Estate Company. They follow all city guidelines and ordinances, including safety and security guidelines.
24/7 check-in. It's okay if you're planning to arrive late in the evening. On our most recent stay, Anaheim Vacation House used a digital method of checking in, and I loved it! You also receive your key code and instructions before your arrival.
Our family prefers to stay in Anaheim, California, when we come to Southern California.
We're in a central spot to visit attractions in the LA area, but also a 2-hour drive to San Diego for a day trip. [be sure to check out these posts: 101 Southern California Vacation Family Activities, California Vacation Destinations In Los Angeles, + Sea World San Diego: Things To Do.
Overall, staying with Anaheim Vacation House can be a fantastic way to enhance your Anaheim experience.
With more space, privacy, and amenities, you can enjoy everything this beautiful city offers while feeling at home.
I have previously covered benefits and reasons why we enjoy our stay with Anaheim Vacation House, which you can check out here and here.
You may wonder how staying at a vacation home compares to booking a similar property through Airbnb.
Let's break down the details.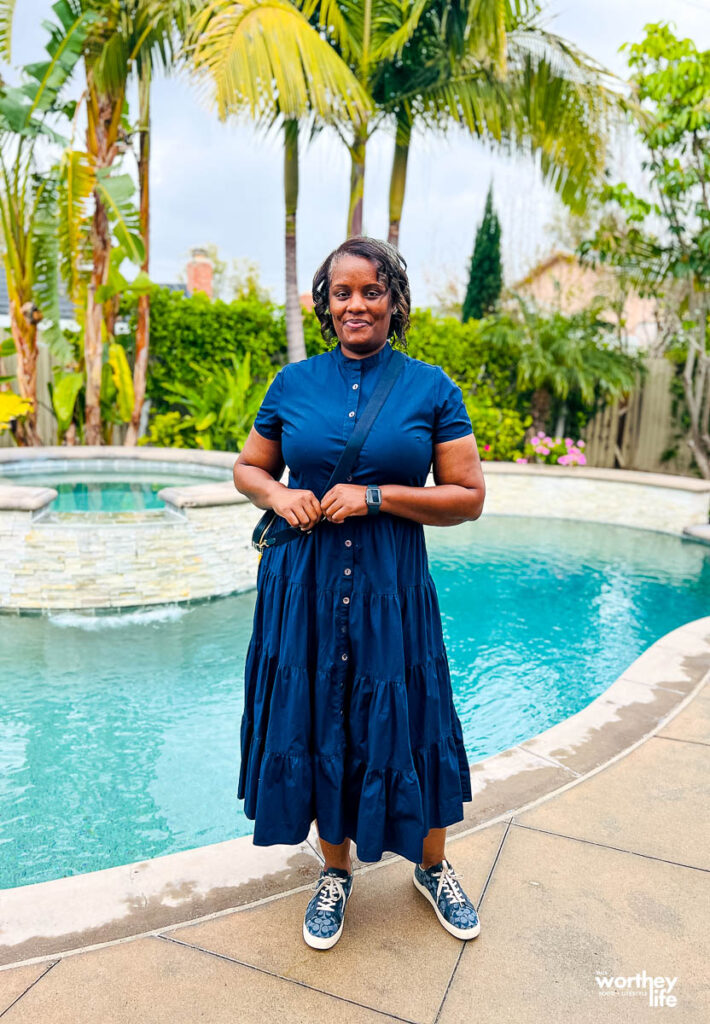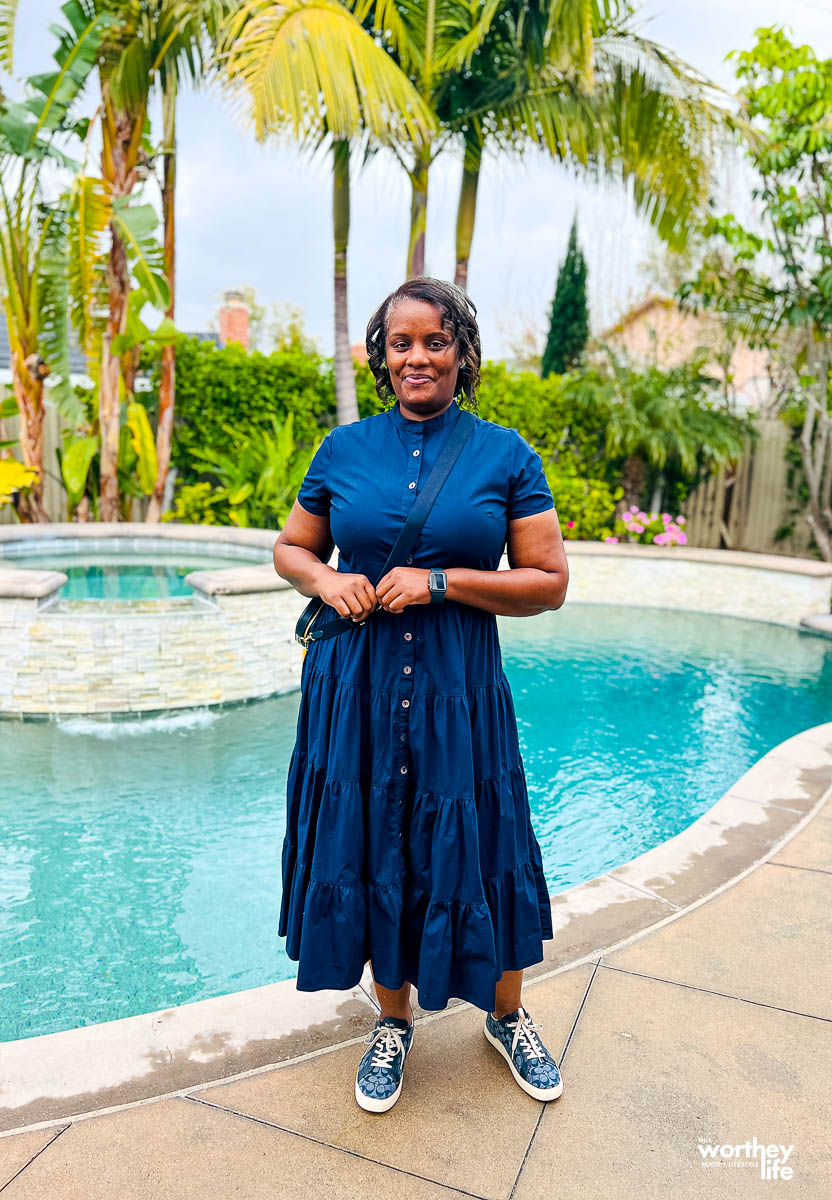 Are there benefits to staying at an Airbnb in Anaheim?
Yes, there are benefits to staying at an Airbnb in Anaheim.
Some potential benefits are similar to staying in a vacation home. Those include lower costs compared to traditional hotels, a more unique and personalized experience, and the opportunity to stay in a neighborhood that is not typically touristy.
Additionally, many Airbnb hosts offer amenities such as a kitchen, laundry facilities, and a backyard or pool.
However, there are a few cons to staying at an Airbnb versus a managed rental company like Anaheim Vacation House.
Those include the possibility of the host canceling the reservation for no reason. I've read many stories shared on social media platforms about host canceling their reservations for various unexplainable reasons.
You also risk your privacy being invaded by Airbnb hosts putting cameras in bathrooms and bedrooms.
Additionally, there may be less oversight and regulation compared to traditional hotels or managed rental homes, which could lead to safety or cleanliness concerns.
This is a safety concern. When staying at Anaheim Vacation House, the houses are kept up-to-date, and city codes and safety regulations are in place.
And speaking of managed rental homes, this is the benefit of staying in an Anaheim Vacation House versus an Airbnb.
Staying in an Anaheim Vacation House offers several benefits, including privacy, more space and amenities than a hotel room, the ability to cook own meals, and often a more affordable option for larger groups and extended stays.
Additionally, managed vacation homes are typically well-maintained and cleaned regularly, providing a comfortable and enjoyable vacation experience.
This is an essential key when staying in a vacation home. And that's why Anaheim Vacation House is our recommended place to stay.
If you are planning on staying in a vacation rental management, here are a few things to keep in mind:
Research the management company to ensure they have a good reputation and are responsive to guests' needs and concerns.
Check the location of the vacation home to ensure it is in a safe and convenient area for your activities and transportation needs.
Look for amenities important to you, such as a pool, hot tub, or outdoor grill.
Consider the size of the vacation home and whether it has enough bedrooms and bathrooms for your group.
Don't forget to read the rental agreement carefully and ask questions before booking for surprises or unexpected fees.
When we went to book our stay at Anaheim Vacation House, we were looking for a few specific things:
Location to Disneyland and highway.
Amenities, including having a pool and a hot tub. Let me tell you, having a hot tub to soak in after a long day at the theme park is a MUST. Plus, there's something self-care about having your own hot tub and pool versus sharing with many people in a hotel or resort set-up.
Having enough space for our family. We booked our stay in a vacation home with (5) bedrooms and (4 1/2) baths. As our family grows, having space to spread out is essential.
A ready-to-use kitchen. One way to save money while on vacation is to cook a few meals in our vacation home. This is very useful and essential on mornings when you want to be at the theme parks right when they open. Having snacks and meals prepared at home can save money and time. [ check out amenities offered]

For our 2023 Anaheim vacation, we stayed at Anaheim Vacation House Property #30.
This five-bedroom, 4.5-bath home can sleep up to 13 guests.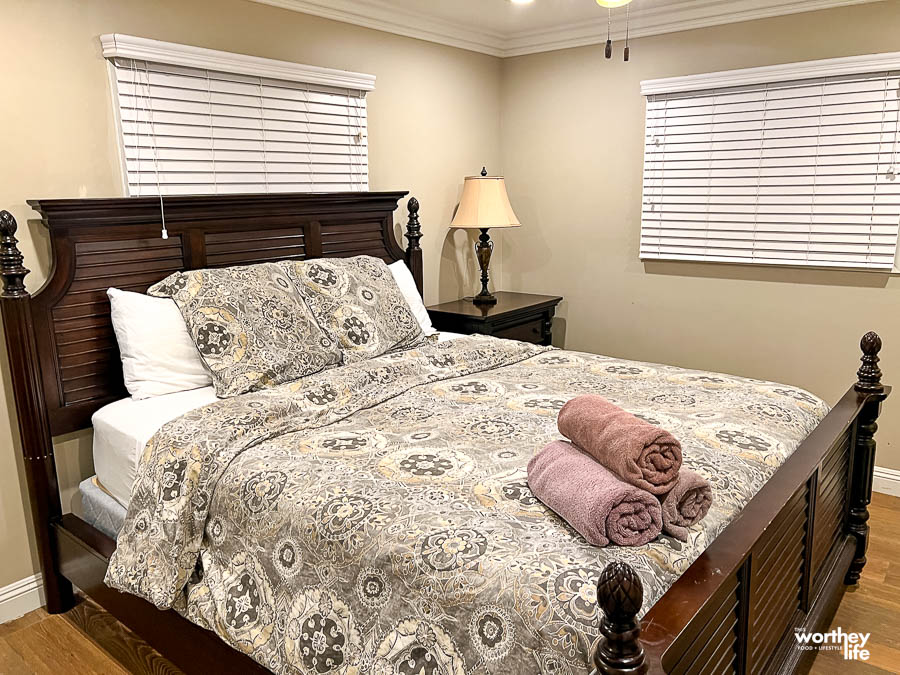 A Stunning Home Upgrade with All the Bells and Whistles includes central air.
This beautiful home boasts three California king-sized master bedrooms, each equipped with its ensuite, and two additional children's rooms featuring full over full bunk beds.
One of the master bedrooms is detached from the main house, with a separate entrance near the patio area.
All bedrooms are outfitted with 47′ LCD TVs and cable TV. The home is equipped with high-speed wireless internet access.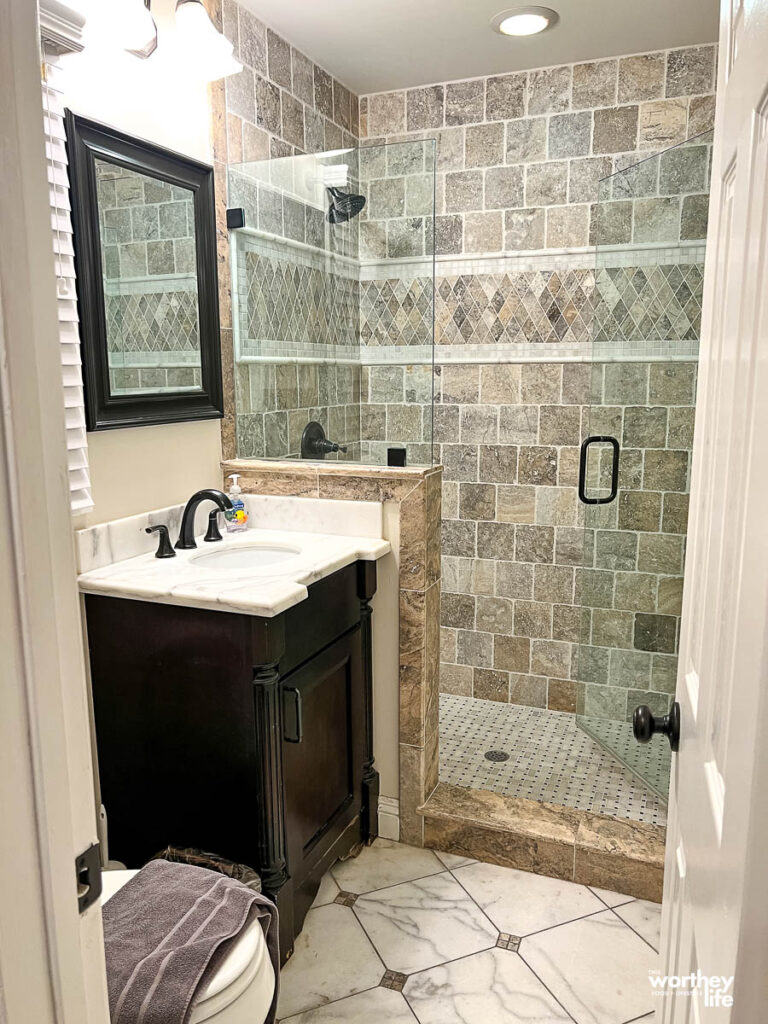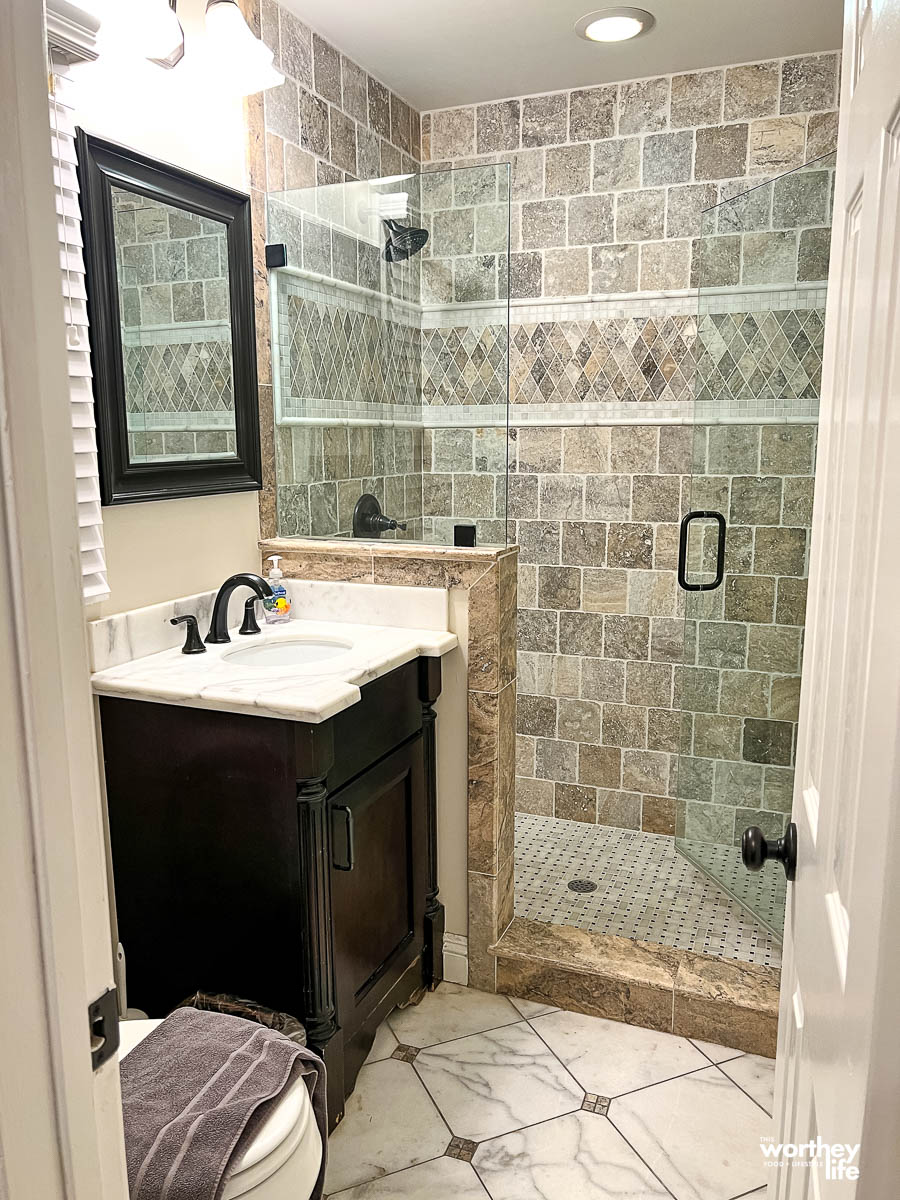 The bathrooms have been thoughtfully upgraded with granite countertops, custom paneled cabinetry, and travertine floors, which include custom travertine/marble inlays.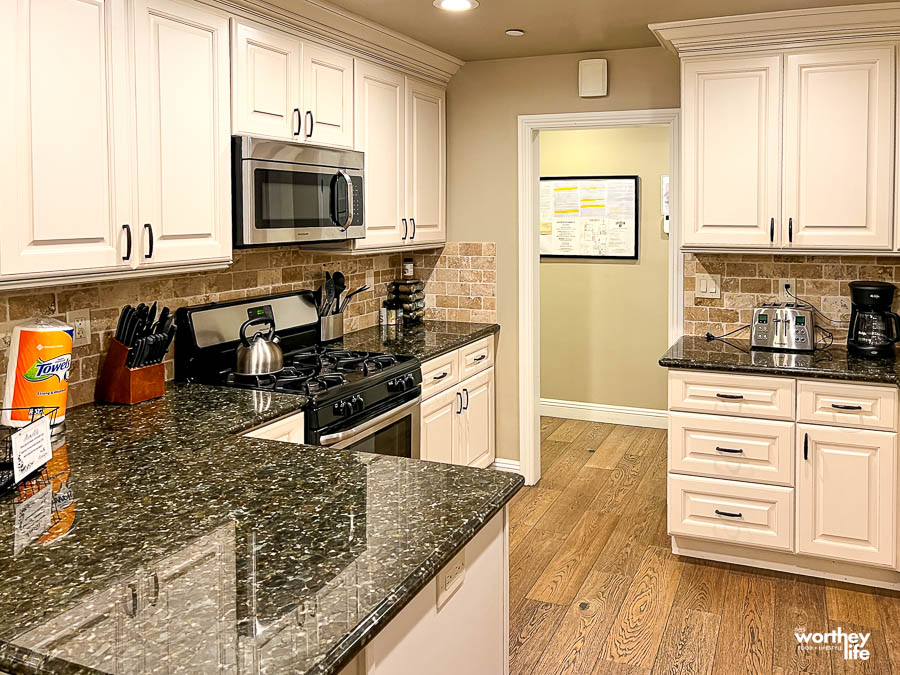 The kitchen is partially open-concept, with granite countertops and stainless steel appliances, including a stove/oven, refrigerator, microwave, and dishwasher.
The dining room comfortably seats ten. There's additional seating in the kitchen and living room areas.
Adjacent to the kitchen is a half bath and a full-size washer and dryer, another benefit of staying at a vacation home!

The sliding glass door leads to a private backyard with plenty of space for entertaining guests.
There is an in-ground pool, Jacuzzi, outdoor natural gas BBQ grill, patio set, and additional chairs.
The game room features a ping pong table, pool table, and air hockey for entertainment.
For families traveling with infants or toddlers, strollers, pack n' play, booster seats, and high chairs are also available.
Overall, staying in a managed vacation home such as Anaheim Vacation House can be a great option for a comfortable and enjoyable vacation experience.
Things to do in Anaheim, California
Anaheim is a popular destination for tourists and locals alike. Here are some other things you might enjoy doing in the area:
Anaheim is also a foodie destination. Stay tuned for our up-to-do Anaheim food guide.
Visit Disneyland, which is only a short drive from the vacation house.
Explore the Anaheim Packing District, which features a variety of food vendors and unique shops.
Take a baseball game at Angel Stadium, the Los Angeles Angels home.
Visit the Muzeo Museum and Cultural Center, which showcases art and history exhibits.
Anaheim Vacation House Review
Our stay at the Anaheim Vacation House was thoroughly enjoyable.
The property was cleaned to CDC standards and thoughtfully provided with all necessary amenities, including items we may have forgotten, such as soap, shampoo, and towels.
The instructions given prior to our arrival were clear and precise, and the online house guide made checking in and out an effortless process.
We highly recommend this property and look forward to returning soon.
Five stars all around!
As Mickey Mouse says, "See you real soon."
Book your next Anaheim stay at Anaheim Vacation House. Use code AWR25 to receive $25/night off any house.