This refreshing fusion of sun-ripened blackberries, cool mint, and creamy goodness are the core ingredients in our Blackberry Mint Brazilian Lemonade.
This thrift-quenching blend is the ideal balance of flavors, creating a delightful experience for your taste buds.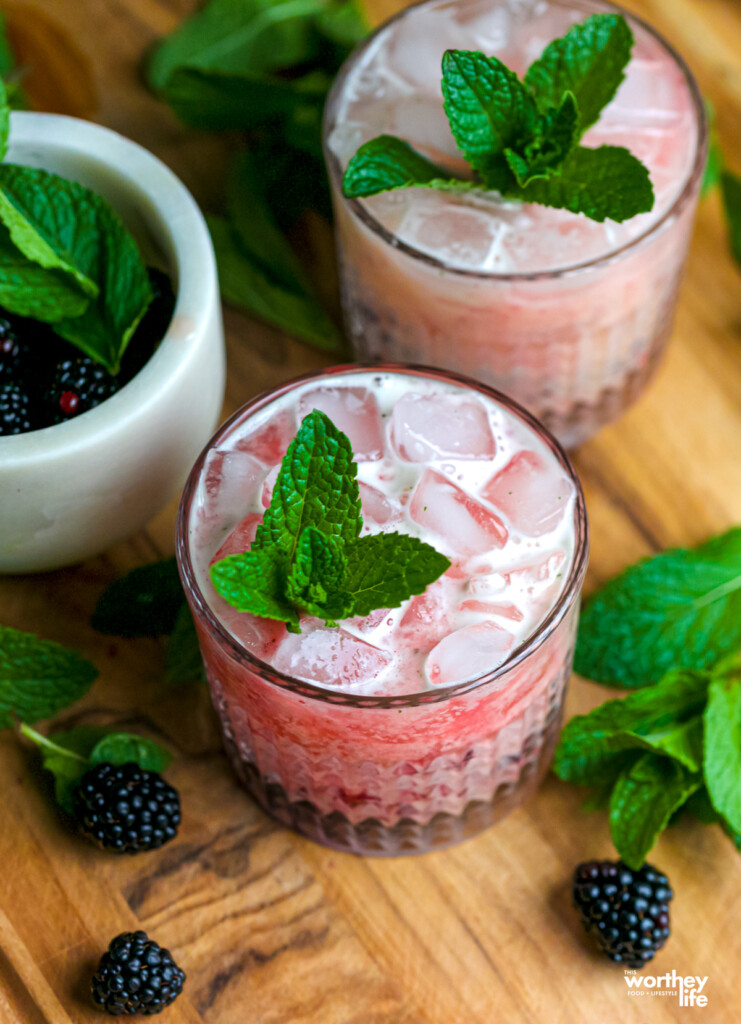 Blackberry Mint Brazilian Lemonade Recipe
Our Blackberry Mint Brazilian Lemonade is made with all things summer!
This is a sun-ripened berry flavor, cool refreshing mint, and silky creaminess.
If that doesn't sound like a party in your mouth, I don't know what does.
We created this refreshing summertime drink for everyone, so no booze!
The muddled, ripe, juicy, sweet blackberries and Simply Limeade gets the party started.
Then we added our version of the Brazilian Lemonade.
Into a blender, we added fresh lime juice and pulp; to keep it summertime fine, we also added garden-fresh mint leaves.
Next, we added sweetened leche condensed milk, cold purified water, and raw sugar.
Ya'll! This drink is so crazy good!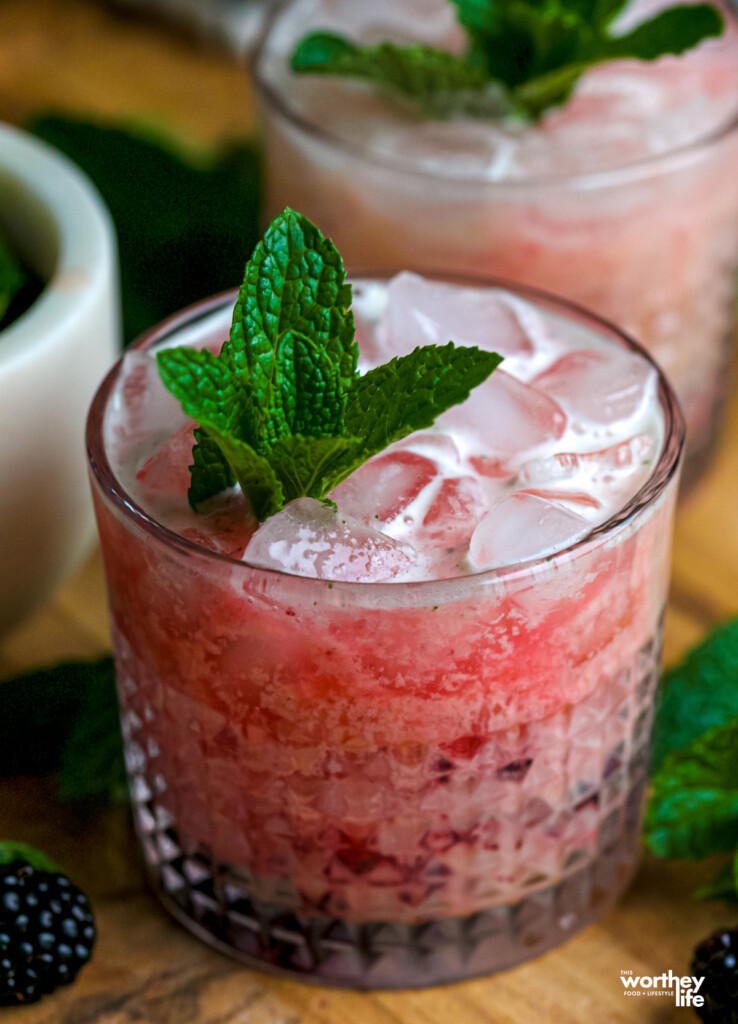 What You Will Need
Ripe Blackberries. Our family loves blackberries; I mean, what's not to love?
Blackberries are sweet and juicy and pack a lot of berry flavor. We start this drink by muddling a few blackberries in the bottom of a serving glass to release the juice and berry flavor.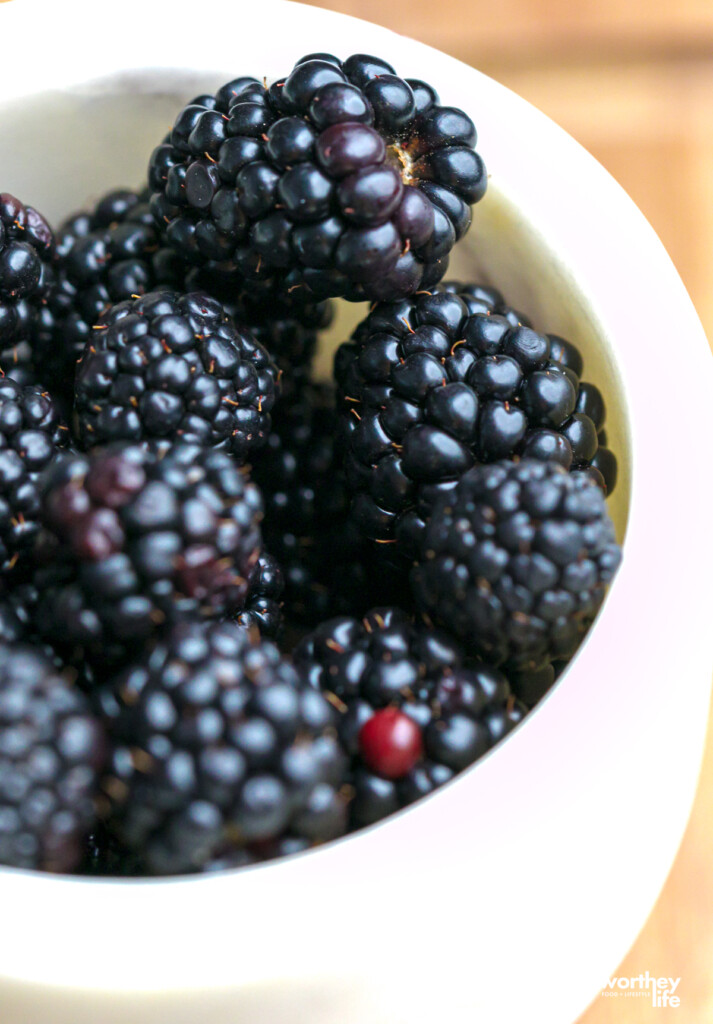 Simply Limeade. We used Simply Limeade because we love it, and it adds to the tart flavor of the lime juice and sweetens the deal. If you can't find this type of limeade, you can use another brand or check out recipes for homemade limeade.
Fresh Ice. After the blackberries were muddled and combined with the Limeade, we filled our serving glass with fresh ice. Adding ice at this stage will chill down the glass and keep your drink cold; we need all the chill we can get during summer!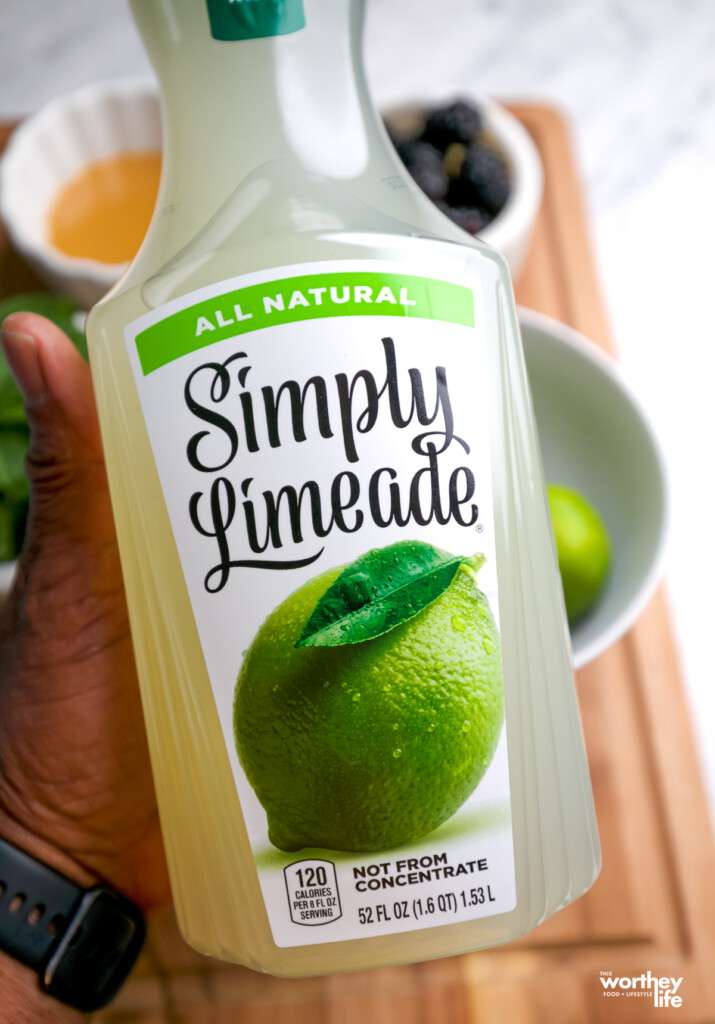 Fresh Mint. There's a lot of mint in our backyard. We dedicated a whole garden bed to this prolific herb, and we love everything about it. Fresh mint is a great way to add lots of refreshing notes, and by adding mint, we transformed the basic Brazilian Lemonade into something perfect for a weekend brunch or just because you need something with summer written all over it.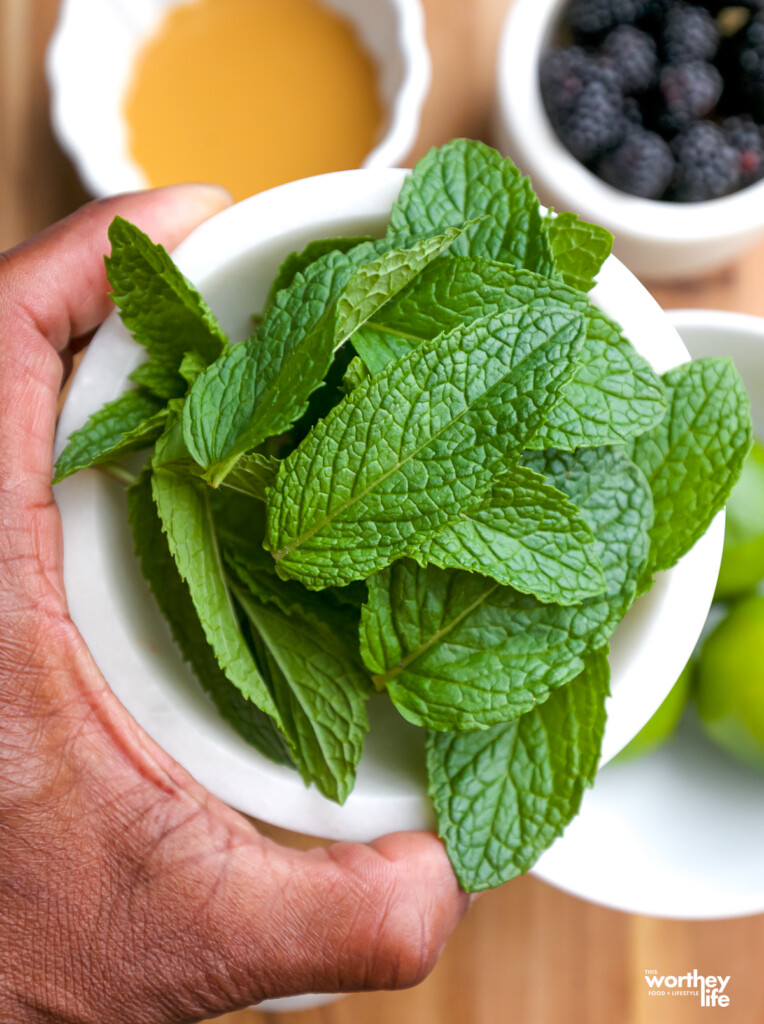 Sweetened Leche Condensed Milk. Here is the star of this summertime sipper!
There wouldn't be a Brazilian Lemonade without this ingredient, but here, we mixed things up by adding the leche variety of condensed milk. Not only is it creamy, but it adds rich caramel notes.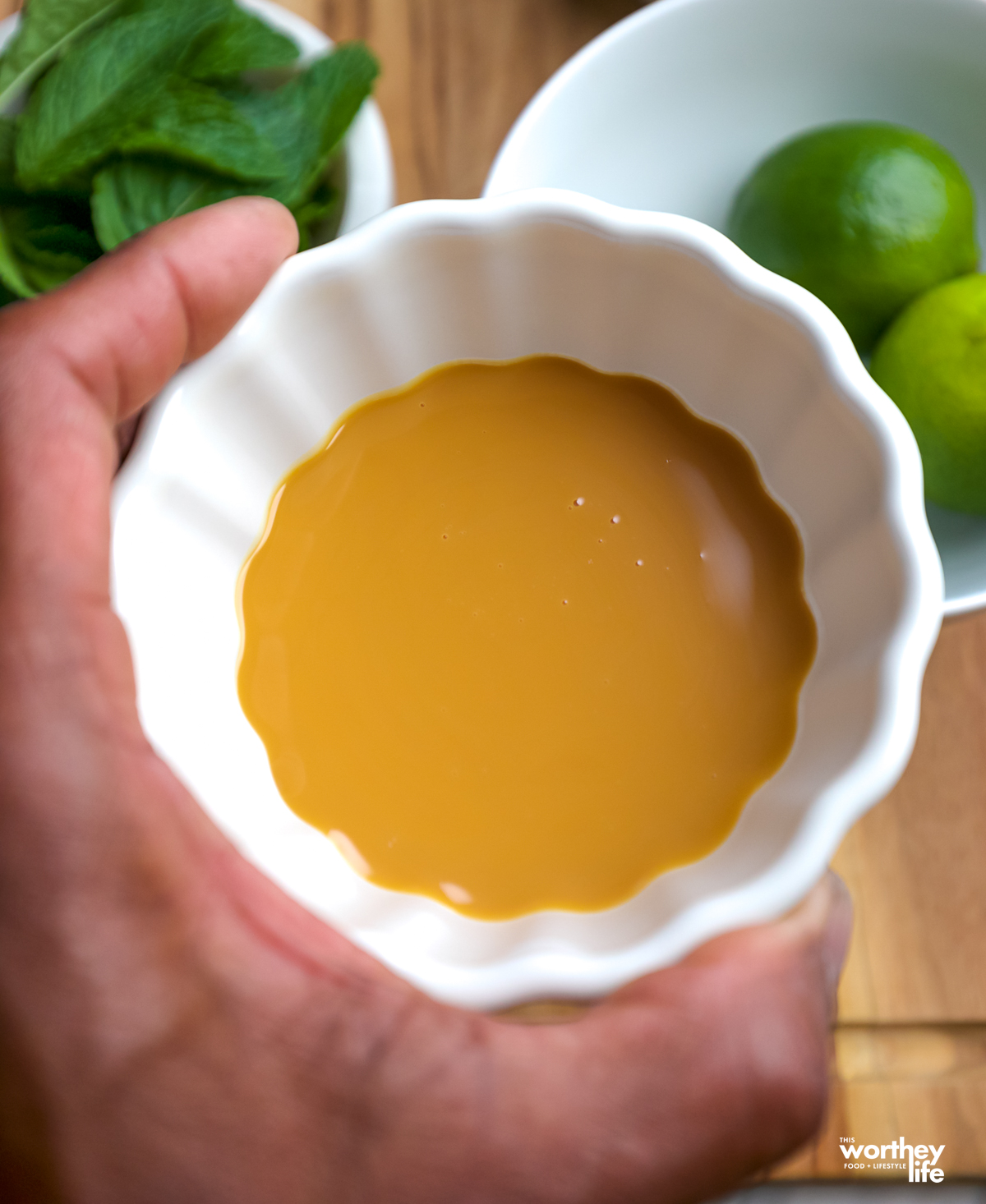 Cold Purified Water. Regular tap water can throw off the taste of a drink, so we decided to make the best version of this drink; using filtered, purified water was the way to go. Using cold purified water keeps this drink clean and crisp.
Fresh Garden Mint. We decided to keep the garnish simple here and added a sprig of fresh garden mint.
How to make this Brazilian Lemonade
Ingredients:
4 ripe limes, extract the juice of the limes, along with the pulp
6 large fresh mint leaves
1/3 cup of raw sugar or granulated sugar
7 ounces of sweetened leche condensed milk
3 cups of ice-cold purified water
4 rocks glasses filled with fresh ice
2 ripe juice blackberries for each glass
2 ounces of Simply Limeade per glass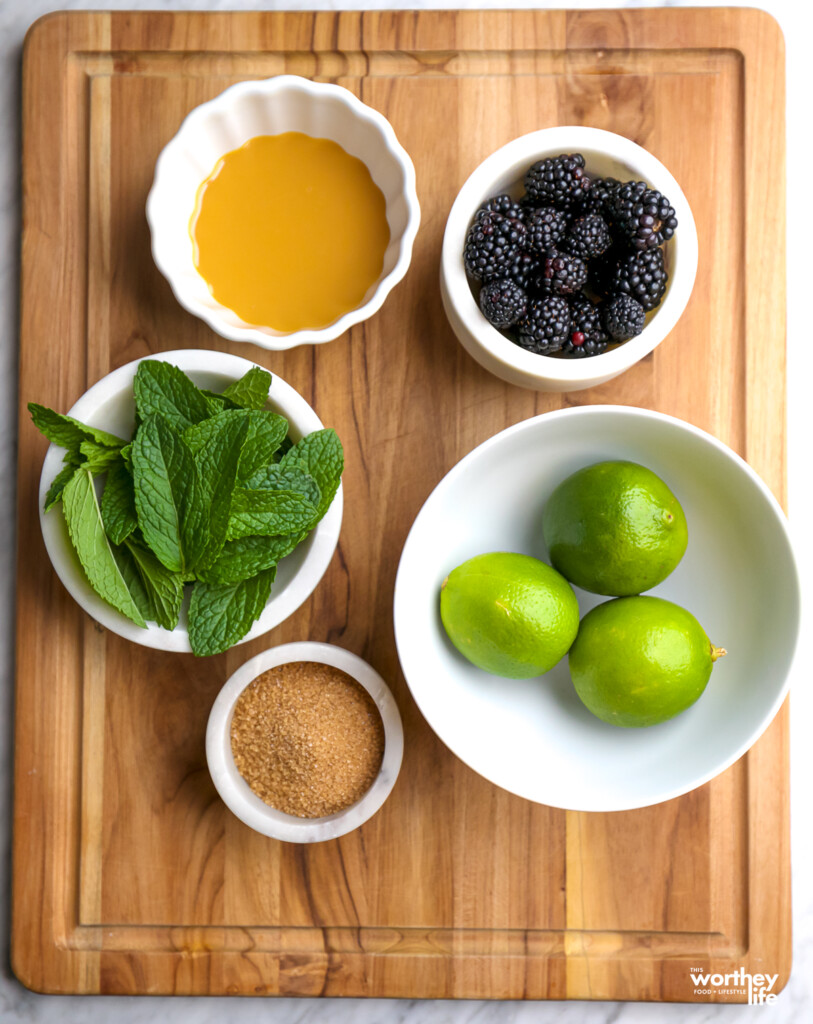 Directions:
Add the juice and pulp from four (4) juicy ripe limes to a blender.
Add the fresh mint leaves, raw sugar, and sweetened leche condensed milk.
And three (3) cups of ice-cold purified water.
Mix thoroughly and strain through a fine mesh strainer, then set aside the mixture.
Into the bottom of a standard rocks glass, muddle two (2) large juicy ripe blackberries.
Add two ounces (2) of Simply Limeade, and fill the glass with fresh ice.
Top the glass with the Mint Brazilain Limeade mixture.
Serve.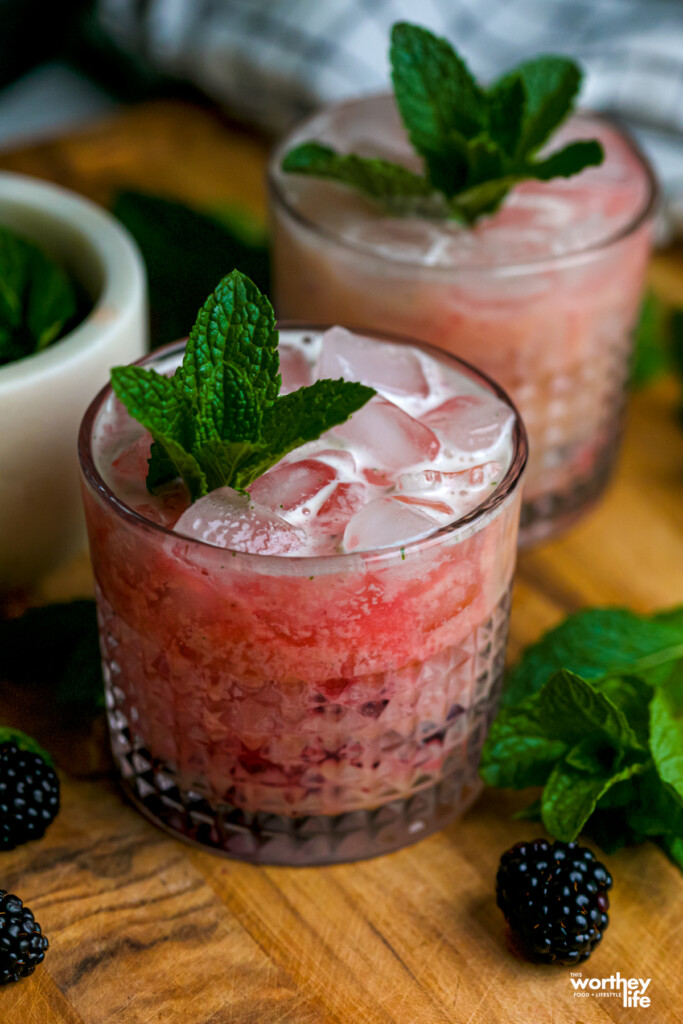 No worries if you're not a Blackberries fan or can't find them.
Here's a list of other berries that work well in this drink:
raspberries
strawberries
blueberries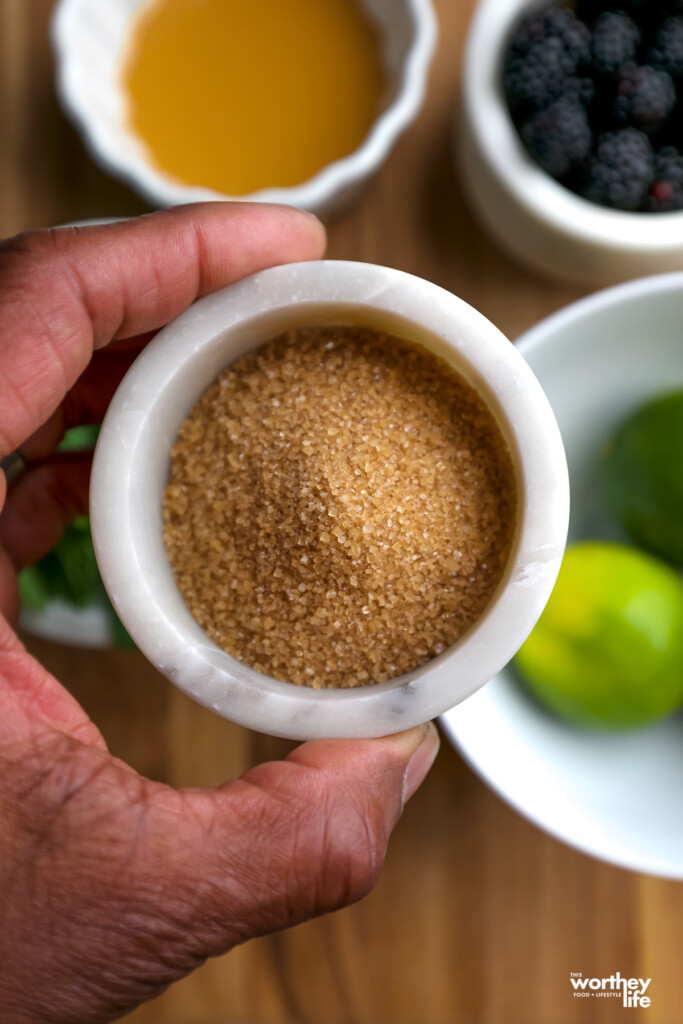 For this recipe, there are a variety of sweeteners you can use:
white sugar
light brown sugar
turbinado sugar
demerara
agave syrup
honey
maple syrup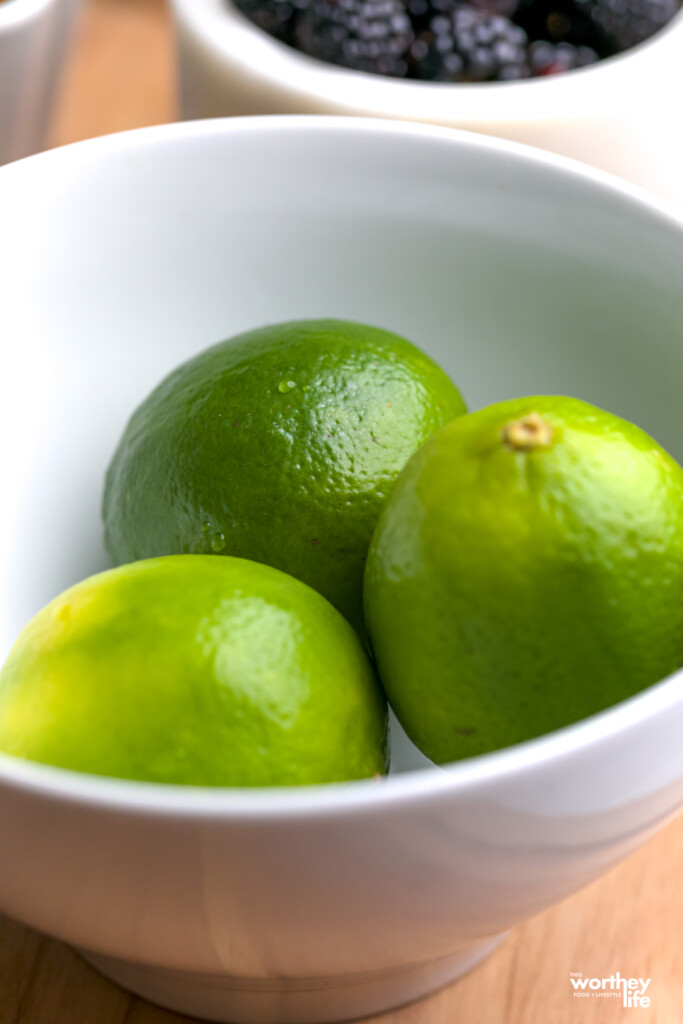 Don't have limes? No worries, use lemons. Meyer lemons are a great choice too!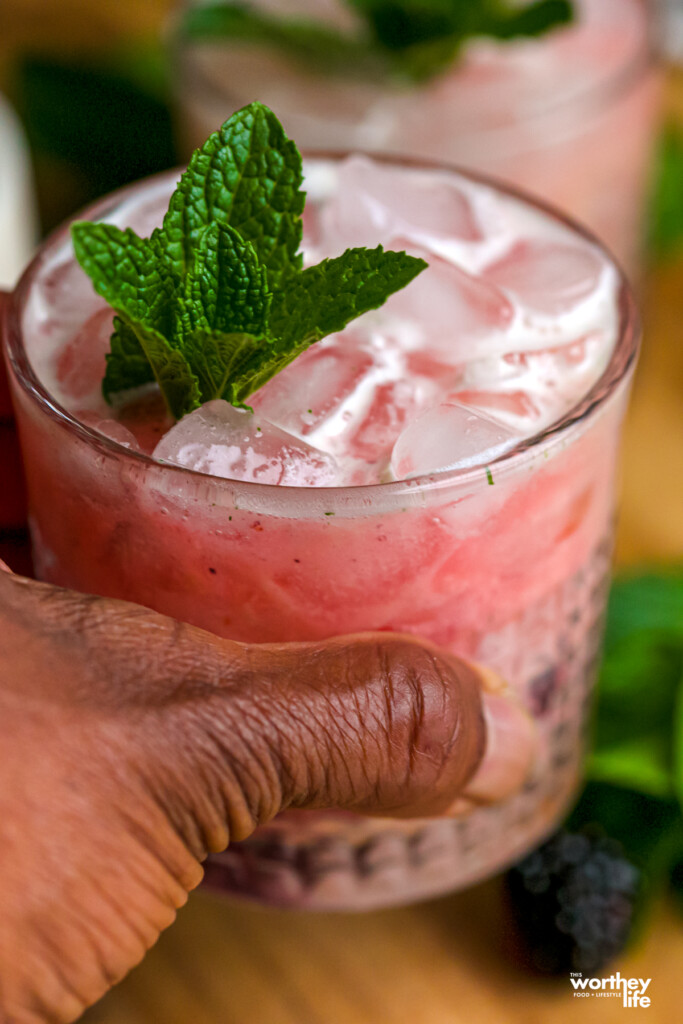 How Can I Make This Drink Lighter?
Want to make a lighter version of this drink, substitute the sweetened condensed leche milk for one of the following:
almond milk
oat milk
coconut milk
*using any of these substitutes will make this drink significantly less sweet and reduce the calories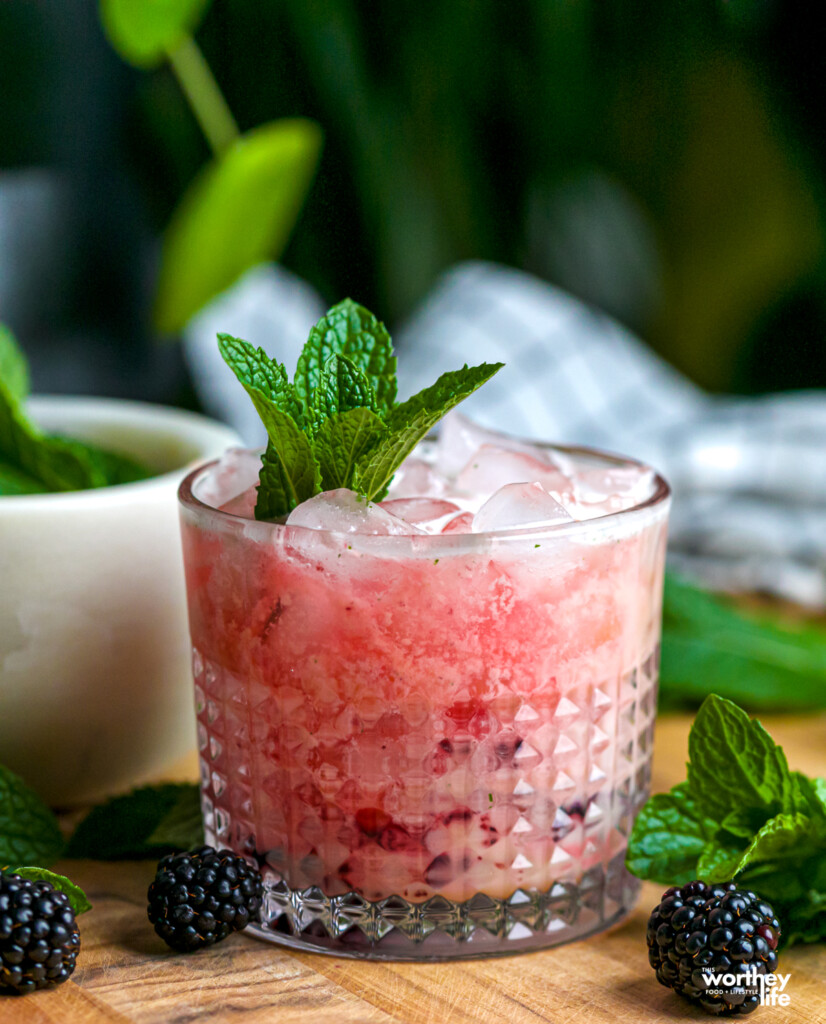 Can I Make This Into a Blackberry Lemonade Cocktail?
It's easy to make this delicious number into an adult cocktail.
Add 1 1/2 ounces of:
Mezcal works wonderfully in this cocktail; the warm and smoky notes of the mezcal pair well with this drink's berry sweetness and creaminess.
White or gold rum, an excellent spiced rum, is kind of wonderful too!
Tequila. For this recipe, I would recommend a blanco tequila.
Alright, folks! It's time to get your taste buds jumpin' and experience the awesomeness of our Blackberry Mint Brazilian Lemonade!
Trust me; you don't want to miss this refreshing concoction.
Grab a glass, fill it up, and let the sun-ripened berries, minty goodness, and silky creaminess take you to flavor paradise.
Get ready to savor the best dang lemonade you've ever had!
Don't wait; try it now and let your taste buds in on this summertime secret to happiness! Boom!
Try These Bourbon Drinks: