This shop has been compensated by Collective Bias, Inc. and Big Lots. All opinions are mine alone. #BIGSeason #BigLots #CollectiveBias


Blue & White Winter Wonderland Tablescape
A few years ago, I was inspired to "Elf" my house. If you're not familiar with this meaning, then I'm certain you haven't watched the Elf movie. In the movie, Buddy decides to turn his Dad's home into a winter wonderland. He makes paper snowflakes and creates everything by hand. I mean, because Santa's Elves can do that. And, it's a beautiful sight to see.
Well, I'm no Buddy, nor am I one of Santa's Elves, but I had a little help from Big Lots to pull off my "Elf" Winter Wonderland Tablescape and a set of special plates.
When my Grandma passed, my Mom inherited all of her beautiful china sets, Dining Room Table, and Hutch. Then when my Mom passed, my older sister took the table and the hutch. I received all of the dinnerware. These sets have been sitting in a box for over a year now. Since I love to put together tablescapes, I wanted to put together one in memory of my Mom and Grandma. Every Christmas and Thanksgiving, this blue & white dinnerware was used. All of it was still in tact moving from Ohio to Michigan, except for the duck glasses. I was able to find three of them. And maybe to you it seems silly why I am putting so much emphasis on these plates, but they hold fond memories for me.
When I first started to put together my Winter Wonderland idea, I knew I had to use the blue & white set. Not only do they fit perfectly with this theme, but the design on the plates match with the idea of snow falling around the houses.
Big Lots has declared National Decorate Your Home for the Holidays week starting November 16th – 22nd. I am participating in National Decorate Your Home for the Holidays by transforming my dining room into this winter wonderland idea.
So here's what I did:
After making a trip to Big Lots and shopping from my decor closet, I was ready to put it all together.
As I laying down my Grandma's beautiful white linen tablecloth across the table, I could hear her talking about the grand kids spilling Red Tahitian Treat punch on her table.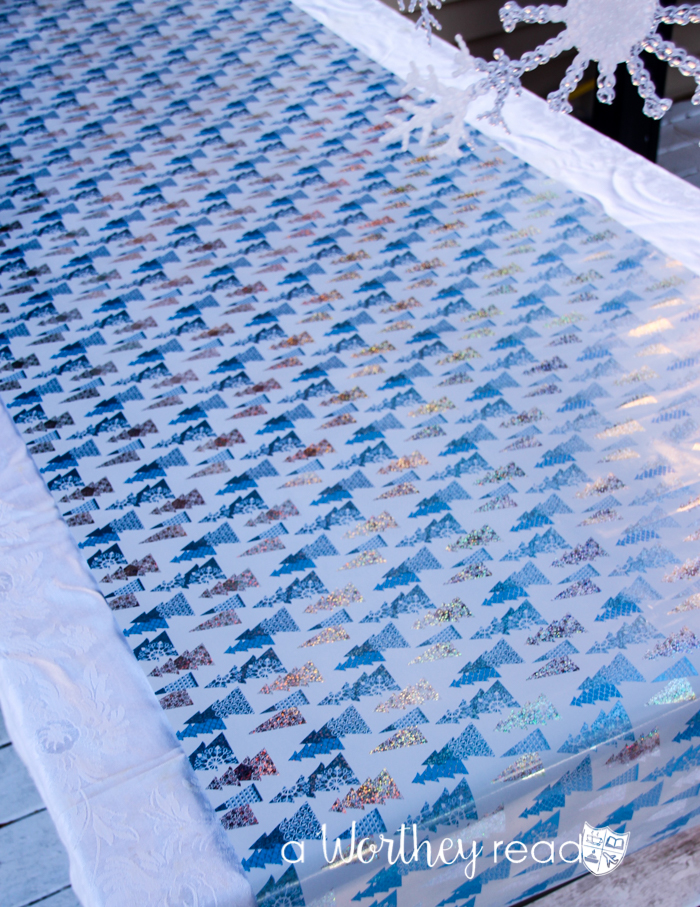 I decided to add a winter theme wrapping paper as the runner. When you use wrapping paper to match the theme you are going for, it will always give it an extra pop!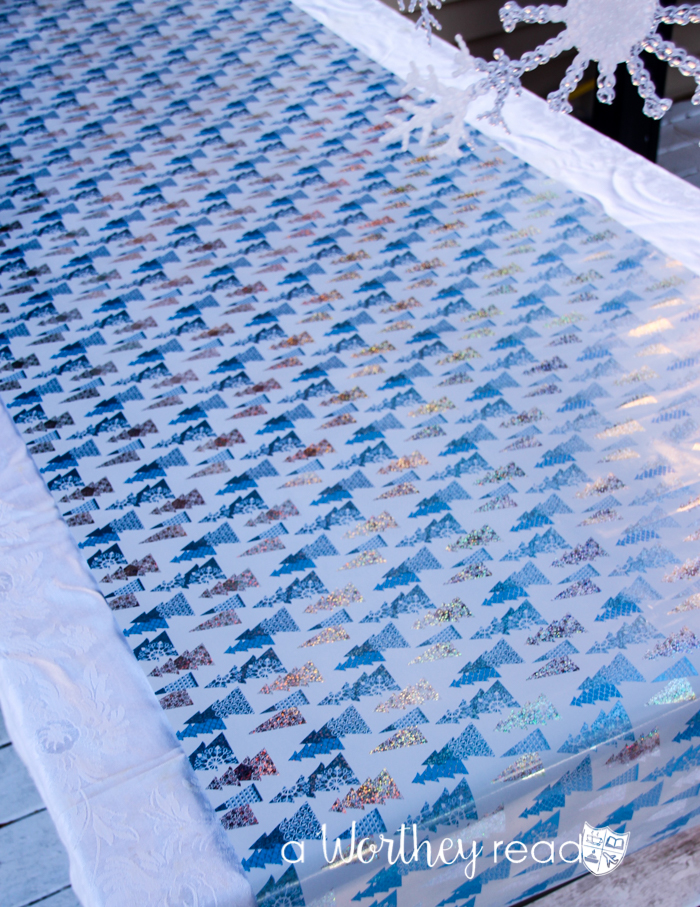 Next, I started to set the table. I first laid out the six silver chargers. Followed by those blue & white dinner plates, and set the salad plates on top of those. Since I do have the matching tea-cup sets, these were also included in this tablescape design.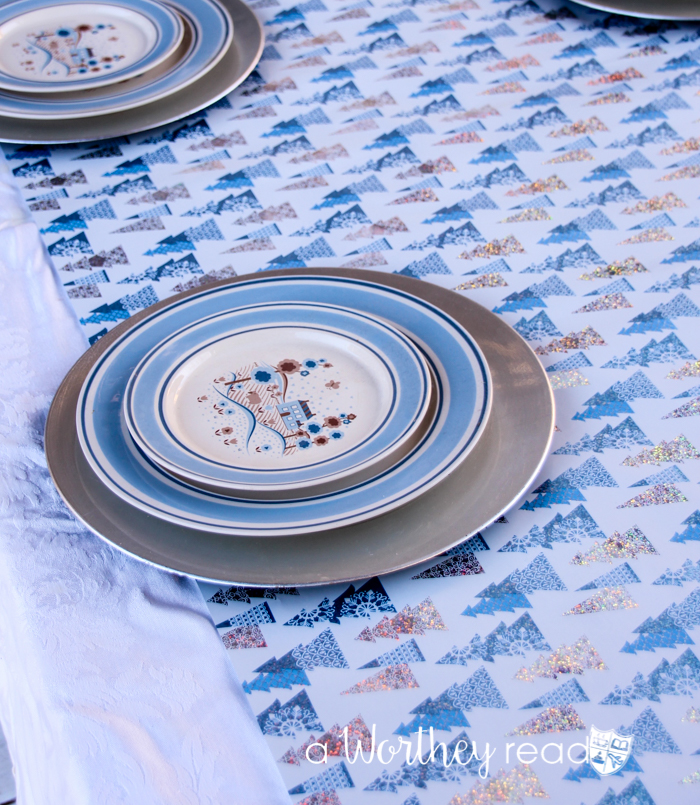 I added the three remaining duck glasses for old times sake. I also added my Godinger Dublin Crystal Glasses. Crystal Glasses are fitting and necessary to give your winter wonderland idea an extra dazzle.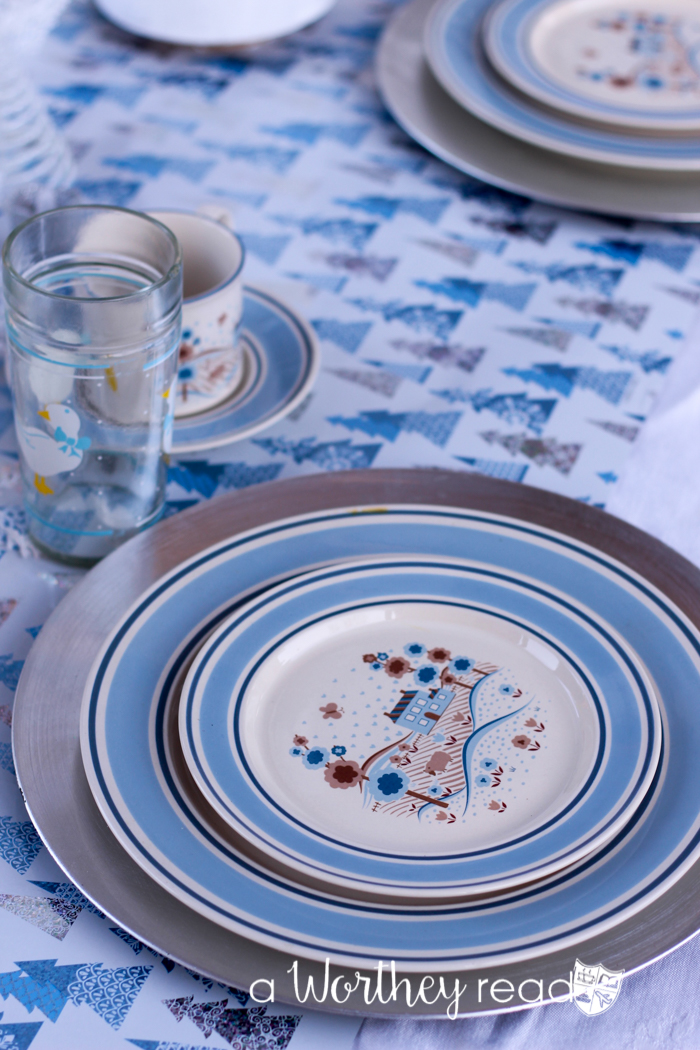 I placed the silverware by each table setting, followed by my quick DIY for the cloth napkins. Here's how I did that: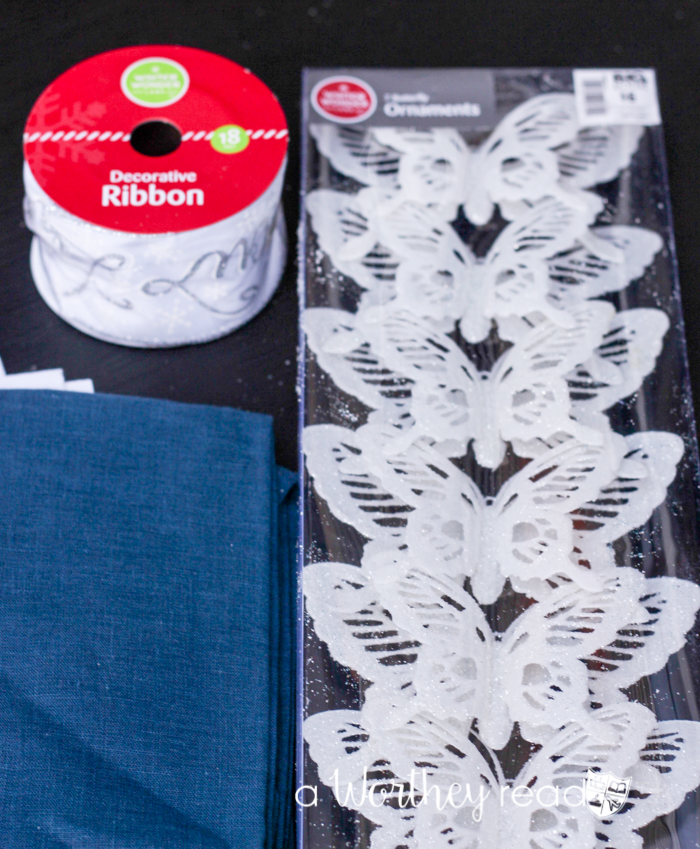 Supplied needed:
Six Blue or White Cloth Napkins
A spool of Christmas ribbon (I am using a silver design)
A pack of white/glitter butterfly ornaments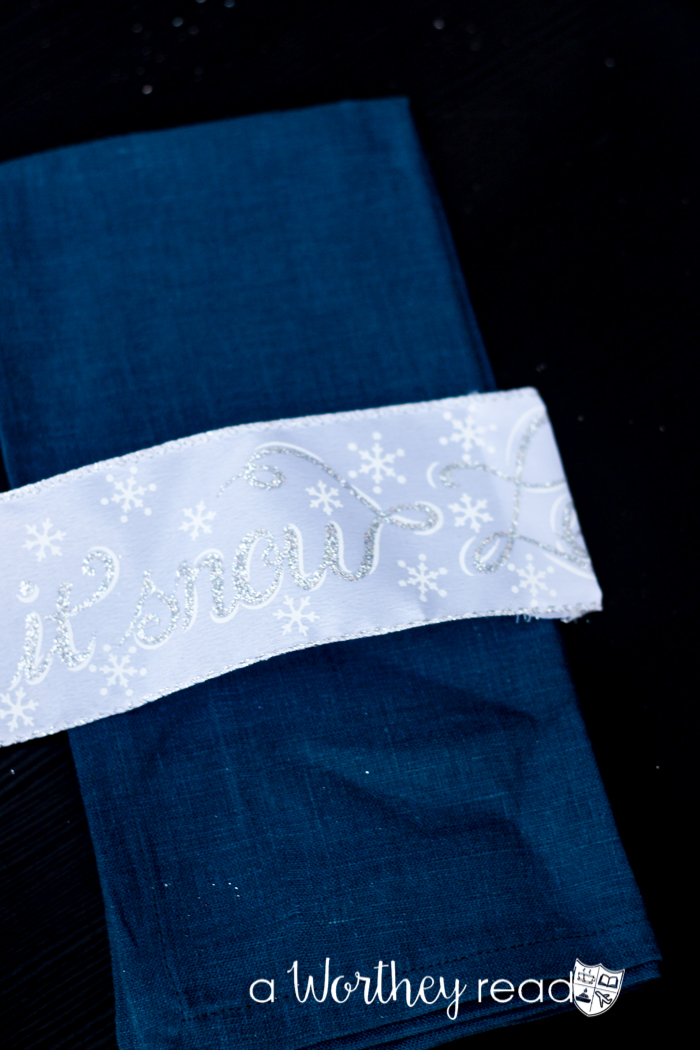 Directions:
Taking a piece of ribbon, measure out enough to go around the napkin. Repeat this step for all of the napkins.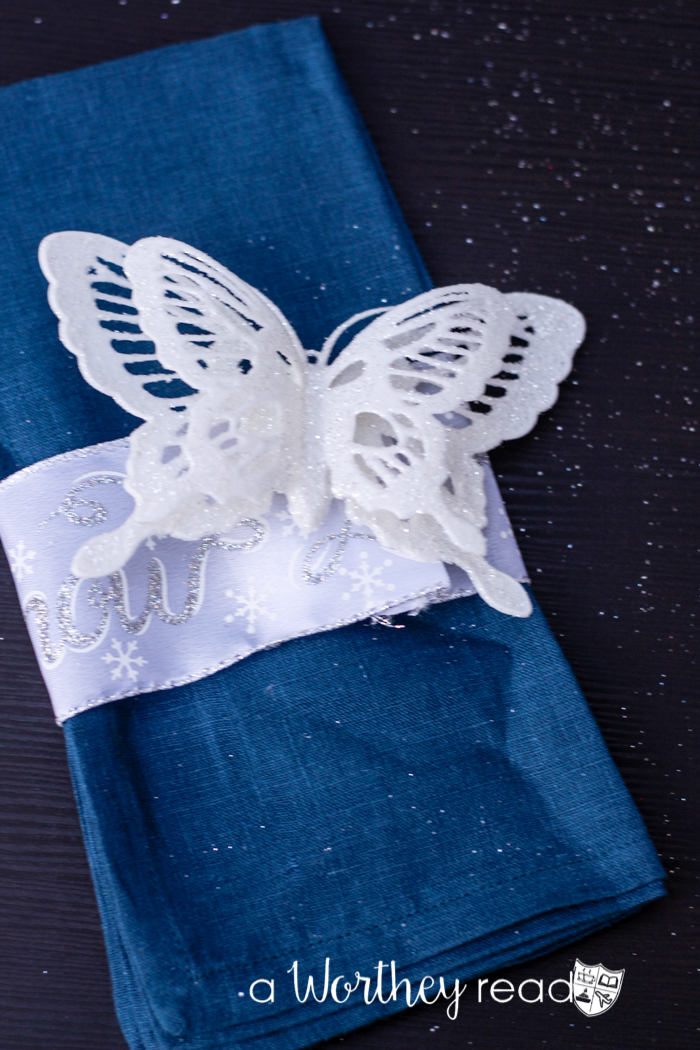 After cutting each piece of ribbon, place it around the napkin. Then clip the ends together with a white butterfly ornament. And that's it. A simple DIY idea to turn your napkins from cocoons to butterflies.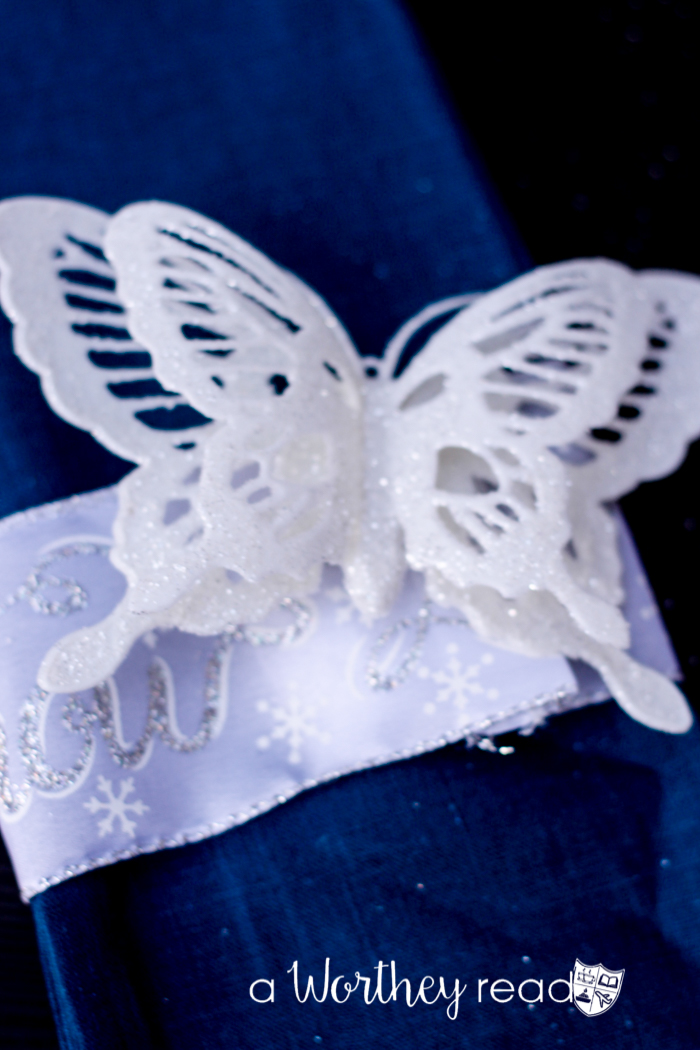 Okay, so let's wrap up putting this tablescape together. After placing the napkins at each place setting, it was time to do the "elfing!". Initially, I was going to find a snowflake design, cut it out and make my snowflakes. However, while, at Big Lots, I noticed several varieties of snowflake ornaments. I decided to save myself some time by buying snowflakes.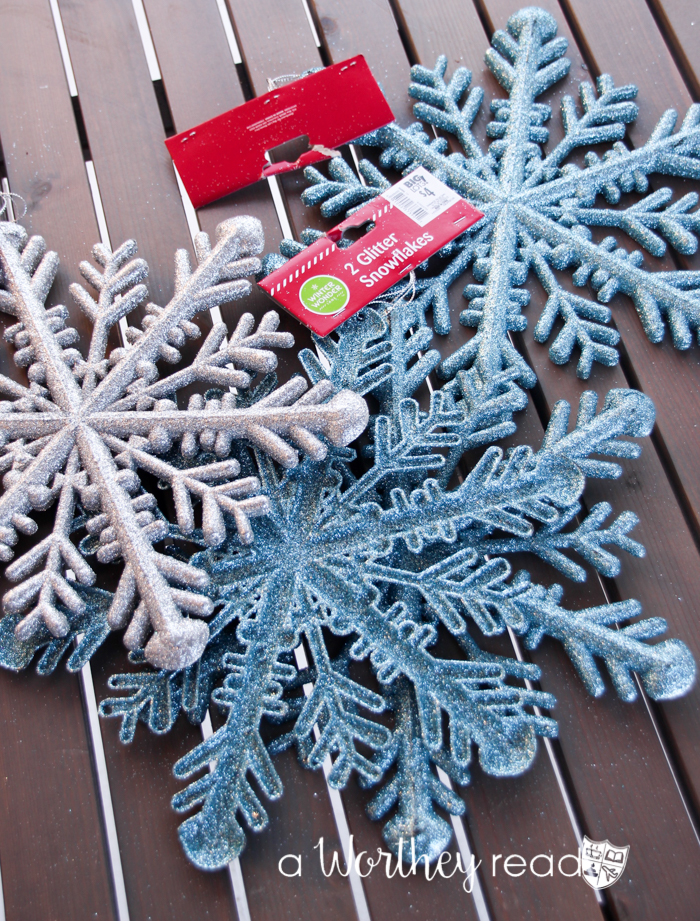 To hang each snowflake from the ceiling, you will need a piece of ribbon or string. Take a piece of ribbon and tie it on the end of each snowflake ornament. Take the loose end and put a piece of tape on it, and stick it to the ceiling.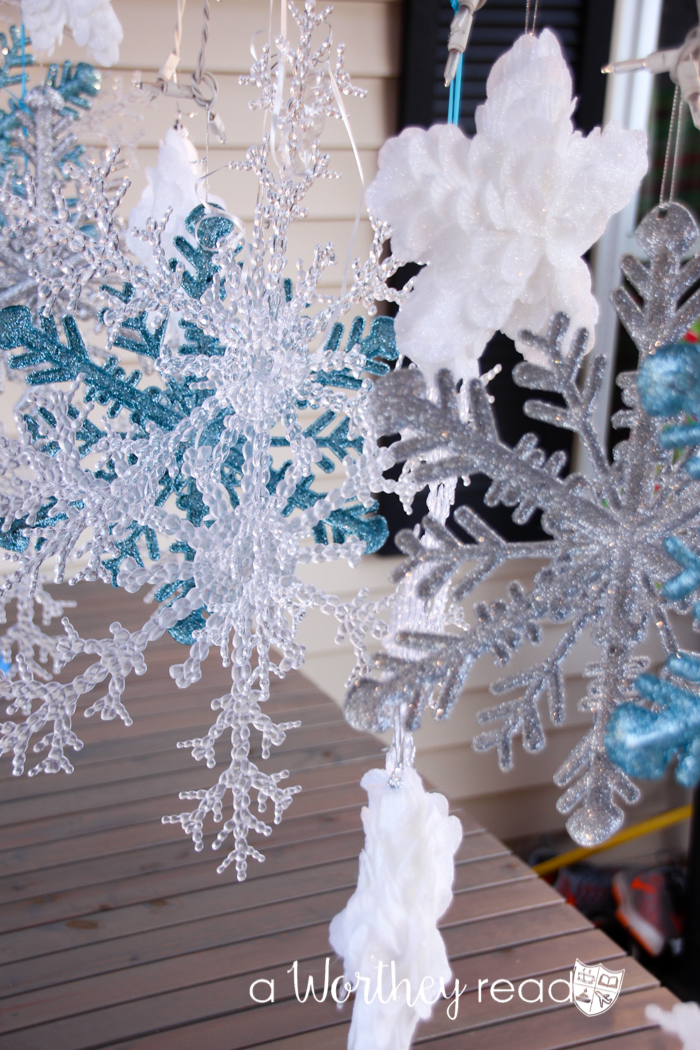 Keep repeating this process until you have enough snowflakes to give it the "WOW" factor. I also hung my snowflakes at different lengths and staggered the varieties. Because, we all know that no two snowflakes are alike.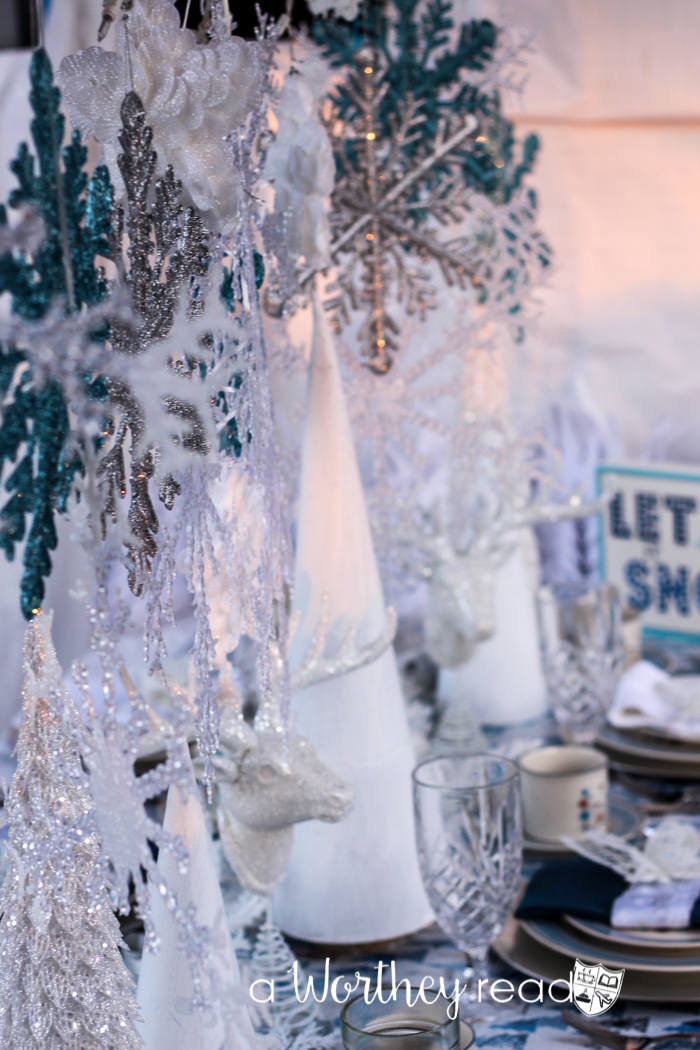 Finally, I worked on the center of the table. I laid down a white/glitter Christmas garland. I added two white/glitter Christmas Trees and Reindeer Christmas Tree toppers. I like to take items that are supposed to be for another idea, and use them how I see fit! I think it works beautifully in this design.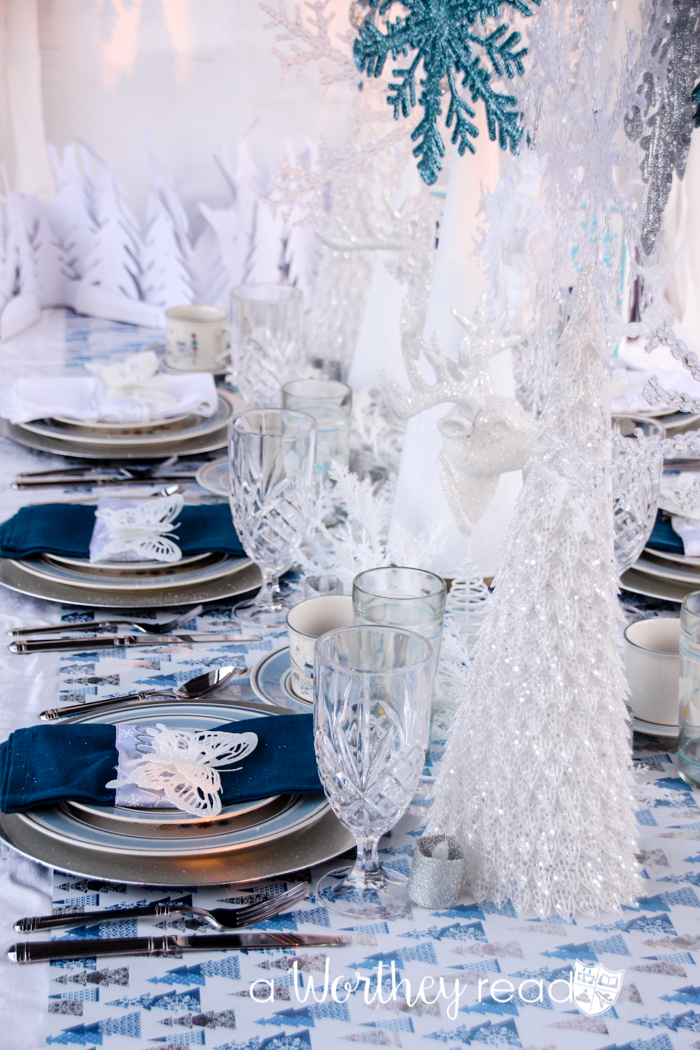 I added a few white Christmas cones, which were originally paper cones. This is another quick DIY idea where I took paper Christmas cones and spray-painted each one white. Mini silver/glitter LED candles were placed throughout the center the table.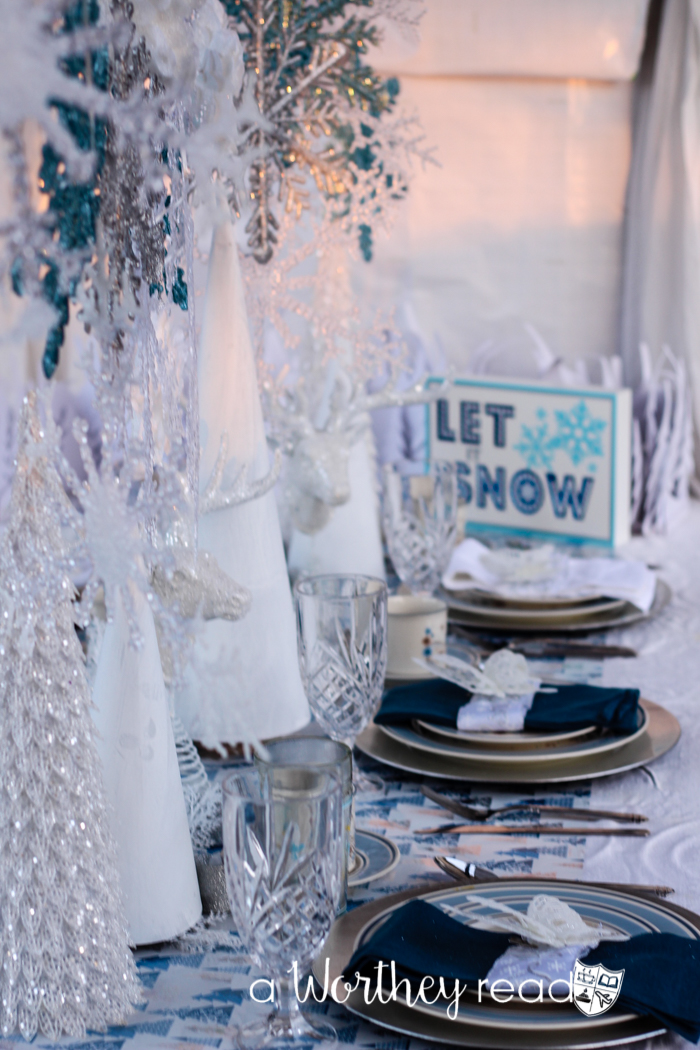 Towards the end of the table, I added a "Let It Snow" sign, and White Trees Strala LED Decoration Lightning sets.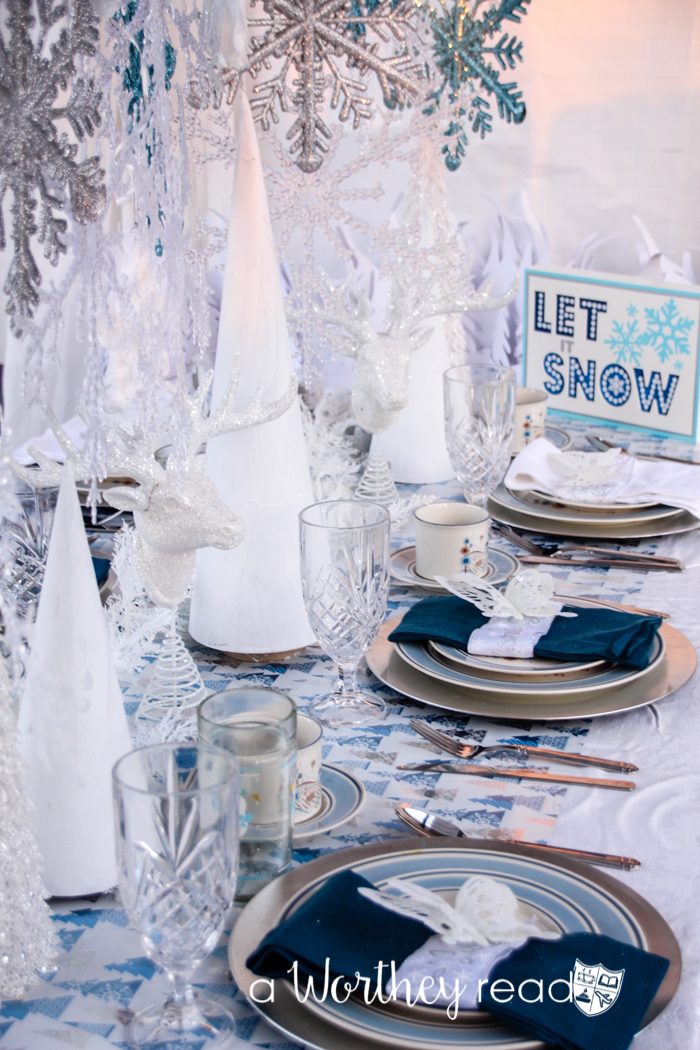 And that is it! My "elf" idea came together exactly how I designed it in my head. My kids loved the transformation of our home into a Winter Wonderland. Maybe it's just a design, maybe it's the memories, or maybe the Christmas spirit, but this Blue & White Winter Wonderland transformation makes me feel like I am in a winter wonderland.
So, let's talk about the supplies I used. I was pleasantly surprised Big Lots had the majority of the items I needed. I noted below the items I already had, and the ones picked up at Big Lots.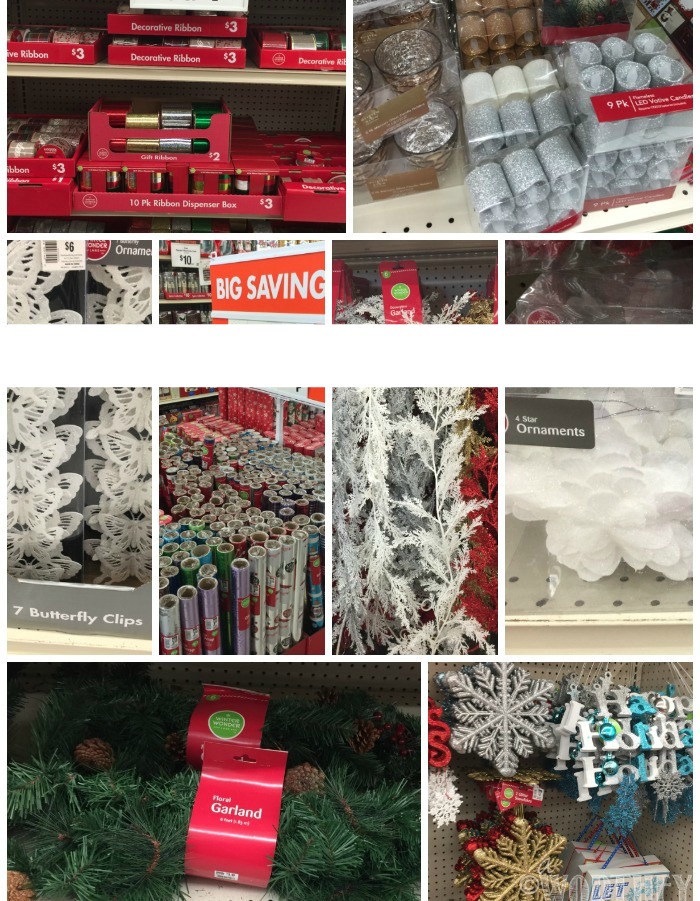 Supplies:
Six Silver Chargers (already had, but Big Lots carries these)
Six Blue & White Dinner & Salad Plates (my Grandmother's set)
Six matching tea cup sets (my Grandmother's set)
Six Blue or White Cloth Napkins (already had, but I did spot white cloth napkins at Big Lots)
Three Duck Glasses (my Grandmother's set)
Silverware (already had, but you can buy at Big Lots)
Six Godinger Dublin Crystal Glasses (already had)
White DIY Christmas Cones
White Tablecloth (already had)
Two Sets of White Trees Strala LED Decoration Lightning ( already had)
Silver Ribbon (Big Lots)
White Snowflakes (Big Lots)
Ribbon for hanging the snowflakes (Big Lots)
White/Glitter Christmas Trees (Big Lots)
White Butterflies (Big Lots)
White/Glitter Christmas Garland (Big Lots)
Mini Silver/Glitter LED Candles (Big Lots)
Big Lots not only had everything I needed to help me complete this look, but they gave me a few ideas. Such as, using snowflake ornaments to hang from the ceiling, and using the butterfly ornaments for the cloth napkins. I walked around for a good twenty minutes, looking at all of the Christmas stuff and my mind started racing with a ton of ideas. This winter wonderland tablescape was close to being a red & white ginger tablescape idea. However, I wanted to find a way to honor my Mom and Grandma this year, by creating a tablescape in their honor.
So this one is for you Mom and Grandma. I hope you like!
If you are inspired by this design, it can be duplicated. You will just need to pick up a set of plates (or you may have your own), and everything else can be found at your local Big Lots store.
What inspires you over the holidays? What are some of your favorite memories you love to make with your family? Did you know Big Lots carries a variety of Christmas items to help you decorate indoors and outdoors?
Be sure to visit their Facebook page and Pinterest for more ideas.
[Tweet " Tweet them and tell them how much you love my design with their products! "]
Leave me a comment below and thank you for coming back to read my story!
I'm sharing this over at Tablescape Thursdays!