You won't be able to resist these babies! We're showing you how to make this wonderful easy buttermilk pancakes recipe and enjoy it two ways. One is totally savory and the other? Let's just say you may be well on your way to experiencing your first legit food crush. Yes, indeed; true love's first bite.
Easy Buttermilk Pancakes with Pistachios
At times a regular run of the mill pancake just won't do. And when you want to spoil yourself and maybe a loved one you have to raise it up a notch or two and elevate. Now, you could don a pair of platform shoes and elevate, or you could take your pancake making game to the next level and prepare our ah-mazing Easy Buttermilk Pancakes with Pistachios!
Recently, I made these wonderful pancakes for the Mrs. Why? Well, she's missing her mama (she passed two years ago), and the holidays can get kinda hard for her. So, as any thoughtful husband would do I try to lighten her mood, make her smile more, and of course, make her some incredible food. Because I am a firm believer in the healing power of good food. Delicious food can be the best kind of therapy for what ails you.
Now, you can make these wonderful Buttermilk & Pistachio Mini-Pancakes and load two ways. The easy way, which is using Krusteaz's Buttermilk Pancake mix. I use buttermilk instead of water (trust me it's way better), add half a stick of melted unsalted butter, and a sprinkle or two of ground cinnamon. Or you can make the pancake batter completely homemade; I have the recipe down below. If you want to save time go with the first one, but if you got some time on your pretty Lil' hands go with the second one. Both are solid and will do the job just fine.
Here come the pistachios! I love pistachios, especially toasted ones. I like them in all sorts of recipes, from salads to pistachio encrusted salmon. I go nuts for these nuts! I added them to the buttermilk mini-pancakes, and it gave them a crunch and texture my mouth enjoyed. But then, I couldn't decide if I wanted the toppings for the pancakes to be savory or sweet. So, I did what any sane human would do. I made it both ways! One stack has a sunny-side-up egg topped with shredded Parmigiano-Reggiano and fresh cilantro. If you don't care for pistachios, heaven forbid, then don't use 'em. Omit them altogether or add your favorite nuts. I used pecans, walnuts, and white macadamia nuts before and they all worked out just fine.
The other stack I topped with blueberry Capote and pan-fried pears. Doesn't that sound wonderfully delicious? I drizzled both versions with a bit of Barrel Aged Bourbon Maple Syrup I got a Trader's Joe, this stuff is the absolute truth. I love it too much!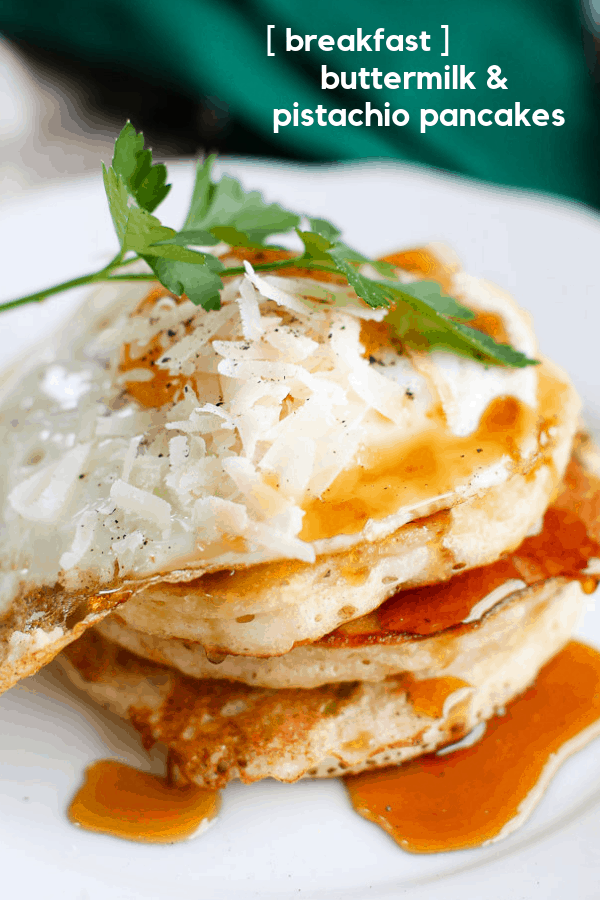 Buttermilk & Pistachio Mini-Pancakes
Ingredients:
2 cups Krusteaz's Buttermilk Pancake mix
2 1/2 cups room temperature buttermilk
1/2 stick unsalted melted butter
1/2 cup chopped and toasted pistachios
1 tablespoon ground cinnamon
Eggs:
2-3 eggs
1/2 cup grated Parmigiano Reggiano cheese
Note: I melted an additional 1/2 stick of unsalted butter, then add it to a 1/2 cup of extra virgin olive oil for cooking the pancakes.
Turn on the oven to its warm setting or at 190 degrees. Keep cooked pancakes in the oven to keep them warm.
Directions:
In a large bowl add buttermilk pancake mix, buttermilk, melted butter, and ground cinnamon. Mix until ingredients are just combined. Over mixing will make your pancakes tough.
Allow pancake batter to sit on the counter until little air bubbles appear, about 10-15 minutes. Trust me.
Using a cast iron skillet over med-high heat brush on one tablespoon of the olive oil/melted butter mixture.
When the oil is hot, add 2-3 tablespoons of pancake batter. When air pockets begin to form on top of the pancake sprinkle on chopped pistachios, then using a spatula, carefully flip the pancake over. Cook until golden brown. Brush with melted butter and stack on a serving platter, keep pancakes in the preheated oven until ready to serve.
Prepare a sunny side up egg, place it on top of three stacked pancakes, grated cheese.
Top with fresh cilantro.
Serve.
How to make Blueberry Capote
3/4 cup water
1/2 cup granulated sugar
1 tablespoon pure vanilla extract
1 teaspoon lemon zest
1 tablespoon fresh lemon juice
2 1/2 cups picked over and washed blueberries
1/8 teaspoon ground clove
Directions:
In a medium saucepan over med-high heat bring water to a boil, sugar, and blueberries. Add lemon zest, vanilla extract, and stir. Continue to cook for 8 to 10 minutes or until mixture begins to thicken. Remove from heat, and add lemon juice. Allow mixture to steep for 15 minutes.
Serve.
Everyone in your family will love mini pancakes, and this Easy Buttermilk Pancakes recipe with delicious pistachios is a perfect recipe. It is simple, delicious, and everyone will be raving about how amazing your pancakes are at breakfast!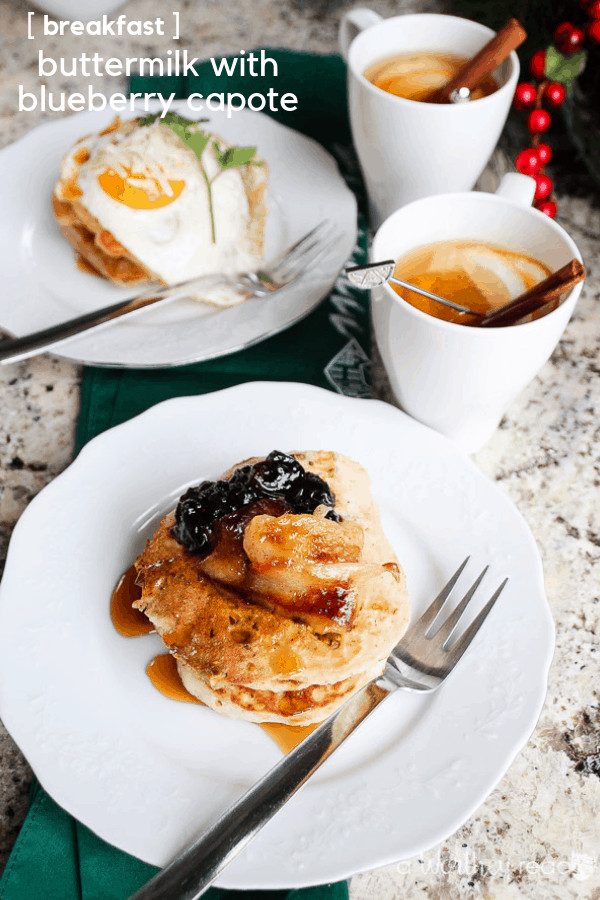 More Easy Breakfast Ideas: