This Easter Egg Printable Activities Sheet is a perfect addition to your plans for keeping kids busy Easter morning. This one-page activity worksheet has something for kids of all ages to finish. Whether it's just coloring or drawing on the eggs, finishing the maze, or doing word searches, it's a fun option to have on hand.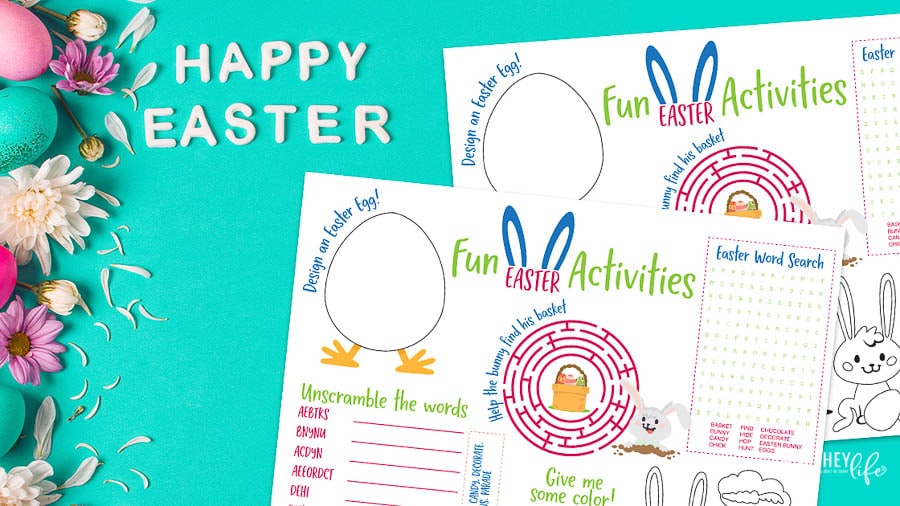 Easter Egg Printable Activities Sheet
Easter morning is one of those busy days that everyone enjoys but can also feel totally stressed about. Even with my children being teens, they still expect an Easter basket. Then, we typically have a family meal after church services, and well, kids get bored, at all ages. This little activity sheet is so much fun! I can print it off and add to their basket, and know they have something to do while they wait for food to be ready.
It's perfect if you have little ones who need something to keep them busy while you set the table, but also great for older kids who complain about being bored while waiting.
How Can I Use This With Kids?
This really depends upon the child. In our house, with older kids, it's just one extra thing to print, roll, and tuck into their basket. I can add a simple piece of Easter ribbon around it after rolling it. You can even buy an extra special gel pen and attach to it to make it more gift like for the older kids.
If you have younger children, I recommend printing out a few of these and having them on the "kids table" at Easter brunch or dinner. Grab a small basket and fill with crayons, colored pencils, or markers (depending upon the age of children). This can be added with other coloring pages for Easter or printable activity pages to keep them busy while adults get the food ready.
Free Easter Egg Printable Activities Download
Grab this download here! Just click on the link HERE or image below to print out the PDF of this Easter activity page. I recommend making 2-3 copies per child as kids may want to do the puzzles multiple times until they get all of the answers correct.
More Easter Activities & Ideas
Below are some more fun ideas to keep you or your kids busy around Easter. Whether it's a great snack or just a fun decor idea, you'll find something for everyone on this list!