Are you ready for some free 4th of July fun? We have an idea for you with these Free 4th of July Worksheets!
Not only is this something for the whole family, but it's also a way to slow down and enjoy the day!
Take a break from all the outdoor heat and excitement and spend some time sitting around the table together, solving these puzzles, and playing games!
Check out my Free 4th of July Kid Printables + Activity Ideas that would pair perfectly with this activity.

Free 4th of July Worksheets
Spending holidays with family and friends is always a great time full of memories.
Besides sitting around and eating and talking, there are things you can do together as a group or individually to relax and have fun.
This is where these fun July 4th worksheets are great!
They're the perfect way to get everyone active and spend time together.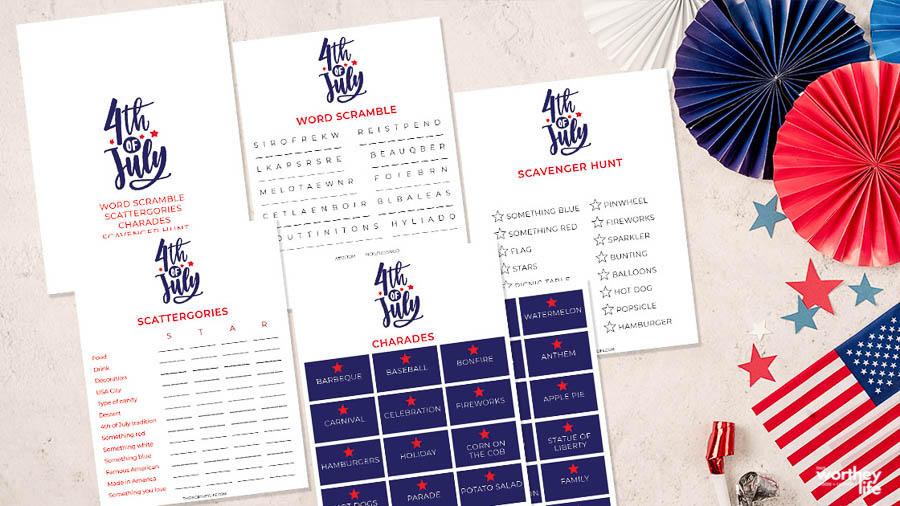 What's included in this printable 4th of July worksheet packet?
So many fun games and options!
You'll get multiple pages with multiple activities that will have everyone doing teamwork to solve and conquer!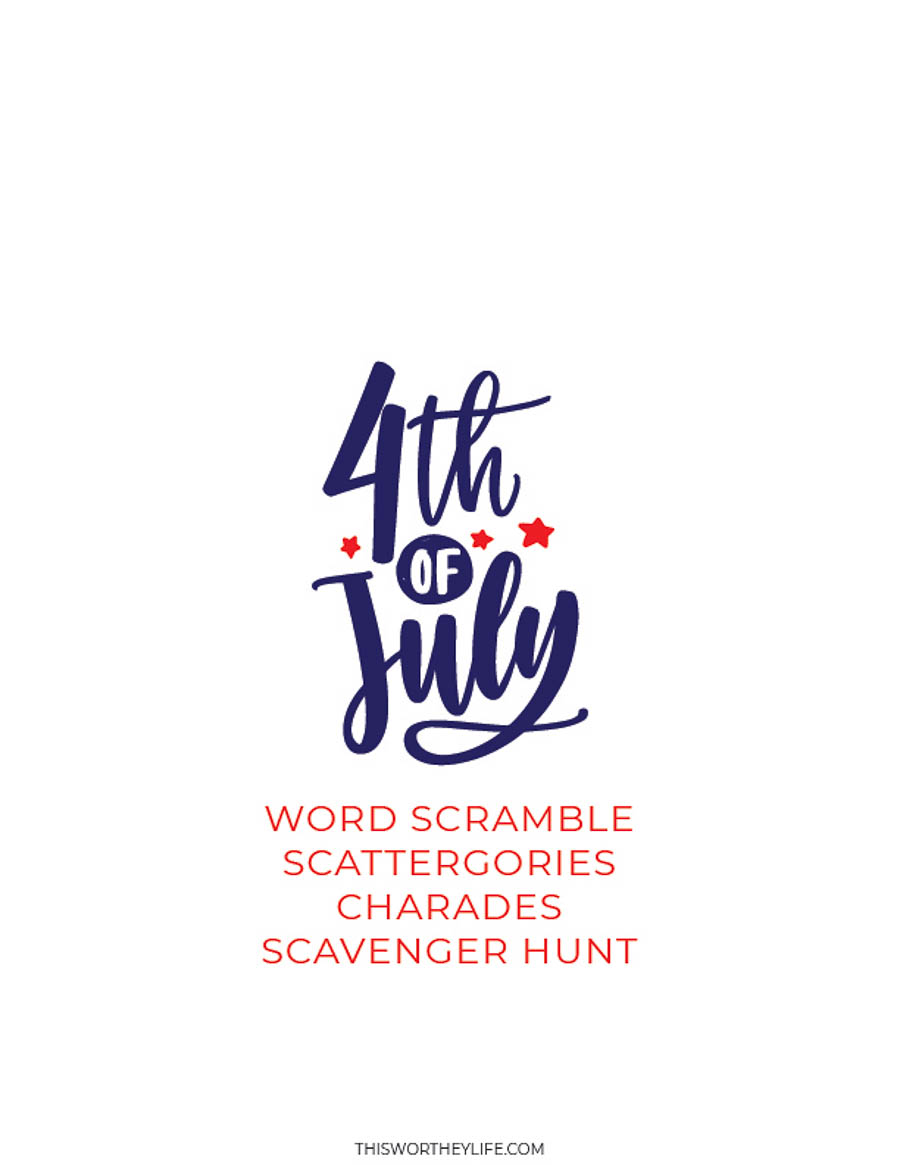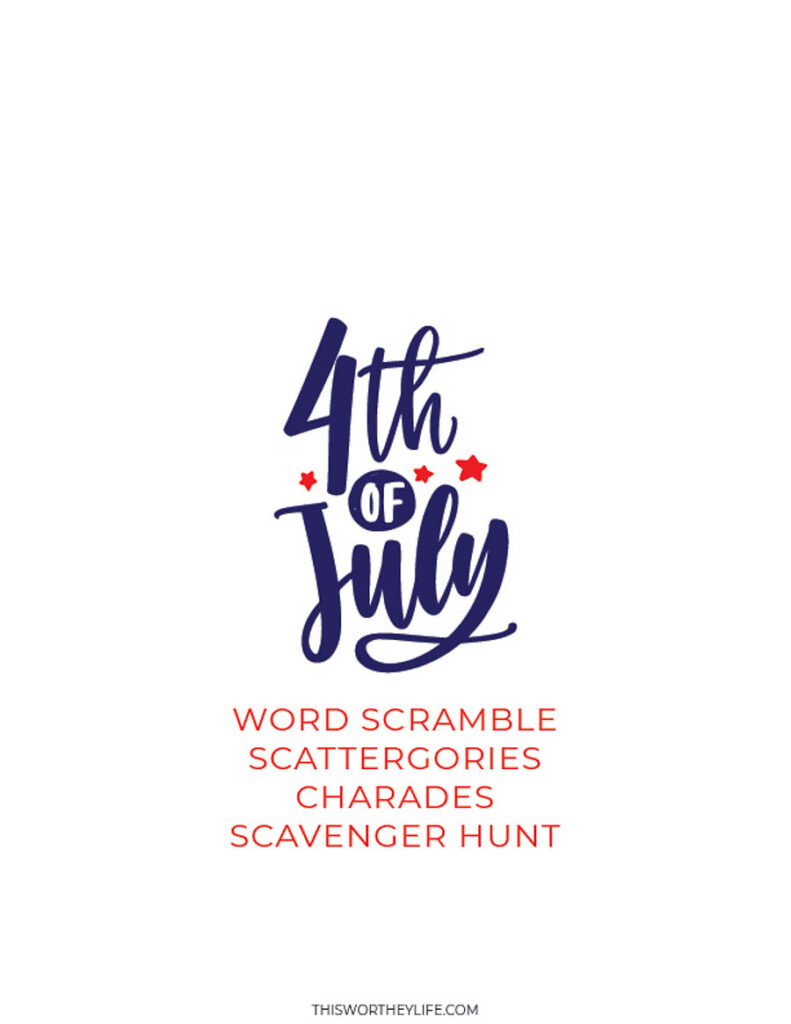 Included in this free July 4th printable is:
Scavenger hunt
Word search
Charades
Scattegories

Free printable for a 4th of July Scavenger Hunt
This 4th of July scavenger hunt will have everyone running around to color in the stars.
All the items on this free printable sheet are part of the patriotic theme.
Here are a few of the items you'll find on this patriotic scavenger hunt:
something blue
something red
streamers
fireworks
popsicle
sparkler

Free printable for a 4th of July Word Scramble
Do you have kids or family members that love word games?
If so, then they'll love doing a themed word scramble for the holidays.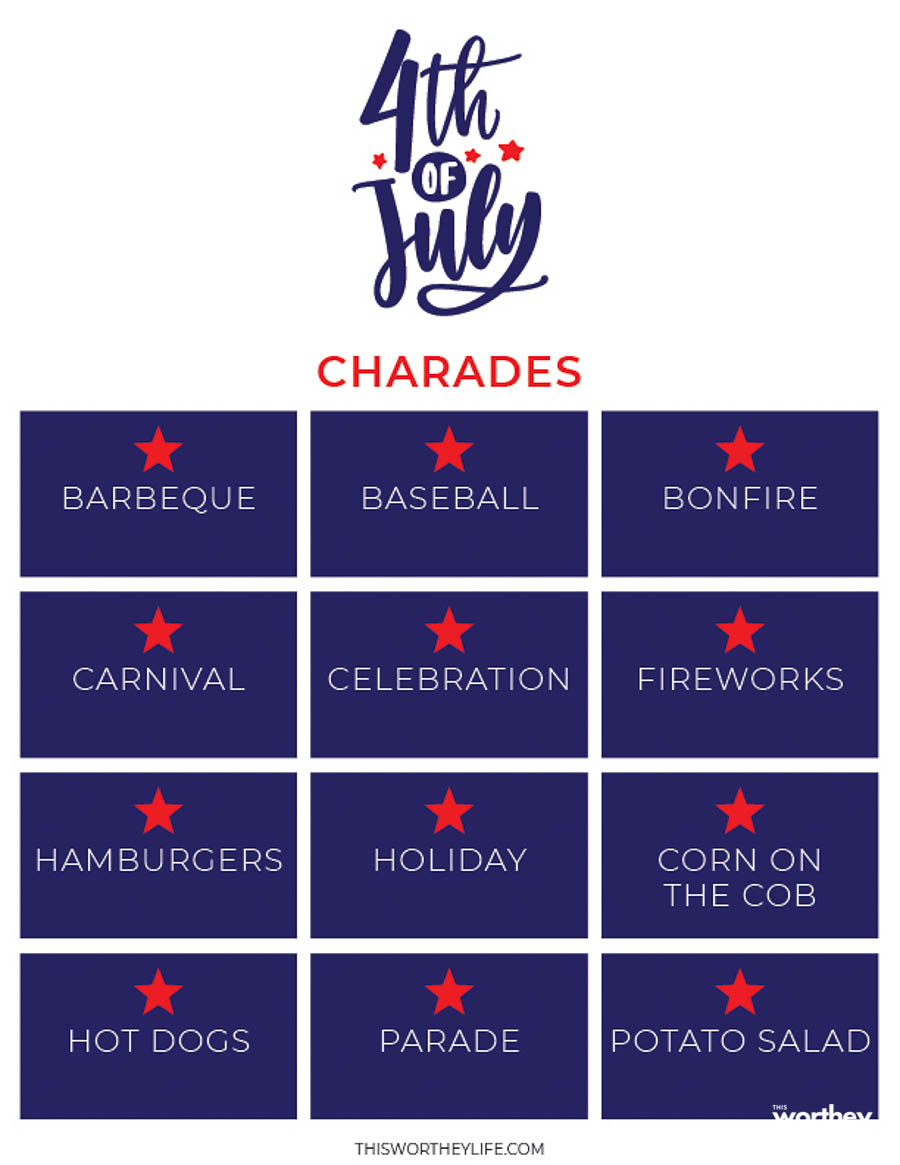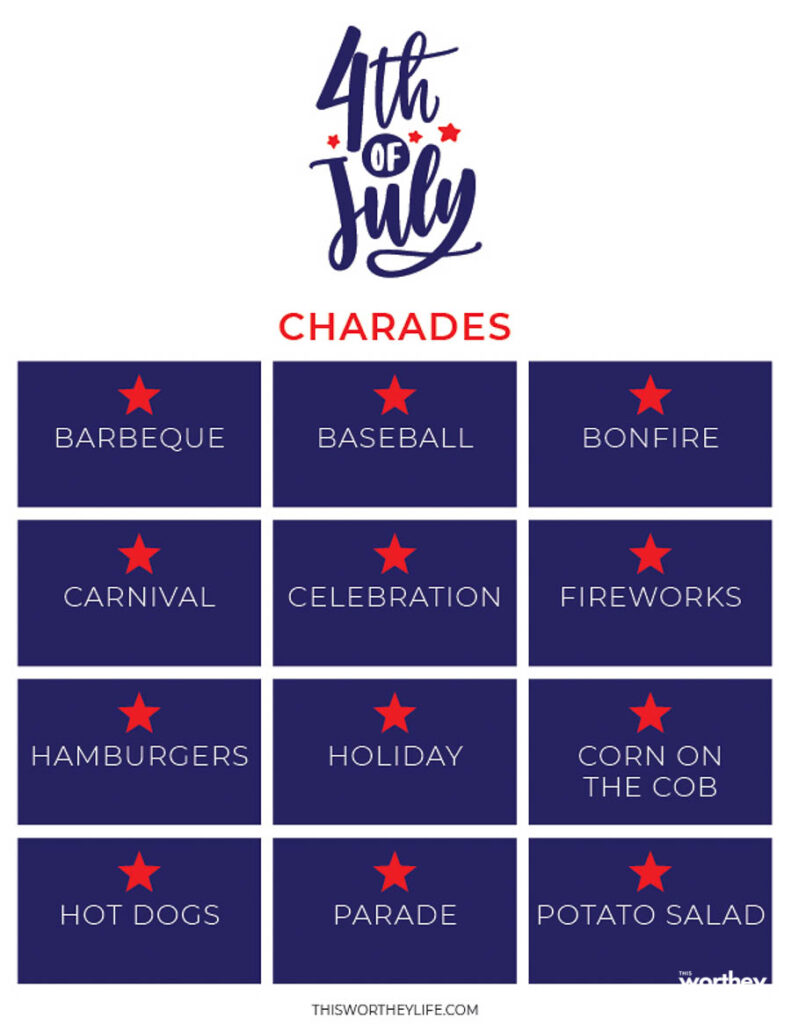 Free printable for a 4th of July Charades
Playing a game in charades is always a good time. But playing a themed version- is even better!
Have you ever tried acting out how to be a hot dog? Or hamburgers?
This type of charade game will bring fun to the party!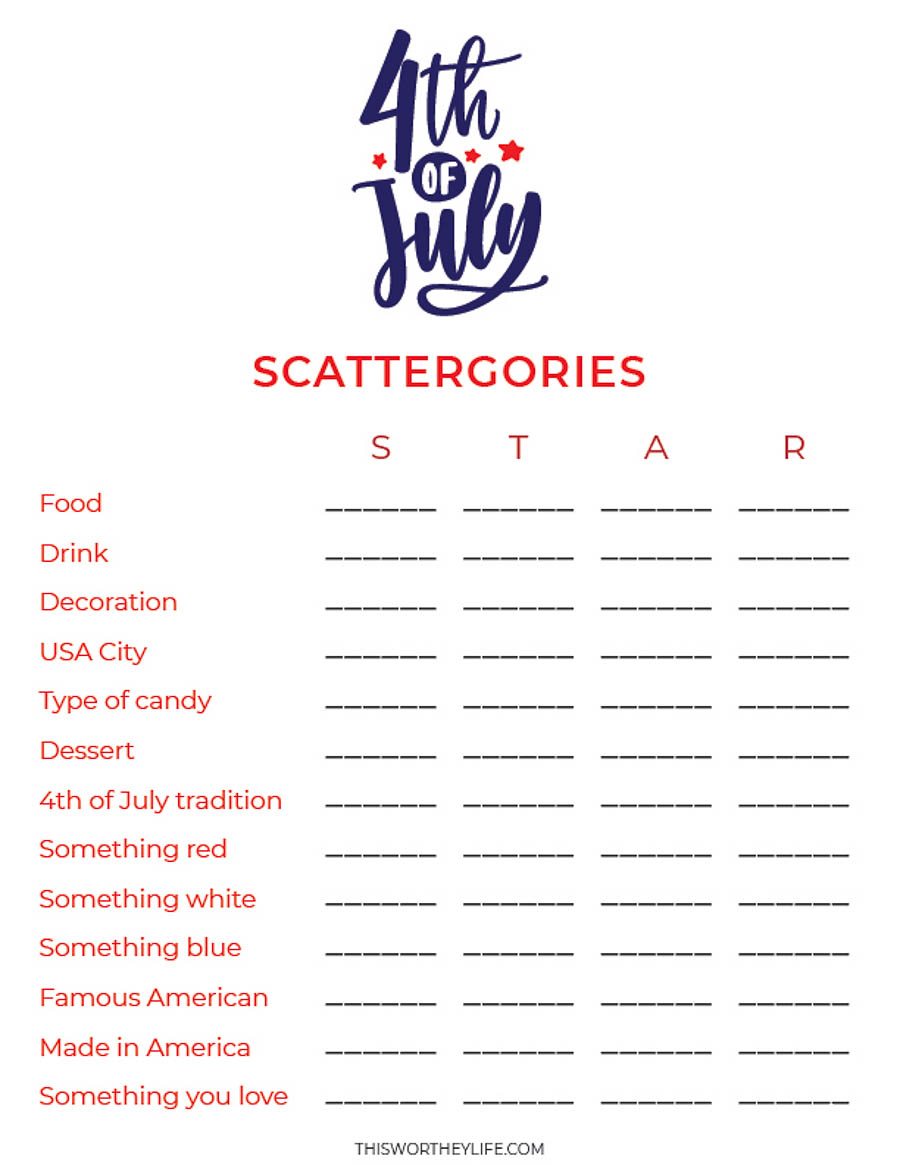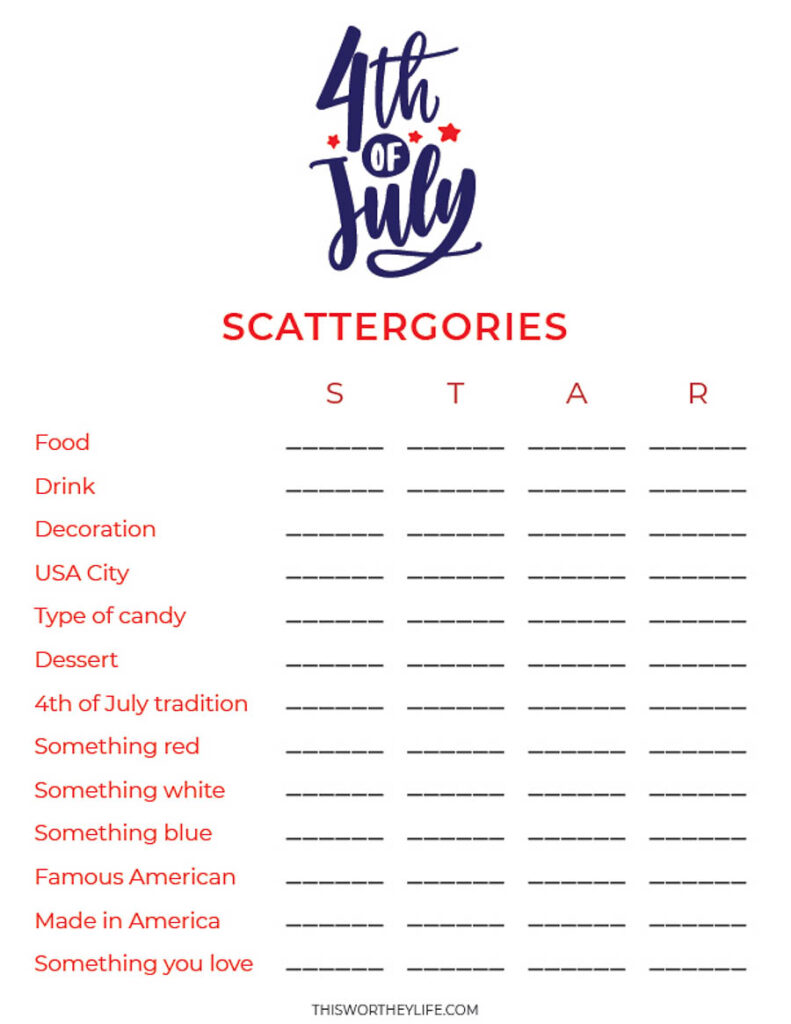 Free 4th of July Scattergories
Another type of fun word game is Scattergories, but with a patriotic twist!
Can you complete this whole sheet?
This could be a fun challenge and maybe even have it timed. Whoever finishes first gets a prize.
Or at least bragging rights.
What are some fun game prizes?
Don't forget you need to have prizes for the winners. They don't have to be significant, but simple prizes are always an easy idea!
If the kids win, you can have candy, pop rocks, cupcakes, or even extra screen time as a fun thing to win!
Or you can try making this layered red, white and blue kid-friendly drink.
And if an adult wins, you can surprise them with a winning Sweet Star Spangled Vodka Margarita as a victory drink.
Don't forget to get your free 4th of July printable packet below!
All you have to do is print out and get started.
You can print this in either black and white or color – your choice.
The great thing about this free printable pack is it's fun for all ages.
As you get ready to celebrate the holiday, be sure to print out this free activity packet.
This themed packet would also be great to print out and use as an activity while flying or going on a road trip.
Enjoy!
More 4th of July Fun