Celebrating the Fourth of July at home this year and need some party ideas? We've got you covered on how to decorate your space for the 4th of July, sharing details on how to host a 4th of July Party with a tablescape + what food/drinks to serve.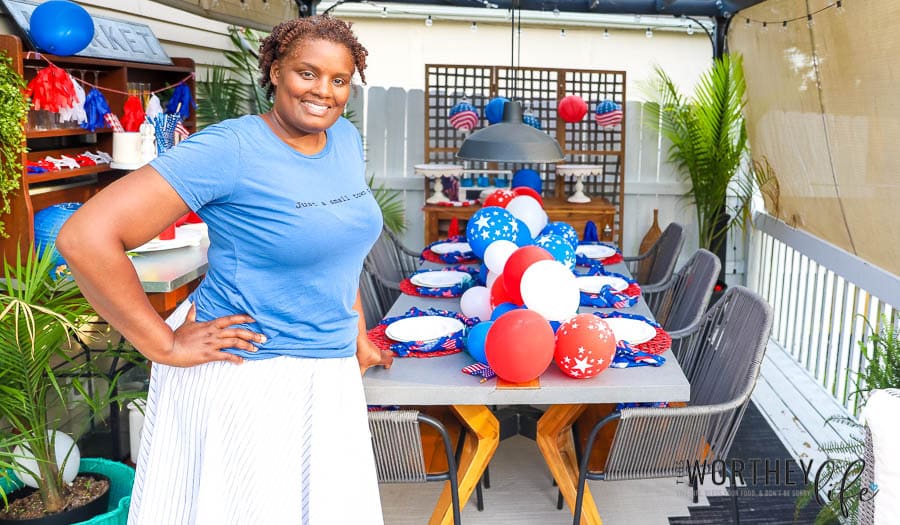 Host A 4th of July Party This Year
Happy 4th of July, 2019! I'm still trippin' over the fact that we're already in July, let alone another holiday. This also means we're at the halfway mark until my favorite holiday, Christmas. And while I'm not ready for snow and ice, I did turn on some Christmas music last week. I just might be listening to some right now! Okay, I'll stop!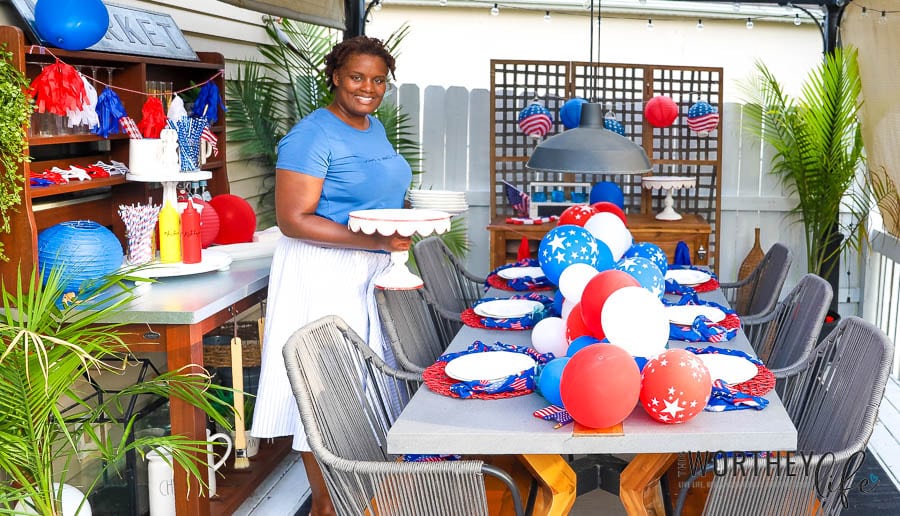 So let me tell you about this 4th of July party idea. Living here in the Midwest, the weather has been super fickle of late, so I don't know if we'll be able to enjoy our deck on the 4th. But if that's the case, then I have a fun party idea for you to try. If you've been around for a while, you know that I love to put a party together, but I also love to find the EASY way to do things. And this party is no exception. I'm using paper products, dollar store supplies, and shopping from my previous decor items to put this party today.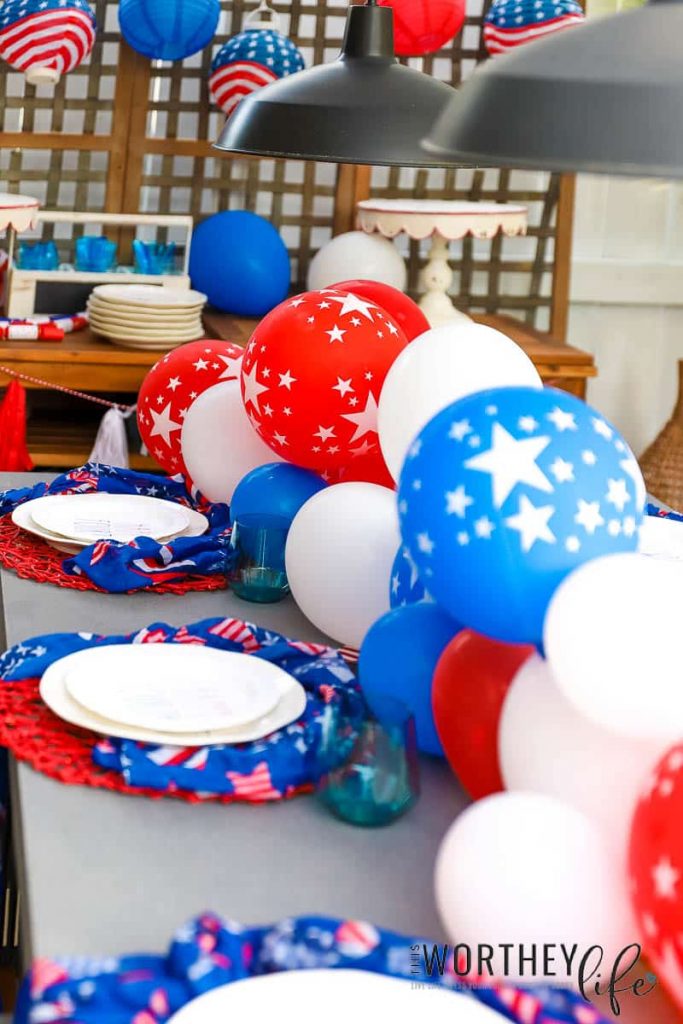 DIY Patriotic Balloon Garland for a Tablescape
Let's start with the balloons. I've been on a kick of using balloons in everything now since my success with it in a Toy Story party. After going through the steps of blowing up balloons and putting it together, I figured I could handle more DIY balloon garland ideas. I stopped by Party City to pick up balloons. Unfortunately, they didn't have any star balloons, but I was able to find those at the dollar store. Blowing up the balloons was pretty straightforward, but then I realized I forgot to grab an essential item. Balloon tape. This is crucial if you want to save yourself the hassle of using twine or anything subpar. By the time I figured out this problem, Party City was closed, and no one else in my area sells it. So, that's my advice- always check to make sure you have balloon tape.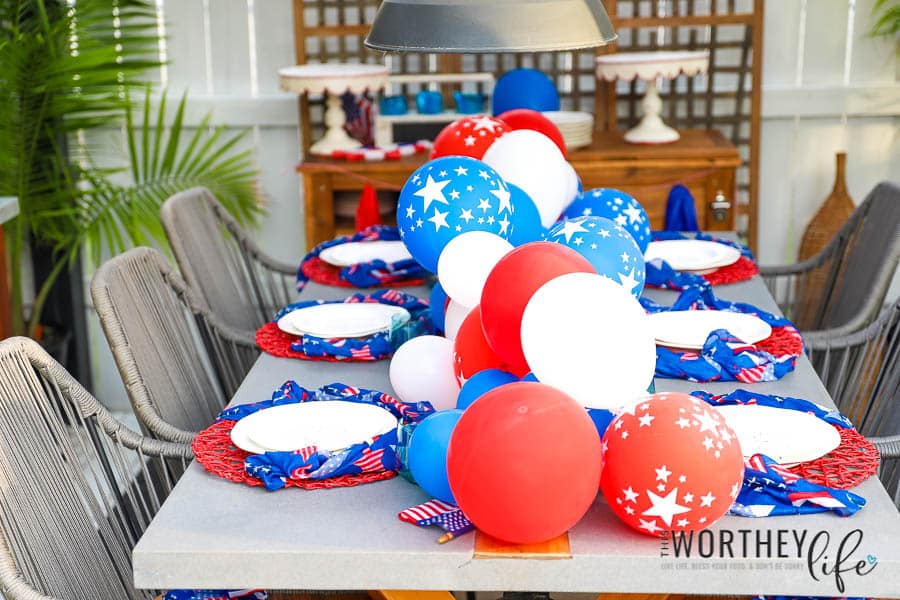 So, how did I get my balloons to stick together for a garland?
Well, I used regular tape. It didn't come out exactly how I envisioned it in my head due to not having the balloon tape, but I made it work. I taped one side of the balloon to the center of my table and kept repeating until I had a row of balloons. Next, I tapped more balloons on either side of the center row of balloons, and also added balloons to the top to give this centerpiece a fuller look.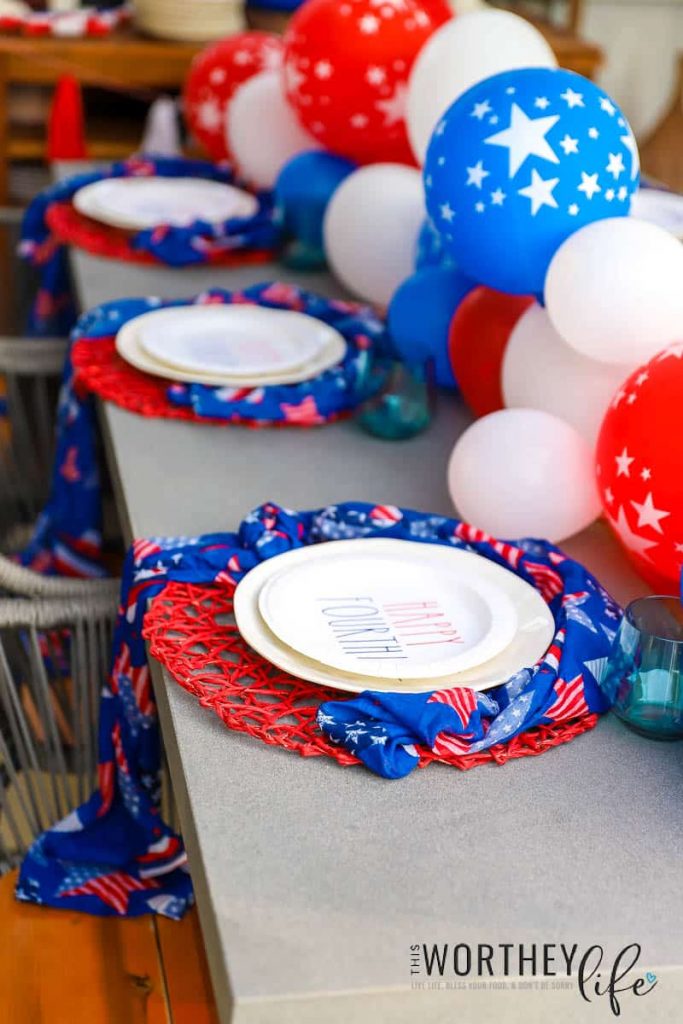 Rae Dunn Fourth of July Party!
It's been a while since I've shared Rae Dunn pieces. While on my weekly visit to T.J. Maxx, I came across Rae Dunn Fourth of July products. I only picked up a few (gasp, I know!), including the paper plates pictured above and three mugs. The blue and red Happy Fourth writing helps give this party a patriotic feel. Underneath the paper plate is a Rae Dunn melamine Celebrate plate. I used patriotic scarves from the dollar store to continue my theme, as well as red round placemats. While at World Market, I found the blue cups which worked perfectly for this space.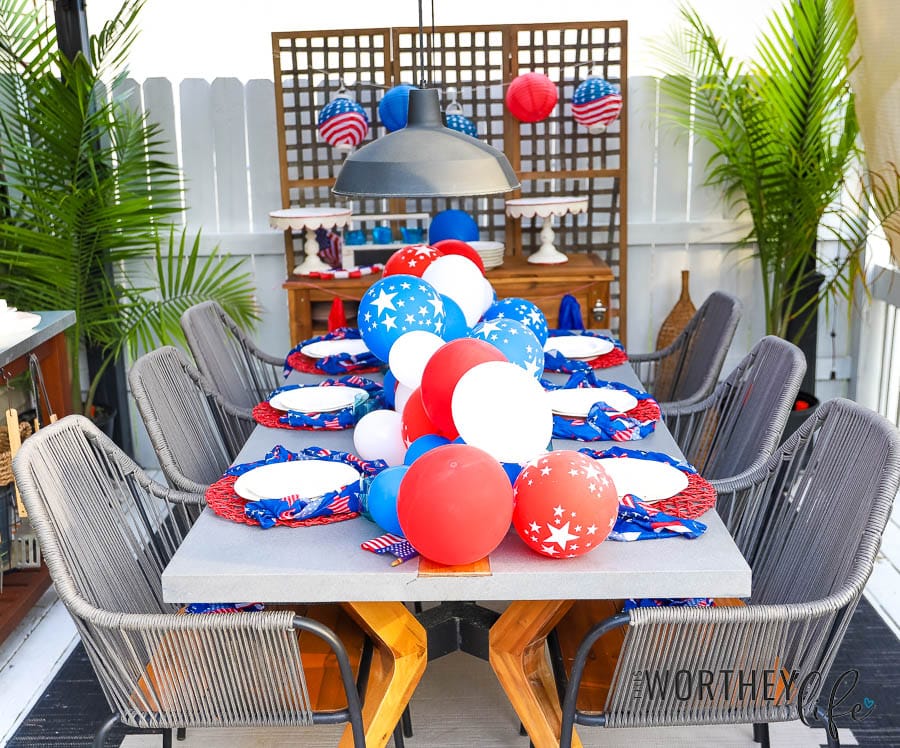 For the bar area at the end of the table, I added patriotic paper lanterns (picked up from the dollar store), vintage white with red trim cake stands (local antique shop), flags, disposable utensils, and a few other decorative items. I also added cupcakes topped with red, white, and blue frosting picked up from the grocery store.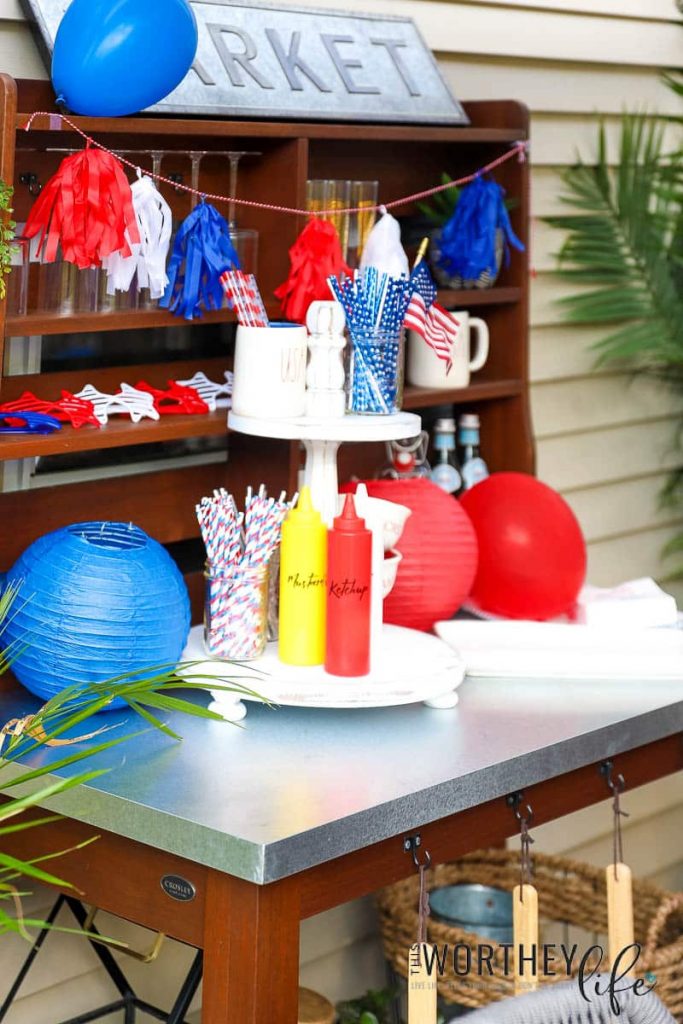 For our bar area on the left of the table, I added the condiment stand for our hotdogs (stay tuned for that post coming this week). I wanted it set up so guests can easily access the variety of condiments for their hotdogs + brats. I also added a few additional paper lanterns, balloons, patriotic-themed straws, and my Rae Dunn mugs. I used streamers, added fun glasses, water, and napkins. I wanted to leave enough space for the food. This is important- never clutter your space with too much stuff that you have no place to put all of the food.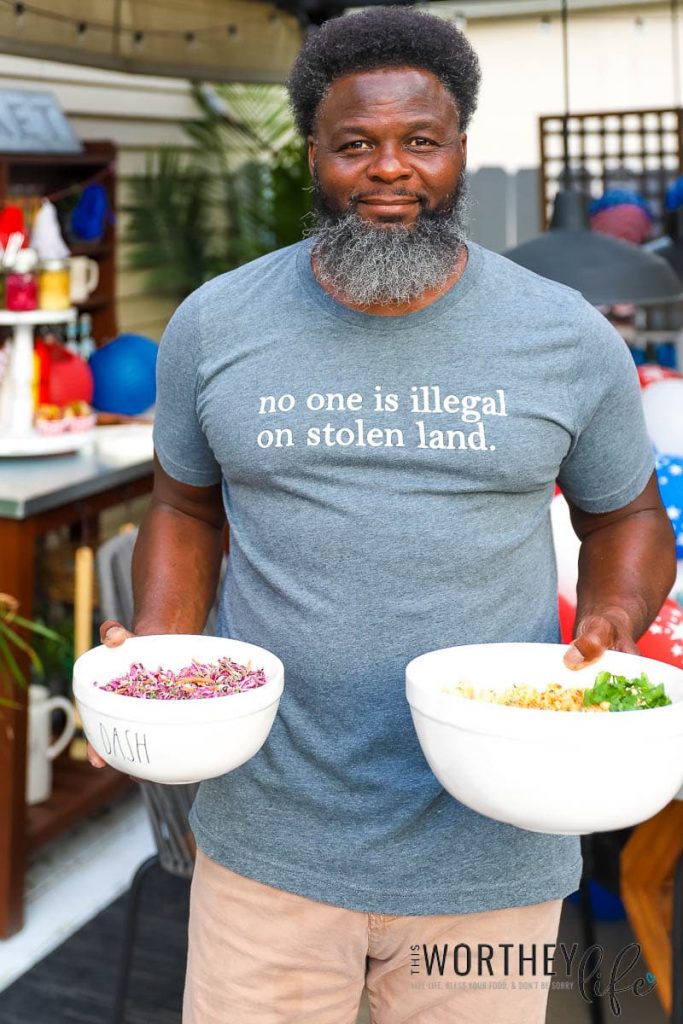 What to serve for a Fourth Of July Party
If you're looking for super easy dishes to serve for the 4th, I have a few. You can create a hot dog stand, filled with a variety of condiments like we created, as well as serving cold dishes, such as our Mexican Street Corn Pasta Salad and Herb + Aioli Coleslaw.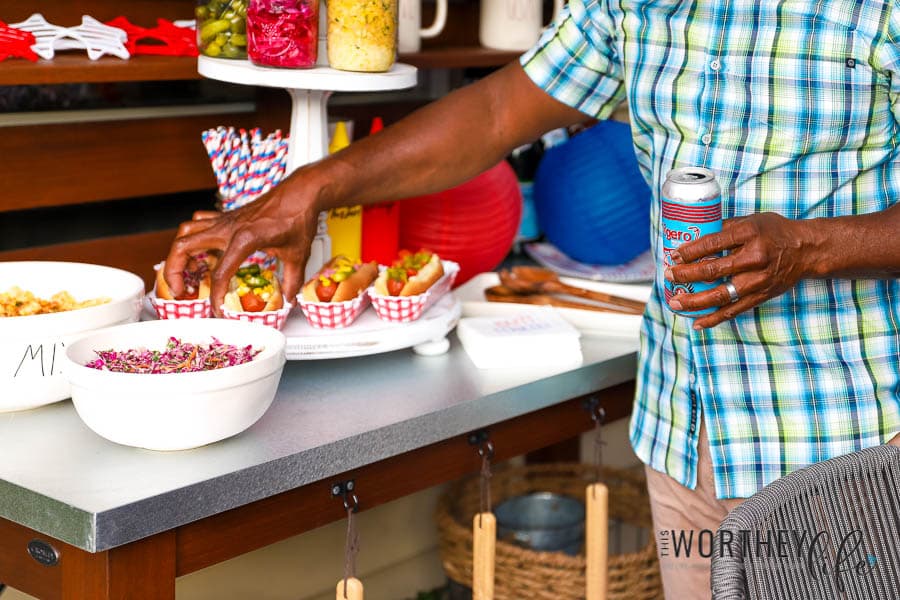 For a fun drink idea, our Celebrate Red, White, and Blue Drink is perfect, and it's kid-friendly. For the adults, you can try our Red, White & Boom Firecracker Cocktail or our Sweet Star-Spangled Vodka Margarita. You can keep it classic with a Coca-Cola.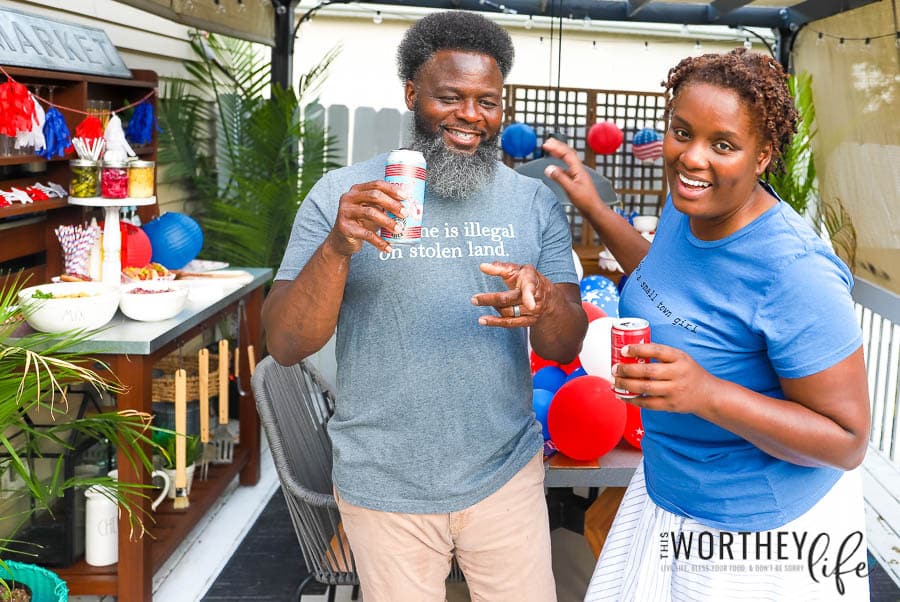 4th of July Party Decorations
Here's a list of everything you will need to create a 4th of July party on your deck!
Paper Plates/napkins (I'm using Rae Dunn 4th of July plates + napkins)
blue plastic cups (World Market)
patriotic lanterns (dollar store)
red, white, blue and star balloons (party supply store + dollar store)
red round placemats
cake stands (for holding cupcakes, condiments)
patriotic straws (online + in stores like Target, Walmart, Home Goods, craft store)
patriotic scarves (dollar store)
It's up to you to decide how many patriotic accessories you want to add to your space. If you have a ton of room to work with, then feel free to add more. However, if your area is tight and small, then less is more.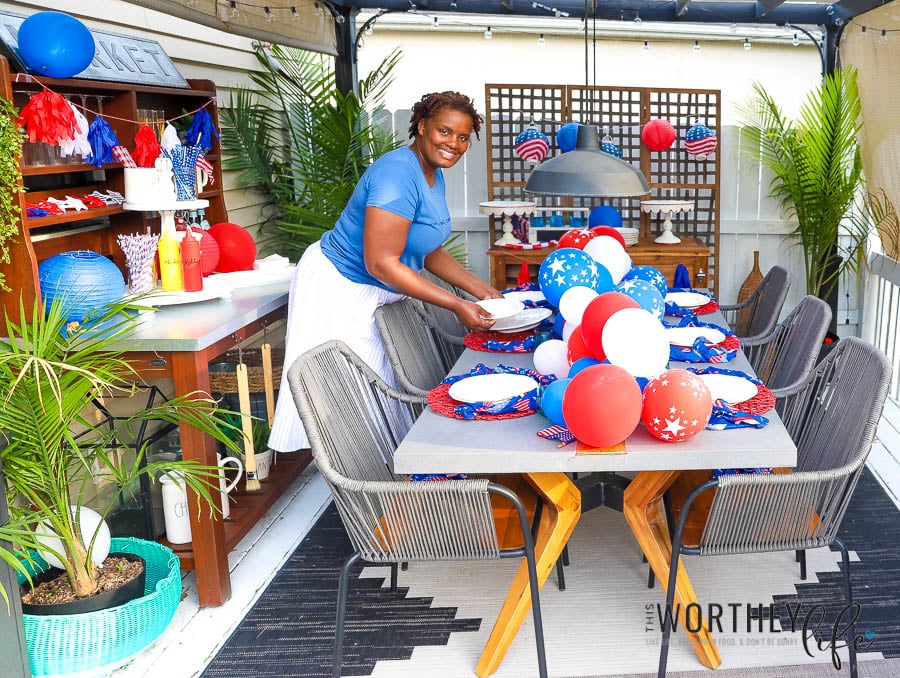 When it comes to putting a party together, always shop your craft area first. I always find items leftover from last year, available trays, etc.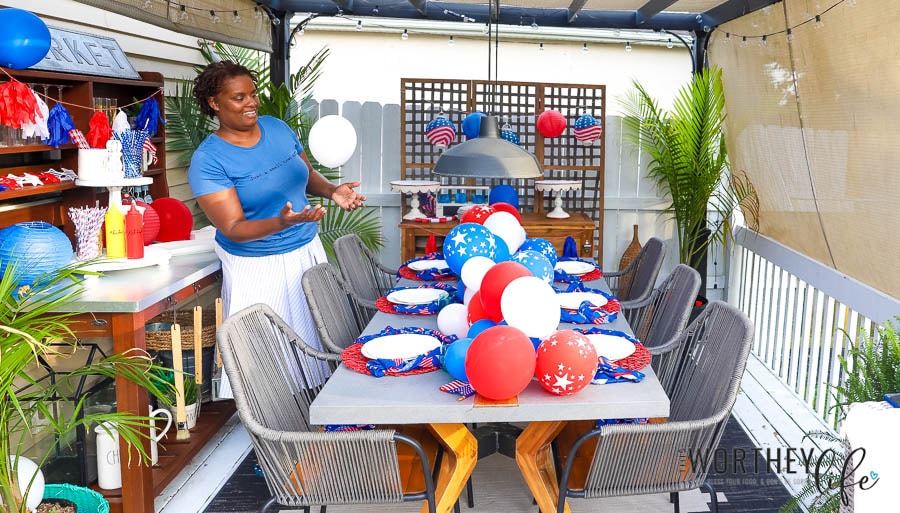 Get creative and have fun with it! Even though my balloon centerpiece didn't turn out quite how I wanted it to, I still had fun putting it together.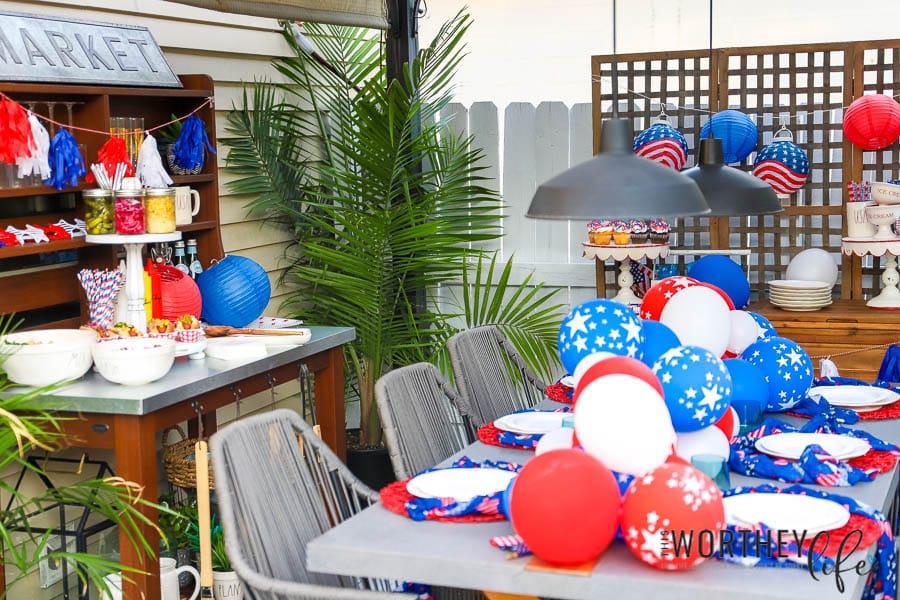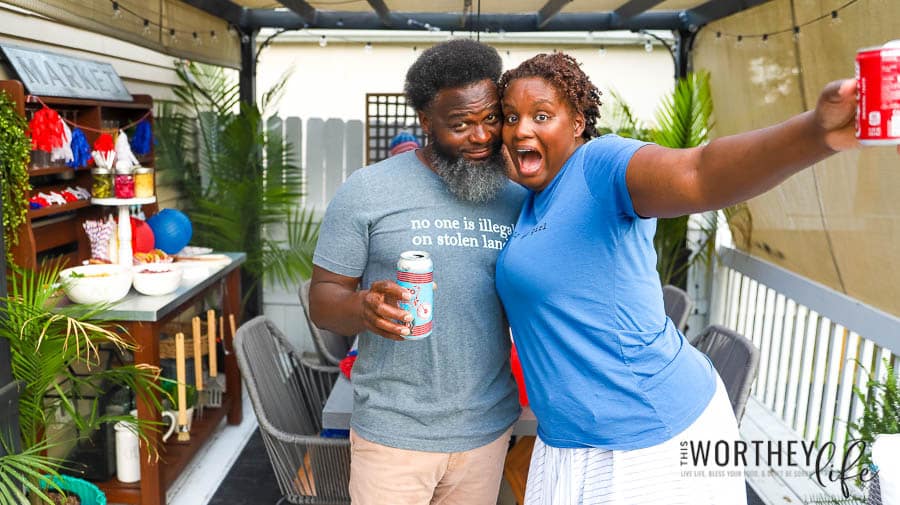 And let's not forget about the music. It's important to have a great playlist going, and Derrick has one that everyone loves and asks for the link to it.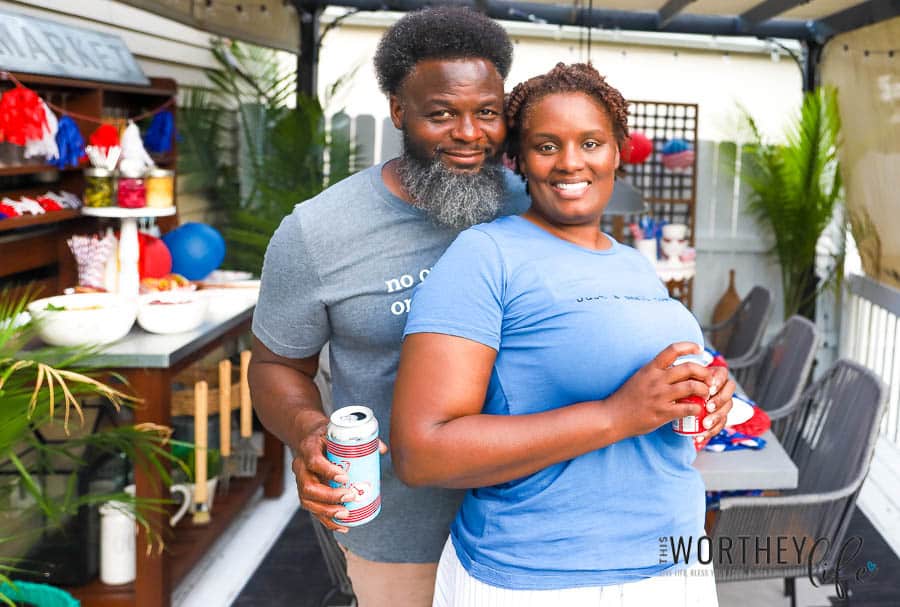 Happy 4th from The Wortheys!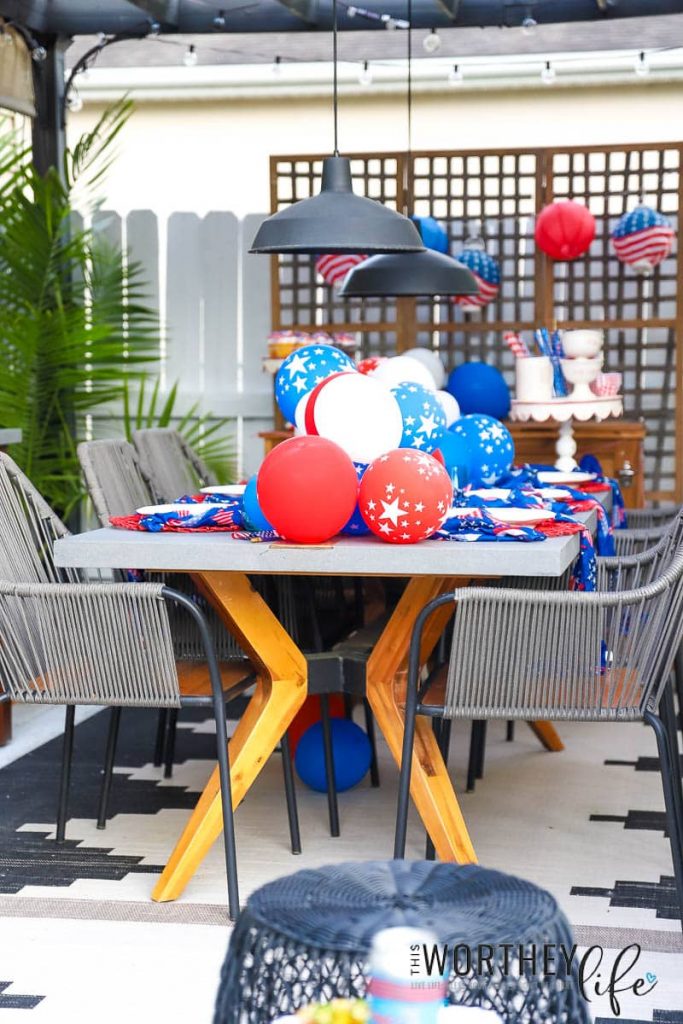 Need more 4th of July ideas? Check these out:
Celebrate 4th of July Party Idea
45 of the BEST 4th of July Food Ideas
40+ 4th of July Drink Ideas | Kid-Friendly & Dranky Drank Ideas