If you have ever attended a vineyard tour, you know they often include tastings during your visit. Those can be a ton of fun to attend, but why not host an at-home wine-tasting party instead?
Gather your friends and family for a night of tasting local or regional wines.
Our guide will make your next event the talk of the town.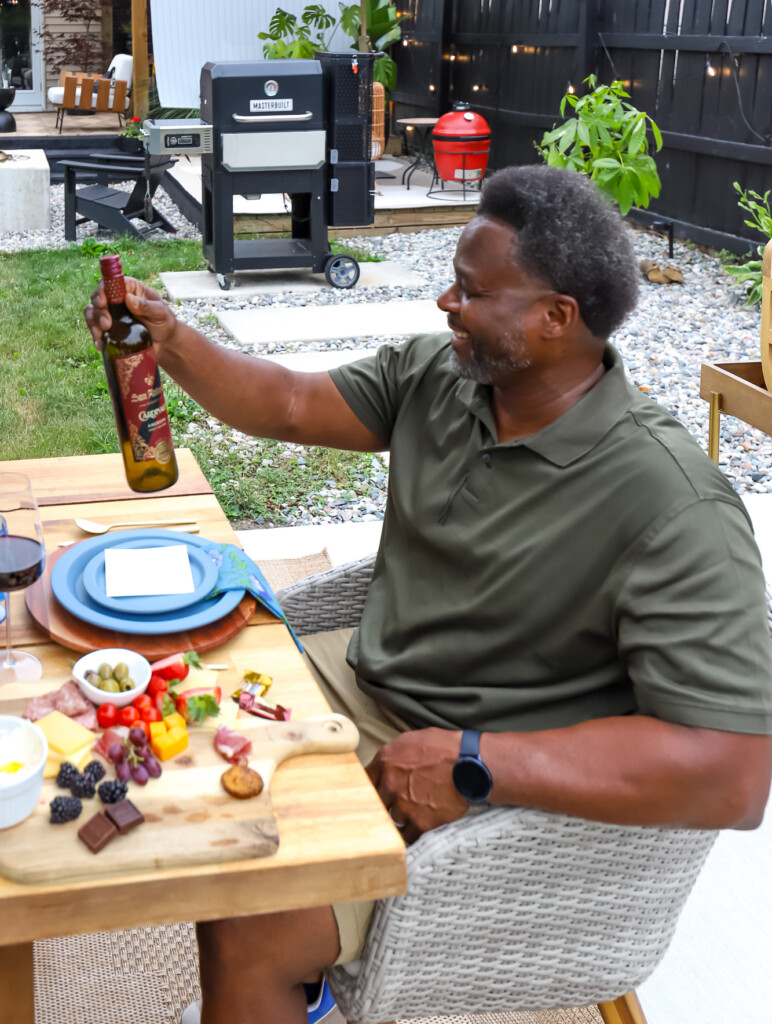 Private Wine Tasting at Home
If you are new to wine tasting, you may want to review what is expected.
Below, you will find tips for what to serve and accompanying foods.
I'll also give you some of my best tips for hosting guests.
You will be ready to have your at-home wine-tasting event in no time.
Recently, we threw a wine-tasting get-together featuring selections from San Antonio Speciality Wines, and it was so much fun!
Ya'll know how much we love entertaining; from creating the perfect tablescape to preparing the mini charcuterie boards, we were definitely in our element.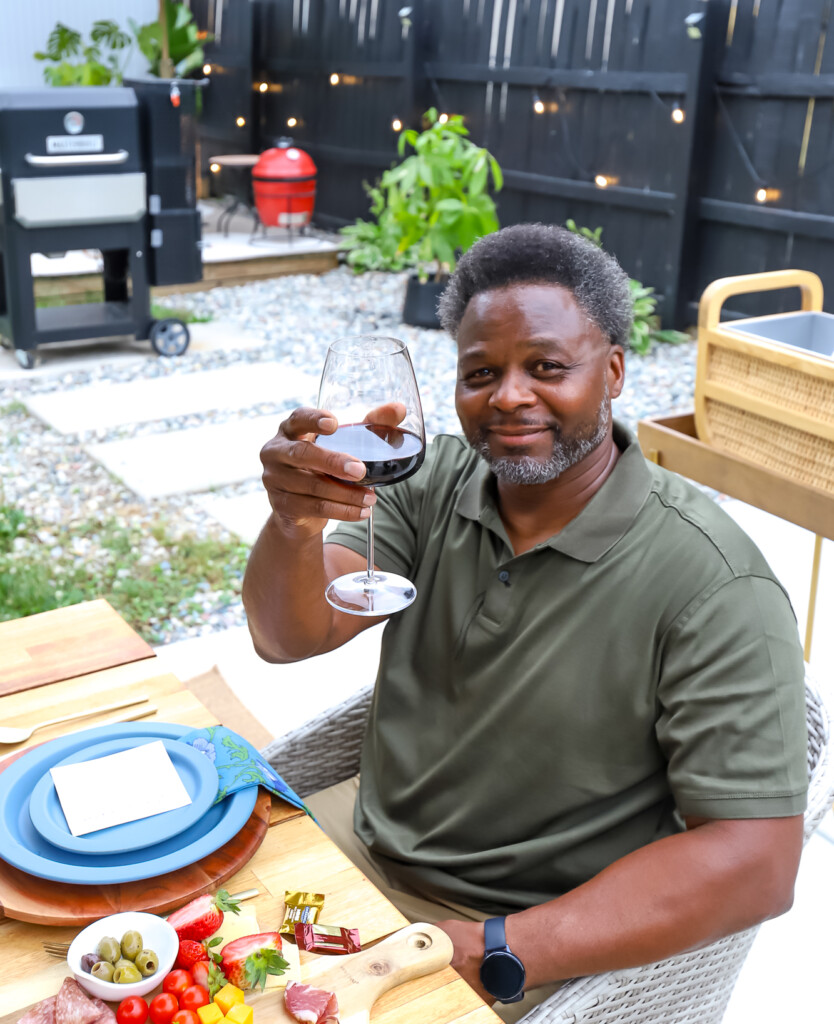 San Antonio Speciality Wines:
Antonio Cardinale, a sweet red wine
Villadoro, a semi-sweet Moscato
Granada, a sweet Rosé
Sweet wines pair well with aged hard cheeses, and soft cheese, savory sausage, and cured meats are recommended, too. And don't forget the fruits and selections of olives and cherry tomato varieties.
San Antonio Specialty wines are on the sweeter side, so we included items on our boards that would complement and pair well with the wines we served.
We invited friends and family who love wine to gauge their initial impressions, and we're reporting their favorites to you.
Coming in at #3 was the Villadoro, #2 was the Granada, and in #1 was the sweet red, the San Antonio Cardinale.
Each bottle has pros and cons, and your wine-tasting party may have different results, but you can try them yourself. San Antonio Speciality Wines pairs well with everyone.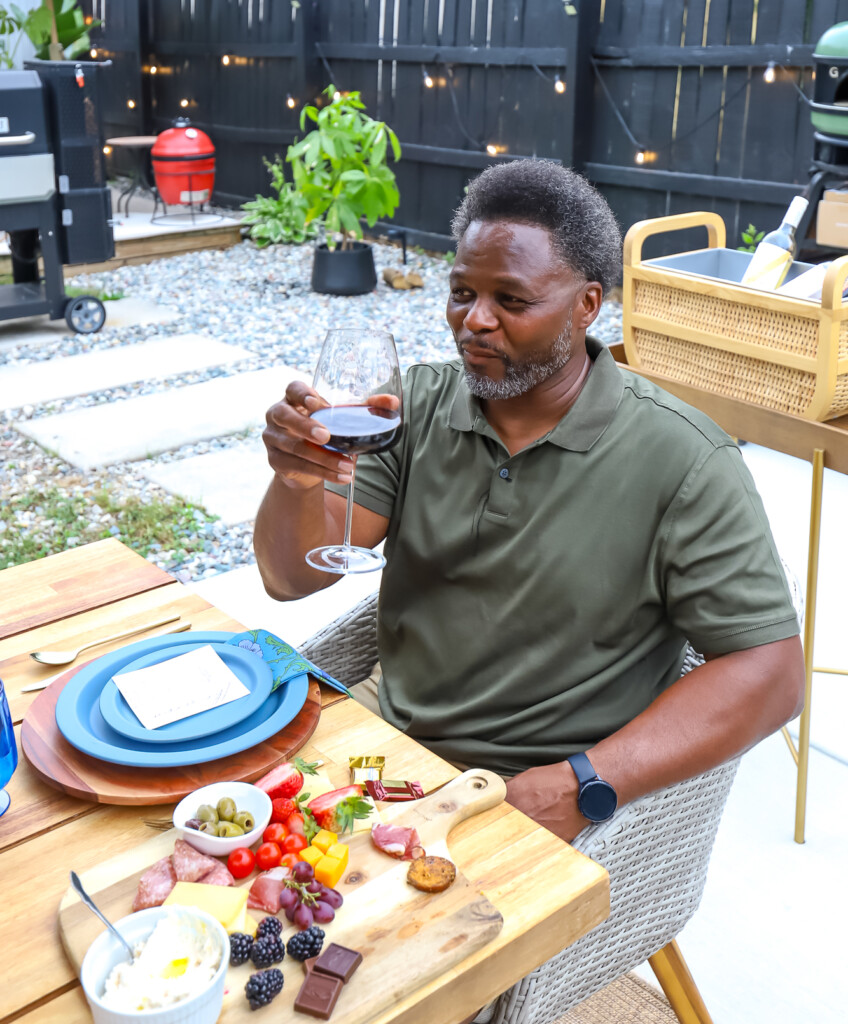 Do You Need a Sommelier to Host a Wine Tasting?
While having a sommelier on hand can bring a bit of sophistication to the event, it is unnecessary.
The advantage of hiring a sommelier is their expertise and extensive knowledge.
They will have a more refined taste and thus may give you an indication of subtle differences you may not notice otherwise.
For those who do not want to add the expense or want to keep the wine-tasting party more casual, you can do your research.
Look at simple topics such as food pairings or popular local vintages.
Of course, a bonus that will make it feel a bit more upscale is to provide your guests with a tasting sheet to track their favorites.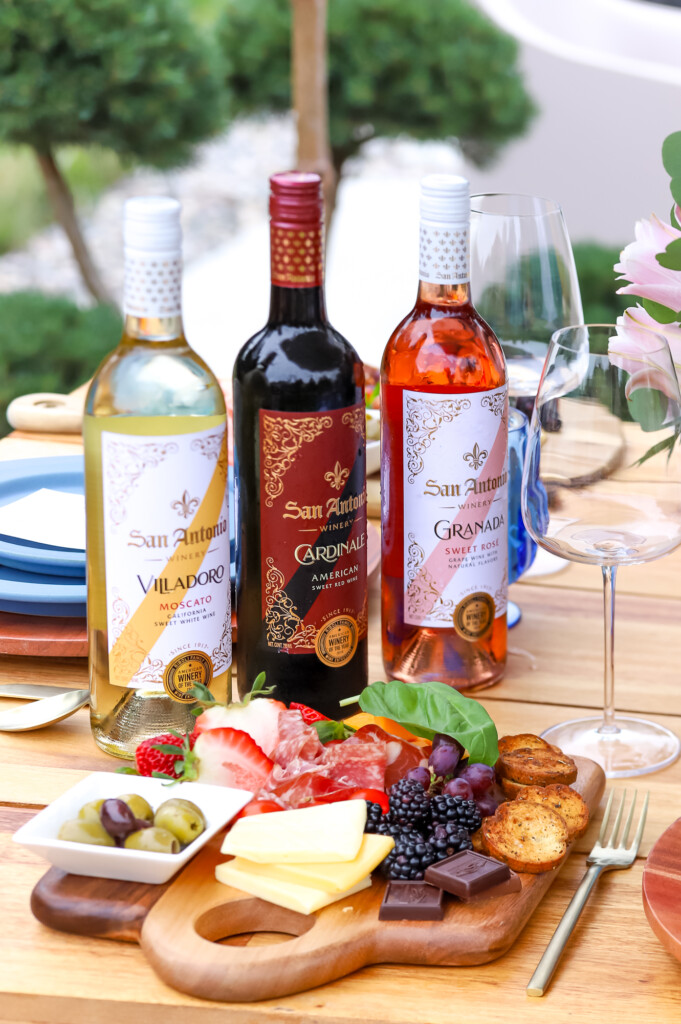 How Many Wines Should I Provide at a Wine Tasting Party?
What you offer will, of course, depend upon your budget and the number of guests invited.
I recommend aiming for a minimum of 4 to 6 wine options for tasting.
This amount is affordable for most and will give your guests a range of flavors without being overwhelming.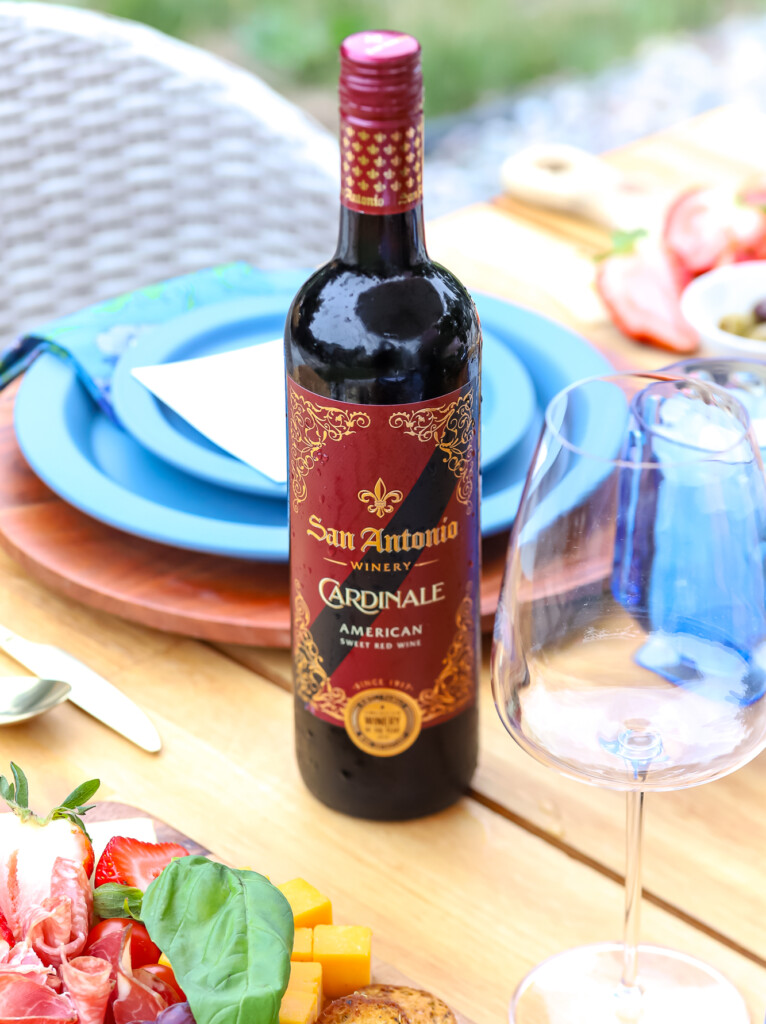 What Types of Wine are Good for an At-Home Tasting?
A preference for flavors plays a part in choosing what you want to include.
Ultimately, not everyone will appreciate all wines.
So, it is best to include a nice variety. Ideally, you will choose a mix of red and white wines and at least one sparkling option.
Below are the wines I would recommend considering as part of your flight.
Pinot Noir – has versatility and the ability to showcase subtle differences.
Cabernet Sauvignon – a robust option with depth that is ideal for discussion
Sauvignon Blanc – a crisp and refreshing contrast for your wine-tasting
Chardonnay – the richer and buttery option is available in many varieties
Prosecco or Rosé – a celebratory option that is widely loved by those who may not typically reach for a glass of wine

What Supplies Are Needed for an At-Home Wine Tasting?
A successful at-home wine-tasting party is a success for the wine itself and the experience.
You will need specific supplies to make this feel like a traditional vineyard tasting.
Below are two lists of items to consider. The first will include the things you should have for the party, and the second are good options but not necessarily mandatory.
To host a successful at-home wine tasting, gather these essential supplies:
Wine glasses
Decanter
Corkscrew or wine bottle opener
Wine
Water

While not mandatory, these items can make the event feel authentic:
Tasting sheets with a pen or pencil [use our free wine-tasting printables found here]
Neutral crackers for cleansing the palate
Food pairings to complement each wine
Spittoons – While this may be a bit unsavory for some, some prefer to taste and spit the wine out
Of course, you will also want to consider how to set up your party with the right ambiance and decor.
You will find more ideas for decorating later in our list of tips.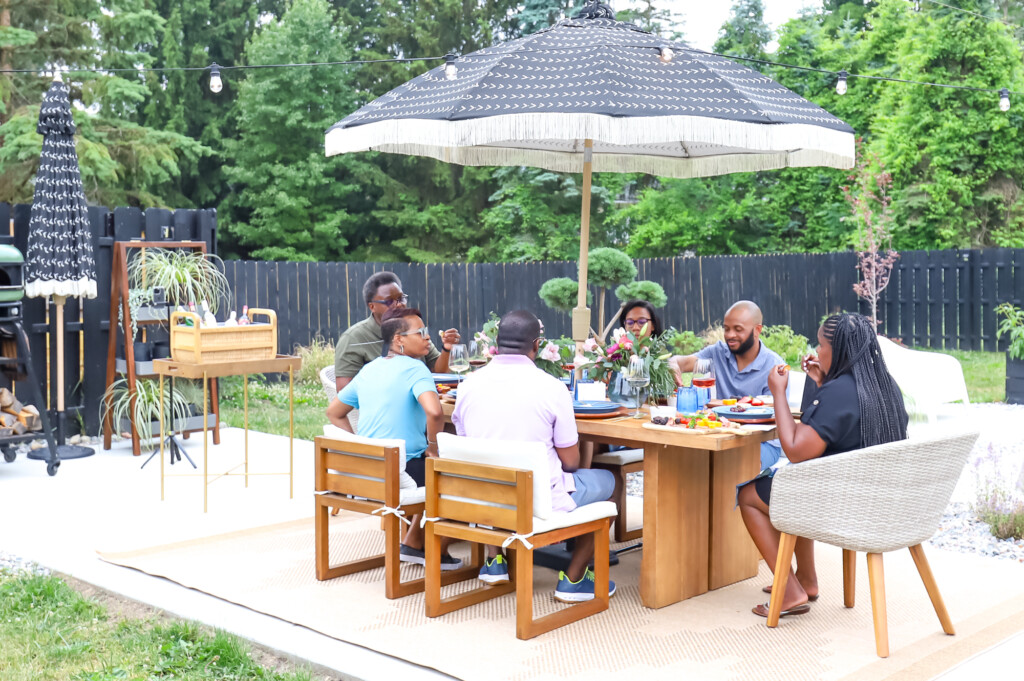 What Foods Should I Serve at a Wine Tasting Party?
You can do research for the particular wines you have chosen and find specifics that are recommended.
However, the items below are almost always complementary and a good choice for an at-home wine-tasting party and any event you host.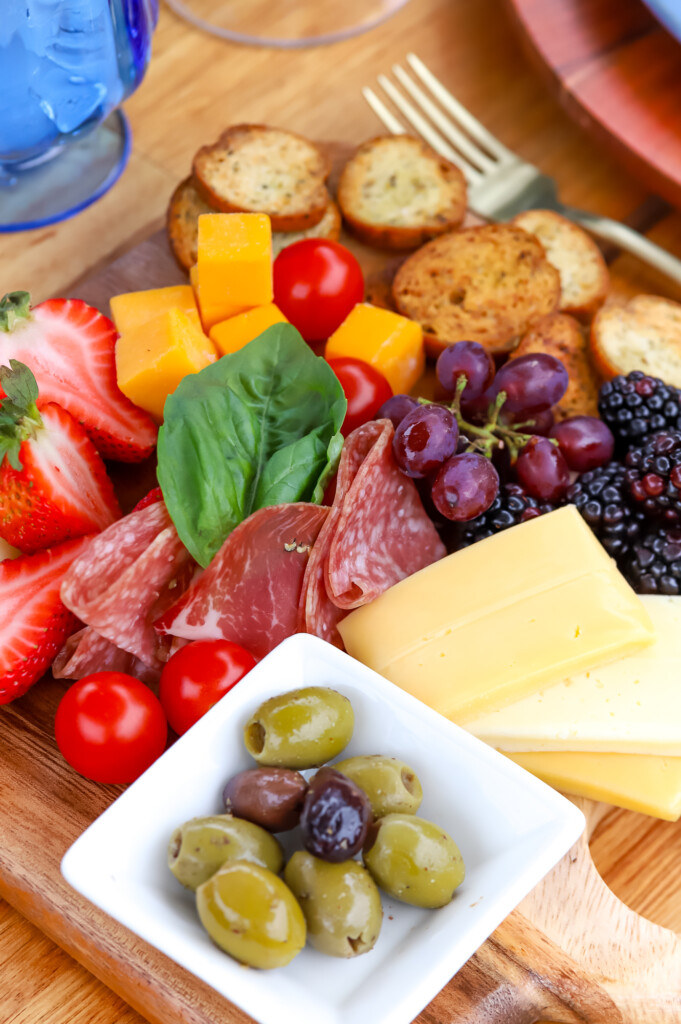 Charcuterie items such as cheese and cured meats
Crackers or toasted bread in plain and flavored options
Dips or spreads such as hummus, bruschetta, or an olive tapenade
Fruits such as grapes, berries, cubed apples, mango, pear, or figs
Nuts for texture and flavor, such as almonds, walnuts, pecans, macadamia nuts, cashews, or pistachios
Chocolate in dark, milk, or semi-sweet varieties
If your guests are expecting a traditional meal, you might want to consider a "light bites" menu.
Include items such as ceviche, mini quiches, stuffed mushrooms, steak bruschetta, mini cheese balls, or similar small bites that pair well with your wine offerings.
What Differences Should I Highlight Between the Wines?
A real wine-tasting party isn't just about the wine but the experience.
Part of that is ensuring you recognize the differences between the wines.
Below are a few items to consider when highlighting the differences between your wine offerings.
Appearance: Compare color and clarity
Aroma: Spicy, fruity, or earthy tones
Finish: How long the flavor lingers
Flavor profile: Acidic, sweet, robust, or creamy
Regional differences in flavors
Winemaking techniques
Food pairings
You'll guide your guests through a more insightful and enjoyable tasting experience by highlighting these differences.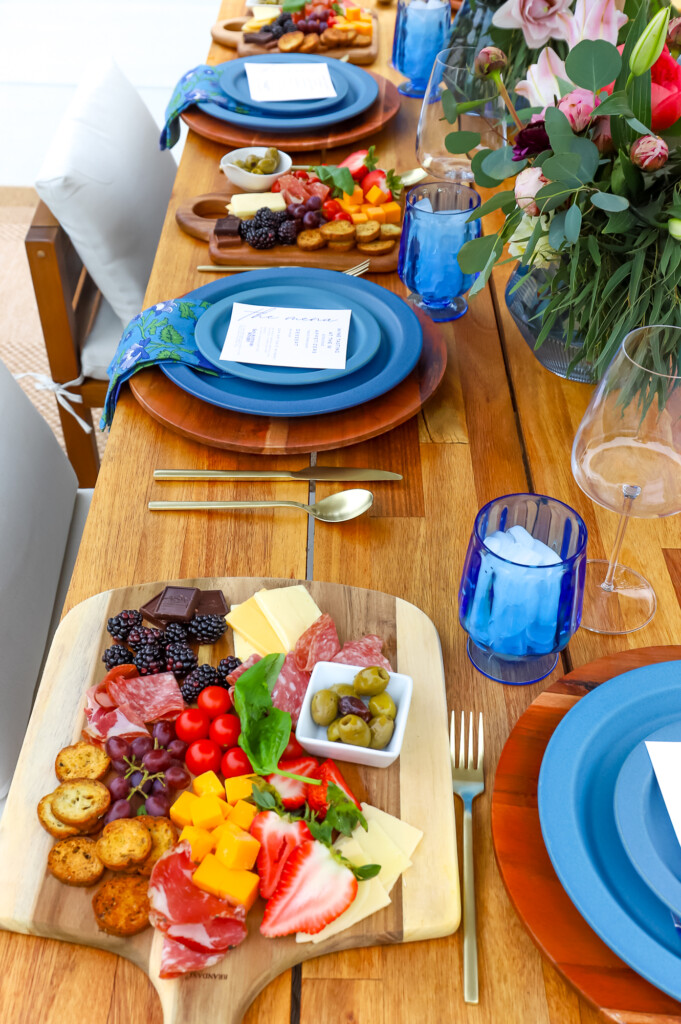 How To Decorate For Your At-Home Wine Tasting
My favorite part of any event is the decorating.
There are many ways to make this truly unique, and here are some things I feel are necessary for setting up the ambiance you desire.
Table decor and setup
Candles or subtle lighting
Floral arrangements
Comfortable space with room for everyone to mingle
Alongside these things, you may consider some of the following to add a distinct wine-themed flair to the event.
Use wine barrels as tables to display signs or to hold utensils and napkins by the buffet tables.
Create unique wine cork decor or paint and use them as table scatter.
Make or purchase wine glass charms to help personalize the guest's wine glass.
Setup a wine table that showcases information about the vineyards associated with your choices
Display corkscrews, decanters, wine stoppers, or similar wine-related accessories and decor
Remember, the goal is to create an ambiance that complements the wines and encourages engaging conversations.
More Entertaining Tips