Our Limoncello Lavender Cocktail is a lemon plus lavender dream come true! It tastes like spiked lavender lemonade.
When it comes to libations that go well with the hot weather of summertime it is best to make sure those refreshments are slightly sweet, a whole lot of ice-cold, and certifiably alcoholic!
Bottoms up!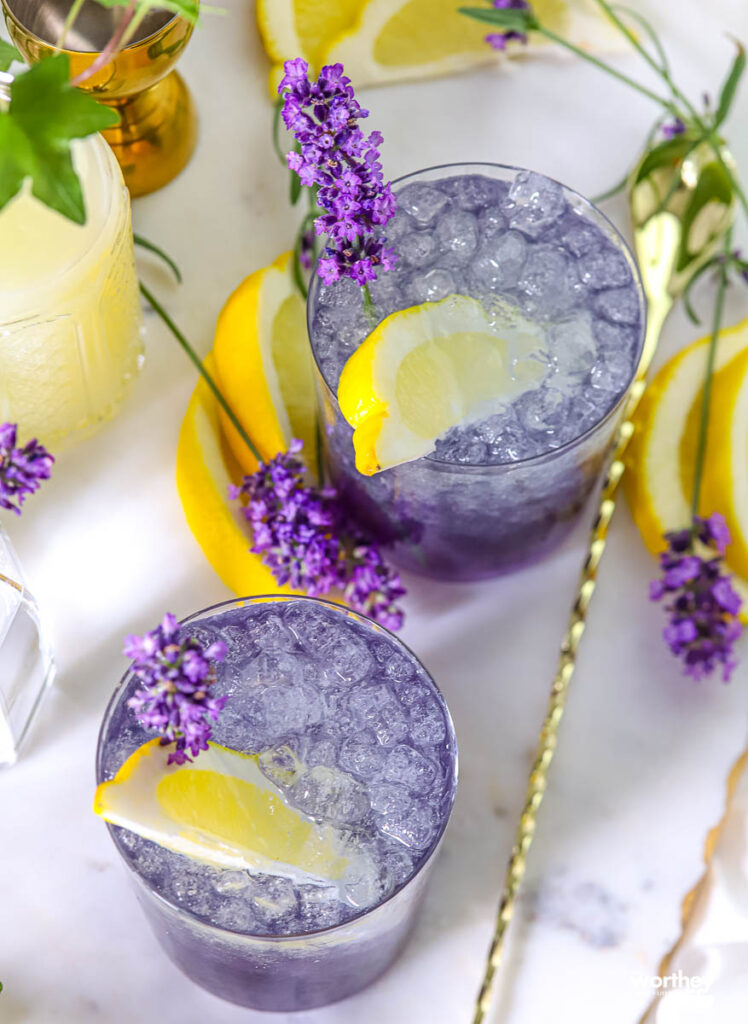 Limoncello Lavender Cocktail
Our Limoncello Lavender Cocktail seems to be a perfect fit.
And when you combine the wonderful and citrusy taste of Limoncello with the floral notes of Crème de Violette liqueur and a splash of Tonic Water (and heaps of ice) you get an excellent cocktail for the summer.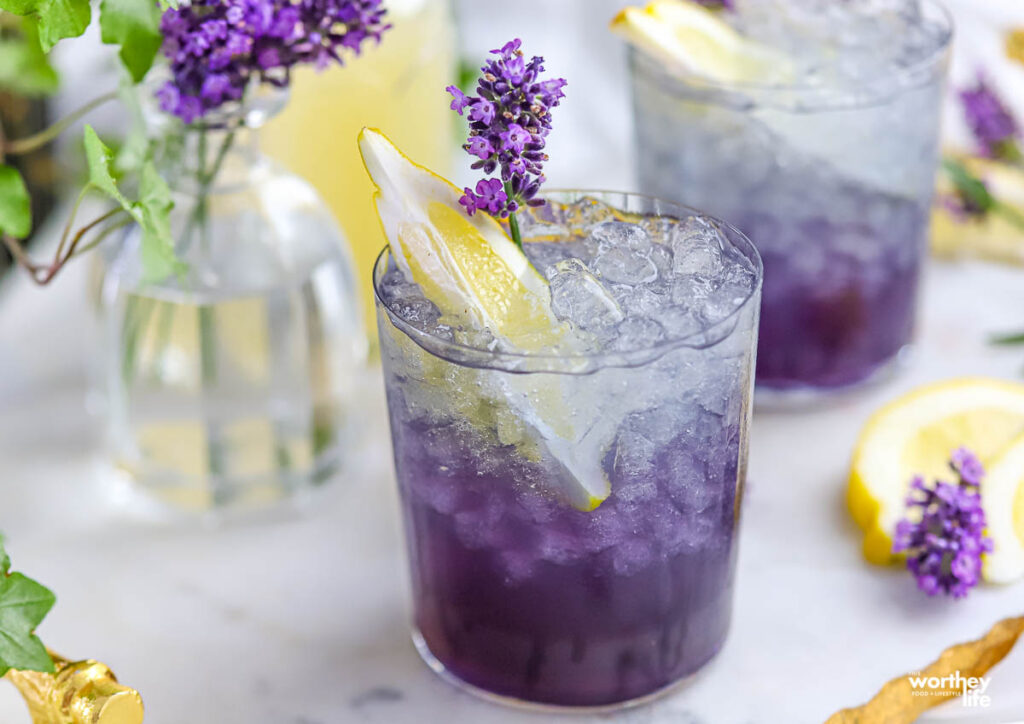 Plus, doesn't it look like this drink in a cocktail glass belongs in your hand? I think so too!
But this isn't just another sweet boozy treat, it also happens to be a refreshing cocktail as well.
We love the way the lavender anchors this cocktail and how the limoncello and tonic water mixture hovers above the matrix of Crème de Violette and Lavender Syrup.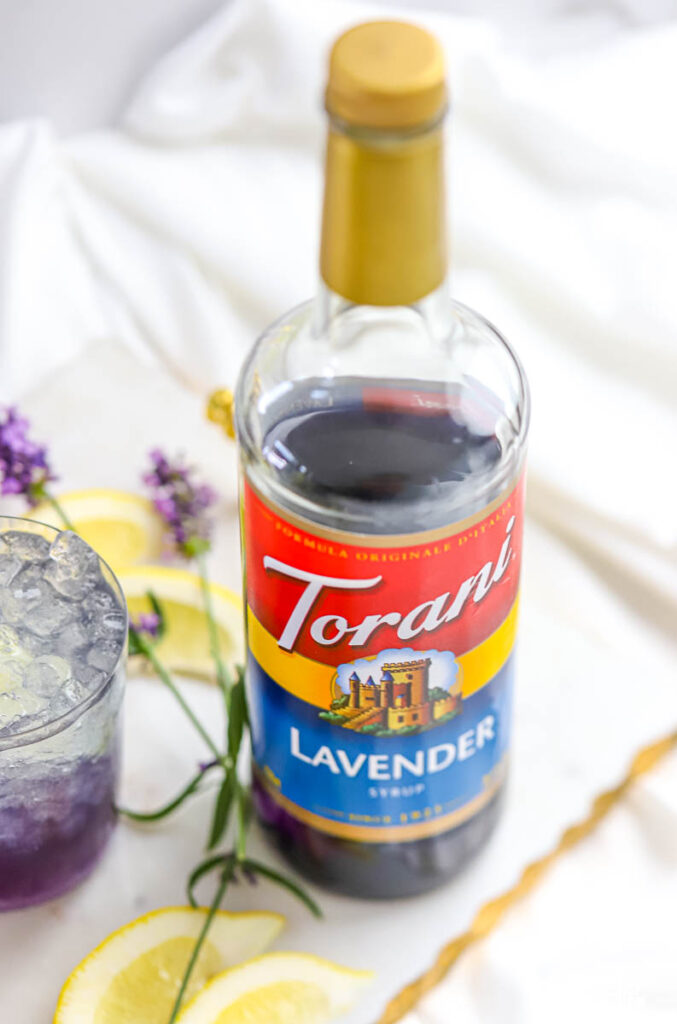 Pour a 1/2 ounce of Lavender Premium Gourmet Syrup into a cocktail shaker.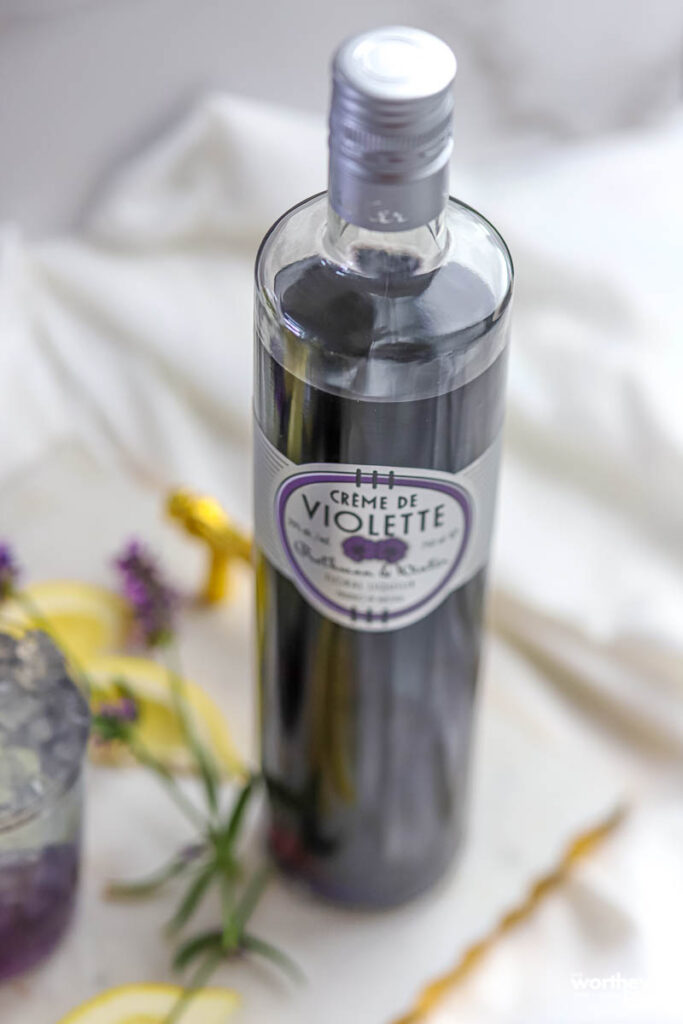 Then add 1/2 ounce of Crème de Violette Crème de Violette is made from violets and cane sugar, with its floral notes it is the essence of spring.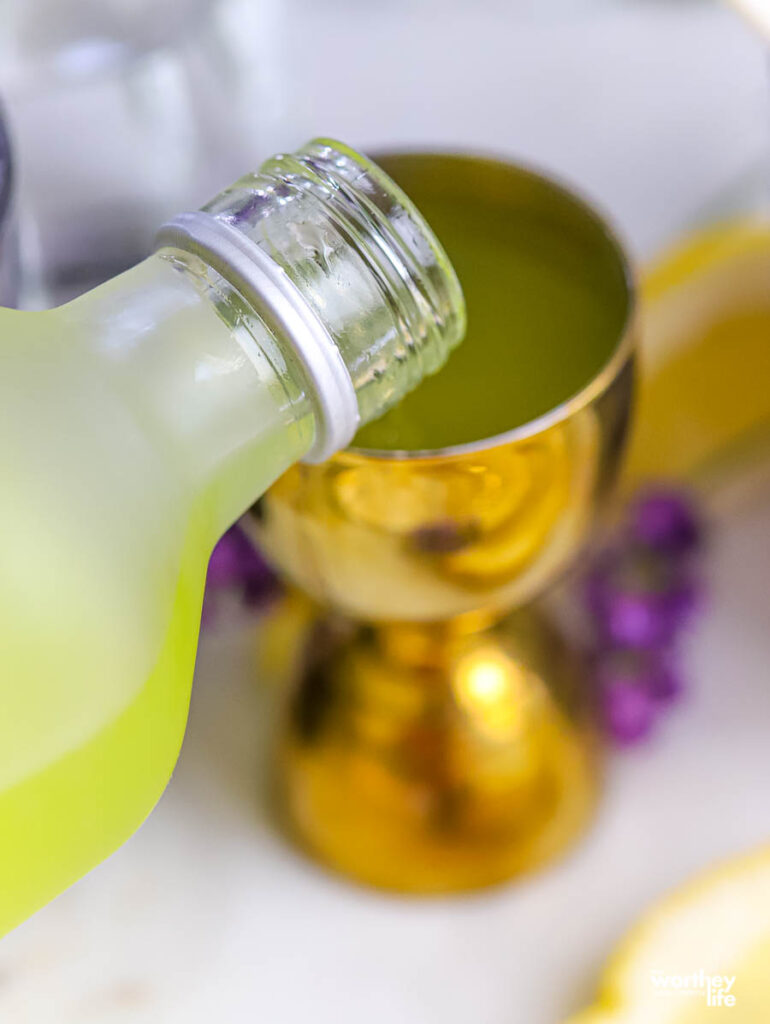 Pour 1 3/4 ounces of Caravella Limoncello. Okay, okay! I see it's a little over but it is only going to make it that much better. Shake for 30 seconds.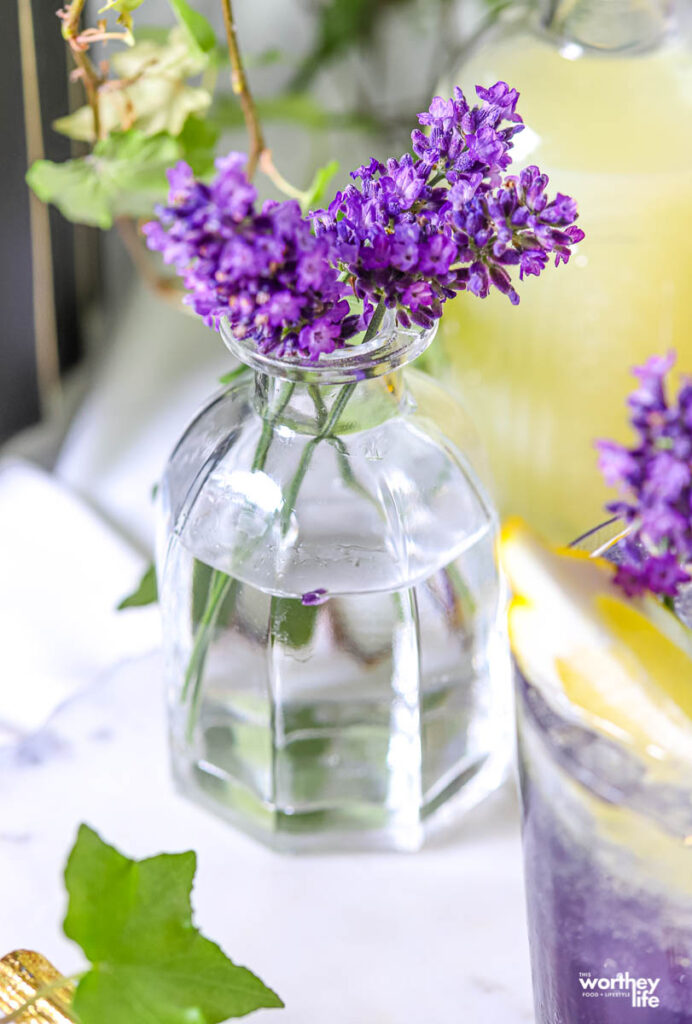 Top with two ounces of Tonic Water with two ice cubes.
It's like kissing a tangy flower bathed in a ray of chilled sunshine. Yep! Just like that!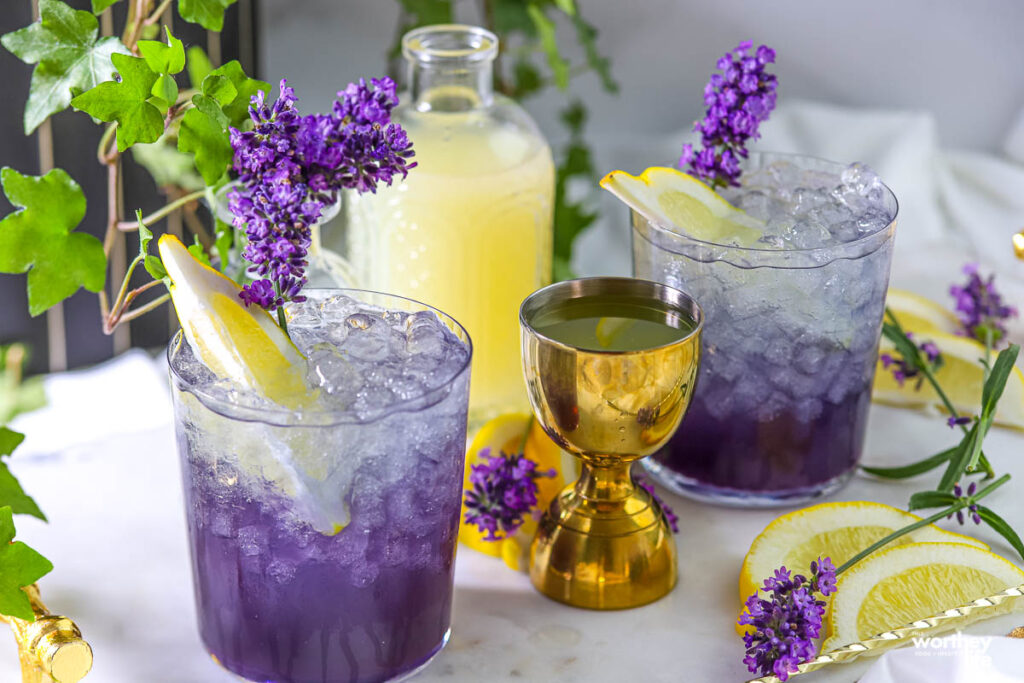 If you have a thing for lemons try pairing them with the floral bloom of lavender for a floral flavor.
Our custom hand-crafted cocktail is perfect for happy hour, a girl's night in or chillin' on the deck, special occasions, or hanging beachside lounging under the shade of a great big umbrella.
You could even serve this pretty drink at baby showers (just make sure you have non-alcoholic drinks as another option.)
However, and wherever you choose to partake of our yummy spill pill, it'll be, "Bottoms up!" when you taste our delicious cocktail recipe creation.
If you love beautiful cocktails, try these:
Guava + Violet Champagne Punch
White Peach + Apple Cider Cocktail
Blueberry Watermelon Lemonade Slush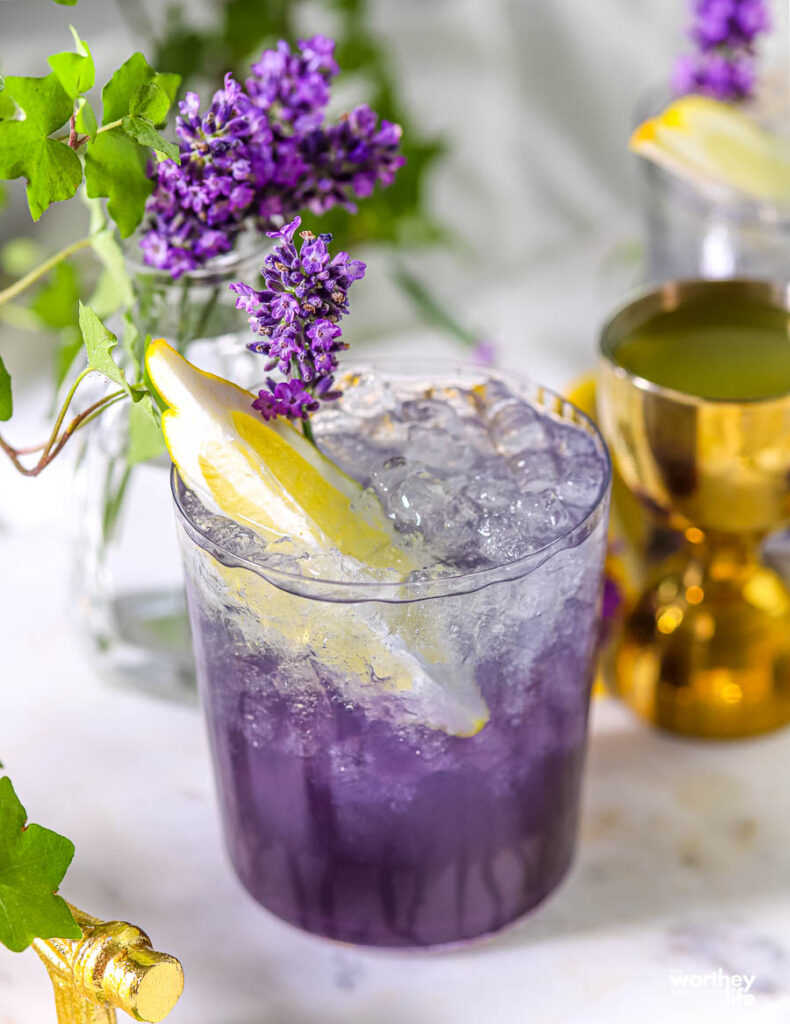 Wouldn't this look right at home in your lovely hand? We think so too!
Ingredients for a Lavender Limoncello Cocktail:
1 1/2 ounces c

aravella limoncello

1 ounce of good gin
1-ounce lavender simple syrup
1/2 ounce crème de violette
a bar spoon of freshly squeezed lemon juice
3/4 cup ice (we love to use pebble ice)
lemon slice for garnish
lavender flower for garnish
* affiliate links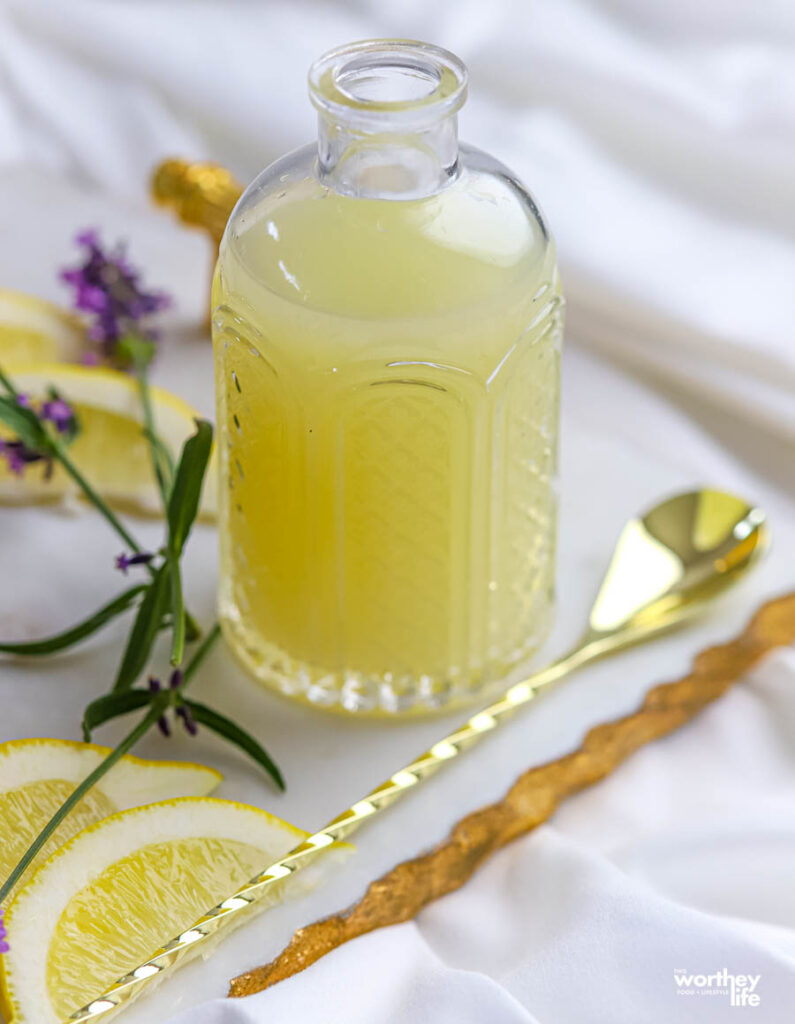 Directions:
Into a cocktail shaker, add ice, Caravella

limoncello,

lavender syrup, crème de violette, and fresh lemon juice.
Secure the lid and shake vigorously for 20 to 30 seconds.
Strain into a rocks glass filled with fresh ice and lemon wedge.
Garnish with lavender flowers.
Top with tonic water.
Serve.
Drink responsibly, and never drink and drive

What does Caravella Limoncello taste like?
Caravella Limoncello has a very citrus flavor to it. It is full of flavor and ultimately so refreshing.
Some refer to this as a lemon drop-flavored candy but with a slight twist.
If you are a fan of lemon, I think you will fully enjoy this.
What can I use instead of tonic water in this cocktail?
If you don't want to use tonic water or don't have it on hand, you can easily swap it with a club soda, soda water or even a fresh lemonade.
The lemonade will have an acidic component that will help level out the flavors in a cocktail.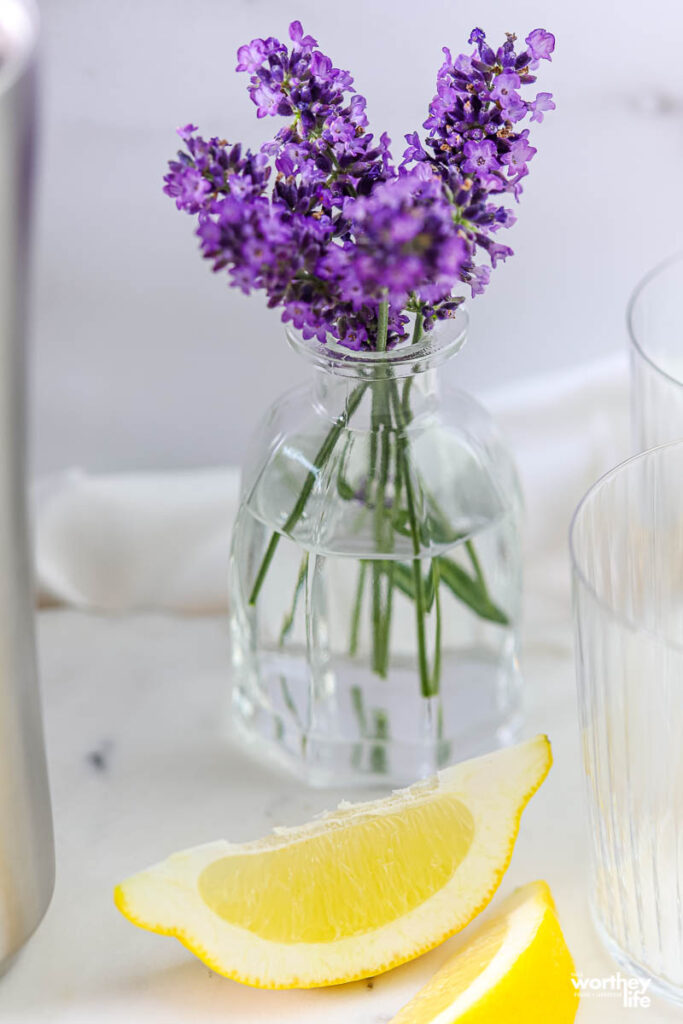 Can I make homemade Lavender Syrup?
Yes, there are homemade recipes you can follow to make Lavender Simple Syrup.
Make sure you have a few key ingredients, a small saucepan, water, white sugar, and fresh lavender sprigs.
Here is a recipe you can follow.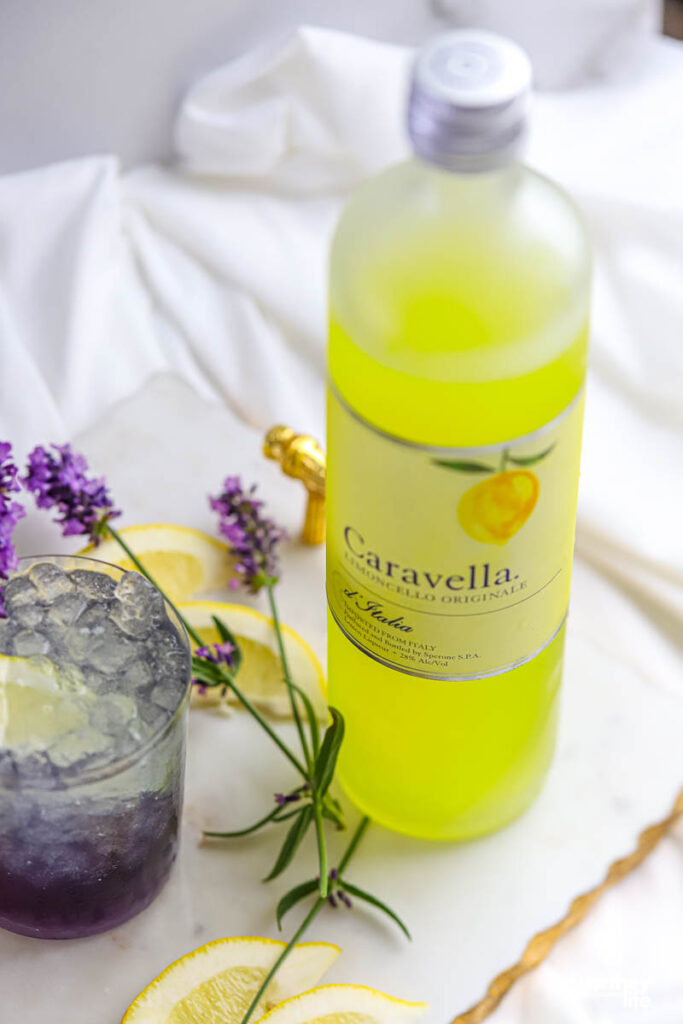 How should you drink Limoncello?
In Italy, this is a drink that is served most often after a meal. You will want to serve chilled or with ice.
Traditionally it is served without ice but I love using crushed ice, it really is refreshing.
But feel free to do whichever method you want.
The other thing is if you don't serve with ice, use a shaker to mix up the ingredients so it is nice and chilled.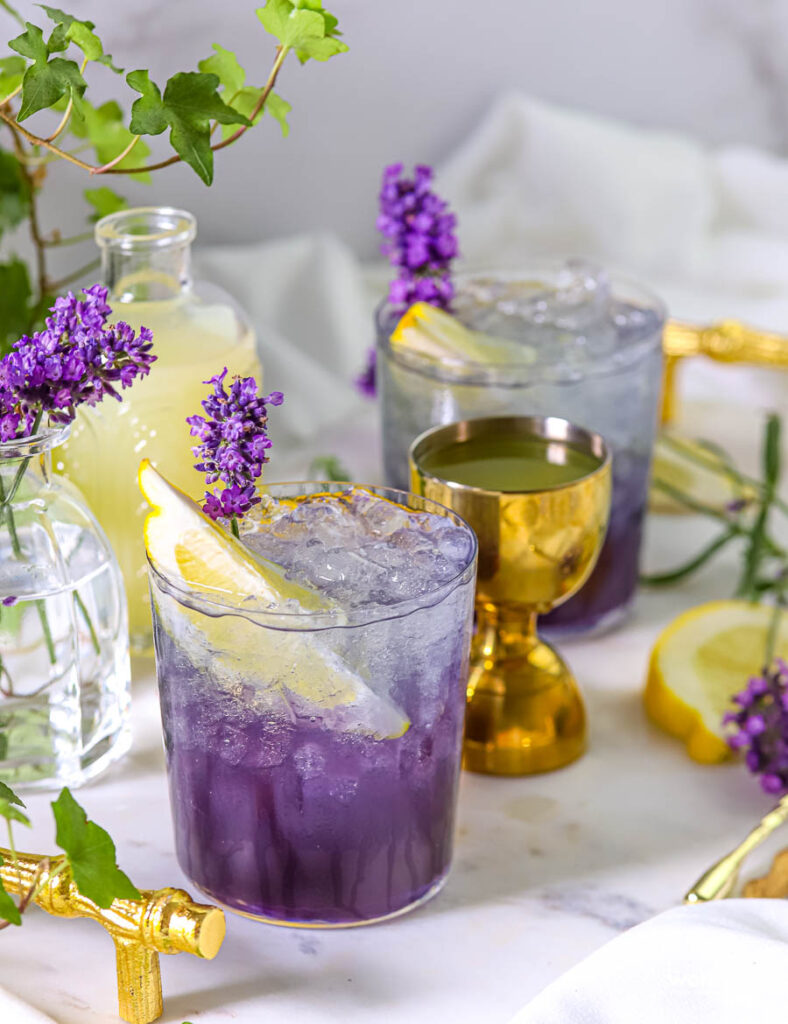 Can I make a large batch of this drink?
Yes, here are our batch ingredients for 8-10 servings:
Ingredients:
1 1/2 cups Caravella Limoncello
1 cup gin
1 cup lavender simple syrup
1/2 cup crème de violette
2 1/2 tablespoons freshly squeezed lemon juice
8-10 cups filled with ice (pebble ice is recommended)
lemon slices for garnish
lavender flowers for garnish
Directions:
Combine the Caravella Limoncello, gin, lavender simple syrup, crème de violette, and freshly squeezed lemon juice in a large pitcher or container.
Stir the mixture well to ensure all the ingredients are thoroughly mixed.
Do not add the ice to the pitcher or container; chill the punch in the refrigerator.
To serve, use a lemon slice and run it along the rim of each serving glass.
Fill each glass with fresh ice.
Pour in the prepared cocktail.
Garnish each glass with a lemon slice and a lavender flower.
Serve.
Note: If you prefer a stronger or milder taste, you can adjust the quantities of ingredients accordingly. Cheers to a fantastic time with your guests, and enjoy this wonderful cocktail in a larger batch!
Can I Make This Drink Ahead Of Time?
If you plan to put ice in your drink, then it's recommended to make this drink at the time you plan to serve it.
However, if you want to save some prep time, you can prepare the individual components in advance (such as the limoncello and lavender syrup) and then assemble the drink when you're ready to serve.
This way, you can save time while ensuring the flavors remain vibrant.
Love the Lavender Flavor in your drinks; here are a few more to try:
Next time you're looking for something sweet, try this delicious recipe that's full of flavor and purple color.
Cheers!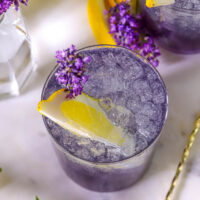 Ingredients
1 1/2

ounces

caravella limoncello

1/2

ounce

lavender Syrup

1/2

ounce

crème de violette

a bar spoon of freshly squeezed lemon juice

1-

ounce

tonic water

3/4

cup

ice

we love to use pebble ice

sliced lemon wheels for garnish

lavender flower for garnish
Instructions
Into a cocktail shaker add ice, caravella limoncello, lavender syrup, crème de violette, and lemon juice.
Secure the lid and shake vigorously for 20 to 30 seconds. 
Strain into a rocks glass filled with fresh ice and a wedge of lemon.
Garnish with lavender flowers.
Top with tonic water. 
Serve.
Created 4/2017 | Updated 6/2022