This Mickey Mouse Holiday Board is a Christmas snacking board full of all things Mickey!
From chocolate-covered sandwich cookies, pretzel rods, and red, white, and green candies.
This Disney snack board will be a huge hit if you are a Disney fan.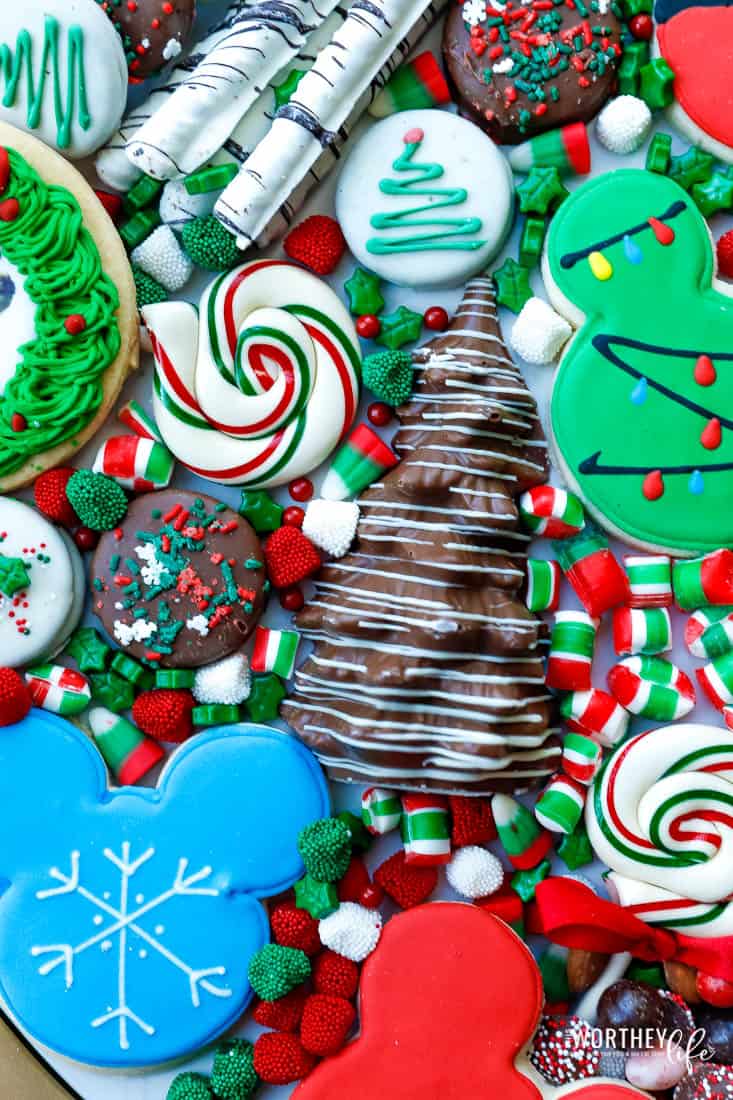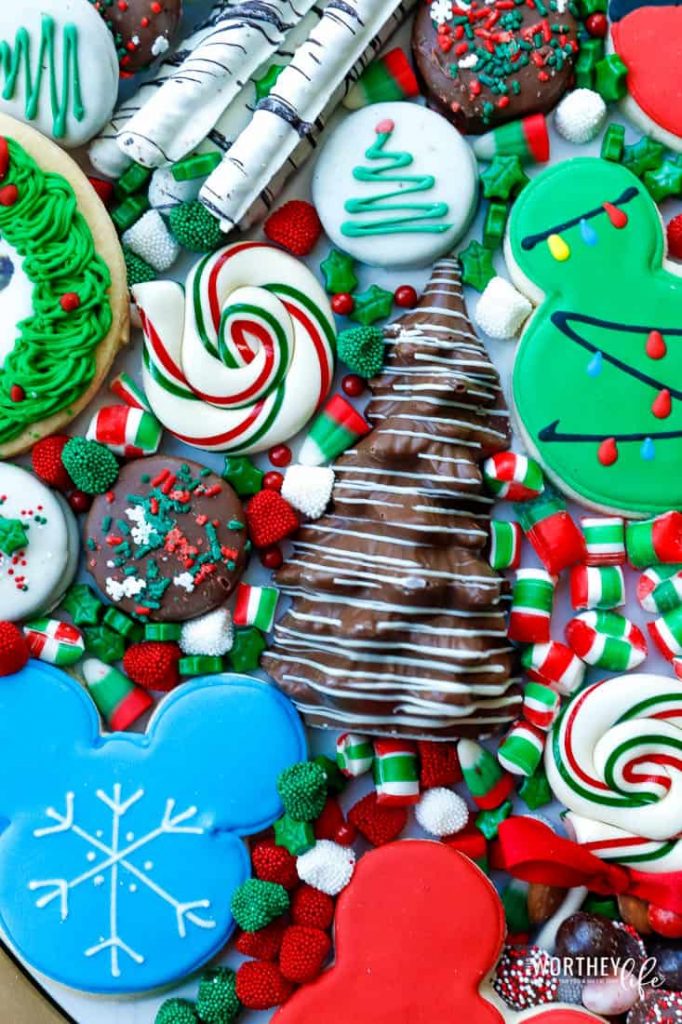 Mickey Mouse Holiday Board | Disney Desserts
The holidays are just around the corner! It's been on my Disney bucket list to go to Walt Disney World during the holiday season.
I've been to Disneyland during Halloween, and it's a sight to see how Disney can flip a park overnight into a new season.
And if you're a fan of Disney and Christmas candy, this board is just for you.
Disney tips to check out:
Disneyland Things to Do and Discover: 32 Fun Ideas
Disneyland at Home: Bringing Home the Magic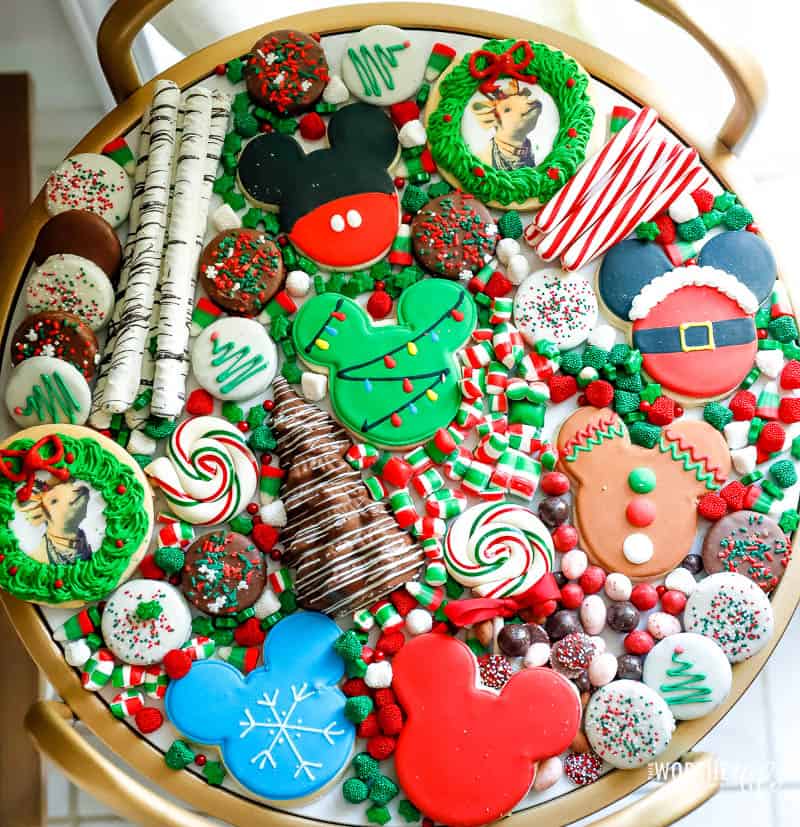 This Mickey Mouse dessert board is perfect for holiday parties, Christmas movie nights at home, or to gift a loved one.
Buy desserts or make-up homemade sugar cookies you decorate and candies!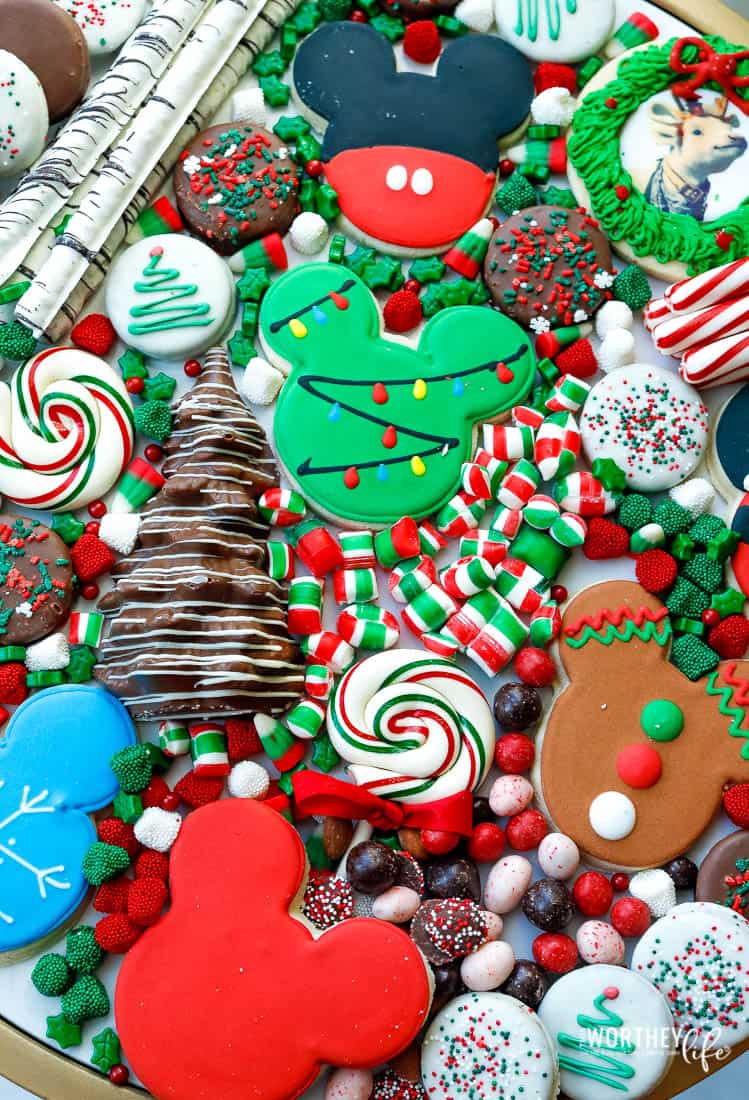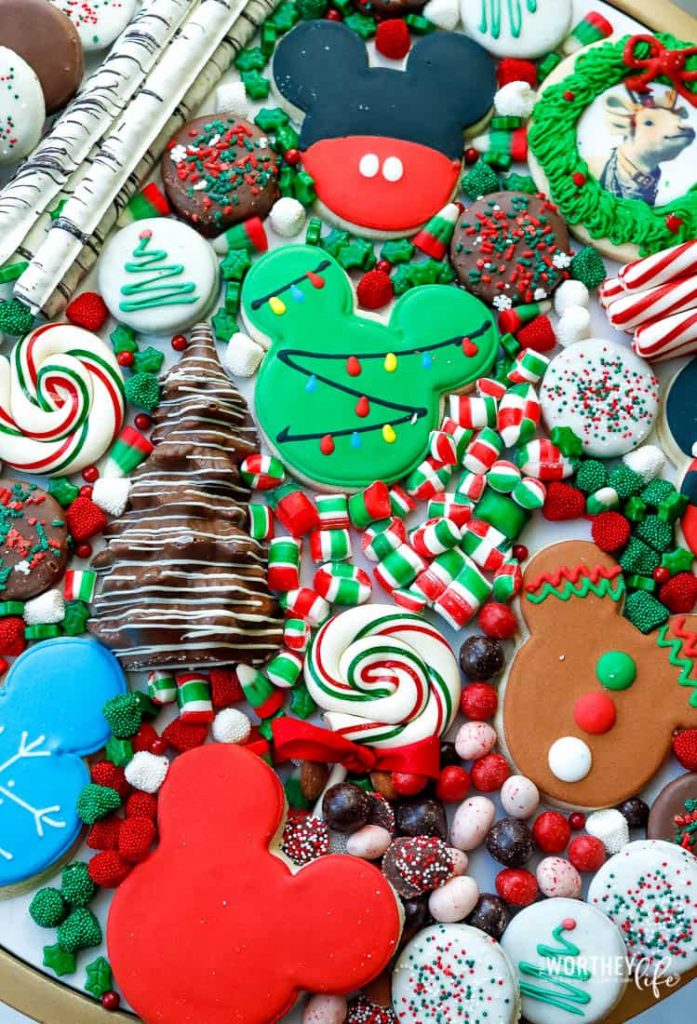 Items To Put On A Mickey Snack Board
Candy Cane Sticks. I love candy cane sticks; they are festive and add a nice pop of color and texture to the tray.
Covered Cookies. Take sandwich cookies, dip them in white chocolate and milk chocolate, and then add festive sprinkles, pipe-on designs, etc. Or even fudge; I am a lover of holiday fudge.
Sugar Cookies. Mickey Mouse-shaped sugar cookies get piped with a design that makes this tray stand out above the rest.
Red, Green, and White Candies. Check out all the candies—hard candies, gummies, festive sprinkle-style candies, etc. Feel free even to add on some foil-wrapped candies.
Candy Balls. Chocolate coat candies are a fun texture. I also love covered nuts, cookie dough bites, etc. The options are endless. Try my peppermint bark truffles!
Chocolate Candies. Buy some chocolate holiday-shaped candies to spread out on your snacking board.
Pretzel Rods. Dipped pretzel rods are always a hit. Give them a try, or buy premade pretzel rods dipped in chocolate.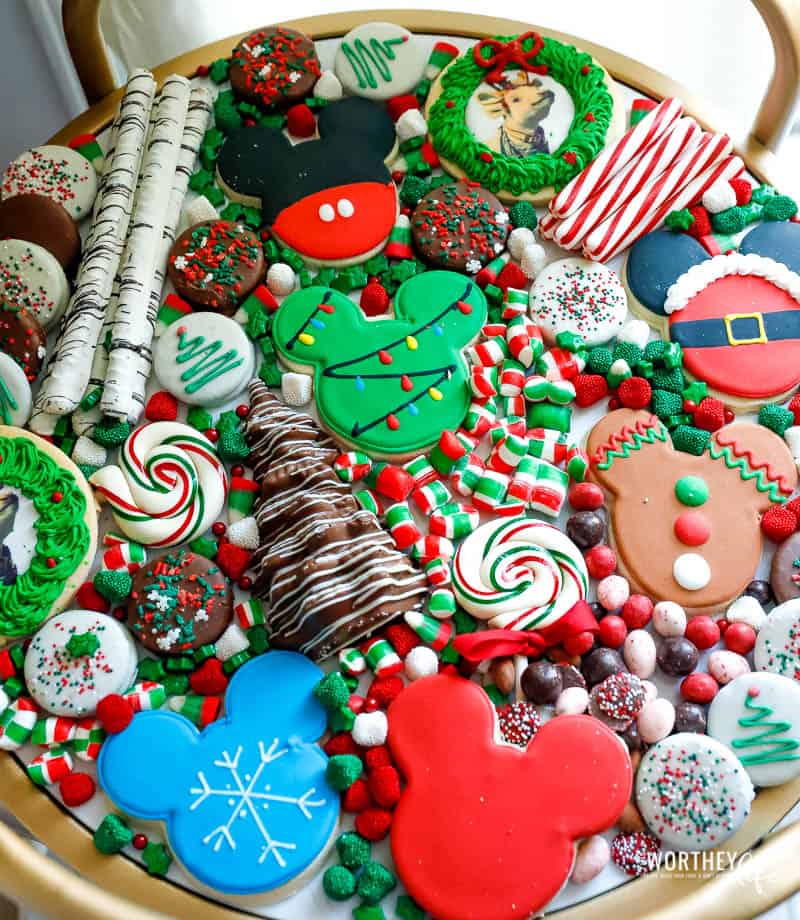 Tips On How To Make A Dessert Snack Board
Reach for a tray. Any shape or size works, but ensure enough food to cover all areas of the tray.
Start by setting out a few of the larger items. For this board, it was the sugar cookies. They will be the base.
Then with some smaller candies, begin filling in the spaces between.
Add different items all over the board to create layers and dimensions.
The goal is to spread items all over the board.
Try to make clusters of smaller candies and treats; then, larger items like cookies or chocolates spread out more.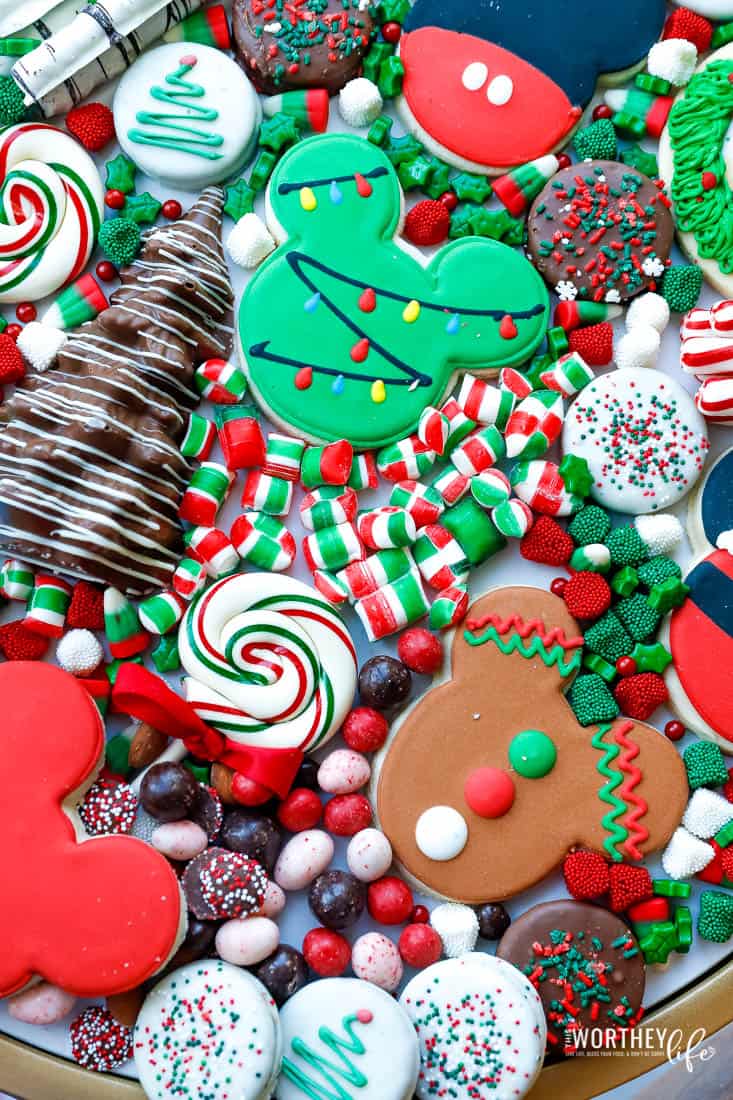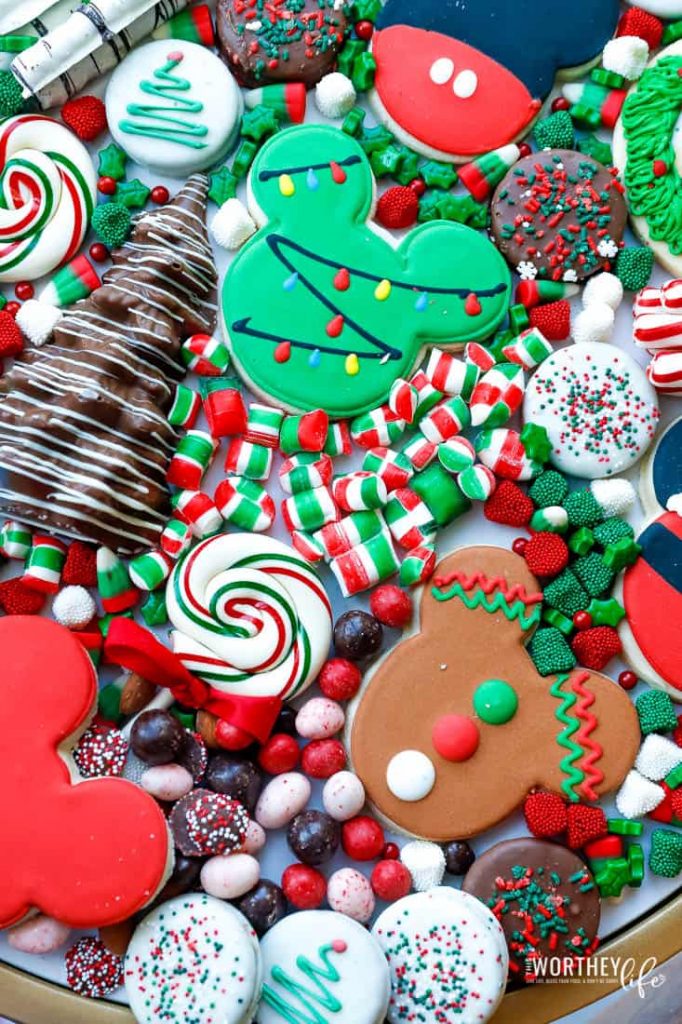 Can I Make This Board In Advance
Hosting a party, or do you want to plan ahead with your Mickey dessert board?
Go ahead and make it up the night before, then cover it tightly with plastic wrap.
It would be best to cover the board to prevent cookies from drying out and other snacking items.
Have fun with this holiday Mickey Mouse tray; there are so many ways you can transform all the treats into a gorgeous dessert board.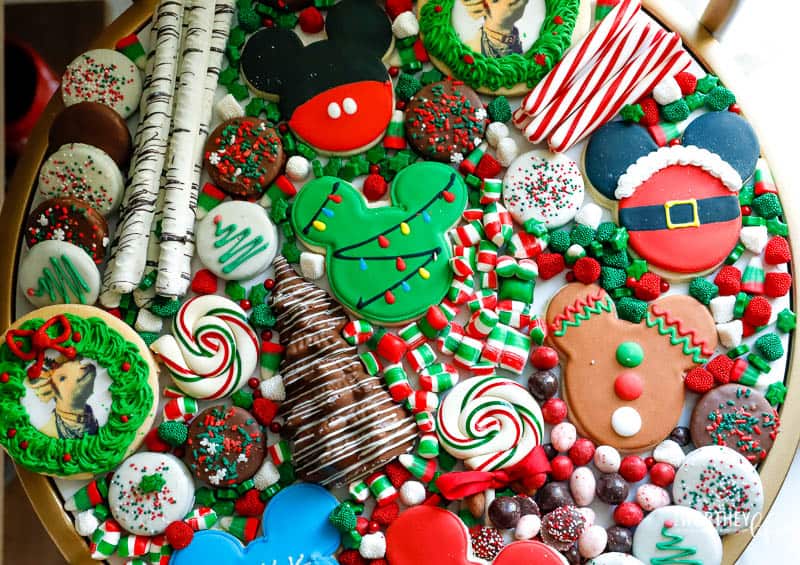 Where to Buy Mickey-Themed Items
If you don't want to make homemade, that is totally fine.
You can reach out to your local bakeries or find a friend or loved one who enjoys baking.
Another option is ordering online and shipping to your home.
Watch for temperatures to ensure no desserts melt if it is hot out.
I've found Mickey-themed items at stores like Target, TJMaxx/HomeGoods, or boutique shops on Etsy.
Find more holiday-themed ideas below:
Gingerbread Hot Chocolate Board
Elf on the Shelf Hot Cocoa Board