Say goodbye to pesky mosquitoes with these top-rated backyard mosquito control solutions.
Enjoy your outdoor space to the fullest with these effective and easy-to-use methods.
We're sharing all of our tried and true ways to get rid of mosquitoes in our backyard.
Keep reading to find out!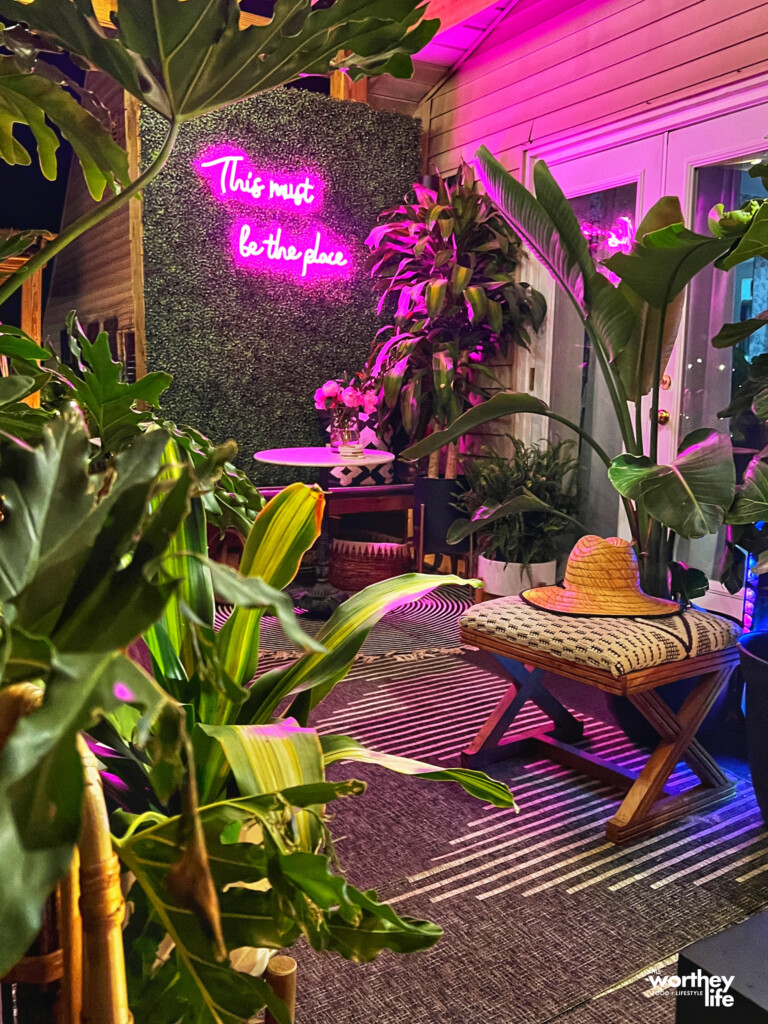 Best Backyard Mosquito Control
For the last few years, we've tried several different products and combinations to figure out how to get rid of mosquitoes because nothing ruins a backyard get-together than being bombarded with bites.
Guests swatting and scratching all night is not how you want your guests to remember the event you put so much time and thought into.
In previous years, I've found it's not just one thing that works to deter mosquitoes but rather a combination of products to keep mosquitoes away.
This is especially true if you live in a wooded area or near water.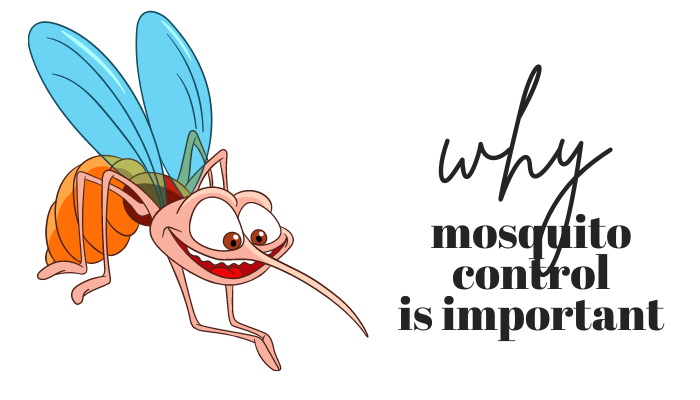 Why Mosquito Control Is Important
Mosquito control is an important aspect of disease control and environmental protection.
To prevent mosquito bites and reduce the risk of mosquito-borne illnesses such as West Nile virus, dengue fever, and yellow fever, it's important to take measures to eliminate mosquito breeding grounds and use effective mosquito repellents.
One way to prevent mosquito larvae from developing into adult mosquitoes is to eliminate stagnant water in a small area, like bird baths and water features.
The Environmental Protection Agency recommends using mosquito dunks or natural ingredients such as citronella oil in a fuel cartridge or spray bottle to control mosquito larvae.
For larger areas, mosquito traps or citronella candles can be a great option for natural mosquito repellents.
However, these may not be the most effective mosquito repellents, and chemical insecticides may be necessary for severe mosquito problems.
When using mosquito repellants, it's important to choose the best mosquito repellents based on the percent DEET and hours of protection needed, as well as any potential allergic reactions.
Long sleeves and natural alternatives such as cedar oil can also be good for outdoor events or backyard barbecues.
For ease of use and convenience, rechargeable battery-operated mosquito repellers such as the Thermacell Radius Zone Mosquito Repeller (we love this brand and can confirm it works well!) can provide a 15-foot zone of protection without the need for harsh chemicals or insect repellants.
Read on for the best backyard mosquito control tips to help you enjoy our outdoor space with (few) to no mosquitoes.

Natural Remedies to Help Control Mosquitos in Your Outdoor Spaces
There are a variety of plants and herbs you can use for backyard mosquito control; it's just a matter of finding the ones that work for you.
Lemongrass is a beautiful ornamental grass that thrives in full sun with well-drained soil.
Not only can this fresh citrus-smelling plant add to your decor, but it also repels mosquitos.
We have lemongrass and citronella – a plant similar to lemongrass – in small pots and planters near our sitting area, though citronella didn't protect us from mosquitoes as effectively as the lemongrass.
According to studies, there are a variety of plants that repel mosquitos, such as lavender, rosemary, cedar, catnip, pine eucalyptus, camphor, and cinnamon, and while these may make great additions to your outdoor space, it's important to research their toxicity levels if you have pets that could accidentally ingest them.

Essentials Oils for Mosquito Control
Similarly, diffusing lemongrass and citronella essential oils in a large diffuser can provide you with protection from mosquitos in your smaller sitting spaces.
I purchase this diffuser because of the reviews and the long run time (up to 70 hours).
It has worked well for us the last two summers.
Here is another alternative: this Wireless Ultrasonic Diffuser is perfect for your patio or outdoor living area.
Essential oils can also be used topically to repel mosquitoes.
Be sure to dilute oils with a carrier oil such as jojoba, grapeseed, or fractionated coconut oil.
Essential oils we use in our diffuser: Lemongrass, Citronella (we've found the oil works better than the plant), Eucalyptus, Lavender, Cedarwood, Lemon, and Oregano.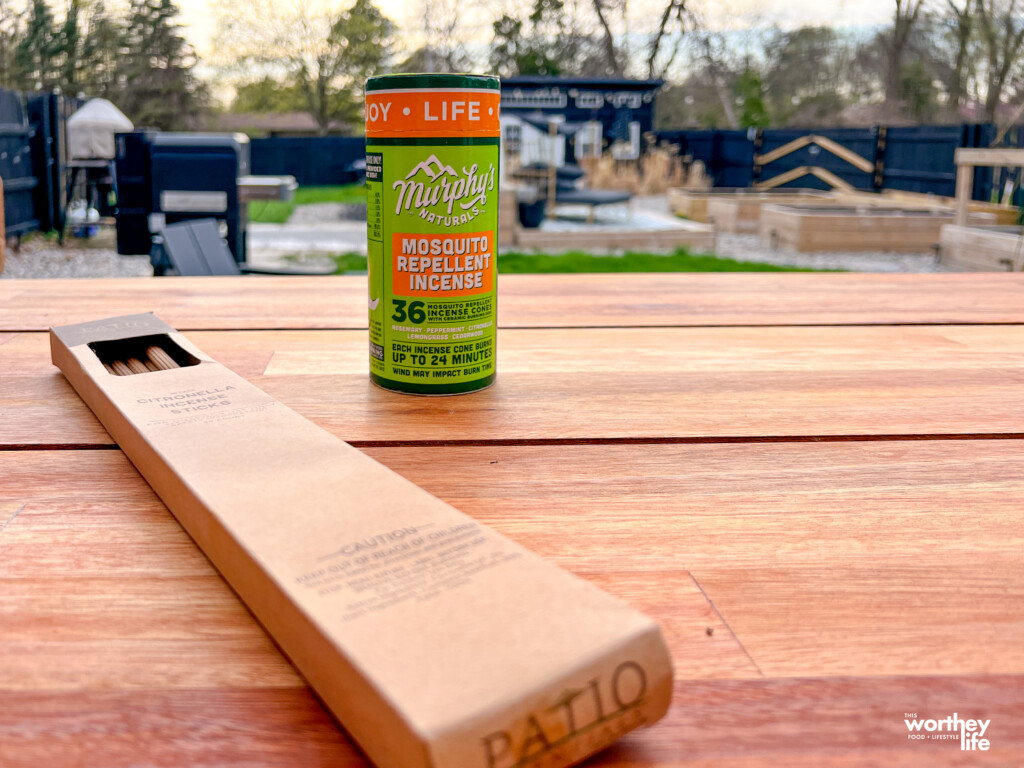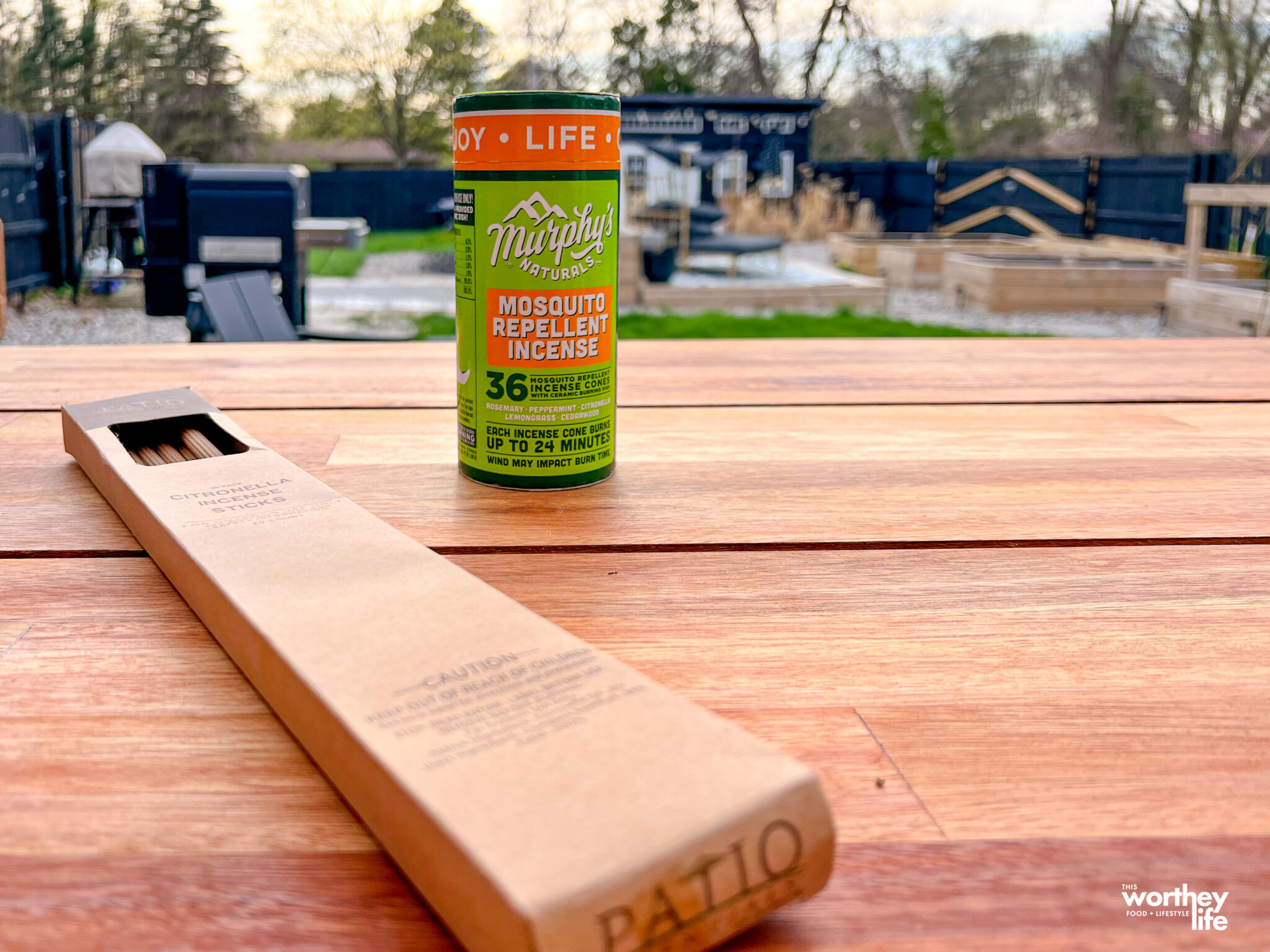 Incense Sticks for Mosquito Repellant
Citronella incense sticks placed around outdoor sitting areas deter mosquitos and other bugs like flies, ticks, and gnats, so they work well day and night.
Incense sticks made of bamboo and essential oils are a popular and eco-friendly way to control mosquitoes in outdoor spaces.
The fragrant smoke repels mosquitoes by creating an unpleasant atmosphere.
While effective in small to medium-sized areas, they work best when combined with other methods like removing standing water and using mosquito nets.
Choose high-quality, natural repellents for the best results. Enjoy a mosquito-free outdoor experience with the added benefit of a pleasant fragrance.
We tried a few different incense sticks last year, and we really love the Citronella sticks from the brand Patio Essentials purchased from Target. If you find them, stock up because they sell out fast during the summer.
An alternative option would be these Mosquito Repellent Incense Sticks and Murphy's Naturals Mosquito Repellent Incense Cones.
While they worked nicely, my preference would be the Patio Essentials brand. The incense sticks lasted longer and had a nicer smell.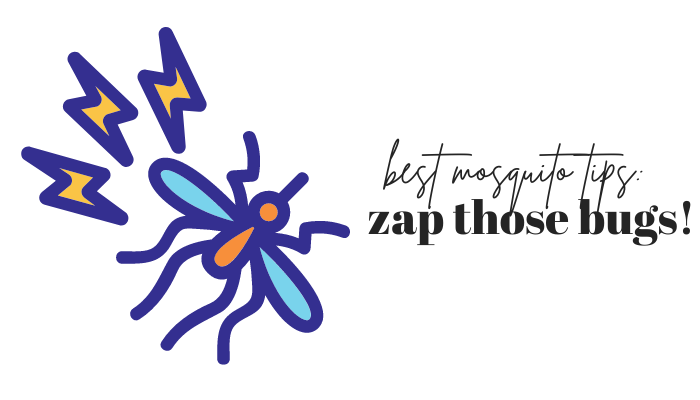 Zap Those Bugs!
Another natural option is a bug zapper, and while the one we used, Dynatrap, worked to catch a variety of bugs, it didn't work on mosquitoes.
This is likely because bug zappers are designed to attract bugs that flock to light sources.
If you have issues with flies, a bug zapper is perfect and doesn't require any pesticide or chemical.
The electric grid of the zapper kills insects in contact.
Here are some of the best bug zappers for mosquitoes:
Flowtron BK-40D Electronic Insect Killer: This bug zapper covers up to 1 acre and uses UV light to attract mosquitoes and other flying insects. They are instantly zapped once they come in contact with the electric grid.
Dynatrap DT1775 Insect and Mosquito Trap: This trap uses a combination of UV light and carbon dioxide to attract mosquitoes and other flying insects. Once they enter the trap, they are trapped in a cage and cannot escape.
Hoont Powerful Electronic Indoor Bug Zapper: This indoor bug zapper uses a powerful electric grid to instantly kill mosquitoes and other flying insects. It is compact and portable, making it easy to use in any room of your home.
Black Flag BZ-40DX Insect Zapper: This bug zapper covers up to 1 acre and uses UV light to attract mosquitoes and other flying insects. It also has a 40-watt zapping power that kills bugs instantly.
LiBa Bug Zapper Electric Indoor Insect Killer: This bug zapper is perfect for indoor use and uses a powerful electric grid to kill mosquitoes and other flying insects. It also has a removable tray for easy cleaning.

Topical Remedies for Backyard Mosquito Control
If you'd prefer something natural to repel mosquitoes when you're outdoors but don't want to mix up your own concoction, Repel Lemon Eucalyptus Natural Mosquito Repellent is affordable, does a great job, and has a lighter and fresher scent than most mosquito repellents on the market.
Another topical – Proven Insect Repellent Spray that we use was recommended by my sister, and it does help.
An added bonus is that it doesn't have the typical bug spray smell.
We also use certain essential oils as topicals. Our preferences and what work well are lemongrass and citronella.
If you want to go old school, the original stand-by mosquito repellent spray that was front and center at every family gathering, picnic, and barbeque, Avon Skin-So-Soft Bath Oil, is available on Amazon and still works like a charm, according to user reviews.
Check Out These Heavy Hitters To Keep Mosquitos at Bay
Sometimes you have to resort to chemicals when the mosquito population grows out of control.
This is especially true in certain areas of the country or if you live near standing water or a neighborhood retention pond.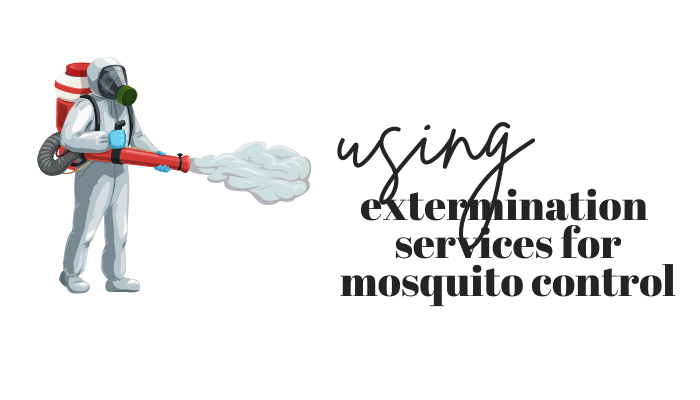 Extermination Services
We currently use Orkin for backyard mosquito control and tick control in our outdoor living spaces and backyard.
The technician focuses on the dog run to alleviate ticks and the wooded land near the studio; we also ensure they don't spray near our garden area to keep chemicals away from our produce.
Last year, we didn't use a mosquito spraying service, and I paid for it dearly.
People have recommended trying Mosquito Joe Services.
What is it about mosquitos that flock to just one person, and why is that person always me?
While this is not a cost-effective option, I've found having monthly maintenance does make a difference.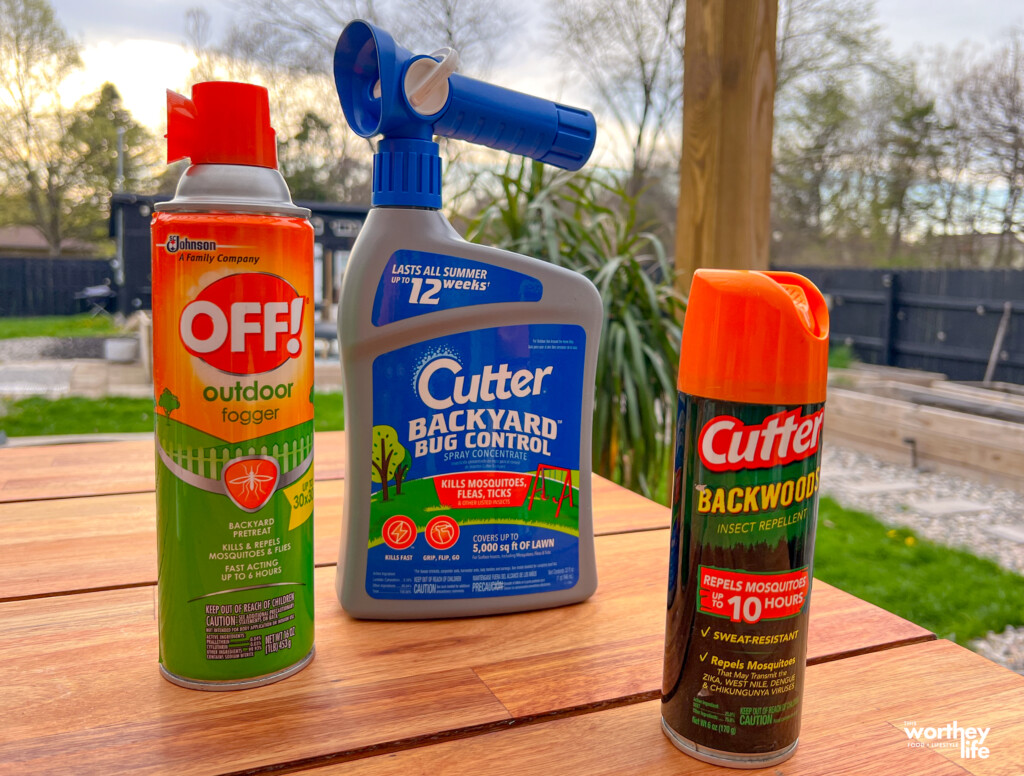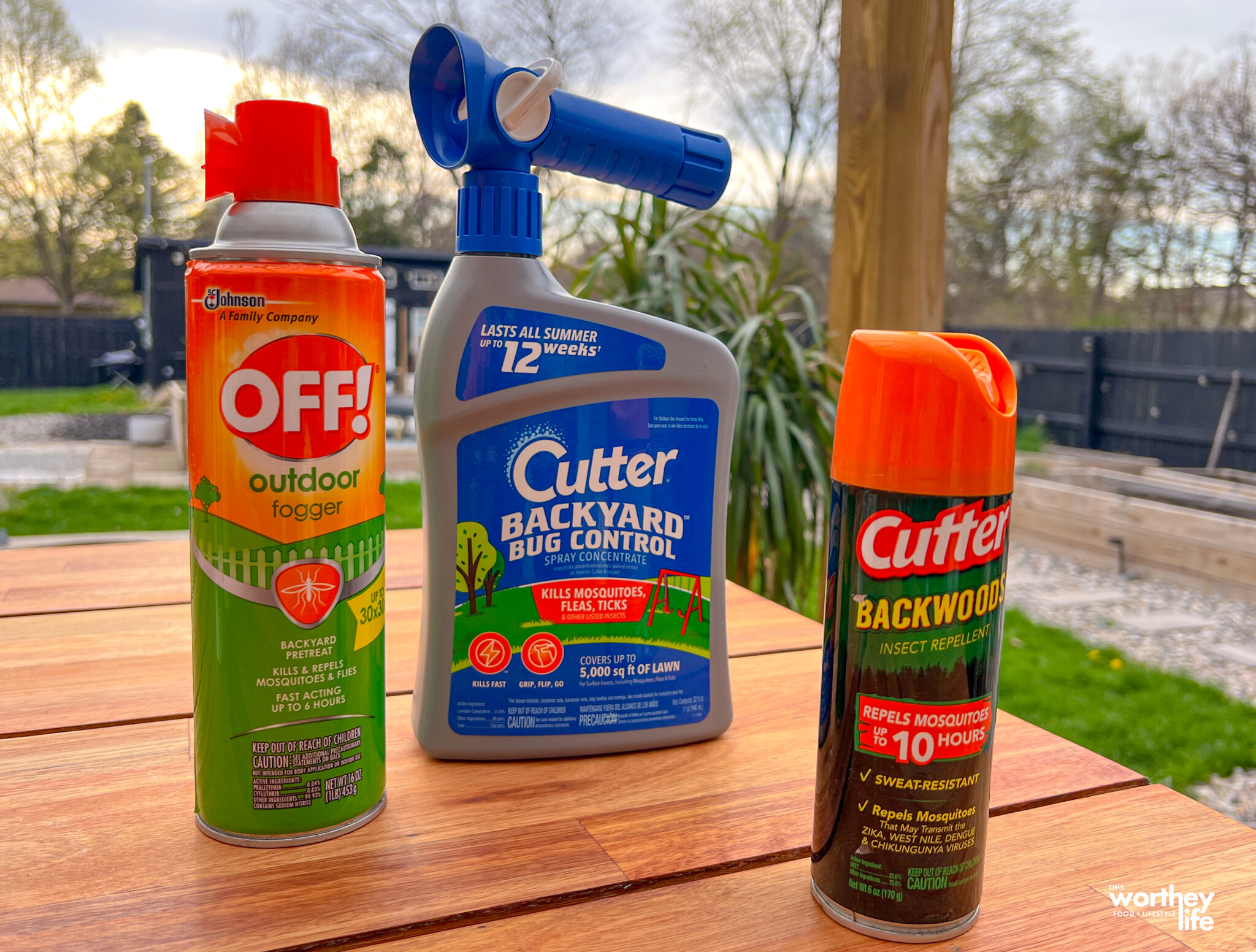 Bug Control Spray Concentrate
Backyard bug sprays like Cutter Bug Control Spray and OFF! Bug Control Yard Pretreat are convenient to use because they are concentrated and simply attached to your garden hose so you can spray a large area at one time.
Most concentrations kill existing mosquitos and repel additional ones and other backyard insects like ants, crickets, and earwigs.
Consider spraying one of these options a few hours before guests arrive to ensure everyone's comfort.
It's Important To Use The Right Type Of Products
Regarding mosquito control, the active ingredient used in insecticides is crucial. The active ingredient is the component of the insecticide that kills or repels mosquitoes.
There are many different active ingredients used in mosquito control products, each with its own unique properties and effectiveness.
One of the most common active ingredients used in mosquito control is DEET (N,N-diethyl-meta-toluamide).
DEET is effective at repelling mosquitoes and other biting insects, but it can have negative effects on some individuals, particularly children and pregnant women.
Other commonly used active ingredients include Picaridin, IR3535, and Oil of Lemon Eucalyptus (OLE).
It's important to choose an insecticide with the appropriate active ingredient based on your needs and preferences.
Some active ingredients may be more effective against certain types of mosquitoes or in certain environments.
Additionally, it's important to follow the instructions on the product label carefully to ensure that the product is used safely and effectively.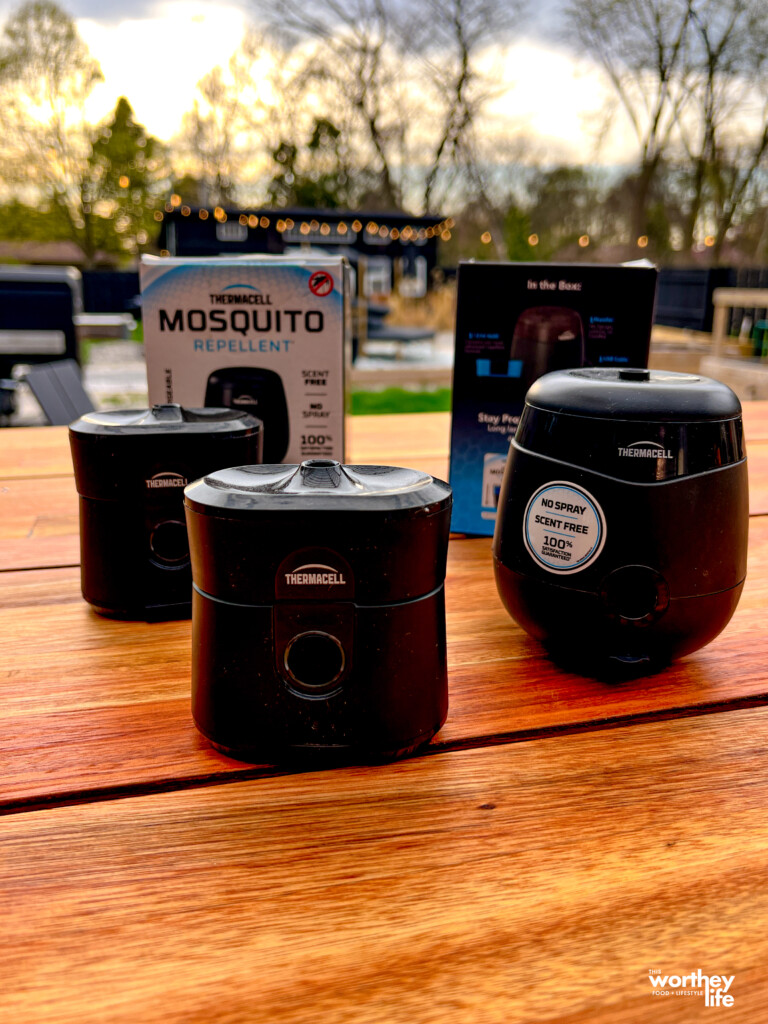 Thermacell Butane Cartridge Bug Repellent
I read about Thermacell products last year but was skeptical about whether or not they would work. Well, I can say they do work!
Based on my recent survey, our guests at our events last year agreed that "those little black things on the tables are working!" The refills are expensive, but my peace of mind and skin is worth it.
Thermacell appliances require the use of a butane cartridge that heats up a small pad containing mosquito repellent. As the mat warms, repellent dissipates into the air.
The manufacturer warns that lanterns should be kept away from uncovered food during operation.
The DEET-free repellent – which contains Allethrin – though derived from chrysanthemums, is toxic to fish, cats, and bees.
This is something to be mindful of if you have pets or are counting on pollinators in the garden.
We will be looking to add more Thermacell products to our arsenal this year. Depending on the square feet of your space, you may need more than one Theramacell product to notice a difference.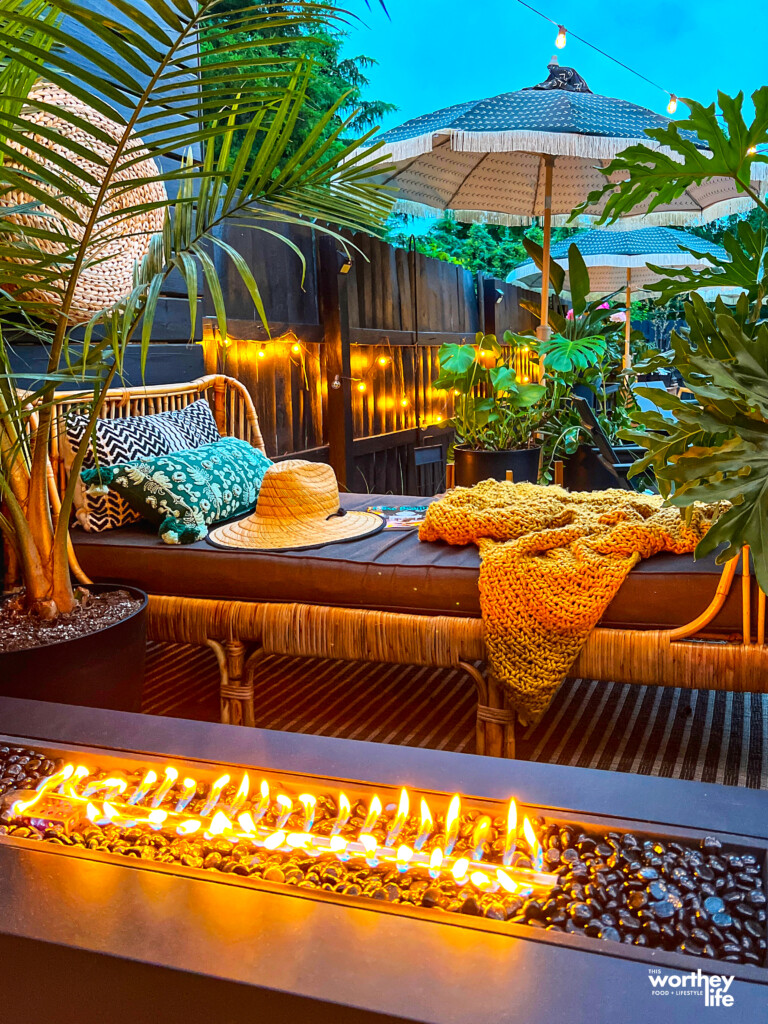 Install a fire pit to Deter Mosquitoes
Nothing adds to the ambiance of a backyard patio space more than a glowing fire; aesthetically, a backyard fire pit may be one of the most inviting parts of your outdoor living space.
We have three fire pits in our backyard, with plans to add a fourth one this summer.
Not to mention the delicious fireside S'mores you can create.
But, practically, the smoke that a fire pit generates can be a significant mosquito deterrent.
For added protection, certain herbs like sage, eucalyptus, and rosemary, or various varieties of wood, like pinon, can keep mosquitoes at bay.
Tiki Brand Products to Repel Mosquitoes
You've likely heard of Tiki Torches, designed to keep mosquitoes out of your outdoor spaces.
The torches come in a variety of styles and sizes, depending on the style you're going for.
One product from Tiki that we plan to try this year is the Bitefighter LED String Lights.
My friend Erin from LivePrettyOnAPenny recently shared about them.
We plan to swap out the lights on the deck sometime this year and try these for extra coverage.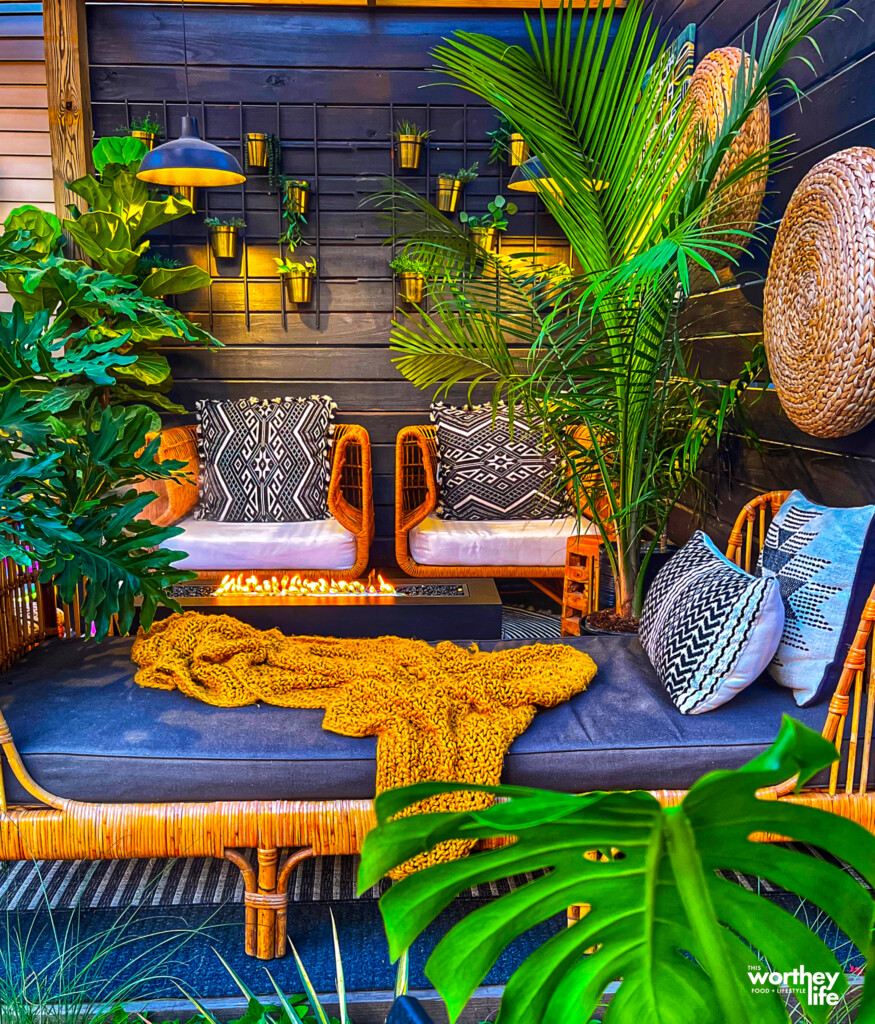 What Works Best For Us
Okay, so we shared a ton of information on mosquito control. And we've tried everything on the list (except the Tiki String Lights, which we're going to install this year).
Because we have a garden and dogs, we are trying to stay away from spraying a lot of chemicals.
Here is what we plan to use this summer: The Tiki String Lights, Thermacell products, Citronella Incense Sticks, planting lemongrass, applying a topical like Proven and Essential Oils, and of course, our fire pits.
Since we do get ticks in our area, we do plan to have Orkin come out once a month to spray the dog-run and wooded areas.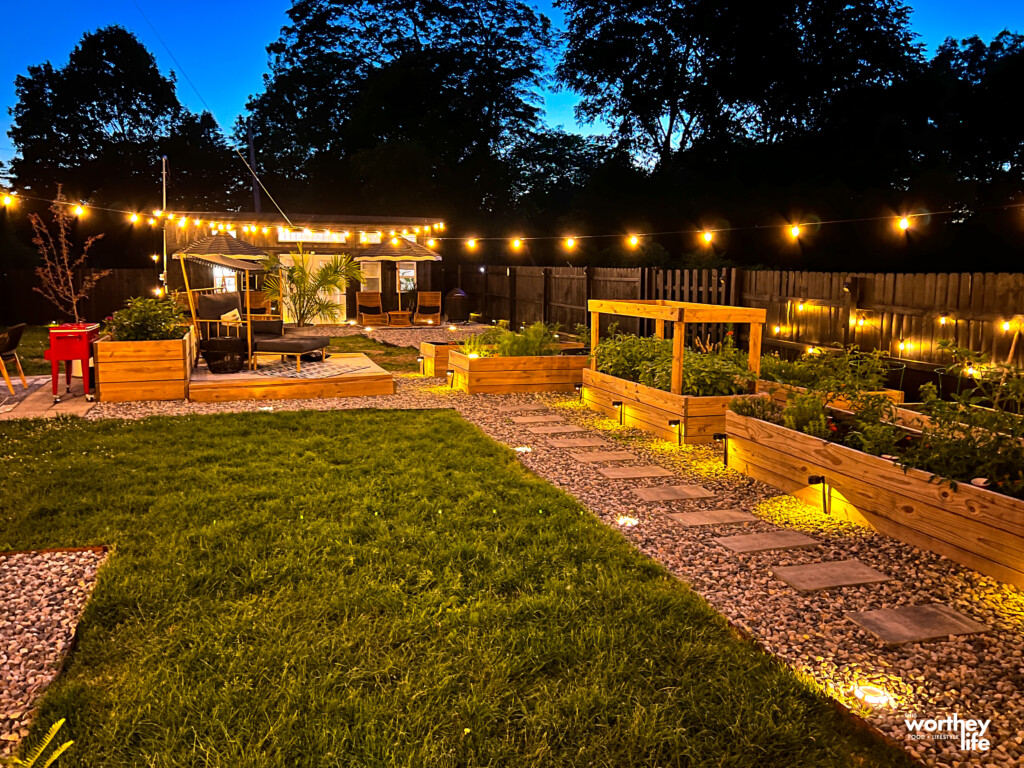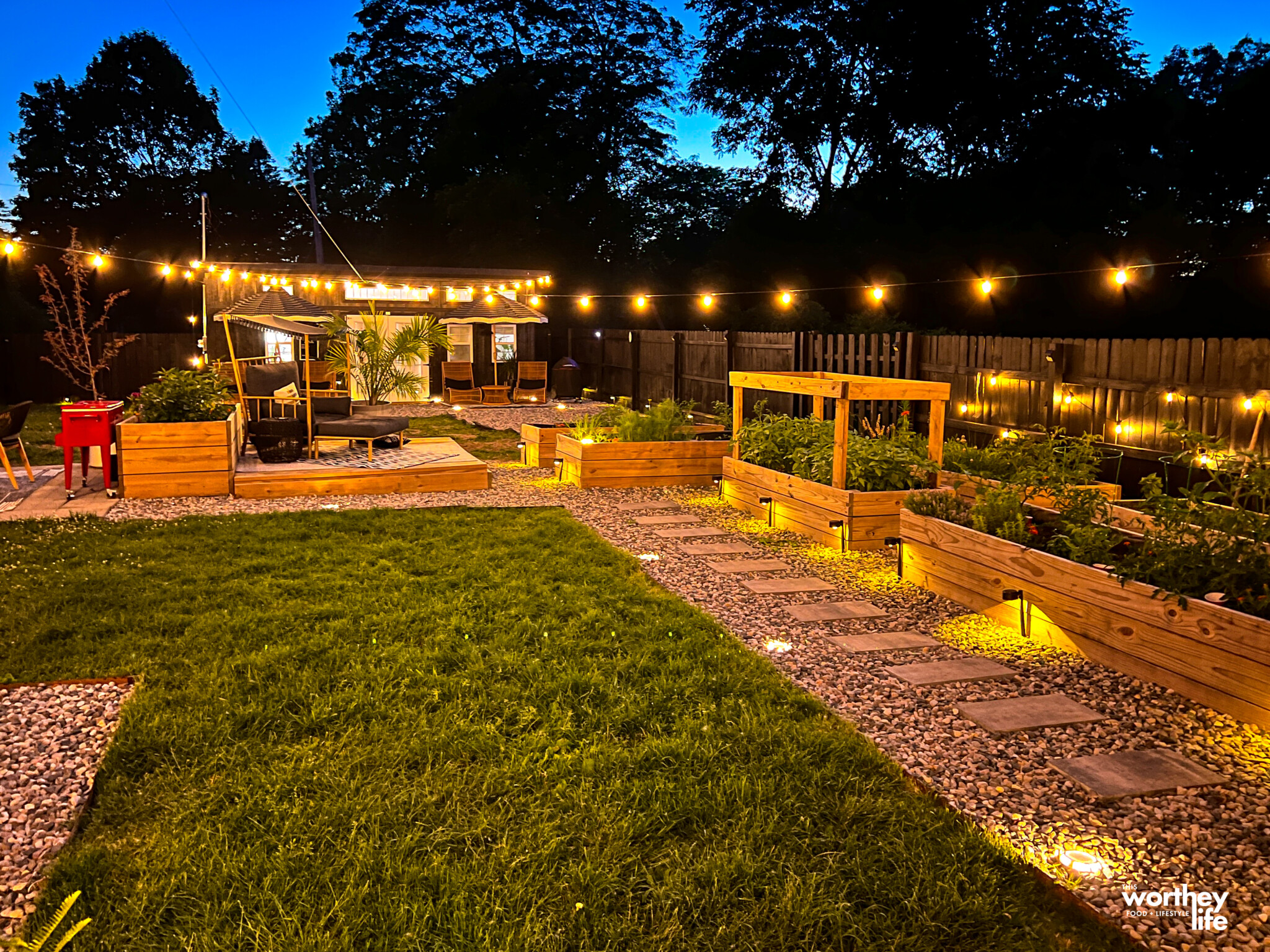 Remember, there's no single solution to keep mosquitoes out of your backyard space, but a combination of any of the remedies mentioned above will make for a more comfortable outdoor living space.
And, should you or your guests happen to get a bite or two, consider keeping a few of these Bug Bite Thing Poison Remover Tools on hand.
They work surprisingly well at eliminating the itch and swelling after a mosquito bite!
There are many ways to control mosquitoes and reduce the annoyance and risk of mosquito bites and disease.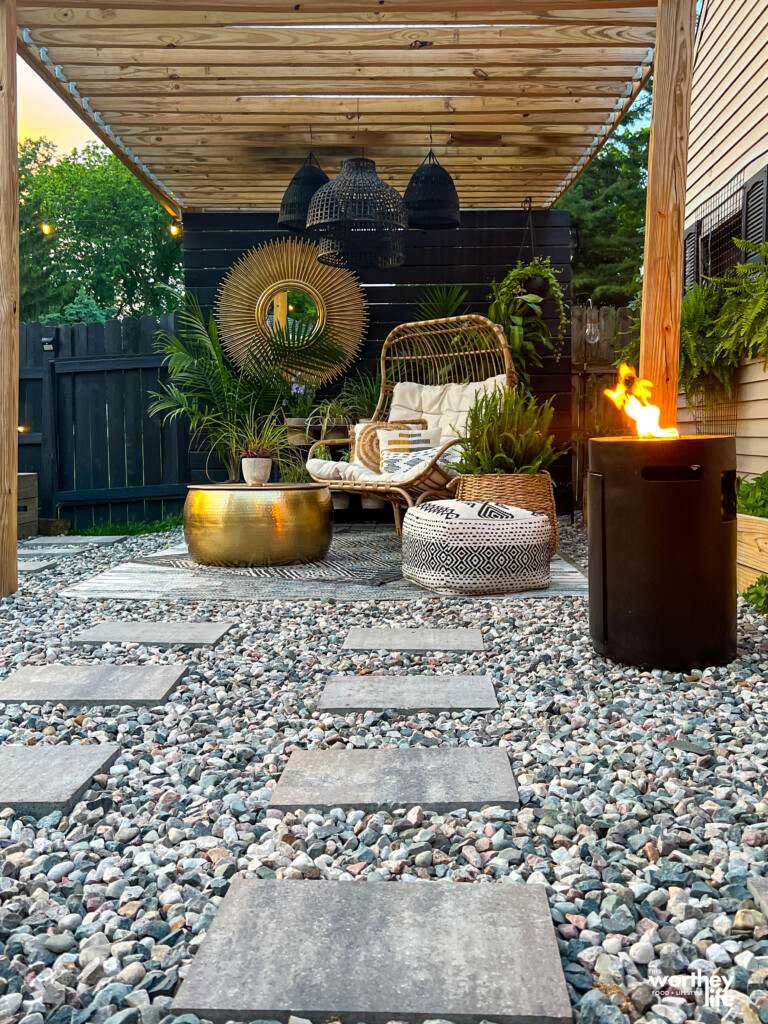 From mosquito yard sprays to natural mosquito repellents and eliminating breeding grounds, the best way to prevent mosquito problems will depend on the specific situation and outdoor area.
More outdoor living inspiration:
Tips + Best Outdoor Plants For Patio + Outdoor Living
15 Eye-Catching Outdoor Living Spaces
How To Create A Outdoor Movie Theater | Everything You Need To Know
25 Must-Have Camping Essentials