Rather you're a first-time camper or a seasoned camper, this must-have camping essentials is necessary for everyone! 25 Must-Have Camping Essentials.

25 Must-Have Camping Essentials
Do you love to explore the great outdoors? Camping is a great way to do just that. Camping with family and friends is a wonderful way to make memories while enjoying nature and all it offers. If you plan on spending a few nights under the stars, here are 25 camping must-have camping essentials that are sure to make your camping trip the best it can be! Before you pitch a tent, take a peek at these 25 camping must-haves so you can be sure you show up prepared.
1. Oilcloth or vinyl tablecloth.
These can be found at most retail stores and in all sorts of colors and patterns. The best part is they cover the picnic table included with most sites and can be wiped clean easily and quickly! Plus if rain starts in, it can be used to cover the woodpile.
2. Zip close baggies.
These are perfect for keeping toiletries in as well as matches and other items that can't get damp. You can also keep seasonings in them, hair accessories, and other small travel items. For easy access just clip them to your clothesline.
3. Dryer lint.
Nothing gets a campfire going like dryer lint! Save some up and stuff it in toilet paper tubes. When you are ready for a fire, just tuck it under the wood and light it. You will be amazed at how great it works! Don't want to bother with the dryer lint? You can use a Fire Starter to get that campfire blazing in no time!
4. Trash bags.
Trash bags can be used to line the ground to keep moisture off your bedding. It can also be used to store used clothing and keep trash cleaned up. Cover your woodpile with a trash bag at night to keep moisture off.
5. Simple games.
Take some fun yet simple games like playing cards, Dominos, Checkers, and other tabletops games that are perfect for passing the time. They are a great way to keep yourself entertained! Uno is our favorite game to play!
6. Scissors.
Whether you are cutting the cord off firewood, opening snacks, or trimming down your citronella candle wick, you will find that scissors come in handy when camping. Keep a good, sharp pair packed, so you have them when needed.
7. Dried sage or lavender.
Want to keep mosquitoes from biting? A bundle of dried sage or lavender tossed into the fire is perfect for keeping bugs away. It also smells fantastic and makes a great crackling noise!
8. Citronella candles.
These not only add ambiance to your space, but they can keep biting bugs away as well. Keep citronella candles on the areas where you dine or are playing games, relaxing, etc. You can also drip the candle wax into your fire to get it roaring.
9. Clothesline/Clothespins
Stringing up your clothesline and having clothespins will certainly come in handy for drying out wet towels, clothing, and bathing suits. You can simply hang any items you need to keep high and dry. Dollar Tree sells both of these items!
10. Rope or cord.
Rope or cord is perfect for keeping wood bundles tied up and trash bags tied closed. You can also use it for a clothing line as mentioned above, or use it to string up food bags, so animals don't get to them.
11. First aid kit.
Hit up the dollar store for simple first aid kit items. This would include band-aids, tape, antibiotic cream, lotion, tweezers, cotton balls, etc. Keep these items in an airtight container that won't get wet and will be easy to access. [ see how to make your own travel first-aid kit]
12. Tin foil.
You will be amazed at how helpful tin foil is when camping! You can wrap food in it and toss it on the grill for tasty dinner packets, line grill tops with it, wrap up leftovers, and keep items dry with it. Take a few rolls of tinfoil for these needs and more.
13. A cooler.
A roomy cooler is perfect for camping and a great way to keep food and beverages cold. Fill it up with plenty of ice and your favorite drinks and snacks and you will have cold items at your fingertips. When the ice melts, coolers are easy enough to rinse out and refill. Don't forget your ice packs!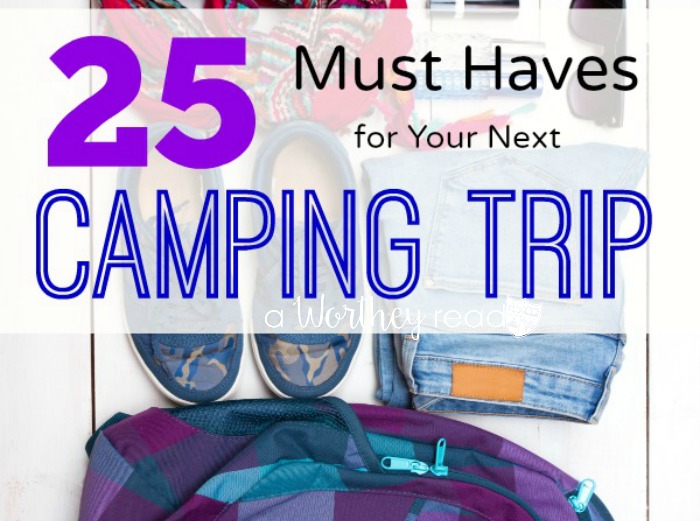 14. Air mattress.
If you are sleeping on the ground, you will want to invest in an air mattress. This can make sleeping more comfortable and make your nights more peaceful. Just don't forget to buy a pump and some simple bedsheets to go with it!
15. Battery lamps.
Don't rely on candles or the fire for all of your light. You want to take a battery-operated light or two so you can have plenty of light after the sunsets. They will be handy when you are enjoying game time or storytime, or even in the late night when you are tending the fire.
16. Cast iron pan.
A cast-iron pan can handle everything that camping throws at it! Use it to cook hot dogs, bacon, pancakes, even steaks, and burgers! A good cast iron pan is a must-have for all of your camping meals and can be used right on the open fire.
17. Plenty of warmth via blankets and clothing.
Nights at the campsite can get chilly. Feel free to overpack when it comes to blankets and warm clothing. You may want and need several layers when you sleep to stay comfortable. Extra blankets are also great for sitting around the fire.
18. Collapsible chairs.
Take some collapsible or travel chairs that can be used comfortably by the fire. These are typically less than $15 at Walmart and can fold up and store nicely when not in use. You can even find collapsible cots!
19. Plastic bin or basin.
These can come in handy when you want dishes or clothing. Just fill them up with some water and dish soap and you have the perfect sink for getting items clean.
20. Can opener.
This is an item many people forget! If you are taking canned soup, beans, or other canned goods for your meals, you want to be sure you have a quality can opener on hand. Otherwise, you could end up hungry.
21. Bug repellents.
Choose from all sorts of bug repellent sprays, or use essential oils such as lavender and peppermint oil. You can also use mosquito netting over your dining and sleeping areas, and have plenty of citronella lamps and candles going. Some people even like repellent bracelets that can be worn on the wrists or ankles.
22. A backpack.
This can come in handy when you leave the campsite and want to hike or bike. You can use it to store snacks, water, a change of clothes, bug spray, and your first aid kit. A comfortable to wear, lightweight backpack is ideal for this job. Choose one that is durable and waterproof if possible.
23. High protein snacks.
Take plenty of high protein snacks to keep you energized. This includes granola, granola and fruit bars, jerky, nuts, and other dried snacks. They pack well for camping, can be added in with your backpacking supplies, and are perfect for eating around the fire.
24. Newspaper.
You will need plenty of this to get your fire roaring. It is also helpful for lining the table before putting your tablecloth down or can even be an extra layer between the ground and your sleeping bag. Before your trip, you can shred the newspaper and store it in plastic bags, so you have it ready to toss into the fire.
25. A tent!
Last but not least, you need a tent to sleep in! You can choose from the simple two-person pop-up tents, or from more complicated multi-room tents. There is such a huge variety, and tents range anywhere from $15 to $300. Find a tent that will fit your family, is simple to assemble, and is durable in any weather. You can also choose from canopy tents for dining under or just relaxing.
Are you ready to go camping? Give this list of 25 camping must-haves your consideration so you can be sure you arrive prepared and ready to have fun!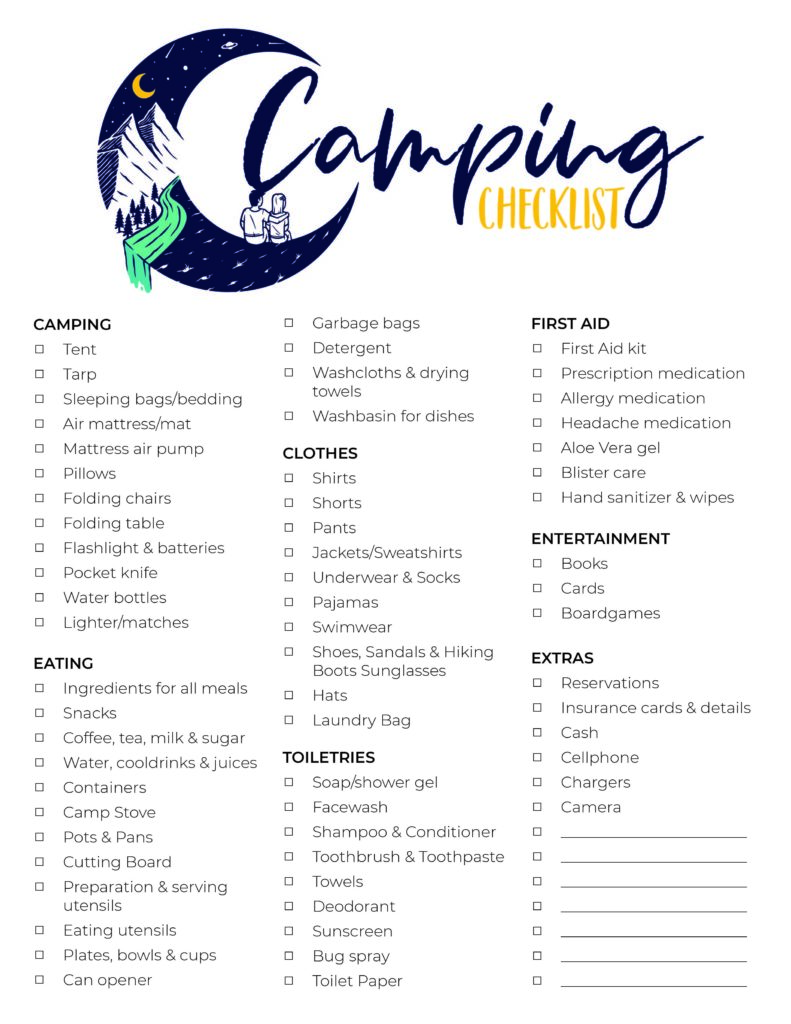 Planning a camping trip soon? Use this camping checklist to keep track of everything you need before going on your camping trip. Print your free camping checklist here.