Are you looking for fun camping activities for families? Check out how simple and easy it can be to make memories under the stars! All of these fun camping ideas are great for families with kids of all ages.
Check out my Camping Bucket List: 25 Activities to Try When You Camp tips for even more camping fun.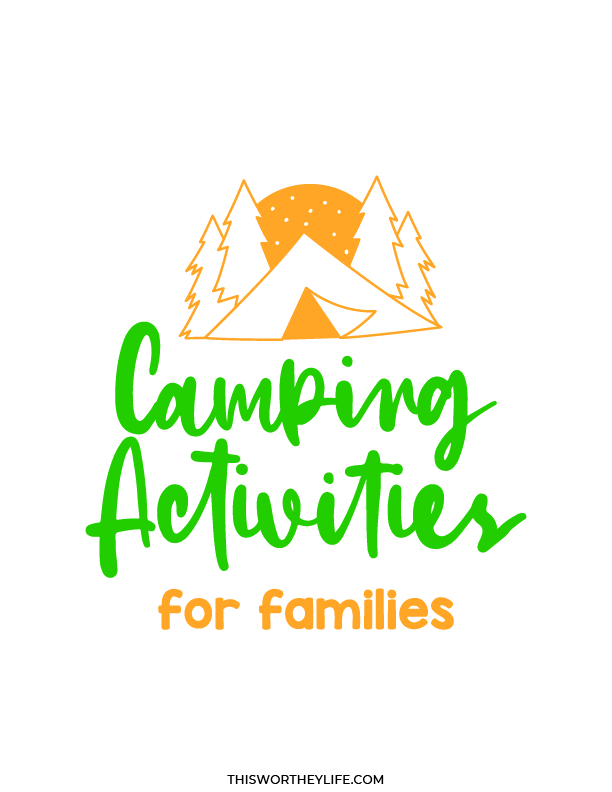 Camping Activities For Families – Free Printables
Going camping as a family is a perfect idea to make great memories. Camping is a way to take a vacation easily without breaking the bank as well. Taking the time to "be one with nature" is always a good idea, especially since we're literally plugged in and on screens all the time.
If you're ready to put down the phone and pick up some sticks instead, planning a camping adventure might just be what you need to do. Below are just a few simple camping ideas and activities that are going to be remembered for years to come.
What are some great camping activities for the family?
Begin by pitching your tent. This is a good camping activity for families with little ones that are just getting into camping because it's easy enough for them to help out in the process, or they can even take turns doing their own thing while you work together on this project.
Keep in mind that this list of ideas doesn't have to start or end here. These camping fun ideas are just a great way to get you geared up and ready for camping! You can always create your very own camping bucket list and have an absolute blast any way that you want.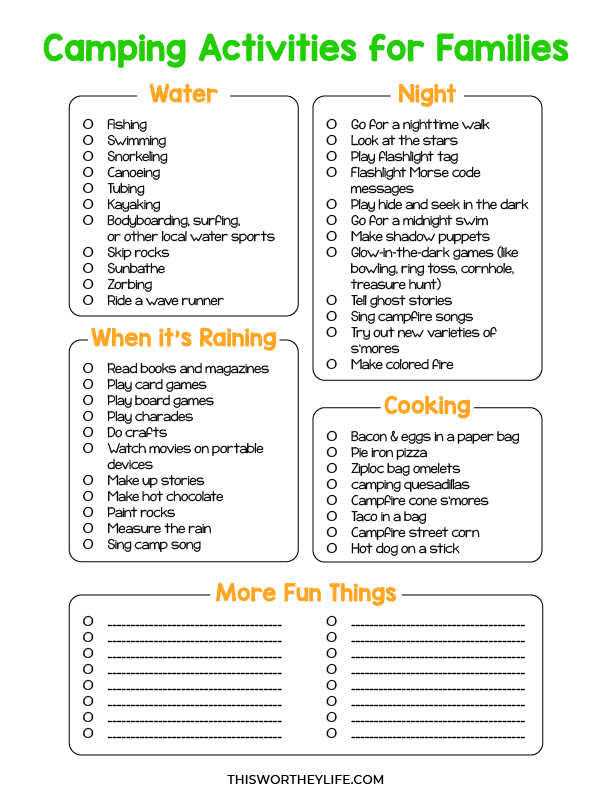 Great camping activities for families
Campfires are always fun camping activities for families because there are lots of things you can do around one when sitting down together as a group, including roasting marshmallows! Check out how we put together an amazing s'mores grazing board, filled with all the best goodies.
Some example camping ideas and activities include:
Create crafts
Sing camp sings
Roast marshmallows
Paint rocks
Go swimming
Lay out in the sun
Skip rocks
Cook hot dogs on a stick
Make a walking taco
And the list can go on and on! Whatever you want to add to the list, do so so that you don't run out of any ideas.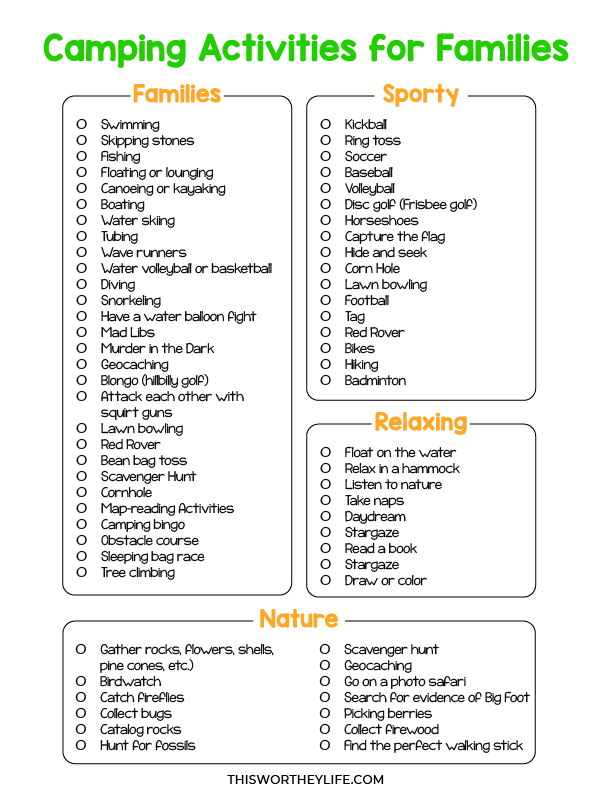 Ways to make your next camping adventure great
The biggest thing to remember about going camping is that it's meant to be a relaxing time. Don't overly stress out about what to pack or anything such as that as you'll quickly find out that when you're camping, you really need very little during this time.
Make certain that you pack food items that don't have to rely on cold or hot temps and you're also going to want to be certain that you have plenty of water to keep everyone hydrated and safe.
Besides that, make a simple camping packing list and you'll be well on your way to your campsite before you know it!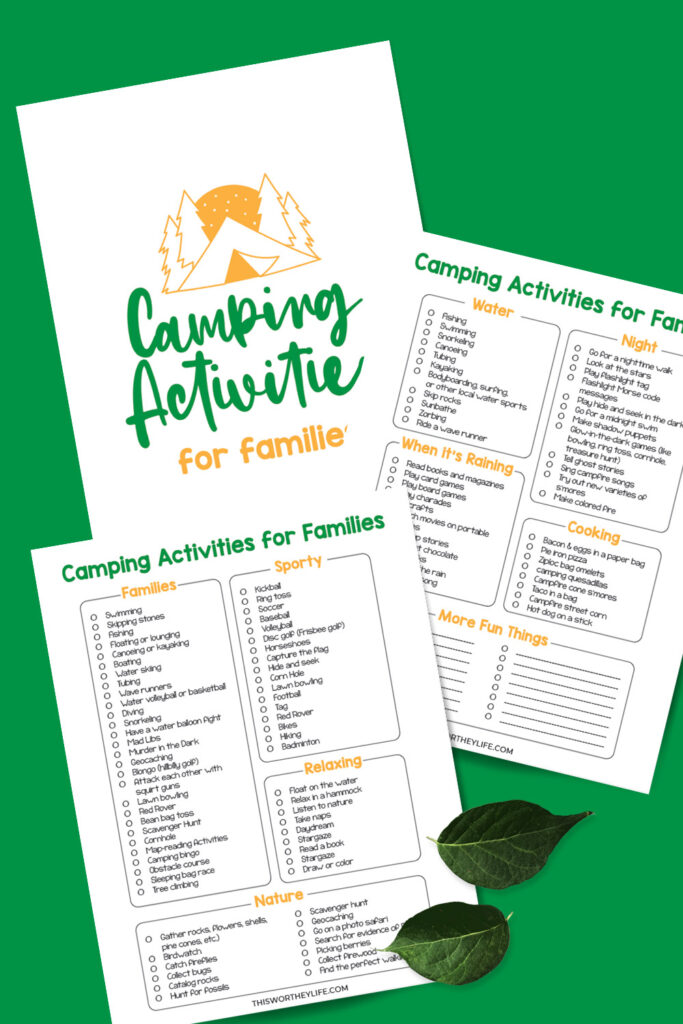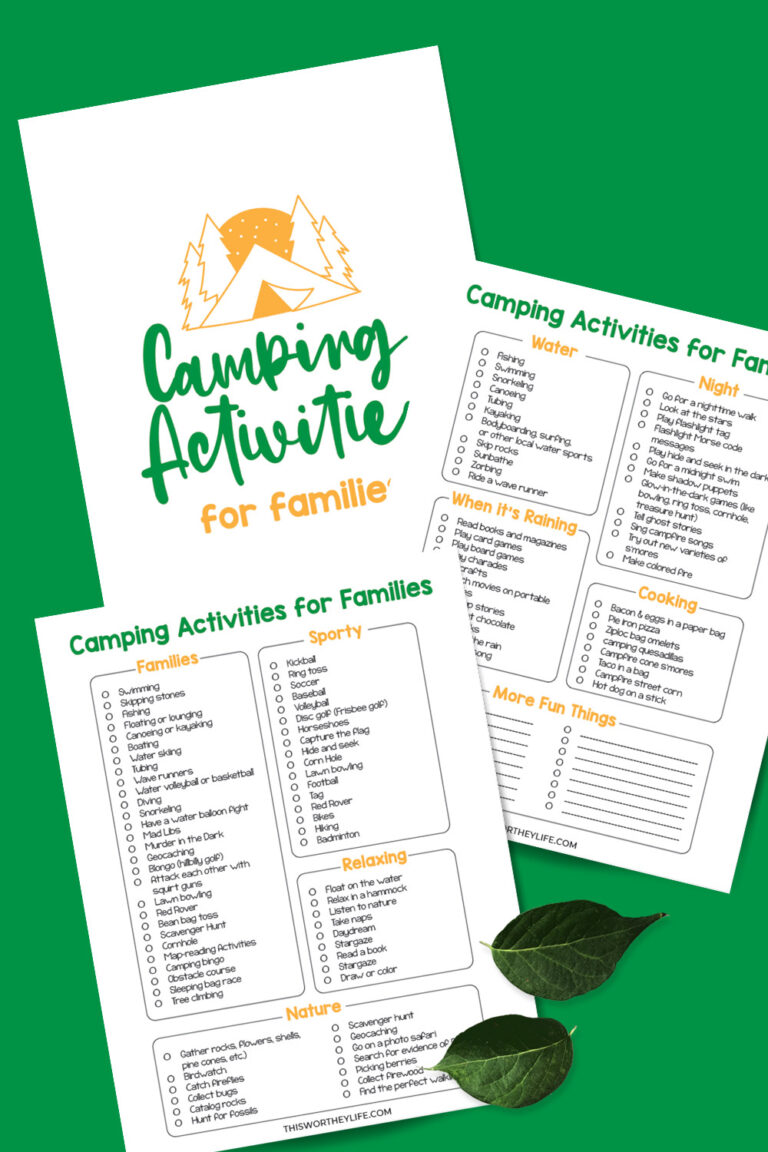 More Family Activities