These 15+ outdoor living spaces will help inspire you and give you ideas on how you can make create the ultimate outdoor living space.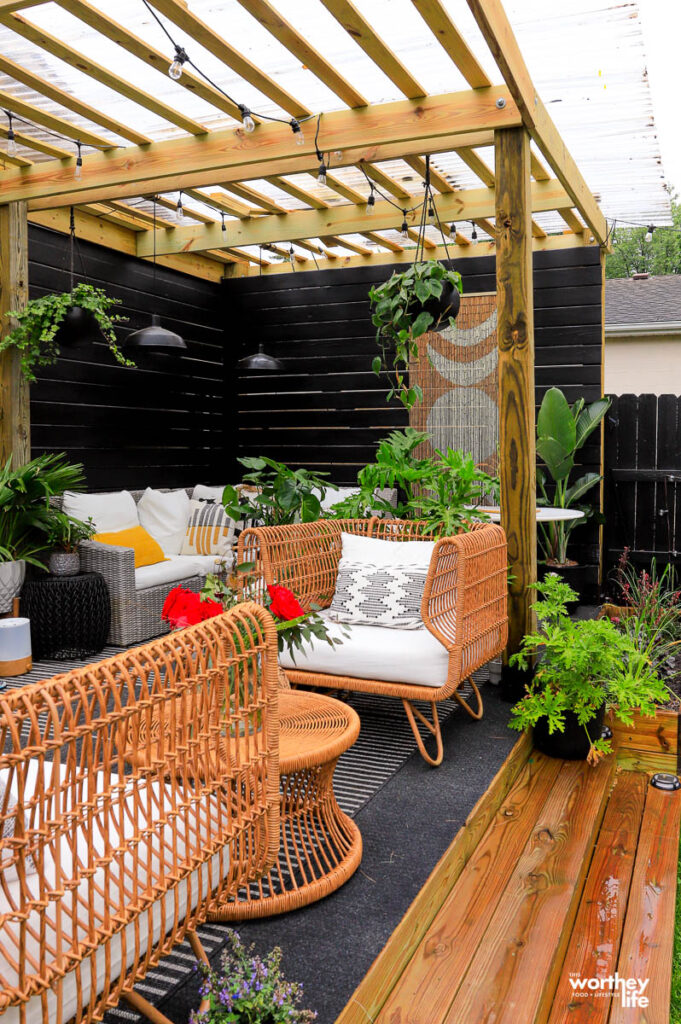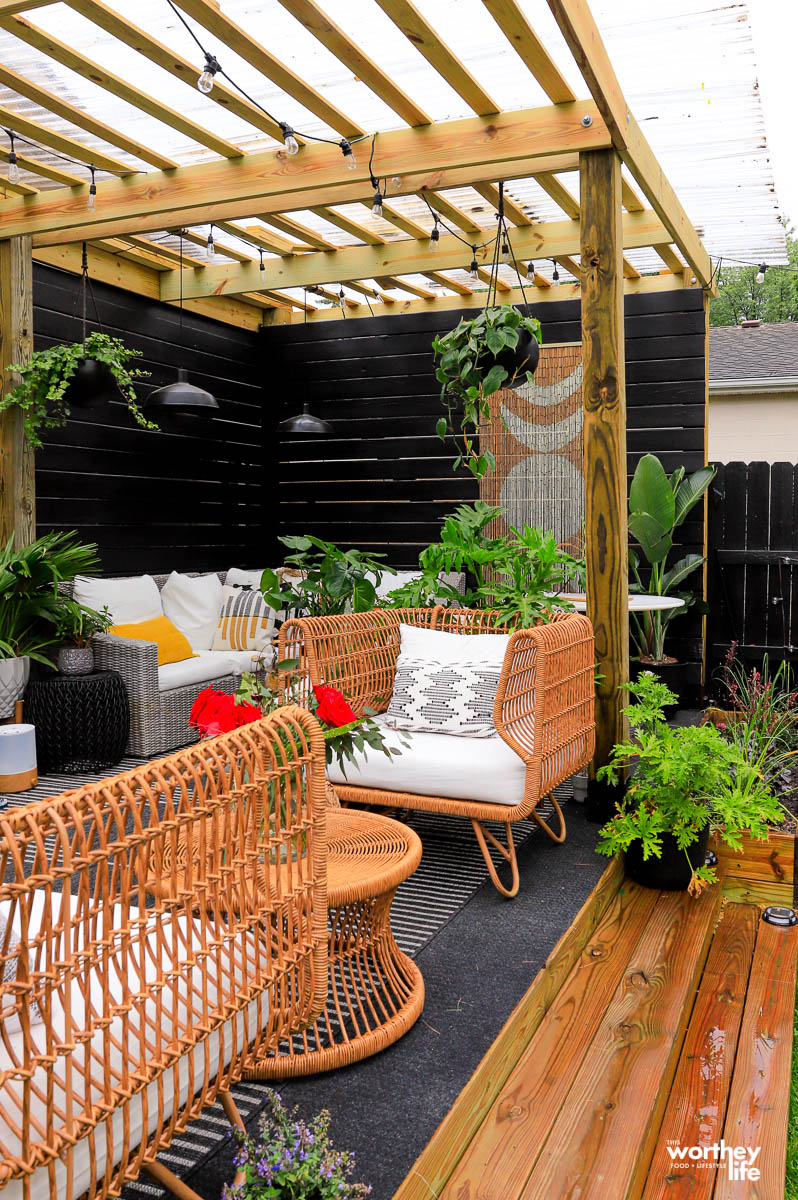 15 Eye-Catching Outdoor Living Space Ideas- Outdoor Inspiration
Our family loves to gather in the backyard for parties, get-togethers and to enjoy each other's company.
We've been using our outdoor living spaces more, grilling, backyard games, hosting dinner parties, and a place to hang out with friends.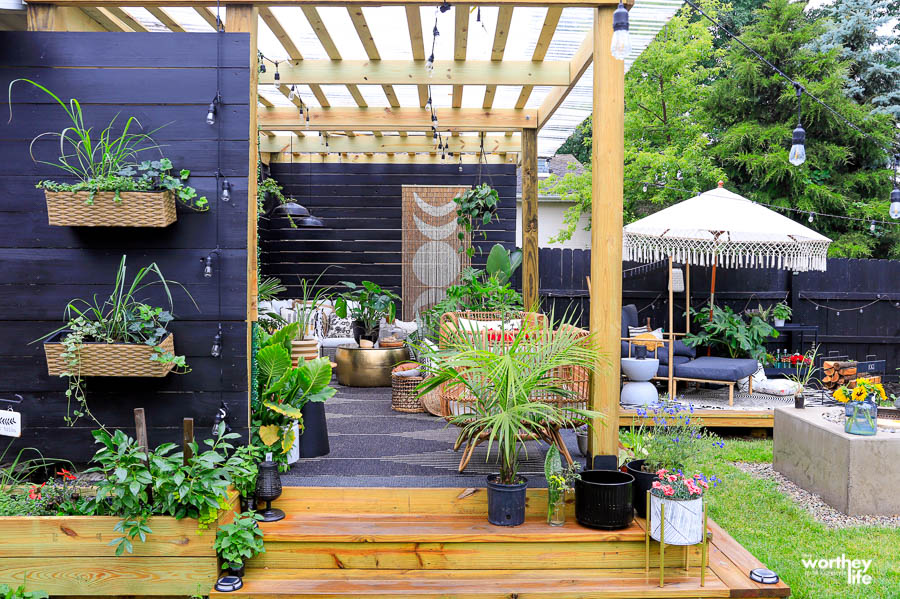 Our outdoor space used to be just a patio with a few patio chairs and a grill. But after spending so much time at home in 2020, we turned our patio and backyard into the place we want to be all spring, summer, and fall.
See our tips + resources for outdoor living shared below:
Tips + Best Outdoor Plants For Patio + Outdoor Living
Creating An Outdoor Living Space | Backyard Patio Idea
It doesn't matter if you have a ton of space or a small deck, you can create the ultimate outdoor space that works for you and your family.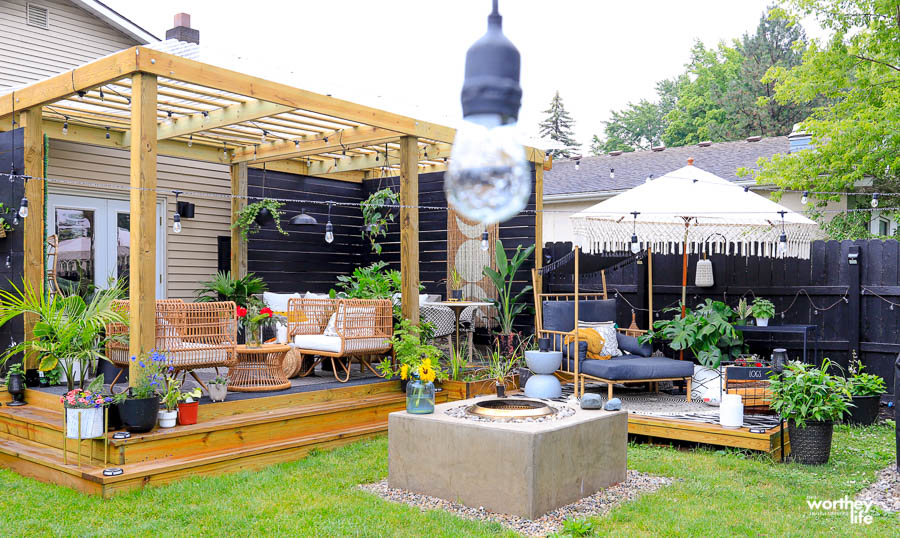 As we get ready to enter another spring and summer, it's time to start thinking about your outdoor space for 2022. Whether that means starting from scratch or updating your existing space, we've gathered some inspiring and eye-catching outdoor living space ideas you'll love.
Whether you're looking to update your exterior flooring, add a dining or kitchen area, or enhance a backyard pool area, there is inspiration for everyone in these gorgeous outdoor living area examples.
You'll soon discover that a few strings of cafe lights or a throw pillow in just the right shade of red can add an entirely new feel to an old space.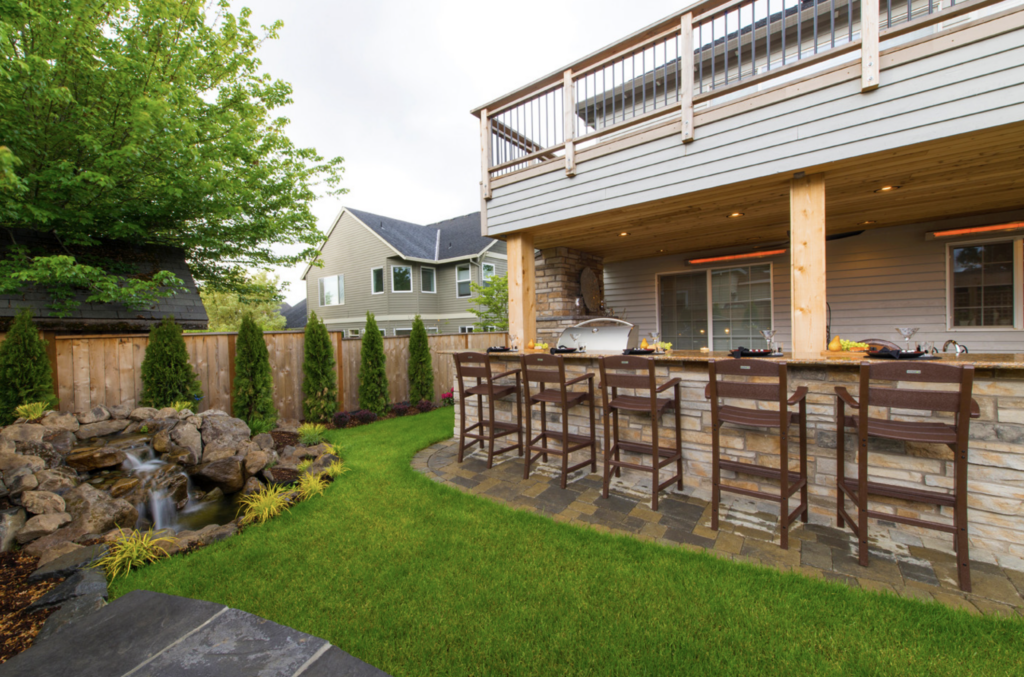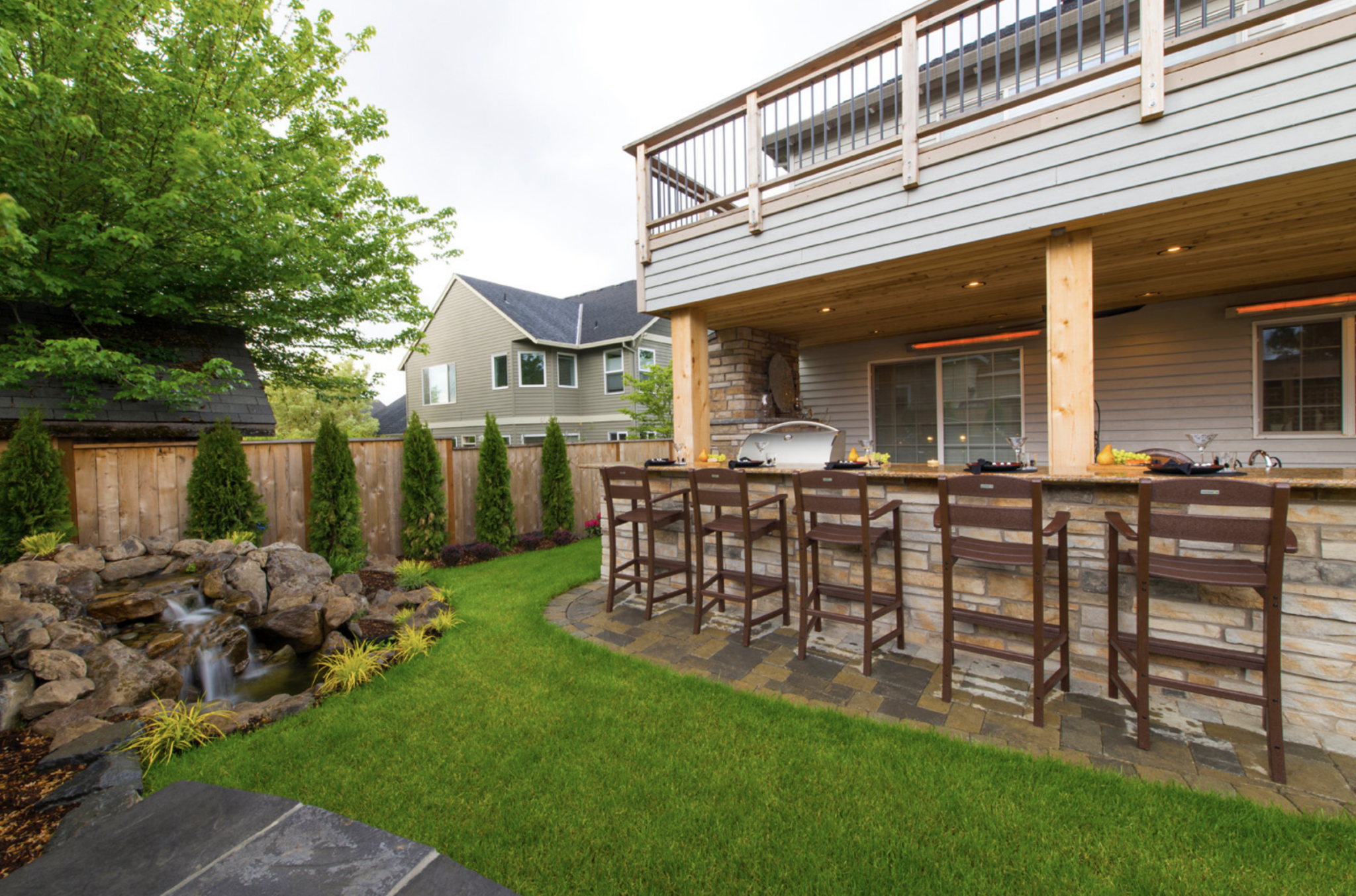 The gorgeous stonework in this outdoor living room and kitchen creates an atmosphere of seclusion that distracts from reality. The pergola offers shade during warm summer months, and the crackling fireplace is the perfect place to snuggle up to with your spiced adult beverage in the fall. (via Paradise Restored)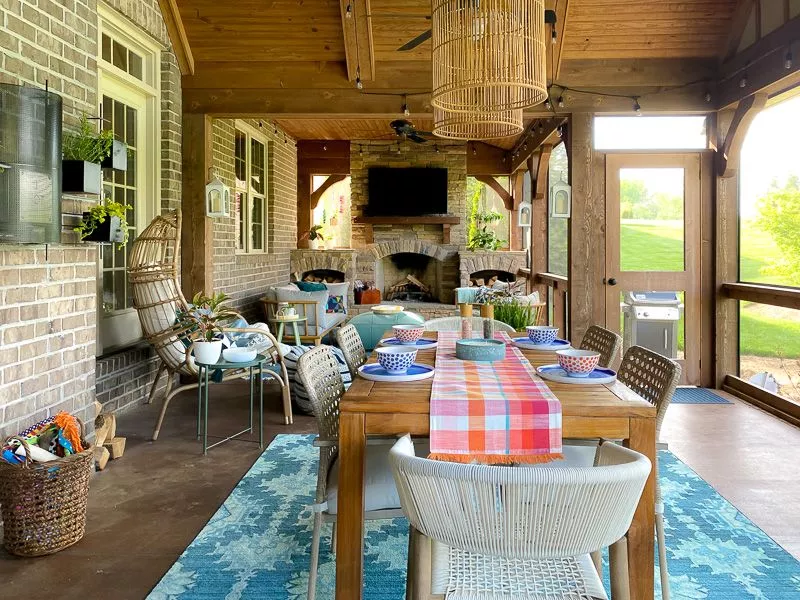 Tasha from Kaleidoscope Living has taken a long, narrow screened-in porch and created a warm, inviting covered outdoor living space. She sectioned the porch into different eating and lounging zones so that everything was continuous yet uniquely separate. My favorite touches are the whimsical lanterns and birdcage overhead lamps.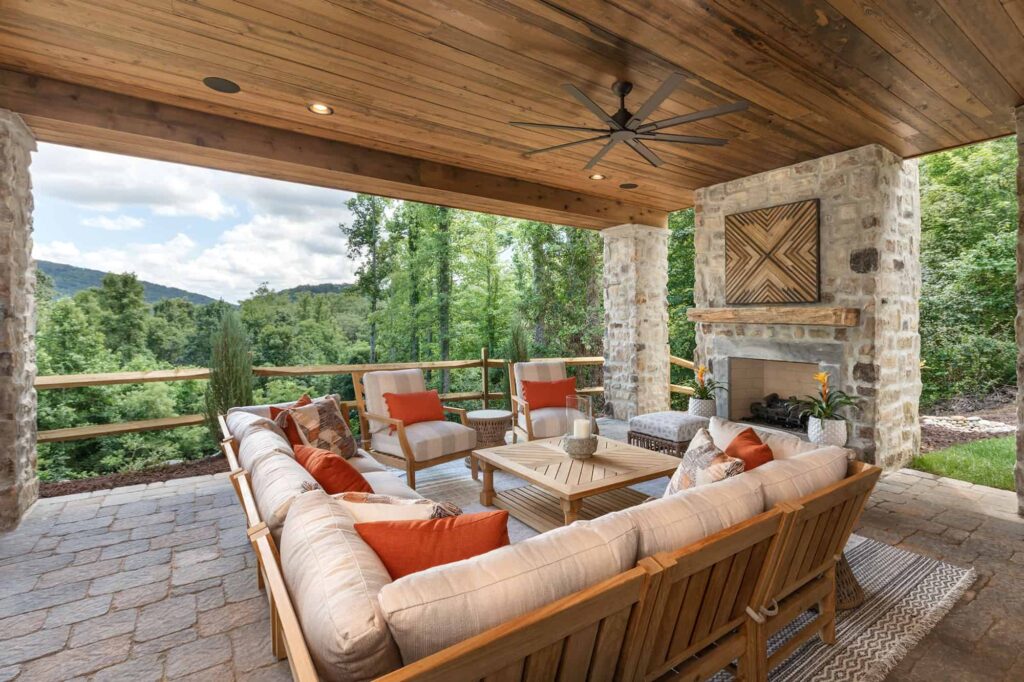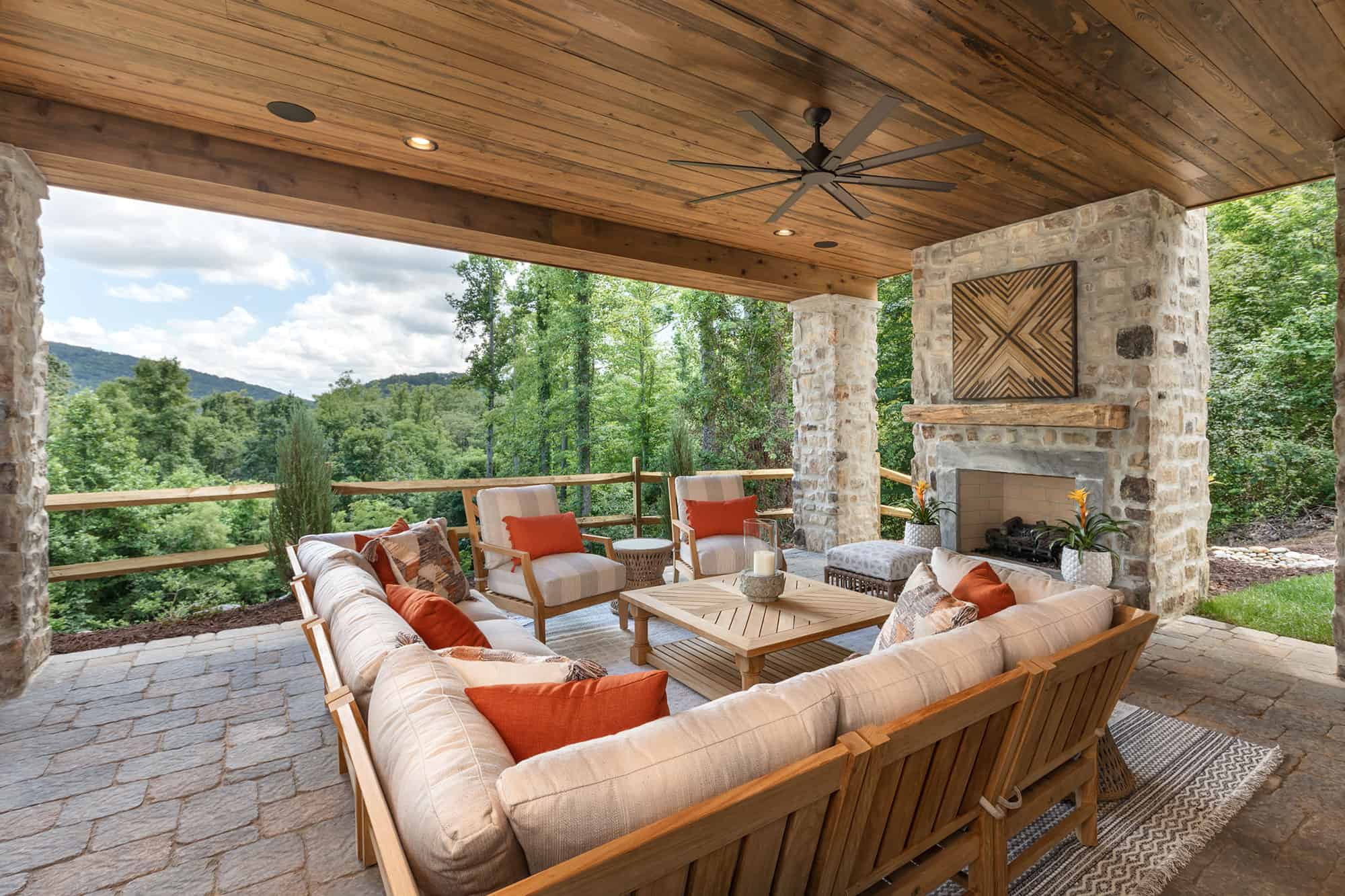 This stonework patio area is the perfect rustic outdoor living space to enjoy the beauty of nature up close. The fireplace itself gives off a very primitive feel, and the partially enclosed sitting area begs for late nights full of laughter with family and friends. The decorations may be sparse, but the intentional pops of color with the pillows pull everything together.
(Via Dillard Jones)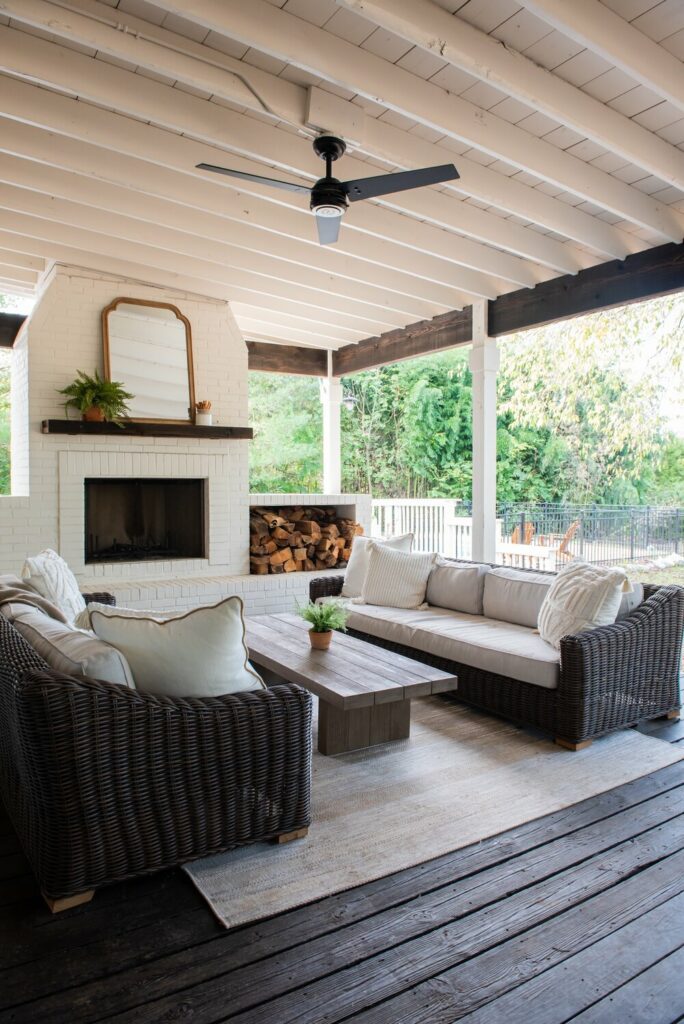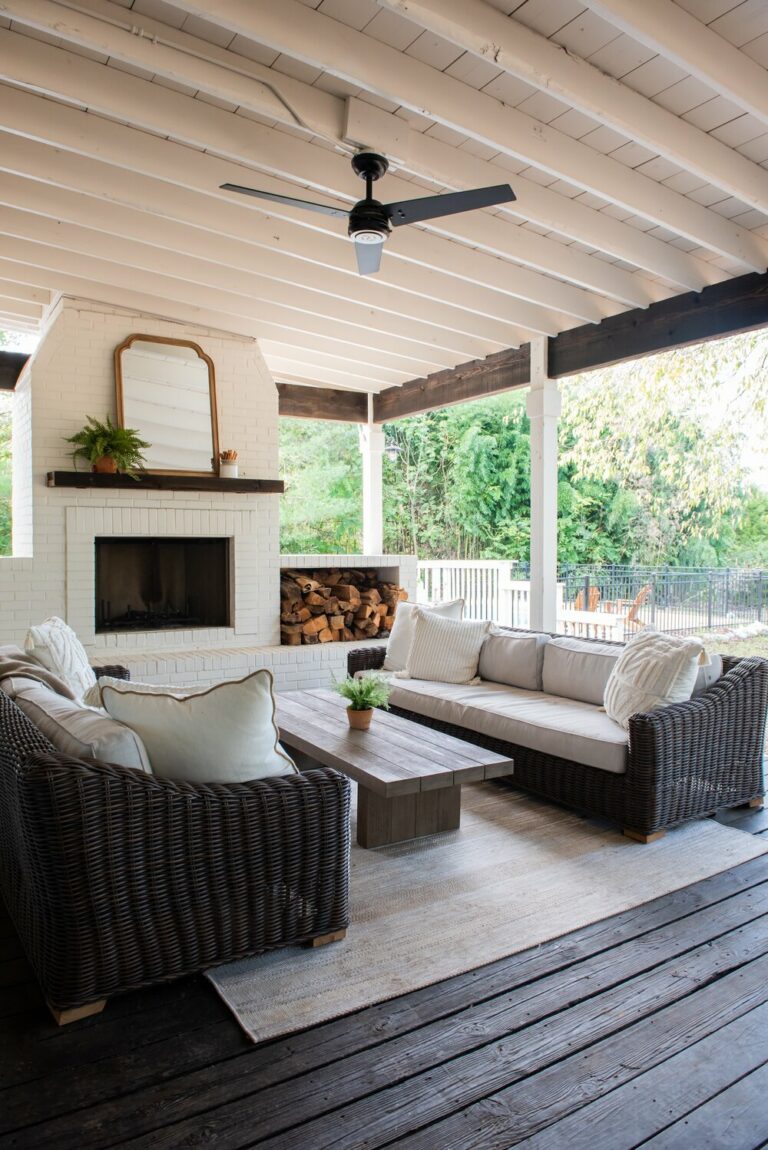 This modern farmhouse in Franklin, TN, is the ideal combination of dark, calming woods sharply contrasted with white. This classically stylish outdoor living area is an extension of the house itself, and the custom shades can be lowered to cool off on a hot day. The cushioned wicker couches are delightfully inviting, but you'll need a cool glass of lemonade first! (Via Peach and Pine Home)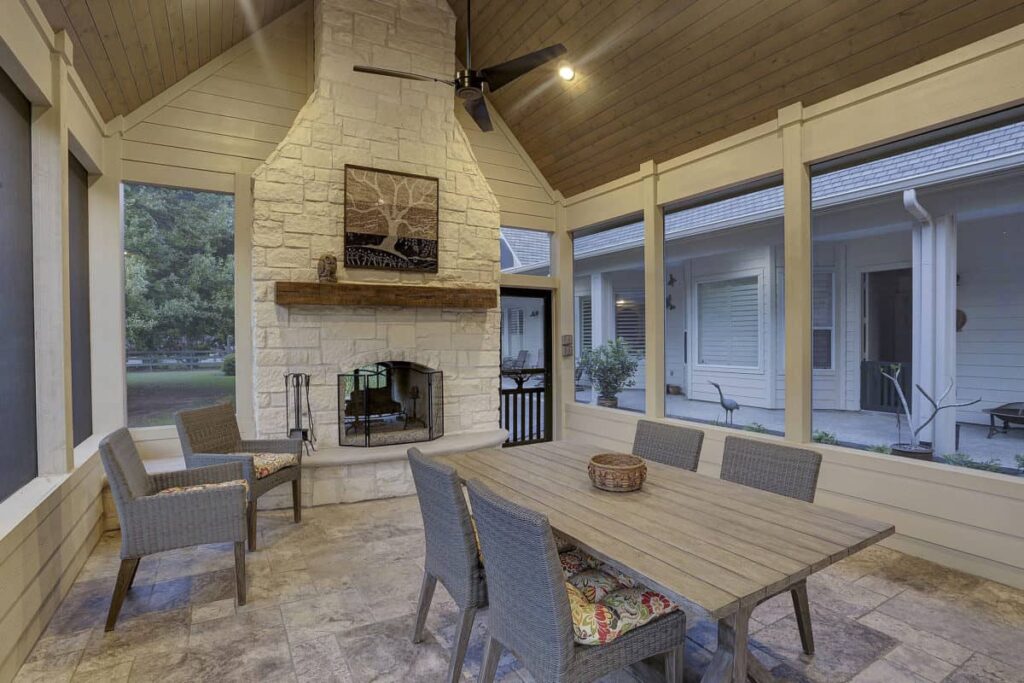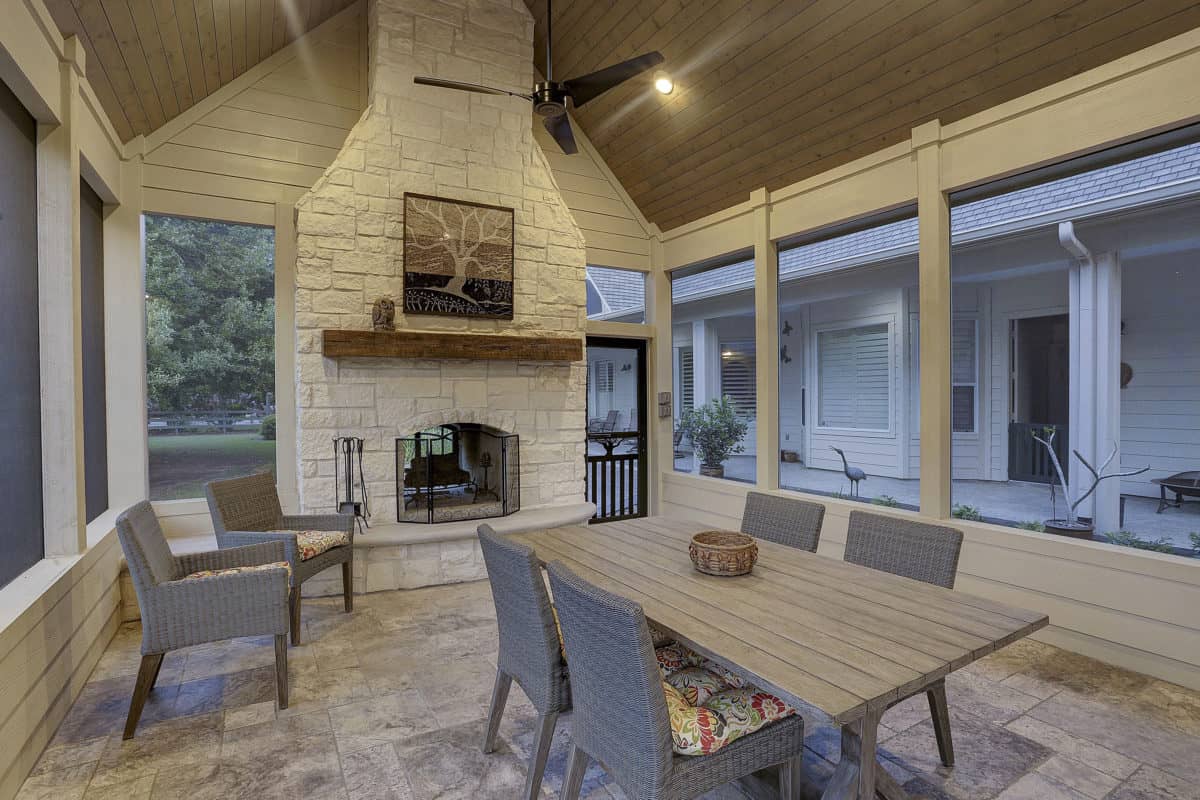 If you have a separate living structure in your backyard, why not transform it into an outdoor kitchen and dining space? This elegant backyard retreat connects to the main house with a wooden bridge, and a highlight would definitely be the Natural White stone fireplace that can be accessed from the outside as well. (Via Texas Custom Patios)
Sometimes all you need to breathe new life into your outdoor living space is a splash of color, and this patio has that in spades.
And would you believe everything came from eBay?
The addition of potted ferns and other plants transports you to a lush oasis, with a delightful combination of patterns, colors, and styles that pull everything together. (Via Old Brand New)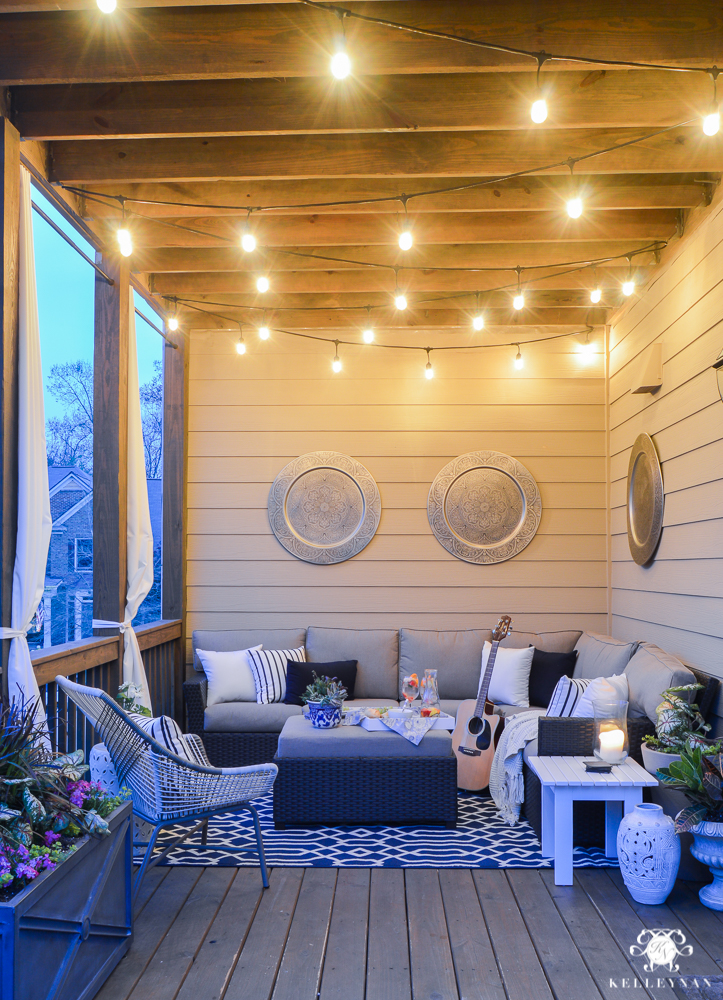 Designer Kelly Nan created a relaxing getaway on one corner of her porch, and the cool, neutral colors give off a seaside feel.
The area rug claims that space and Kelly used Sunbrella pillows from World Market to accentuate the furniture.
This is the perfect outdoor living space to escape to after a long day. (Via Kelley Nan)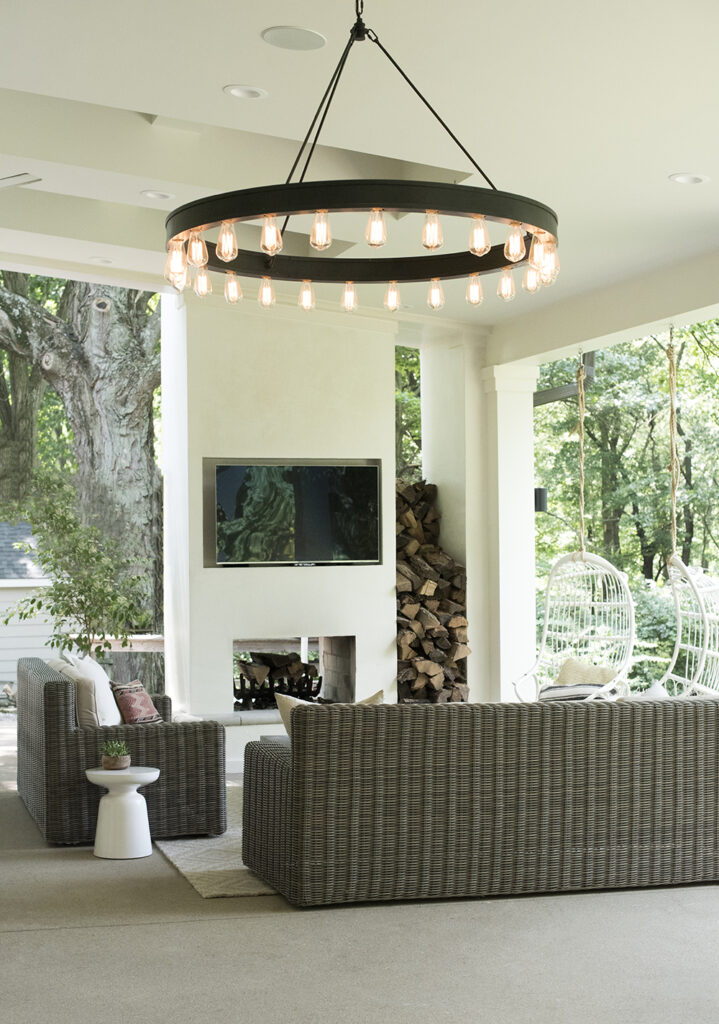 This home renovation project in Ohio has me dreaming of potential game-day gatherings and delicious snack boards around that gorgeous fireplace.
The hanging chairs blend vintage and modern, and the unique chandelier bathes the whole space in a sophisticated light.
I also love the functional beauty of this outdoor living space, right down to the built-in firewood holder. (Via Room for Tuesday)
This patio furniture from Arhaus has a distinctly Southwestern feel that contributes to the rustic feel of this outdoor patio area.
The succulent wall is a stroke of genius because there's a strong chance even I could keep them alive.
I also like the overall calming effects of the warm, neutral colors. (Via Our Faux Farmhouse)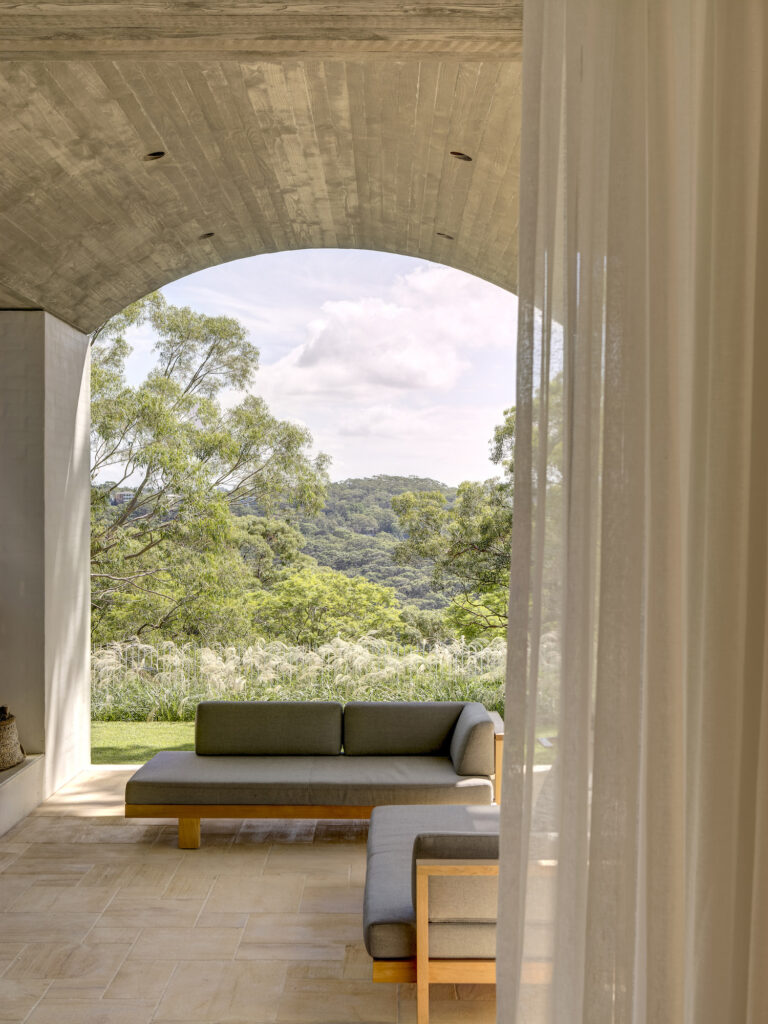 This outdoor living space is the picture of tranquility and harmony in nature.
You can create a similar look by choosing light, semi-transparent outdoor curtains and sleek, modern couches like the Tribu Pure Sofa shown here.
As you can see, being intentional with your choice of pieces can create quite a stunning impact. (Via Est Living)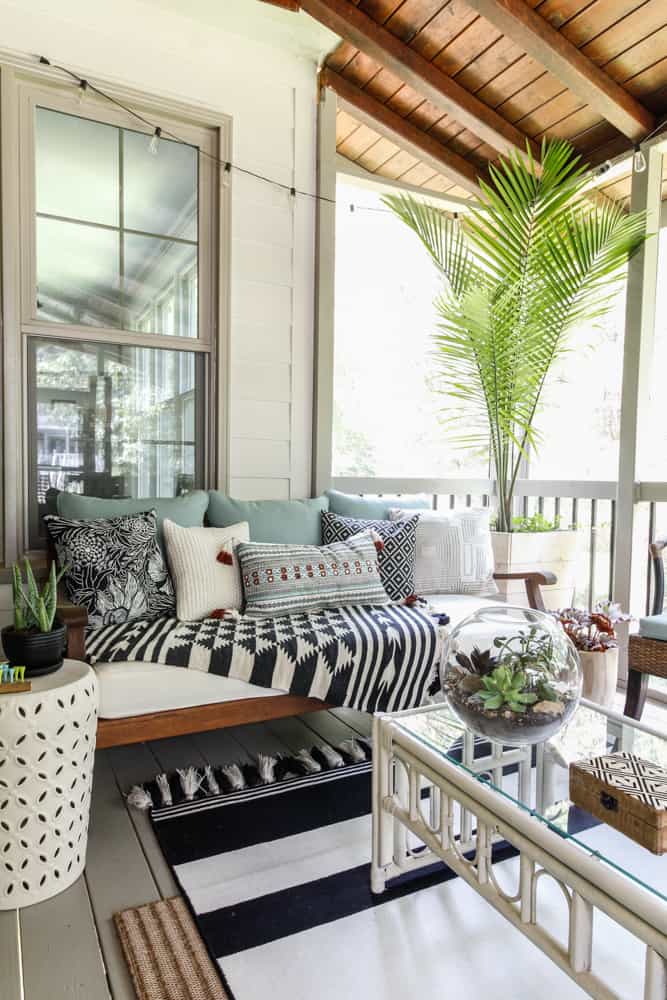 https://deeplysouthernhome.com/screen-porch-outdoor-living-room-makeover/
If you're looking to create an outdoor living space on a budget, this is the perfect example of how more traditional styles have been repurposed with a bohemian touch.
The black and white color scheme extends the kitchen design, which is an excellent idea for any outdoor porch or patio remodel.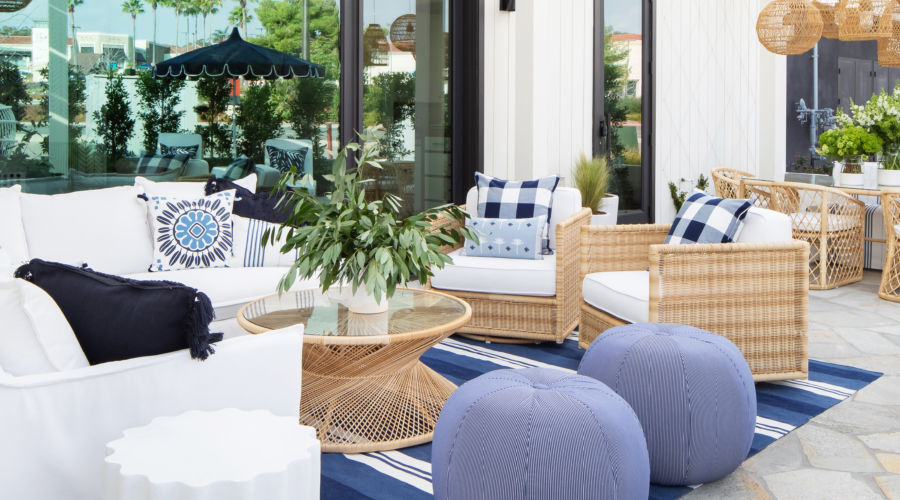 Sometimes the best outdoor living area inspiration comes from the most unlikely place, like outside Serena & Lily's Del Mar Store in the Bay Area.
The blue pouf chairs and colorful designs and patterns on the pillows add personality to the setup, and the white furniture pieces create a very beachy feel. (Via Sunset)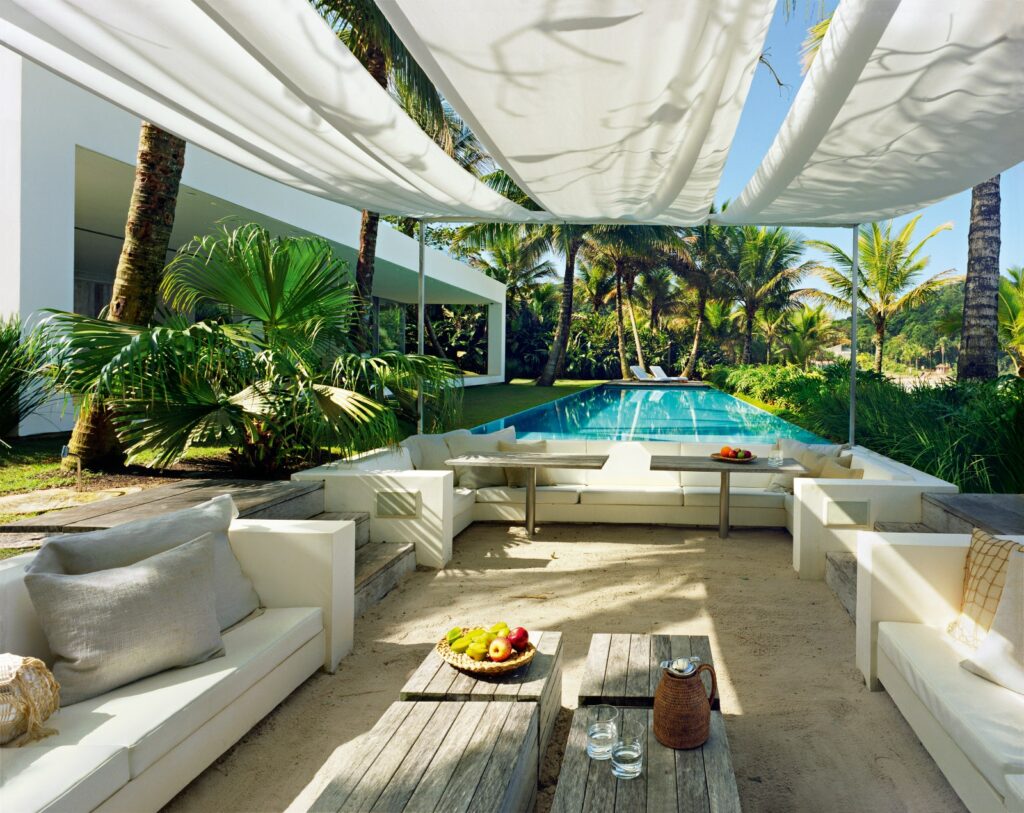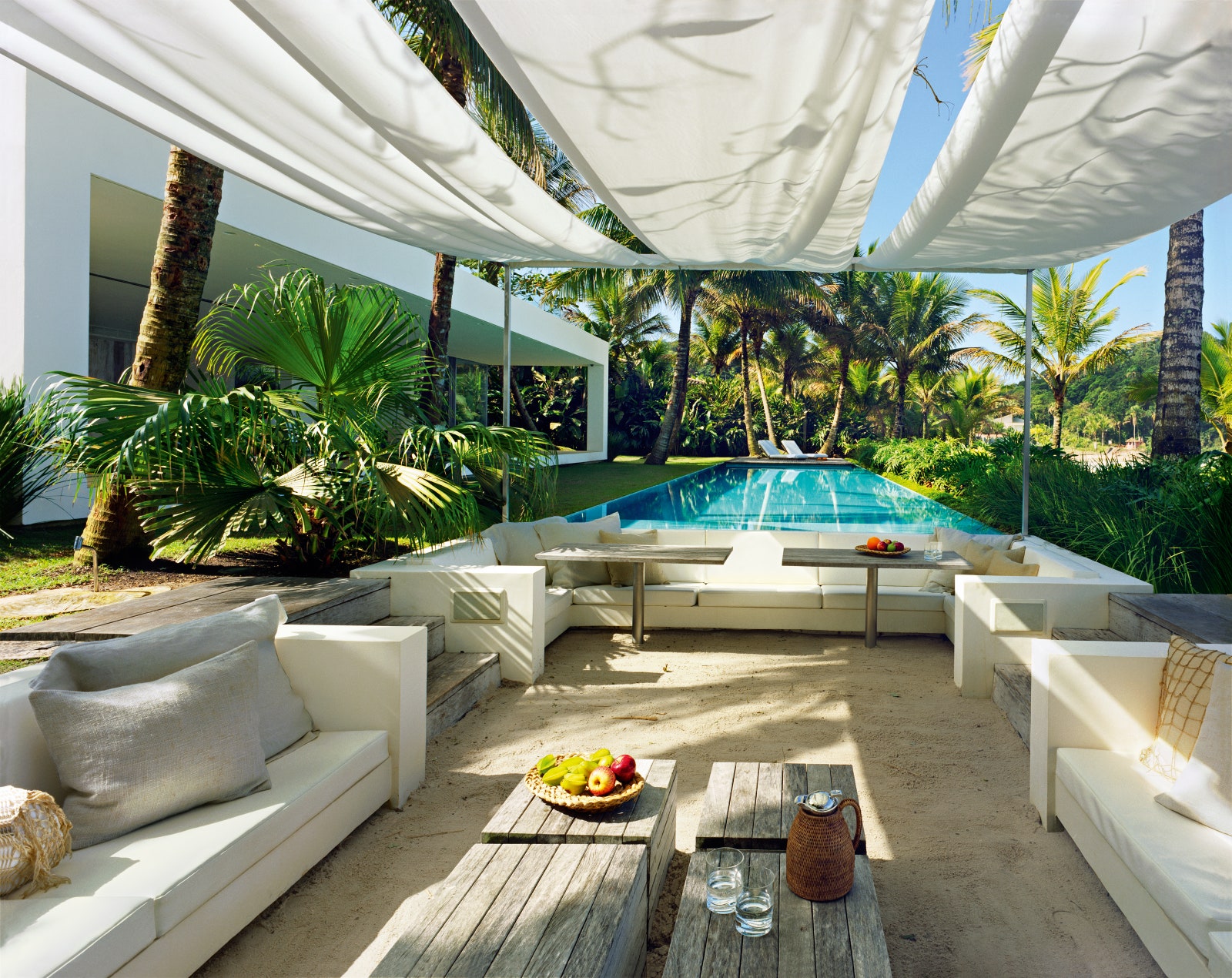 Perhaps you're lucky enough to have a pool and be able to use it for a good portion of the year.
An outdoor living area like this one in Condomínio Baleia, São Sebastião, Brazil, provides a comfortable place to relax after a midday swim.
You can create the illusion of a pergola with hanging linens instead of building a completely new structure. (Via Architectural Digest)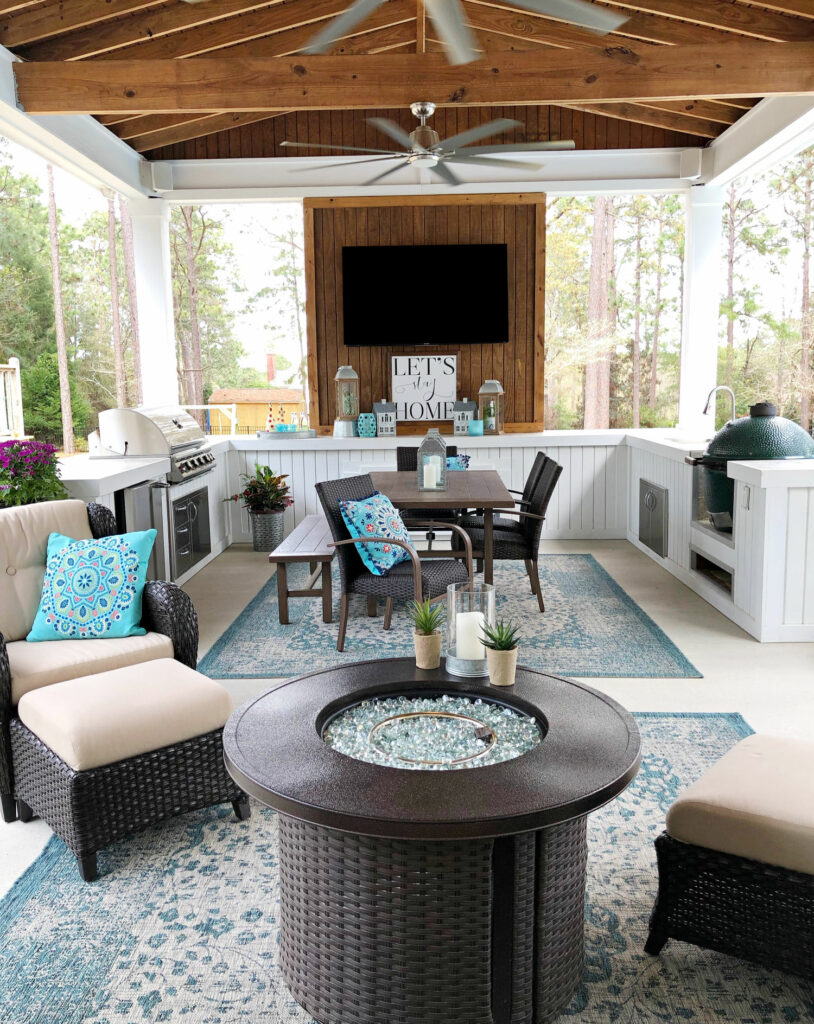 This outdoor kitchen area was built on a concrete slab that extends from the kitchen area, and it's just made for entertaining.
The gas fire pit is both inviting and economical, and the wicker dining set perfectly offsets the crisp white lines of the cooking area.
Area rugs create the sense of being indoors in this homey outdoor living area. (Via Refresh Restyle)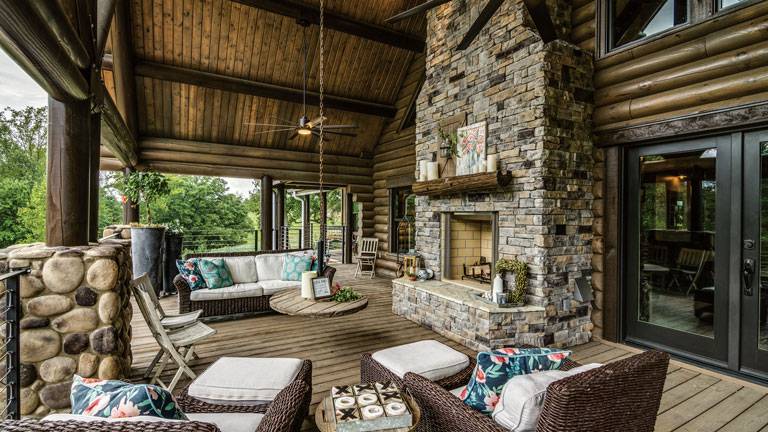 I am totally in love with this log-and-timber farmhouse in rural Tennessee, mainly because of the covered outdoor living area.
The massive stacked rock fireplace is an instant conversation piece, and the swing table is a one-of-a-kind piece that has inspired me.
The furniture arrangement is close enough to invite conversation and open enough to avoid feeling crowded. (Via Log Home Living)
Get inspired with these outdoor entertaining ideas:
How To Create A Outdoor Movie Theater
7 Easy Tips For Hosting An Outdoor Party