Get ready for some pumpkin carving with a list of free pumpkin templates.
With so many choices, find the exact themed pumpkin carving template you want to print to use for carving your pumpkin.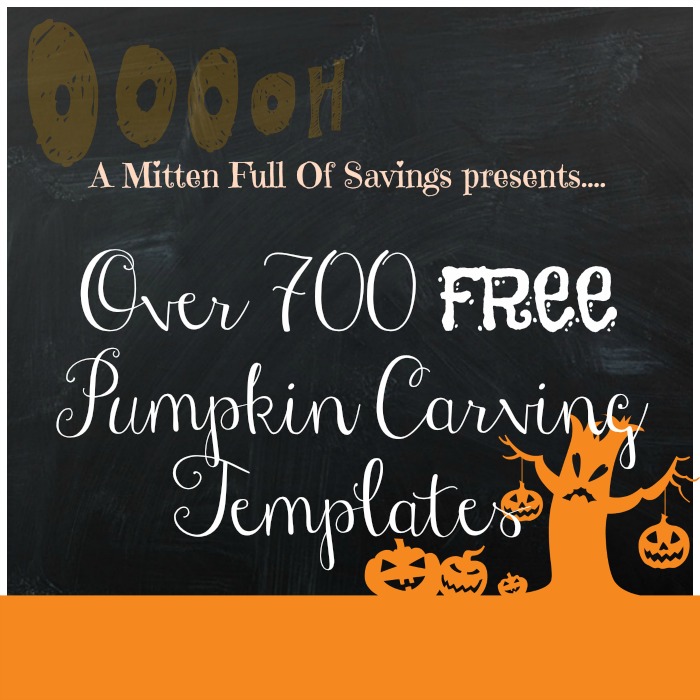 FREE Pumpkin Carving Templates for Halloween
Halloween is just around the corner! Can you believe that– where did the year go?
To help you prepare for Halloween, I put together a list of over 700 templates you can use for pumpkin carving ideas!
From Just Beiber, Nick Jr, Disney, themes, pets, Military, and more!
So check out this BIG list of templates and head over to get your FREE one to help you curve those pumpkins!
Pop Culture Pumpkin Stencils – Justin Beiber, Lady Gaga, Kate Middleton, Robert Pattinson, and more.
27 Cute Pumpkin Stencils – Easy for kids.
Love Star Wars? Then this list of free Star Wars pumpkin templates is just what you need!
47 More Geek-Inspired Stencils – Marvel Comics, Dr. Who, Ghostbusters, Walking Dead, Hunger Games, True Blood, Harry Potter, Twilight, and more!
20 Random Stencils – From Tinkerbell to Colonel Sanders, to Gary Coleman.
10 Halloween Stencils (Note: this site has updated and now selling the carving kits)
13 Face Stencils – From clowns to traditional Jack'O'Lanterns.
100 Pop Culture Stencils – Ranging from Bettie Page to the Beatles, and from the Mona Lisa to Rocket from Little Einsteins.
59 Pumpkin Stencils – They range from traditional Halloween designs to Mario, Thomas the Train, and Smurfs.
8 Simple Stencils – Probably be more appealing to beginning carvers or small children.
6 Random Stencils – They have tons of stencils to purchase, but they always have a random selection of free ones as well.
56 Extremely Detailed Stencils – They range from Angry Birds to fantasy creatures like dragons and unicorns.
25 Stencils – They range from pretty and frilly to spooky and scary.
16 Halloween-Themed Stencils – There are some for every skill level here.
12 Themed Stencils – Patriotic, awareness ribbons, and some traditional Halloween themes.
100 'Un-Halloween' Pumpkin Stencils – Animals, celebrities, fantasy, patriotic, Christian, and more.
14 Pop Culture Stencils – Assassin's Creed, Facebook, Glee, Winnie the Pooh, and more.
12 Midwestern Themed Stencils – Corn, barns, wheat, etc.
Real Simple put together some of the best simple pumpkin templates across the web. You can check these 19 free pumping carving stencils out.
Since this has been the year of staying at home and quarantining, make a pumping using one of these free 10 templates.
Find more Halloween fun ideas below:
Rae Dunn Inspired Halloween Party Idea
Dead-Eye Whiskey Halloween Cocktail Idea + Entertaining Tips
Kid-Friendly Halloween Drink: Green Apple Cider Lemonade
Exploring Disneyland Cars Land at Halloween Time