This Valentine's Day, surprise your honey with our beautiful and delicious Rose Tea + Pink Cranberry Mocktail! It's floral, citrusy, not overly sweet with the slight tang of pink cranberry juice. Plus, it's ready lickety-split! Grab the recipe down below where the delicious things grow!

Pink Cranberry Mocktail
It's nice to feel loved on and pampered. I am not sure there is anyone who doesn't enjoy being catered to and special. For me, gestures of love come in preparing food and drink for my lover girl. That's my love offering and my declaration of caring and love giving. I imagine there are parts of you, everyone, that feel the same way.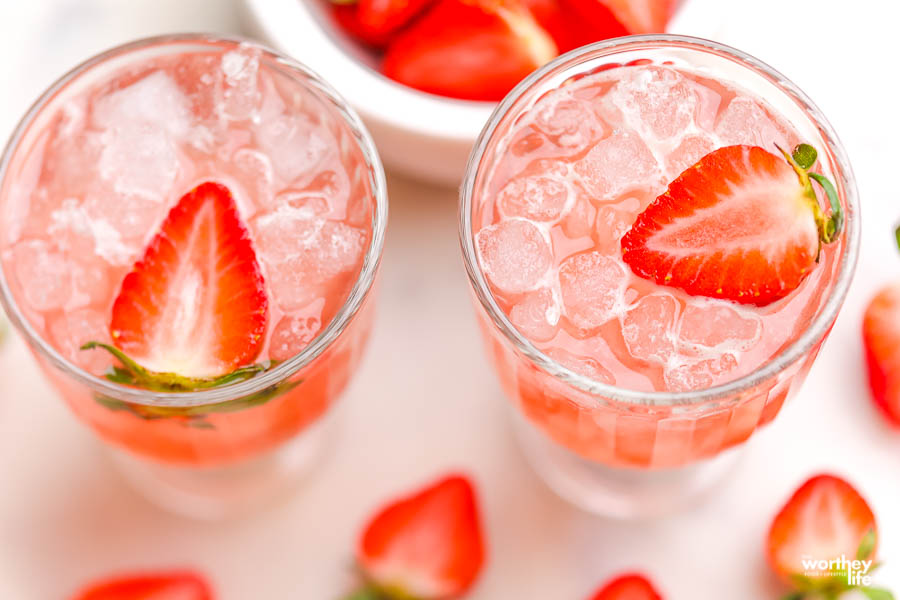 I created this cranberry drink because my wife doesn't drink alcohol but still likes the idea of having and enjoying mixed drinks. She also loves slightly sweet drinks and the taste of cranberry, and this mocktail has both. But it also has floral notes by adding rose syrup and hibiscus tea, and citrus notes from the freshly squeezed lime juice. All of these ingredients make our mixed cranberry drink a lot more interesting, balanced, and, most of all, delicious. With a few ingredients, you and pull this one off with the greatest of ease!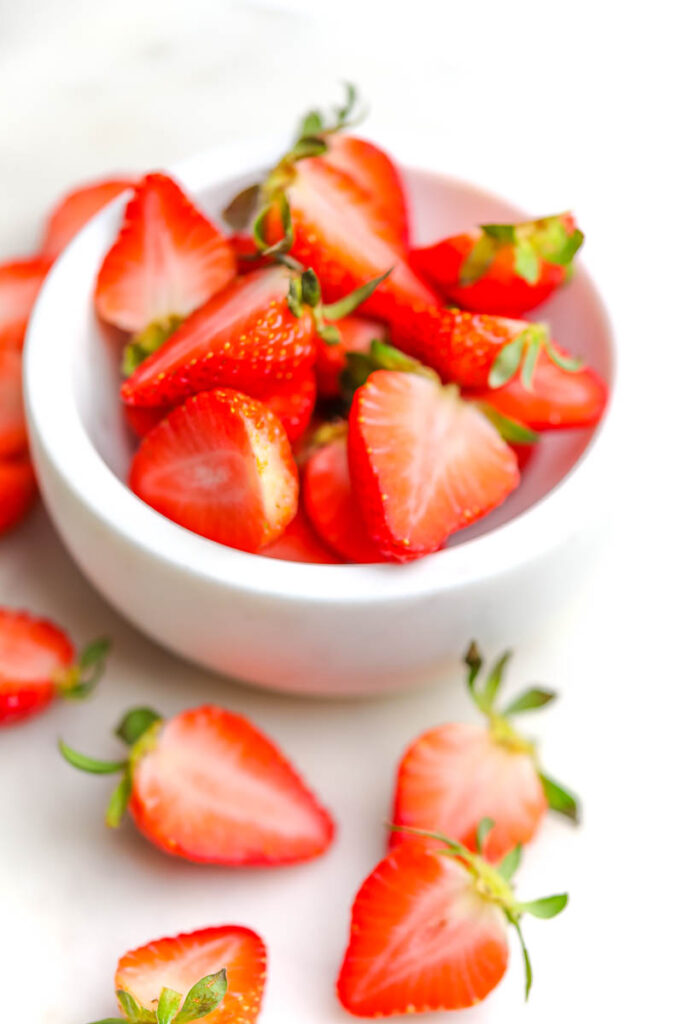 What You Will Need To Make Our Rose Tea + Pink Cranberry Mocktail:
Hibiscus Tea. I like to steep a strong brew for this drink; this allows the hibiscus tea flavor to come through without getting overtaken by the ingredients.
Fresh Squeezed Lime Juice. There is nothing like fresh-squeezed lime juice, and used in this mixed drink adds a bright and subtle kiss of citrus flavor.
Rose Syrup. Nothing says I love you like a rose, and in this mocktail, the addition of the rose syrup is symbolic of love as much as it works as a fresh floral ingredient. This begs the question, can you drink love? In this case, yes, you can!
Pink Cranberry Juice. I love pink cranberry juice because it's lighter and delightfully sweet without being cloying, and used in this alcohol-free apéritif; it is perfect. Also, light pink cranberry juice is the ingredient that ties everything together.
Strawberry Garnish. I used a half-slice of strawberry because it looks like a heart floating on top. What can be a greater symbol of one's undying love?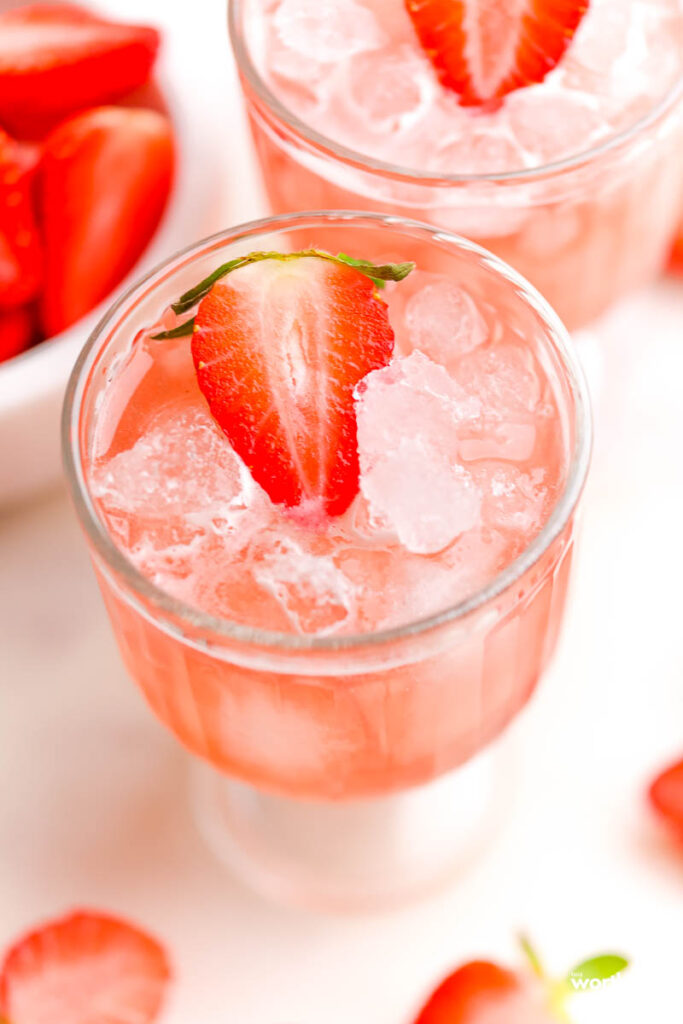 How to make our Pink Cranberry Mocktail
1 Serving
Ingredients:
1 tbsp lime juice

3/4 ounce rose syrup

1-ounce hibiscus tea

2 1/2 ounces pink cranberry juice

sliced strawberries for garnish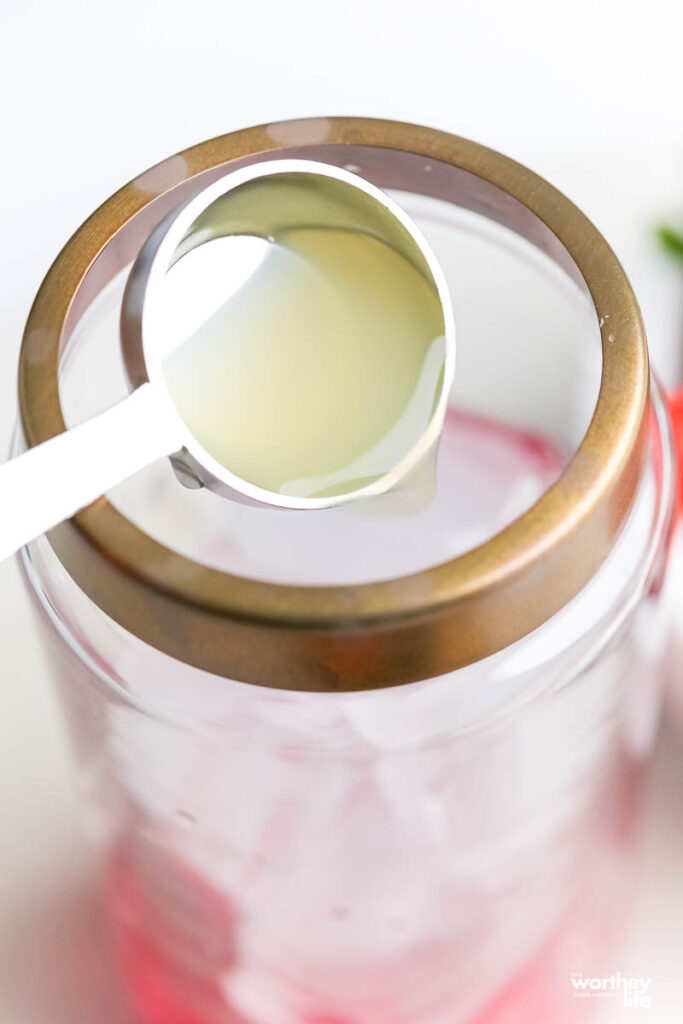 Directions:
Into a cocktail shaker, add ice, lime juice, rose syrup, hibiscus tea, and pink cranberry juice.

Secure the lid and shake vigorously for 3o seconds—strain into single-serving glass over ice.

Garnish with half of a fresh strawberry.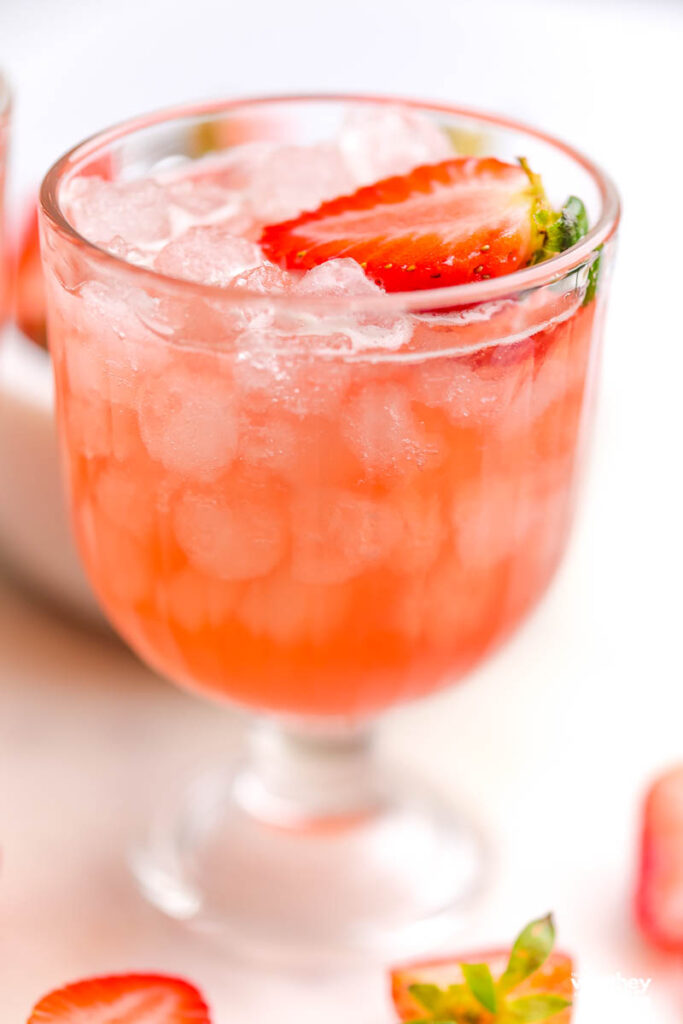 What other teas work well in this mixed drink?
Try rosehip tea or a berry blend like strawberry, cherry, raspberry, or a berry blend tea.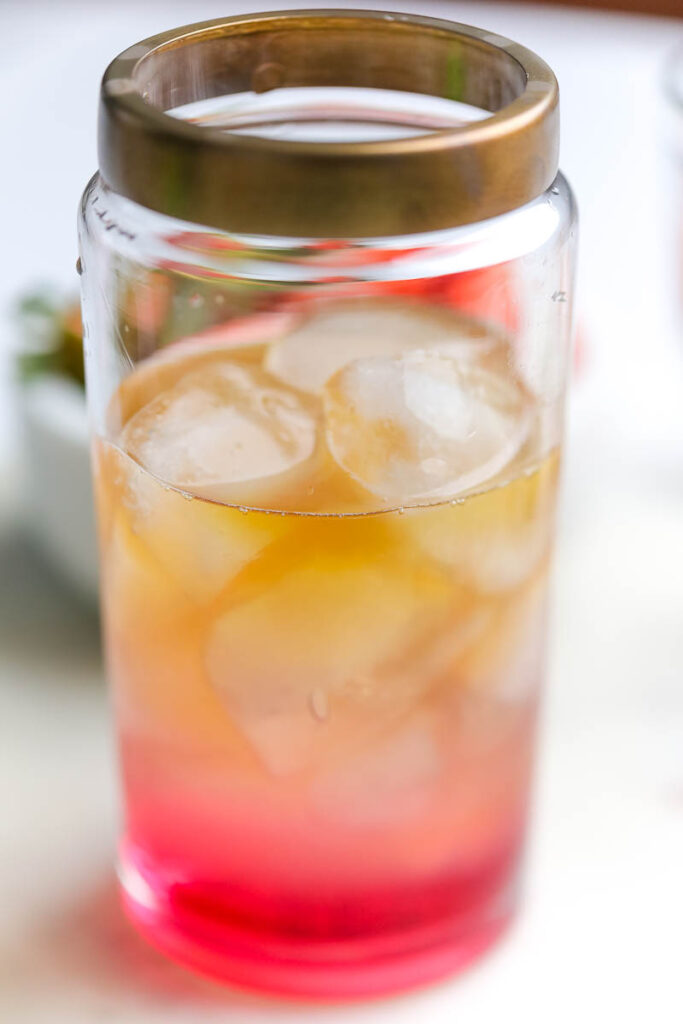 Can I make this Pink Cranberry mocktail ahead of time?
Mix this mocktail a day or two ahead of time makes this refreshing drink even better because the extra time allows the flavors to meld and intensify.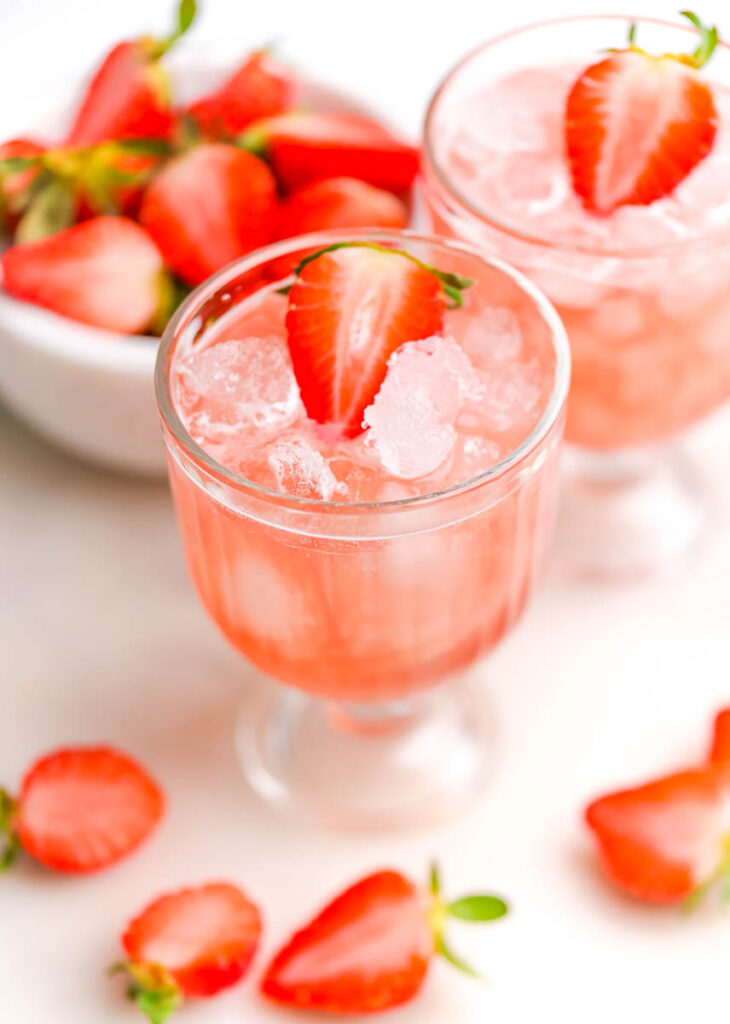 Is it possible to make this non-alcoholic drink into an alcoholic cocktail?
Of course, add 1 1/2 – 2 ounces of your favorite spirit. I recommend a good gin, vodka, or bourbon whiskey. Shake with ice along with the other ingredients, strain into a glass filled with ice, and enjoy. Oh, if your using gin, make the cocktail in a mixing glass and stir vigorously using a long-handled bar spoon. If you like this drink, check out our equally delicious Pink Vodka Cocktail.
Okay, now that you have the recipe, all you need to do now is grab the recipe. And as always, if you have additional questions, drop us a line in the comments section down below. Cheers!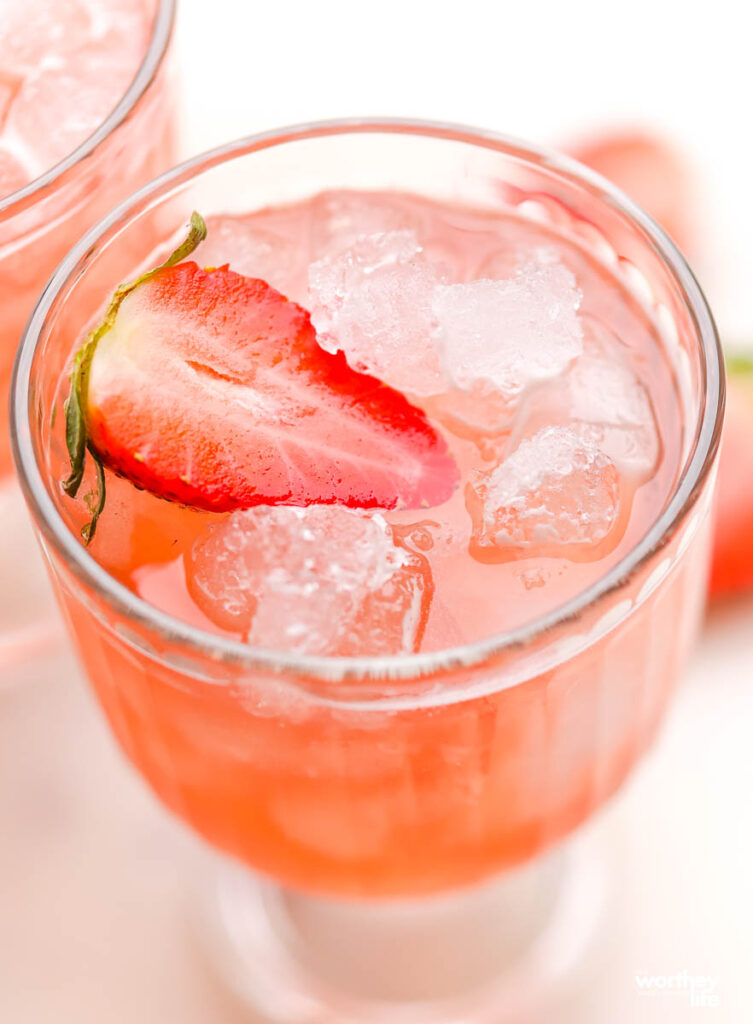 Find more sweet mocktails to try below:
Cranberry Tea Punch Recipe | Holiday Mocktail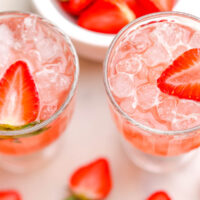 Ingredients
1

tbsp

lime juice

3/4

ounce

rose syrup

1-

ounce

hibiscus tea

2 1/2

ounces

pink cranberry juice

sliced strawberries for garnish:
Instructions
Nutrition
Serving:
1
g
|
Calories:
305
kcal
|
Carbohydrates:
75
g
|
Protein:
1
g
|
Sodium:
58
mg
|
Fiber:
2
g
|
Sugar:
48
g