Everyone needs a ride or die cocktail. Am I right? And speaking of cocktails, a good summertime cocktail is kinda mandatory this time of the year, because in the heat of summer everyone needs the perfect cocktail refreshment.
Ya' feel me? Our Watermelon Pink Lemonade Vodka Cocktail is what summer is all about! Cheers!

Watermelon Pink Lemonade Vodka Cocktail
When it comes to cocktails, who doesn't need a summer cocktail with vodka? The tricky thing about vodka is it tends to sneak up on you, and the night might become a blur. The takeaway? Sip responsibly. Because we're too old for nonsense.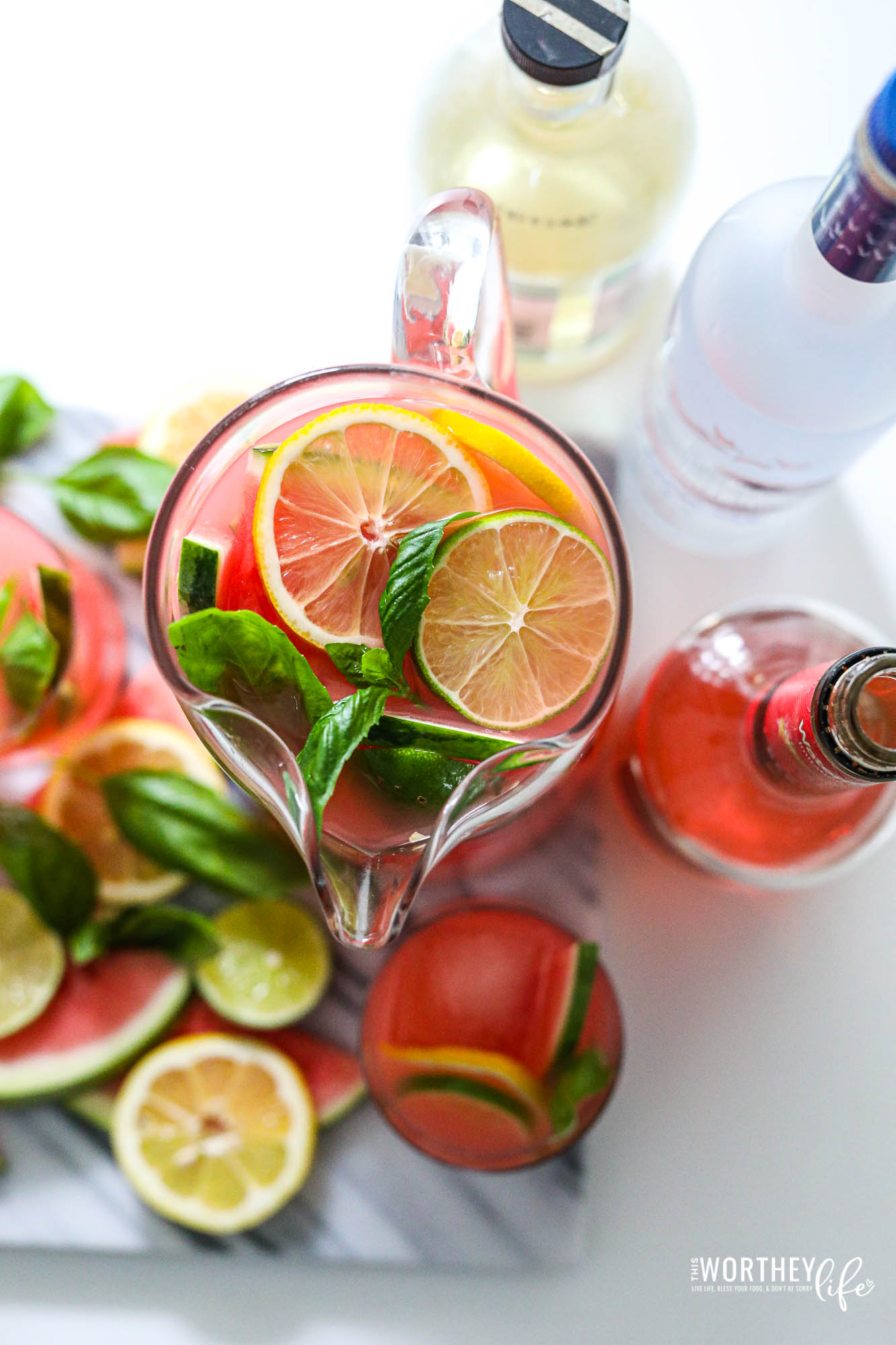 This cocktail is everything you are looking for in a summer cocktail; it's bright with a lot of citrus flavors, and what drink could be better for summertime fun than a pink lemonade splashed cocktail? I know, two summertime lemonade splashed cocktails.!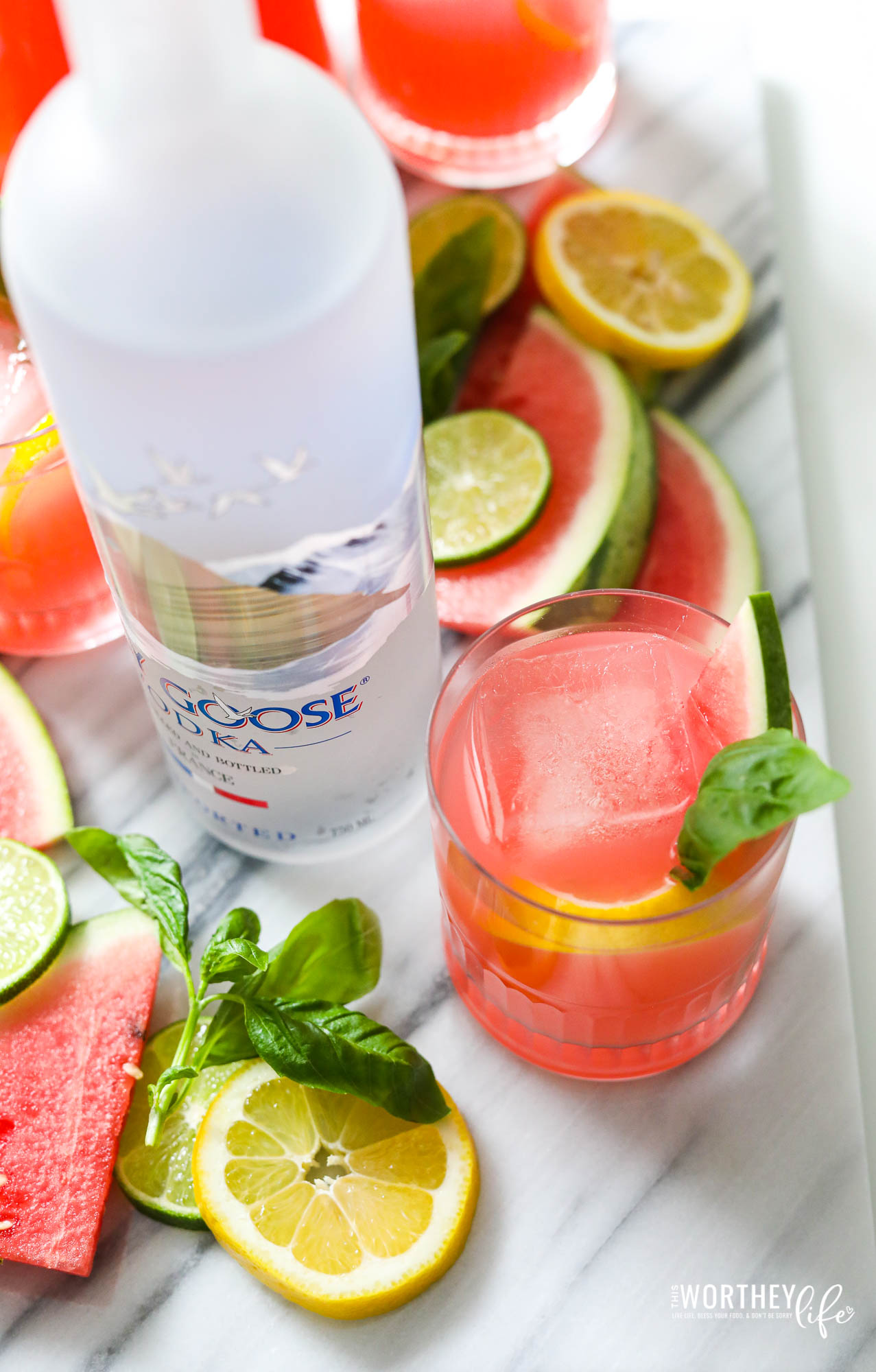 If you drink, don't drive. Don't even putt. -D. Martin
What You Need To Make Our Watermelon Pink Lemonade Vodka Cocktail:
Lemonade. For this cocktail, I used a pink lemonade mix, but feel free to use a pre-made pink lemonade, either works just fine.
Coconut Syrup. Adding coconut syrup to this cocktail recipe does things to your taste buds, and if you want to take it to the next level, use a coconut liqueur instead of the coconut syrup.
Vodka. Everyone knows that premium vodka makes for better cocktails. However, use your favorite vodka no matter the price point.
Watermelon Pucker. Adding a little kick is what watermelon pucker does to this whimsical cocktail. And if you add a little more than the recipe calls for, well, I ain't seen nothing!
Citrus. Adding slices of lemon and lime gives this cocktail a tropical vibe that works well and helps this cocktail look as good as it tastes.
Watermelon. Nothing signals summertime like fresh slices of sweet and juicy watermelon, and this cocktail benefits substantially from its use of watermelon.
Fresh Basil. Putting fresh basil in almost anything is never a bad thing, so why not put some in your cocktail? Adding fresh herbs in your favorite drink just makes sense; it brightens up whatever your drinking, and it makes your cocktail look better. For this recipe, use fresh basil or a sprig of fresh mint.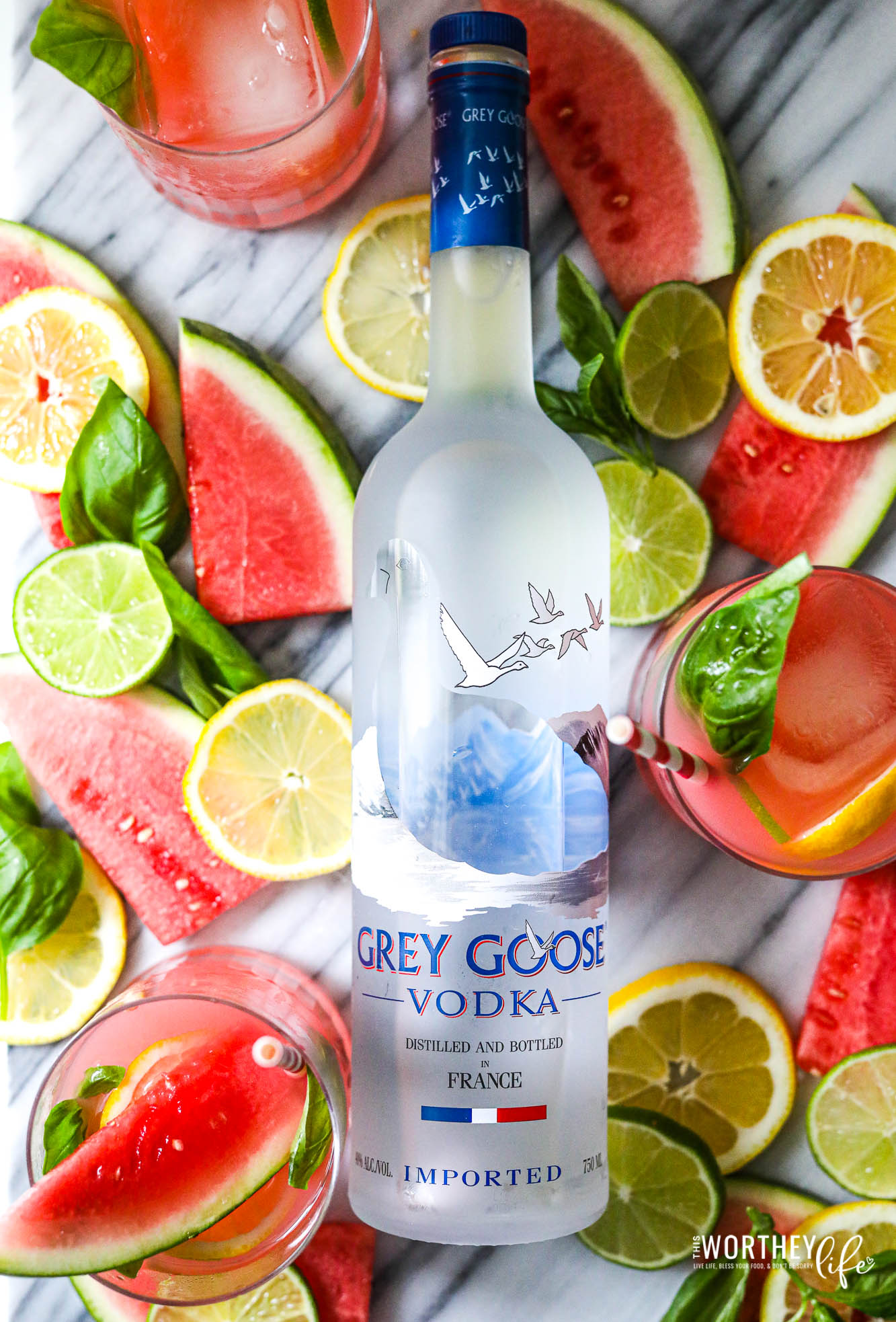 The best vodka brand is, whatever brand you like!
You Will Love Our Watermelon Pink Lemonade Vodka Cocktail Because It's:
Easy To Make
Refreshing
Visually Stunning
Deliciously Sweet
Great For Parties & Barbecues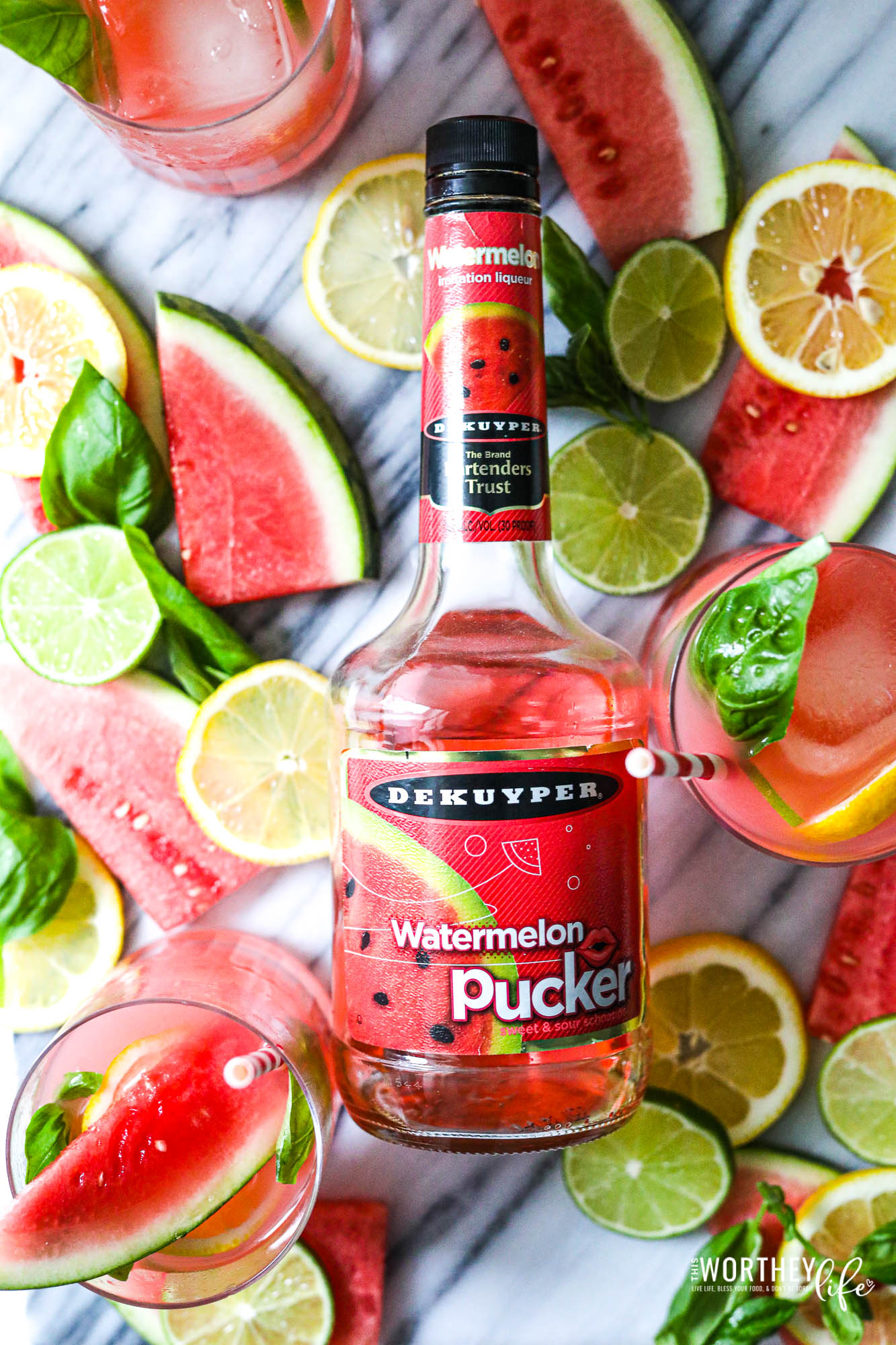 Looking for a watermelon pucker drink recipe? Well, you just found it!
Watermelon Pink Lemonade Vodka Cocktail
Ingredients:
10 Servings
5 cups pink lemonade
1 cup of toasted coconut syrup
2 1/2 cups premium vodka
1 1/2 cup watermelon pucker
1 lemon sliced
1 lime sliced
watermelon slices
Fresh basil or mint leaves
Directions:
Into a large pitcher, add 5 cups of store-bought pink lemonade or make your own, 1 cup of toasted coconut syrup, 2 1/2 cups of your favorite vodka, and 1 1/2 cups of watermelon pucker, and mix well until all of the ingredients are combined.
Add the sliced lemons, limes, and watermelon slices, fill serving glasses with ice, fill glasses with the Vodka Watermelon Pink Lemonade cocktails, and garnish with lemon, lime, and watermelon slices and a fresh sprig of basil or mint.
Serve.
Does alcohol and watermelon go together?
Watermelon and alcohol does go together! You will find that vodka is a great pair to watermelon. Whether you simply spike a whole watermelon, or make a watermelon lemonade cocktail like I did here.
Can I use tequila in replace of vodka?
You can use tequila in replace of vodka in this watermelon lemonade cocktail. Just use the same amount as what calls for the vodka, and you can add more or less depending on how strong you want your mixed drink to be.
What is an alternative to the coconut syrup?
If you want you can swap the coconut syrup with honey or even agave. I find that honey and agave add sweetness without altering the flavor. These will just help sweeten and balance the tart and acidic portions of the cocktail.
Can I make this watermelon cocktail ahead of time?
You can mix up all the ingredients except the ice. If you mix in the ice it will water down as it melts. Then stir and pour into glasses right before you serve up these cocktails.
Is there an alternative to pink lemonade?
If you don't like or can't find pink lemonade, try a raspberry lemonade. I love the sweetness of the fruit next to the watermelon and lime. You could use a classic lemonade but the mixed drink won't be as sweet as it would be for the raspberry or pink lemonade.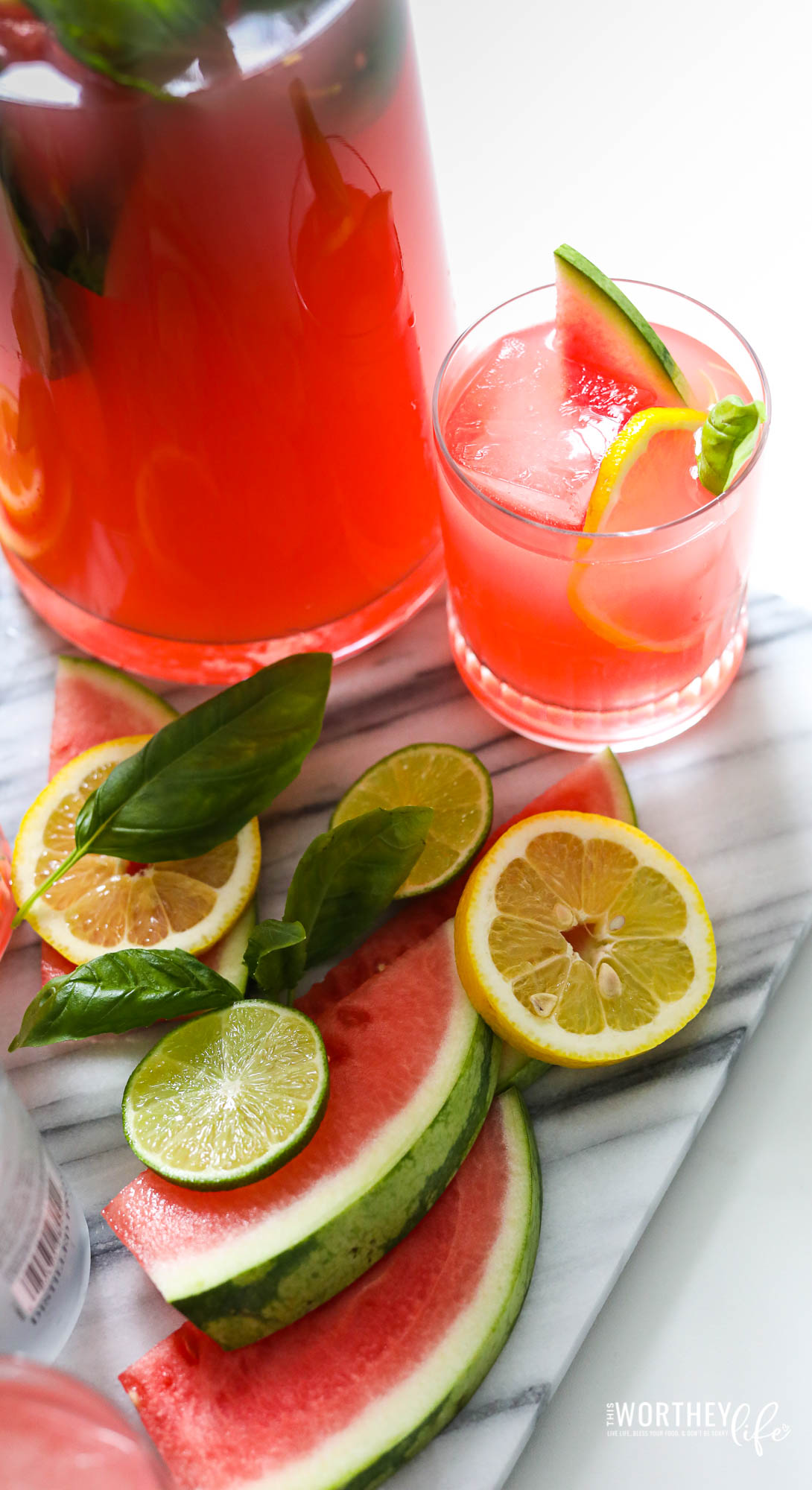 Alright, you have the perfect summer cocktail and come back and let us know what you think. Be safe out there and cheers!
Find other Vodka cocktails to try below:
Club Quarantine Cocktail Made With Ciroc Vodka
Toasted Strawberry Shots Cocktail with Vodka