Let's get ready for the weekend with a berry-forward Raspberry Mezcal, also known as our Raspberry Smash Cocktail.
It's like a margarita but without the lime and salty rim.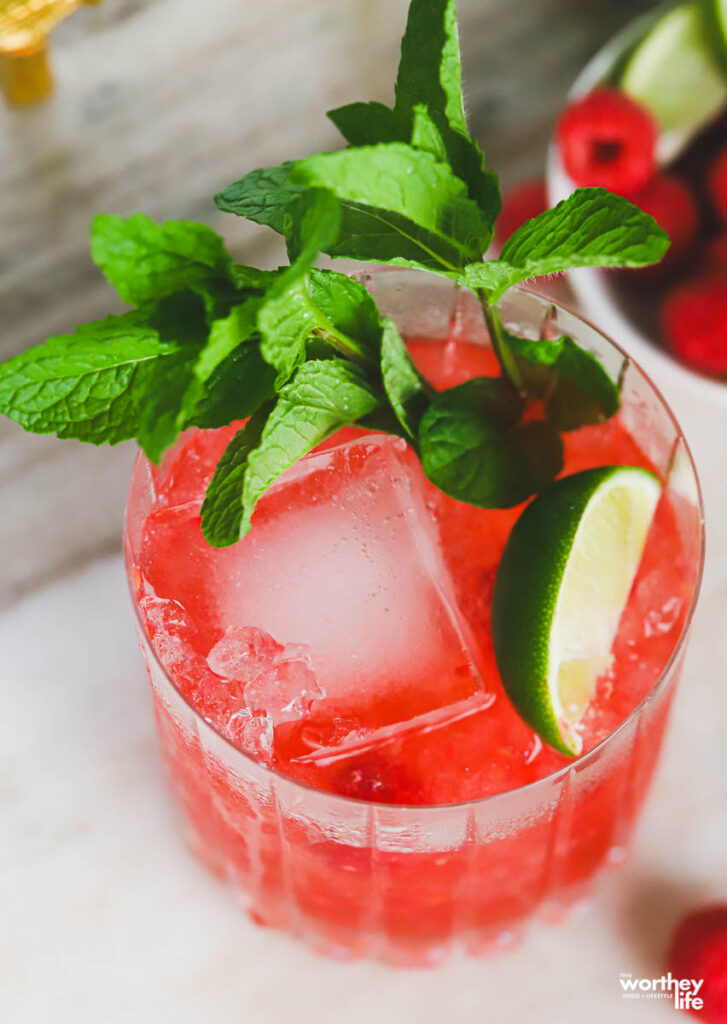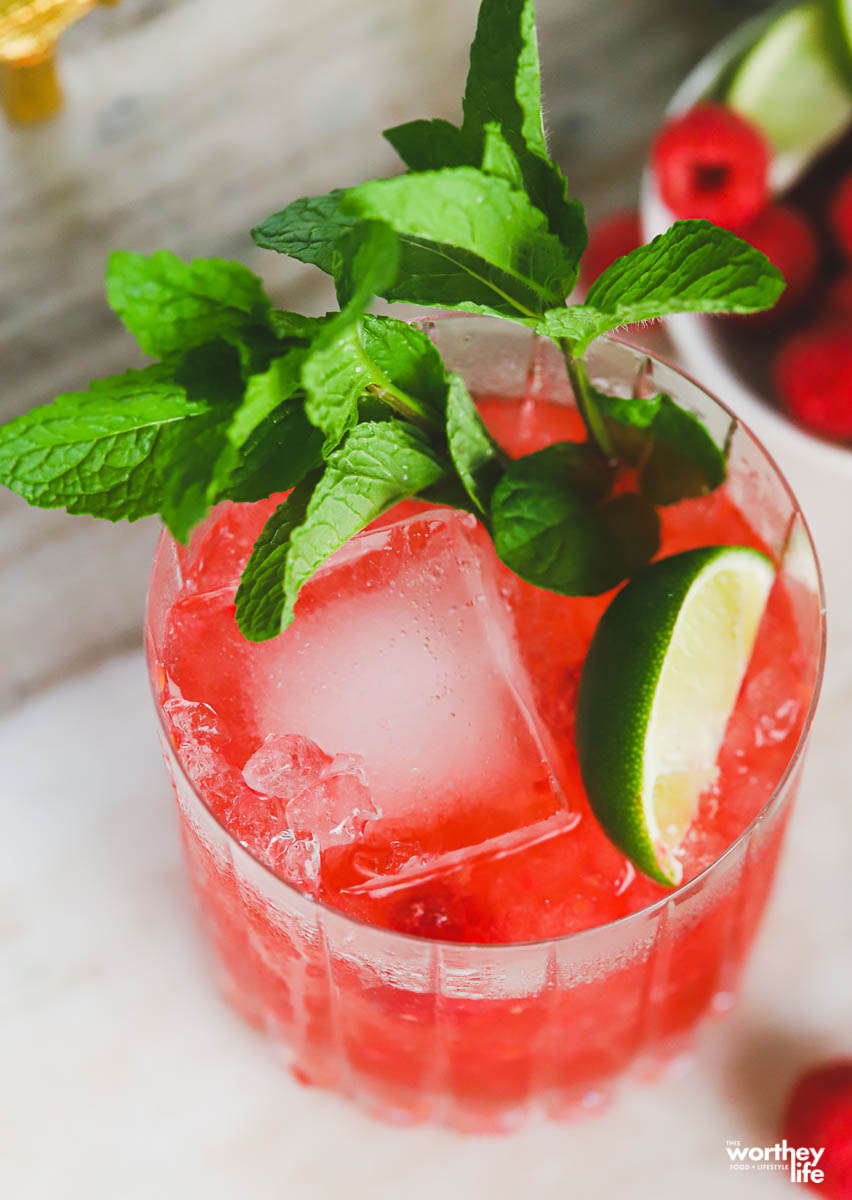 How to make a Raspberry Mezcal
It starts with muddled plump and perfectly ripened raspberries, but like its margarita cousin, there's a long pour of Blanco tequila.
However, this irresistible drink also has Mezcal's smokiness and the orange liqueur's citrusy sweetness.
All the ingredients get a hard shake or stir, then pour over ice cubes and topped with ginger ale! Garnish with fresh raspberries, a wedge of lime, and a sprig of mint, and you're good to go.
It's different but so deliciously so!
Cheers, ya'll!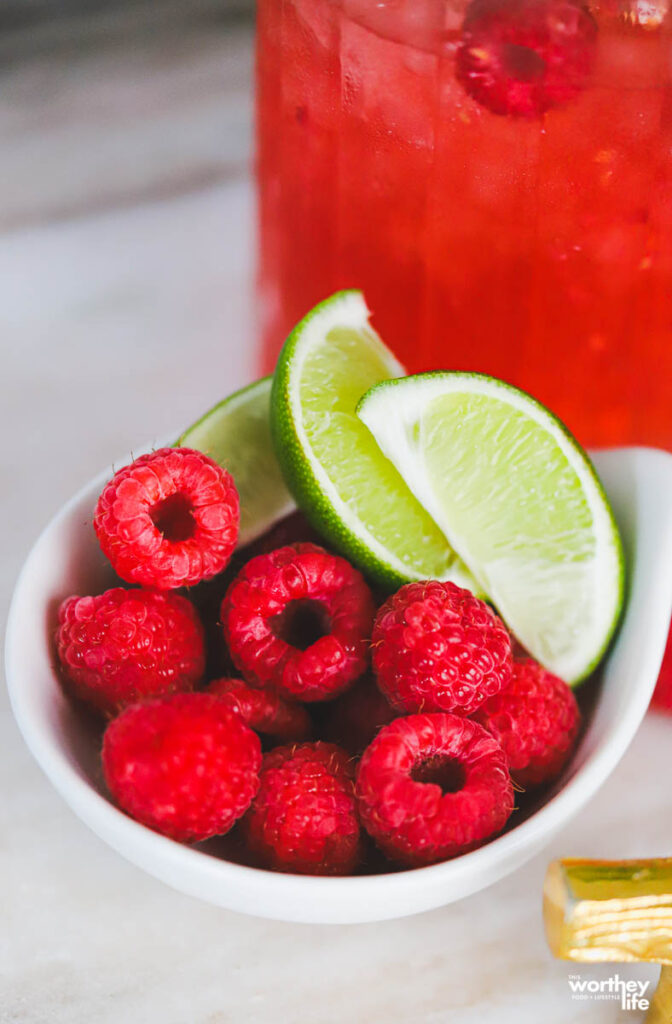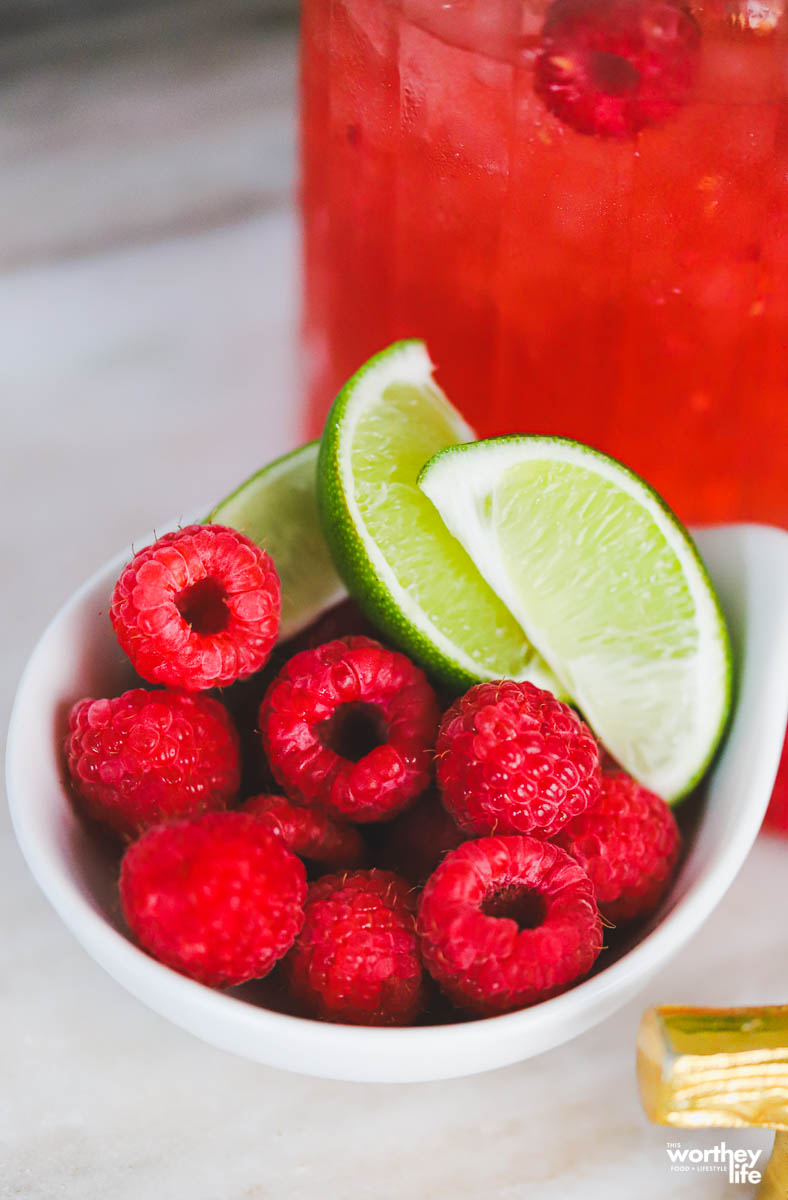 Ingredients Needed To Make A Raspberry Mezcal:
Raspberries. This berry summer cocktail works great with raspberries. Look for bright, plump fresh berries that are perfectly ripe. If you can't find raspberries feel free to swap them with any berry.
Blanco Tequila. Smoothed, balanced, and perfectly delicious.
Orange Liqueur. I reached for orange liqueur for this recipe, but you can easily swap with triple sec and still get similar flavors.
Ginger Ale. We recommend ginger beer if you want a more potent punch of flavor. For a lighter cocktail, reach for ginger ale.
Lime, Mint. You will need lime and a sprig of mint for garnish. You are welcome to skip the garnish if you would prefer.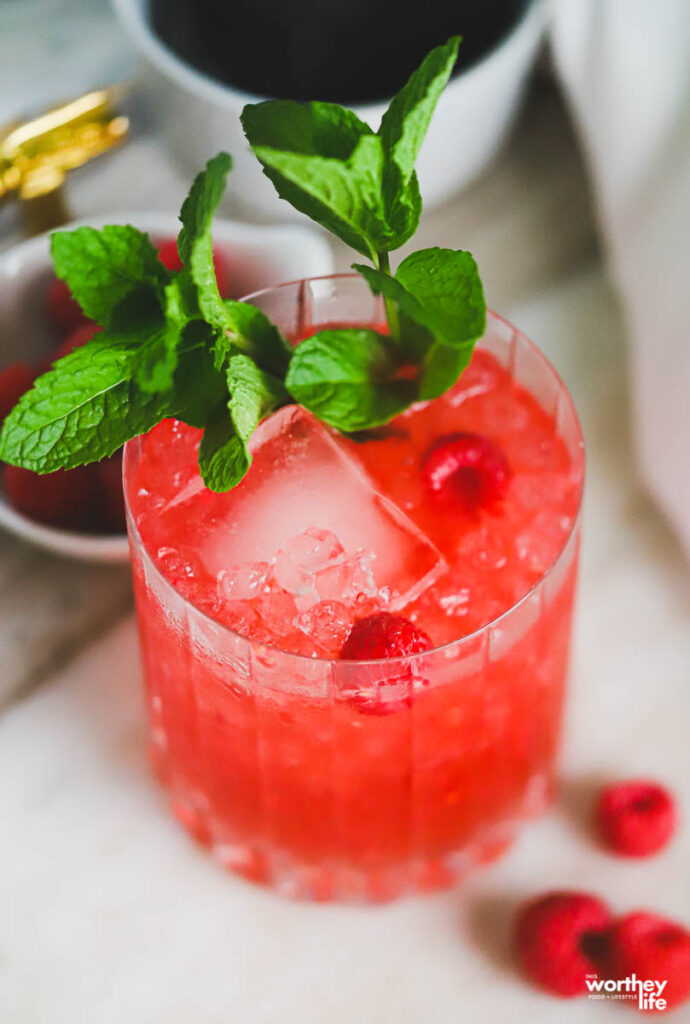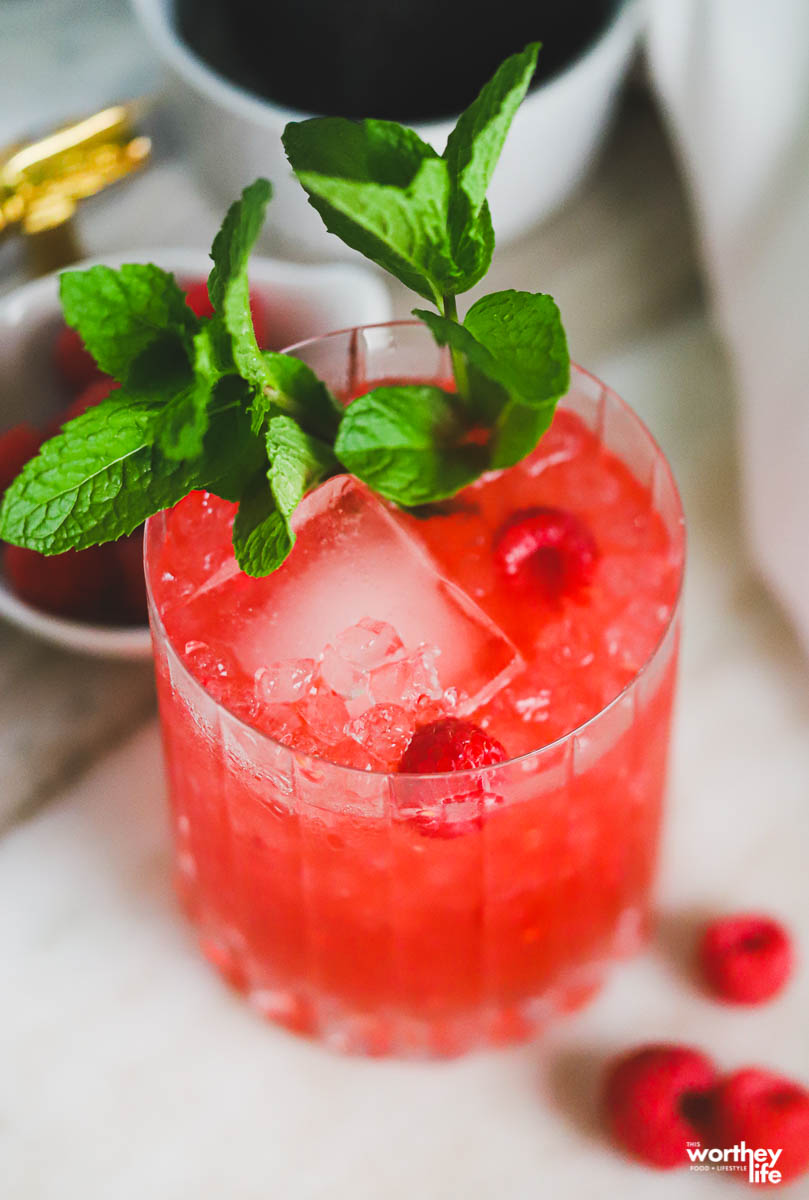 How to make a Raspberry Mezcal Cocktail
Ingredients
4 fresh ripe raspberries muddled
ice
1 ounce of Blanco tequila
½ ounce of orange liqueur or triple sec
¾ ounce of raspberry syrup
Top with ginger ale or ginger beer
Raspberries for garnish
A wedge of lime for garnish
Fresh sprigs of mint for garnish
Directions:
Add 3-4 fresh ripe raspberries into a cocktail shaker and muddle to break them apart.
Add ice, Blanco tequila, Mezcal, orange liqueur, and raspberry syrup.
Secure the lid of the cocktail shaker and shake vigorously for thirty seconds.
Strain into a rock glass filled with ice.
Garnish with a few raspberries, lime wedge, and fresh sprigs of mint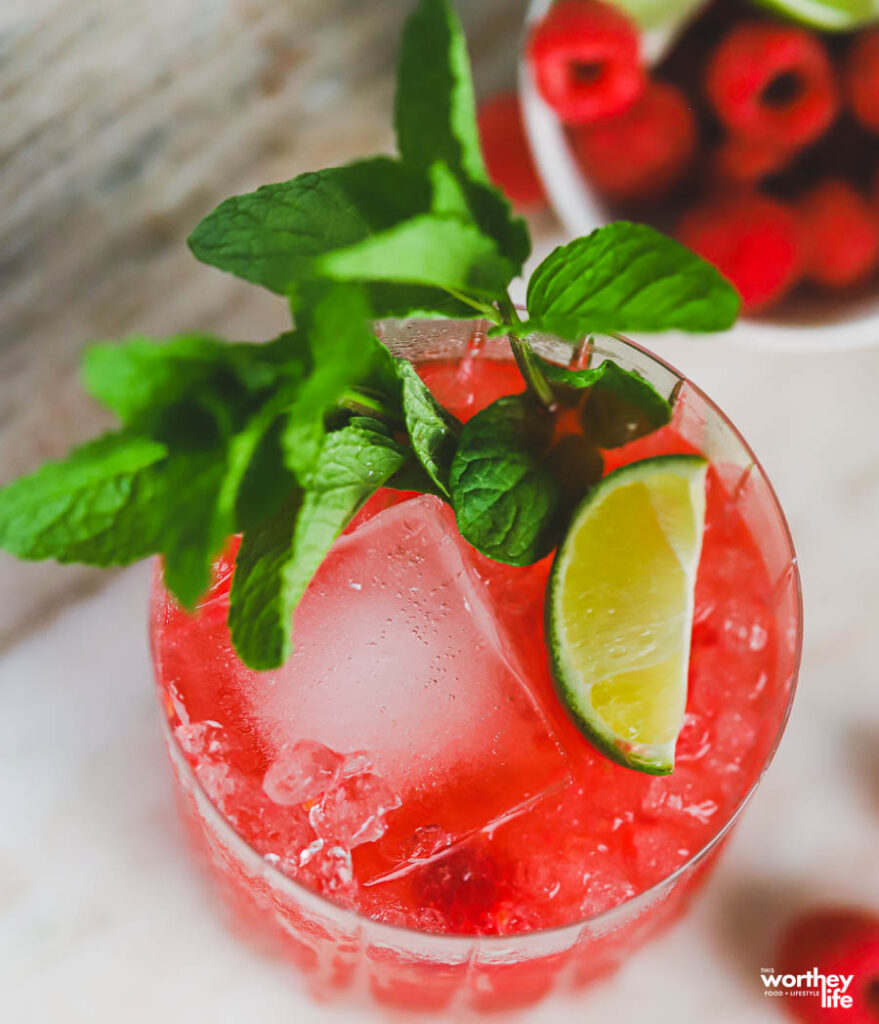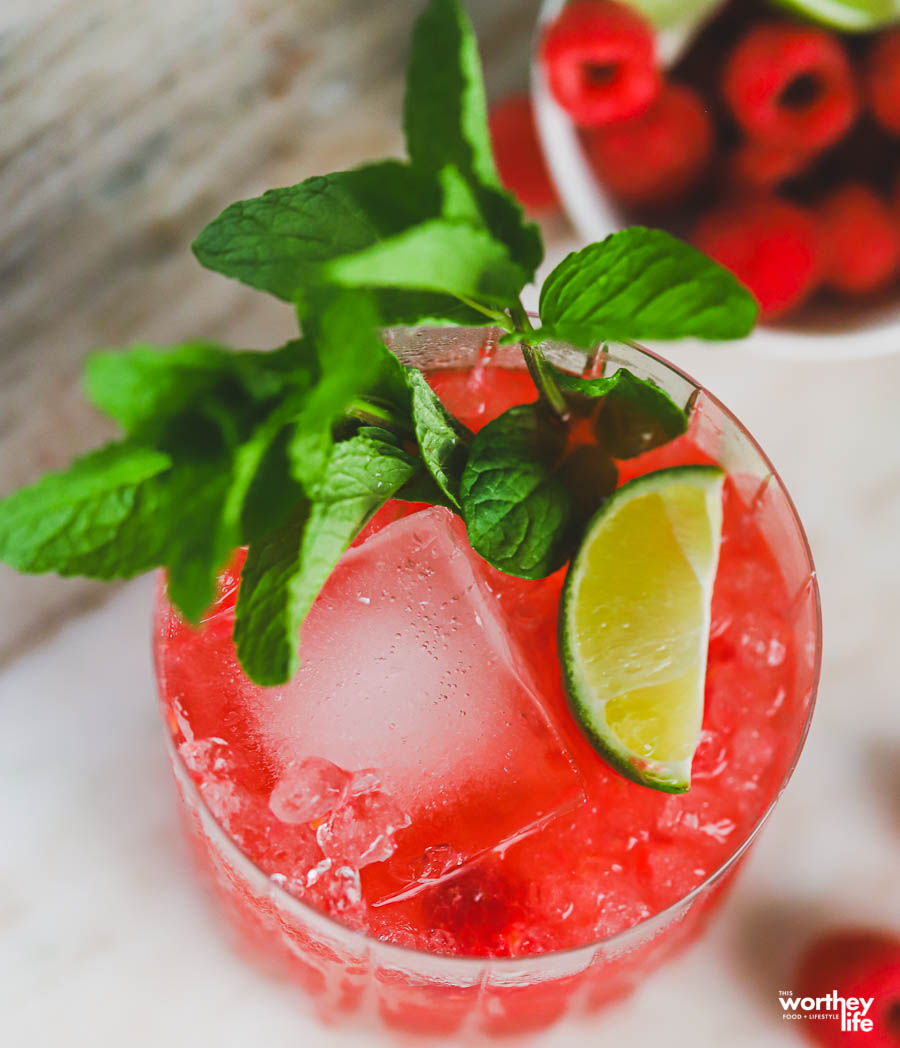 Variations To Recipe
Swap out the raspberries for any other fresh berry. Strawberry, blackberries, or even a blend of berries tastes delicious.
You can dip your glass rim in corn syrup or plain water and then dip in Tajin to rim the glass. This will enhance a savory component to this mezcal cocktail.
If you want more of a citrus twist, add in some orange juice or even a splash of lime juice.
Sweeten up your cocktail even more with simple syrup. Add a little to taste, and add more if you want a sweeter cocktail.
Swap out the fresh mint leaves with basil if you want to change up the flavor of your cocktail.
What is the difference between Mezcal vs. tequila?
If you love smoked cheese and other smoked foods, Mezcal will be a transforming ingredient in your cocktails!
Mezcal is made up of 50 different plants, bringing you an incredible smoke-flavored component you can't find in other ingredients.
Tequila is steamed with agave plants and will have a milder flavor.
Is Mezcal stronger than tequila?
Mezcal is stronger than tequila. Mezcal measures around 55%, whereas tequila hits 40%.
So you will find that each cocktail you make offers a more potent punch.
Can you drink Mezcal straight?
Mezcal can be served straight if you would like.
You will find it has a smoky flavor, so that it can be a bit of a different flavor component than a classic tequila. Serving with a garnish of citrus is what quite a few enjoy doing.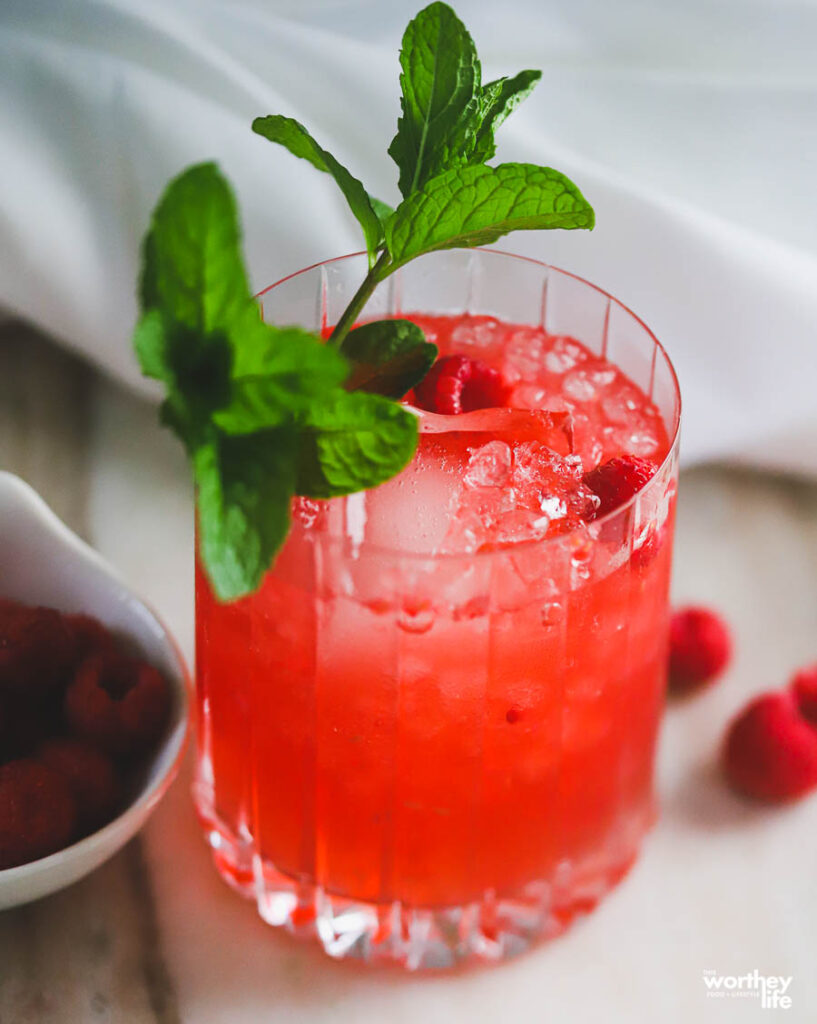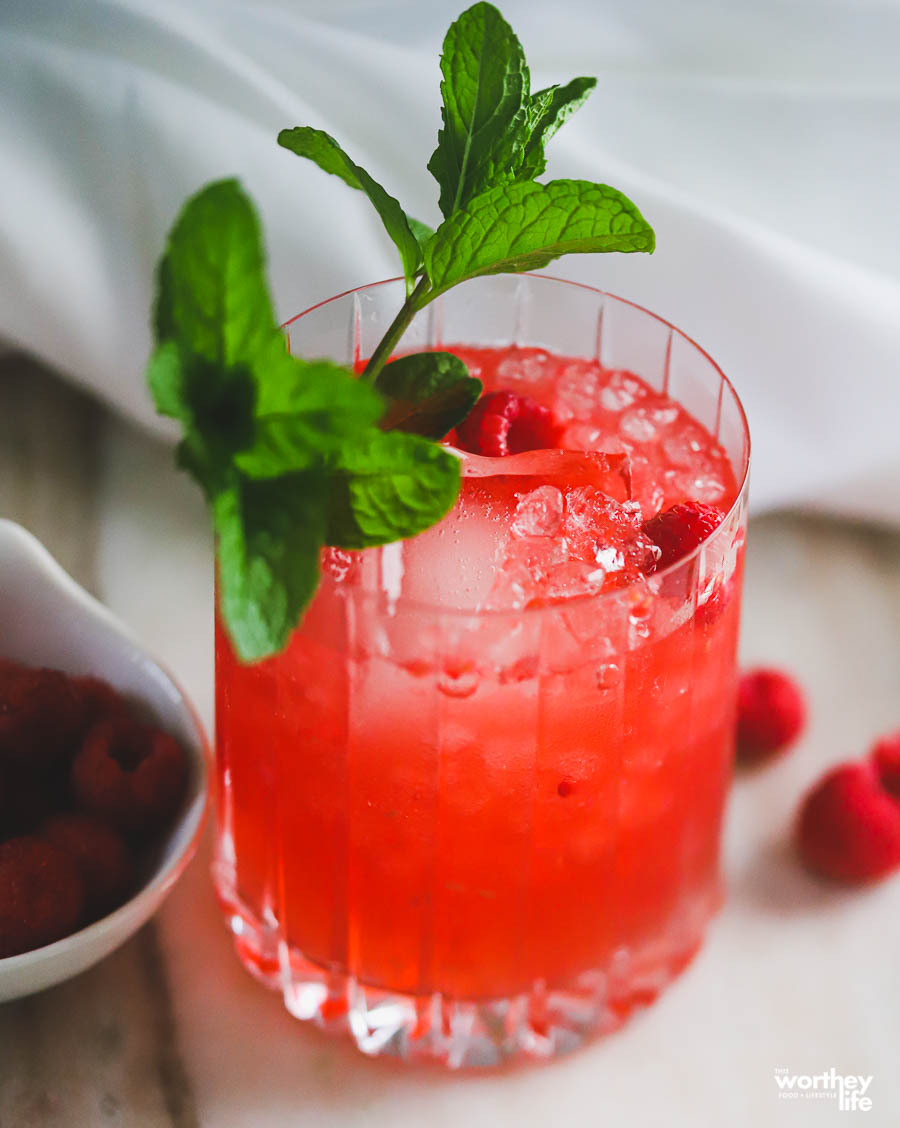 What if I don't want raspberry seeds in this Raspberry Mezcal?
Mix up your drink, and pour it through a strainer.
This will give you all the flavors without the seeds when you sip your cocktail.
This works great when you make a drink that has seeds.
Does this recipe double well?
Yes, if you plan to make a handful of this fruity cocktail, you can double it.
Just plan to whip it up and serve right away.
The ice will melt and water down the strength of the cocktail, and the ginger ale going flat.
Check out these other cocktail recipes to make this summer:
Frozen Cranberry Margarita with Peppermint Rim
Punch with Pineapple Juice + Black Raspberry
Strawberry Whiskey Lemonade Cocktail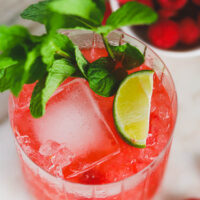 Ingredients
4

fresh ripe raspberries muddled

ice

1

ounce

of Blanco tequila

½

ounce

of orange liqueur or triple sec

¾

ounce

of raspberry syrup

Top with ginger ale or ginger beer

Raspberries for garnish

A wedge of lime for garnish

Fresh sprigs of mint for garnish
Instructions
Into a cocktail shaker add 3-4 fresh ripe raspberries and muddle to break them apart.
Add ice, Blanco tequila, mezcal, orange liqueur, and raspberry syrup.
Secure the lid of the cocktail shaker and shake vigorously for thirty seconds.
Strain into a rock glass filled with ice.
Garnish with a few raspberries, a wedge of lime, and fresh sprigs of mint