This melted snowman bark is a festive chocolate treat, great for serving up to friends and family, taking to school parties, or even a holiday movie night.
This is a white chocolate bark with candy buttons, pretzel arms, and a peanut butter cup hat.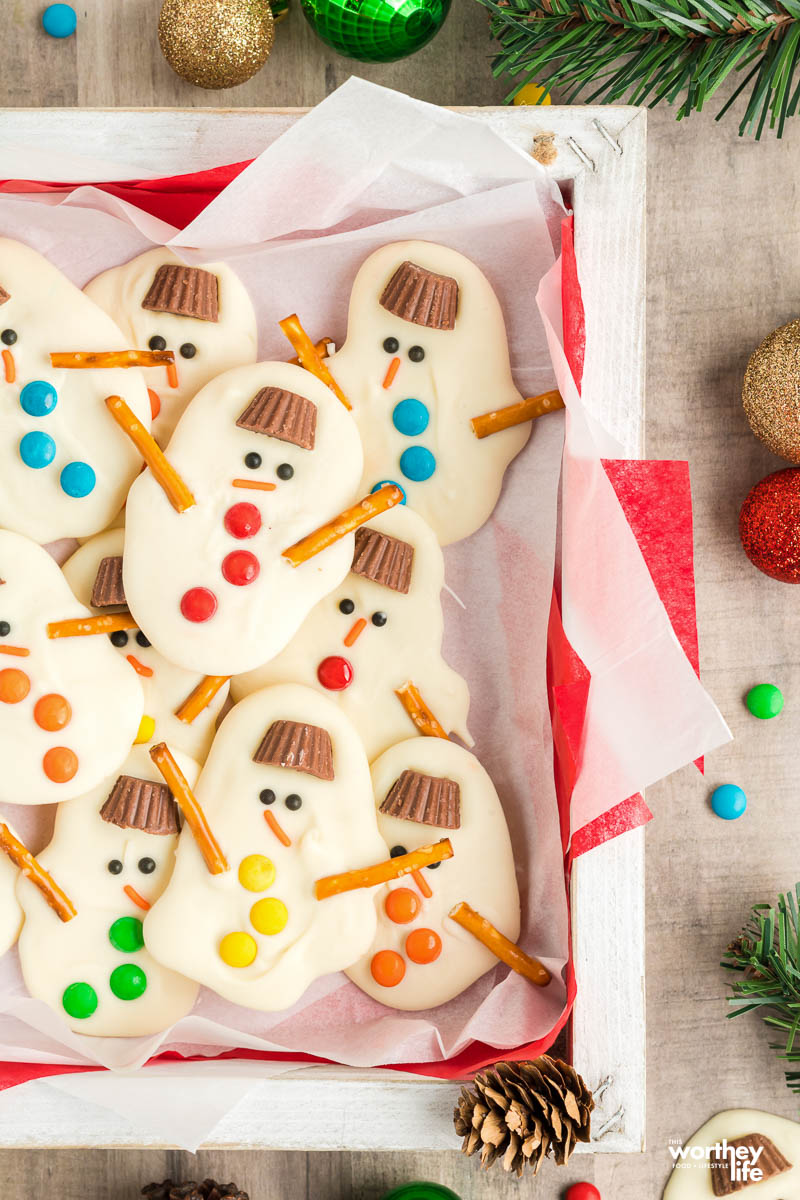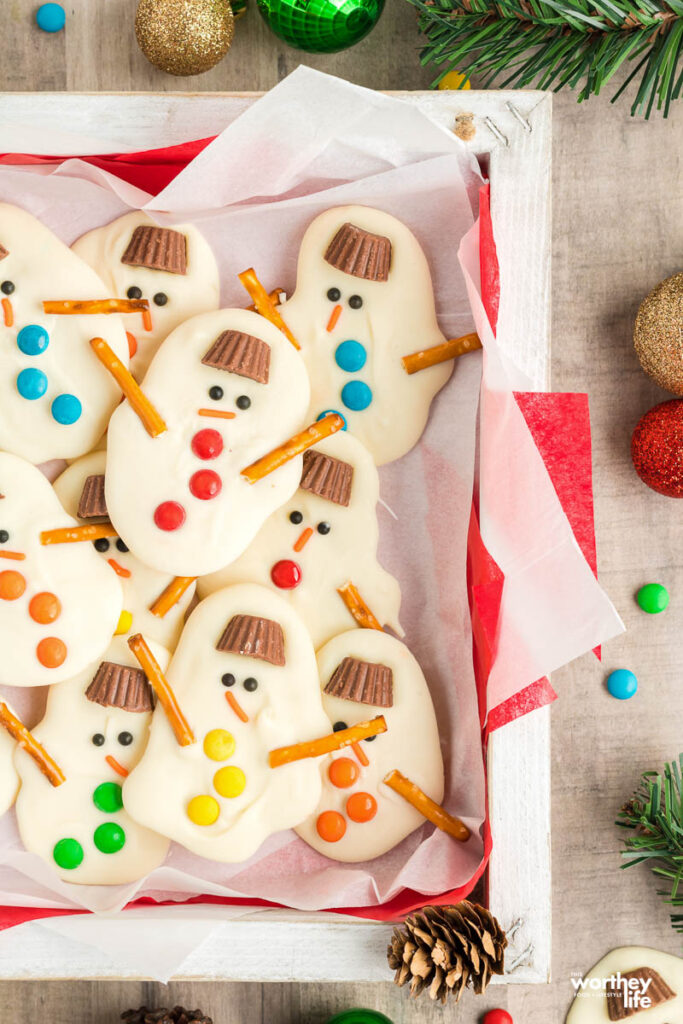 It's the holiday season, and we're ready for all the baking, fudge, cookies, and bark recipes.
If you're looking for a quick recipe idea to get you into the holiday spirit, this is a fun activity with your family and a fun food idea!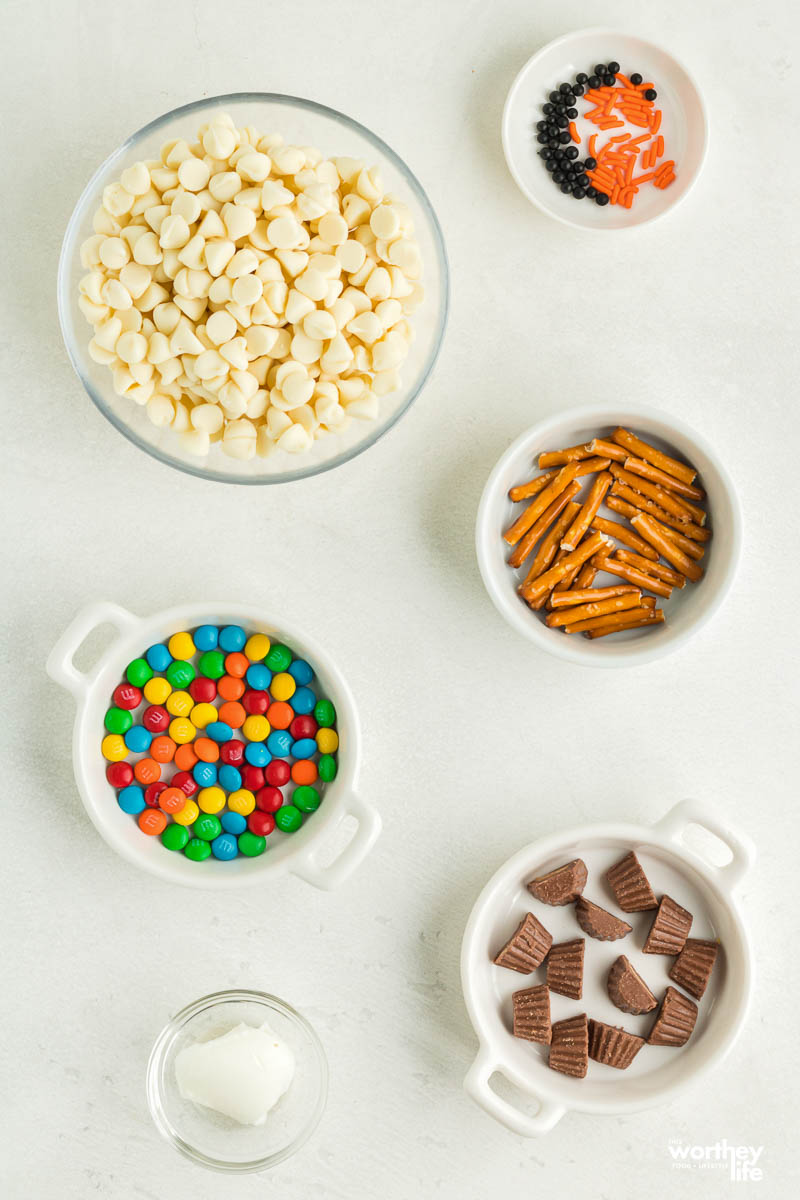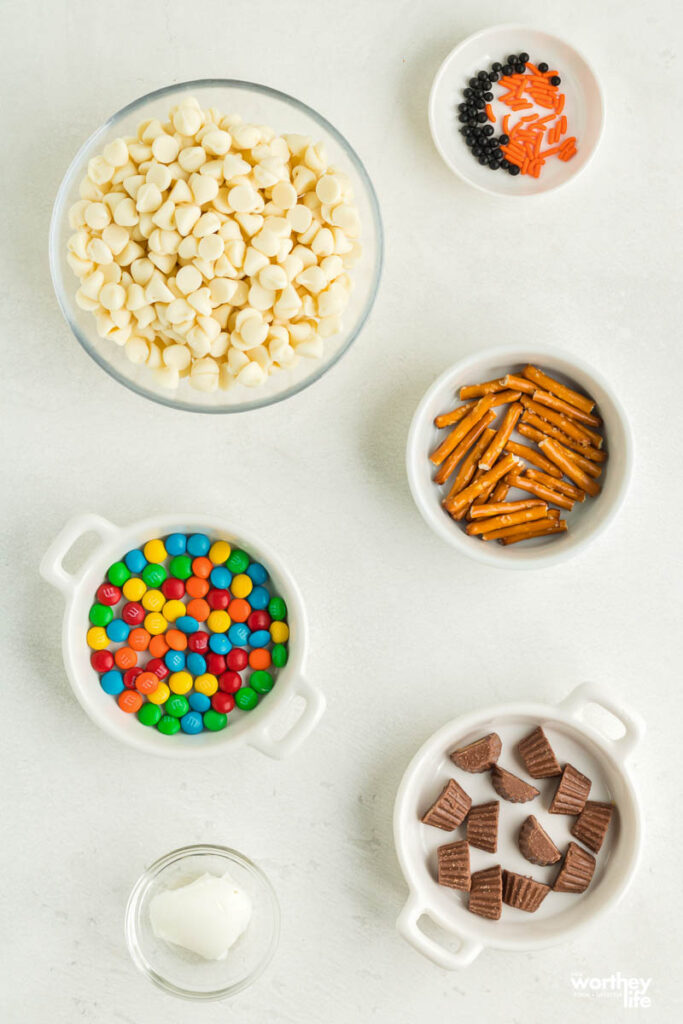 What You Will Need
White Chocolate. The key to this chocolate bark is quality white chocolate. It will be the stand-out flavor of the dessert. You can use a chocolate bar you chop up, Ghirardelli chips, etc.
Shortening. The shortening is what is going to help the chocolate set up to become firm. Otherwise, the chocolate stays soft and can melt in your hands easily.
Reeses. I am using mini Reese's peanut butter cups, sliced in half vertically. I love the ribbed lines. This is going to work as the hat.
Pretzel Sticks. The sticks will be the arms. If your sticks are too large, break the pretzels to fit the proportion of the snowman.
Candy. Feel free to switch up the candy for other types and flavors. I used black candy pearls for the small candy eyes, orange sprinkles for the carrot noses, and mini M&M's for the buttons.
And because this requires a basic skill level, anyone can make this recipe. I think the snowman bark is a fun recipe for holiday parties, while watching your favorite Christmas movie, or to give as a holiday gift.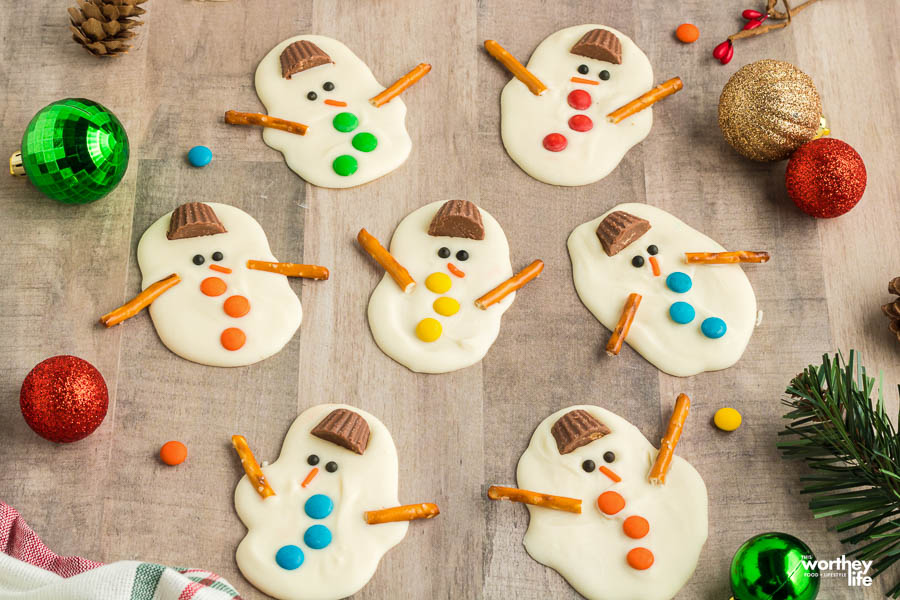 How to make Melted White Chocolate Bark with a Snowman Theme
Yield: 12-16 pieces
Prep time: 15 minutes
Set time: 30 minutes
Ingredients
11-ounce bag of high-quality white chocolate chips (1 ¾ cups)
1 tablespoon vegetable shortening
6-8 Reese's minis, cut in half vertically
12-16 pretzel sticks, broken in half
24-32 small black candy pearls

12-16 orange sprinkles
36-48 mini M&Ms
You will also need the following:
Waxing paper or parchment paper
Directions
Line two flat baking trays with parchment paper and set aside.
Add the chocolate chips and vegetable shortening to a microwave-safe bowl. Microwave for 30 seconds and stir. Microwave for an additional 30 seconds and stir until smooth and well incorporated. If lumps of chocolate remain, microwave in 20-second intervals until smooth.
Drop the melted chocolate spoonful onto the parchment-lined baking trays to create a melted snowman shape. Use the spoon to spread the chocolate into your desired shape if needed. Each snowman will use about two tablespoons of chocolate.

Add one of Reese's mini halves cut side down to the top portion of the snowman shape to create the hat. Add a pretzel stick half to each side of the chocolate shape to make the arms.
Place two black pearls under the Reese's mini to create the eyes. Add an orange sprinkle under the eyes to make the nose. Finally, place three mini m&m buttons.
Allow the chocolate to set completely before serving.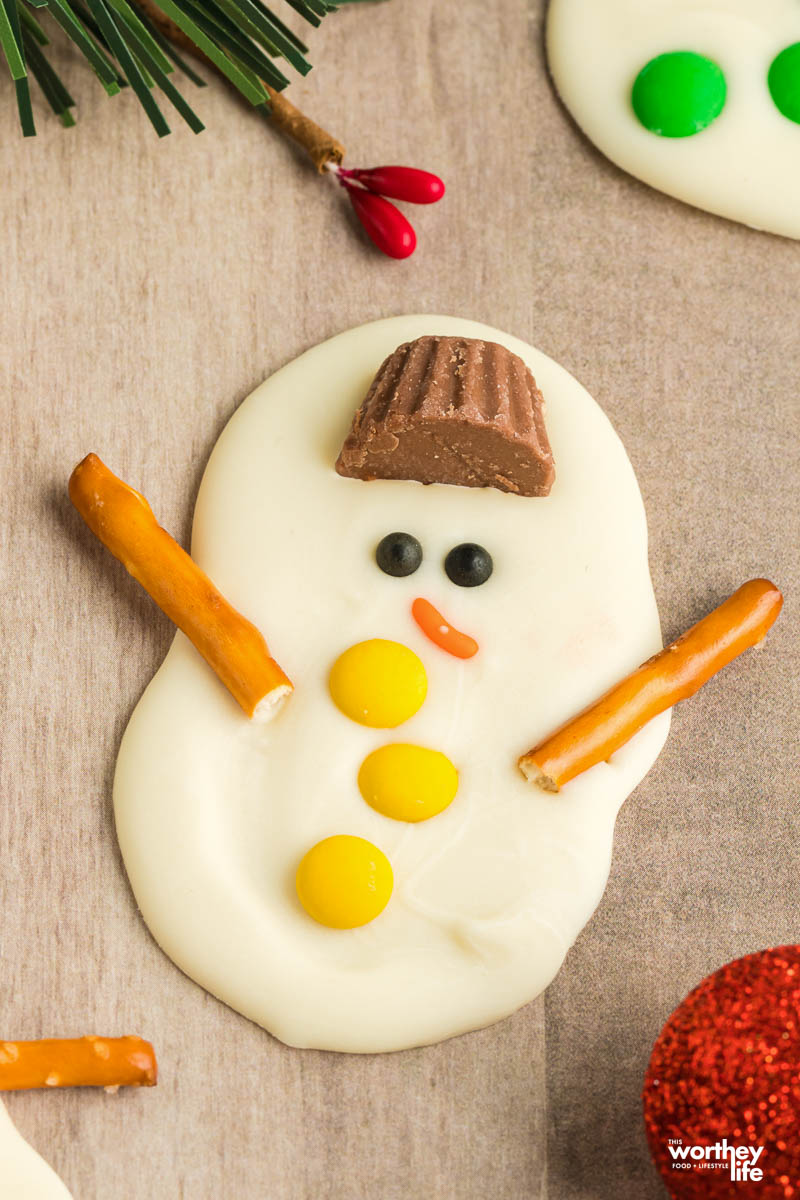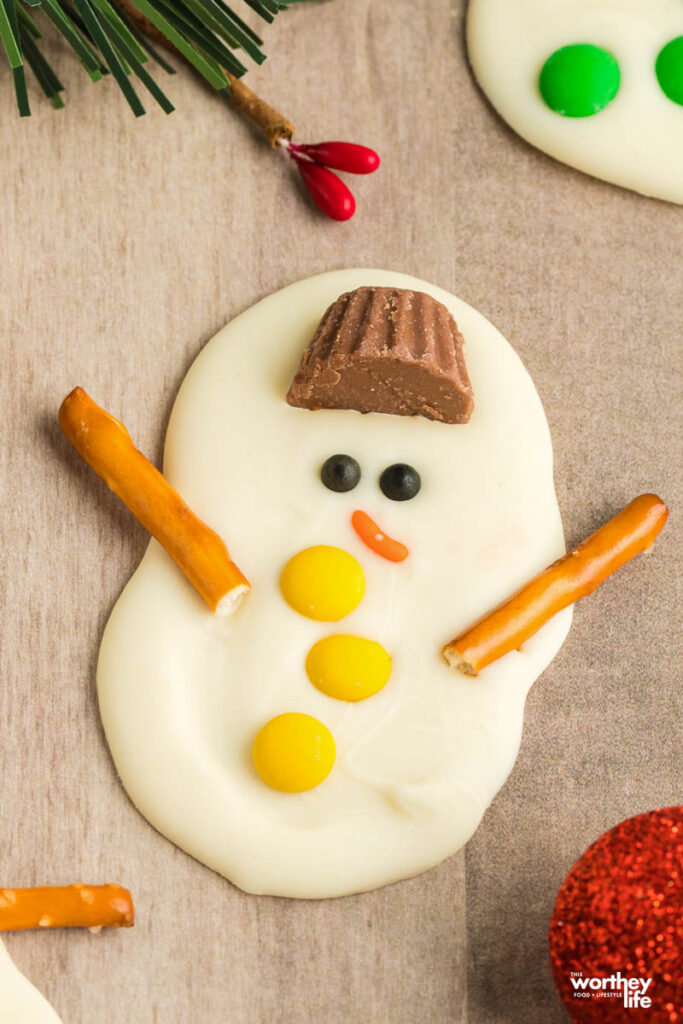 Additional tips to know for making melted snowman bark:
You can use white candy melts instead of chocolate chips to make the bark.
I used regular rainbow sprinkles for the orange sprinkles and just picked out the orange ones.

Use Reese's minis unwrapped and not Reese's miniature cups. The miniature cups will be a little too big.

You can use mini chocolate chips instead of the M&Ms to create the buttons.
The final yield will depend on how large you make the melted snowmen's bodies.
You could also use red hots for the snowman's buttons.

Assemble The Snowman Quickly
Work on one snowman at a time.
The chocolate can be set up pretty fast, so have all your items within reach to create a snowman for each white chocolate.
Could I replace the shortening?
You could use canola oil, vegetable, or even coconut oil.
You need to double-check the chocolate can set up as it cools down after being set.
Do not skip the vegetable shortening in the chocolate.
It will help the chocolate melt smoothly and make it easier to work with when creating the snowman shape.
White chocolate tends to set more quicker than dark chocolates.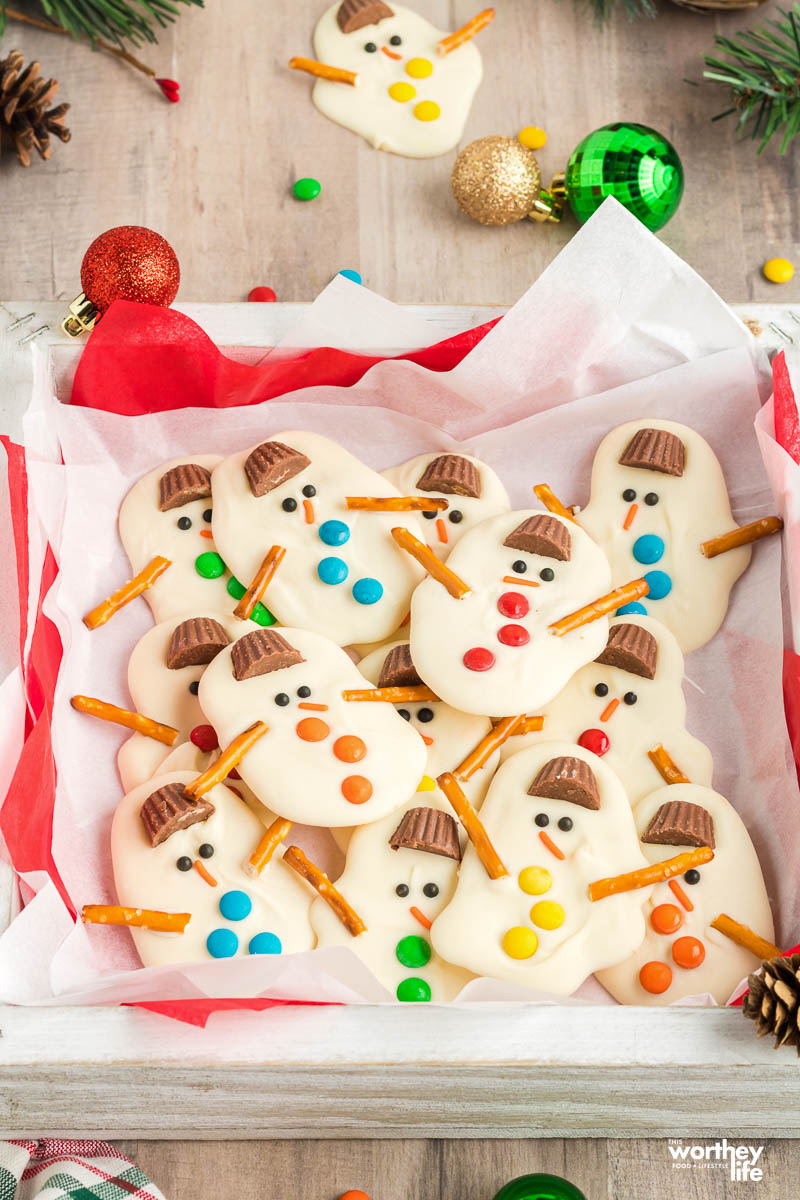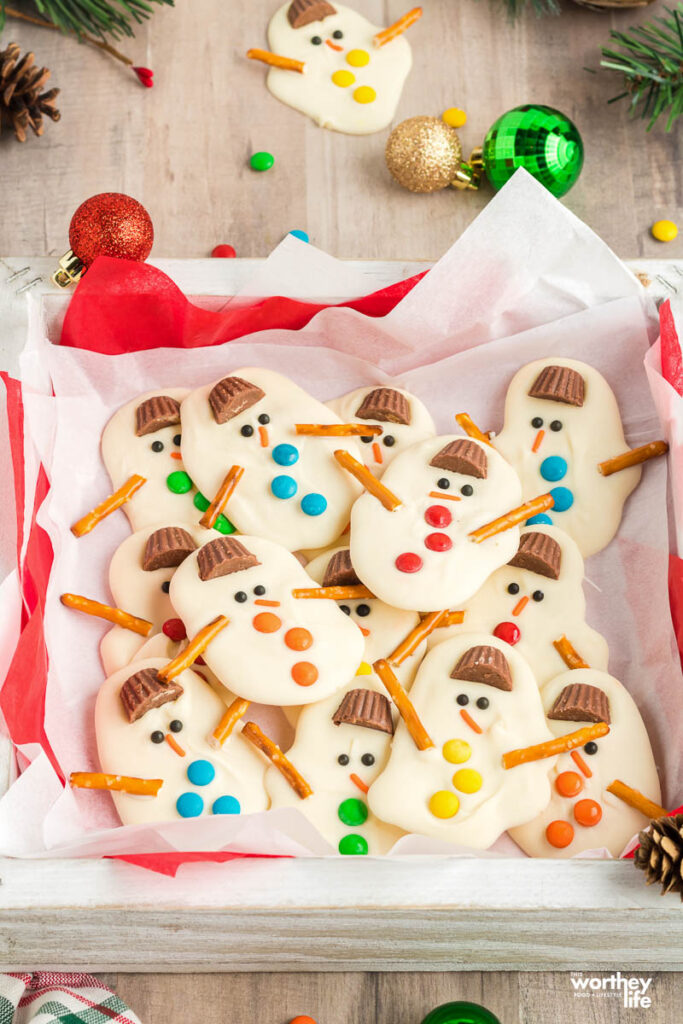 How to store?
Room Temperature. You can store these snowmen at room temperature for up to a week.
If your home is hot, you might want to refrigerate the chocolate.
You can also wrap the bark in wax paper and then place them in an airtight container for up to two weeks.
Freezing. You can also freeze the snowman for 3-4 months.
Just place them in a freezer bag or freezer container. Then thaw on the counter when you are ready to eat.
How to Gift This For The Holidays
Place your snowman in a clear plastic bag and tie it with a little ribbon.
This will make a single treat for kids or adults to enjoy that is budget-friendly.
Or you can create a dessert box or tray to serve your family and friends a variety of your favorite Christmas snacks.
This is a darling holiday present idea for you to make.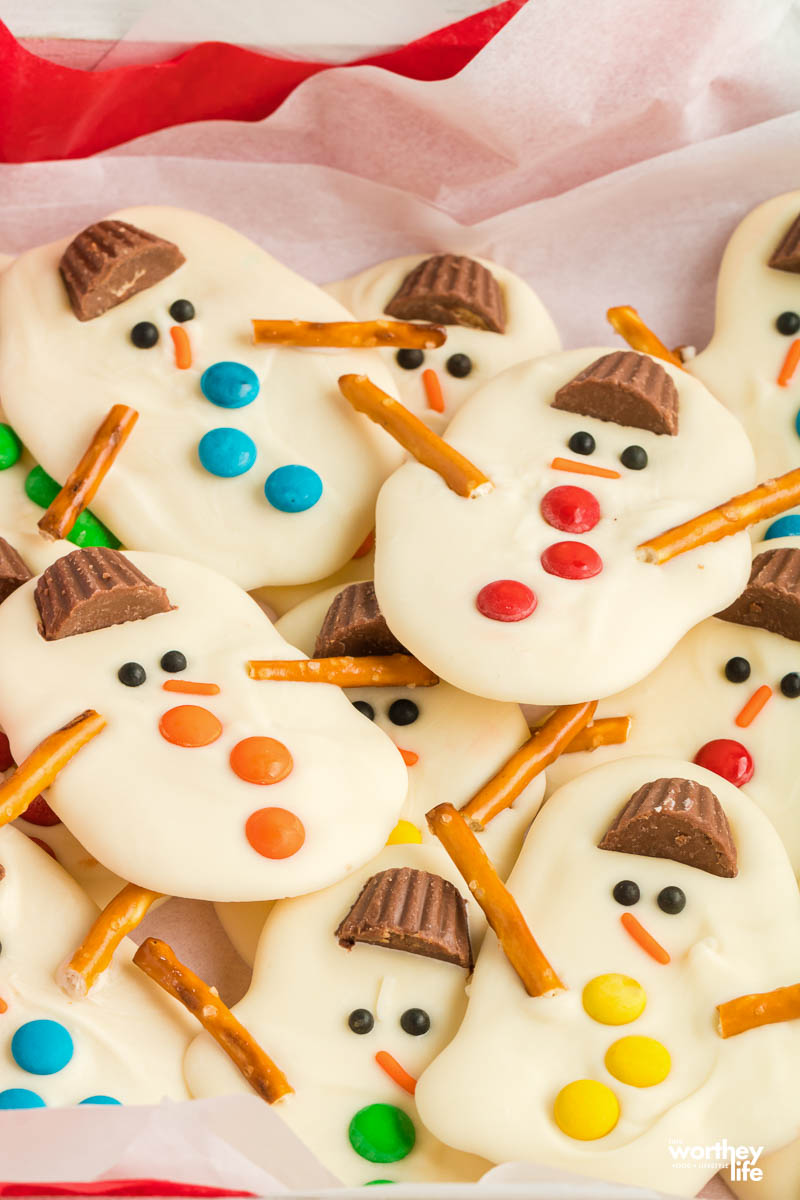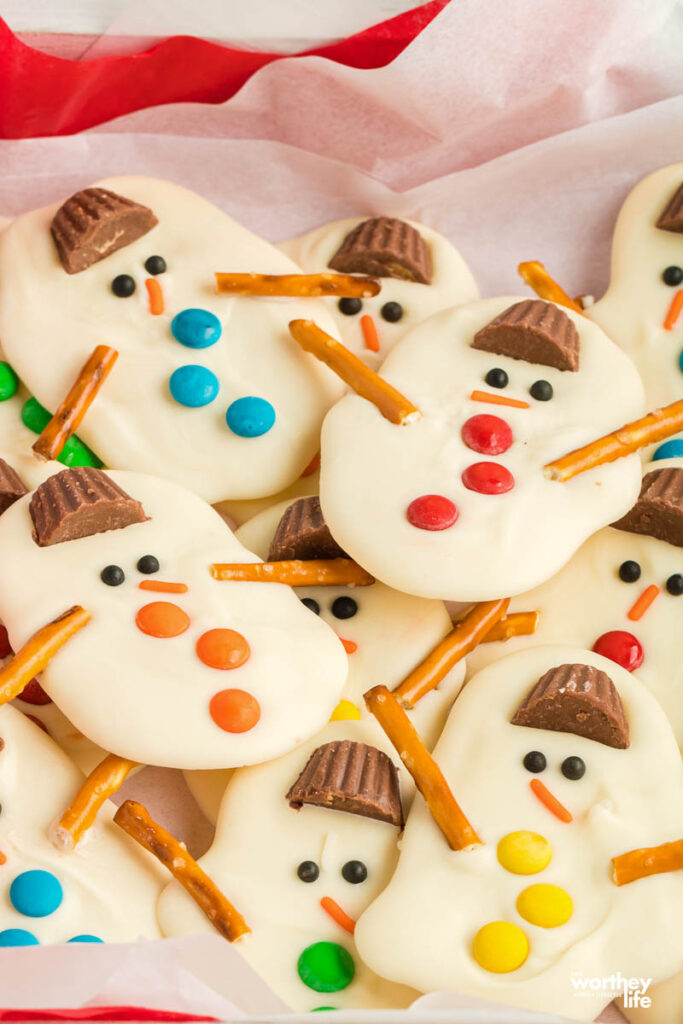 We hope you make this snowman bark recipe for the whole family as you prepare for the Christmas season.
Find more easy recipes for the holidays:
How to make Peppermint Bark- With Oreos
Chocolate Snowman Winter Board
White Chocolate Peppermint Bark Recipe
This post may contain affiliate links, meaning I may receive a commission if you purchase using these links.
As an Amazon Associate, I earn from qualifying purchases.