Fall calls for all things pumpkin, and we believe our spicy pumpkin hummus fits the bill. Filled with fresh veggies, pumpkin, and a few key ingredients, this pumpkin hummus will keep you coming back for more!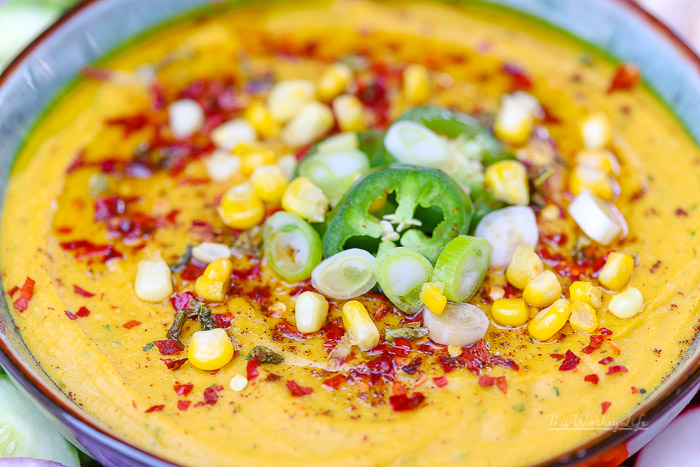 Spicy Pumpkin Hummus
There is something so comforting about a well-made hummus, isn't there? The creamy texture, like a kind of savory velveteen joy in your mouth! After the first taste, you want to settle in and savor the smooth flavor until your heart's content. But wait, if you think traditional hummus is heaven wait until you get a load of our amped up Spicy Pumpkin Hummus. This recipe is one for the books! And it has autumn written all over it.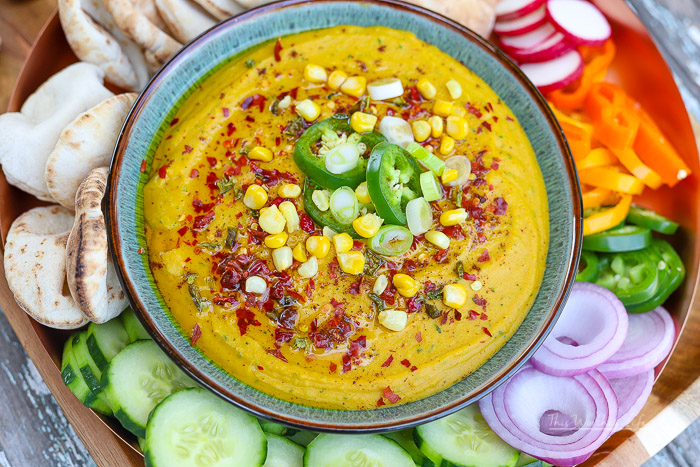 First, it doesn't just have chickpeas; this little number has the rich taste of pumpkin and a bit of delicious heat. Not too much heat, but just enough to let you know that it's getting warm in here and a lil' bit of slow-building heat is okay. So if you love spicy and you got a thing for hummus this is one is perfect.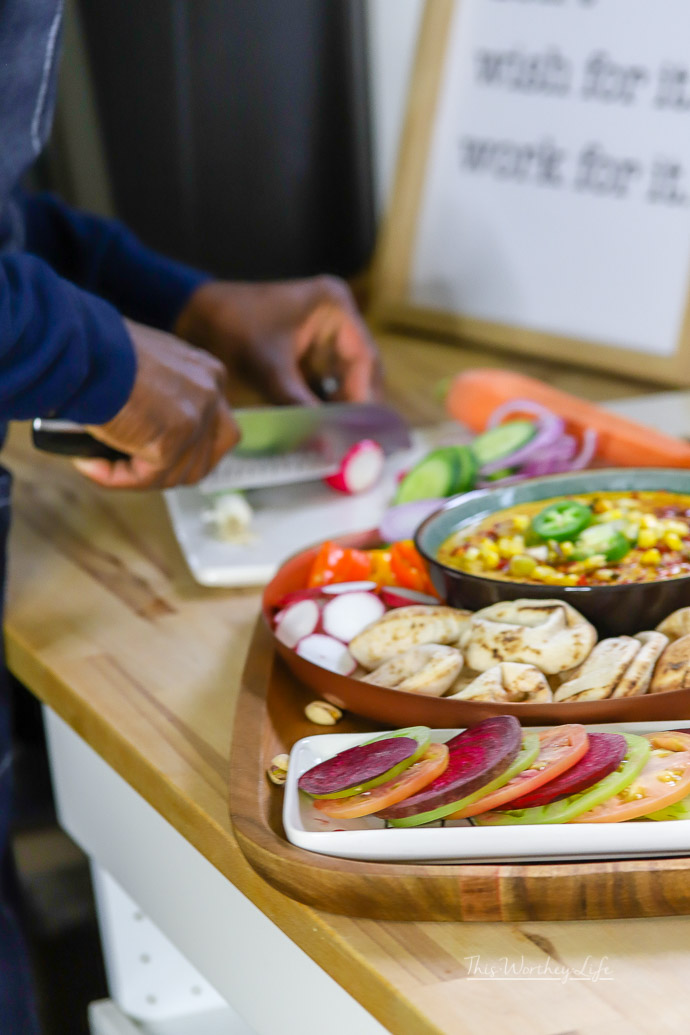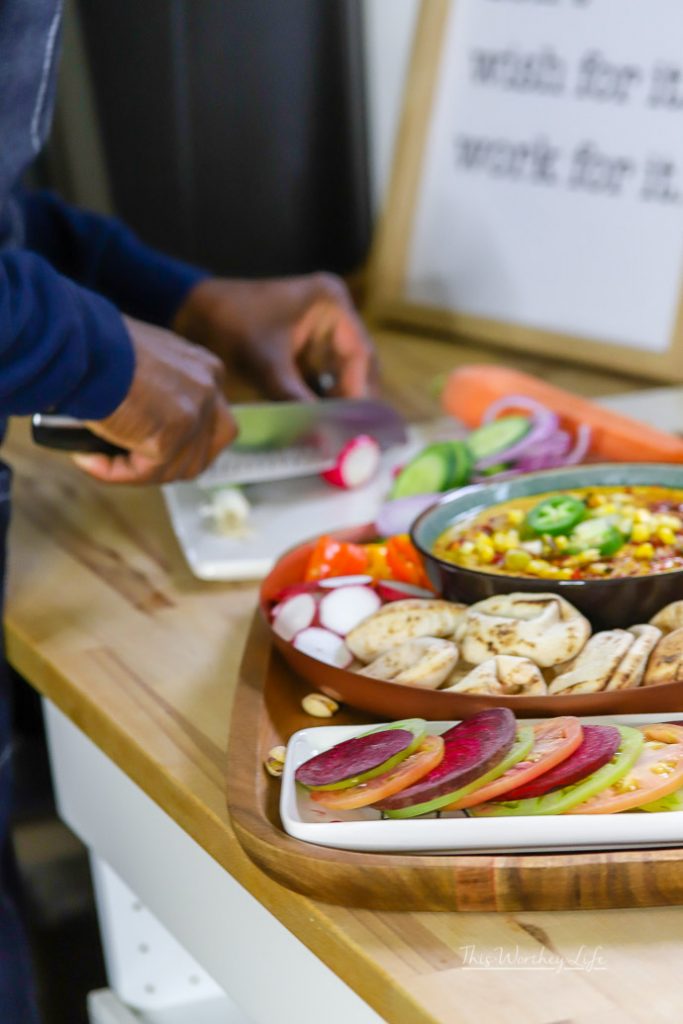 This pumpkin hummus is easy to make, with just a few ingredients, a dependable food processor, and a sharp knife to get things started. I used both canned chickpeas and pumpkin to speed things up a bit. But in a later post I will show you how to prepare overnight chickpeas and how to slow roast smoked pumpkin for one of the best versions of hummus ever. Be on the lookout for that recipe coming soon.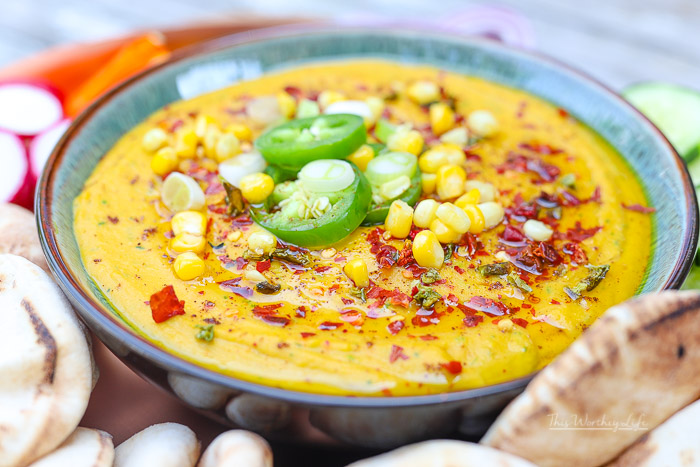 Okay, let's talk about our Spicy Pumpkin Hummus. This hummus is made with ingredients I got from one of my favorite local Farmers Markets. Lots of fresh ingredients went into this amazing dip including sweet corn from Andy T's. Andy Todosciuk is a local farmer growing some of the best sweet corn this side of Lake Michigan. Here, you can find out more about Andy T's farm.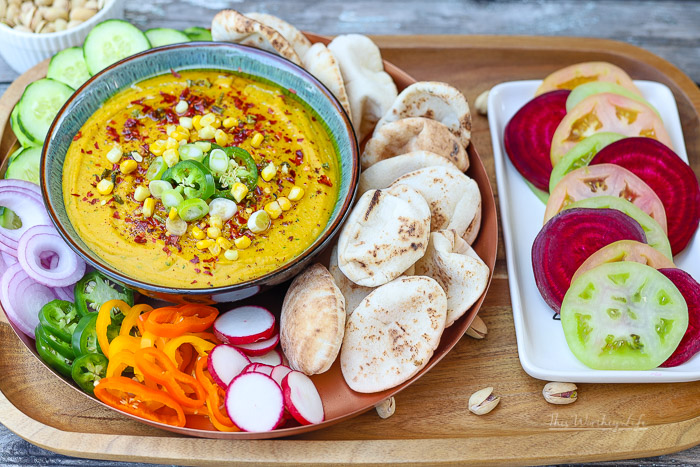 But what also makes this hummus so enjoyable is all of the fresh veggies, look at all of this color!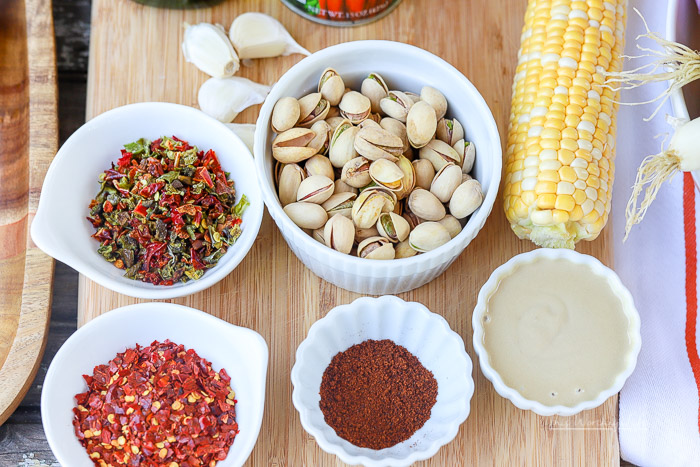 I used Mexican Chili Powder, red pepper flake and dried green and red bell peppers to bring the heat!
Let's talk about the flavor. Building levels of flavor is what this homemade hummus is all about, and one of the keys to creating a delicious hummus is the quality of the tahini.
Pro-tip: Here's my suggestion, homemade tahini is the best, or do like I did and buy homemade tahini from my favorite Middle Eastern restaurant.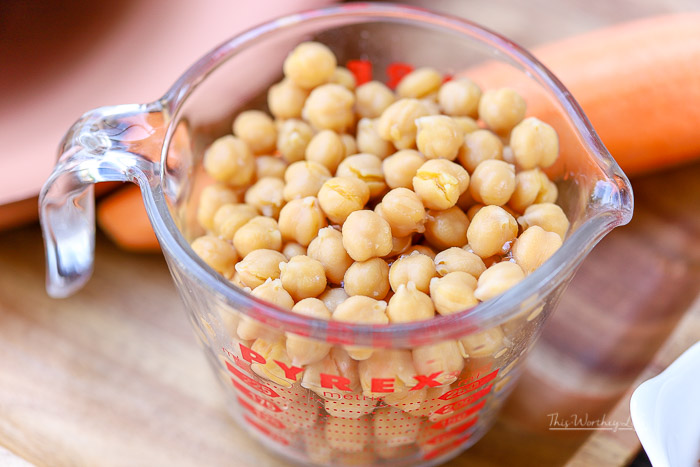 Of course, you can't have hummus without chickpeas or is it garbanzo beans?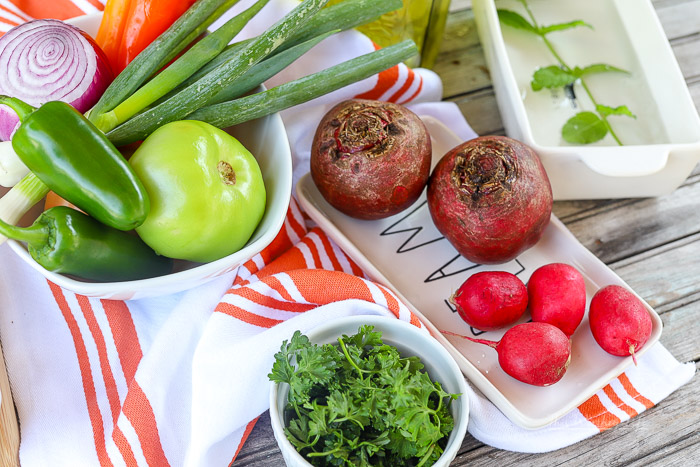 Lot's of fresh ingredients went into this hummus recipe, including fresh parsley and mint.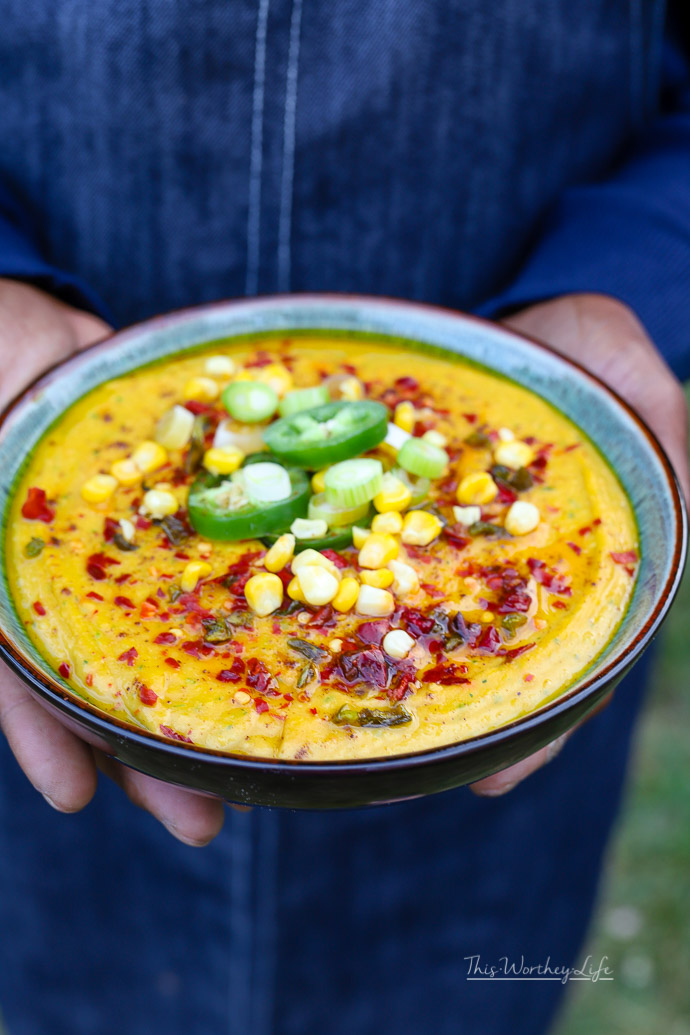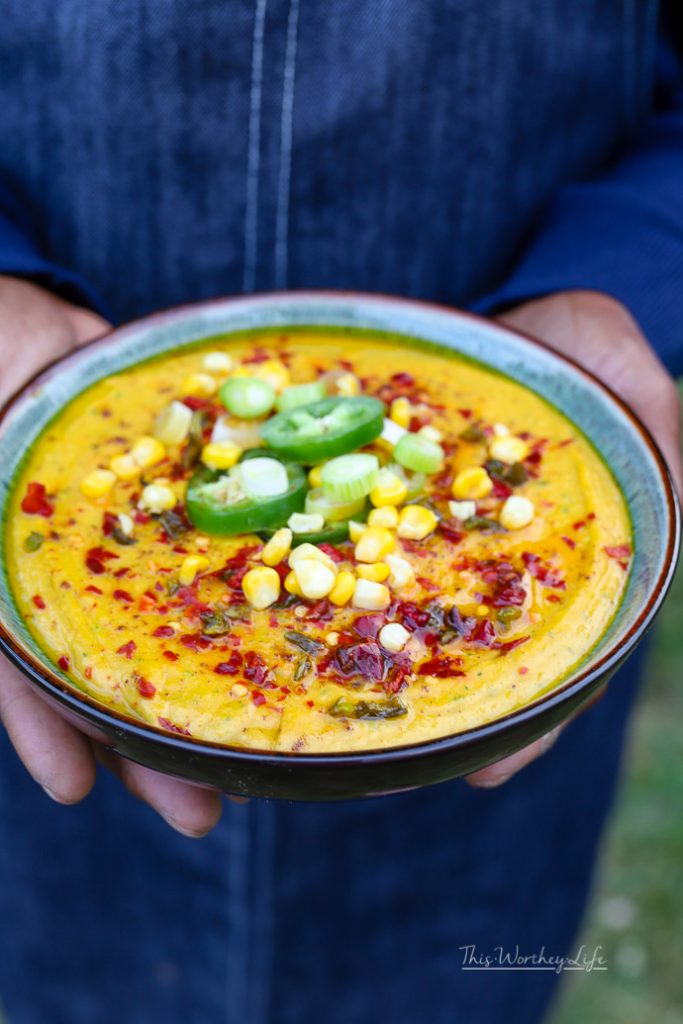 Spicy Pumpkin Hummus
Ingredients:
1 cup Chickpeas
1/4 cup pan-roasted sweet corn kernels
3/4 cup canned Pumpkin
2 tablespoons Tahini
3 Mint leaves
3 Garlic cloves, chopped
1 large Jalapeno pepper, sliced
Extra Virgin Olive Oil
Small bunch of fresh parsley
Juice of half a lemon
Seasoning & Spices:
1/2 teaspoon coarse sea salt
1/2 tablespoon red pepper flake
1/2 tablespoon dried green and red bell pepper flakes
1 tablespoon Mexican chili powder
Directions:
Prep veggies ahead of time. Slice tomatoes, beets, peppers, English cucumber, radishes, toast mini-pitas.
Pan-roast fresh sweet corn in a skillet over low-medium heat with a tablespoon of sweet cream butter.
Into a food processor add the chickpeas, canned pumpkin, garlic, parsley, mint leaves, lemon juice, Mexican chili powder, sea salt.
Secure the lid on the food processor and pulse. While pulsing slowly begin pouring in the extra virgin olive oil. Continue to pulse until the mixture is smooth, add olive oil until you achieve your ideal consistency.
Spoon into a large serving bowl and top with a drizzle of EVOO, a dusting of chili powder, red pepper flake, sliced jalapenos, roasted sweet corn, and green and red bell pepper flake.
Serve.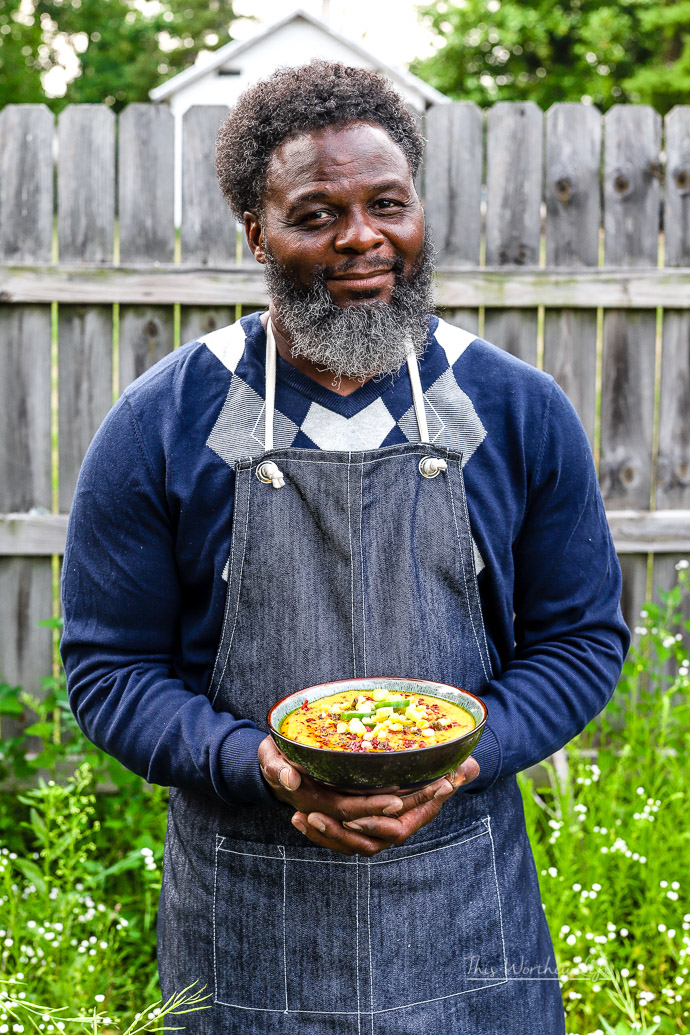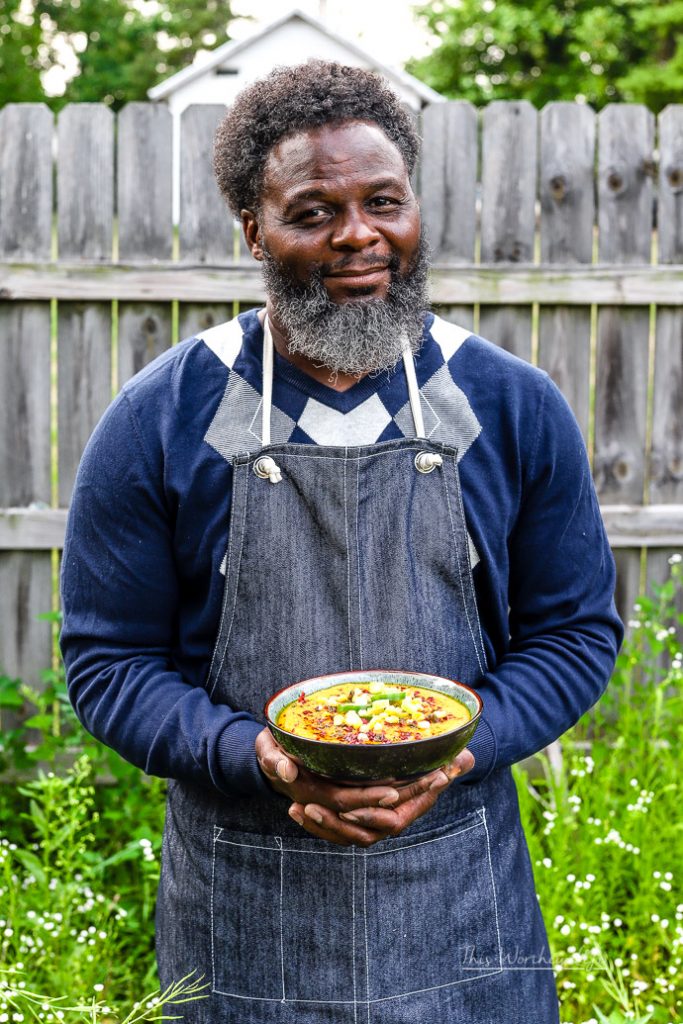 Let's celebrate the changing of the leaves and all things fall with a little dip of our spicy pumpkin hummus.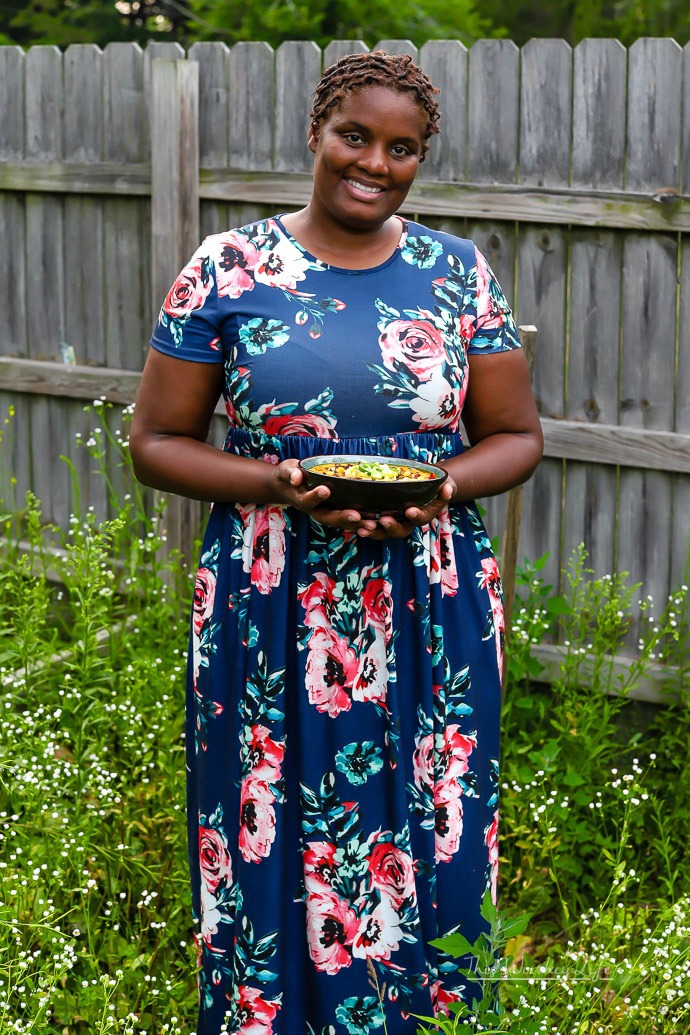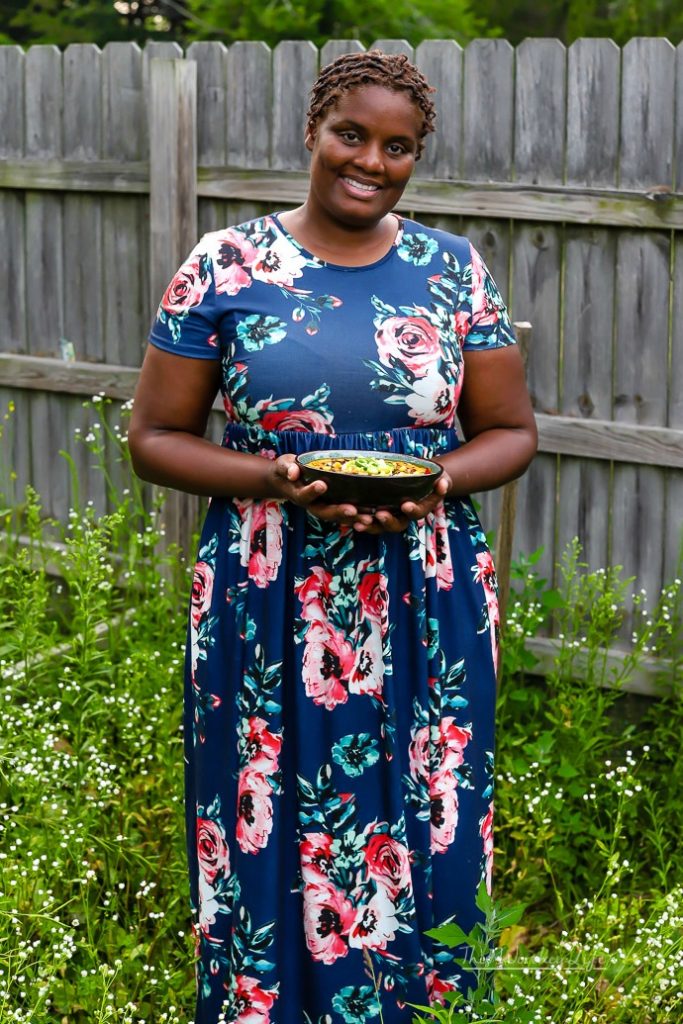 And it's not that spicy. The wife doesn't care for spicy foods (she's missing out), but even she noted how good it was and went back for more.
Yes, this easy hummus recipe will be great a fall brunch get together, football parties, or just because you love hummus.