Don't miss out on these Free St. Patrick's Day Worksheets for kids!
These free printables are a fast and straightforward way to have the kids celebrating everything fun and lucky about this day!
Check out our St. Patty's Day Party + Candy Board as well for even more fun ideas for the day!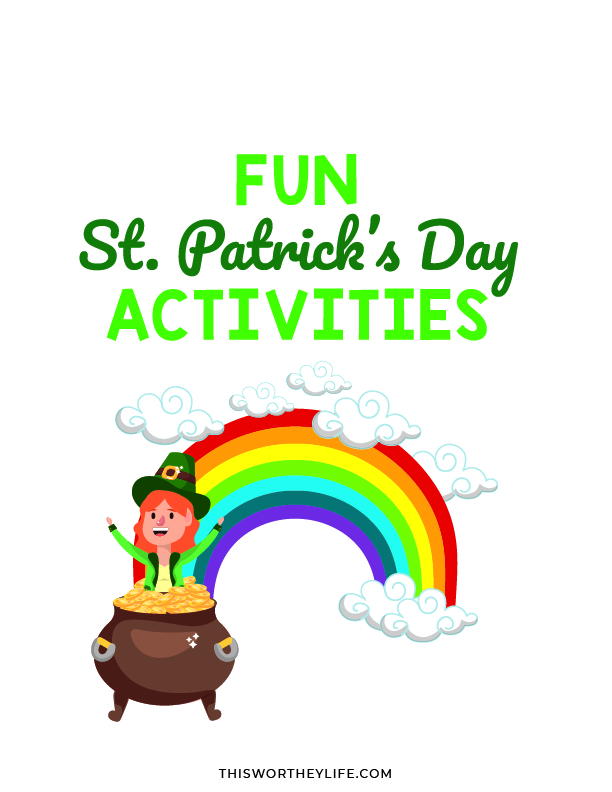 St. Patrick's Day Worksheets – Free Printables
St. Patrick's Day is just around the corner, and these fun worksheets are a fun activity to do on this holiday. The great part about using these St. Patrick's Day Worksheets is that they're user-friendly and free.
This means that the kids can quickly work through these printables at their own pace and be proud of what they accomplish.
You can use these for the classroom, virtual school, or just because you need a free activity for St. Patrick's Day.
And if you're planning a fun party, this is an activity everyone can do. Since the day is all about wearing green and having luck, why not give them a few pages of fun learning to complete as well?
Another green thing you can do is enjoy this green Lime Shamrock Punch. You can also grab these St. Patty party flavors too!
Because when it comes to all the fun holidays, there are always fun worksheets and activities that the kids can easily do!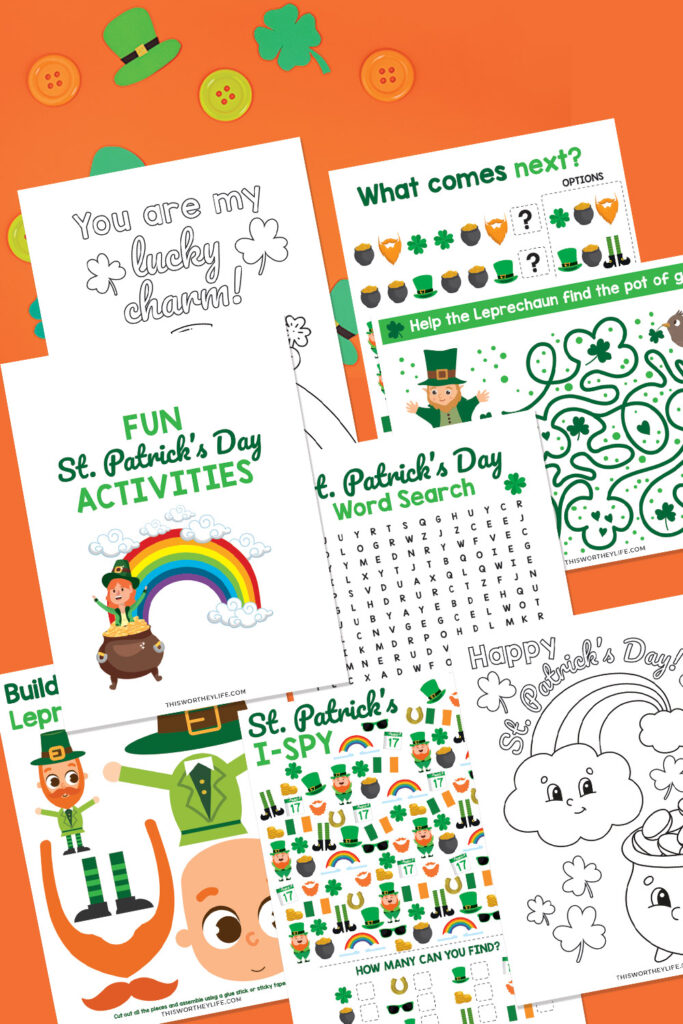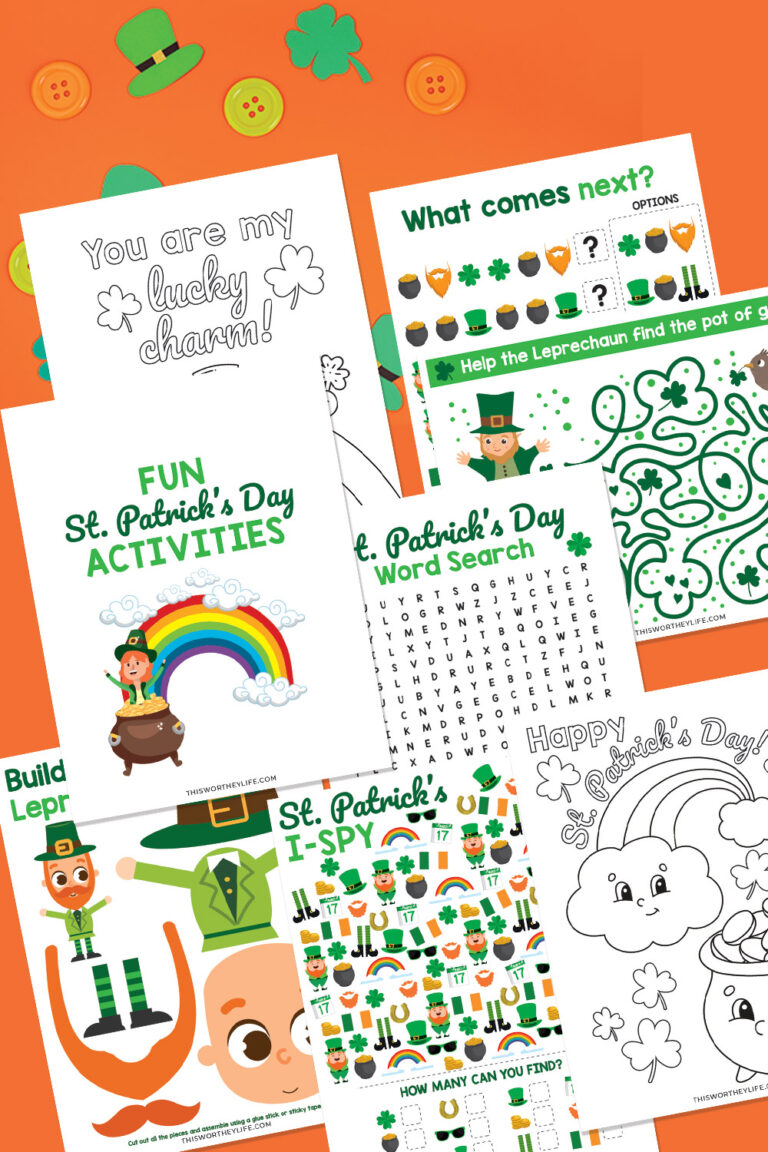 What's included in this packet of St. Patrick's Day Worksheets?
These kid-friendly worksheets will keep the kids busy for a while. There are quite a few worksheet options:
Coloring pages
I Spy
Build a Leprechaun
What comes next?
Maze
Word Search
All of these St. Patrick's Day worksheets are full of fun activities that will keep them busy for hours! And all you have to do is print and give it to the kids. It's as simple as that!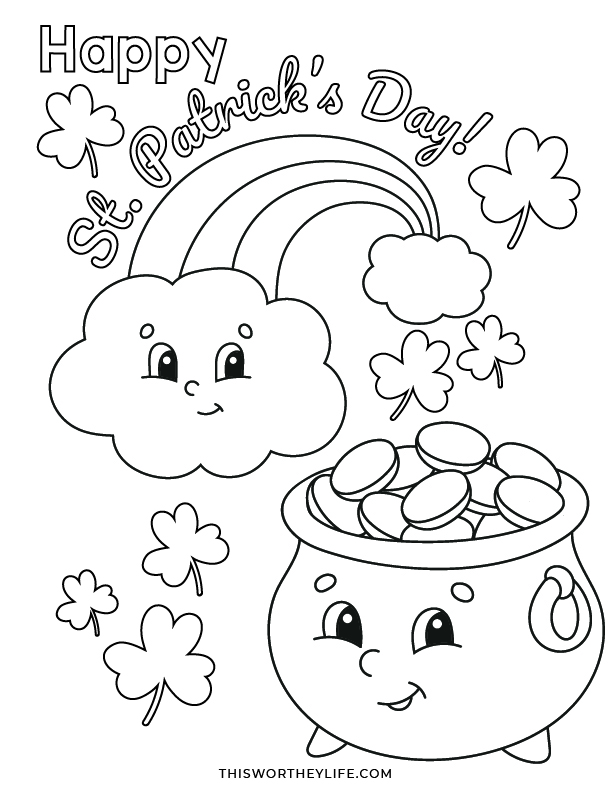 In case your kids have questions about the worksheets, you may want to take a few minutes to go over everything before they start working on this activity pack. Most of them are pretty self-explanatory, but that doesn't mean that they still might not have questions about a few!
These are also super fun to do as a family as well. Who doesn't love sitting at the table and creating together? These worksheets are able to have multiple people joining in on the fun!
And last but not least, if you're traveling or headed someone for St. Patrick's Day, print off these free printables and have them in the car for the kids to work on there. They'll love having some fun to do in the car as you're driving from place to place, and they really won't even know that they're working their brains at the same time!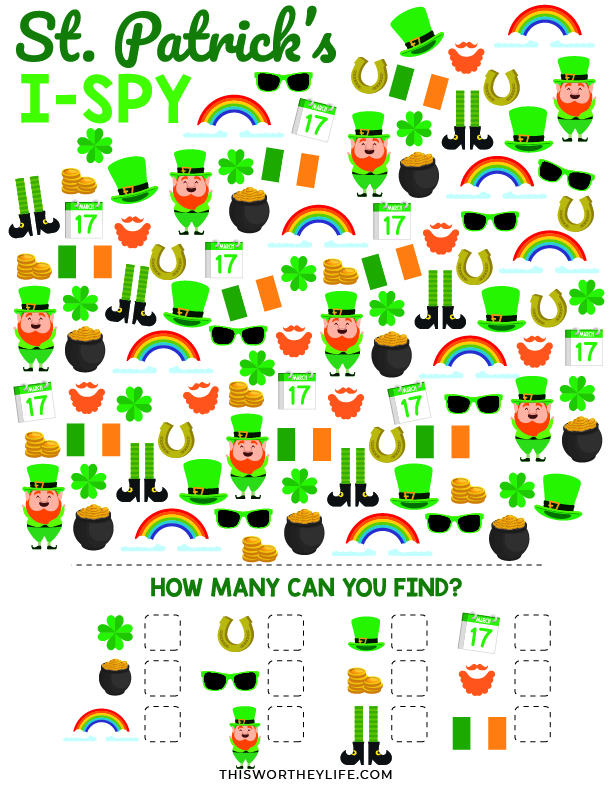 Don't forget to grab your free printable below!
Just print and let the kids get started on fun!
More St. Patrick's Day Activities for Kids