Are you stuck on ideas for a New Year's resolution? Check out the top 10 New Years' Resolutions for 2020 down below!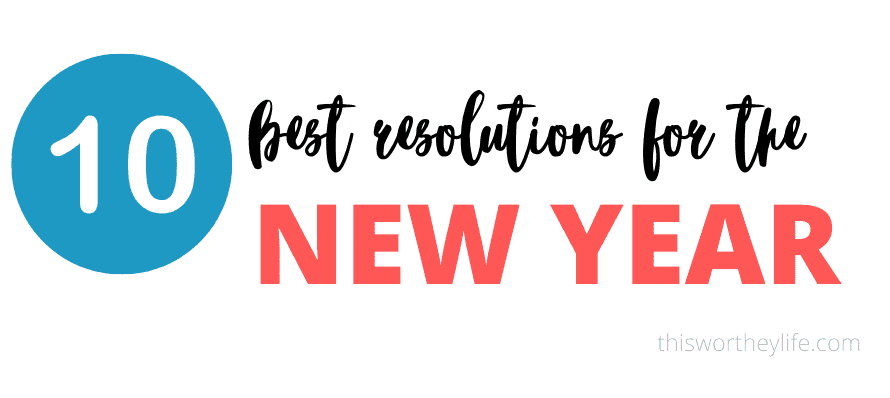 Top 10 New Years' Resolutions
Have you thought about what your resolution will be for the New Year? I think starting the new year with a goal in mind is great for kicking off the new year with a positive attitude! Here are the top 10 New Years' resolutions to help you make up your mind if you still have not come up with yours yet:
1. Weight loss– This one is a typical one that many people make, but it can be hard to stick with. The key is to make small goals to reach rather than just shooting for a large one. Having the right tools can help make it a successful one such as equipment and workout wear.
2. Stop a bad habit– Whether it is biting your nails, smoking or drinking, or another bad habit you have, this is one that is also on the list of top 10 new year's resolutions for most people.
3. Becoming more frugal– This one truly will change your life and is a great example to set for everyone around you. learn tips for saving in the new year!
4. Eating healthier– Maybe you don't necessarily have weight you want to lose, but you just want to feel better. Eating healthier is a very popular top 10 new years' resolution. Some great tools to have for this include food scales that can tell you proper portion sizes and well as books on eating better.
5. Living more "green"– Like choosing to live frugally, living more green is a lifestyle change that will truly make a very positive impact on you and the earth.
6. Have more fun– Maybe you spent this year working too much, stressing too much and not laughing enough. This is your year to turn that around. Make long term plans to make a trip or perhaps just promise yourself that you won't sweat the little things this year and you will be well on your way to achieving this top 10 new years' resolution!
7. Learning a new skill– Maybe you want to further your education or perhaps just learn how to cook a better meal. This is a great goal to have for the new year as one can never know too much and you should never stop learning.
8. Take the plunge in the job market– As our economy is slowly digging its way back up, this may be your year to finally pursue another career or possibly work towards a promotion.
9. Make family a first priority– For many people, it is easy to forget why we do all the hard work we do and get lost in our responsibilities and forget to make priorities. You don't have to stop being responsible to make this top 10 new year's resolution happen, you just need to remember what is truly important to you and make it a priority.
10. Volunteer– Giving back is something we all should do, but in our busy lives, it is often hard to do. Simply making it a priority can switch our life around enough to make it happen. Pick a charity that really means something to you and start there.
I hope you have a wonderful new year. May it be all that you are wishing and the best year yet! Now that you maybe have a better idea in mind of what you want your goal to be from this top 10 new years' resolution list, make sure you check out my post on sticking with your new year's resolutions!
Does any Resolution from this Top 10 New Years' Resolutions resonate with you? If so, which one?
Find more tips and ways to stick to your New Years' Resolutions: