Yes, we are calling this the ultimate sweet corn salad! Why? Because it's filled with awesome things, but most importantly, it has bacon in it. That alone makes this easy corn salad the best sweet corn salad recipe. Plus, with a ton of colorful veggies, this salad is filled with amazing and delicious goodies! Try our sweet corn salad by getting the recipe below!
The Ultimate Sweet Corn + Bacon Salad
Right now we are ankle deep in summer, and for me, there are a few notable veggies I love to see hitting our kitchen table this time of year. You may have already guessed what it is, have you? If your answer was corn on the cob, or should I say sweet corn? Then you are correct! I love sweet corn, always have since I was knee high to a grasshopper. There is some very simple and rustic about eating hot-buttered and all gussied up sweet corn on or off the cob. Sweet and delicious corn on the cob is a special kind of finger food, and we love it. And I really adore it when I roast it slathered with sweet cream butter, a sprig of rosemary and thyme, a bit of Chipotle sea salt over burning coals and lots of woodsmoke. What we're bringing you is The Ultimate Sweet Corn + Bacon Salad. Okay, let's keep one thing straighter than a ruler, this recipe is made with sweet corn but is just a savory as a bowlful of Yumville!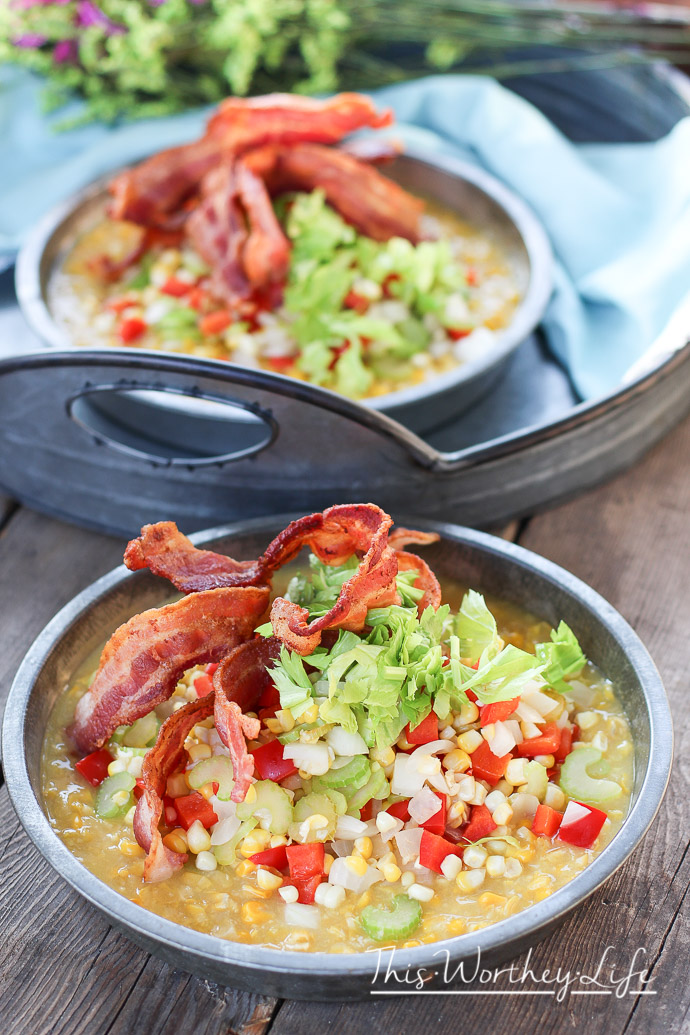 Take a gander at the photo above. We managed to put lots of good stuff into this one. We hope you'll be pleasantly pleased to not only eat it all up with your eyes, but to go into your kitchen and make it a time or two (or more), we won't judge you. Promise!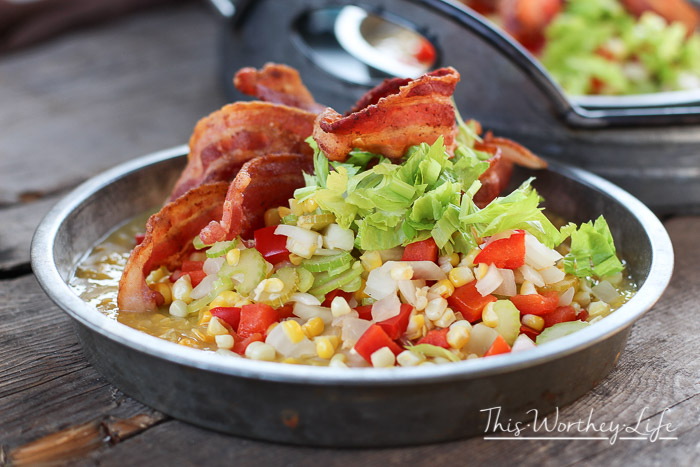 We used creamed sweet corn, thinly sliced celery, chopped celery leaves, sweet red bell pepper, and a bit of onion. But do you see what I see? Yessiree, we piled on lots of crispy thick-cut bacon.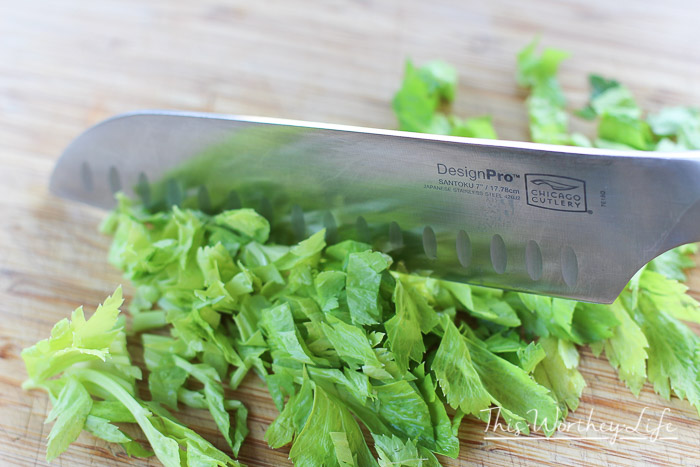 We thought it would be a good idea to use up those celery leaves. You know they're good for you too. Low in calories, lots of fiber, and a whole heap of nutritional value plus macronutrients. Plus, look at all of the lush, gorgeous greenery. It just screams SUMMER!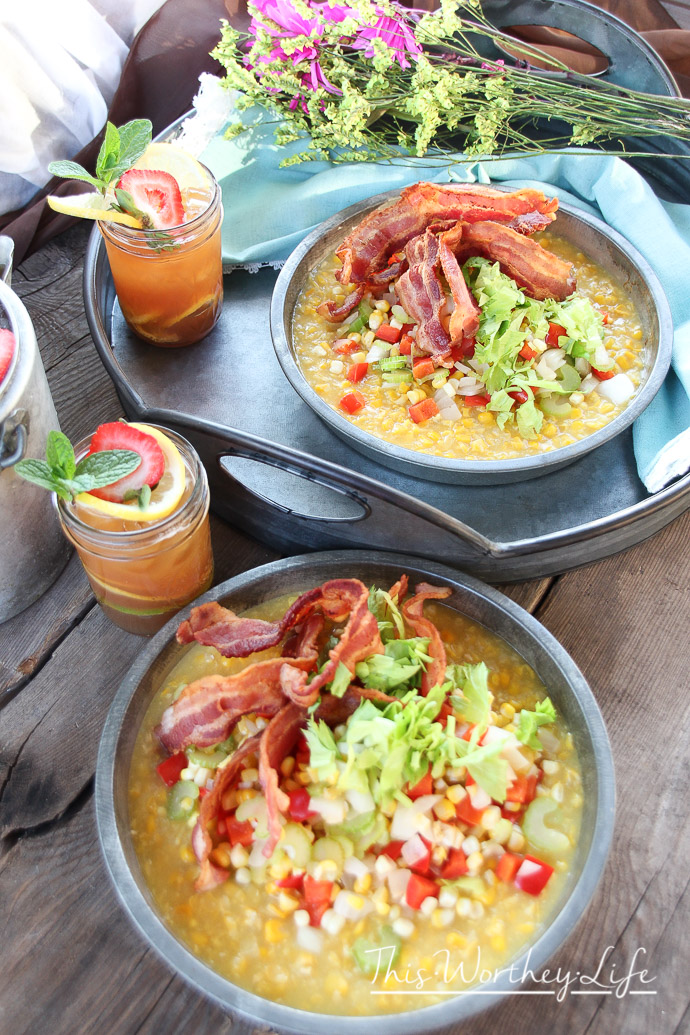 Oh, I completely forget to tell you, I also made a delicious and refreshing summer-style tea punch!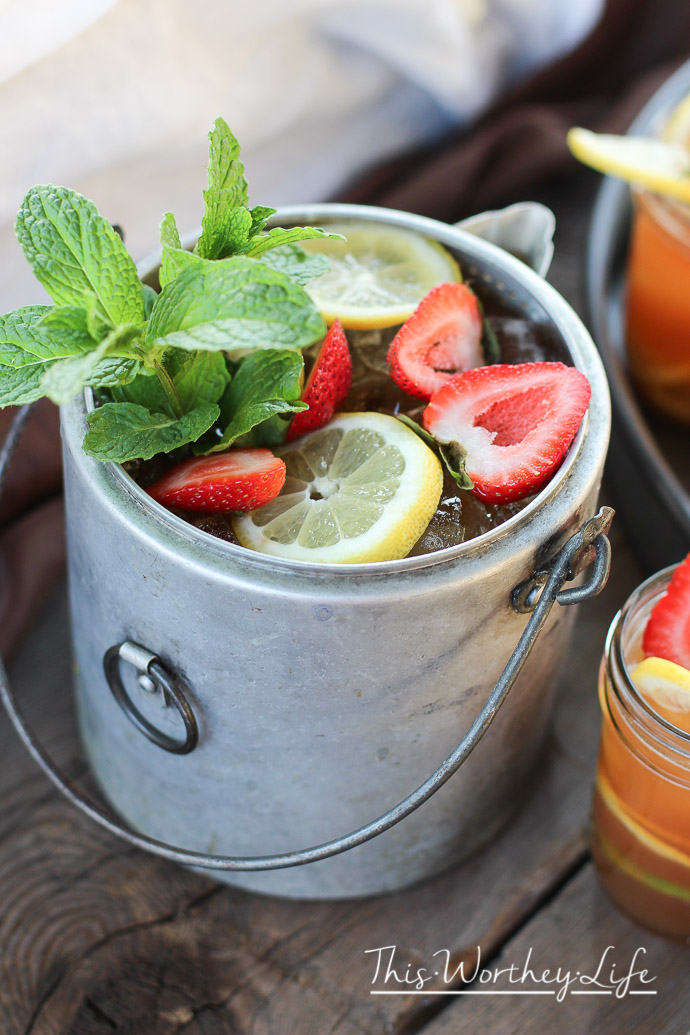 We will come back to the summer-style tea punch making business in a bit. Let's finish with the corn salad, but dang that tea punch is calling my name seven ways to Sunday! Maybe it's because I used lots of good ingredients like Jack Daniels Rye, summer tea, strawberry and rhubarb simple syrup, freshly sliced lemons, limes, and strawberry, and fresh sprigs of mint. You can find the recipe here.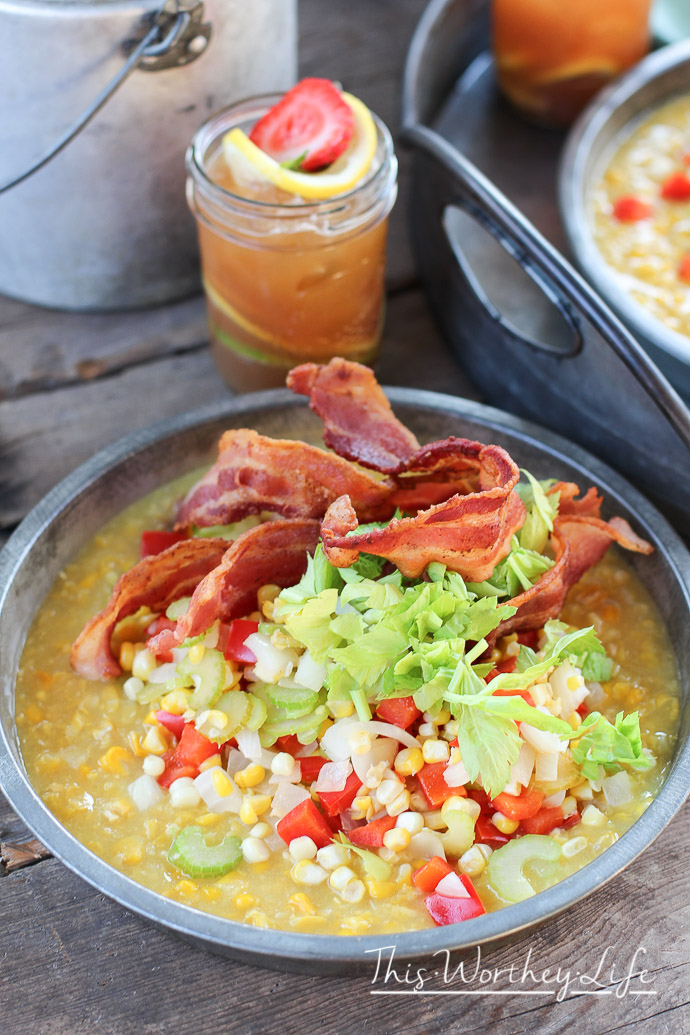 Check out the recipe down below:
The Ultimate Sweet Corn + Bacon Salad
Ingredients:
4-6 Sweet Corn
2 cans Creamed Style Sweet Corn
1 medium White Onion, chopped
1 medium Red Bell Pepper, chopped
2 stalks Celery, wash, scrubbed, and sliced thin, I used a mandolin
1 1/2 cup Celery leaves, washed and roughly chopped
8 strips of Thick-Cut Bacon, crispy
1 1/2 tbsp Unsalted Butter
Sea salt to taste
Freshly Cracked Black Peppercorns to taste
Directions:
Cut and remove the kernels from 4-6 cobs of sweet corn,
Prepare bacon ahead of time, and set it aside.
Heat up two (2) cans of creamed style sweet.
In a large cast iron or nonstick skillet add unsalted butter, when the butter is completely melted and the sweet corn and

sauté kernels for 7 minutes. Add a pinch of sea salt and freshly ground black peppercorns.

Using a slotted spoon transfer the sweet corn into a bowl and add the chopped white onions, red bell pepper, and celery leaves.
Divide the warm cream style corn between two serving plates, add 1 cup of the sweet corn and veggie mixture, top with crispy planks of thick-cut bacon.
Serve.
Now, aren't you ready to head to the store and get all the necessary ingredients to pull this off? Or, maybe you have an awesome garden, and you can just walk out the door and pluck fresh veggies from the garden! However, you need to them, try our sweet corn salad recipe! You, your family, and your guests will LOVE you!
Love bacon in everything? Be sure to check out some of our other ultimate recipes, like our ultimate surf n turf recipe (and yes, bacon is involved!).
Other ultimate recipes:
And of course, a few other salad recipes to try this summer:
Hot Spinach & Sweet Corn Dip with Bacon Mini Salad
Be sure to pin this loaded sweet corn salad to your Pinterest board: