Put a twist on your regular Elephant Ears or Funnel Cake recipe by adding Apple Crisp! We're sharing how we took one of our fall favorites and combined it with a summer treat to get Apple Crisp Funnel Cake With Homemade Caramel.

Apple Crisp Funnel Cake With Homemade Caramel
Okay. Here's a well-known fact, there's nothing better than homemade apple crisp, right? So, why am I am going to try and raise the apple crisp bar? Well, why not? Here is my thinking. Funnel cake is a summer fav and apple crisp is absolutely a fall affair. But how does one know when one dessert season ends and the other one begins? Now you longer have to guess. I combined the delicious sweet fun of summertime funnel cake with a fall favorite, apple crisp. Problem solved. And when you drizzle on the homemade caramel you just might slap someone.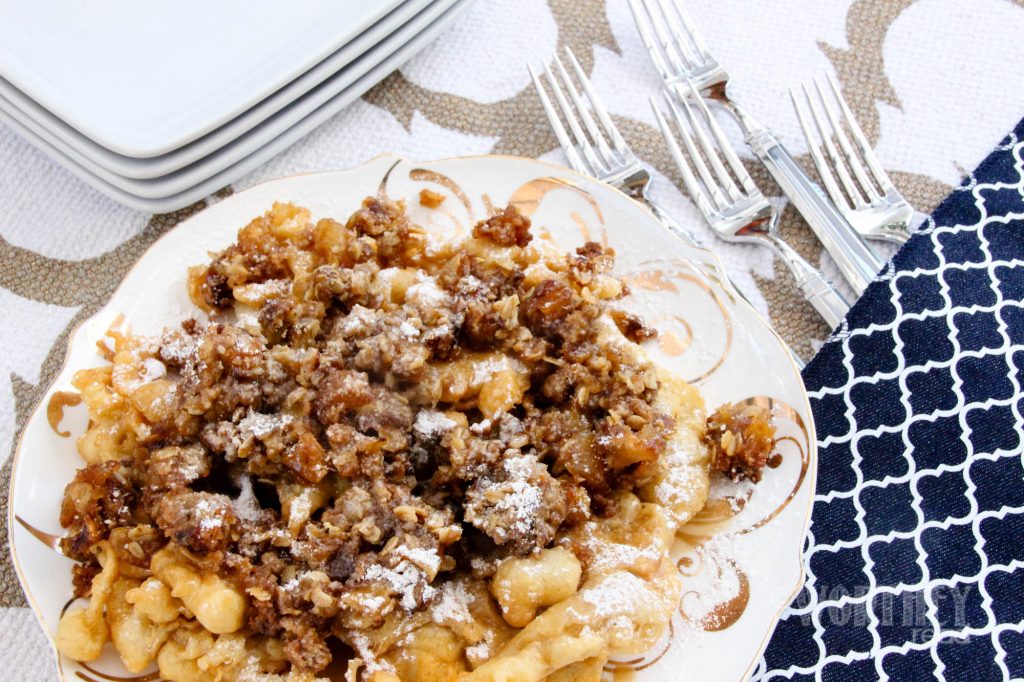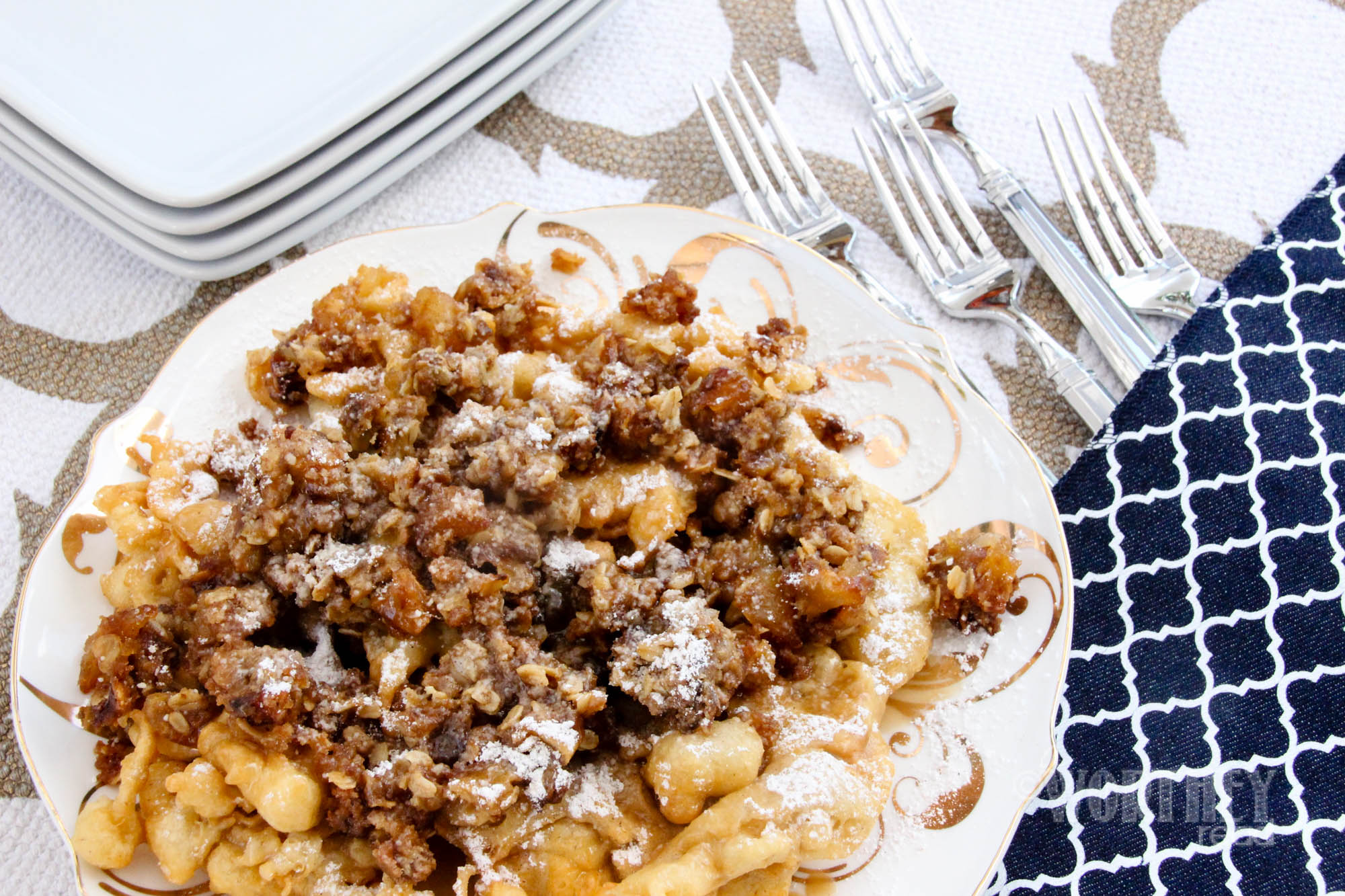 Here's what you will need to create this oh so right it's wrong dessert at home…
Ingredients for apple mixture:
3 Granny Smith Apples
2 Honeycrisp Apples
1/2 Cup Granulated Sugar
1/2 Tablespoon Pure Vanilla Extract
1 Meyer Lemon Zest
1 Navel Orange Zest
Juice from 1 Myer Lemon
Juice from 1 Navel Orange
1/4 Teaspoon Kosher Salt
Directions:
Peel and cut the

apples

into medium-size chunks. Combine the cut fruit with the orange and lemon zest, juices, vanilla extract, Kosher salt, 1/2 cup of sugar, cinnamon, nutmeg, and cloves.
Pour mixture, including all of the juice, into a baking dish, I prefer a cast-iron skillet. Yes, my Mama taught me well. [ see below for the crumble recipe]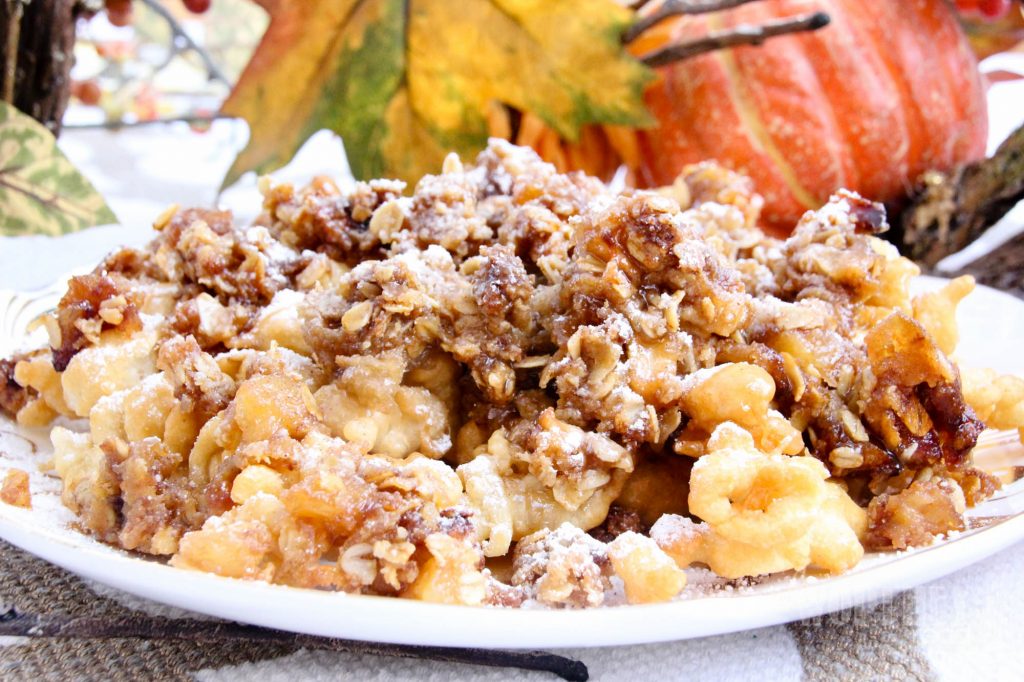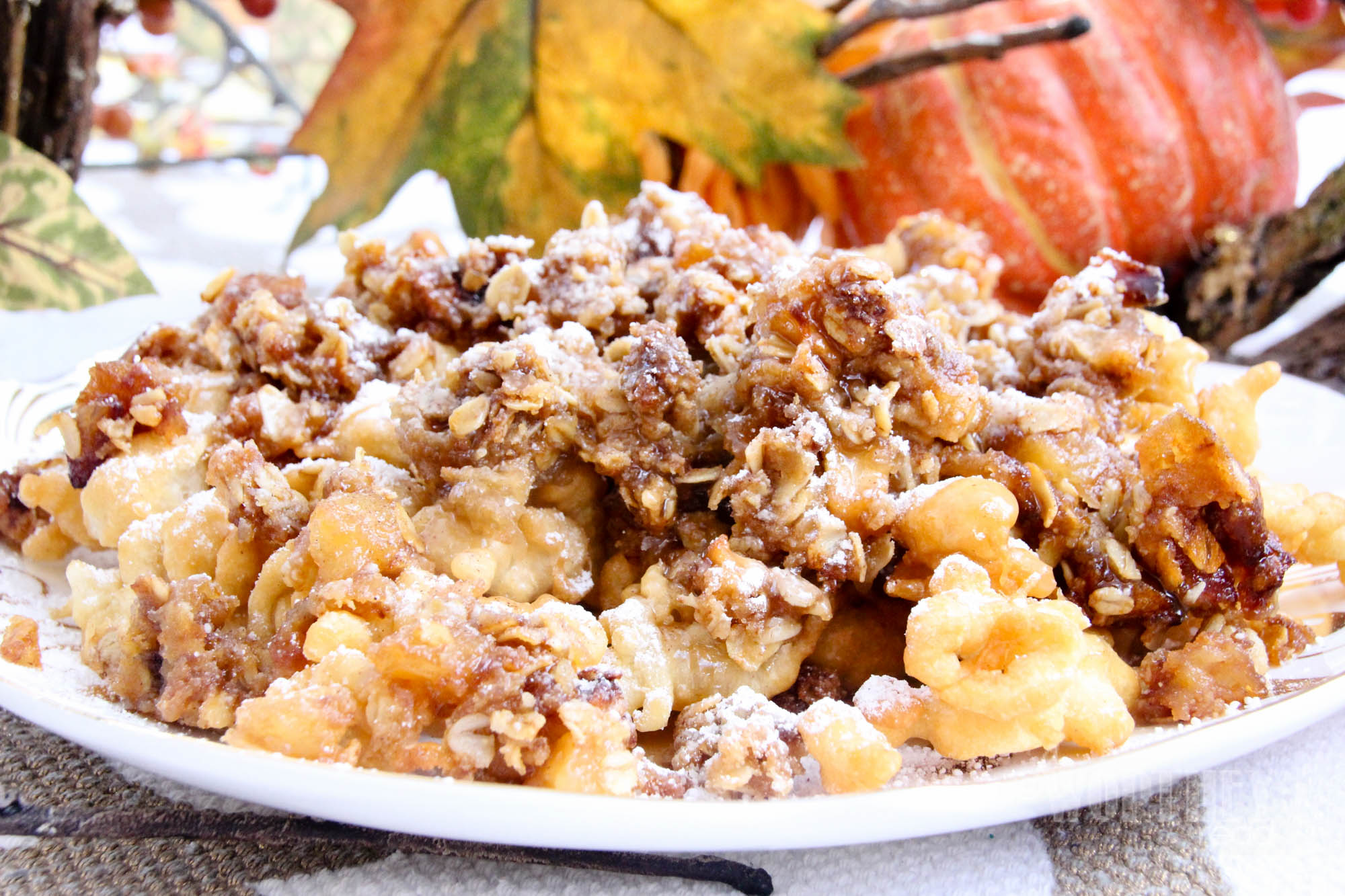 Apple Crisp Crumble Ingredients:

1 cup of Old Fashioned Rolled Oats
1 1/2 cups of All-Purpose Flour
3/4 cup Light Brown Sugar
3/4 cup Sugar
1 tablespoon of Cinnamon
1 Teaspoon of Nutmeg
1/4 Ground Cloves
1/2 Teaspoon of Kosher salt
2 Sticks of Unsalted Sweet Cream Butter
Preheat oven to 350 degrees.
Directions:
Combine the flour, sugar, light brown sugar, Kosher salt, oatmeal, and cold cut butter into the bowl of a stand mixer. Use the paddle attachment. Mix on low speed until the mixture is crumbly and the butter is the size of a pinto bean. Top evenly over the

apple mixture

.
Bake for 1 hour (60 minutes) or until the top is golden brown and you can't take it anymore.
Remove from the oven and let it cool a bit. Scoop out the apple crisp while it still warm and place on top of warm funnel cake and drizzle with homemade caramel.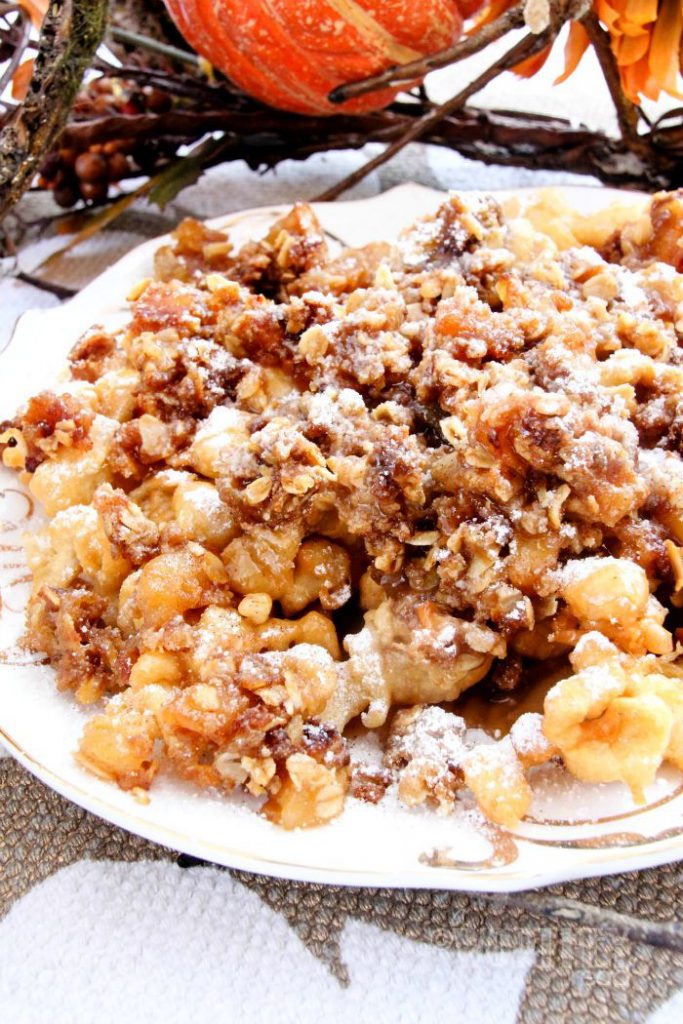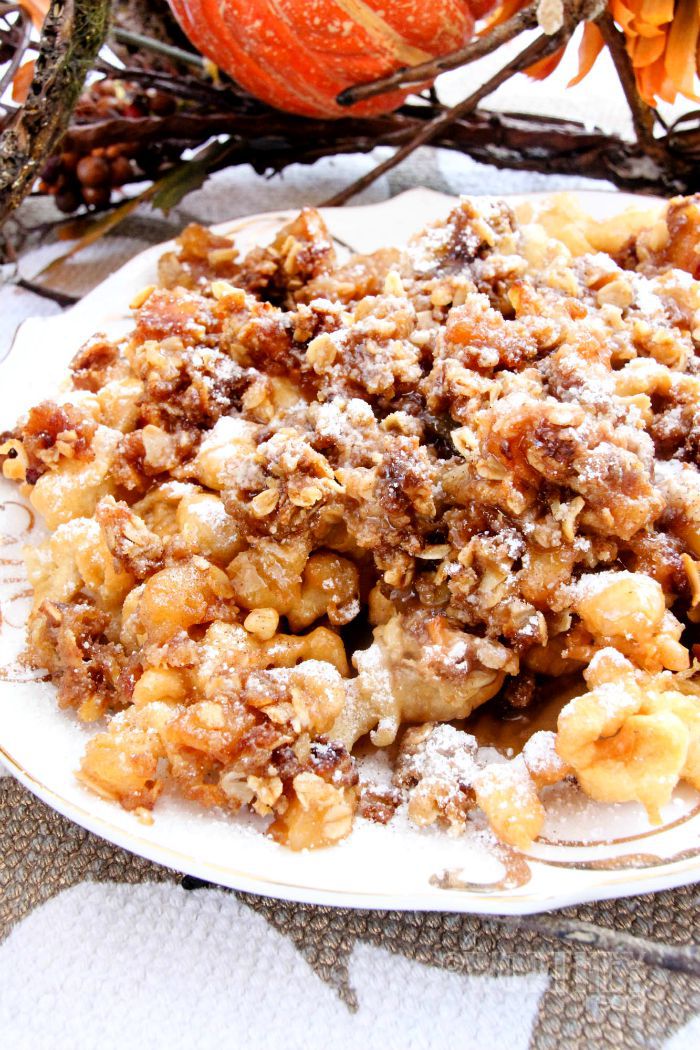 Funnel Cake Recipe
Vegetable Oil, for frying
2 Teaspoons Baking Powder
1/2 Teaspoon Kosher Salt
1/4 Cup Sugar
2 Cups Whole Milk
3 1/3 Flour
3 Eggs
Directions:
1. Mix flour and sugar until incorporated.
2. Add flour, Kosher salt, and baking powder and mix well.
3. Slowly pour in the milk a little at a time and mix well until all milk is added.
4. Pour batter into a Funnel Pitcher or Pancake Dispenser.
5. Heat vegetable oil, when oil is hot hold Funnel Pitcher over hot oil and begin drizzling batter into hot oil making zigzagging and overlapping patterns.
6. Allow batter to brown then scoop out with a large slotted spoon and place it on a wire rack lined with a paper towel.
7. Top with powdered sugar.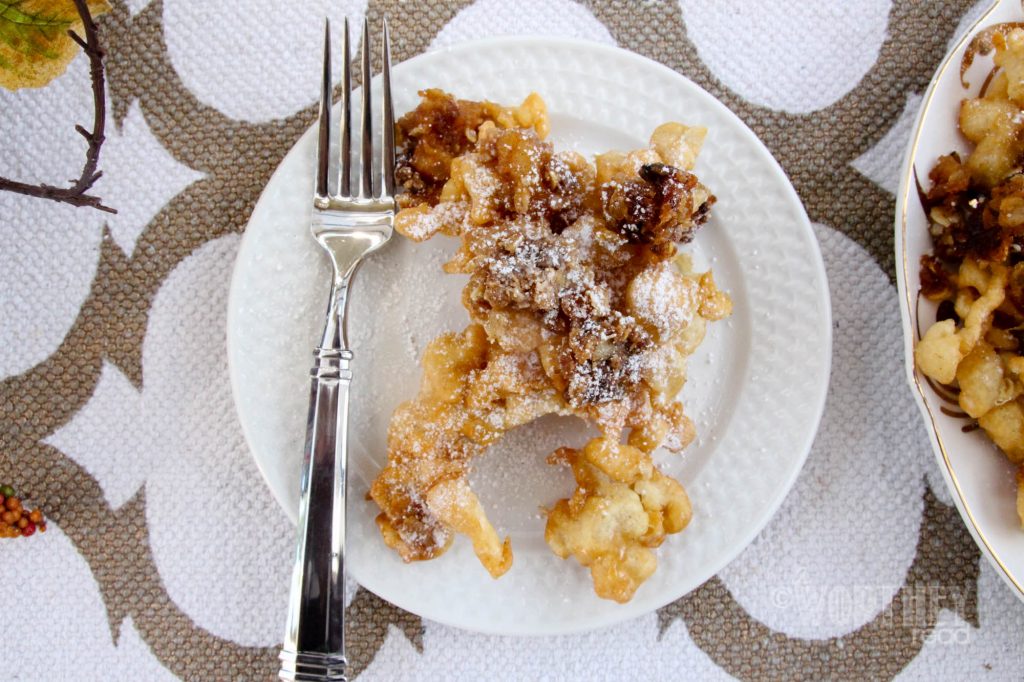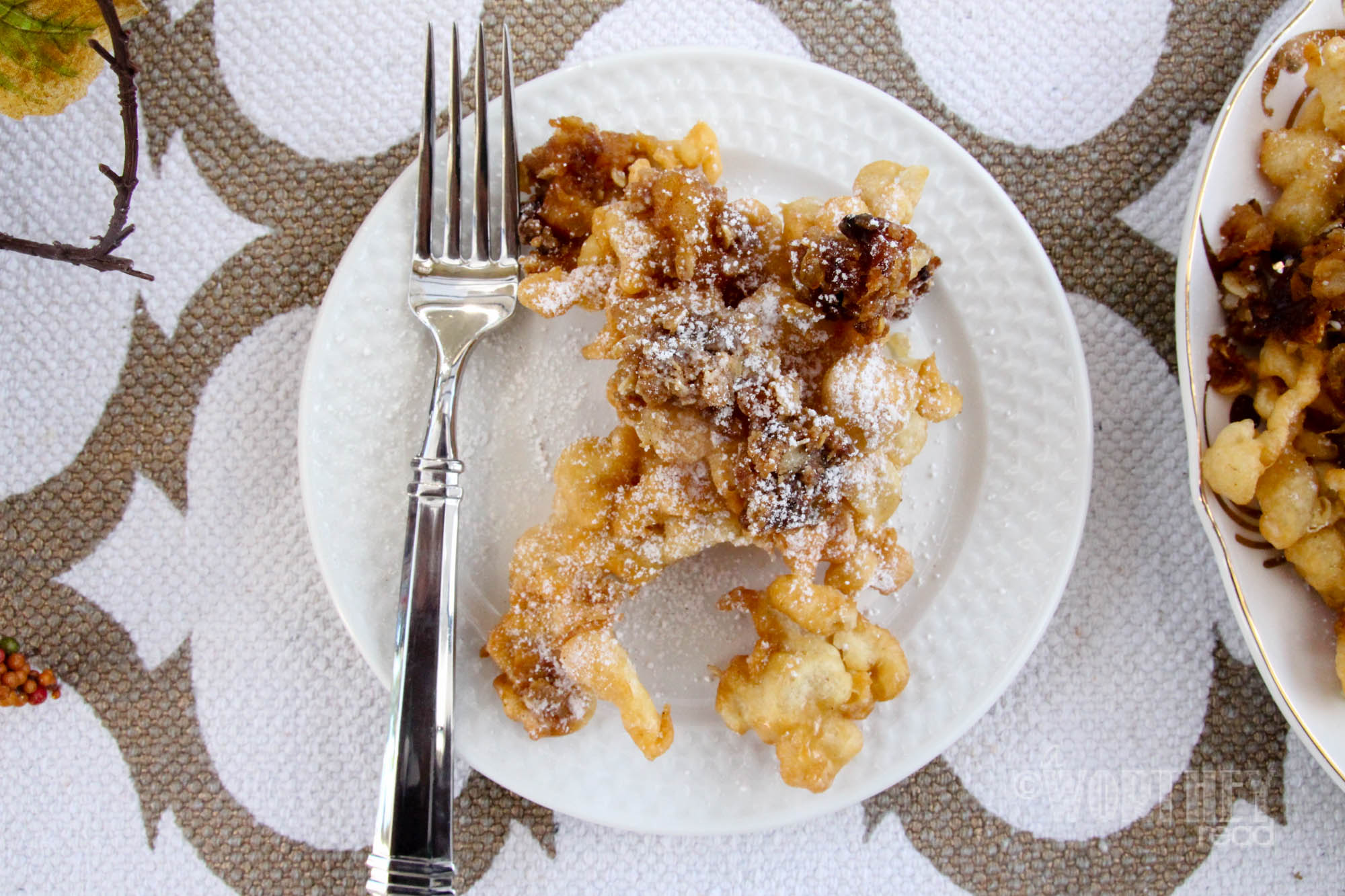 Homemade Salted Caramel
Ingredients:
1 Cup Light Brown Sugar, packed
1/2 Cup Heavy Cream
5 Tablespoons of Sweet Cream Unsalted Butter
1 Tablespoon of Pure Vanilla Extract
Pinch of Kosher Salt
Directions
In a medium saucepan over medium heat, mix brown sugar, heavy cream, butter, and salt.
Stir until the mixture starts to thicken about 5-8 minutes.
Add vanilla, stir until well mixed and remove caramel from heat.
After you have drizzled caramel all over the Apple Crisp Funnel Cake and caramel add a pinch of coarse Sea salt over it all.
Now, watch it disappear, you are now a certified magician!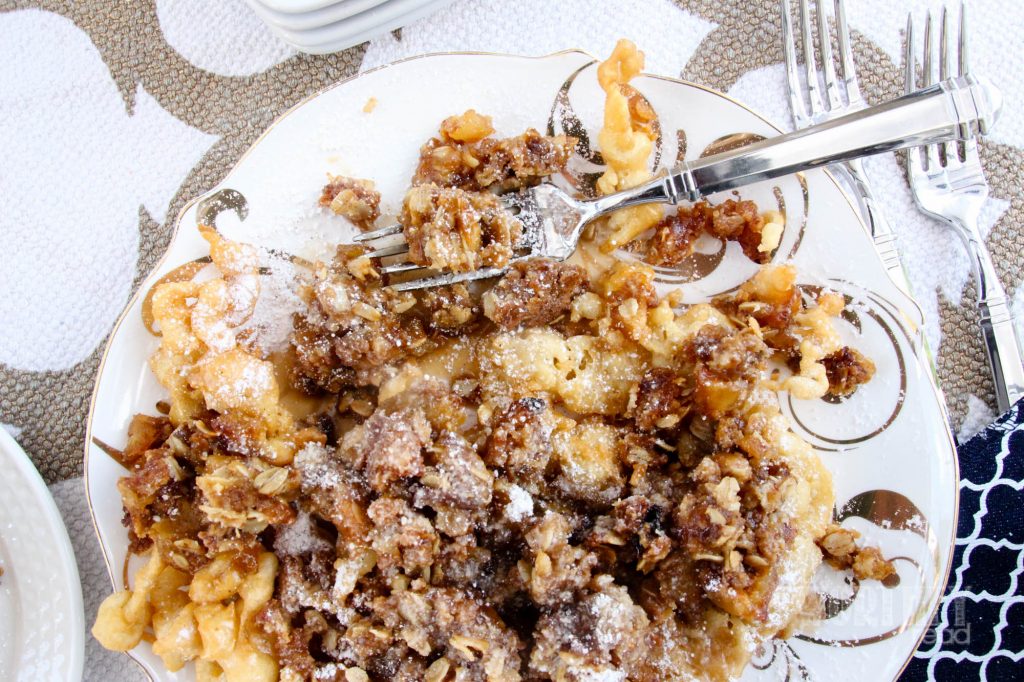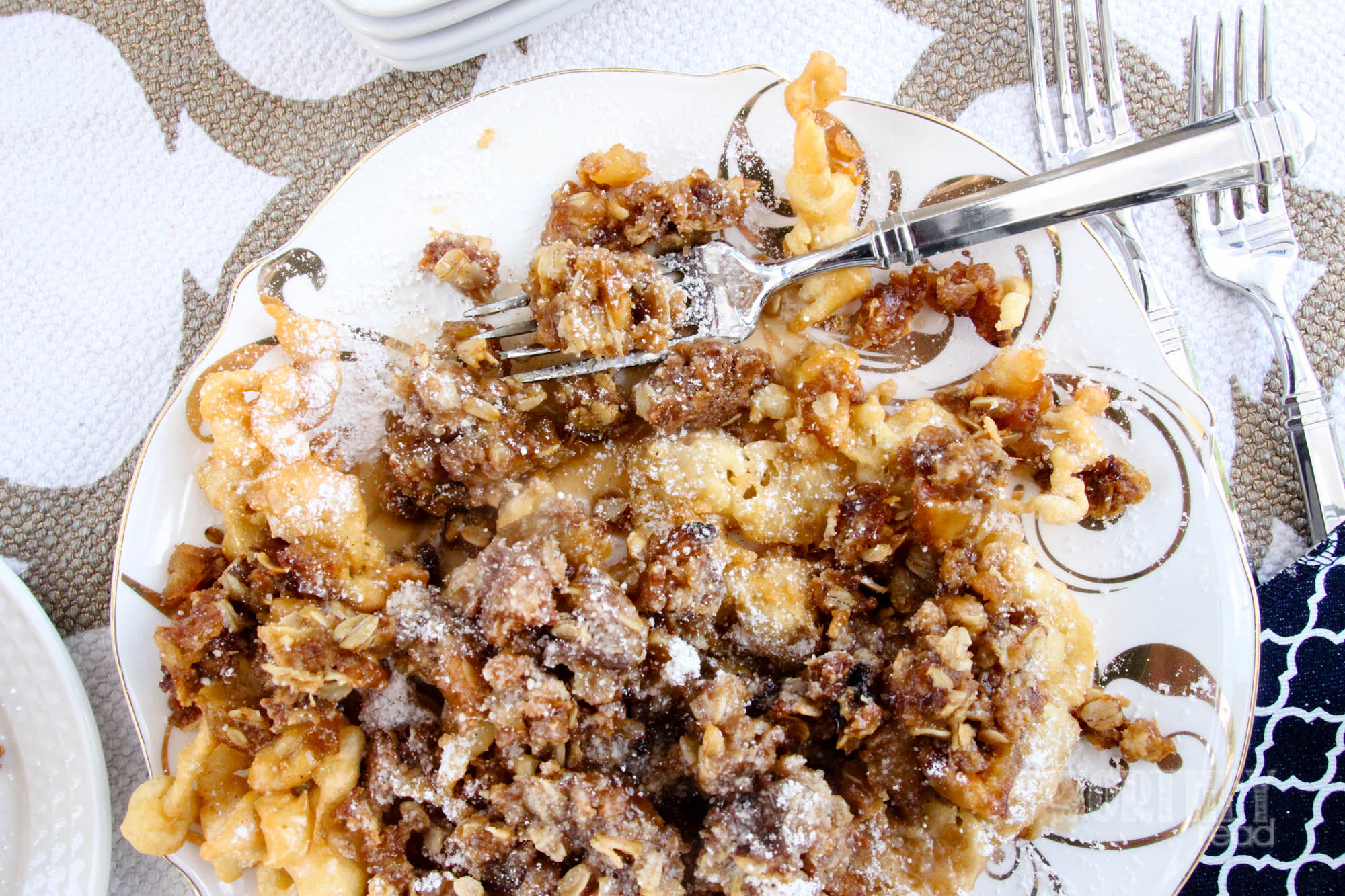 This is such a fun treat and a delicious way to combine your favorite seasonal desserts!
Find more dessert ideas below:
Whiskey Apple Crisp with Salted Caramel & Toasted Marshmallow
Dark Chocolate Sea Salt Caramel Hot Chocolate
Cupcake Brownie Funnel Cake with Caramel Sauce
Lemon Poppy Seed Pound Cake Recipe with Mulberry Citrus Icing
Popcorn S'mores Brownie Dessert