Indulge in the perfect blend of tangy cranberries and sweet apples embraced in flaky puff pastry with our Cranberry + Apple Galette.
A delightful rustic dessert that's both visually stunning and deliciously comforting.
You can find the full recipe in the recipe card.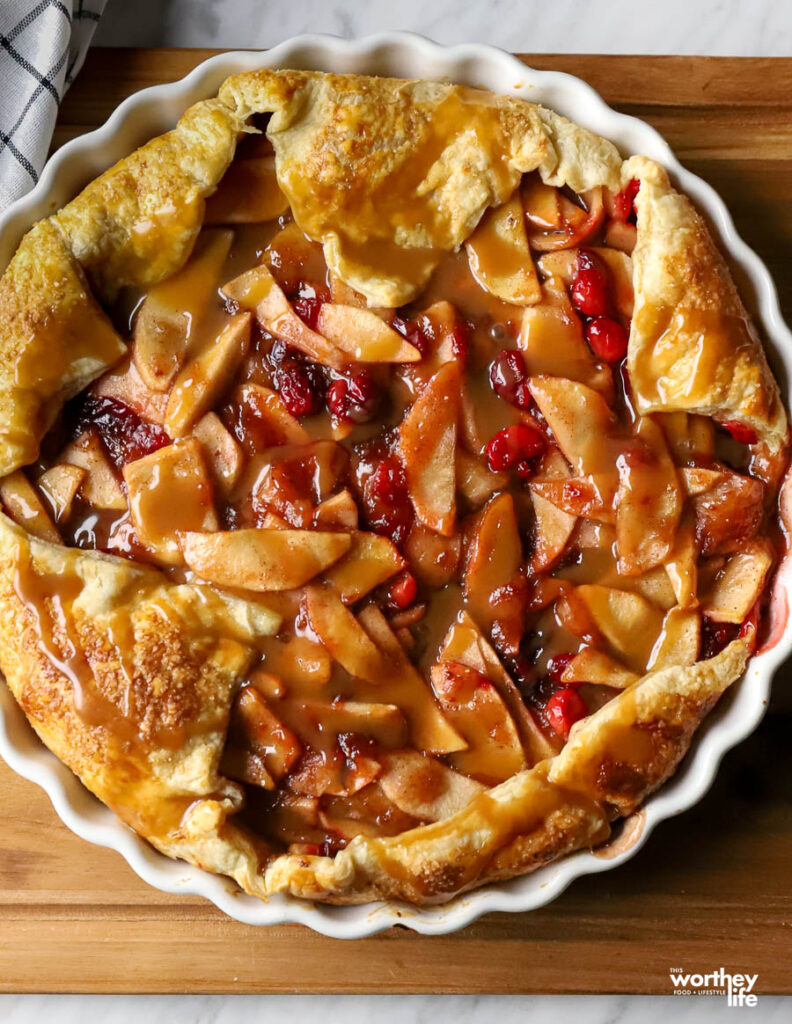 Cranberry + Apple Galette with Puff Pastry
What's not to love about a galette?
A galette is a less formal version of a pie, which means a lot less work.
So, if you are on the fence about making pies, then by all means, try your hand at making a galette.
And like a fruit pie, the rule of thumb is to use fruits in season.
For instance, use cranberries, blueberries, peaches, pears, and apples from late summer to fall.
During the later spring to mid-summer, choose from a variety of berries.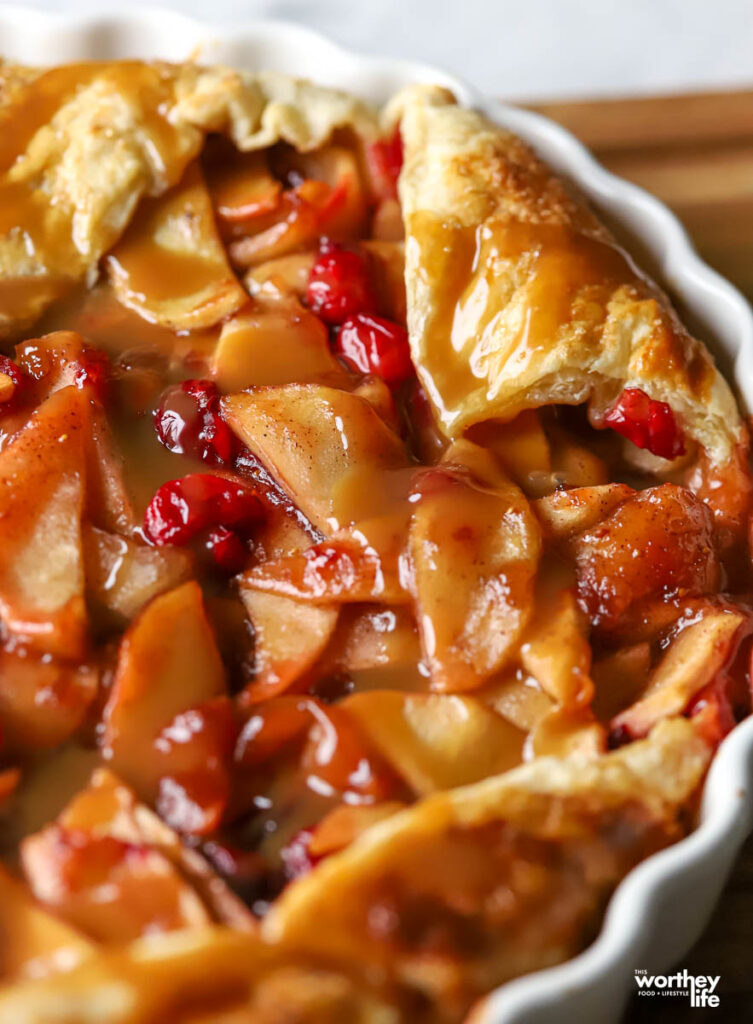 Let's talk crust; unlike a pie crust, the crust of a galette is less formal.
Never mind the labor-intensive latticework or perfectly crimped crusts that are the distinctive finishing touches for a pie.
With a galette, the name of the game is to keep it rustic but delicious.
And even better, our galette is made using packaged puff pastry dough.
This is the fall dessert you didn't know you needed.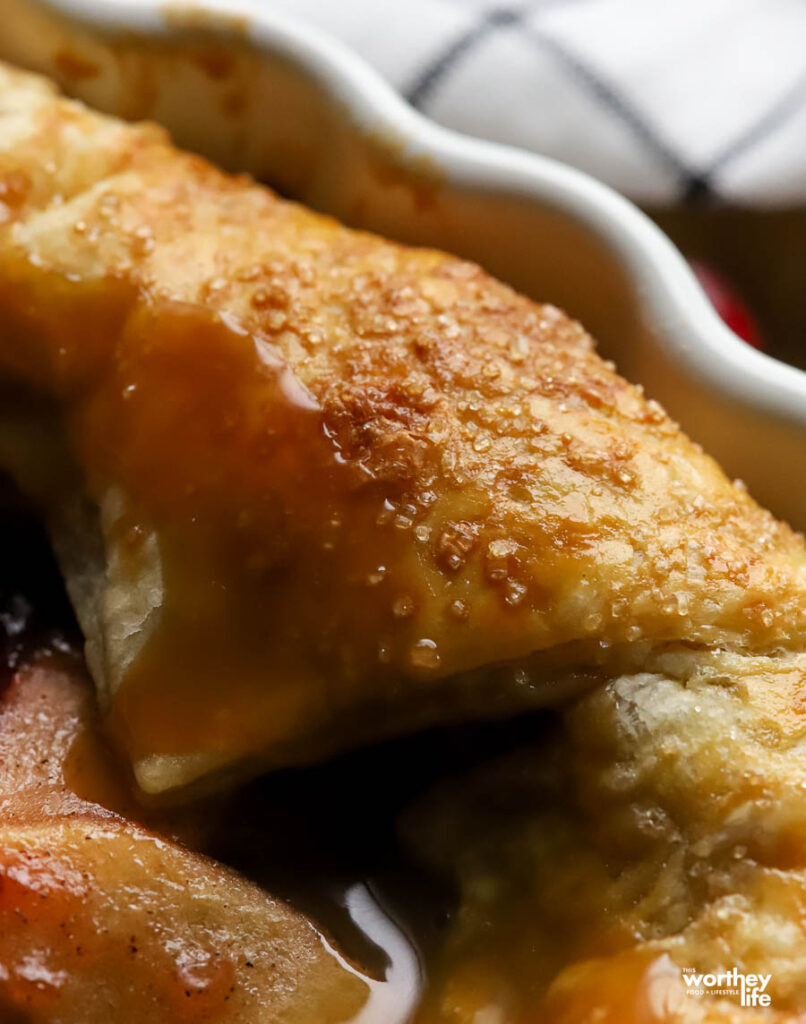 What You Will Need
Apples & Cranberries. The apples and cranberries are the base of our galette; every ingredient added works to complement and bring out the best of these two flavors. Like making an apple, we use two types of apples: sweet and tart. Both are considered baking apples and will hold their shape during the time spent in the oven. I used Fuji for its sweetness and Granny Smith apples for their sour flavor. Other sweet types of baking apples you can use are:
Braeburn
Cortland
Honeycrisp
Gala
Golden Delicious
Pink Lady
Puff Pasty. When it comes to a crust for your galette, it doesn't get any easier than using puff pastry; you can find it in the freezer section at your local grocery store. Allow it to thaw before using it, and you are good to go!
Butter, Light Brown Sugar & Granulated Sugar. Adding butter to the apple and cranberry mixture makes for a richer-tasting galette, the light brown sugar adds caramel notes giving the filling a darker color, and the white or granulated sugar adds sweetness.
Fig Orange Jam, Vanilla Extract, Lemons. Adding the fig orange is a nice touch, but it isn't a deal breaker; replace it with orange marmalade, and you are good to go. The pure vanilla extract adds complexity, enhances the butter, and gives the sugars a more robust flavor. Adding lemon zest adds a bit of citrus tartness, balancing the sweet flavors; the lemon juice keeps the apples from oxidizing, which means your apples won't turn brown.
Cinnamon, Cardamom & Sea Salt. Ground cinnamon and apples go back hundreds of years, so why mess with a good thing? Adding cardamom, like cinnamon, adds a bit of spicy richness and complements the apples. Adding sea salt or kosher salt helps to balance out the sweetness. Salt also brings out the flavors of all of the ingredients.
Cornstarch & Finishing Sugar. Cornstarch is a thickening agent in apple and berry pies because when cooked, the apples and berries release water. Apples don't release as much water as berries, and cranberries release pectin, which will thicken once the water evaporates. For this recipe, we only add a bit of cornstarch to keep the ingredients, mainly the sugars, from becoming watery. And the finishing sugar adds a bit of sweetness to the pastry dough, adds texture, and looks cool because who wants a galette if it doesn't look cool?
Caramel Sauce. Drizzle warm caramel sauce over the galette before serving to take the decadent factor up a notch. It isn't necessary, but so good!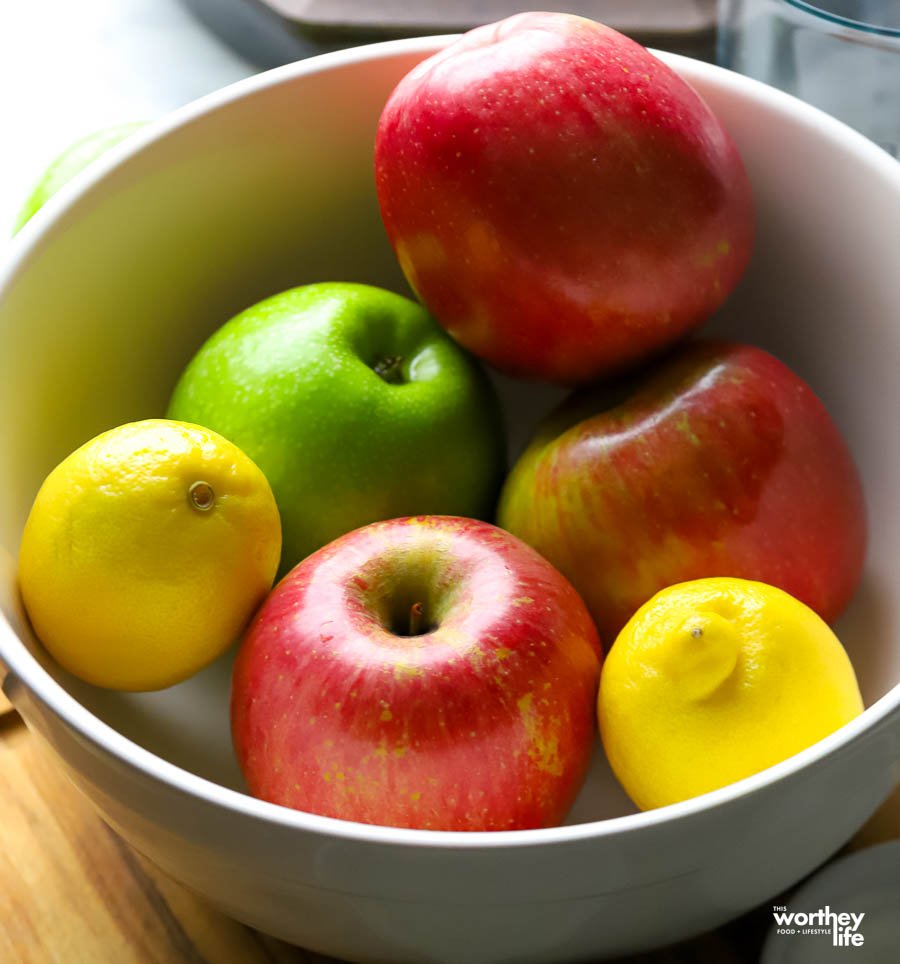 Cranberry + Apple Galette with Puff Pastry
Ingredients:
4 Apples: 3 Fuji and 1 Granny Smith

2 sheets of puff pastry

1 ¼ cup North Bay Produce fresh whole cranberries

2 tbsp unsalted butter, divided

1/2 cup light brown sugar

1/4 cup granulated sugar

2 tbsp of fig orange spread

1 tbsp pure vanilla extract

zest of one lemon

juice of one lemon, about 2 tbsps

1 tsp ground cinnamon

1/2 tsp ground cardamom

pinch of sea salt, about 1/4 tsp

2 tbsp cornstarch

course finishing sugar for the pastry dough

caramel sauce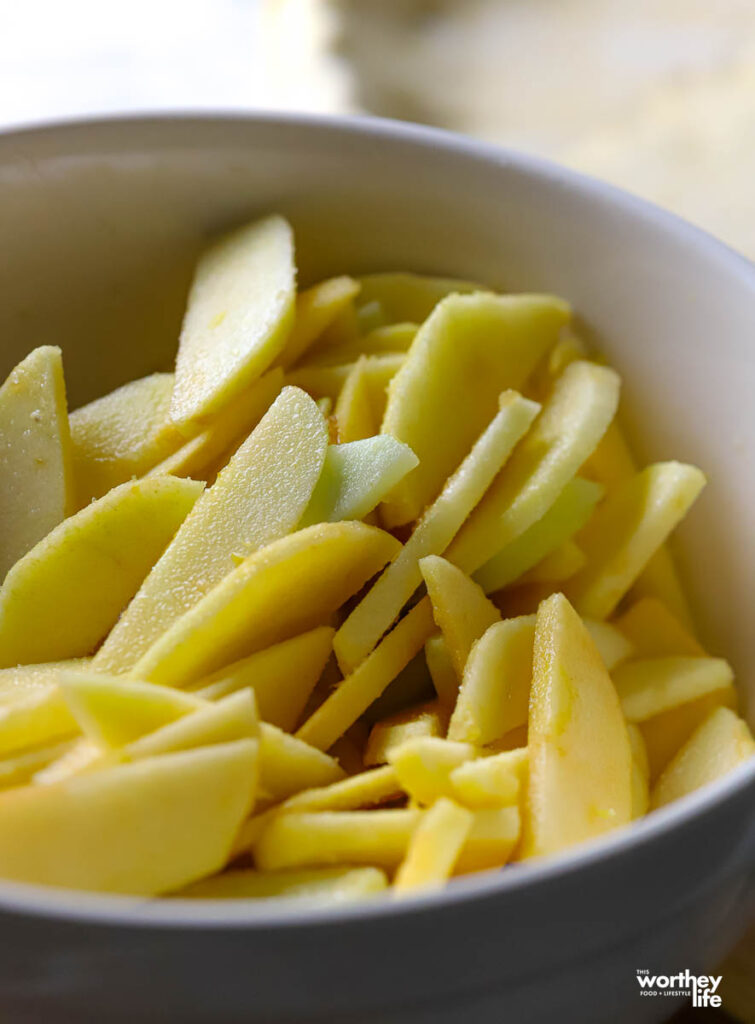 Directions:
Peel and slice the apples. Cook the apples over med-high heat.
Add cranberries, 1 tbsp butter, sugar, fig & orange spread, vanilla, lemon zest, juice, cornstarch, and spices.
Cook until the apples have softened, and adjust the seasoning to taste.
Brush the pan with the remaining butter. Roll the puff pastry onto a large baking sheet or skillet.
Spoon in the apple-cranberry mixture, and fold the edges of the puff pastry over the filling. Brush the pastry dough with egg wash and bake for 55 minutes.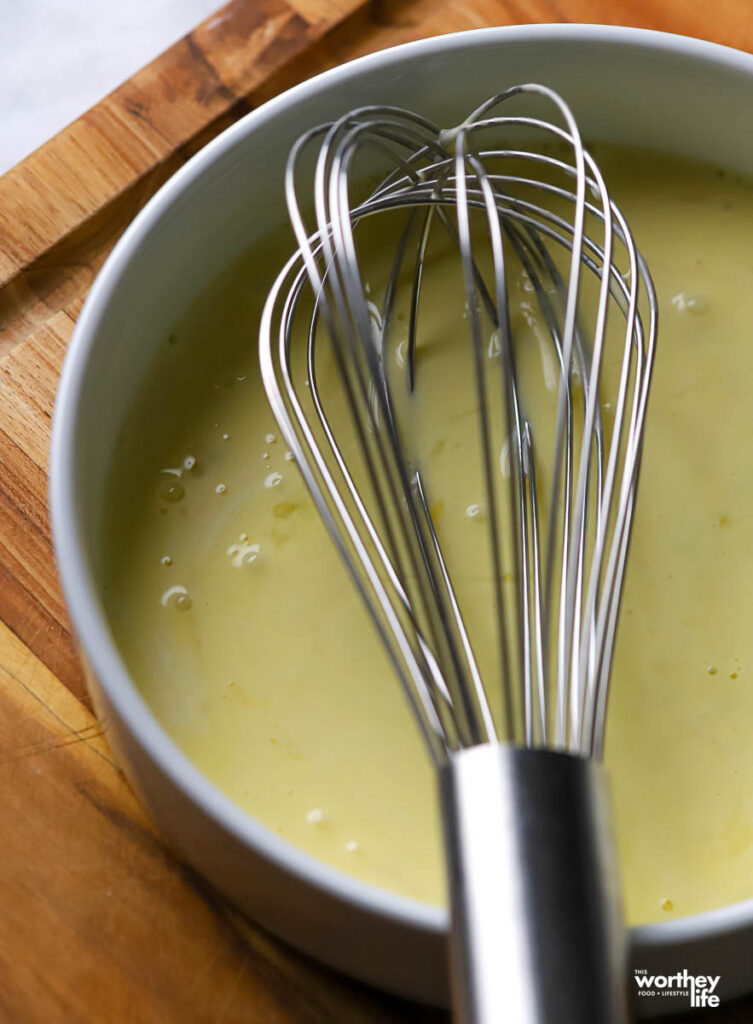 For egg wash, in a small bowl, combine one (1) whole egg and one (1) tbsp of heavy cream, half and half, or whole milk, whisk thoroughly and brush onto the pastry dough.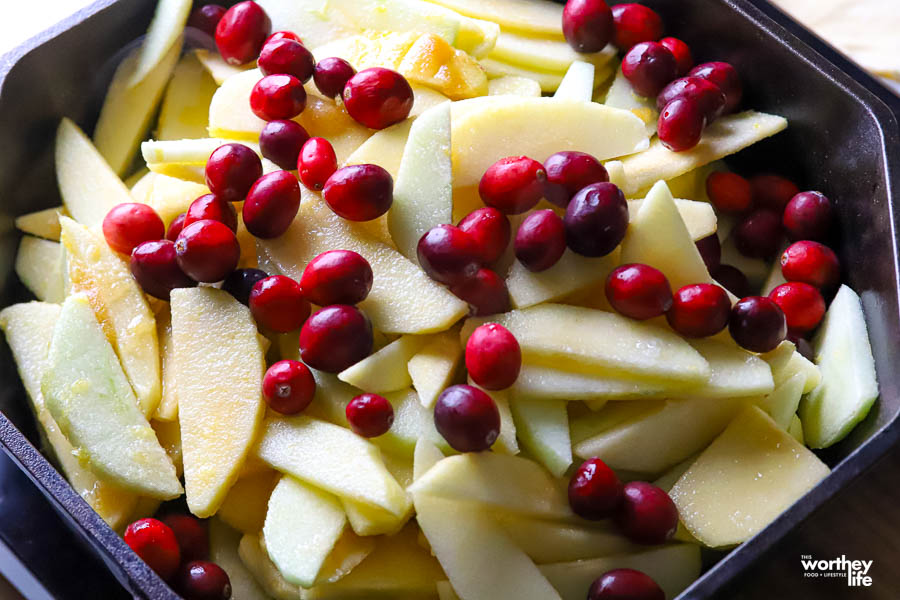 For the caramel sauce, add 1/4 cup of caramel sauce and 3 tbsp of heavy whipping cream, whisk together until smooth, and drizzle over the finished galette.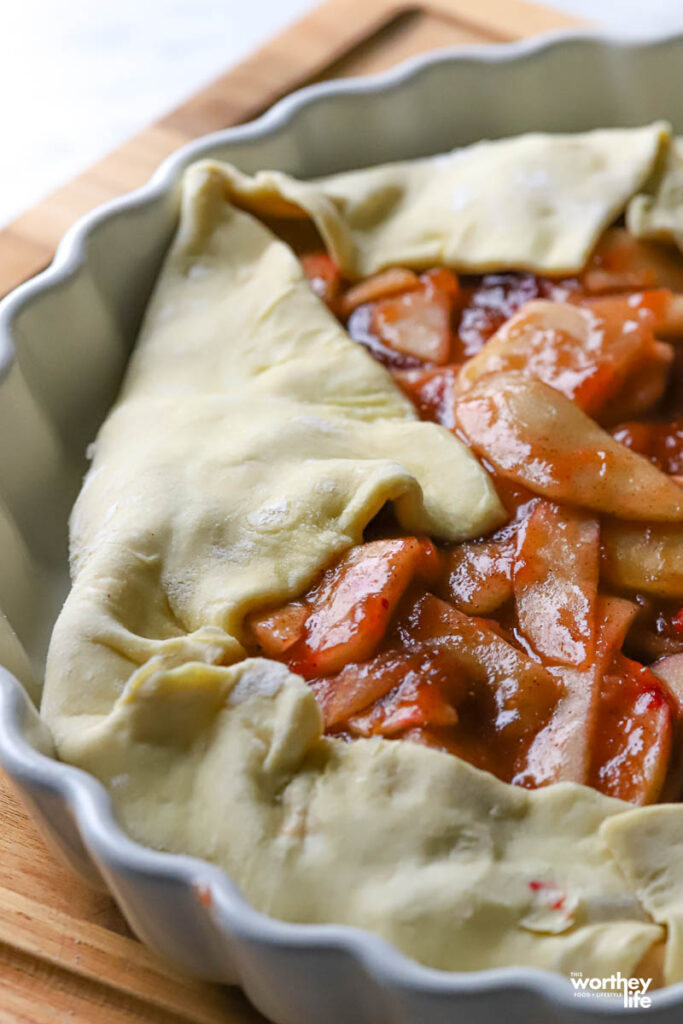 It is not required that your galette is perfect, just perfectly delicious.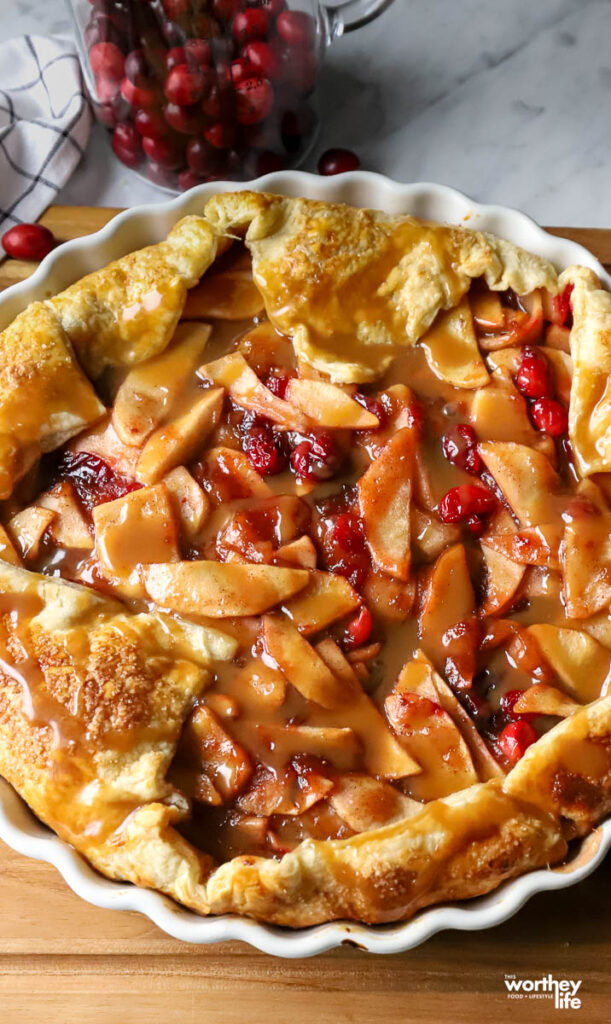 How long can I keep a galette at room temperature?
A baked galette with keep in a pie storage container for up to two (2) days.
How can I prevent a soggy bottom when baking my galette?
After the pie dough is rolled out in the baking dish or sheet pan, brush it with beaten egg whites.
Then add the filling and fold over the sides.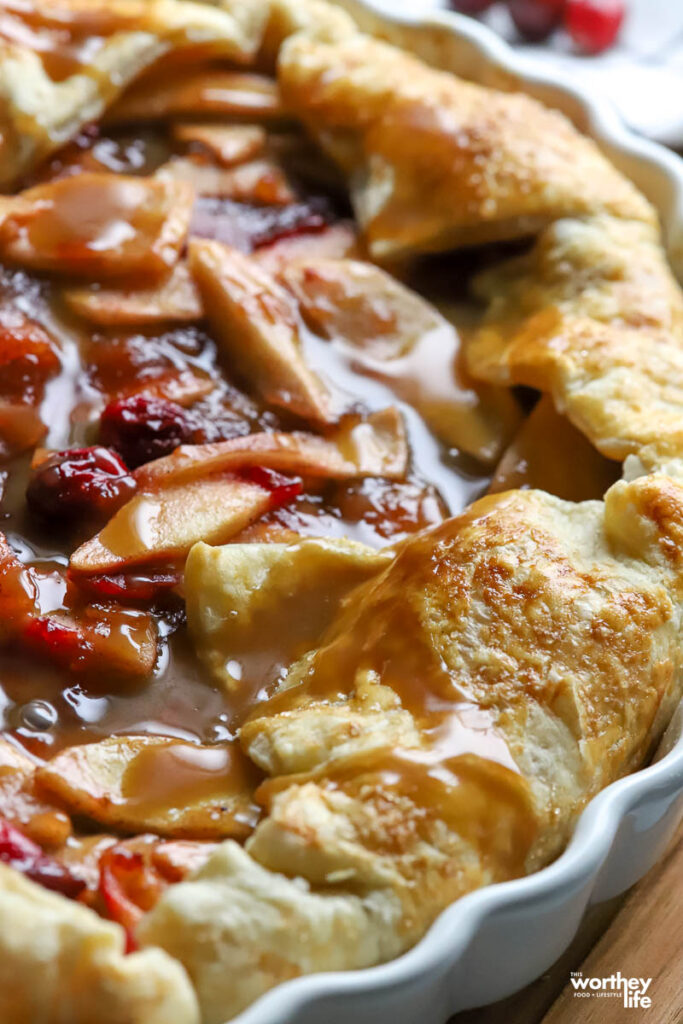 How long can I store a galette in the freezer?
A baked galette, adequately covered in parchment paper, then wrapped in aluminum foil, can be placed in a freezer bag for up to three (3) months.
How do I reheat a frozen galette?
To reheat, thaw the galette overnight, and place it into a 350-preheated oven for 15 minutes.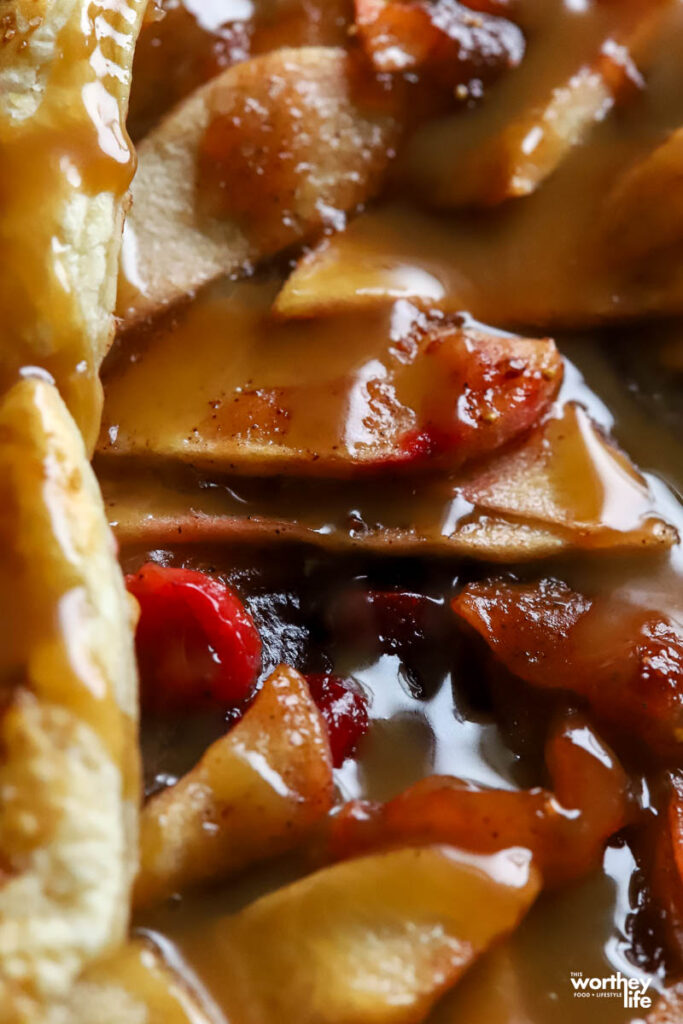 Grab the ingredients and try your hand at making our delicious Apple & Cranberry Galette.
With the fall baking and holiday season coming up, this is one dessert idea to add to your list to try!
If you have any questions drop us a line in the comments below.
More Recipes To Try: