This holiday season, explore the best Christmas towns in the Midwest. Many may be in your backyard, full of holiday festivities and Christmas cheer.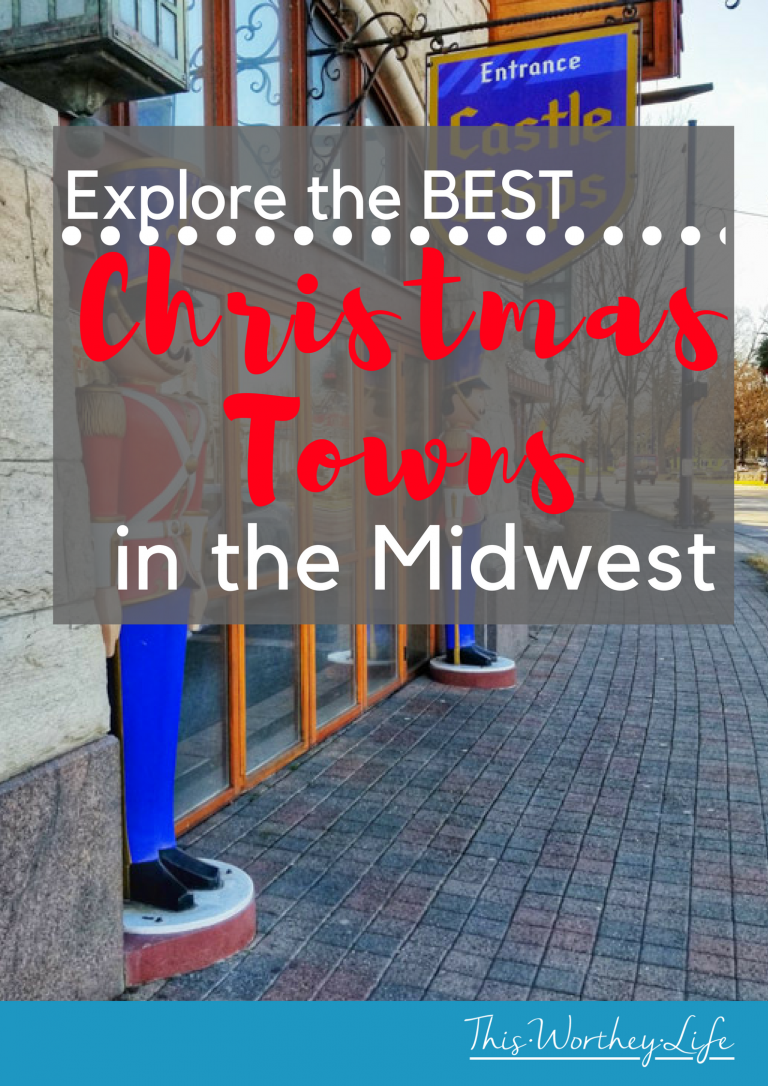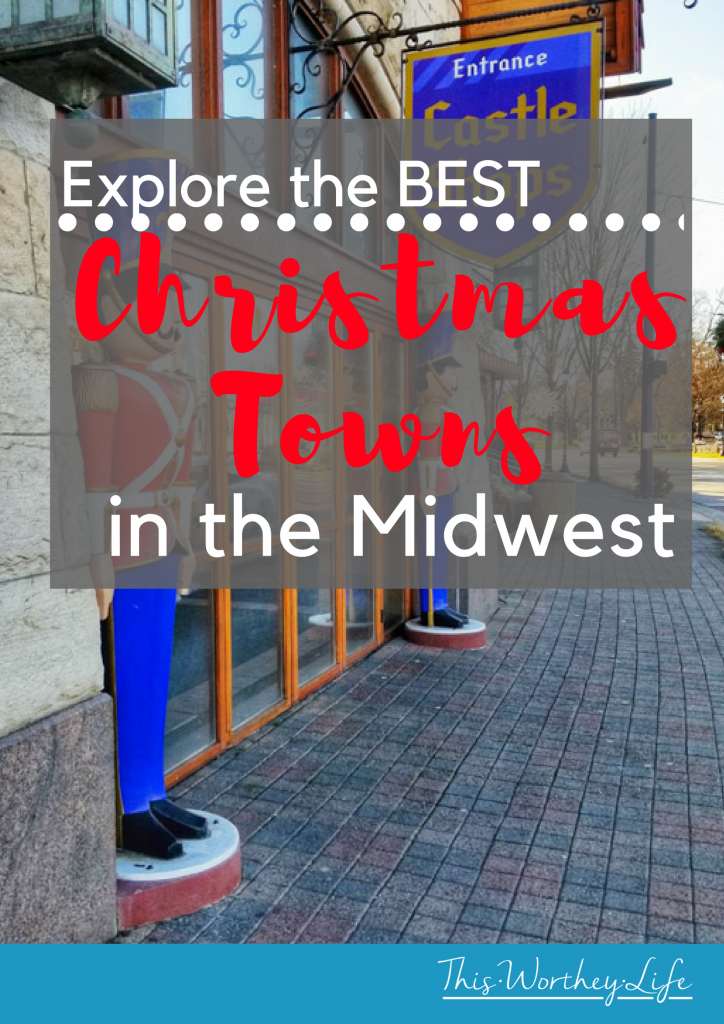 Best Christmas Towns In The Midwest
It's no secret the holiday season is my FAVORITE time of the year! I love everything about Christmas. From the music, the food, the smell of fudge, holiday lights, wrapping presents, hot chocolate, singing Christmas carols, sleigh rides, and more. Yes, I love it all! One thing that has been on my bucket list is to start visiting the best Christmas towns. This year, I decided to start with the Midwest. Yes, I know there are many great Christmas cities around the world, but there are several fantastic ones right in my backyard.
*2020 update- because of the current status of our country, be sure to check updated details + hours of the following locations before visiting. And if it's open, be safe, practice social distancing, and wear a mask.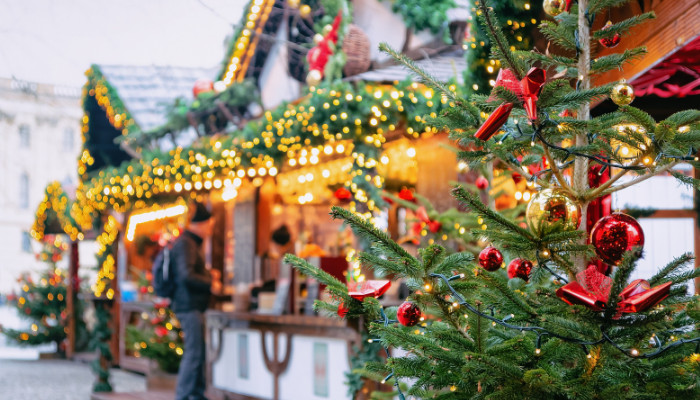 Best Christmas Towns In The Midwest
If you have plans to travel around the Midwest this year, check out some of the best Christmas cities to visit during the holidays, and make plans to visit at least one! Before I can hit the road and start checking these towns and cities off my list, I'm stopping to fuel up on gas and snacks for the road.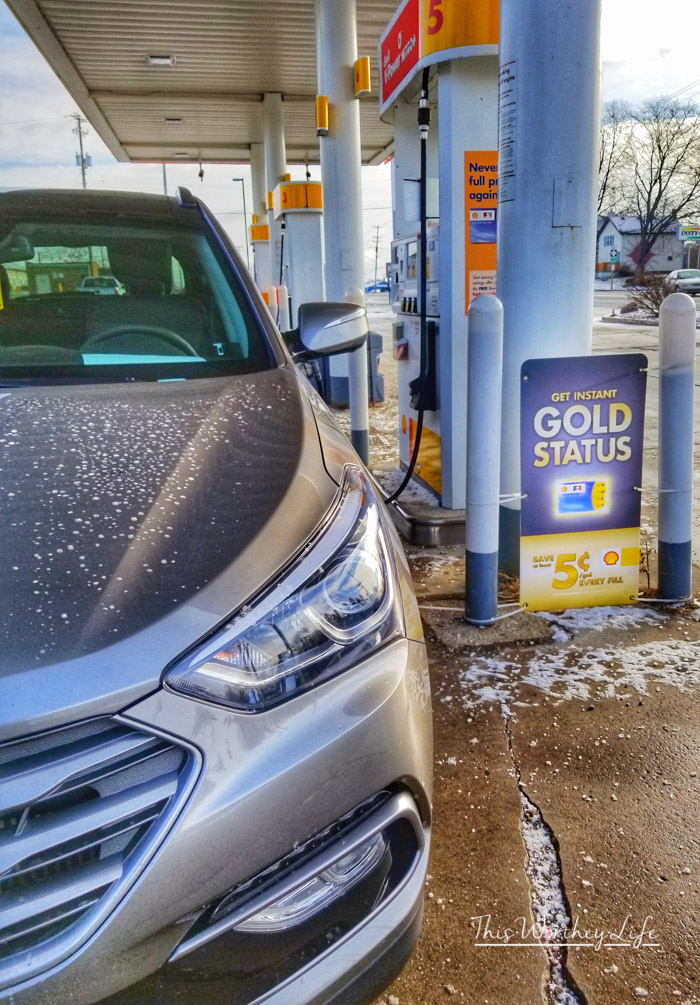 Thanks to Shell and the *Fuel Rewards® program, I will be able to save on gas while exploring Christmas towns and cities around the Midwest. As mentioned before, when you sign up for the Fuel Rewards® program, you will receive Instant Gold Status, saving you 5 cents off per gallon, up to 20 gallons per fill for at least six months.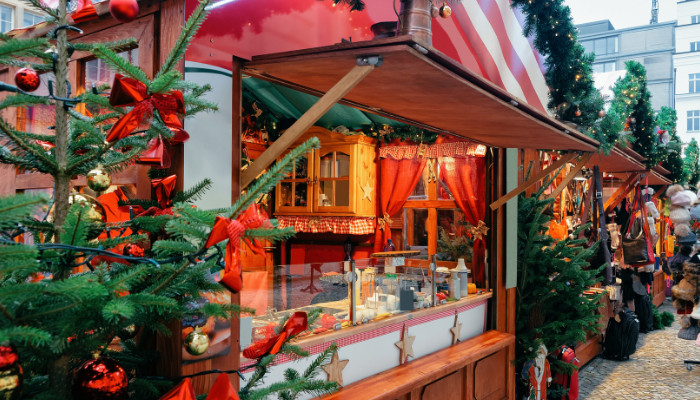 Best Christmas Towns in Illinois
Chicago, Illinois– There is always something fun to do in Chicago. One of Chicago's iconic things for during the holiday season is the Macy's State Street display. "Recognized as a National Historic Landmark and listed on the National Register of Historic Places, Macy's State Street is a Macy's flagship destination and a true American original. Join generations of Chicagoans as you shop and dine your way through this historic building filled with the best in fashion, cuisine, and more." This is on our bucket list to do this year and discover other fun things to do during the Christmas season in Chicago.
Other things to do in Chicago during the holiday season:
Chicago Botanic Garden in Glencoe, IL. Visit chicagobotonic.org for more information and updates for 2020.
Another Illinois town to check out is Galena Country. It's a cozy area, filled with Christmas ideas, such as the Holiday Fire in the Sky, visit the Christmas Village, and take a stroll downtown to check out the holiday scenery.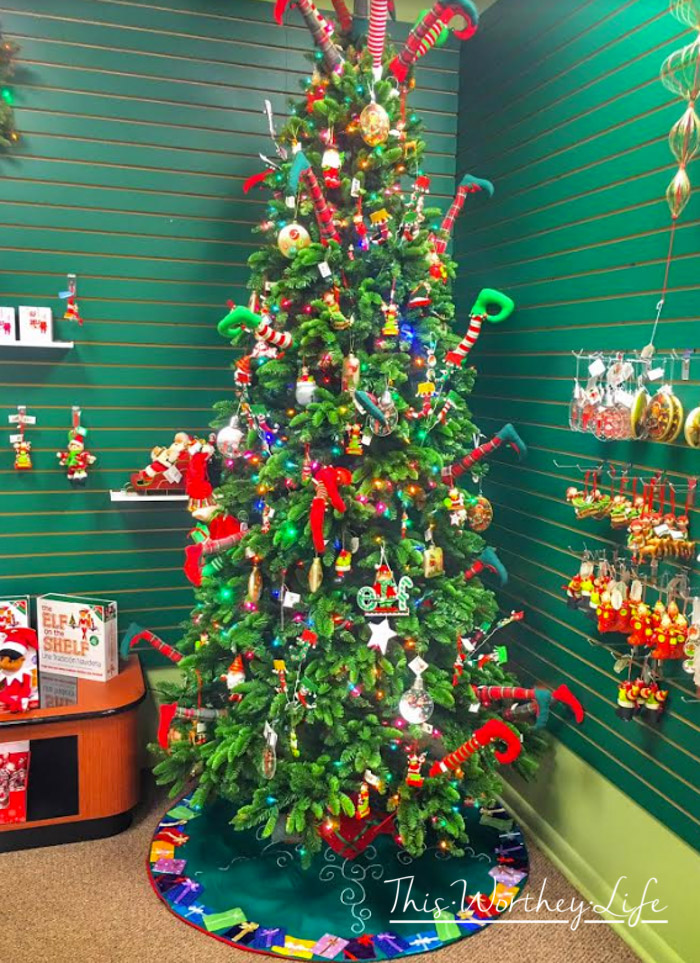 Christmas country in Indiana
Santa Claus, Indiana– We explored Santa Claus, Indiana, for the first time earlier this year. You know they are pulling out all the stops on Christmas activities with a town named after Santa Claus. This small town celebrates Christmas all year, receiving millions of visitors to their family-friendly theme park, Holiday World, and events at Lake Rudolph Campground & RV Resort. Some of their Christmas activities include The Land of Lights display, a Christmas dinner hosted by Santa himself, a live Reindeer exhibit, and a Santa Claus Christmas parade. You can find quite a few things to do in the Santa Claus area during the holidays; visit their page to learn more.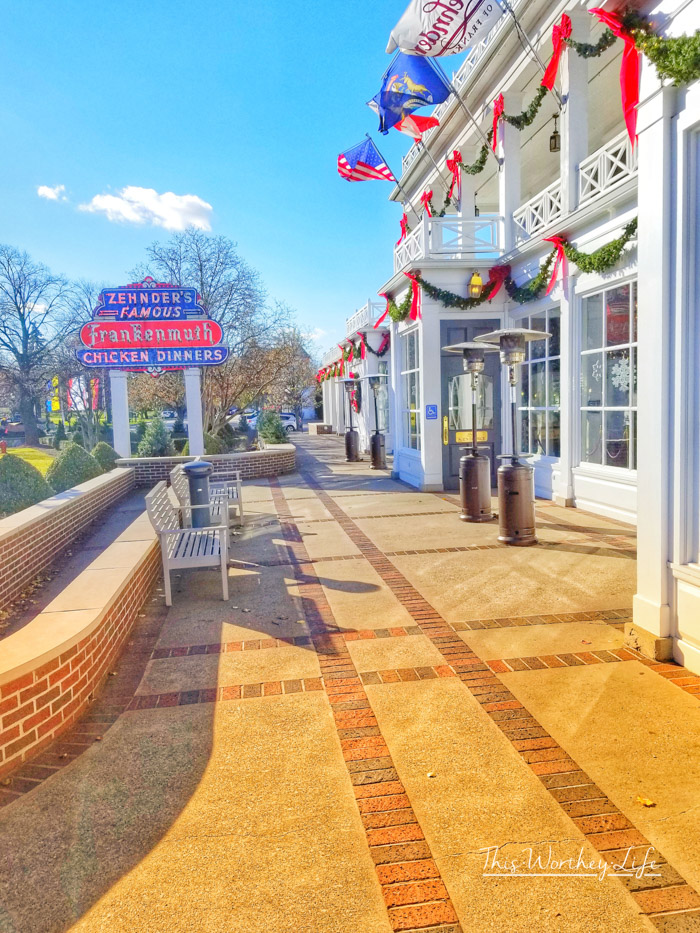 Best Christmas Towns in Michigan
Frankenmuth, Michigan – I remember the first time I went to Bronner's in Frankenmuth, Michigan. That store overwhelmed me. I mean, it was so hard to take it all in at once. It was Christmas overload but in a good way.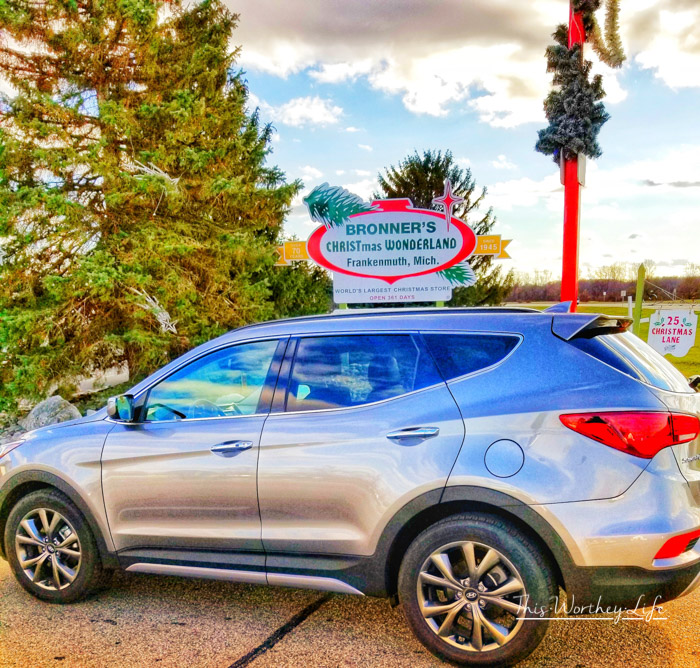 Bronner's is known as the BEST Christmas store. They bring in guests from all over the world, and you don't leave empty-handed. But Bronner's is not the only thing this quaint little town is known for– the whole town transforms into a Christmas town. Do you remember growing up watching A Christmas Carol by Charles Dickens? Well, this is a real-life version of it. The streets are decorated to the max, window shops covered in holiday decor, and you will find actors dressed up in Dickens-Day apparel singing Christmas carols and wishing you holiday greetings. The smell of fudge and roasted chestnuts fill the air.
Manistee, Michigan– Last year, when I searched for holiday activities in the Mid-Michigan area, I was told about Manistee. If you want the nostalgia Christmas, then you want to head to Manistee. They kick off the holiday season with the Old Christmas Weekend, filled with activities, including a Gingerbread House contest, Festival of Trees, and guided tours of the Babcock House. You will find carolers decked out in period dresses, coats, and let's not forget the top hats! There's also a Victorian Sleighbell Parade, with the highlight being Belgian draft horses pulling a 30′ Christmas tree down River Street in downtown Manistee. Please find a list of activities and dates by going to their website.
Grand Rapids, Michigan– You may not think of this Michigan city as a magical Christmas place, but it is. With a Christmas Open House, a decked out Rosa Parks Circle, which also offers ice-skating, performances of The Nutcracker, A Christmas Story, and Holiday Pops by the Grand Rapids Symphony, all of this will put you in the holiday spirit. And just down the road is the Frederick Meijer Gardens & Sculpture Park's "Christmas and holiday traditions around the world."
Dearborn, Michigan– Another great place in Michigan to visit during the holiday season is Dearborn. Not far from Detroit (where you should make a stop at the zoo to see all the holiday lights), Dearborn offers an outdoor living-history museum during the holidays. During the Holiday Nights at Greenfield Village, you will find actors dressed in period clothing, carriage and Model T rides, Santa and his reindeer, ice-skating, and caroling. They also host a variety of traditions and tastes of holidays past; chestnuts will be roasting as well as bonfires. As a life-long Michigander, I will be checking this one off my list this year (finally).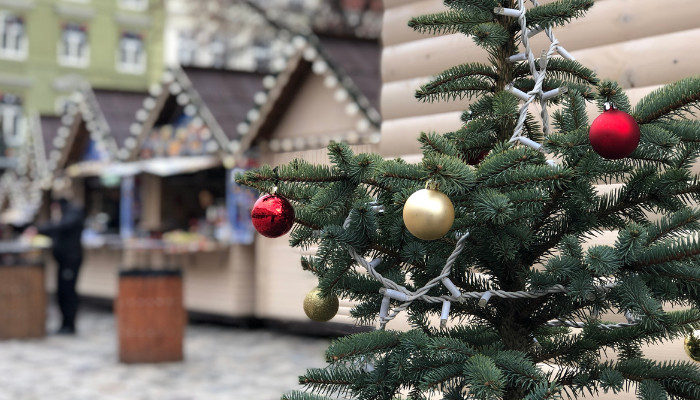 Best Christmas Towns in Missouri
Branson, Missouri-
We explored the
Branson
area a few years ago, and it's a great family-friendly destination. During the holidays, you can check out the awesome light display at Silver Dollar City (theme park), and don't forget to catch one of their Christmas shows!
Saint Charles, Missouri.
If you love history and the holidays, Saint Charles is the place to be during the Christmas season. You can step back in time, taking a stroll down Main Street. With cute and cozy shops along Historic Main Street, you'll feel like you're in one of those Christmas towns you see in the movies. You can also get a blend of history with storytelling mixed in with a little fairy-telling, visit
stcharleschristmas.com
to check out updates for 2020. "For nearly half a century, Saint Charles Christmas Traditions® has helped create cherished memories for the young and young at heart. With a unique blend of storytelling, history, and fairytale whimsy, visitors are transported to a world of yuletide nostalgia where reindeer fly, Victorian carolers share a cheerful tune and sugarplums dance in your head."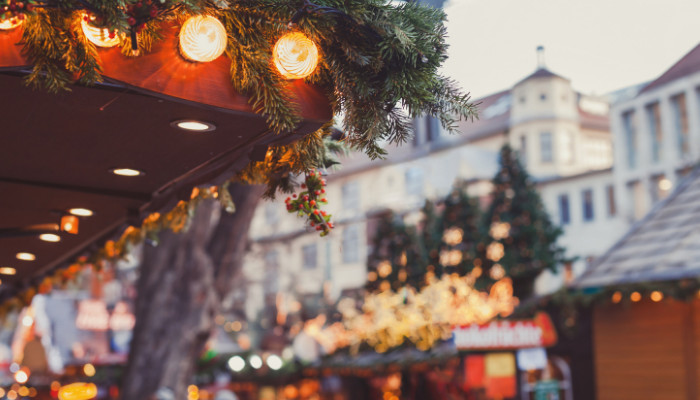 Christmas in the Midwest
Omaha, Nebraska- If you love Christmas trees, visiting Omaha to see their Christmas tree which typically is about a 65-foot tree decked with the finest directions, is the place to go. They also offer an Ethnic Holiday Festival, bringing in various celebrations and cultures from around the world.
The Osthoff Resort Elkhart Lake, Wisconsin- Deep into Wisconsin, you can join the 10-day Old World Christmas Market celebration. With activities ranging from cookie and ornament decorating workshops to hayrides, breakfast with Santa, and a caroling line that makes a living Christmas card, you will enjoy all the unique experiences this area has to offer!
Duluth, Minnesota- Home to America's Largest Free Walk Through Lighting Display, you can walk through over 4 million lights in a 20-acre park right off Lake Superior in Bentleyville. The kids can see Santa, as well as enjoy hot cocoa, see Rudolph, and partake in other Christmas festivities. The Duluth area also offers a Polar Express ride dubbed Christmas City Express.
Best Christmas Towns in Iowa
Visitors looking to add a little merry to their Christmas flock to The City of Christmas Display of Lights at Rand Park. This massive light display in Keokuk, Iowa features over a million lights across 100 displays and is a huge holiday draw. The even opens around Thanksgiving and typically runs until a few days after Christmas. Visit Santa's workshop and interact with elves and reindeer and start the holiday season off right. Keokuk is near Fort Madison and sits along the Mississippi and Des Moines Rivers.
On the other side of Iowa, you'll find Le Mars; home to The Pioneer Village Christmas Wonderland. What better way to ring in Christmas than with a horse-drawn sleigh ride. The winter wonderland also features a live-action nativity and live performances. If you're up for ice cream in the winter, consider a visit to the Ice Cream Capital of the World Visitor's Center. Le Mars is home to Blue Bunny Ice Cream and the center includes exhibits, a museum, and an ice cream factory. You can also stop in and grab your favorite Blue Bunny flavor at the on-site ice cream shop.
Best Christmas Towns in Kansas
Located midway between Kansas City and Denver, Wakeeny, Kansas is the epitome of small-town America. WaKeeny home to several historical sites, the Shiloh Vineyard and Winery, and the Smoky Valley Scenic Byway. It's also a popular Christmas town in the midwest. Christmas City of the High Plains is an adventure for the whole family. You'll enjoy Virtual reality sleigh rides, horse-drawn wagon rides, encounters with live reindeer, Christmas tree lighting in a quaintly decorated downtown area, visits, and a parade with Santa. Christmas City of the High Plains is fun for the whole family, a Thanksgiving weekend event.
You've likely heard the saying, "Get the heck out of Dodge," but during the holidays, you're going to want to head in to Christmas in Dodge City, Kansas. Whether you're in town for sightseeing or exploring the casinos, a visit to the area during the holidays puts you right in the center of the action. Visitors can stroll the old-timey streets and enjoy holiday concerts, a tree lighting ceremony, and visits with Santa. All of these are set against the backdrop of the old frontier. You'll feel like you're in the middle of a Gunsmoke episode.
Best Christmas Towns in South Dakota
Rapid City, South Dakota is the perfect Christmas town in the midwest. Home to the Storybook Island Christmas Nights of Light, visitors can enjoy a bit of holiday cheer amidst the shopping, dining, and attractions. Visit the Christmas Village Store or shop for that perfect gift a the Winter Market. Guests can also visit Main Street Square for ice skating and visits with Santa. Rapid City, South Dakota near Black Hills National Forest, offers stunning landscape views from every angle and it offers an array of culinary and historical experiences for foodies and history buffs alike.
Walk in a Winter Wonderland at Falls Park in Sioux Falls, South Dakota at this yearly event featuring over 25-miles of string lights and beautifully decorated shops and restaurants along Falls Park. Enjoy the lights among the waterfalls and rock faces of this stunning Big Sioux River, park. Visitors can enjoy live music in a warm, overlook area, a delicious and warming chili bar, adult beverages for the grown-ups, and treats and ice cream for the kids.
Best Christmas Towns in North Dakota
Fargo, North Dakota features a bustling downtown area full of dining, shopping, and fun things to do throughout the year, but during the holidays, the town transforms into a Christmas wonderland. The yearly Parade of Lights takes visitors through the decorated downtown area while a drive-through light display of Lindenwood Park from the cozy warmth of your car is a delight for all ages.
Garrison, North Dakota- Known as the Christmas Capital of North Dakota, you are taken back to the Charles Dickens era when you visit the Garrison area. You will get your fix of fruitcake, double-decker bus rides, and even watch a live performance of A Christmas Carol.
The Dickens Village Festival
is a must-visit for anyone who loves Christmas and wants to take a step back in time to enjoy the holiday season!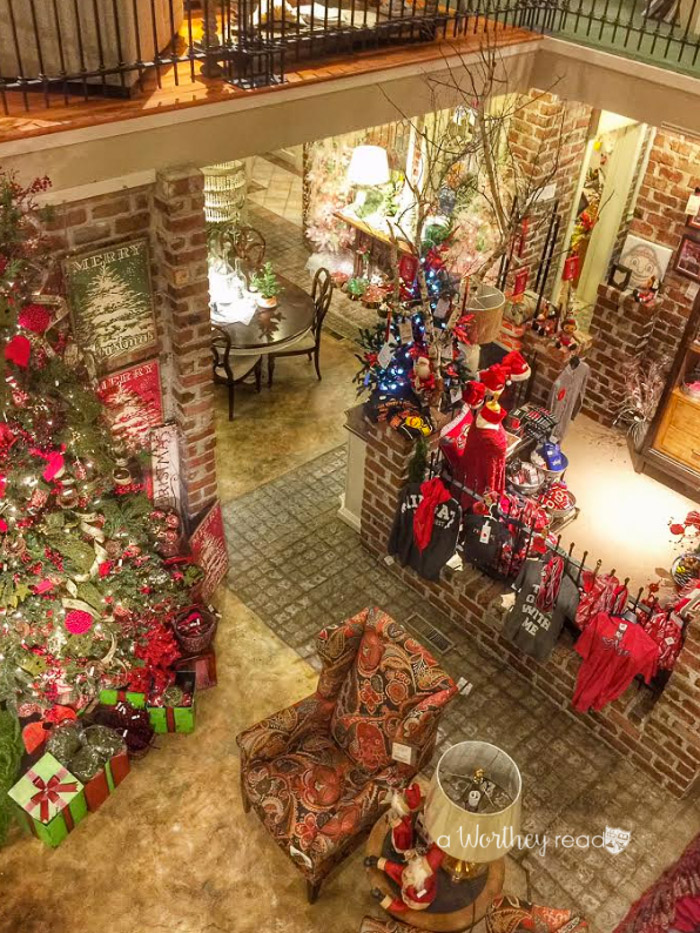 Best Christmas Towns in Ohio
Wooster, Ohio- I fell in love with Wooster, Ohio, last year on a press trip. A huge attraction that draws in a ton of visitors each year is the Pine Tree Barn. This is a restored Dutch bank barn featuring over 25,000 square feet of furniture, home decor, and all things Christmas. This family-owned shop and restaurant started back in the early 1960s selling Christmas trees.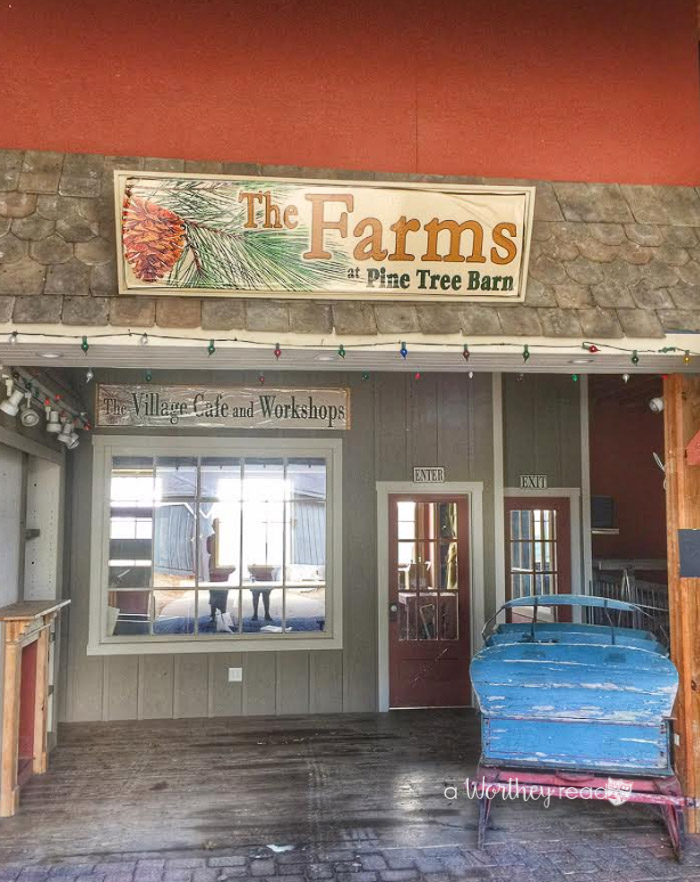 Over the years, they have expanded to a full-service, treating customers with hot cocoa while they picked out their trees, then over to the store and restaurant for gifts and pastries. After spending an afternoon at The Pine Tree Barn, you can explore downtown Wooster, where you will find one of their main Christmas attractions, the Wooster Window Wonderland. Windows along the main street are decked to represent times of the past, and from what I've been told, it's a sight you have to see for yourself. You can explore each storefront's window with a cup of hot cocoa, along with other Christmas activities going on to kick off the Christmas season.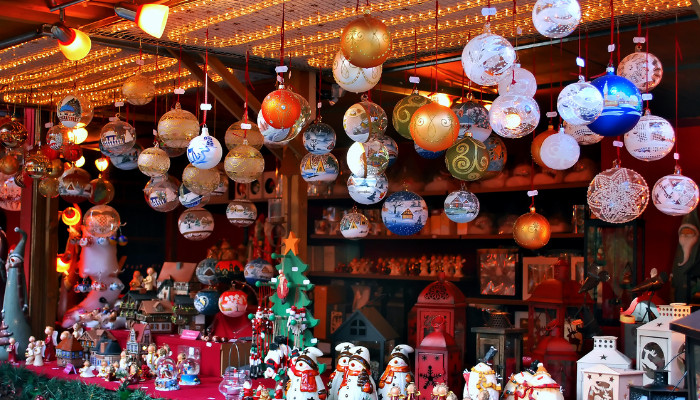 Columbus, Ohio- I spent every Christmas growing up in Columbus, Ohio. So, I have to include this city. And not just for ole' time sake, Columbus has a lot to offer families during the holiday season. One of their highlights of the season is The Columbus Zoo and Aquarium Wildlights. With more than 3 million LED lights and a choreographed display of lights and music bursts every 30 minutes, you will quickly see why this is a family-favorite activity. Just a few miles down the road in Easton Town Center, you will find a 50-foot Holiday Tree featuring a 6-foot start and more than 25,000 digital LED lights, synchronized to a soundtrack.
Cleveland, Ohio- If you grew up watching (and still watch) the iconic A Christmas Story, take a tour of the house museum during November- January. While you're in Cleveland, be sure to check out the Glow Winter Show at the Cleveland Botanical Garden. It's filled with handmade gingerbread houses, festive holiday flowers, and other holiday traditions. Another must-not spot in Cleveland is the West Side Market. With over 100 vendors, you'll find unique Christmas presents and new treats to try.
Hamilton, Ohio- This high-tech, drive-through holiday light experience is over 2.5 miles located in Hamilton, Ohio. With more than 1 million LED lights, it's a spectacular show. If you want something to do that involves staying in the car, check out Pyramid Hill Sculpture Park and Museum.
Kirtland, Ohio- One more area in Ohio I have to mention is the Kirtland Nativity Exhibit. "Unto Us, A Son is Given," the annual Historic Kirtland Nativity Exhibit featuring more than 600 lovingly loaned nativity scenes, 100,000 outdoor lights, and sacred Christmas music, will open on November 27th at the Historic Kirtland Visitors' Center, 7800 Kirtland Chardon Road, Kirtland, OH. The American Bus Association has recognized the exhibit as one of the "Top 100 Events in North America."
If you want to take a step back in time, and reminiscence a little,
Cambridge, Ohio
should be on your bucket list. This town is considered a great Christmas town in the Midwest to visit. The Dickens Victorian Village is a quaint and cozy way to enjoy the holiday season, with a set up taking you back to days of old. Tonya, with Travel Inspired Living, has more about
what you can do in Cambridge, Ohio during the holiday season.
Finally, USA Today named The Legendary Lights of Historic Clifton Mill in Ohio as one of the top 10 light displays in the entire country. This midwest Christmas town takes you back to the 1940s. The focal point of the holiday display is a light waterfall nestled among the Christmas Village and decorated covered bridge. While in Historic Clifton Mill, visit the Clifton Opera House or tour Frank Lloyd Wright's Westcott home.
There are so many quaint and magical Christmas towns in the Midwest; I couldn't include everyone. However, after spending a lot of time digging and exploring, I highlighted some of the Midwest's best Christmas towns. We plan to check off at least five of them on this list during the Holiday season. Using the
Fuel Rewards®
program, I will earn additional savings at hotels and restaurants along the way. The Fuel Rewards® program also helps you save on
everyday needs
. When you sign up,
send your referral link to your friends and family
so they can join the Fuel Rewards program. Then, the first time a friend (or family member) uses the program by earning a reward or using their card at a participating Shell station after registering with your link, you will instantly earn 25 cents off per gallon (up to 20 gallons). There's no limit to how many friends you invite or how many times you earn!
So before you hit the road to explore a Christmas city in the Midwest,
sign up for the Fuel Rewards program
so not only can you earn 5 cents off per gallon, up to 20 gallons per fill!
*Restrictions apply. To qualify for the Gold/Silver Status offers, you must be a Fuel Rewards® member and swipe your Fuel Rewards® card or enter your Alt ID when you fuel at a participating Shell station. With Gold Status, you will receive 5¢/gal in Fuel Rewards® savings on every fill-up. The 5¢/gal reward for Gold Status will be combined with other rewards in your Fuel Rewards® account. If you are an existing Fuel Rewards® member, you will receive Gold Status from 6/5/2017 through 12/31/17, the "Existing Member Introductory Period." If you are a new Fuel Rewards® member, you will receive Gold Status for the initial month you join through the last day of the month, 6 full calendar months later, the "New Member Introductory Period." The last 3 months of the Existing Member Introductory Period or the New Member Introductory Period (collectively the "Introductory Period") is the "Qualification Period." You will retain your Gold Status during the Qualification Period, but you must make 6 qualifying fuel purchases to qualify for Gold Status for the next 3 months, the "Benefit Period." During the Benefit Period, you must continue to make 6 qualifying fuel purchases to maintain your Gold Status for the next 3-month Benefit Period. A qualifying fuel purchase is any fuel purchase at a participating Shell station in which you swipe your Fuel Rewards® card or enter your Alt ID and fill up with at least 5-gallons of any grade of fuel. For example, if you are a new Fuel Rewards® member and register on 6/15/2017, you will receive Gold Status through the New Member Introductory Period (i.e., 12/31/2017). You will need to fill up with at least 5 gallons of fuel at least 6 times during the Qualification Period (i.e., 10/1/2017 and 12/31/2017) to maintain Gold Status during the Benefit Period (i.e., from 1/1/2018 to 3/31/2018). Thereafter, if you continue to fill up with at least 5 gallons of fuel at least 6 times during the successive 3 consecutive month Benefit Periods, you will retain your Gold Status. If you do not maintain your Gold Status, you will receive Silver Status. With Silver Status, you will receive 3¢/gal in Fuel Rewards® savings. The 3¢/gal reward for Silver Status will be combined with other rewards in your Fuel Rewards® account. Redeem Fuel Rewards® savings with your Fuel Rewards® card or Alt ID at participating Shell stations. Fuel Rewards® savings are limited to 20 gallons of fuel per purchase, per vehicle, or fraud limits placed by Shell and/or limits placed on your financial card by your financial institution, each of which may be lower. Fuel Rewards® savings must be redeemed in a single transaction. Once you begin to dispense fuel using your Fuel Rewards® savings, you must dispense to the 20-gallon limit or forfeit any remaining discounted gallons of fuel. For example, if you only pump fifteen (15) gallons of fuel, you would abandon the remaining five (5) gallons of discounted fuel. If you have a rewards balance greater than the current per-gallon price of fuel, the price will roll down to the maximum capability of the fuel equipment, and your remaining rewards will be saved for future fuel purchase. Dispenser may require a price of up to 10.9¢/gal. It may not be possible to combine multiple discounts and/or rewards in a single transaction. For purchases of $75 or more, please go inside to pay. Unbranded diesel and alternative fuels may not be eligible. The Fuel Rewards® program is owned and operated by Excentus Corporation. Offer may be modified or discontinued at any time without notice. Not valid where prohibited by law. Please see fuelrewards.com for complete Fuel Rewards® program details and Terms and Conditions. Other restrictions may apply. All trademarks are the property of their respective owners. To learn more, visit fuelrewards.com/gold or call (888) 603-0473
This is a sponsored conversation written by me on behalf of Shell. The opinions and text are all mine.
This was a previously sponsored post.
More Midwest Travel Ideas
12 Scenic Fall Road Trip Ideas In The Midwest
What's Open In Chicago Right Now | Things To Do
31 Free Things to Do in Chicago Illinois