Take the traditional New Year's Day dinner recipe to a new level with Black Eyed Peas Instant Pot plus grilled pork chops. Our take on the traditional New Year's Day meal may look a bit different than yours, but that's probably because we like to act a fool in the kitchen. This year we are acting up with our Grilled Pork Chop + Black-Eyed Pea Soup, and we think you're going to love it!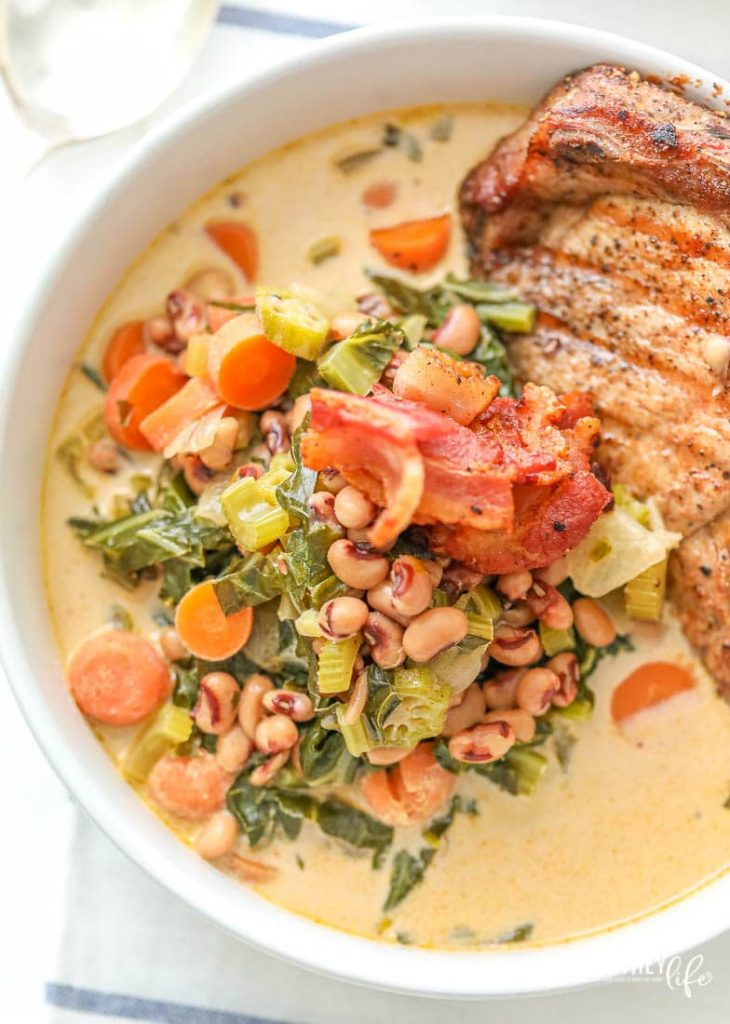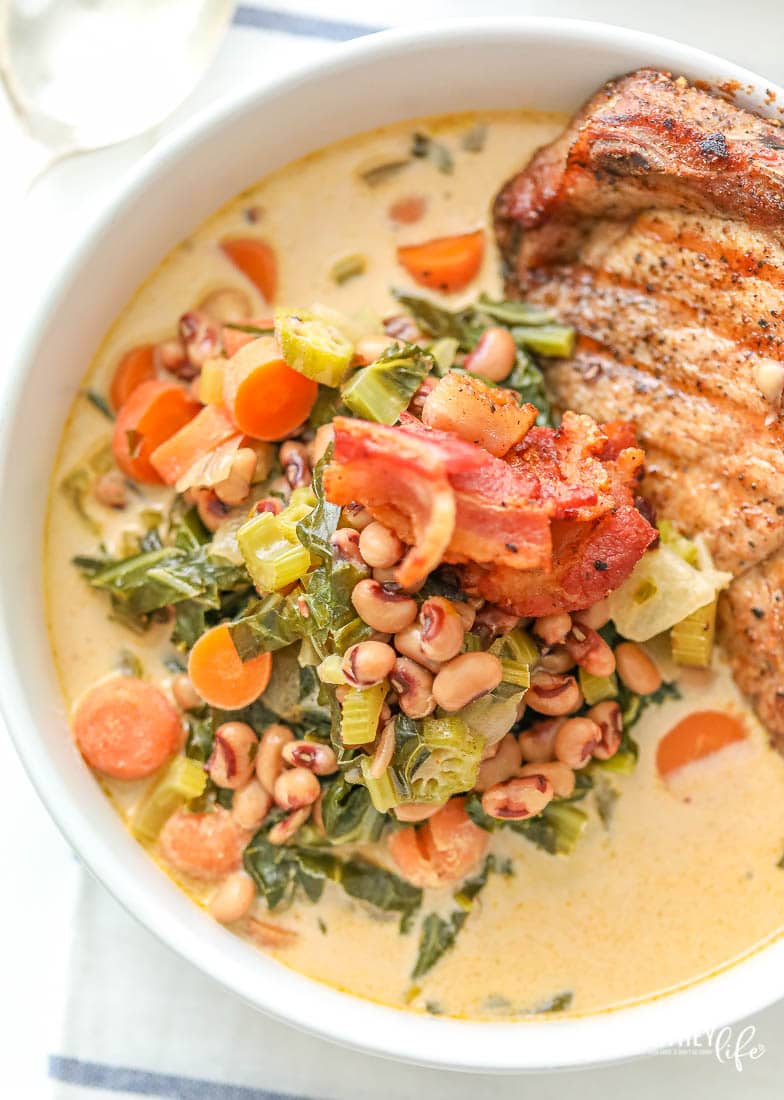 Grilled Pork Chop + Black-Eyed Pea Soup Made In The Instant Pot
We're ringing in the new year with a brand new recipe! Our Grilled Pork Chop + Black-Eyed Pea Soup is a play on the traditional new year's dinner with chopped collards, black-eyed peas, and pork chops. I also tossed in onion, okra, celery, and carrots, and a few other what nots…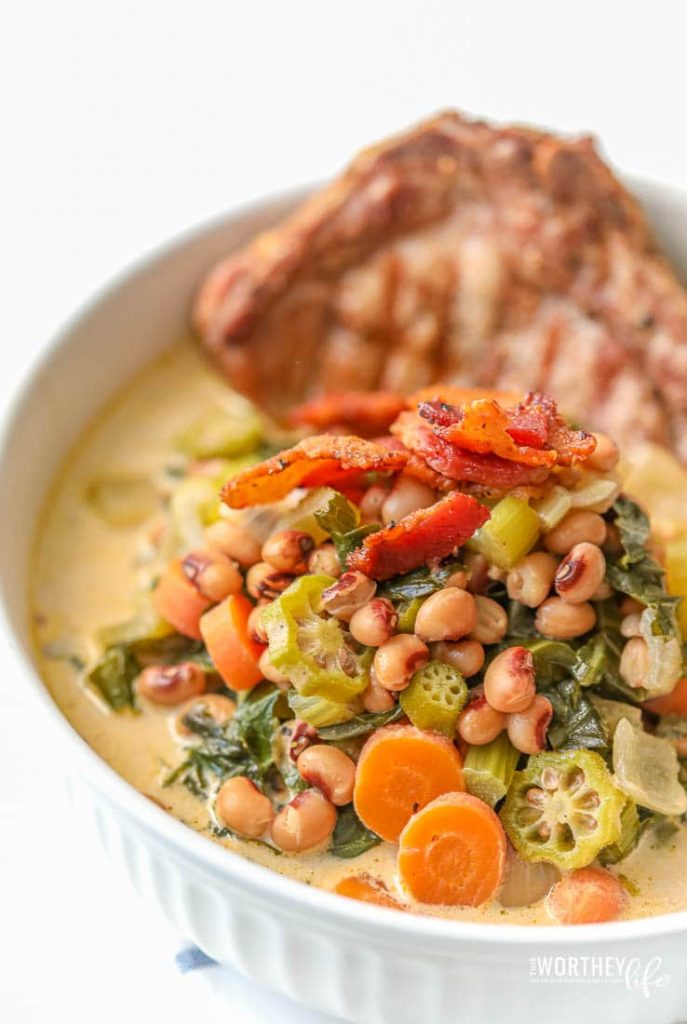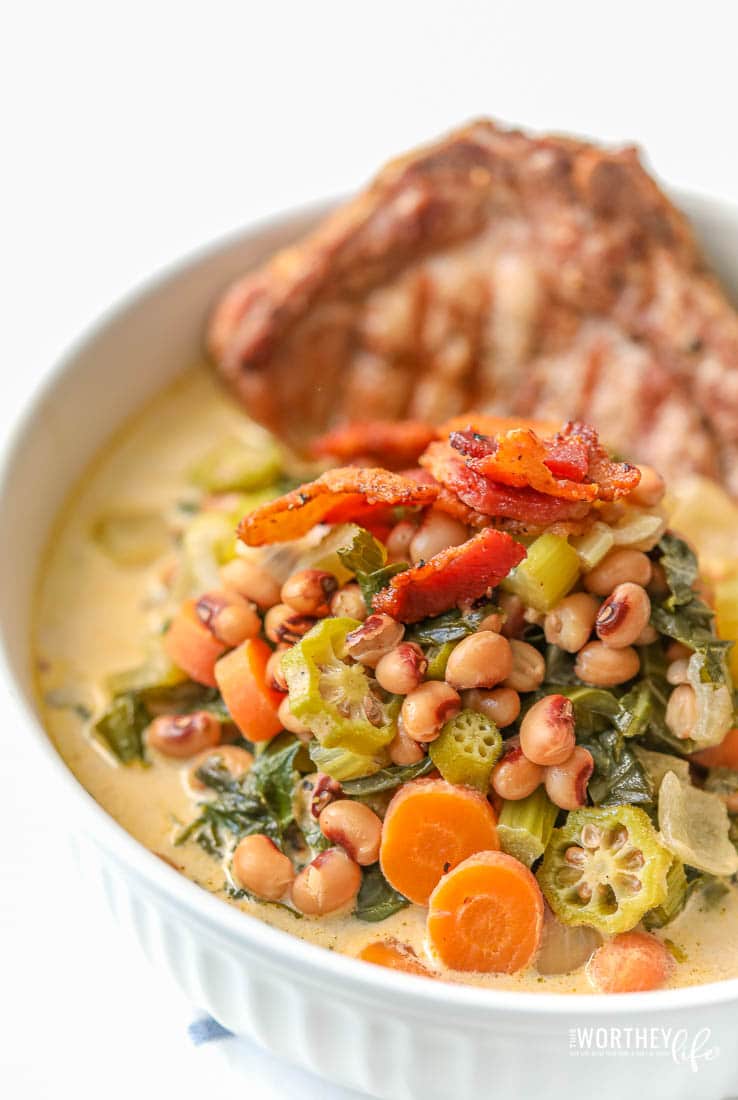 I finished this incredible soup with heavy cream and the kick of Cajun seasoning, among other things. When all is said and done, this one is good to go! Are you ready to dig into this luscious bowl of goodness?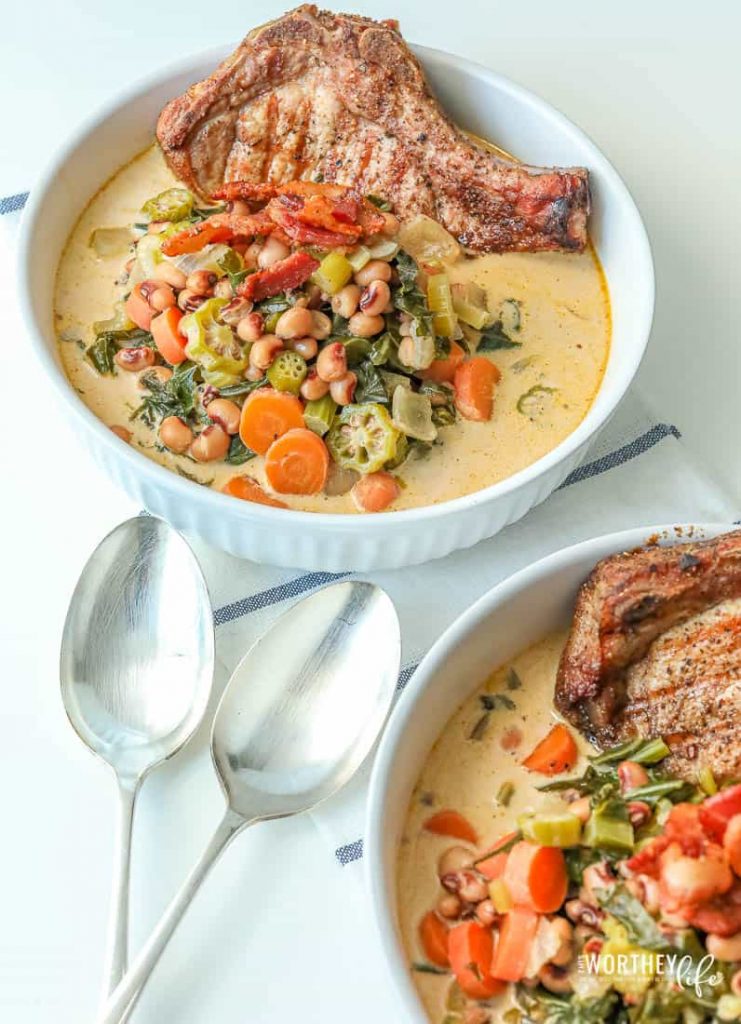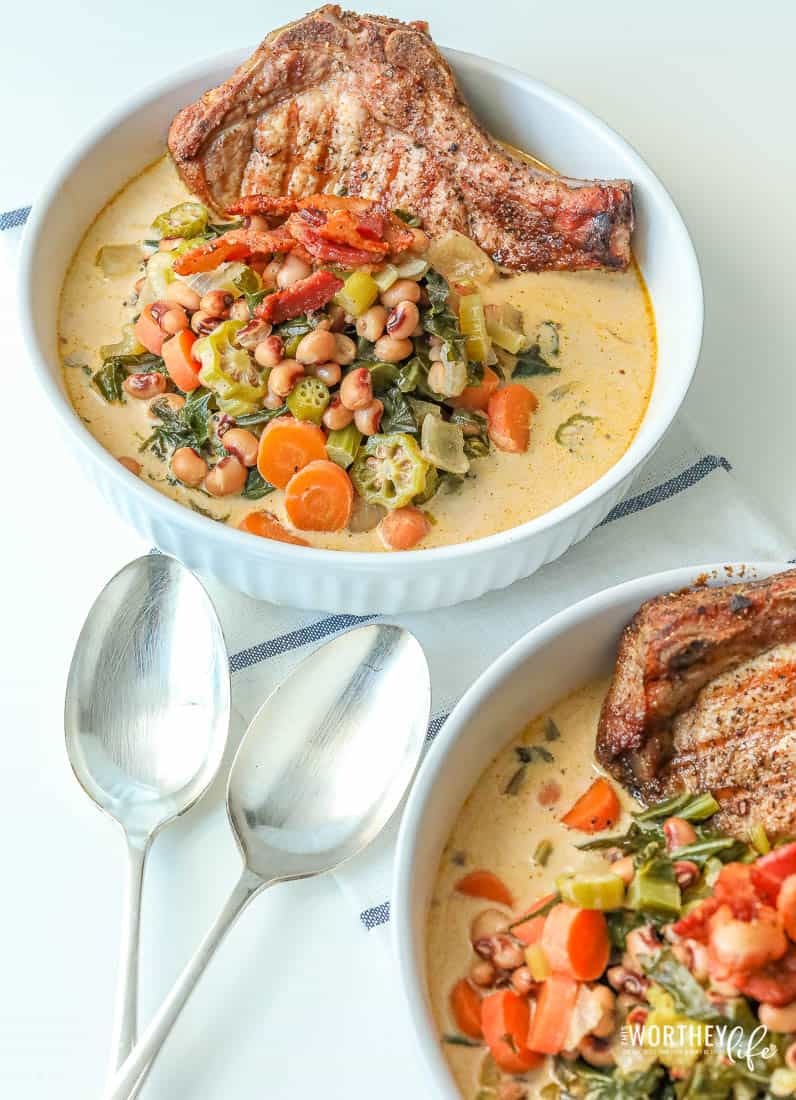 After the first taste, you'll suspect this year is already off to a very delicious start. Enjoy this meal with a warm slab of buttered cornbread to remove all doubt about the wonderful possibilities of the new year. Fun fact. Did you know that serving cornbread on New Year's day represents gold? The yellow of the cornbread made with yellow cornmeal is symbolic of gold. Yes, this dinner idea has prosperity written all over it!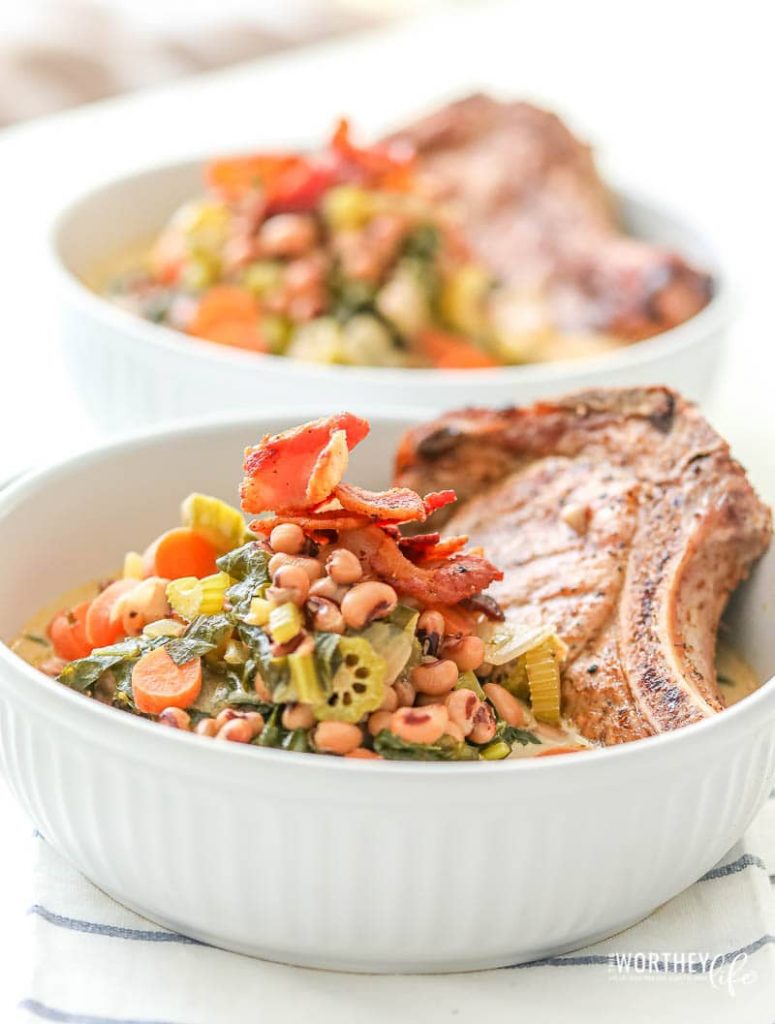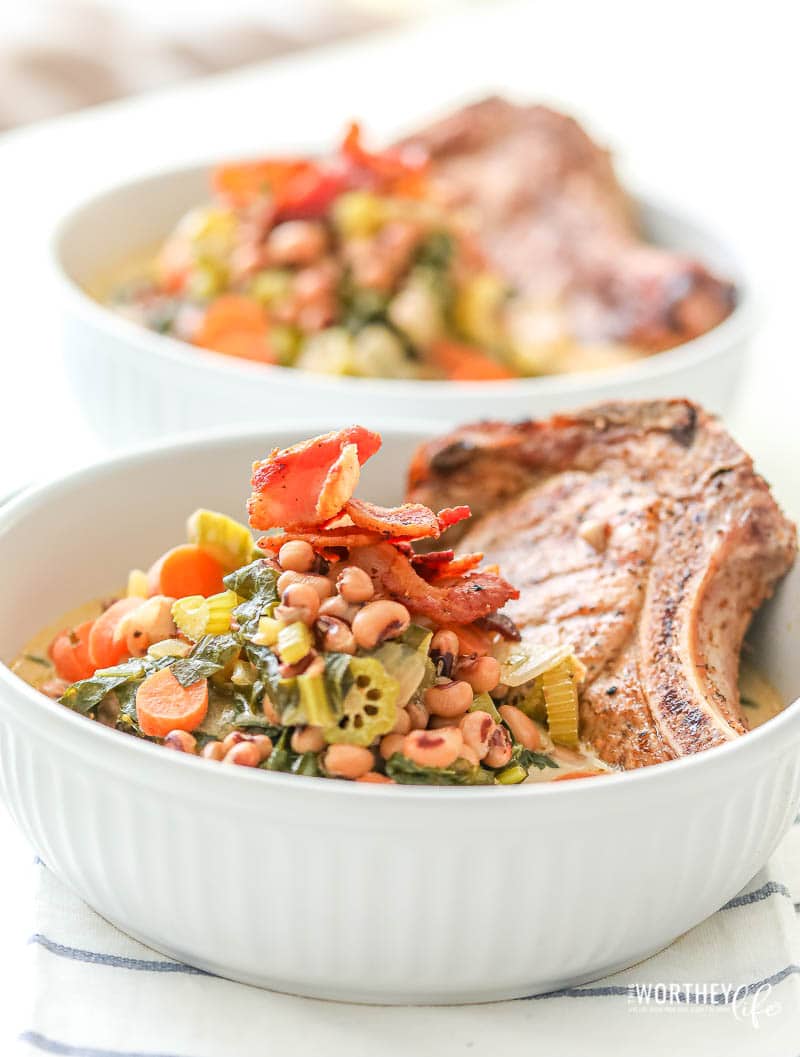 The Ingredients You'll Need To Make This Amazing Recipe:
Collard Greens. Just in case there's any confusion, we taking our cues from the African-American southern traditional new year's menu. Collard greens are a big part of the southern cooking tradition, and in this meal, the tender collards represent money.
Black-Eyed Peas. And if collard greens represent dollar bills, then it's only right that the black-eyed peas represent coins. With this easy meal, you'll be on your way to eating your way to a prosperous new year!
Bone-In Pork Chops. In many cultures around the world, the de facto meat served on the first day of the new year is pork. Pork represents prosperity, and it is also said, "Pigs root forward," meaning, don't worry about the past, the reward is for those who look towards the future.
Chicken Stock. You can't make soup without good stock, and in this case, we're using chicken stock, but feel free to use vegetable stock if that's what you have on hand.
Celery. Onions. Carrots. Together these three ingredients are known as mirepoix, and this trio is the flavor base of lots of southern recipes.
Okra. Garlic. Adding okra to this soup takes it up a notch and makes it feel and taste more southern. I mean, you can't get more south of the Mason-Dixon line than okra. And, adding garlic is always a good look (and taste) any way you slice it.
Seasoning. Cajun Seasoning. Cumin. Hot Paprika. Chipotle Smoked Red Jalapeños. Sea Salt. Freshly Cracked Black Pepper. This soup gets a lot of lip-smacking flavor from these six seasonings. Feel free to adjust the quantities of the ingredients to get a taste that you love.
Heavy Cream. What's not to love about heavy cream? When heavy cream is added to soups, you're upping the ante by adding richness and lush silky texture, and that's so the case with this soup. It's absolutely irresistible!
Thick-Cut Bacon. This soup recipe is already a feast in a bowl, but adding crispy thick-cut bacon is the crispy, salty, and mouthwatering cherry on top. Besides, who doesn't love bacon?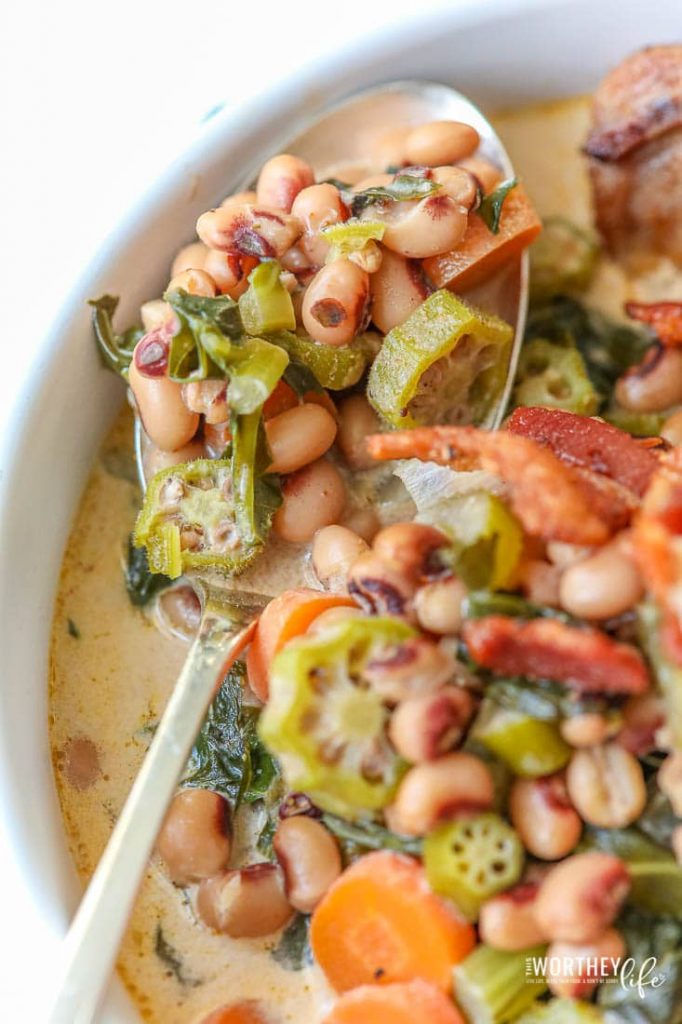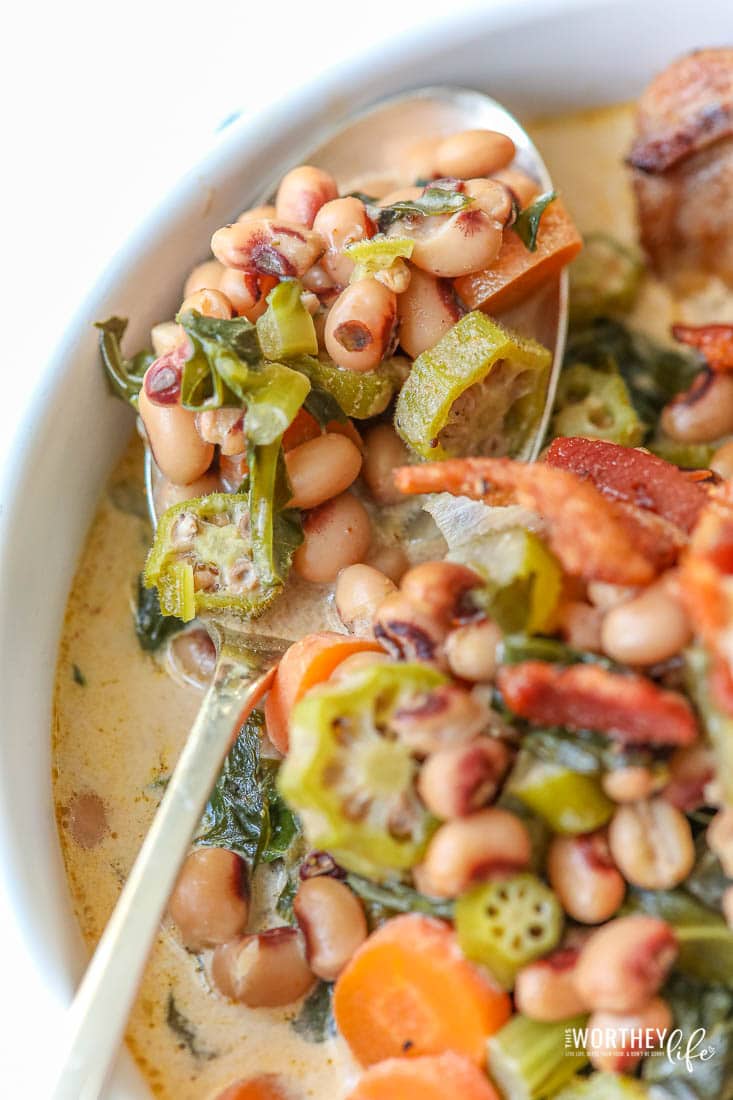 You Will Love This Soup Because It's:
Easy
Savory
Hearty
Appetizing
Will Bring You Good Luck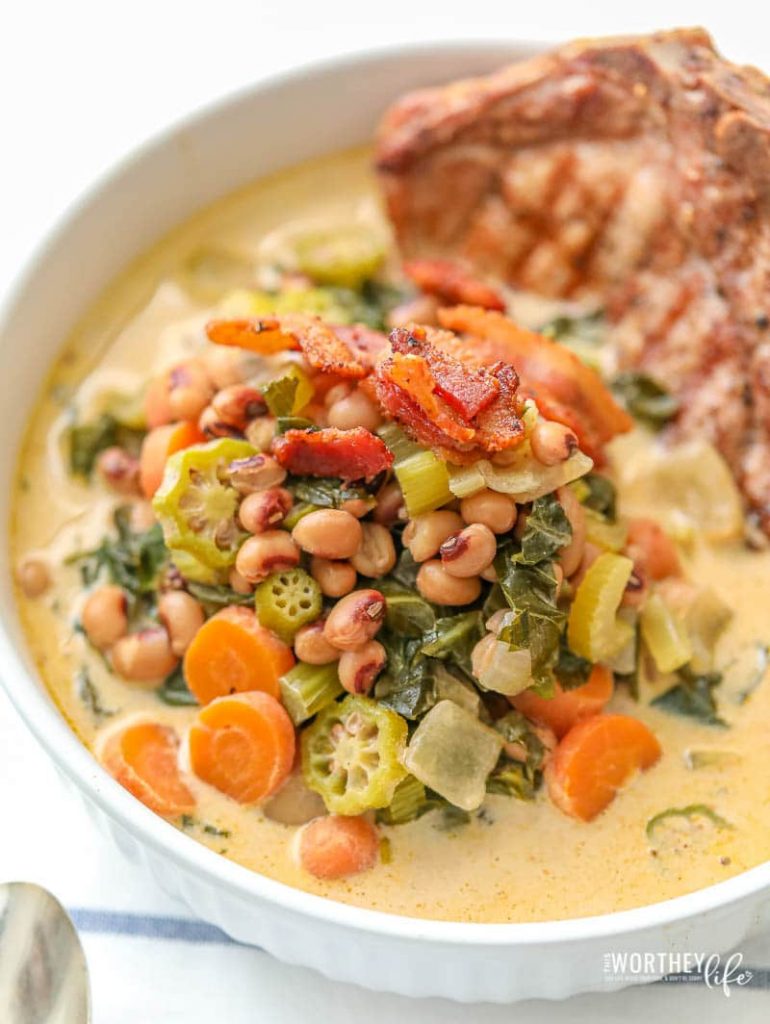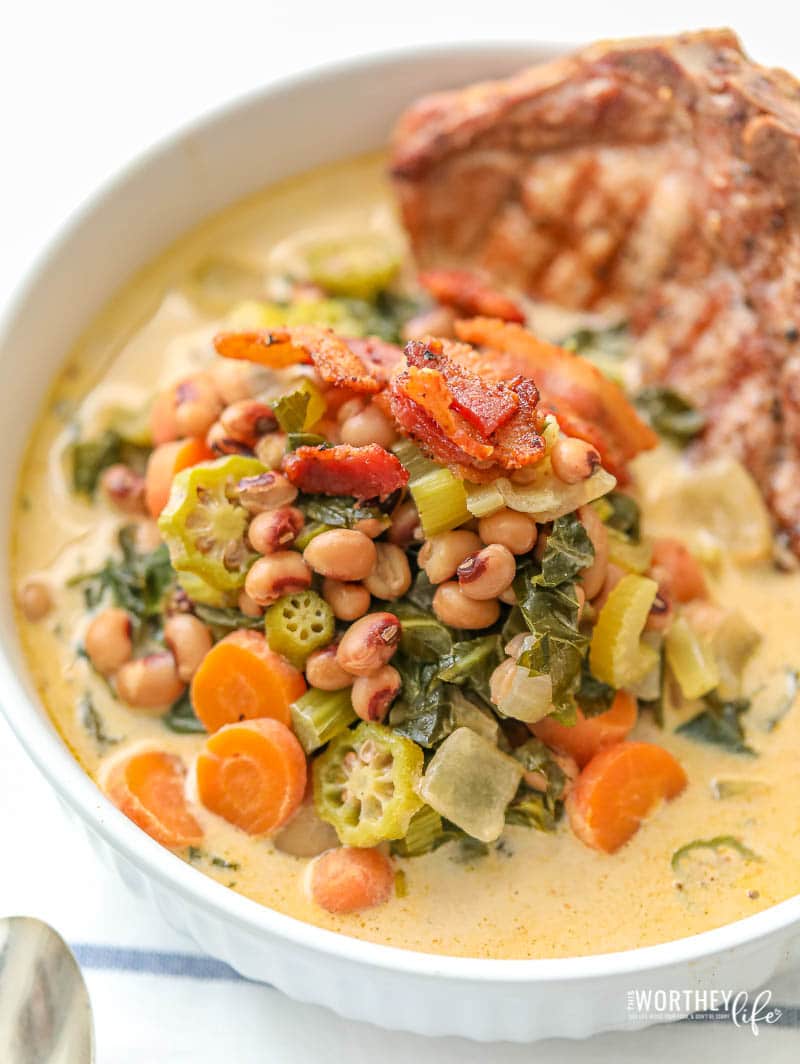 How To Grill Pork Chops
Marinade recipe
Ingredients:
3 tablespoons extra virgin olive oil
1 tablespoon Old Bay seasoning
1 teaspoon Cajun seasoning
1 teaspoon sea salt or Kosher salt
3/4 teaspoon freshly ground black peppercorns
1/2 teaspoon ground chipotle smoked red jalapeños
1/4 teaspoon ground hot paprika
Directions:
Rinse and pat dry the pork chops and place the pork chops into a sizeable zip-lock bag.
In a small bowl add the extra virgin olive oil, Old Bay seasoning, Cajun seasoning, salt, freshly cracked black peppercorns, ground chipotle smoked red jalapeños, and ground hot paprika and mix well with a fork.
Pour the marinade into the bag over the meat, then seal the bag. Move the bag around to make sure the marinade ultimately gets all over the pork chops then place in the pork chops in the fridge for an hour.
Remove the bag from the fridge and remove the pork chops from the bag, place the pork chops into a shallow dish and pour any remaining marinade over the meat, allow the meat to come to room temperature for about 20-30 minutes.
Let's get the grill going, for pork chops you want to create a two-zone heat cooking set-up so you can sear the pork chops directly over the coals on one side of the grill then move the pork chops to the cooler side of the grill to finish cooking the meat using indirect heat.
Before placing the meat on the grill, remove any debris from the grate using a wire brush.
Next, Brush the grate using high smoke-point oil like canola, vegetable, or grapeseed oil.
When the charcoals are red hot, the grill should be between 400-450 degrees.
Place the pork chops directly over the hot coals and brush with the remaining marinade, allow the meat to cook for four minutes them turn the pork chops over but move about 6-8 inches away from the hot coals, we're going to finish cooking the pork chops using indirect heat for an additional ten minutes, make sure to close the lid on the grill for the remaining ten minutes of cooking time. After ten minutes you should get an internal reading with an instant-read thermometer of 145 degrees.
Place each pork chop into a bowl of Black-Eyed Pea soup and serve with a buttery wedge of homemade cornbread.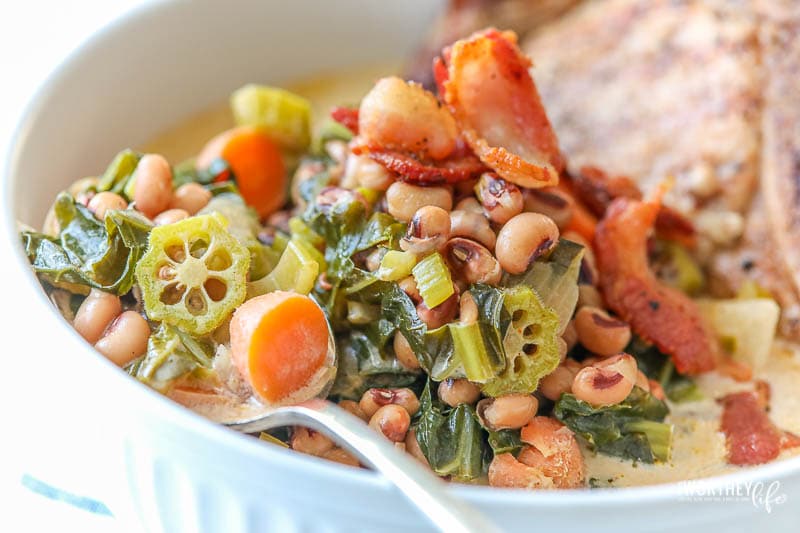 Black-Eyed Peas Instant Pot recipe
Ingredients:
2 tablespoons extra virgin olive oil
1 large onion, chopped
1 cup celery, sliced
1 cup carrots, sliced
3 cloves of garlic, peeled and minced
4 cups collard greens chopped
5 okra sliced
1 32-ounces chicken stock
1 1/3 cup heavy cream
1 tablespoon Old Bay seasoning
1 tablespoon ground cumin
1 teaspoon Cajun seasoning
1 teaspoon sea salt or Kosher salt
1 teaspoon freshly cracked black peppercorn
1/2 teaspoon hot or sweet paprika
Directions:
Prep. Cut the thick-cut bacon into 2-inch strips into a hot skillet with a tablespoon of vegetable oil. Crisp the thick-cut bacon, then using a slotted spoon, transfer the bacon to a bowl lined with a paper towel to remove any excess grease. Set aside.
Remove the lid from the Instant Pot and select the Saute setting.
When the pot is hot, add two tablespoons of extra virgin olive oil.
When the oil is hot, add the onions, celery, and carrots. Stir the mixture until the onions begin to soften, after 4-5 minutes.
Add the minced garlic, chopped collard greens and okra, place the lid on the Instant Pot and allow the collard greens to wilt for 10-minutes.
Remove the lid and add the chicken stock and seasonings, stir the mixture thoroughly, when the mixture begins to come to a boil switch the setting to Warm.
Stir in the heavy cream, then add two cans of drained black-eyed peas. Allow the soup to steep for 15-minutes.
Ladle the soup into serving bowls and add a grilled pork chop to each bowl.
Serve this dish with homemade cornbread slathered with creamy sweet cream butter.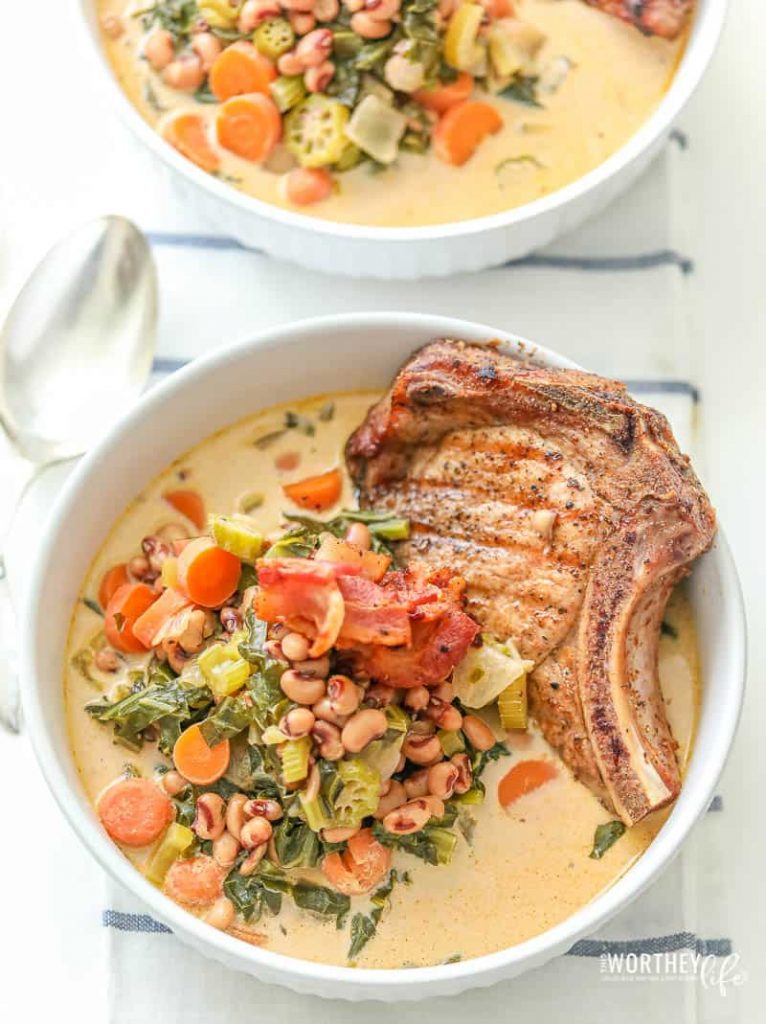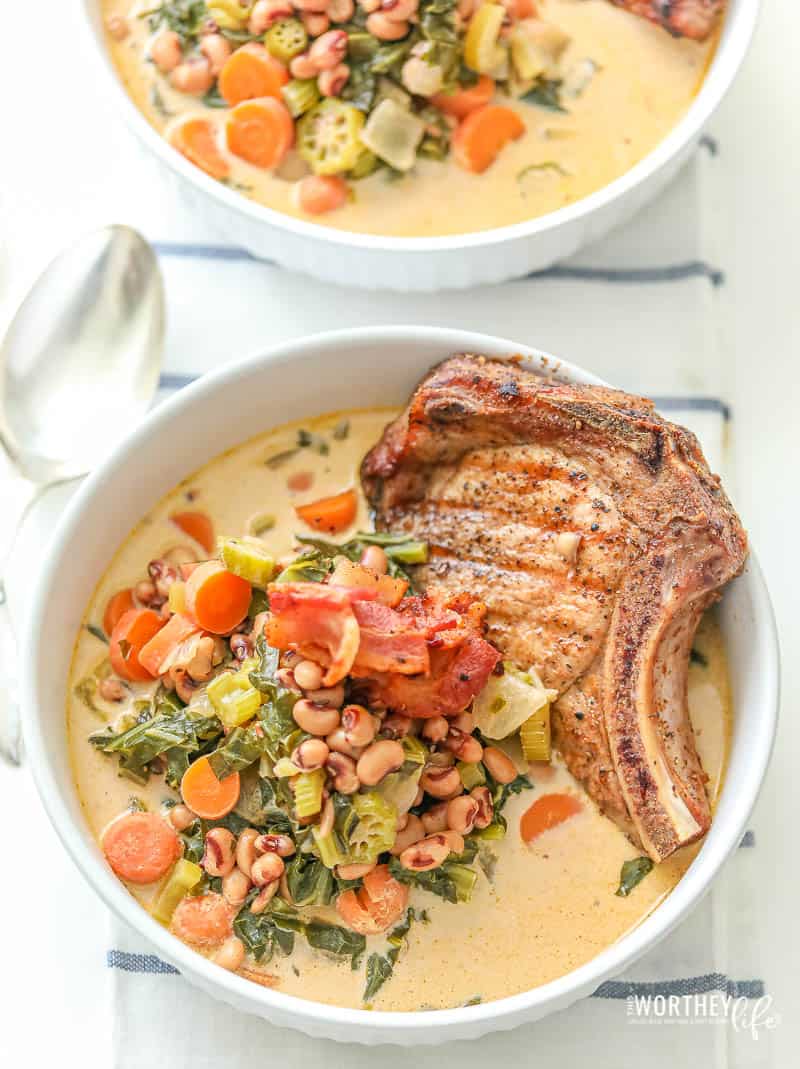 Now, go ahead and make your grocery list because this is the soup you want to start the new year off with because if rumors are true after eating a big bowl of this goodness, you're inevitably going to have a very prosperous 365. Happy New Year's!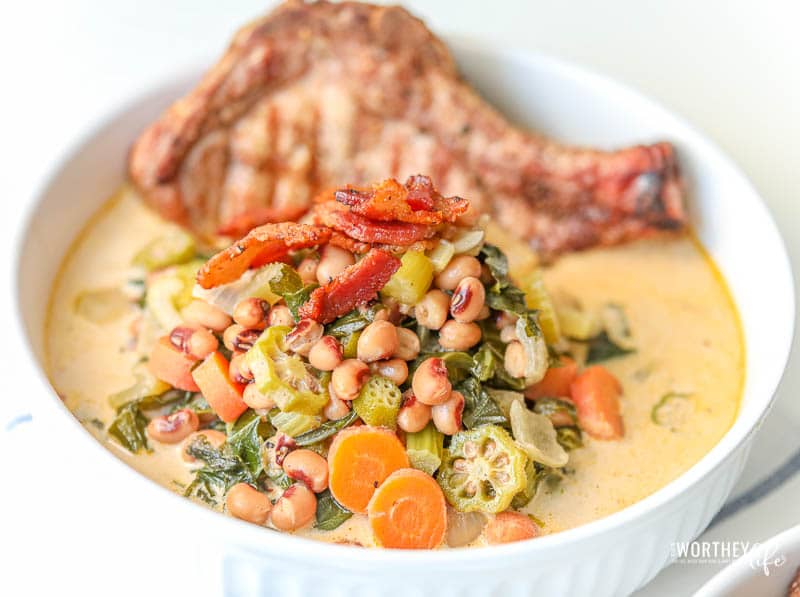 Find more New Year's Day recipes below:
Buttermilk + Cream Oven Pork Loin Recipe
Pressure Cooker Recipe | Savory Pork Soup
Lucky Pork & Black Eyed Peas Nachos
Instant Pot Pork with Black Eyed Peas + Veggie Bowl
Top 10 New Year's Resolutions for 2020
17 Appetizer Ideas For New Year's Eve